Military Veterans Could Discuss State Marijuana Programs With VA Doctors Under New Bipartisan Congressional Bill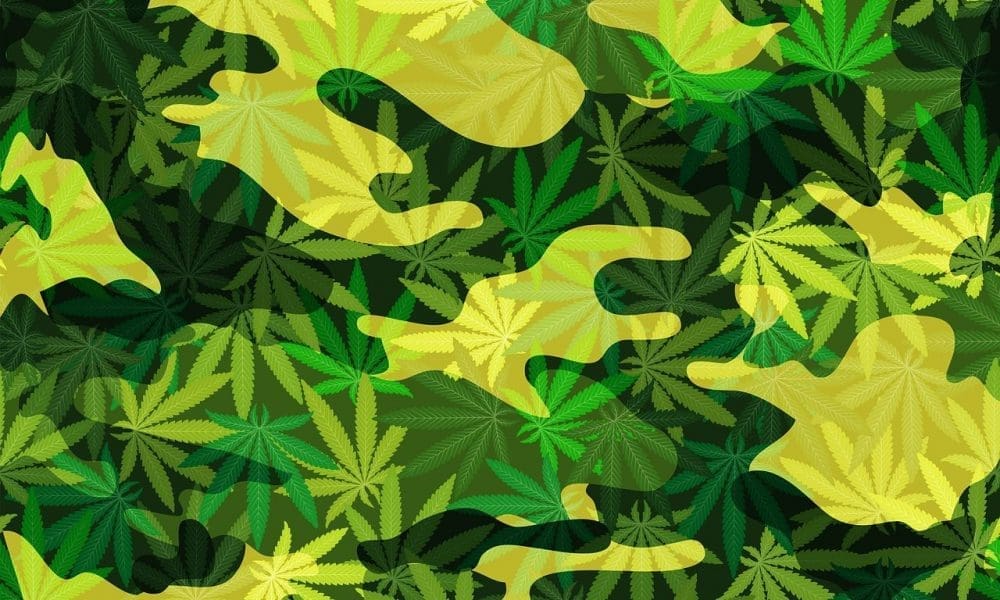 A bipartisan duo introduced a congressional bill on Friday that would make clear that U.S. Department of Veterans Affairs (VA) doctors can discuss state-legal marijuana programs with veterans.
Reps. Conor Lamb (D-PA) and Peter Meijer (R-MI) filed the legislation—titled the Fully Informed Veteran Act—which would allowing VA doctors to provide basic information and resources about state-legal cannabis programs to veterans.
As far as veteran and marijuana-specific legislation is concerned, this is an especially modest reform.
The VA secretary "shall authorize physicians and other health care providers of the Veterans Health Administration of the Department of Veterans Affairs to provide to veterans who are residents of States with State-approved marijuana programs information regarding the participation of such veterans in such programs," the text states.
"Information" is defined as "informational materials, Internet website, and relevant contact information for State-approved marijuana program."
The legislation would not allow VA physicians to actually issue recommendations to veterans to participate in those state programs, however.
Under current VA administrative policies, the department's doctors are currently allowed to discuss cannabis with patients and document their usage in medical records, and those veteran patients are already shielded from losing their benefits for marijuana use—but the new bill would enshrine into law a more basic policy on providing information about cannabis programs for those who live in areas where it's legal.
This comes as several bills to end federal cannabis prohibition are being drafted and introduced this session. Most recently, a measure that cleared the U.S. House of Representatives last year to legalize marijuana and promote social equity was refiled by Judiciary Committee Chairman Jerrold Nadler (D-NY).
While Lamb is sponsoring this veterans-focused medical cannabis legislation, it remains to be seen where he would come down on that broader reform given that he was among very few Democratic lawmakers who voted against the Marijuana Opportunity, Reinvestment and Expungement (MORE) Act last Congress.
The issue will almost certainly come into the fold if Lamb enters the race to represent Pennsylvania in the U.S. Senate—a move he is reportedly seriously considering.
Not only is legalization popular among Pennsylvania voters, according to polling, but the state's lieutenant governor, John Fetterman (D), is a strong advocate for ending prohibition and is already campaigning for the Senate seat on a pro-legalization platform. If Lamb enters the race, his vote against broad cannabis reform in Congress would like be a topic of contention.
But as a former Marine, Lamb has focused his marijuana reform agenda on veterans-related policy changes. And he's not alone this session.
A pair of Republican lawmakers introduced a congressional bill in April that's meant to promote research into the medical potential of marijuana for military veterans.
That was filed one day after a bipartisan Senate bill was introduced—and on the same day that House members filed companion legislation—to require VA to conduct clinical trials into marijuana for the treatment of post-traumatic stress disorder (PTSD) and chronic pain in the population.
Last year, the House Veterans' Affairs Committee approved a prior version of that bill, as well as a separate proposal to allow VA doctors to issue medical cannabis recommendations to their patients in states where it's legal, but they did not advance to the floor.
Meijer, the Republican cosponsor of Lamb's latest proposal is also an original sponsor of the VA Medical Cannabis Research Act.
In April, a bipartisan coalition of congressional lawmakers also reintroduced bills that would federally legalize medical cannabis for military veterans.
That bill is being sponsored by Reps. Barbara Lee (D-CA) and Dave Joyce (R-OH), both co-chairs of the Congressional Cannabis Caucus, in the House, along with nine other original cosponsors. On the Senate side, Sen. Brian Schatz (D-HI) is leading the proposal, and he's joined by five other lawmakers, including Sen. Bernie Sanders (I-VT).
The Veterans Medical Marijuana Safe Harbor Act would temporarily allow veterans to legally possess and use cannabis under federal law, as recommended by doctors in accordance with state law. Physicians with VA would also be allowed for the first time to issue such recommendations. Further, it would require VA to study the therapeutic potential of marijuana for pain and reducing opioid misuse.
The House and Senate have both previously approved annual spending bills containing riders blocking VA from punishing doctors for writing medical marijuana recommendations, but no such legislation has yet been enacted into law.
Rep. Greg Steube (R-FL) in January introduced a proposal aimed at ensuring that military veterans aren't penalized for using medical cannabis in compliance with state law. It would also codify that VA doctors are allowed to discuss the risks and benefits of marijuana with their patients.
Meanwhile, congressional leaders are working to end federal marijuana prohibition altogether.
In addition to the House's MORE Act from Chairman Nadler, Senate Majority Leader Chuck Schumer (D-NY), Senate Finance Committee Chairman Ron Wyden (D-OR) and Sen. Cory Booker (D-NJ) are in the process of crafting a comprehensive legalization bill, and Schumer said it would be placed on the floor "soon."
Read the text of the Fully Informed Veteran Act below:
Fully Informed Veteran Act by Marijuana Moment
Tennessee Governor Signs Bill To Expand State's Limited Medical Marijuana Program