Massachusetts Lawmakers Push Marijuana Social Equity Amendment To Controversial Policing Bill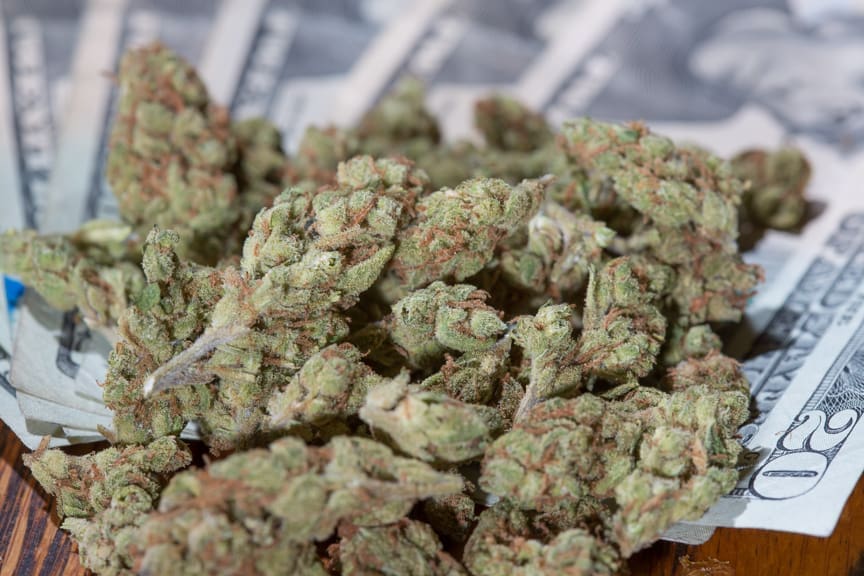 Massachusetts legislators are attempting to resolve what advocates view as a problematic provision of a policing reform bill that would direct marijuana tax revenue to law enforcement training.
Three relevant amendments have been offered to the Senate-approved bill as it awaits action on the House floor this week. Advocates are especially hopeful that one particular measure will be approved, as it would require that any funding for police training derived from cannabis "be equal to or less than" funding to promote social equity in the industry by encouraging participation by people from communities harmed by the war on drugs.
The amendment would add a section of the bill, which was recently approved by the House Ways and Means Committee, that would create "a separate fund to be known as the social equity training and technical assistance fund to be expended, without further appropriation, by the cannabis control commission."
"The fund shall consist of revenues collected by the commonwealth including: (1) any revenue from appropriations or other monies authorized by the general court and specifically designated to be credited to fund; (2) any fines and penalties allocated to the fund under the General Laws or regulations; (3) any funds from public and private sources such as gifts, bequests, grants and donations; (4) any interest earned on such revenues; and (5) any funds provided by other sources."
The amendment, filed by Rep. Liz Miranda (D), has 21 cosponsors.
"I think that Rep. Miranda's amendment is a good step toward making good on the promise that was made to communities of color when this legalization law passed four years ago," Shaleen Title, who serves as a commissioner on the Massachusetts Cannabis Control Commission (CCC), told Marijuana Moment. "It demonstrates that when people made clear that they felt it was unacceptable to use cannabis tax revenue to fund police before equity, that they were heard."
Two other proposed amendments that address the marijuana tax revenue provision of the law enforcement legislation would simply strike the cannabis funding language at issue from the bill.
Did you hear about how the House bill takes money from the Marijuana Regulation Fund and redirects it to police training? @RepLizMiranda, @mariarobinsonMA, and @AaronMVega are on that with amendments #86, 94, and 211. #mapoli (9/x)

— Progressive Mass (@ProgressiveMass) July 22, 2020
While the state's marijuana laws already say that cannabis tax revenue can go to "municipal police training" after covering the costs of implementation, advocates have expressed frustrated that lawmakers seem to be using this reform bill to prioritize appropriating funds to law enforcement at this time when they feel it should be used to support restorative justice programs for communities most impacted by the drug war.
The public was bringing up equity funds "over and over" in 2017 per these meeting minutes. Now it's 2020 and the session is ending without action on either the cannabis loan fund or technical assistance bills while cannabis taxes fund police in an *equity* bill. This is not okay. pic.twitter.com/U2y3evFZni

— Shaleen Title (@shaleentitle) July 21, 2020
According to a Boston Globe analysis published in February, tens of millions of dollars in marijuana excise tax revenue have gone undistributed to the various programs they were supposed to support. That includes funding for police training as well as services for "economically-disadvantaged persons in communities disproportionately impacted by high rates of arrest and incarceration for marijuana offenses," as is specified in the law.
House Ways and Means Committee Chairman Aaron Michlewitz (D) said on Monday that there is "misinformation" circulating that the legislation "changes the marijuana revenue structure or creates a new fund for police training."
Subject to annual apporiation, the Cannabis law that went into effect in 2018, always included funding for behavioral health, admistative costs for @MA_Cannabis & police training. This bill does not change that. It only references it since we are amending the training. (4/4)

— Aaron Michlewitz (@RepMichlewitz) July 20, 2020
In contrast to the Massachusetts legislation as it stands now, the Portland, Oregon City Council approved a law enforcement budget bill last month that divests marijuana tax revenue funds from the city's police department.
In other marijuana equity moves outside of policing reform, Colorado regulators are soliciting feedback on a proposal to create a franchise cannabis business model to promote participation in the industry by people from communities harmed by the war on drugs.
New York Senate Approves Bill Protecting Medical Marijuana Patients From Eviction