Marijuana Poll: Military Veterans Strongly Support Legal Access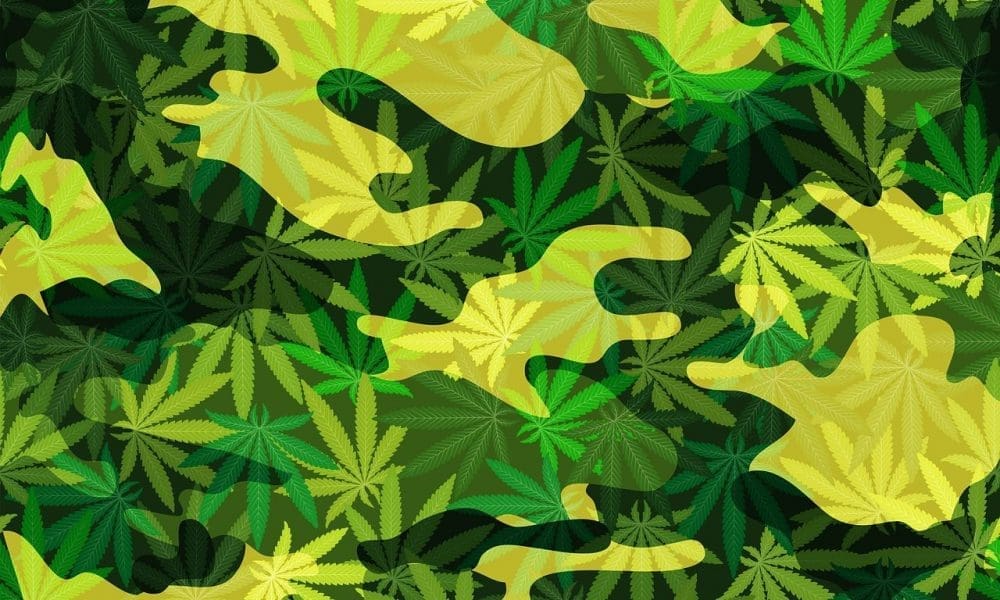 The vast majority of U.S. military veterans want to have the option to use medical marijuana without being treated as a criminal for it, a new poll finds.
Eighty-one percent of veterans said they "want to have cannabis as a federally-legal treatment," according to the national survey released on Thursday.
But under current U.S. Department of Veterans Affairs policy, those who want access to medical cannabis can't get recommendations from their government doctors and must instead seek help from outside physicians.
Nonetheless, the new survey commissioned by the American Legion, which represents more than 2.4 million military veterans, found that one in five veterans already uses medical cannabis to alleviate a medical or physical condition.
"The majority of veterans surveyed that are using cannabis are over the age of 60," the group's polling firm wrote in a memo.
DYK: 92 percent of #veterans households surveyed support #MedicalCannabis research. #Vets4MMJResearch #PTSD #Cannabis #TBI pic.twitter.com/tIKWHSPJTl

— The American Legion (@AmericanLegion) November 2, 2017
The Legion has been pressuring the federal government to evolve on medical cannabis over the course of the past year.
Video of the American Legion's press conference with members of Congress.
Most recently, in August, it adopted a resolution calling on VA to let its doctors write medical marijuana recommendations. "More than half the states in the union have passed medical marijuana laws to date," the group's resolution reads. "The American Legion urge the United States government to permit VA medical providers to be able to discuss with veterans the use of marijuana for medical purposes and recommend it in those states where medical marijuana laws exist."
DYK: 83 percent of #veterans households surveyed support legalizing #MedicalCannabis use. #Vets4MMJResearch #PTSD #Cannabis #TBI pic.twitter.com/GhJxv4MgyC

— The American Legion (@AmericanLegion) November 2, 2017
The Legion and other medical cannabis advocates have also called for rescheduling and pressed VA to stop blocking federally-approved researchers from recruiting veterans for research on medical cannabis.
One such study on marijuana's effects on PTSD has been prevented from reaching veterans at the Phoenix, Arizona VA hospital.
"This study needs 50 more participants and the Phoenix VA is in the best possible position to assist by simply allowing principle investigators to brief [VA] medical staff on the progress of the study, and by allowing clinicians to reveal the existence of the study to potential participants," the Legion wrote to VA Secretary David Shulkin last month. "Your immediate attention in this important matter is greatly appreciated. We ask for your direct involvement to ensure this critical research is fully enabled."
Hey Mr Secretary, we have one more agenda item for you #MedicalCannabis research.

— American Legion DC (@LegioninDC) November 2, 2017
The group's survey found that 92 percent of veterans support expanding medical marijuana research.
Several members of Congress spoke during a press conference at which the Legion released the results of its poll.
Congressman Matt Gaetz (R-FL) called the Legion's advocacy on the issue "very significant" and said it would help convince more lawmakers to support policy change.
Gaetz also took the opportunity to "condemn in the strongest possible terms the outrageous" remarks that New Jersey Gov. Chris Christie (R) made this week comparing the spread of medical cannabis laws to the overprescription of opioids.
"It is shortsighted, it is inaccurate and it is indefensible to suggest that the proliferation of medical cannabis that is saving lives and improving the quality of life for people is somehow analogous to the opioid crisis."
Gaetz boldly predicted that the House Judiciary Committee, of which he is a member, will hold a hearing on expanding marijuana research by the end of the year.
A group of ten House Democrats last week wrote a letter urging the VA to expand medical cannabis research.
The Legion survey was conducted from October 8-10 and included 1,360 respondents with 802 self-identifying as a veteran or a caregiver of veterans. The margin of error is +/- 3.43% at a 95% confidence level.
Read: Here's The Final 2018 Farm Bill That Will Legalize Hemp
The final text of the 2018 Farm Bill was released on Monday, and industrial hemp legalization made the cut. Votes to send the legislation to President Trump's desk are expected this week.
The bipartisan provision, championed by Senate Majority Leader Mitch McConnell (R-KY), will enable U.S. farmers to cultivate, process and sell hemp, the market for which is now a multi-billion dollar industry.
Following the announcement last month that lawmakers in the Senate and House Agriculture Committees had reconciled their respective versions of the agriculture legislation—with hemp legalization in the mix—questions remained about a controversial provision in the Senate version that would ban people with felony drug convictions from participating in the hemp industry.
But a compromise was reached and the final version will allow such individuals to work for hemp businesses after 10 years.
Read the text of the final 2018 Farm Bill's hemp provisions here, followed by explanatory statements from the conference committee:
Farm Bill Hemp Provisions by on Scribd
Marijuana Moment excerpted the above sections dealing with hemp from the full 807-page Farm Bill and committee explanatory documentation.
"While this Farm Bill is a missed opportunity, there are some good provisions," Rep. Earl Blumenauer (D-OR) said in a press release. "One of those provisions is to roll back our senseless hemp prohibition."
"Our forefathers would be rolling in their graves if they saw us putting restraints on a versatile product that they grew themselves. We have farmers growing thousands of acres of hemp in dozens of states across the U.S. already. You can have hemp products shipped to your doorstep. This is a mainstream, billion-dollar industry that we have made difficult for farmers. It's past time Congress gets out of their way."
Under the legislation, hemp would no longer be in the jurisdiction of the Justice Department. Rather, the U.S. Department of Agriculture will lightly regulate the crop.
If the bill passes and President Trump signs it, hemp legalization will go into effect on January 1, according to VoteHemp.
Watch: Sen. Mitch McConnell Uses Hemp Pen To Sign Farm Bill Legalizing The Crop
Watch: Sen. Mitch McConnell Uses Hemp Pen To Sign Farm Bill Legalizing The Crop
Senate Majority Leader Mitch McConnell (R-KY) signed off on the final version of the 2018 Farm Bill on Monday…and he used a pen made of marijuana's non-psychoactive cousin, hemp, to so do.
The senator has been the leading proponent of an industrial hemp legalization provision, which recently made its way into the final version of the wide-ranging agriculture legislation.
"Making it official with my hemp pen," McConnell wrote in a tweet that includes video of him signing off on the proposal. "Proud to have served as conferee on Farm Bill & to fight for Kentucky priorities."
Making it official with my hemp pen!🖋️ Proud to have served as conferee on #FarmBill & to fight for #Kentucky priorities. With today's signature, my provision to legalize industrial #hemp is 1 step closer to reality. Looking forward to voting YES on this bill & sending to @POTUS pic.twitter.com/8ypwBebXy7

— Leader McConnell (@senatemajldr) December 10, 2018
"With today's signature, my provision to legalize industrial hemp is 1 step closer to reality. Looking forward to voting YES on this bill & sending to [President Donald Trump]."
The full text of the final Farm Bill legislation is expected to be publicly released on Tuesday, with votes anticipated in the House and Senate in the coming days.
Lawmakers Reach Compromise Over Controversial Hemp Legalization Felony Provision
Photo courtesy of Gage Skidmore.
New York Governor May Include Marijuana Legalization In Budget Proposal Next Month
New York Gov. Andrew Cuomo (D) might just go ahead and include full marijuana legalization in his budget proposal set to come out next month, Crain's reported on Monday.
Two state lawmakers told the outlet that they'd heard rumors about the governor's plan, which would build on his recent efforts to put legalization on the table during the next legislative session. Cuomo instructed a working group to draft legalization legislation in August after the state Department of Health came out with a report that found the pros of ending cannabis prohibition outweigh the cons.
If the historically anti-marijuana governor, who as recently as last year was calling cannabis a "gateway drug," did put legalization in his budget proposal, it'd mean "the state could have a fiscal framework for the program as soon as April," Crain's reported.
What exactly that fiscal framework would look like is unclear, and Cuomo's office declined to comment on the report. It's possible that the budget would account for the costs of whatever legislation the working group ultimately releases; however, since the bill has yet to be released and the governor's proposal is expected for January, that might be cutting it close.
In 2014, reform advocates expressed disappointment after Cuomo and leading lawmakers agreed to a budget deal that did not include a medical marijuana legalization bill. Months later, Cuomo signed separate medical cannabis legislation and, in the years since, the governor has grown more amenable to broader reform—especially in the heat of a contentious primary battle against Cynthia Nixon this year.
When the state does go forward with legalization, money is going to be a point of particular interest for lawmakers and advocates, as can already be seen as a debate over a proposal to use cannabis sales tax revenue for public transit in New York City intensified last week.
New York Cannabis Clash: Should Marijuana Taxes Fund Subways Or Social Justice?
Photo courtesy of Zack Seward.