GOP Congressman Wants Trump To Help Legalize Medical Marijuana
Rep. Matt Gaetz has been in Congress for less than a year, but the Florida Republican has already become one of the House's foremost leaders working to reform federal marijuana policies. From pushing to protect state laws to advocating marijuana's reclassification to pressuring the Justice Department on expanding studies into the drug's medical benefits, Gaetz is pursuing cannabis reform on multiple fronts.
Just one problem: GOP leadership doesn't seem especially interested in giving the issue a fair shake.
This year, Congressional Republicans have blocked numerous cannabis amendments from even being voted on, including ones to shield state laws from federal interference, to remove research roadblocks and even to allow military veterans increased access to medical marijuana.
Gaetz, who has been a sponsor or cosponsor of several of those measures, wants to turn up pressure on House leadership to get out of the way, and he thinks that advocacy effort could get a serious boost from none other than Donald Trump.
"We need presidential leadership," Gaetz said in a phone interview on Tuesday. "President Trump made a commitment during the campaign to support medical marijuana, and we need the president to continue to be a force for good on this issue."
Support for cannabis law reform is largely generational rather than partisan, the 35-year-old congressman argues.
"Many millennials voted for the president because they believed he was a new type of Republican on the marijuana issue," he says. "The most dispositive factor in determining whether or not someone is likely to support cannabis reform is their age, not their party affiliation. It's hard to find Republicans under the age of 40 that oppose medical marijuana research."
Trump, 71, repeatedly pledged during the presidential election that he would respect state marijuana laws, going so far as to say he personally knows people who benefit from medical cannabis. But administration officials such as U.S. Attorney General Jeff Sessions, a longtime staunch legalization opponent, have sent concerning and at times conflicting signals about federal enforcement policy.
For now, it remains to be seen to what extent the president himself will step into the debate about marijuana, but Gaetz is continuing to press his fellow Republicans in Congress on the issue, with some signs of success.
In a hearing this month he got House Judiciary Committee Chairman Bob Goodlatte (R-VA) to pledge on the record to work to make marijuana research easier.
Scientists have long complained that cannabis's current status under Schedule I — a category that's supposed to be reserved for substances with no medical benefits —  creates unnecessary hurdles that don't exist for studies on other drugs.
"Chairman Goodlatte has made a commitment that we will liberalize access to medical marijuana for research purposes in universities and in medical facilities," Gaetz says. "It's my view that that cannot occur in a world in which the federal government takes the position that cannabis has no medical value. So in my mind, Chairman Goodlatte has committed to remove cannabis from the list of Schedule I drugs."
Goodlatte's commitment came during a debate on an amendment that Gaetz filed which would have forced Sessions to study the benefits of medical marijuana for police officers. He ended up withdrawing the proposal and not forcing a vote per Goodlatte's request and in service of pursuing broader opportunities to expand research in partnership with the chairman.
It was the second time in recent months that Gaetz pulled a marijuana amendment from consideration in the committee, and he was visibly frustrated during the hearing that Goodlatte's staff hadn't yet followed through on their boss's prior commitment to work on cannabis legislation the first time he forced a committee debate on the issue this summer.
"That frustration continues to grow because as I sit here two weeks from that commitment, the Judiciary staff hasn't produced the first word of legislative text to fulfill the chairman's commitment," Gaetz says of the most recent hearing.
Beyond the committee, the Florida Republican has taken the fight for marijuana reform to the floor, for example delivering a passionate speech earlier this month about how medical cannabis can help people with breast cancer.
Gaetz, who is the only GOP member of Congress to have previously authored a state medical marijuana law, says he gets his passion for working on the issue from families who are directly impacted.
As a member of Florida's House of Representatives he introduced and successfully fought to enact a limited program that allows certain patients to access medicines derived from cannabidiol, a component of marijuana.
"In Florida I've made promises to families enduring very complicated medical situations that I would fight for them, and I don't feel relieved of that commitment just because I've been elected to Congress," Gaetz says. "Much of the work I've done in Florida to liberalize access to medical cannabis will be for naught if we don't create broader research opportunities and a clinical environment in which cannabis treatments can be administered When you work together with families on legislation that's helped them, helped their children, helped their parents and grandparents, you create bonds with people. And those bonds are enduring."
Last November, Florida voters went a step further by enacting a comprehensive program that will allow patients to have access to a broader array of medical marijuana products. And polls in the state now show that majority support exists for even broader legalization of marijuana for recreational purposes, but Gaetz isn't there yet.
"That's not my role in the movement," he says. "My role in the movement is to focus on medical access, research and the improvement of healthcare outcomes. I think that my efforts are best focused on those issues."
When asked if he would support a legalization proposal as a voter if it appeared on the state's ballot, he demurred, saying that "there are so many alternate causalities I would have to consider regarding, particularly, adolescent access."
But when it comes to medical cannabis, Gaetz is a proud champion and wants to use his own experience as an example for other members of Congress who still think the issue is a political liability.
"Too many Republicans hear that support for cannabis reform creates primary vulnerability. I'm the best example of why that isn't true," he says. "I'm in a district that's blood red. And in my primary election, a very substantial amount of money was spent litigating the cannabis reform issue against me and I leaned into it and I won overwhelmingly."
"And so I want to use my own political experience as a source of comfort to other members in deep red districts. The day has long lapsed when anyone is going to lose an election anywhere in America among any segment of the electorate because they support medical marijuana. But bridging the perception and the reality on that political question is a really important step to move cannabis reform."
And Gaetz is very optimistic about medical marijuana's future.
"It is not a matter of if but when medical cannabis readily accessible to every American," he says. "My hope is that we set up a truly clinical paradigm to give people confidence in the medicine they take. Right now, the barriers to research really limit our ability to have the best healthcare outcomes. That's ludicrous."
This piece was originally published by Forbes.
Photo courtesy of Congressman Matt Gaetz's office.
Top GOP Senator's Bill Lets DC Legalize Marijuana Sales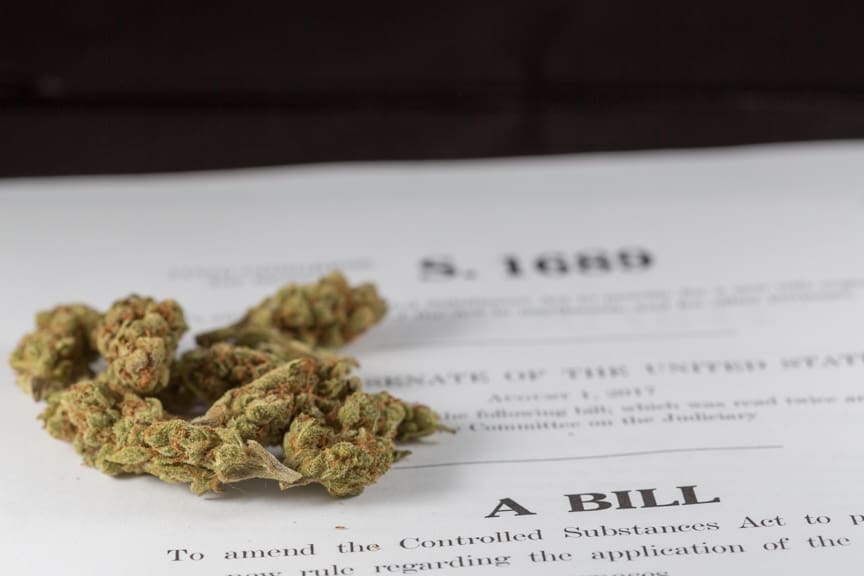 Washington, D.C. would finally be allowed to legalize marijuana sales under a new bill authored by a powerful Republican senator.
Voters in the nation's capital approved a ballot initiative that legalized cannabis possession and home cultivation in 2014. But under a current annual budget rider, the city is not allowed to spend its own money setting up a legal regulatory system for marijuana sales. As such, the city can't earn tax revenue on recreational marijuana like Colorado and seven other states that have ended prohibition are.
That would change under legislation released on Monday by Sen. Thad Cochran (R-MS), chairman of the powerful Appropriations Committee.
The new bill, which funds various federal agencies and concerns appropriations covering the District of Columbia government, is totally silent on the matter of D.C. marijuana sales. That means that if its language is enacted as part of a Fiscal Year 2018 spending agreement, the ban in current law will disappear.
But, unfortunately for marijuana legalization advocates, it's not that easy. The version of 2018 spending legislation approved by the House in September not only continues the current ban but actually broadens its language to close a potential loophole that advocates had urged D.C. officials to pursue in order to fund regulation of legal cannabis sales.
As a result, if the language in the new bill released by Cochran on Monday is approved by the Senate, the differences will need to be reconciled by a conference committee made up of a handful of members from either chamber. And at that stage, behind closed doors, anything could happen.
In 2015, Cochran made a similar move by excluding the D.C marijuana sales ban language in a chairman's mark. But the House-passed ban was included in that year's version of final spending legislation anyway.
New Sessions Memo: Does It Impact Marijuana?
Cannabis industry insiders are wondering how a new memo issued late last week by U.S. Attorney General Jeff Sessions could impact marijuana enforcement.
Under an Obama-era directive to federal prosecutors that Sessions himself recently said remains in effect, states can generally implement their own cannabis law without much federal interference, as long as they abide by certain guidelines set out by the Department of Justice.
But in a new document released on Friday, Sessions is asking Associate Attorney General Rachel Brand to review existing department guidance that "effectively bind[s] private parties without undergoing the rulemaking process."
It's unclear whether the new move puts the so-called "Cole memo" (named for the then-deputy U.S. attorney general who authored it in 2013) at risk.
"Guidance documents can be used to explain existing law," Brand said in a press release issued along with Sessions's new memo. "But they should not be used to change the law or to impose new standards to determine compliance with the law… This Department of Justice will not use guidance documents to circumvent the rulemaking process, and we will proactively work to rescind existing guidance documents that go too far."
Could that apply to the Cole memo, which some critics have viewed as an inappropriate unilateral workaround of federal prohibition without actually changing federal law?
On the one hand, the new Sessions directive seems mostly aimed at preventing federal agencies from issuing memos that directly tell entities outside the government what to do, rather than internal guidance about how Justice Department personnel should enforce the law.
The new memo "does not address documents informing the public of the Department's enforcement priorities or factors the Department considers in exercising its prosecutorial discretion," Sessions writes. "Nor does it address internal directives, memoranda, or training materials for Department personnel directing them on how to carry out their duties…"
But the wording of a few provisions of Sessions's new directive seems to leave its potential effects for the Cole memo within reach.
"To the extent guidance documents set out voluntary standards (e.g., recommended practices), they should clearly state that compliance with those standards is voluntary and that noncompliance will not, in itself, result in any enforcement action," one of its bullet points reads.
The Cole memo says states that don't effectively prevent impaired driving, youth access to cannabis or interstate diversion of marijuana, among other criteria, are at risk of federal interference.
While the directive was addressed to federal prosecutors, its language sends a clear warning to local officials that they'd better follow the letter of the memo lest they be invited to federal court by the Department of Justice.
"The Department's guidance in this memorandum rests on its expectation that states and local governments that have enacted laws authorizing marijuana-related conduct will implement strong and effective regulatory and enforcement systems," it read.
"Jurisdictions that have implemented systems that provide for regulation of marijuana activity must provide the necessary resources and demonstrate the willingness to enforce their law and regulations in a manner that ensures they do not undermine federal enforcement priorities," Cole warned. "If state enforcement efforts are not sufficiently robust to protect against the harms set forth above, the federal government may seek to challenge the regulatory structure itself in addition to continuing to bring individual enforcement actions, including criminal prosecutions, focused on those harms."
That passage could also implicate two other bullet points in Sessions's new directive.
"Guidance documents should not be used for the purpose of coercing persons or entities outside the federal government into taking any action or refraining from taking any action beyond what is required by the terms of the applicable statute or regulation."
"Guidance documents should not use mandatory language such as 'shall,' 'must,'
'required,' or 'requirement' to direct parties outside the federal government to take or
refrain from taking action, except when restating—with citations to statutes, regulations,
or binding judicial precedent—clear mandates contained in a statute or regulation."
There is nothing in the Controlled Substances Act or any other federal law that requires states to enact or spend resources to enforce bans on cannabis use or distribution.
The Drug Enforcement Administration remains free to go after people for violating federal marijuana prohibition regardless of state law, but federal authorities cannot force local officials to assist them in those actions.
But an argument could be made that the not-strictly-binding Cole memo effectively "coerces" them into doing so by making federal cannabis actions contingent on local officials' efforts to cut down on certain federal enforcement priority areas.
It is unclear if Sessions intends for the new memo to flag the Obama-era marijuana policy, but that could be one implication of a process that will not take place outside of his office.
"I direct the Associate Attorney General, as Chair of the Department's Regulatory Reform Task Force, to work with components to identify existing guidance documents that should be repealed, replaced, or modified in light of these principles," Sessions writes in the new document.
Of course, as attorney general, Sessions could rescind the Cole memo himself at any time, or direct a subordinate to replace it with a new policy. He doesn't need the new review process created by Friday's document to justify its deletion.
But by directing Brand to lead a review of existing guidance, Sessions could put a layer of political insulation between himself and an eventual flagging and rescinding of Obama-era cannabis enforcement policy that remains popular among voters and lawmakers of both parties.
Last week, Sessions testified at a House hearing that the Trump administration's cannabis policy "is the same, really, fundamentally as the Holder-Lynch policy, which is that the federal law remains in effect and a state can legalize marijuana for its law enforcement purposes but it still remains illegal with regard to federal purposes."
On the campaign trail, then-candidate Donald Trump repeatedly pledged to respect state marijuana laws.
But in April, Sessions directed a Justice Department task force to review the Obama administration memo and make recommendations for possible changes.
However, that panel did not provide Sessions with any ammunition to support a crackdown on states, according to the Associated Press, which reviewed excerpts of the task force's report to the attorney general.
It remains to be seen whether the Cole memo will be flagged during the new review.
Republicans Block Marijuana Banking Measure
Republican congressional leadership is blocking consideration of a measure to allow marijuana businesses to deposit their profits in banks.
Many financial institutions are currently afraid to serve cannabis businesses that are legal in a growing number of states because of ongoing federal prohibition and the associated risk of running afoul of money laundering and drug laws.
As a result, many marijuana growing, processing and retail operations carry out business on a cash-only basis, making them targets for robberies.
Congressman Ed Perlmutter (D-CO) wants to solve this problem. Last Wednesday, at a meeting of the House Financial Services Committee, he offered an amendment that would have prevented federal authorities for punishing banks just for working with legal marijuana businesses.
"The regulatory confusion around marijuana and banking needs to be resolved," Perlmutter said during the markup. "Prohibition is over. This committee has a responsibility to align the laws of the United States with those of the states so that there isn't confusion. Public safety is at risk."
Perlmutter referred to the case of an Iraq War veteran who was killed during a robbery while working as a security guard at a marijuana retail operation in Colorado.
"This is a real issue that this committee must deal with and confront and cannot overlook any more," he said.
"I don't think there's a single person on this committee that is in a state that doesn't allow some level of marijuana use," Perlmutter noted, referring to the 46 states that either have comprehensive medical cannabis laws or allow limited uses of low-THC marijuana extracts.
Nonetheless, Republicans on the committee used procedural moves to block the banking measure from even being voted on.
Congressman Blaine Luetkemeyer (R-MO) reserved a point of order against the measure, claiming it was not germane to the overall bill on stress testing for financial institutions. (As an aside, the GOP lawmaker did mention that his daughter resides in Colorado and that they talk about marijuana issues "a lot").
Committee Chairman Jeb Hensarling (R-TX) ruled to uphold Luetkemeyer's point or order. Perlmutter then made a motion to appeal the ruling of the chair, but Luetkemeyer motioned to table consideration of Perlmutter's move.
Congresswoman Maxine Waters (D-CA) spoke in support of Perlmutter's amendment.
"Someday we will realize that this is a federal issue that must be dealt with," she said.
Congressman David Scott (D-GA) also argued that the panel needs to address the cannabis banking issue at some point.
"If…his amendment is not germane, I still believe that this whole burgeoning issue certainly falls in the bosom of the Financial Services Committee as we move forward," he said.
But the vote on Luetkemeyer's motion was approved on a strictly party-line vote of 28 to 14, effectively blocking the cannabis banking measure from being considered.
This week, I tried yet again to offer a solution to the marijuana banking crisis. Unfortunately, my amendment was not included in the final bill. This is an issue of public safety and I will continue to press the issue at every opportunity.https://t.co/0xUJB1srDy

— Rep. Ed Perlmutter (@RepPerlmutter) November 18, 2017
The text of Perlmutter's amendment is similar to a standalone bill he is sponsoring in the House, which currently has 51 cosponsors. A Senate companion version has 12 cosponsors.
In 2014, the Obama administration released guidance intended to give banks some comfort in working with the marijuana industry. But, because the memos provided no permanent or assured protection from continuing federal prohibition laws that remain on the books, many financial services providers have remained wary.
Also in 2014, the U.S. House voted 231 to 192 in favor of an amendment to prevent federal authorities from punishing banks for working with the legal marijuana industry. But the language was not included in the final version of annual appropriations legislation that year and was not enacted into law. GOP leaders have since blocked similar measures from even being considered for attachment to subsequent spending bills.
The new banking measure's fate marks the second time in recent days that House Republican leaders have prevented cannabis-related financial measures from even being voted on.
Also last week, GOP leaders blocked consideration of amendments concerning taxation of marijuana businesses that supporters wanted to attached a broader GOP tax reform plan moving through Congress.
Marijuana Businesses Don't See 280E Reform Success, But There's Still Hope
Over the course of the past year, congressional leaders have consistently prevented marijuana measures from coming to the House floor. Aside from banking and tax amendments, proposals to protect state laws from federal interference, allow industrial hemp and increase military veterans' access to medical cannabis have all been shut down by the House Rules Committee.
Also last week, that panel blocked a measure from Congressman Matt Gaetz (R-FL) aimed at  increasing military veterans' participation in medical cannabis research.