Veterans Affairs Department Doubles Down On Medical Marijuana Opposition
The U.S. Department of Veterans Affairs really wants the military veterans it is charged with serving to know that it isn't going to do anything to help them access medical marijuana.
While longstanding VA policy has been to disallow government physicians from helping veterans qualify for state medical cannabis programs, a new update to the department's website sends the message even more clearly — even though it misstates what the law actually is.
"Veterans should know that federal law classifies marijuana – including all derivative products – as a Schedule One controlled substance. This makes it illegal in the eyes of the federal government," the department's VA and Medical Marijuana webpage was updated to read this week. "The U.S. Department of Veterans Affairs is required to follow all federal laws including those regarding marijuana. As long as the Food and Drug Administration classifies marijuana as Schedule One VA health care providers may not recommend it or assist Veterans to obtain it."
That's not true, at least inasmuch as there is no overarching federal law that prevents V.A. from allowing its doctors to recommend medical cannabis, even though the drug is still considered illegal under federal law.
A leading Congressional champion of veterans' medical cannabis access told Marijuana Moment that he's concerned about the new VA website edit.
"This new language is very disturbing, but sadly, comes to no surprise. For years, the VA has been throwing up serious barriers to veterans' safe access to cannabis," Congressman Earl Blumenauer (D-OR) said in an emailed statement. "Yet, it's had no problem prescribing them highly addictive opioids that have killed thousands. It makes no sense. Our veterans deserve better. They deserve equal treatment from the VA doctors who know them best."
"VA clinicians may not recommend medical marijuana," the newly update page says. The older version more correctly, though somewhat misleadingly, said, "VA clinicians may not prescribe medical marijuana." [Italicized emphasis added.]
The distinction between recommendation and prescription is an important one. No physician in the U.S. — government or private — can prescribe marijuana, because prescription is a federally-regulated process and cannabis currently falls under the Controlled Substances Act's restrictive Schedule I. That category is supposed to be reserved for drugs with a high potential for abuse and no medical value.
That's why the 29 states with medical cannabis access allow doctors to simply recommend the drug, circumventing the prescription process.
Even with marijuana's Schedule I status, there is nothing in federal law that prevents V.A. from allowing its doctors to fill out medical cannabis recommendation forms in states where it is legal.
The only thing standing in the way is V.A.'s own internal policy, something that Veterans Affairs Secretary David Shulkin can change at any time.
VA SECRETARY MISSTATES FEDERAL LAW
Shulkin has on a number of occasions indicated that he does see medical potential for marijuana but has consistently falsely claimed that Congressional action is needed before he can do anything to increase veterans' access. And he has often used the term "prescribe" — intentionally or not — as something of a distraction from the real issue of recommendations. But the new VA website update addresses recommendations, albeit incorrectly.
During a White House briefing earlier this year, Shulkin said that state medical cannabis laws may be providing "some evidence that this is beginning to be helpful, and we're interested in looking at that and learning from that." But he added that "until time the federal law changes, we are not able to be able to prescribe medical marijuana for conditions that may be helpful."
In a separate interview, he said, "From the federal government point of view, right now we are prohibited by law from doing research on it or prescribing it… We are not going to be out there doing that research or prescribing these different medicinal preparations unless the law is changed."
In another interview, he said that it is "not within our legal scope to study that in formal research programs or to prescribe medical marijuana, even in states where it's legal." He added, "if a law change at the federal level is appropriate, that could happen."
Shulkin, who previously served in the Obama administration as V.A.'s undersecretary of health, wrote in a letter last year that he "wholeheartedly agree[s] that VA should do all it can to foster open communication between Veterans and their VA providers, including discussion about participation in state marijuana programs." He went so far as to say that he "recognize[s] that the disparity between Federal and state laws regarding the use of marijuana creates considerable uncertainty for patients, providers, and Federal, state, and local law enforcement personnel."
Under a current internal V.A. administrative directive, the department's policy is "to prohibit VA providers from completing forms seeking recommendations or opinions regarding a Veteran's participation in a State marijuana program." The directive technically expired on January 31, 2016, but remains in force in practice until a new one is instituted to replace it.
In July, Shulkin announced that a new directive is in the final stages of internal review. While he didn't reveal what it will say, he wrote in a letter to a U.S. House member that it would "maintain the same policy" as the earlier directive.
CONGRESSIONAL EFFORTS
A bipartisan group of members of the House and Senate has tried over the years to pass legislation forcing the VA's hand on medical cannabis, but has been consistently blocked by Congressional leadership.
Most recently, Republican-controlled House Rules Committee blocked an amendment on the issue from even being considered on the floor this summer. But a rider preventing VA from spending money to enforce its existing internal ban is in the Senate version of 2018 spending legislation, and so the issue will be decided by a conference committee that later merges both chambers' bills into a single proposal.
Last year, however, both the House and Senate approved different version of the medical cannabis language but the conference committee removed both of them from the final bill.
VETERANS ADVOCATES PUSH FOR CHANGE
The American Legion, which represents more than 2.4 million military veterans, has been pressuring the federal government to evolve on medical cannabis. Most recently, in August, it adopted a resolution calling on VA to let its doctors write medical marijuana recommendations.
"More than half the states in the union have passed medical marijuana laws to date," the group's resolution reads. "The American Legion urge the United States government to permit VA medical providers to be able to discuss with veterans the use of marijuana for medical purposes and recommend it in those states where medical marijuana laws exist."
The Legion and other medical cannabis advocates have also called for rescheduling and pressed VA to stop blocking federally-approved researchers from recruiting veterans for research on medical cannabis.
One such study on marijuana's effects on PTSD has been prevented from reaching veterans at the Phoenix, Arizona VA hospital.
"This study needs 50 more participants and the Phoenix VA is in the best possible position to assist by simply allowing principle investigators to brief [VA] medical staff on the progress of the study, and by allowing clinicians to reveal the existence of the study to potential participants," the Legion wrote to Shulkin last month. "Your immediate attention in this important matter is greatly appreciated. We ask for your direct involvement to ensure this critical research is fully enabled."
MORE VA WEBSITE CHANGES
Other new changes to the V.A. webpage include the removal of bullet points that read, "VA doctors and clinical teams may advise Veterans who use marijuana of the drug's impact on other aspects of the Veterans' care such as pain management, PTSD or substance use disorder treatment" and "VA doctors and clinical staff will record marijuana use in the Veterans VA medical record along with its impact on the Veterans treatment plan."
In their place, the page now says, "VA health care providers will record marijuana use in the Veterans VA medical record in order to have the information available in treatment planning. As with all clinical information, this is part of the confidential medical record and protected under patient privacy and confidentiality laws and regulations."
An existing point reading, "The use or possession of marijuana is prohibited at all VA medical centers, locations and grounds," was followed up with a new clarification that says, "When you are on VA grounds it is federal law that is in force, not the laws of the state."
The department does make it clear that "veteran participation in State medical marijuana program does not affect eligibility for VA care and services." That longstanding policy means that patients won't lose access to their government-provided healthcare just because they use medical cannabis.
But, until Shulkin acts to change the internal prohibition or Congress steps in and forces his hand, the VA isn't going to do anything to help veterans get medical cannabis.
Photo courtesy of U.S. Air Forces Special Operations Command.
Marijuana Opponent Kennedy Reconsiders State Legalization Protections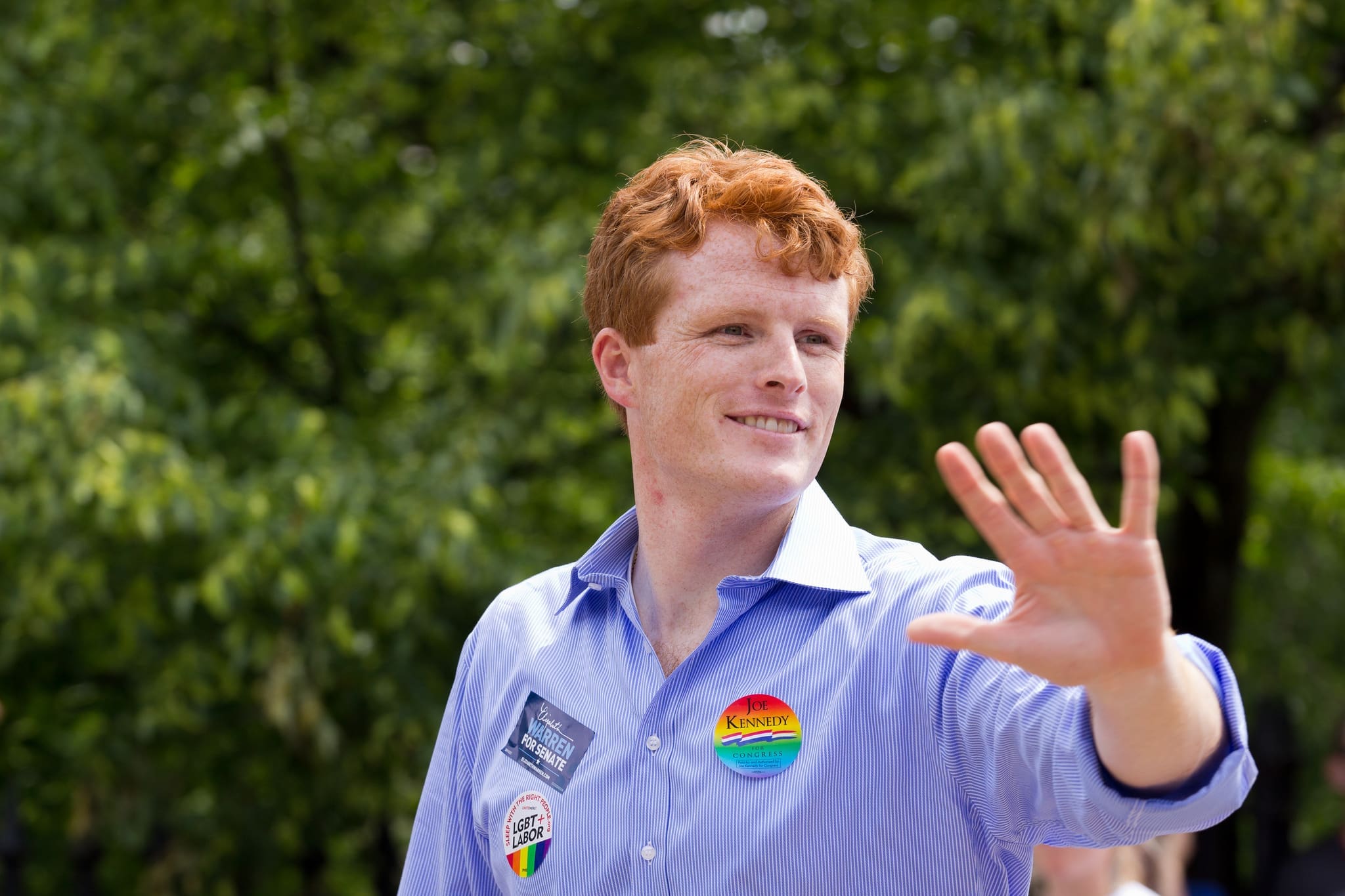 A Democratic congressman who has acknowledged he is out of step with his party on marijuana policy now says that he doesn't necessarily support federal crackdowns on states with legalization, even though he has repeatedly voted to allow such enforcement actions.
"The federal government policy on this is incoherent, and the federal government needs to get far more coherent on this," Congressman Joe Kennedy III (D-MA) said in an interview this week. "For states that have put in place the proper safeguards and procedures, I'd be inclined to support those states."
Legalization supporters were upset when Democrats tapped Kennedy last month to deliver the party's response to President Trump's State of the Union address.
As a member of Congress, Kennedy has not only opposed his state's move to legalize marijuana, but has voted against amendments to shield state medical marijuana laws from federal interference, allow military veterans to access medical cannabis and protect children who use non-psychoactive cannabidiol extracts to treat severe seizure disorders.
One of only a handful of Democrats to oppose those proposals, Kennedy knows that his views on cannabis are out of step with the party.
"I come at it a little bit differently, obviously, than the vast majority of my colleagues," he said in a separate interview this month. "I think the party is clearly moving in that legalization direction. It might already be there."
But in the new interview this week, Kennedy made clear that he still has a lot of concerns about legalization, which he campaigned against in Massachusetts.
"There's a pretty robust voice in the addiction community that points out some of the challenges and how it has had negative impacts on folks," he said. "Those voices should be listened to as well."
He also isn't sold on medical cannabis, which voters legalized in his state in 2012.
"If we are going to treat something like a medicine, it needs to go through the proper medical trials," he said. "We're not going through that process."
But although Kennedy has repeatedly voted in Congress to allow the Department of Justice to arrest and prosecute medical cannabis patients and providers, he says he doesn't necessarily want the DEA to launch large-scale raids.
"Assuming there are communities that are doing this in a safe and effective way, I certainly could see myself allowing that go forward," he said. "I don't want to upend the access to care that these patients need."
Although he's "not proposing a crackdown on it," Kennedy acknowledged that his overall skepticism about cannabis is "not necessarily reflective of the voters of Massachusetts."
"I want to make sure that we go about this in the right way with the right safeguards in place to not end up in a circumstance where we can get ourselves in trouble," he said.
Kennedy's grandfather, former U.S. Attorney General Bobby Kennedy, criticized the hypocrisy underlying marijuana criminalization half a century ago.
Bobby Kennedy Questioned Marijuana Criminalization 50 Years Ago
Photo courtesy of Martin Grondin.
Joe Arpaio Supports Medical Marijuana, "Kind Of"
A former sheriff known for disregarding the rights of immigrants, Latinos and people convicted of drug crimes — and who recently received a pardon from President Trump for his own criminal contempt of court — is voicing support for medical marijuana.
"I wish there was something more we could do with the medical dispensaries to help our veterans [and] people who are sick. I still can't understand why you can't go to a drug store on a prescription and get this type of drug," Joe Arpaio, now a U.S. Senate candidate in Arizona, said. "The medical dispensaries, I kind of support it if it can help the sick people."
Arpaio was answering a question from Larry King.
This isn't the first time the former sheriff has spoken in support of medical cannabis.
In 2015, he appeared at an event aimed at educating senior citizens about medical marijuana.
"If this is one thing that really will help them, the medical part of it, and is done legitimately, no diversion, I don't know, what's the difference going to the drug store and getting a prescription," he said at the time.
The opinion of the former Bureau of Narcotics and Dangerous Drugs special agent appears to have shifted over time. In 2010, he campaigned against Arizona's medical cannabis ballot measure, which ultimately eked out a narrow victory on Election Day.
But while Arpaio sees medical potential for marijuana, he doesn't support its broader legalization.
"I don't support using or selling marijuana across our nation," he said in the new interview with King. "Actually it's against the law. It's against the federal law anyway."
Last year, Arpaio was found in contempt of federal court after refusing to obey a judge's order to stop racial profiling practices. He also, at one point, got a tank from the Army and decorated it with "Sheriff Arpaio's War on Drugs" written on the sides.
Congresswoman Martha McSally, who is also running for the Republican nomination for the Arizona Senate seat, voted against amendments to protect state medical cannabis and marijuana legalization laws from federal interference.
Congresswoman Kyrsten Sinema, a Democrat running for the seat, voted in favor of both measures.
Photo courtesy of Gage Skidmore.
Senate Measure Shields Immigrants From Deportation For Marijuana
The U.S. Senate could soon vote on whether immigrants should be deported for marijuana activity that follows state laws.
As Congress considers proposals to address immigration policy and border security this week, Sen. Ron Wyden (D-OR) filed an amendment to shield people who use cannabis or work in the industry in legalized states from being deported or denied visas.
It reads:
SA 1983. Mr. WYDEN submitted an amendment intended to be proposed by
him to the bill H.R. 2579, to amend the Internal Revenue Code of 1986
to allow the premium tax credit with respect to unsubsidized COBRA
continuation coverage; which was ordered to lie on the table; as
follows:
At the appropriate place, insert the following:
SEC. ___. PROHIBITION ON INADMISSIBILITY OR DEPORTATION OF
ALIENS WHO COMPLY WITH STATE LAW.
(a) Prohibition on Inadmissibility.–Section
212(a)(2)(A)(i)(II) of the Immigration and Nationality Act (8
U.S.C. 1182(a)(2)(A)(i)(II)) is amended by inserting "other
than an act involving marijuana that is permitted under the
laws of a State or the law of an Indian tribe, as defined in
section 4 of the Indian Self-Determination and Education
Assistance Act (25 U.S.C. 5304), that has jurisdiction over
the Indian country, as defined in section 1151 of title 18,
United States Code, in which the act occurs" after
"802)),".
(b) Prohibition on Deportation.–Section 237(a)(2)(B)(i) of
the Immigration and Nationality Act (8 U.S.C.
1227(a)(2)(B)(i)) is amended by striking "marijuana," and
inserting "marijuana or an offense involving marijuana that
is permitted under the laws of a State or the law of an
Indian tribe, as defined in section 4 of the Indian Self-
Determination and Education Assistance Act (25 U.S.C. 5304),
that has jurisdiction over the Indian country, as defined in
section 1151 of title 18, United States Code, in which the
offense occurs".
Under current law, immigrants "who at any time after admission" are convicted of a violating any state, federal, or foreign drug law, "other than a single offense involving possession for one's own use of 30 grams or less of marijuana," are considered deportable. Those committing certain drug crimes are also ineligible to receive visas or be admitted to the U.S.
Wyden's amendment would provide exemptions for people who handle marijuana in accordance with state laws.
It is unknown when or if the proposal will receive a vote on the floor.
Photo courtesy of JD Lasica.