Marijuana In Casinos? Not Until Federal Law Changes, Vegas Congresswoman Says
Congresswoman Dina Titus voted for the marijuana legalization measure on Nevada's ballot a year ago. Since then, she has been fighting on Capitol Hill to get the federal government to respect the decision she and a majority of her constituents made to end prohibition.
The Las Vegas Democrat has sponsored or signed onto bills and amendments that would protect state laws from Justice Department interference, allow marijuana businesses to use banks and let military veterans access medical cannabis recommendations through government doctors, among others.
Those measures haven't advanced, however, because of roadblocks thrown up by Congressional Republican leadership.
But even though the GOP-controlled House Rules Committee won't allow floor votes on marijuana amendments, and Speaker Paul Ryan hasn't done anything to help, Titus said in an interview that cannabis isn't just an issue for Democrats.
"This was not partisan," she says of the measures she has supported. "It was heavily Democratic but we had Republicans supporting these amendments. I think if they came to the floor they would pass."
Indeed, large bipartisan majorities approved floor amendments to protect state medical cannabis laws from federal interference in 2014 and 2015, but since then House leadership has consistently prevented votes.
Titus says that "Republicans aren't going to buck their leadership and sign a discharge petition" to circumvent committees and force measures to the floor, but she is hopeful that shifting poll results on legalization and the growing number of changing state laws will make Congress come around soon.
"We're going to keep on beating the drum, and I think you reach a tipping point because every cycle there are more initiatives and more efforts by state legislatures to legalize marijuana in some fashion. It's over half of the states that have it now," she says. "So when public opinion shifts…and more states make it legal, then the Republicans are going to have to respond."
Titus believes it is important that she tailor her pitch when trying to convince fellow members of Congress to support cannabis legislation.
"You make the argument based on who you're talking to," she says. "Some believe it's a criminal justice issue. Others believe it's a states' rights issue. Others see it as a medical opportunity issue. You've got a few who are just old stoned hippies who want to do it."
For her part, Titus says that in addition to representing the views of her constituents, she has focused so much of her time on cannabis law reform because of people she knows who are impacted by current policy.
"I have many, many veterans in southern Nevada, and I have seen the problem of opioid addiction and I think that medical marijuana is a viable option," she says. "And I've heard the stories of families of children with epilepsy who say this is the only way their children can get relief from having episodes. You hear stories like that, you think, 'We're missing the boat if we're not looking at all the possibilities.'"
The congresswoman has also built relationships with marijuana business operators that she represents in her district.
"A lot of people in Las Vegas who are my constituents are in this business, and I have visited a number of the dispensaries," she says. "There are not little head shops on the corner with black lights and pictures of Che Guevara. There are very professional operations. They've got agronomists, they've got scientists. They are respectable places with high security. They improve the neighborhood. They don't bring it down."
Titus thinks Nevada officials have done a good job implementing what voters approved, partially because the state has previously been a pioneer in regulating formerly prohibited activity, namely gambling.
"I think that's pretty well shaken out," she says. "This is a whole new area for us, but we have experience regulating something that's kind of unusual because of our gaming and I think we were able to adjust to it pretty well."
But for now, there's no overlap between the state's cannabis and gaming industries, largely because regulators for the latter have prohibited casinos from entering the marijuana trade.
"It won't happen until federal legislation happens, because gaming is so tightly regulated and they're not going to take any chances of losing a license or having the feds step into the gaming world because of marijuana," Titus says. "It's kind of like the banks that don't want to do business with marijuana companies because of federal regulation. So it's going to take not just becoming mainstream or not just becoming legalized at the state level, but federal action before that happens."
One area where Titus does see opportunity for advancement without Congressional action is improving military veterans' access to medical cannabis. Under current Department of Veterans Affairs policy, government doctors are not allowed to fill out medical marijuana recommendation forms, even in states where it is legal.
It's "a crying shame," she says.
Despite some victories on the House floor and in a Senate committee, efforts to force a change at the VA haven't been enacted into law. But VA Sec. David Shulkin could change the policy himself, if he wanted to.
"I'm very disappointed in the VA not moving this forward," she says. "I think they should do it without legislation."
The issue is particularly important in light of increased attention being paid to opioid addiction and overdoses. "The veterans who want to try [marijuana] have to use it on their own, pay for it out of their own pockets and who knows how it interacts with other things that are being prescribed," Titus says. "The opioid crisis, I think, has been perpetuated by the VA because it's so much easier to give somebody a pill than it is just to deal with some of the demons that they may face or some of the real physical problems. Veterans come back now not with just one injury but maybe 10, 12 injuries because of the new science on the battlefield."
On broader marijuana enforcement issues, despite concerning comments from U.S. Attorney General Jeff Sessions and other Trump administration officials, there have been no formal policy changes announced this year.
"We're just in limbo," Titus says. "That can be as bad as knowing what you have to face even if it's something you don't like."
The congresswoman remains optimistic about shifting tides on marijuana issues, however, and in particular is impressed by how the legalization movement and the industry it has created have stepped up their game.
"The groups that represent different aspects of the medical marijuana and recreational marijuana industry are getting much more energized, much more mobilized, much more professional in their lobbying efforts," she says. "I think you're going to see that start to increase."
This piece was first published by Forbes.
Photo courtesy of National Nuclear Security Administration.
Cory Booker Bill Would Let Students With Drug Convictions Keep Financial Aid
Every year, about 1,000 students lose some or all of their federal financial aid because they admit to having a conviction for a marijuana or other drug offense. But a Senate bill filed on Friday would change that.
One provision of the bill—which aims to "streamline the financial aid application process" overall—would eliminate a question on the Free Application for Federal Student Aid (FAFSA) regarding drug convictions. Currently, applicants must answer this question:
"Have you been convicted for the possession or sale of illegal drugs for an offense that occurred while you were receiving federal student aid (such as grants, work-study, or loans)?"
In some cases, a "yes" response could mean the difference between going on to graduate or dropping out. Low-income students, who might not be able to afford tuition without federal aid, are particularly impacted.
That's why a growing number of civil rights, drug reform and higher education groups have called for the question to be removed from the FAFSA. Sen. Cory Booker (D-NJ) and a coalition of six other senators hope their new bill will achieve that goal.
"We know that when a student completes the federal financial aid form, he or she is more likely to receive aid, attend college, and graduate from college," Booker said in a press release. "But sadly, less than half of today's high school students complete the form, and students from underserved backgrounds complete the form at even lower rates than their peers."
"Our bill would simplify the complicated process in order to reduce barriers to higher learning for students from marginalized populations."
A similar House bill introduced by Rep. Lisa Blunt Rochester (D-DE) last year also called for the elimination of the drug conviction eligibility question on the FAFSA.
The "Simplifying Financial Aid for Students Act" would do more than just remove that one question. It would also take steps to simplify the process of determining financial aid eligibility and make the FAFSA available to the young immigrants known as DREAMers, for example.
But the drug conviction question is an important one that's penalized tens of thousands of students since Congress first enacted the aid ban in 1998. There have been efforts to revise the question so that students don't automatically lose all of their aid if they self-report a drug conviction, but even a partial loss can derail students on the path to higher education.
"The drug conviction question, which remains on the FAFSA, serves solely as a deterrent to higher education from the students who might benefit from it most: particularly, students of color whose communities have been overpoliced and marginalized by the drug war," Betty Aldworth, executive director of Students for Sensible Drug Policy, told Marijuana Moment.
"We champion any effort to assure students equitable access to education, and look forward to the day when young people who are unlucky enough to be caught using drugs are not punished for the same behavior that half of their peers get away with."
Initial cosponsors of Booker's financial aid reform bill are Sens. Richard Blumenthal (D-CT), Kirsten Gillibrand (D-NY), Jeff Merkley (D-OR), Doug Jones (D-AL), Kamala Harris (D-CA) and Catherine Cortez Masto (D-NV).
New Congressional Bill Would Automatically Seal Marijuana Records
Photo courtesy of Pixabay.
Marijuana 'Farmers Markets' Won't Happen In California Yet After Bill's Failure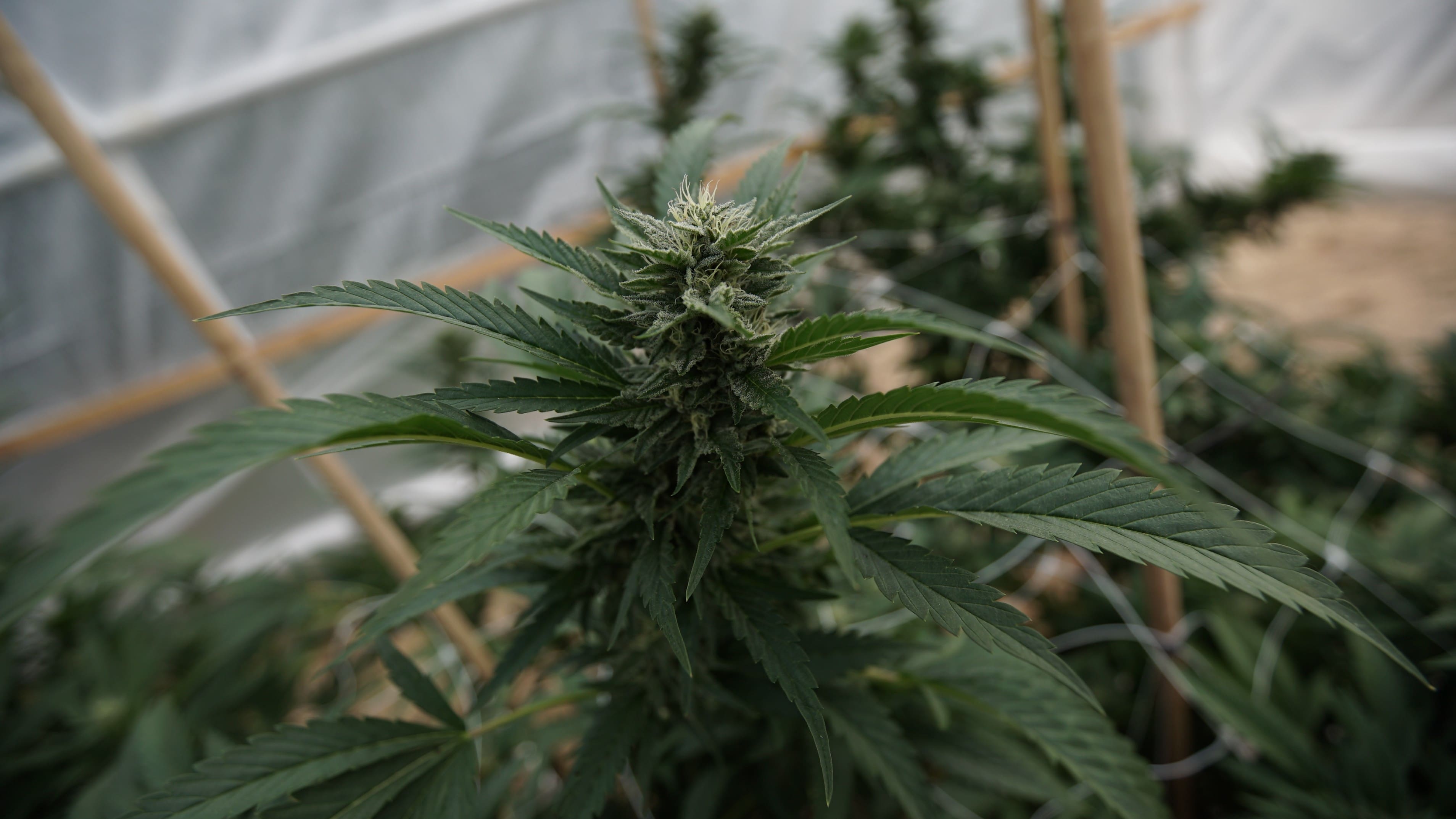 Popular marijuana events in California like the Emerald Cup will take on a different flavor than hoped for this year, after a bill that would have allowed licensed growers to sell directly to consumers at temporary events was defeated in the state Legislature.
Cannabis producers like the small and medium growers in the northern California counties that make up the Emerald Triangle have for years sold directly to consumers at "marijuana farmer's markets" and events like the Emerald Cup, a long-running end-of-the-harvest celebration.
But under current state law following the passage of Prop. 64, which legalized recreational marijuana in 2016, direct sales are no longer allowed unless a grower also has a retail sales permit—for which a small operation may not qualify, even if they can afford it—or if they conduct sales in tandem with a licensed retailer.
Assembly Bill 2641, introduced by Assemblyman Jim Wood (D-Santa Rosa) would have allowed the state Bureau of Cannabis Control to issue temporary licenses for "on-site sales and consumption of cannabis" at temporary events.
The bill died for the year after it was held in committee this week.
According to a committee analysis, it was opposed by major California cannabis brands like Canndescent, a large-scale cultivator, and by the United Cannabis Business Association, which represents Los Angeles and Orange County-area retail dispensaries.
Supporters included county governments in Mendocino and Humboldt counties, where the economy relies heavily on small-scale marijuana growers, and the California Cannabis Industry Association.
With its failure, small and medium growers without sales permits may be shut out from end-of-year sales events. Coming in a year of falling prices and restricted access to retail, some small growers are expected to go out of business, industry advocates say.
"I'm really hopeful we'll still have awesome events, but they're not going to be the same behind the scenes," Hezekiah Allen, executive director of the California Growers' Association, which sponsored the bill, told Marijuana Moment on Friday.
Of 900 licensed growers in California that would have been able to sell at events like the Emerald Cup, Allen said he expects 400 to go out of business this year regardless. Of the rest, the livelihoods of about half rely on temporary sales events, he said.
"For years, these types of events have been lifelines for small growers," he said. "For the smallest licensed growers, these are life or death."
"There's a few hundred members who won't be here next year because we lost that bill."
Other marijuana-related bills did pass the committee process before a legislative deadline this week and will go for votes on the floors of the state Assembly and Senate. A bill must pass both chambers before it can go to Gov. Jerry Brown (D) for signature.
Bills that advanced include:
*SB 1294, which would create a statewide equity program to encourage and assist people of color and other small operators to enter the marijuana industry
*SB 829, which would create a new license to allow for medical cannabis products to be given away free of charge (a "compassion care license")
*SB 1409, which would allow for state agriculture authorities to create an industrial-hemp farming program
*AB 1863, which would allow marijuana businesses to make certain tax deductions
*SB 311, which clarifies the commercial marijuana distribution process
Also this week, legislation which would have created state-chartered banks to serve the cannabis industry was held for review, effectively killing it for the year.
"This is a serious public safety issue that deserves swift resolution," Sen. Bob Hetrzberg (D), that bill's sponsor, said in a press release. "We've got barrels of cash buried all over the state, businesses being ransacked, and it's clear that the federal government won't act. It's a shock to me that the state government may not act this year either – especially after this bill passed through nearly every step with bipartisan support and little to no opposition."
Photo courtesy of Chris Wallis // Side Pocket Images.
Baker Who Denied Same-Sex Couple Now Complaining About Marijuana-Themed Cake Requests
Remember the Colorado "cake artist" who refused to make a custom wedding cake for a same-sex couple in 2012? Well, after taking his case all the way to the U.S. Supreme Court and winning a procedural victory this year, he's still having issues, according to a new lawsuit filed on Tuesday.
Part of the problem is that people keep requesting that he make marijuana and Satan-themed baked goods, Masterpiece Cakeshop owner Jack Phillips said. And he's blaming Colorado officials for allegedly targeting him and creating a hostile environment for his family and business. Phillip's lawsuit names several members of the Colorado Civil Rights Division, the state attorney general and Colorado Governor John Hickenlooper as culpable.
Phillips has made it patently clear that he won't design cakes that conflict with his religious views—namely his belief that being gay or transgender is at odds with Christian values—but that also apparently extends to "controlled substances like marijuana and alcohol," according to the complaint.
In the year after the Supreme Court announced it'd take Phillips's case, he "received other requests for cakes celebrating Satan, featuring Satanic symbols, depicting sexually explicit materials, and promoting marijuana use."
The complaint cites a specific example of someone calling his shop for an admittedly esoteric occasion:
"The caller asked Phillips to create a 'birthday' cake for Satan. The caller requested that the cake feature a red and black theme and an image of Satan smoking marijuana. Phillips declined to create that cake because it included designs that would have expressed messages in violation of his religious beliefs."
The complaint doesn't specify which tenet of Christianity explicitly prohibits the depiction of cannabis. But in any case, this is far from the first time that marijuana policy and religious rights have tangoed.
In fact, a campaign opposing a medical marijuana initiative in Utah cited the Supreme Court baker case ruling in a lawsuit also filed this week, which alleges that one provision of the measure would infringe upon religious liberties.
Mormon's new lawsuit: Utah medical marijuana measure violates his religion. Citing Supreme Court Colorado gay wedding cake case:

"right not to consort with, be around, or do business with people engaging in activities which their religion finds repugnant"https://t.co/vFv4rM0R4J pic.twitter.com/2h6FBuJlnd

— Tom Angell 🌳📰 (@tomangell) August 16, 2018
Because the Utah measure includes language that prevents landlords from discriminating against medical cannabis cardholders, the group said Mormons would encounter situations where they'd be forced to rent to people who engage in activities against their religion.
"In the United States of America, members of all religions, including the Church of Jesus Christ of Latter Day Saints have a constitutional right to exercise their religious beliefs," the complaint states, according to The Salt Lake Tribune. "This includes the right not to consort with, be around, or do business with people engaging in activities which their religion finds repugnant."
"The State of Utah is attempting to compel the speech of Utah landowners by suppressing their ability to speak out against cannabis use and consumption by only renting to tenants who do not possess or consume cannabis and who support their viewpoints in opposition against cannabis possession and consumption."
Activists are skeptical that argument will hold up in court.
Feds Call Out Religious Discrimination Against Marijuana Consumers
Photo courtesy of Wikimedia, Jeffrey Beall.