Marijuana Groups Ask Congress To Include Banking Access In Next Coronavirus Bill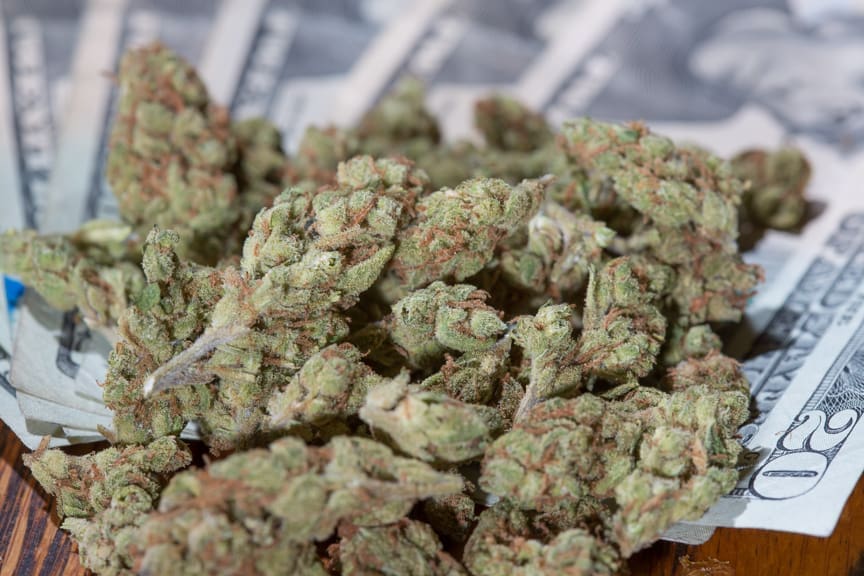 A coalition of marijuana advocacy groups sent a letter to House leadership on Friday, asking that they incorporate language allowing the cannabis industry to access banking services in upcoming coronavirus relief legislation.
Because financial institutions fear being penalized by federal regulators if they work with state-legal marijuana businesses, these companies are often forced to deal on a largely cash basis. That has long put them at risk of being targets of crime—but the groups said during this outbreak, it's especially dangerous, as the virus can be spread widely if hard currency is contaminated and circulated.
The banking restriction means that many cannabis businesses accept only cash for purchases, rather than contactless options such as credit cards or remote payment, which hampers recommended social distancing practices.
"As recent reports show that viruses can live on cash for up to 17 days, the public safety concerns of this cash-only system compound," the letter says. "The lack of access to financial institutions places industry workers, government employees, and the public at-large at risk as banknotes circulate from consumers and patients to businesses to government."
"Unlike other essential industries with access to remote payment processing and the use of credit cards to make a transaction entirely contactless, an industry limited to cash transactions must do business in close proximity to the public, including immunocompromised and otherwise medically vulnerable patients."
The letter—signed by the National Cannabis Industry Association, Americans for Safe Access, Global Alliance for Cannabis Commerce, Marijuana Policy Project, Minority Cannabis Business Association, NORML, National Cannabis Roundtable, National Association of Cannabis Businesses, Policy Center for Public Health and Safety and Safe and Responsible Banking Alliance—also touches on the lack of access to federal COVID-19 relief funds for the marijuana industry and the potential consequences.
"While some businesses saw a brief spike in revenue at the beginning of the pandemic, this was not an industry wide trend and revenues across the industry have since plummeted," it states. "If businesses cannot access the resources to remain operational, patients would be forced into the illicit market of unregulated medicine and transactions. The closure of legitimate businesses would also result in lost state tax revenue."
A potential solution to the cash issue would be to include language from the House-passed Secure and Fair Enforcement (SAFE) Banking Act in future coronavirus legislation, the groups wrote.
Lawmakers who are sponsoring that bill also chimed in through an industry-circulated press release about the letter.
"Cannabis businesses and their employees already face a significant public safety risk without access to the banking system, and the COVID-19 crisis has only exacerbated this risk with these essential businesses having to move their cash-only transactions outside the store," Rep. Ed Perlmutter (D-CO), said. "At the same time, many of these businesses are facing disruptions in their supply chain and in normal operations and they should be eligible for relief just like any other legal, legitimate business during this pandemic."
"I will continue to push for inclusion of the SAFE Banking Act or other forms of relief for this industry in the next package," he said.
The #COVID19 crisis has only exacerbated the public safety risk for cannabis businesses. And now many of them are facing disruptions in their supply chain & normal operations. They should be eligible for relief just like any other legal, legitimate business during this pandemic. https://t.co/HFnF2HdfWe

— Rep. Ed Perlmutter (@RepPerlmutter) May 8, 2020
Last month, the congressman raised the issue with Speaker Nancy Pelosi (D-CA), who he said supported adding marijuana banking access to coronavirus legislation.
Sen. Jeff Merkley (D-OR), sponsor of the Senate version of the standalone bill, said the lack of banking services for the cannabis industry is "making it increasingly difficult for these businesses to keep their workers and customers safe while they fight to stay afloat."
"The SAFE Banking Act is more important than ever to these businesses and the families who rely on them, and I'm committed to doing everything I can to get it passed," he said.
The new letter to Pelosi and Minority Leader Kevin McCarthy (R-CA) concludes: "We respectfully request that you include the Secure and Fair Enforcement (SAFE) Banking Act, or similar language in the next coronavirus relief package, to ensure these essential businesses have access to the financial services necessary to ensure the safety of medical cannabis patients, workers, and the public."
A major cannabis company called Flow Kana is also asking people to send messages to their representatives, stressing the particular need for banking access during the outbreak.
While the letter from the advocacy groups focuses on banking access, there have been multiple, similar calls to provide marijuana companies with access to Small Business Administration (SBA) coronavirus relief programs.
The agency has made clear that federal policies prohibit the agency from providing its services to businesses that market marijuana, or even those that indirectly work with the industry such as accounting or law firms. While many cannabis businesses are continuing to operate as state-approved essential services, industry stakeholders say they need the federal safeguards just like any other legitimate company.
Civil rights groups and industry stakeholders—as well as lawmakers in the House and Senate—have urged Congress to let the cannabis market access COVID-19 funds like any other industry. And last month, legislators introduced a bill, led by Rep. Earl Blumenauer (D-OR), that would extend relief to cannabis companies.
A coalition of marijuana trade organizations and credit unions also called on Congress to provide cannabis businesses with access to federal coronavirus relief.
In a letter to state treasurers that was delivered last month, a coalition of marijuana industry associations urged the officials to pressure their congressional delegations to include SBA access for cannabis firms in future coronavirus legislation. They also want the states to explore providing separate loan and lending programs for the market.
A Massachusetts legislative committee held a hearing this week on a bill that would establish a state-level loan programs for the cannabis industry and other businesses left out of federal relief.
Read the new letter urging cannabis banking access in COVID-19 legislation below: 
SAFE Banking Letter House by Marijuana Moment on Scribd
USDA Approves Hemp Plans For Massachusetts And Five Indian Tribes