This Man Is The Reason Congress Can't Vote On Marijuana Anymore
The full U.S. House of Representatives hasn't voted on any marijuana amendments since 2016, and it's largely because of one man.
In his capacity as chairman of the House Rules Committee, Congressman Pete Sessions (R-TX) has enormous power over which measures make it to the floor for consideration by his colleagues.
Despite continued efforts from a large group of bipartisan representatives, Sessions's panel has consistently blocked all cannabis proposals from advancing over the course of nearly two years.
In wide-ranging comments at a federal event on Tuesday, Sessions revealed the extent to which he disapproves of marijuana use and misunderstands scientific research about its effects.
"If addiction is the problem and we have marketers of addiction that include marijuana — because all you have to do is go to any of the stores in Colorado and they can give you high to low to medium to chocolate — we ought to call for it what it is," he said, according to the Fort Worth Star-Telegram. "If it were nicotine, it would have been outlawed; well, it would have been handled differently. But this is a political issue."
Saying he thinks there are "better alternatives [than marijuana to treat medical conditions]," Sessions's view is that "we don't have to go to that."
And implying that marijuana use causes young people to do other drugs as well, he asked, "Where do they start? If it's marijuana, we ought to stand up and be brave in the medical community to say this political direction is not right."
Numerous studies have shown that cannabis has medical value for people suffering from a variety of conditions, and research has routinely debunked the so-called "gateway theory" about marijuana leading to use of other drugs.
Also at the event, hosted by the U.S. Department of Health and Human Services, Sessions claimed that the potency of marijuana has risen dramatically since he was a young man.
"I referred to marijuana as merchants, this is a merchants of addiction, they are making it more powerful and more powerful and more powerful," he said, according to the Star-Telegram. "When I went to high school … in 1973, I graduated, marijuana, on average, is 300 times more powerful. That becomes an addictive element for a child to then go to the next thing."
While studies have shown that the THC concentrations in cannabis have generally risen over the past several decades, the "300 times more powerful" figure isn't supported by the research base. Taken at face value, the math would mean that cannabis plants are comprised of more than 100 percent THC, a physical impossibility.
Sessions Blocks All Marijuana Amendments
After years of trying and failing to pass cannabis amendments in Congress, reformers scored their first big federal legislative victory in 2014, when the House of Representatives passed a measure to block the Justice Department from interfering with state medical cannabis laws. The measure was enacted into law, and also approved the following year with an even bigger bipartisan margin of victory on the House floor.
In the two years that followed, representatives also approved measures to increase marijuana businesses' access to banks and protect state industrial hemp research programs from federal intervention.
The last time the full House voted on marijuana, in May 2016, it approved a measure to allow military veterans to receive medical cannabis recommendations from U.S. Department of Veterans Affairs doctors.
But the next month, Sessions's Rules Committee began its cannabis blockade by preventing measures on marijuana banking and letting Washington, D.C. spend its own money to regulate cannabis from advancing.
Since then, the panel has consistently blocked any and all marijuana amendments from moving to the floor, including ones to extend the existing medical cannabis protections and to allow marijuana providers to take tax deductions that are available to businesses in other industries.
The committee has also shut down measures to extend the existing state medical cannabis protections to cover laws that allow for recreational marijuana use. In 2015, that amendment came just nine flipped votes short of passage on the floor. The number of states with legalization has more than doubled since the last vote on it, so the proposal would almost certainly pick up support now that many more members of Congress represent businesses and consumers who would be protected by it.
But Sessions's blockade has ensured that his colleagues haven't been given another opportunity to consider it again.
While the decision to stop letting the House vote on marijuana measures came at the same time as leaders began shutting down amendments on other issues deemed to be controversial, such as gun control and LGBT rights, Sessions's new comments at the HHS event show he has a particular concern about cannabis policy changes.
Personal Experience Informs Sessions's Anti-Marijuana Views
Last month, just before blocking a new version of the amendment to protect broad state marijuana laws from advancing, the Texas Republican spoke about his distaste for marijuana.
"I, as probably everybody in this rooms knows, have a strong opinion on drugs, illegal drugs, alcohol," he said. "Marijuana is an addictive product, and the merchants of addiction make it that way. They make it for addiction. They make it to where our people, our young people, become addicted to marijuana and keep going."
And his position seems to be informed by the experiences of people who are close to him.
At the HHS event this week, Sessions spoke about cases of two individuals:
"A dear friend of mine, David Siegel, a wealthy man, one of the wealthiest men in America, had an 18-year-old daughter who was in treatment, I believe for marijuana and maybe cocaine," Sessions said. "She met a boy there and within three weeks after being out she was dead. She came back and did what she had been doing after being off it."
…
Sessions later told of a Boy Scout he knew in Lake Highland, who went off to school at Texas A&M, and fell into heavy drug use started by smoking marijuana. "Never had smoked marijuana," Sessions said. "At the end of the first year, he was well into it; the second year, he was into heroin. The drive for addiction with some of our children is insatiable. You just never know when you're looking at a kid what drives them. But parents are desperate."
Sessions, like all members of the House, is up for reelection this year. The Cook Political Report, which tracks congressional races, currently rates the district as "Lean Republican."
In the meantime, Sessions faces fellow Republican Paul Brown in a March 6 primary. Brown's campaign website says the federal government "should not legislate…narcotics. Those should be legislated by states or localities if they are to be legislated at all."
Congressman Earl Blumenauer (D-OR), one of the House's leading advocates for marijuana policy reform, announced last year that his political action committee would pay to put up billboards in Sessions's district criticizing his cannabis blockade.
Pro-Legalization Congressman To Target Anti-Cannabis Lawmakers
The Texas congressman has no relation to U.S. Attorney General Jeff Sessions, also an ardent legalization opponent.
Where Presidential Candidate Deval Patrick Stands On Marijuana
Former Massachusetts Gov. Deval Patrick (D) announced on November 14, 2019, that he is seeking the 2020 Democratic presidential nomination.
The latecomer to the race does not have an especially reform-friendly record on drug policy issues compared to many of his rival contenders, and questions remain about where he stands on legalization for adult-use—or even medical use for that matter.
During his time as governor, he voiced opposition to a marijuana decriminalization proposal and raised concerns about a medical cannabis legalization measure. After voters approved that latter initiative, he said he wished the state didn't have the program, and his administration faced criticism over its implementation.
That said, Patrick, who also served as the U.S. assistant attorney general for the civil rights division, does not appear to have expressed hostility to marijuana reform in recent years and during his time in office did take action in support of modest proposals such as resentencing for people with non-violent drug convictions. Here's where the former governor stands on cannabis:
Legislation And Policy Actions
Patrick's administration said that despite a marijuana decriminalization policy going into effect following the passage of a 2008 ballot initiative, law enforcement should be able to continue to search people suspected of possession. However, his office declined to approve a request from prosecutors to delay the implementation of the voter-approved policy change.
After the decriminalization proposal passed, Patrick directed the Executive Office of Public Safety and Security (EOPSS) to develop an implementation plan.
"Our office will continue to work collaboratively with EOPSS and the district attorneys and law enforcement agencies on implementation," a spokesperson said. "It's an ongoing process."
The then-governor said he would work to toughen up enforcement of fines levied against people possessing marijuana.
"The bottom line is the governor believes that if people are fined they should pay the fines," a spokesperson for his administration said.
Following the passage of a 2012 medical cannabis initiative in Massachusetts, Patrick said simply that the "voters have voted," and pledged that he wouldn't seek to repeal the law.
But there were some complications that arose during his administration's medical marijuana licensing approval process.
In February 2014, Patrick contradicted the state health department, which had recently announced that 20 business licenses had been accepted.
"No licenses have been given. No provisional licenses have been given. What we have is a multi-step process of screening out applicants," he said. "Don't get ahead of where we are. There was a balance struck here about trying to let the public in through transparency to the process even though the process was unfinished."
When reports emerged that certain medical cannabis applicants had apparently provided false or misleading information in their application forms, Patrick said "[n]o good dead goes unpunished."
"Rather than wait till the end when all that vetting and screening had been done, we're going to do that first cut from 100 [applicants] down to 20, and we're going to tell everybody,"
The next month, he dismissed requests for a review of the licensing process by applicants who the health department had rejected.
"I don't think we gain anything by starting over," he said. "We are in the middle of a process. Nobody has a license, no one is going to get a license until we meet the standards of the application process."
Patrick was also criticized for failing to follow up with patient advocates who urged him to effectively implement the program.
"It appears the governor wants to skip out of office without addressing medical marijuana because he doesn't want to talk about it and he doesn't want to deal with it," Massachusetts Patient Advocacy Alliance Executive Director Matthew Allen said in 2014.
Patrick's successor, Gov. Charlie Baker (R), overhauled the his predecessor's medical cannabis licensing process to create "a more streamlined, efficient, and transparent process that allows the Commonwealth to maintain the highest standards of both public safety and accessibility."
Despite opposing marijuana decriminalization and expressing concerns about medical cannabis legalization, the governor did sign several drug policy reform bills during his time in office.
Patrick signed legislation in 2012 that reduced mandatory minimum sentences for people with non-violent drug convictions. He'd introduced a package of bills that included a call for the repeal of such mandatory minimums the previous year, earning praise from reform advocates.
"We need an effective and accountable re-entry program for those leaving the criminal justice system," Patrick said in a statement. "Combining probation and parole, and requiring supervision after release, takes the best practices from other states to assure both public safety and cost savings."
Another piece of legislation the then-governor proposed was to reduce the scope of "drug-free school zones," where people charged with drug crimes would face mandatory minimum sentences. He recommended reducing the size of these zones from within 1,000 feet of a school to 100 feet.
Patrick signed off on a bill in 2014 to expand access to drug treatment.
"This bill creates some new rules and new tools for us to use together to turn to our brothers and sisters who are dealing with these illnesses and addiction and help them help themselves," he said.
But in 2012, Patrick signed a bill prohibiting certain synthetic drugs called "bath salts."
On The Campaign Trail
So far, Patrick has not made drug policy a center-stage issue in his campaign. However, his website says his agenda involves "making meaningful fixes to the big systems that consistently fail to meet modern needs."
"This means a justice system that focuses less on warehousing people than on preparing them to re-enter responsible life," the site says.
Previous Quotes And Social Media Posts
In 2007, a spokesperson for Patrick's office said the governor would veto a proposed marijuana possession decriminalization bill. Patrick told the Associated Press that he had other priorities when asked whether he would sign the legislation.
He was listed as a supporter for a campaign that opposed the 2008 decriminalization ballot measure that voters later approved.
Several news reports from the time also noted that Patrick stood opposed to the modest proposal to remove criminal penalties for low-level cannabis possession.
Oddly, two years earlier, Patrick was asked about a decriminalization proposal during a debate and said that while he's "very comfortable with the idea of legalizing marijuana," he doesn't "think it ought to be our priority." He went on to say that he would veto a proposed decriminalization measure in the legislature.
Massachusetts voters also approved a 2012 medical cannabis initiative while Patrick was in office—in spite of the fact that he declined to endorse the measure.
Asked about the proposal during a radio interview with WBZ, the then-governor first cited an argument in support of legalization made by conservative author William F. Buckley Jr., who said regulating drug sales would remove a profit motive for illicit dealers. Yet he went on to say that "I'm not endorsing" the initiative.
"I'm not expressing a point of view and I'm not dodging, it's just I've got so much else I'm working on," he said.
The host asked if Patrick would implement the law if voters approved it and he said "that's, I think, what we're supposed to do."
In September 2012, he said that he doesn't "have a lot of enthusiasm for the medical marijuana" measure, which was set to go before voters two months later.
"I mean I have heard the views on both sides and I'm respectful of the views of both sides, and I don't have a lot of energy around that," he said. "I think California's experience has been mixed, and I'm sympathetic to the folks who are in chronic pain and looking for some form of relief."
"I really have to defer to the medical views about this and individuals will get a chance to vote on this," Patrick said in April 2012. "I haven't been paying much attention to it."
While his administration struggled to implement the program after voters had approved it, Patrick said in August 2014 that "I wish frankly we didn't have medical marijuana."
Responding to q abt medical marijuana dispensaries in westrn Mass @massgovernor says "Look, I wish frankly we didn't have medical marijuana"

— Sharman Sacchetti (@SharmanTV) August 20, 2014
Patrick doesn't appear to have publicly weighed in during the Massachusetts campaign about legalizing marijuana for adult-use, which voters approved in 2016 after he had left office.
In 2012, Patrick said during a State of the State Address that Massachusetts should reevaluate how it treats people convicted of non-violent drug offenses.
"In these cases, we have to deal with the fact that simply warehousing non-violent offenders is a costly policy failure," he said. "Our spending on prisons has grown 30 percent in the past decade, much of that because of longer sentences for first-time and nonviolent drug offenders. We have moved, at massive public expense, from treatment for drug offenders to indiscriminate prison sentences, and gained nothing in public safety."
"We need more education and job training, and certainly more drug treatment, in prisons and we need mandatory supervision after release," he said. "And we must make non-violent drug offenders eligible for parole sooner."
He also said that the "biggest problem is that our approach to public safety has been to warehouse people," and that the "answer is new policies, not bigger warehouses."
"We've been warehousing people for whom what they really need is treatment and not just time," he said during a town hall event in 2009.
Patrick voiced support in 2006 for a bill that would legalize the over-the-counter sale of needles in order to prevent the spread of disease.
"Deval Patrick supports this legislation because he believes it will reduce dangerous diseases in our state," a campaign spokesperson said. "Studies in other states have shown that programs such as these decrease the rates of disease infection without increasing drug use."
Patrick later criticized then-Gov. Mitt Romney (R) for vetoing the legislation, stating that the official "put misguided ideology before leadership in public health."
Personal Experience With Marijuana
Patrick said in 2012 that he has never "experienced marijuana myself" but that during his school years there "was probably enough around me that there was a second-hand, a contact-high."
Marijuana Under A Patrick Presidency
It is difficult to assess how Patrick would approach federal marijuana policy if elected president, but his vocal opposition to decriminalization in Massachusetts and his administration's troubled implementation of medical cannabis legalization is likely to give advocates pause. While his current position on legalizing marijuana for adult-use is unclear, given that drug policy reform has become a mainstream issue that candidates are routinely pressed on, it is likely the former governor will be asked to weigh in on the campaign trail.
But for the time being, it appears that Patrick would not make marijuana reform a priority and, in fact, might prove more resistant to policy changes such as descheduling that the majority of candidates now embrace.
Where Presidential Candidate Mark Sanford Stands On Marijuana
Postal Service Unveils 'Drug Free USA Forever' Stamp Commemorating 1980s Anti-Drug Program
The U.S. Postal Service (USPS) is rolling out a new stamp design that pays tribute to 1980s-era drug prevention programs and promotes a "drug-free USA."
The stamps, which will go on sale starting in October 2020, were announced at the conclusion of this year's Red Ribbon Week last month, an annual occurrence first launched under the Reagan administration.
"This Drug Free USA Forever stamp will help further raise awareness about the dangers of drug abuse, and the toll it is taking on families and communities around our country," Robert Duncan, chairman of the USPS Board of Governors, said in a press release. "The Postal Service is glad to do its part in marking Red Ribbon Week, and renewing our commitment to helping these efforts to educate youth about the dangers of illegal drugs."
USPS explained that Red Ribbon Week originated after a Drug Enforcement Administration (DEA) agent was tortured and killed in Mexico while investigating drug traffickers in 1985.
"I am very pleased that the U.S. Postal Service will issue a stamp affirming our commitment to a drug-free America," DEA Acting Administrator Uttam Dhillon said. "This stamp will help raise awareness of the fight against drug addiction and honor those who have dedicated their lives to that cause."
A description of the design states that the stamp "features a white star with lines of red, light blue and blue radiating from one side of each of the star's five points, suggesting the unity necessary at all levels to effectively address drug abuse."
USPS isn't applying anti-drug messaging to the cannabis component CBD anymore, however. In September, the agency clarified that hemp-derived CBD products can be mailed under certain circumstances since the crop and its derivatives were federally legalized under the 2018 Farm Bill.
For those with mailing needs who aren't interested in supporting the notion of a "Drug Free USA," USPS does have another stamp that recognizes the 50-year anniversary of the drug-fueled 1969 counterculture music festival Woodstock.
The stamp "features an image of a dove along with the words '3 DAYS OF PEACE AND MUSIC,' evoking the original promotional poster for the festival," USPS says.
Another option is a John Lennon Forever stamp, celebrating the iconic Beatles member and marijuana enthusiast who famously got "high with a little help" from his friends.
"Still beloved around the world, Lennon's music remains an anchor of pop radio and continues to speak for truth and peace," USPS wrote.
Top CDC Official Suggests Legal Marijuana Regulations Can Mitigate Vaping Injuries
Photo courtesy of Wikicommons.
New Congressional Resolution Calls For Marijuana Legalization And Drug Expungements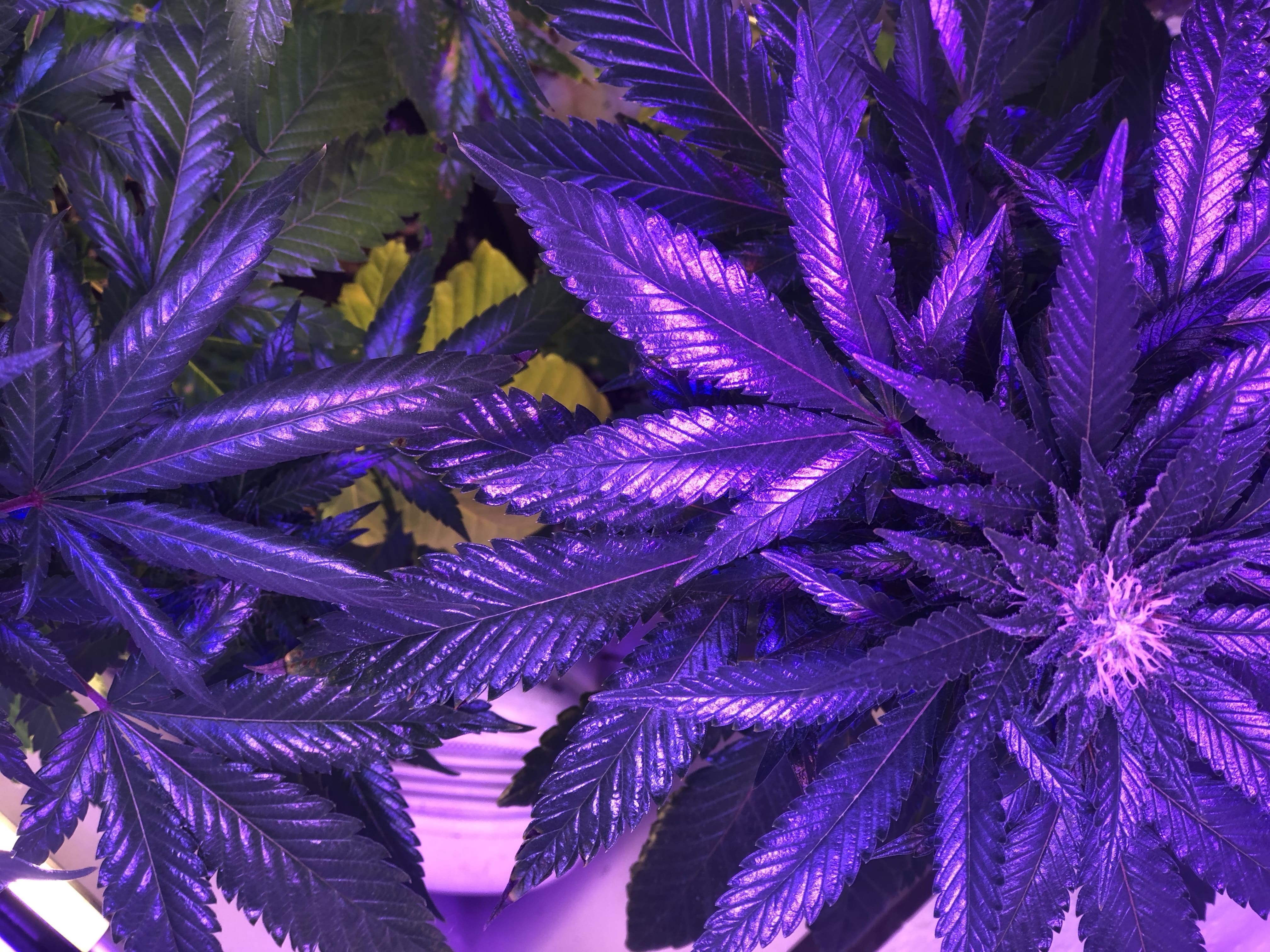 Rep. Ayanna Pressley (D-MA) released a congressional resolution on Thursday that calls for a fundamental reshaping of the criminal justice system, in part by legalizing marijuana and expunging all drug-related convictions.
The congresswoman's "People's Justice Guarantee" resolution outlines "a bold, new vision for justice in the American criminal legal system" that's designed to "transform the U.S. criminal legal system to one that meets America's foundational yet unfilled promise of justice for all."
This is personal for me. It's time for a bold people-centered vision for decarceration & justice in America. Today we're introducing The People's #JusticeGuarantee. Drafted with community & centering a people's process that lifts the voices of those impacted by our broken system. https://t.co/pePAiBuFdg

— Ayanna Pressley (@AyannaPressley) November 14, 2019
The ultimate goal of the measure is to reduce mass incarceration in the country through a series of reform steps that includes ending for-profit prisons, decriminalizing certain non-violent offenses, imposing caps on criminal sentences, abolishing the death penalty, expanding access to mental health services in prisons and reinvesting in communities that have been most impacted by "tough of crime" criminal policies.
Some have characterized the resolution as the "Green New Deal" of criminal justice reform, comparable in scope and ambition to the climate change plan championed by fellow "Squad" member Rep. Alexandria Ocasio-Cortez (D-NY).
Drug policy reform isn't the main feature of the resolution, but it does call for "decriminalizing addiction, homelessness, poverty, HIV status, and disabilities, including mental health diagnosis, by legalizing marijuana and overdose prevention sites, declining to criminally prosecute low-level offenses such as loitering and theft of necessity goods, and expunging the records of individuals for all drug-related offenses."
Interestingly, an earlier draft of the measure reportedly contained language specifying that law enforcement should "use civil citations instead of arrests for drug possession," according to a paraphrase by a reporter with The Appeal who reviewed the document but later updated her story to reflect the version that was actually filed. A call for an 80 percent reduction in the prison population was also removed from the text.
Correction: The version of the resolution Pressley filed in Congress today does not include the call for an 80% reduction in the prison population that the draft I saw yesterday included. My story has been updated. https://t.co/814m5LFzgl

— Kira Lerner (@kira_lerner) November 14, 2019
It's not clear if the provision on "decriminalizing addiction" in the final resolution would involve all drug possession offenses, or why Pressley apparently decided to scale back the scope of the measure from the draft her staff circulated to reporters. Marijuana Moment reached out to the congresswoman's office for clarification but a representative was not immediately available.
The ACLU, Color of Change and National Immigrant Law Center are among several civil rights groups that have endorsed the resolution, which was created in concert with advocates from the National Immigration Law Center, Immigrant Legal Resource Center, Immigrant Defense Project, UndocuBlack Network and others.
"You cannot have a government for and by the people if it is not represented by all of the people," Pressley said in a press release. "For far too long, those closest to the pain have not been closest to the power, resulting in a racist, xenophobic, rogue, and fundamentally flawed criminal legal system."
"The People's Justice Guarantee is the product of a symbiotic partnership with over 20 grassroots organizations and people impacted by the discriminatory policies of our legal system," she said. "Our resolution calls for a bold transformation of the status quo—devoted to dismantling injustices so that the system is smaller, safer, less punitive, and more humane."
While the freshman congresswoman declined to endorse a 2016 marijuana legalization measure that was ultimately approved by Massachusetts voters, she's since positioned herself as a champion for reform, including by voting against an amendment barring people with drug convictions from working in child care services with the U.S. Department of Veterans Affairs.
She also voted in favor of amendments to protect all state marijuana programs from federal intervention and another introduced by Ocasio-Cortez to remove a budget rider that she argued inhibited research into the therapeutic potential of psychedelics.
In addition, Pressley has cosponsored bills concerning marijuana descheduling, research on the benefits of medical cannabis for military veterans and banking access by state-legal businesses.
Read the full text of Pressley's justice reform resolution below: 
Pressley_The People's J… by Marijuana Moment on Scribd
Kamala Harris Jokes About CBD Body Rubs To Make A Serious Point On The Marijuana Industry