This Man Is The Reason Congress Can't Vote On Marijuana Anymore
The full U.S. House of Representatives hasn't voted on any marijuana amendments since 2016, and it's largely because of one man.
In his capacity as chairman of the House Rules Committee, Congressman Pete Sessions (R-TX) has enormous power over which measures make it to the floor for consideration by his colleagues.
Despite continued efforts from a large group of bipartisan representatives, Sessions's panel has consistently blocked all cannabis proposals from advancing over the course of nearly two years.
In wide-ranging comments at a federal event on Tuesday, Sessions revealed the extent to which he disapproves of marijuana use and misunderstands scientific research about its effects.
"If addiction is the problem and we have marketers of addiction that include marijuana — because all you have to do is go to any of the stores in Colorado and they can give you high to low to medium to chocolate — we ought to call for it what it is," he said, according to the Fort Worth Star-Telegram. "If it were nicotine, it would have been outlawed; well, it would have been handled differently. But this is a political issue."
Saying he thinks there are "better alternatives [than marijuana to treat medical conditions]," Sessions's view is that "we don't have to go to that."
And implying that marijuana use causes young people to do other drugs as well, he asked, "Where do they start? If it's marijuana, we ought to stand up and be brave in the medical community to say this political direction is not right."
Numerous studies have shown that cannabis has medical value for people suffering from a variety of conditions, and research has routinely debunked the so-called "gateway theory" about marijuana leading to use of other drugs.
Also at the event, hosted by the U.S. Department of Health and Human Services, Sessions claimed that the potency of marijuana has risen dramatically since he was a young man.
"I referred to marijuana as merchants, this is a merchants of addiction, they are making it more powerful and more powerful and more powerful," he said, according to the Star-Telegram. "When I went to high school … in 1973, I graduated, marijuana, on average, is 300 times more powerful. That becomes an addictive element for a child to then go to the next thing."
While studies have shown that the THC concentrations in cannabis have generally risen over the past several decades, the "300 times more powerful" figure isn't supported by the research base. Taken at face value, the math would mean that cannabis plants are comprised of more than 100 percent THC, a physical impossibility.
Sessions Blocks All Marijuana Amendments
After years of trying and failing to pass cannabis amendments in Congress, reformers scored their first big federal legislative victory in 2014, when the House of Representatives passed a measure to block the Justice Department from interfering with state medical cannabis laws. The measure was enacted into law, and also approved the following year with an even bigger bipartisan margin of victory on the House floor.
In the two years that followed, representatives also approved measures to increase marijuana businesses' access to banks and protect state industrial hemp research programs from federal intervention.
The last time the full House voted on marijuana, in May 2016, it approved a measure to allow military veterans to receive medical cannabis recommendations from U.S. Department of Veterans Affairs doctors.
But the next month, Sessions's Rules Committee began its cannabis blockade by preventing measures on marijuana banking and letting Washington, D.C. spend its own money to regulate cannabis from advancing.
Since then, the panel has consistently blocked any and all marijuana amendments from moving to the floor, including ones to extend the existing medical cannabis protections and to allow marijuana providers to take tax deductions that are available to businesses in other industries.
The committee has also shut down measures to extend the existing state medical cannabis protections to cover laws that allow for recreational marijuana use. In 2015, that amendment came just nine flipped votes short of passage on the floor. The number of states with legalization has more than doubled since the last vote on it, so the proposal would almost certainly pick up support now that many more members of Congress represent businesses and consumers who would be protected by it.
But Sessions's blockade has ensured that his colleagues haven't been given another opportunity to consider it again.
While the decision to stop letting the House vote on marijuana measures came at the same time as leaders began shutting down amendments on other issues deemed to be controversial, such as gun control and LGBT rights, Sessions's new comments at the HHS event show he has a particular concern about cannabis policy changes.
Personal Experience Informs Sessions's Anti-Marijuana Views
Last month, just before blocking a new version of the amendment to protect broad state marijuana laws from advancing, the Texas Republican spoke about his distaste for marijuana.
"I, as probably everybody in this rooms knows, have a strong opinion on drugs, illegal drugs, alcohol," he said. "Marijuana is an addictive product, and the merchants of addiction make it that way. They make it for addiction. They make it to where our people, our young people, become addicted to marijuana and keep going."
And his position seems to be informed by the experiences of people who are close to him.
At the HHS event this week, Sessions spoke about cases of two individuals:
"A dear friend of mine, David Siegel, a wealthy man, one of the wealthiest men in America, had an 18-year-old daughter who was in treatment, I believe for marijuana and maybe cocaine," Sessions said. "She met a boy there and within three weeks after being out she was dead. She came back and did what she had been doing after being off it."
…
Sessions later told of a Boy Scout he knew in Lake Highland, who went off to school at Texas A&M, and fell into heavy drug use started by smoking marijuana. "Never had smoked marijuana," Sessions said. "At the end of the first year, he was well into it; the second year, he was into heroin. The drive for addiction with some of our children is insatiable. You just never know when you're looking at a kid what drives them. But parents are desperate."
Sessions, like all members of the House, is up for reelection this year. The Cook Political Report, which tracks congressional races, currently rates the district as "Lean Republican."
In the meantime, Sessions faces fellow Republican Paul Brown in a March 6 primary. Brown's campaign website says the federal government "should not legislate…narcotics. Those should be legislated by states or localities if they are to be legislated at all."
Congressman Earl Blumenauer (D-OR), one of the House's leading advocates for marijuana policy reform, announced last year that his political action committee would pay to put up billboards in Sessions's district criticizing his cannabis blockade.
Pro-Legalization Congressman To Target Anti-Cannabis Lawmakers
The Texas congressman has no relation to U.S. Attorney General Jeff Sessions, also an ardent legalization opponent.
Where Presidential Candidate Kamala Harris Stands On Marijuana
On Monday, Sen. Kamala Harris (D-CA) announced that she's running for president in 2020. The latest in a growing list of candidates hoping to take on President Donald Trump, Harris has made criminal justice reform—including marijuana legalization—a main component of her platform.
Though the former San Francisco district attorney and California attorney general hasn't always been friendly to cannabis reform, Harris's evolution on the issue has earned her an A grade from NORML.
Legislation And Policy Actions
Harris came out in support of legalization in 2018, adding her name to a far-reaching marijuana bill introduced by Sen. Cory Booker (D-NJ). The legislation would remove cannabis from the list of federally banned substances and also penalize states where marijuana laws are enforced disproportionately against people of color.
The fact is​,​ marijuana laws are not applied and enforced in the same way for all people. That's why I'​ve signed onto @CoryBooker's Marijuana Justice Act​ to make marijuana legal at the federal level​. It's the smart thing to do​. pic.twitter.com/JD5qqm0bfU

— Kamala Harris (@KamalaHarris) May 10, 2018
"Right now in this country people are being arrested, being prosecuted, and end up spending time in jail or prison all because of their use of a drug that otherwise should be considered legal," she said in a press release. "Making marijuana legal at the federal level is the smart thing to do, it's the right thing to do. I know this as a former prosecutor and I know it as a senator."
But beyond the Marijuana Justice Act, Harris has only co-sponsored one other cannabis-related bill: the SAFE Banking Act, which would protect banks that work with marijuana businesses from federal punishment.
Harris also signed a letter alongside Sen. Orrin Hatch (R-UT) that called on the Justice Department to stop blocking federal research into medical cannabis. In a separate sign-on letter, she joined her colleagues in requesting that lawmakers include protections for legal cannabis states in a spending bill.
The limited scope of her legislative track record on cannabis policy contrasts with other Democratic candidates like Sens. Elizabeth Warren (D-MA) and Kirsten Gillibrand (D-NY) and Rep. Tulsi Gabbard (D-HI), who have co-sponsored numerous bills to change federal marijuana laws.
Quotes And Social Media Posts
All that said, Harris has talked quite a bit about marijuana in speeches and on social media.
When then-Attorney General Jeff Sessions rescinded the Cole memo, which provided guidance on federal marijuana enforcement priorities, she said the Justice Department shouldn't be focused on "going after grandma's medicinal marijuana."
California needs federal support in dealing with transnational criminal organizations. What we don't need is Jeff Sessions going after grandma's medicinal marijuana.

— Kamala Harris (@SenKamalaHarris) January 5, 2018
Sessions should be focusing on issues like transnational criminal organizations and investigating and prosecuting human trafficking, not going after Californians who are using recreational and medicinal marijuana.

— Kamala Harris (@KamalaHarris) January 8, 2018
"This administration and Jeff Sessions want to take us back to the dark ages," Harris said at the Center for American Progress Ideas Conference in 2017. "Sessions has threatened that the United States Department of Justice may renew its focus on marijuana use even as states like California, where it is legal."
"Well, let me tell you what California needs, Jeff Sessions," she said. "We need support in dealing with transnational criminal organizations, dealing with issues like human trafficking—not going after grandma's medicinal marijuana. Leave her alone."
Harris hadn't signed onto any marijuana reform legislation during the time she was going after Sessions. But she was using the battle to solicit signatures on a petition, a common tactic that politicians use to build email lists that they can later use for fundraising. Several House members pressured her and Sen. Dianne Feinstein (D-CA) to take stronger action by blocking Justice Department nominees until the Cole memo was restored.
The senator has repeatedly called for federal cannabis decriminalization, characterizing existing laws as "regressive policies" that have "ruined" many lives.
It's time to decriminalize marijuana at the federal level. It's time to stop repeating the same mistakes of the past.

— Kamala Harris (@KamalaHarris) April 20, 2018
Decriminalizing marijuana at the federal level isn't just the smart thing to do, it's also the right thing to do. We can't keep repeating the same mistakes of the past. Too many lives have been ruined by these regressive policies.

— Kamala Harris (@KamalaHarris) August 14, 2018
"We need to decriminalize marijuana," she said. "We have a problem of mass incarceration in our country. And let's be clear, the war on drug was a failed war. It was misdirected."
Decriminalizing marijuana at the federal level isn't just a smart thing to do —it's the right thing to do. We can't keep repeating the same mistakes of the past. Too many lives have been ruined by these regressive policies.

— Kamala Harris (@KamalaHarris) December 11, 2018
While I don't believe in legalizing all drugs, we need to do the smart thing, the right thing, and finally decriminalize marijuana.

— Kamala Harris (@SenKamalaHarris) May 16, 2017
She has also criticized the federal government for blocking military veterans' access to medical cannabis.
"As states moves toward legalizing marijuana, let's remember how many lives have been ruined because of our regressive policies," Harris wrote. "We must focus on restorative justice."
As states moves toward legalizing marijuana, let's remember how many lives have been ruined because of our regressive policies. We must focus on restorative justice.

— Kamala Harris (@KamalaHarris) December 11, 2018
Curiously, however, Harris also has a habit of referring to the war on drugs in the past tense—as if it isn't the case that hundreds of thousands of people in the U.S. are still being arrested for cannabis and other drugs every year.
The war on drugs ​was an abject failure which affects all of our communities, especially ​those struggling. We can't turn the clock back. https://t.co/5b2fH4aBap

— Kamala Harris (@KamalaHarris) May 16, 2017
The war on drugs was a failure. It criminalized what is a public health matter. It was a war on poor communities more than anything.

— Kamala Harris (@KamalaHarris) April 21, 2017
"The war on drugs was a failure," she said in 2017. "It criminalized what is a public health matter. It was a war on poor communities more than anything."
She also accused Sessions of "resuscitating" the drug war.
During her time as a prosecutor, Harris said she "saw the war on drugs up close, and let me tell you, the war on drugs was an abject failure."
"It offered taxpayers a bad return on investment, it was bad for public safety, it was bad for budgets and our economy, and it was bad for people of color and those struggling to make ends meet," she said.
The fact is, the War on Drugs did not work.

— Kamala Harris (@SenKamalaHarris) May 16, 2017
"I'll tell you what standing up for the people also means," Harris said in 2015. "It means challenging the policy of mass incarceration by recognizing the war on drugs was a failure. And Democrats, on that point, let's be clear also: now is the time to end the federal ban on medical marijuana. It is."
Before Harris backed full legalization or federal decriminalization, she was supportive of rescheduling cannabis under the Controlled Substances Act. Asked about the policy in 2016, she said "I would work to remove marijuana from Schedule I to Schedule II."
"We need to reform our criminal justice system and changing the marijuana classification and drug sentencing laws are part of that effort."
At a debate that year, she predicted that California voters would approve full legalization via a ballot measure (which they did) and reiterated that "we have to do is move [marijuana] from Schedule I to Schedule II."
"We have incarcerated a large number of predominantly African American and Latino men in this country for possession and use at a very small scale of one of the least dangerous drugs in the schedule," she said.
It is worth noting that Harris did not publicly endorse California's cannabis legalization ballot initiative, though it is unknown how she personally voted on the measure.
In an interview with Rolling Stone, Harris said "I started my career as a baby prosecutor during the height of the crack epidemic—not all drugs are equal."
"We have over-criminalized so many people, in particular poor youth and men of color, in communities across this country and we need to move it on the schedule," she said. "Plus we need to start researching the effect of marijuana and we have not been able to do it because of where it is on the schedule."
Harris congratulated Canada on its national legalization of marijuana.
Harris's evolution on cannabis can be neatly summed up with two videos. The first shows her being asked about marijuana legalization in 2014 in light of her Republican opponent for attorney general supporting it. She dismissively laughs off the question.
The second shows Harris during a Senate Judiciary Committee confirmation hearing pressing President Donald Trump's attorney general nominee, William Barr, on whether he'd use Justice Department funds to go after marijuana businesses acting in compliance with state law.
HARRIS: You do not intend to use fed resources to enforce fed marijuana law in states that have legalized?

BARR: "That's right. But I think i's incumbent on the Congress to make a decision as to whether we are going to have a federal system." pic.twitter.com/owWekY9PqP

— Aaron Rupar (@atrupar) January 15, 2019
Harris even attempted to crack her own marijuana joke during a recent appearance on The Late Show with Stephen Colbert, though the late night host didn't seem especially amused.
In her book, The Truths We Hold, she took her message in support of legalization a step further. Not only should we "legalize marijuana and regulate it," but we should also "expunge nonviolent marijuana-related offenses from the records of millions of people who have been arrested and incarcerated so they can get on with their lives," Harris wrote.
"We also need to stop treating drug addiction like a public safety crisis instead of what it is: a public health crisis," she also wrote, suggesting she may be in favor of broader drug policy reforms. "When someone is suffering from addiction, their situation is made worse, not better, by involvement in the criminal justice system."
It's past time America legalized marijuana and regulated it. But when doing so, we need to expunge nonviolent marijuana-related offenses from the records of millions of people who have been arrested and incarcerated so they can get on with their lives.

— Kamala Harris (@KamalaHarris) January 10, 2019
Personal Experience With Marijuana
Harris hasn't said whether she's personally experimented with "grandma's medicinal marijuana."
Marijuana Under A Harris Presidency
Five years ago, marijuana reform advocates might have felt apprehensive about cannabis policy under a Harris presidency. And they would've been reasonably skeptical about the prospect of her administration playing an active role in reform efforts. But the senator's recent rhetoric and legislative action suggest she would likely be an ally of the legalization movement if elected to the Oval Office.
Where Presidential Candidate Tulsi Gabbard Stands On Marijuana
Photo element courtesy of California Attorney General's Office.
2018 Was A Major Year For Cannabis Legislation And 2019 Is Shaping Up To Be Much Bigger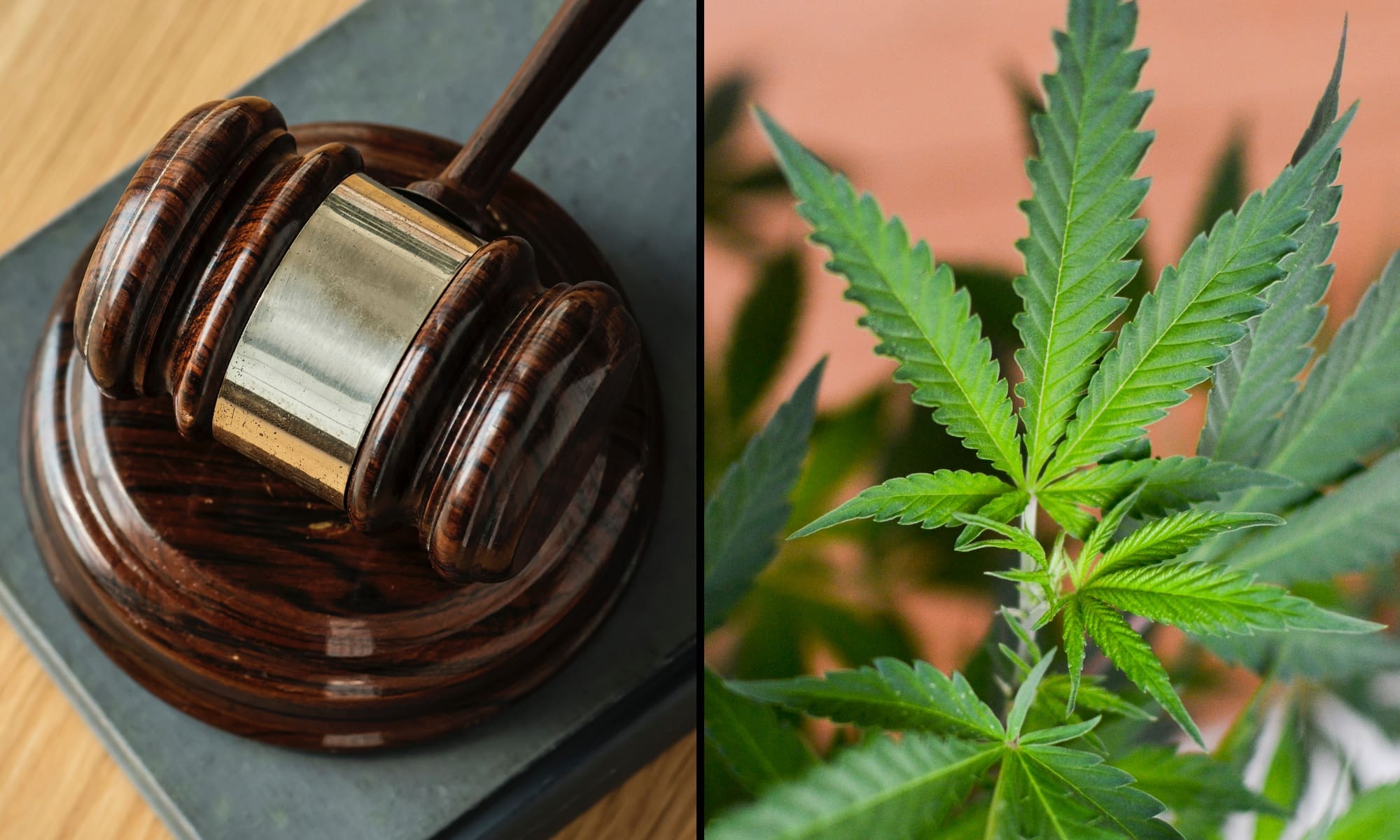 Lawmakers across the country are introducing, debating and voting on more marijuana legislation than ever before.
In 2018, Marijuana Moment tracked 915 bills in state legislatures and Congress concerning cannabis, medical marijuana and hemp. According to our legislative analysis platform, a huge majority of states—92 percent—took up cannabis reform bills of some kind during the year.
This year, legislators in state capitols and on Capitol Hill have already filed more than 350 cannabis-related proposals for 2019 sessions that in most cases began only weeks ago. If 2018 is any indication, this year should see a sizable number of those bills making it to governors' desks for enactment.
In 2018, a significant percentage of filed marijuana legislation moved forward, with at least 147 bills being signed or enacted in 35 states and the District of Columbia.
Those that made it across the finish line ranged from far-reaching proposals such as the legalization of cannabis possession and home cultivation in Vermont to more modest regulatory measures like Colorado bills concerning marijuana waste recycling and water use for hemp cultivation.
Twenty-eight of the bills that were enacted concerned hemp, while 48 were related to medical cannabis or cannabidiol (CBD).
Others had to do with regulating newly legal markets. Not surprisingly, California had the most legislation passed (26 bills), as the state attempted to implement its voter-approved legalization system. Among the enacted legislation in the Golden State were items touching on issues like medical cannabis recommendations by veterinarians, marijuana advertisements and cannabinoid-infused alcoholic beverages. An additional 29 bills died or were vetoed by Governor Jerry Brown.
Colorado was next, with 18 bills signed and three vetoed.
Hawaii, it turns out, dealt with the greatest volume of cannabis bills overall. Six were enacted but an astonishing 103 additional proposals died in committee, failed or were vetoed. That number accounts for 11 percent of all the cannabis bills we tracked across the country in 2018.
While a few states like South Dakota only had one bill, fourteen individual states dealt with 20 or more pieces of legislation each.
New Jersey saw 57 cannabis-related bills, with only one making it all the way to the end of the legislative process: A measure to create a pilot program to research industrial hemp cultivation.
California lawmakers considered 55 bills, New York weighed 48 and Washington State saw 45 pieces of cannabis legislation filed.
States that dealt with 20 or more pieces of cannabis legislation in 2018:
| | |
| --- | --- |
| State | |
| Hawaii | 109 |
| Federal | 64 |
| New Jersey | 57 |
| California | 55 |
| New York | 48 |
| Washington | 45 |
| Maryland | 32 |
| Colorado | 31 |
| Tennessee | 31 |
| Iowa | 28 |
| Michigan | 28 |
| Virginia | 28 |
| Arizona | 22 |
| Maine | 20 |
Justin Strekal, political director for NORML, told Marijuana Moment that the organization's chapters across the country are seeing "increased interest and increased support from lawmakers from every part of the political spectrum."
"As politicians see the public moving ahead of them, they are rapidly evolving their stance regarding marijuana."
There is plenty of political resistance remaining, however. A majority of cannabis-related legislation introduced last year—529 bills—failed, died or were vetoed.
Maine was the only state where legislators overrode a gubernatorial veto in order to implement a regulatory system for the recreational marijuana law that the state's voters approved in 2016.
Meanwhile, Vermont became the first state to legalize marijuana via an act of lawmakers as opposed to through a ballot measure. Legislators in the Commonwealth of the Northern Mariana Islands, a U.S. territory, followed by passing a legalization bill of their own.
"Last year's tremendous amount of legislative activity surrounding cannabis, hemp and CBD legislation reflected that elected officials are increasingly getting the message that the harsh criminalization of marijuana in all its forms is misguided and out of step with the the wishes of voters," Karen O'Keefe, director of state policies for the Marijuana Policy Project, told Marijuana Moment.
At the federal level, 2018 marked the first time stand-alone cannabis bills advanced though congressional committees.
In May, the House Veterans' Affairs Committee approved legislation encouraging the federal government to study the benefits of medical cannabis for military veterans. Then, in September, the House Judiciary Committee passed a bill that would force the Department of Justice to approve new businesses to cultivate marijuana to be used in scientific research.
Neither proposal ended up getting a floor vote, but their historic committee approvals demonstrated momentum ahead of the new 116th Congress, in which advocates are more hopeful than ever before that marijuana legislation could advance to enactment.
An additional 59 cannabis-related congressional bills stalled without hearings or votes, though it is also worth noting that lawmakers approved, and President Trump signed, a large-scale Farm Bill renewal that included language legalizing industrial hemp and its derivatives.
Back at the state level, O'Keefe is optimistic that efforts made in 2018 will pay off in 2019. "Several states saw committee wins or other progress that will help set the ground for eventual passage," she said.
In New Jersey, for example, Senate and Assembly committees approved a bill to legalize marijuana in November but, due to an ongoing inability to agree with Gov. Phil Murphy (D) on tax rates and regulatory matters, legislative leaders didn't bring the proposal to the floor of either chamber by the end of the year. Those negotiations are still underway, with advocates hopeful that agreeable language can be worked out early in 2019.
—
Marijuana Moment is currently tracking more than 350 key cannabis bills in state legislatures and Congress for 2019 sessions. Patreon supporters pledging at least $25/month get access to our interactive maps, charts and hearing calendar so they don't miss any developments.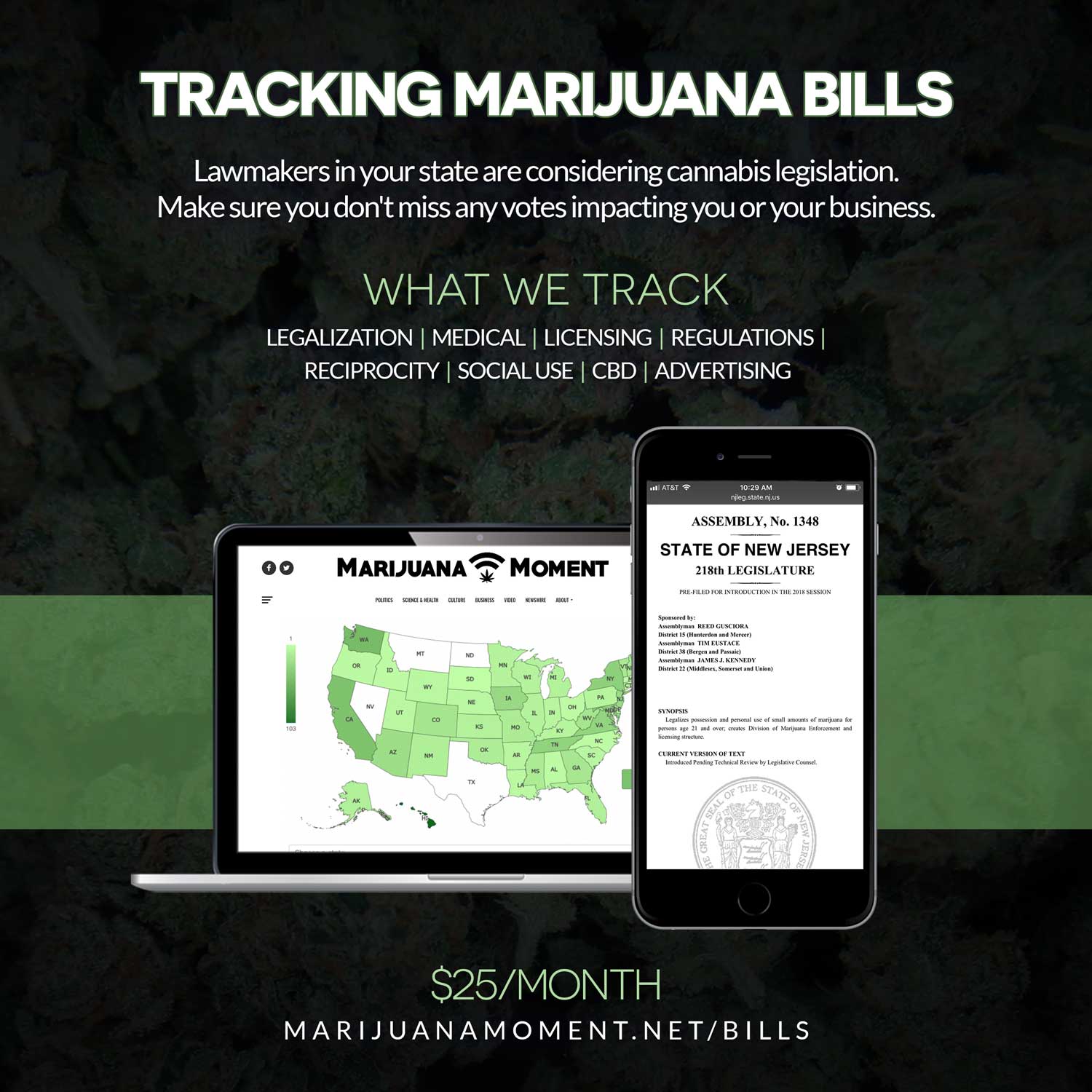 We followed more than 900 pieces of cannabis legislation in 2018. Learn more about our marijuana bill tracker and become a supporter on Patreon to get access.
—
Strekal agrees that this year will be another especially active one for cannabis legislation. "There will be greater numbers of legislation introduced," he predicts, as well as an increase in those pieces of legislation "receiving hearings, passing committees, being passed by legislative votes and being enacted by governors."
Status of cannabis bills considered in 2018, by state:
Photo elements courtesy of rawpixel and Philip Steffan.
Governor Signs Bill Legalizing Medical Marijuana In The U.S. Virgin Islands
Medical cannabis was legalized in another U.S. territory on Saturday after the governor of the U.S. Virgin Islands signed a long-awaited bill into law.
"I have approved the Virgin Islands Medicinal Cannabis Care Act because it is a step in the right direction toward assisting Virgin Islanders suffering from autoimmune and other debilitating medical conditions," newly sworn-in Gov. Albert Bryan Jr. (D) said in a press release.
The Virgin Islands Medical Cannabis Patient Care Act allows qualified patients to obtain, possess and consume marijuana for therapeutic purposes. It also establishes legal dispensaries and facilities to cultivate, test and manufacture cannabis products.
"After such a prolonged beating, I don't know how to feel, except relieved for the people who will finally have access to healthy, effective, and affordable medicinal cannabis," Senator Terrence 'Positive' Nelson, who for several legislative sessions in a row has sponsored medical cannabis bills that were ultimately defeated, said in a text message to Marijuana Moment.
"I feel redeemed and excited that the effort went from 'laughable' to law!"
Patients suffering from a list of serious medical conditions including cancer, HIV/AIDS, Parkinson's disease and chronic pain will be able to receive a recommendation for medical marijuana from a licensed medical practitioner. Qualifying residents can possess up to four ounces of cannabis at a time and possession for non-residents will be capped at three ounces.
The legislation was approved by lawmakers last month.
In an interview with The St. Thomas Source last year, Bryan said he supports legalizing medical cannabis "based on the proven health benefits in the relief of pain and treatment of symptoms for many serious ailments including cancer."
"I believe a properly regulated medicinal cannabis industry can provide relief to those seeking alternatives to conventional medicine and can also be an economic driver attracting new revenues for the Virgin Islands," he said.
Revenue from the territory's medical cannabis program will be used to fund drug rehabilitation, tourism projects, agriculture investments, work training and infrastructure.
While reform efforts in mainland U.S. have been receiving significant attention, advocates are also scoring wins in various U.S. territories. For example, the Commonwealth of the Northern Mariana Islands fully legalized cannabis last year, before even implementing a medical cannabis system.
"This legislation also gives effect to a Virgin Islands community-wide Referendum held in 2014 that approved the introduction of the medical-use sale of cannabis products by a majority of the voters," Bryan said. "Since the Referendum, it is clear that marijuana-use policy in the United States has been changing rapidly in favor of medicinal and recreational use and will continue, even potentially on the federal level."
The governor also suggested that the new medical cannabis policy may be tweaked going forward.
"The Legislature recognized that the Bill, as passed, is not perfect and needs more refinement and amendment and provides for an implementation period that we must aggressively pursue," he said. It is part of the process of implementation of the regulatory and operational system. And therefore it will be essential that further revisions be developed, with professional guidance, in the implementation process, including preparation of Regulations, forms, fees, and procedures; and to undertake necessary amendments to the Bill with the Legislature."
Nelson, the bill's sponsor, said that he is looking forward to staying involved in the medical cannabis implementation process but that he is also ready to begin pushing for broader marijuana policy reforms.
"I am ready to assist with the establishment of rules and regulations which will be the next step," Nelson said. "However, each jurisdiction cannot be satisfied with our own success in getting local law changed, but must continue the charge until there are changes to federal government law."
"This is just another small victory on the rugged road to full legalization."
Read the full text of the Virgin Islands Medical Cannabis Patient Care Act below:
USVI medical marijuana bill by on Scribd
UPDATE: A previous version of this story reported that the legislation was signed on Thursday as told to Marijuana Moment by the bill's sponsor, Sen. Nelson. The governor signed the bill on Saturday.
Legal Marijuana Advocates Rank The Best And Worst Governors On Cannabis
Photo element courtesy of Wikimedia.