Marijuana Banking Bill Gains Momentum With One-Third Of Senate Now Signed On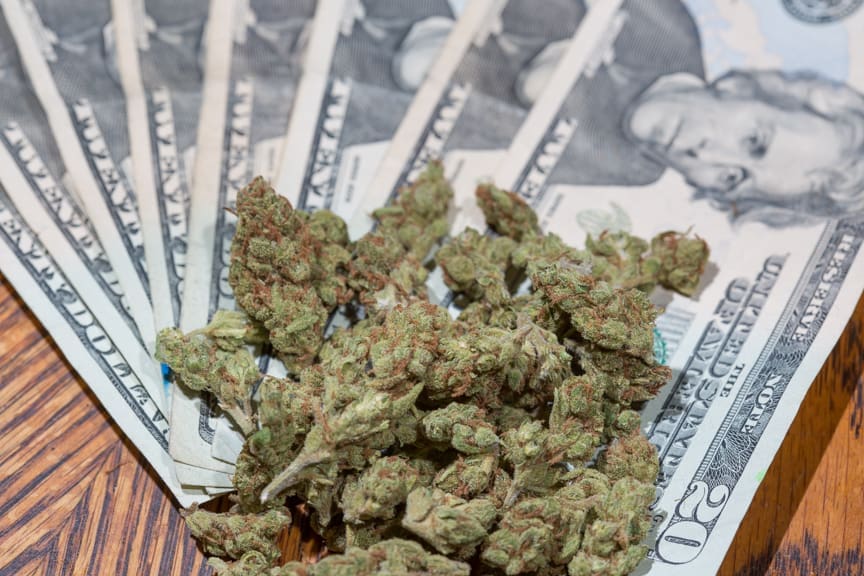 The most cannabis-friendly Congress in history is back from its August recess, and lawmakers are already making key moves to advance marijuana reform legislation. The immediate focus is on a proposal to let banks serve cannabis companies without fear of being punished by federal regulators—with House leaders announcing that a floor vote is expected by the end of the month.
On Monday, the Senate version of the marijuana financial services bill got its 33rd cosponsor—Sen. Tina Smith (D-MN)—meaning that virtually a third of the chamber is now formally signed onto the legislation, counting its main sponsor Sen. Jeff Merkley (D-OR).
Not to be outdone by movement in the House, where the cannabis banking legislation was approved in committee back in March, Senate Banking Committee Chairman announced last week that he plans a vote on the issue in his panel by the end of the year.
Meanwhile, the idea that marijuana businesses need to be able to store their profits in banks is gaining more support outside of Congress. On Monday, the Independent Community Bankers of America and 43 state banking associations sent a letter urging lawmakers on Capitol Hill to vote on the Secure and Fair Enforcement (SAFE) Banking Act "as soon as possible."
ICBA and 43 state banking associations urged House leaders to vote on the SAFE Banking Act, which creates a safe harbor for financial institutions that serve cannabis-related businesses in states where it is legal. Read more => https://t.co/JF4srvXjCr

— ICBA (@ICBA) September 16, 2019
"The current conflict between state and federal law with regard to cannabis has created increasingly significant legal and compliance concerns for banks that wish to provide banking services to [cannabis-related businesses] in jurisdictions where cannabis is legal," the groups, which represent community banks with more than 52,000 locations nationwide, wrote. "Legal and regulatory uncertainty has curtailed access to the traditional banking system for CRBs and forced them to operate mostly in cash. Cash-only businesses, especially those with a high volume of revenue, pose a significant risk to public safety."
The community banking organizations join 50 state banking associations, the National Association of State Treasurers, the top financial regulators in 25 states, a majority of state attorneys general and the governors of 20 states in urging Congress to pass the SAFE Banking Act.
While many marijuana reform advocates see passing the banking bill as the first step in what they hope will be a series of legislative victories leading to the eventual end of federal cannabis prohibition, some have expressed concerns about advancing what is seen as an industry-focused proposal prior to voting to deschedule marijuana.
In July, House Judiciary Committee Chairman Jerrold Nadler (D-NY) filed legislation to remove cannabis from the Controlled Substances Act (CSA) and fund programs to repair some of the harms of the war on drugs, but he has not yet scheduled it for a markup in his panel, which has been focused on gun reform and impeachment proceedings this month.
Separate legislation that would exempt marijuana activities from the CSA without formally descheduling cannabis has bipartisan support in the Senate and House, but has also not yet been scheduled for hearings or votes.
It is expected that the House will consider the marijuana banking bill next week under a procedure known as suspension of the rules, which will require a two-thirds majority to pass the legislation. Currently there are 207 representatives who have signed their names onto the bill as cosponsors.