GOP Lawmakers Want Marijuana Banking Vote Delayed In Congress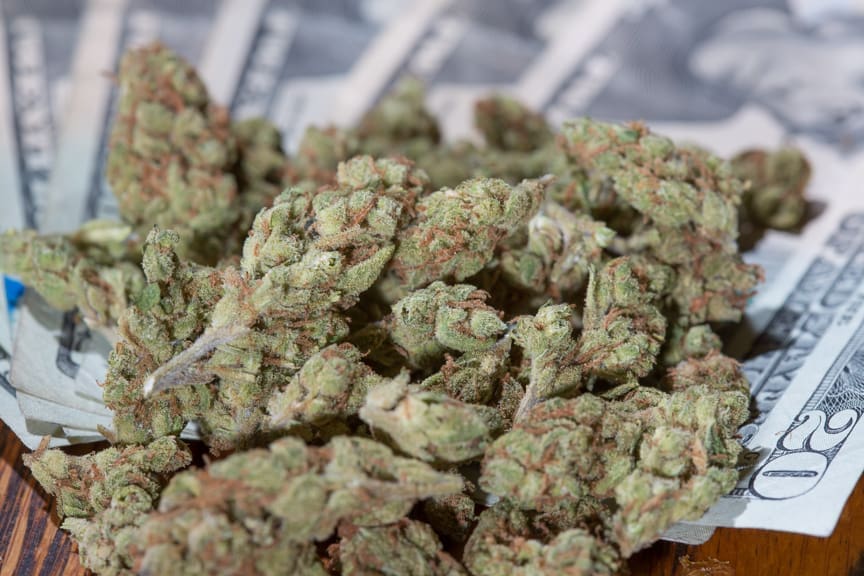 A key congressional committee is scheduled to vote on far-reaching legislation that would expand marijuana businesses' ability to store their profits in banks on Tuesday.
But key Republican lawmakers on the panel are now asking Chairwoman Maxine Waters (D-CA) to delay the vote.
"As you know, marijuana is a schedule I controlled substance… The impact that many state laws, which have legalized marijuana, have on the federal laws governing the manufacturing, use, and sale of marijuana, including proceeds, raise many questions and concerns," Reps. Patrick McHenry (R-NC) and Blaine Luetkemeyer (R-MO) wrote in a letter to Waters on Thursday. "Any change to these statutes, or those that impact them, has the potential to divide the Congress and the country. We must ensure that Congress has done its due diligence, including conducting thorough oversight and review, before moving such legislation."
The two GOP lawmakers are the ranking minority members on the full House Financial Services Committee and its Consumer Protection and Financial Institutions Subcommittee, respectively.
The legislation in question—the Secure And Fair Enforcement (SAFE) Banking Act—was the subject of a lengthy hearing last month touching on the public safety and other implications of preventing cannabis businesses from being able to access banks, which forces many to operate on a cash-only basis and can make them targets for robberies.
The bill currently has 143 cosponsors—almost a third of the entire House—including 12 Republicans. If enacted, it would protect banks that serve the cannabis industry from being penalized by federal regulators under money laundering and drug laws.
It would also clarify that "proceeds from a transaction conducted by a cannabis-related legitimate business shall not be considered as proceeds from an unlawful activity solely because the transaction was conducted by a cannabis-related legitimate business."
It seems unlikely the new Democratic majority will acquiesce to the GOP request on an issue many members of their party have identified as among the priorities to address in the 116th Congress.
"The hearing is not being delayed," a spokesperson for Rep. Ed Perlmutter (D-CO), the legislation's chief sponsor, wrote in an email.
The Republican letter, which was first reported by Politico, requests a delay "until the Committee has a better understanding of the full range of consequences that enacting such legislation may trigger" and lists out 15 "unanswered questions" they have about the proposal.
Among other things, McHenry and Luetkemeyer want clarity on how the bill would affect federal agencies' enforcement of other laws, like the Bank Secrecy Act as well as Know Your Customer rules, anti-money laundering regulations and Currency Transaction Report and Suspicious Activity Report filing requirements.
They want assurances that "there are no unintended consequences, such as cartels and other bad actors gaining access to our financial system" and they want to better understand the legislation's implications for payment processors, insurers, investment companies and law enforcement agencies.
They also have questions on how changing banking rules for marijuana businesses might impact "other products and services offered by financial institutions, including but not limited to mortgage products, deposit advance products or general commercial lending."
"How are proceeds from state licensed growers and distributers taxed under federal law?" they ask. "Relatedly, what conforming changes to our tax code are necessary?"
McHenry and Luetkemeyer said that the February hearing on cannabis banking issues "made clear that we need to better comprehend and address the supervisory and regulatory issues that would result from enactment" of the bill before a vote is held.
In 2014, the full House adopted an amendment to prevent the Department of Treasury from punishing banks that work with cannabis businesses. Although the measure was approved by a floor vote of 231 to 192—at a time when far fewer states had laws allowing legal marijuana than is currently the case—it received no action in the Senate and was not enacted into law.
Companion marijuana banking legislation has not yet been filed in the Senate for the current Congress, though it is expected soon. A bill in that chamber garnered 20 cosponsors during the 115th Congress.
Read the full letter seeking a delay in the marijuana banking vote below:
GOP seeks delay on marijuan… by on Scribd