Here's Where The Next House Speaker Stands On Marijuana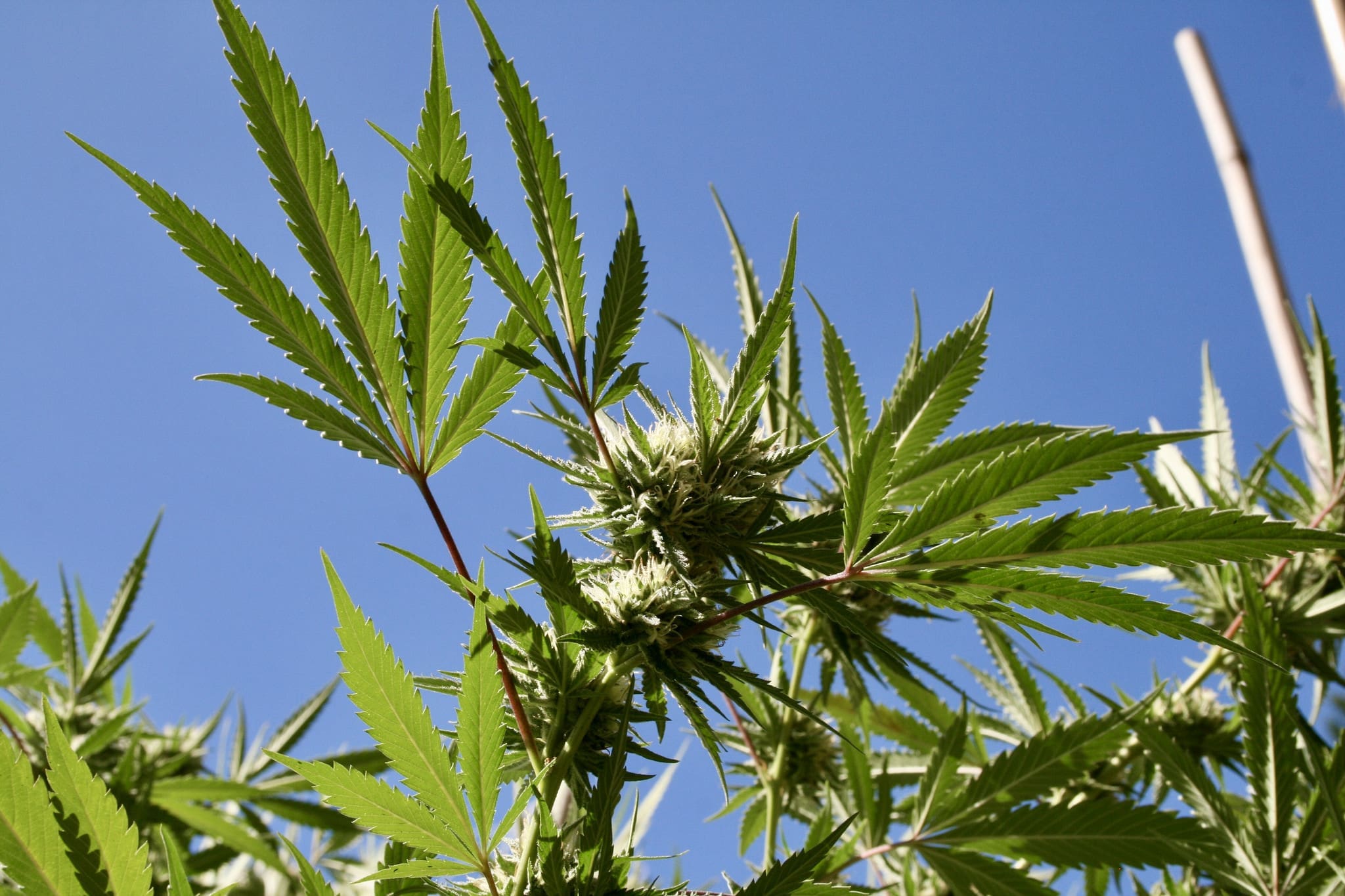 The midterms are over, but Democrats in the House have already found themselves locked in another contentious race that could ultimately have big implications for marijuana legislation in the 116th Congress.
Will Rep. Nancy Pelosi (D-CA) reclaim her seat as speaker of the House? Or will a coalition of frustrated lawmakers usher in a new leader like Rep. Marcia Fudge (D-OH), who has all but confirmed her intent to run for the position?
What's known at this point is that at least 17 Democratic lawmakers have signed a letter opposing Pelosi's bid, and a handful of others have made public statements affirming that they plan to vote against Pelosi when the new Congress is seated on January 3.
Here's a look at where Pelosi and Fudge fall on marijuana issues:
Looking at voting records, Pelosi cosponsored a number of marijuana bills in the 1990s and early 2000s—including several to protect states that legalized medical cannabis from federal interference—but she hasn't signed her name onto a single piece of standalone marijuana legislation over the past 17 years.
Although Pelosi started cosponsoring fewer bills in general after being named House speaker in 2007 and in her post-speakership years, she's still put her name on dozens of pieces of legislation during that time—though none are related to marijuana.
Fudge, meanwhile, has been ramping up her bill cosponsorships when it comes to cannabis reform. Over the past two years, the former chair of the Congressional Black Caucus (CBC) signed on to a bill that would end federal marijuana prohibition and a resolution acknowledging the failures of the war on drugs, for example. Prior to the current Congress, though, she hadn't signed onto any cannabis bills since first joining the House in 2008.
Aside from the issue of proactive bill sponsorship, both Pelosi and Fudge have consistently voted in favor of floor amendments to protect legal medical and adult-use marijuana states, allow Department of Veterans Affairs doctors to recommend cannabis to patients, allow industrial hemp and expand access to banking institutions for marijuana businesses.
Both congresswomen have received "B" grades from NORML.
"Looking at the conversation of Democratic leadership right now and how the speaker vote is set to go, I would suspect that Pelosi is going to be elected to be the speaker for the 116th Congress," NORML political director Justin Strekal told Marijuana Moment.
"Nancy Pelosi has demonstrated herself to be a very effective leader of the Democratic Caucus and was instrumental in ensuring a favorable vote outcome for the first time that the [Rep. Dana Rohrabacher (R-CA)] language was passed on the House floor in order to restrict the Department of Justice's ability to enforce federal prohibition against the states that have legalized medical marijuana programs. Her operation has been engaged with—and in regular talks with—our champions of the Cannabis Caucus and members who are supportive, and we have every indication that we will have her full support in moving legislation forward that would end federal prohibition."
Where the two Democratic lawmakers seem to diverge is in public statements about cannabis reform. For example, Pelosi has talked about marijuana (and yoga) as a safer alternative to opioids and she pushed back against former Attorney General Jeff Sessions's decision to rescind an Obama-era marijuana guidance policy.
"Congress must now take action to ensure that state law is respected, and that Americans who legally use marijuana are not subject to federal prosecution," she said in a press release earlier this year. "Democrats will continue to insist on bipartisan provisions in appropriations bills that protect Americans lawfully using medical marijuana. Congress should now consider expanding the provisions to cover those states that have decriminalized marijuana generally."
Attorney General Sessions, your unjust war against Americans who legally use #marijuana is shameful & insults the democratic processes that played out in states across the country.

— Nancy Pelosi (@NancyPelosi) January 4, 2018
Pelosi also endorsed California's successful adult-use legalization ballot measure in 2016.
"Pelosi has been a solid ally on drug policy reform," Michael Collins, interim director for the office of national affairs at the Drug Policy Alliance, told Marijuana Moment. "She has voted for many marijuana reform amendments, been a tough negotiator on numerous appropriations issues, has fought against regressive drug sentencing proposals like [Stop the Importation and Trafficking of Synthetic Analogues Act]."
"Crucially, her staff have always been available, willing and ready to advance drug policy reform," he said.
Fudge, meanwhile, has been relatively quiet on the issue in spite of her recent support for reform legislation. And she doesn't seem to have weighed in on Ohio's unsuccessful 2015 legalization ballot measure.
For all of Pelosi's talk and votes on cannabis reform, though, she was noncommittal when asked in September whether she planned to bring marijuana bills to the floor in 2019 if Democrats retook the House.
"Well, the marijuana initiatives have received bipartisan support on the floor of the House," Pelosi said. "I don't know where the president is on any of this. So any decision about how we go forward would have to reflect where we can get the result."
Fudge also hasn't indicated that she'd pursue a marijuana reform agenda if selected to be speaker. Instead, she told HuffPost reporter Matt Fuller that she'd make issues like health care, student debt, infrastructure and job creation top priorities for Democrats.
Other potential House speaker contenders on cannabis.
Another Ohio Democrat, Rep. Tim Ryan, is reported to be floating another run for the speakership after losing to Pelosi for Democratic leader in 2016. Ryan said that he was initially reluctant to get behind marijuana legalization but, after witnessing the harms of prohibition, he wrote that cannabis "should be legal in all 50 states."
The current chair of the CBC, Rep. Cedric Richmond (D-LA), is another potential contender for the position. Under Richmond's leadership, the CBC has called for the end of federal marijuana prohibition and released a bill in May that outlined several wide-ranging reform proposals such as removing cannabis from the list of federally banned substances.
Rep. Hakeem Jeffries (D-NY) is reported to be laying the groundwork for a future House speaker run, starting with a bid to become the next House Democratic Caucus chair, Politico reports. He's a strong proponent of marijuana decriminalization. "The connected and powerful—including many in high political office—have frequently admitted to smoking marijuana when they were young," Jeffries wrote in a 2012 editorial for CNN. "We didn't unmercifully penalize them. We should stop needlessly criminalizing tens of thousands of our young people for doing the same thing."
Then, of course, there's Rep. Barbara Lee (D-CA), one of the most vocal advocates for cannabis reform on Capitol Hill for years. She's also currently running to become the next House Democratic Caucus chair, though a sizable following of supporters are pushing her to compete against Pelosi in the speaker race. This year, Lee has introduced legislation to protect legal marijuana states and also promote diversity in the burgeoning cannabis industry.
Photo courtesy of Brian Shamblen.
Read: Here's The Final 2018 Farm Bill That Will Legalize Hemp
The final text of the 2018 Farm Bill was released on Monday, and industrial hemp legalization made the cut. Votes to send the legislation to President Trump's desk are expected this week.
The bipartisan provision, championed by Senate Majority Leader Mitch McConnell (R-KY), will enable U.S. farmers to cultivate, process and sell hemp, the market for which is now a multi-billion dollar industry.
Following the announcement last month that lawmakers in the Senate and House Agriculture Committees had reconciled their respective versions of the agriculture legislation—with hemp legalization in the mix—questions remained about a controversial provision in the Senate version that would ban people with felony drug convictions from participating in the hemp industry.
But a compromise was reached and the final version will allow such individuals to work for hemp businesses after 10 years.
Read the text of the final 2018 Farm Bill's hemp provisions here, followed by explanatory statements from the conference committee:
Farm Bill Hemp Provisions by on Scribd
Marijuana Moment excerpted the above sections dealing with hemp from the full 807-page Farm Bill and committee explanatory documentation.
"While this Farm Bill is a missed opportunity, there are some good provisions," Rep. Earl Blumenauer (D-OR) said in a press release. "One of those provisions is to roll back our senseless hemp prohibition."
"Our forefathers would be rolling in their graves if they saw us putting restraints on a versatile product that they grew themselves. We have farmers growing thousands of acres of hemp in dozens of states across the U.S. already. You can have hemp products shipped to your doorstep. This is a mainstream, billion-dollar industry that we have made difficult for farmers. It's past time Congress gets out of their way."
Under the legislation, hemp would no longer be in the jurisdiction of the Justice Department. Rather, the U.S. Department of Agriculture will lightly regulate the crop.
If the bill passes and President Trump signs it, hemp legalization will go into effect on January 1, according to VoteHemp.
Watch: Sen. Mitch McConnell Uses Hemp Pen To Sign Farm Bill Legalizing The Crop
Watch: Sen. Mitch McConnell Uses Hemp Pen To Sign Farm Bill Legalizing The Crop
Senate Majority Leader Mitch McConnell (R-KY) signed off on the final version of the 2018 Farm Bill on Monday…and he used a pen made of marijuana's non-psychoactive cousin, hemp, to so do.
The senator has been the leading proponent of an industrial hemp legalization provision, which recently made its way into the final version of the wide-ranging agriculture legislation.
"Making it official with my hemp pen," McConnell wrote in a tweet that includes video of him signing off on the proposal. "Proud to have served as conferee on Farm Bill & to fight for Kentucky priorities."
Making it official with my hemp pen!🖋️ Proud to have served as conferee on #FarmBill & to fight for #Kentucky priorities. With today's signature, my provision to legalize industrial #hemp is 1 step closer to reality. Looking forward to voting YES on this bill & sending to @POTUS pic.twitter.com/8ypwBebXy7

— Leader McConnell (@senatemajldr) December 10, 2018
"With today's signature, my provision to legalize industrial hemp is 1 step closer to reality. Looking forward to voting YES on this bill & sending to [President Donald Trump]."
The full text of the final Farm Bill legislation is expected to be publicly released on Tuesday, with votes anticipated in the House and Senate in the coming days.
Lawmakers Reach Compromise Over Controversial Hemp Legalization Felony Provision
Photo courtesy of Gage Skidmore.
New York Governor May Include Marijuana Legalization In Budget Proposal Next Month
New York Gov. Andrew Cuomo (D) might just go ahead and include full marijuana legalization in his budget proposal set to come out next month, Crain's reported on Monday.
Two state lawmakers told the outlet that they'd heard rumors about the governor's plan, which would build on his recent efforts to put legalization on the table during the next legislative session. Cuomo instructed a working group to draft legalization legislation in August after the state Department of Health came out with a report that found the pros of ending cannabis prohibition outweigh the cons.
If the historically anti-marijuana governor, who as recently as last year was calling cannabis a "gateway drug," did put legalization in his budget proposal, it'd mean "the state could have a fiscal framework for the program as soon as April," Crain's reported.
What exactly that fiscal framework would look like is unclear, and Cuomo's office declined to comment on the report. It's possible that the budget would account for the costs of whatever legislation the working group ultimately releases; however, since the bill has yet to be released and the governor's proposal is expected for January, that might be cutting it close.
In 2014, reform advocates expressed disappointment after Cuomo and leading lawmakers agreed to a budget deal that did not include a medical marijuana legalization bill. Months later, Cuomo signed separate medical cannabis legislation and, in the years since, the governor has grown more amenable to broader reform—especially in the heat of a contentious primary battle against Cynthia Nixon this year.
When the state does go forward with legalization, money is going to be a point of particular interest for lawmakers and advocates, as can already be seen as a debate over a proposal to use cannabis sales tax revenue for public transit in New York City intensified last week.
New York Cannabis Clash: Should Marijuana Taxes Fund Subways Or Social Justice?
Photo courtesy of Zack Seward.