Nancy Pelosi Suggests Marijuana And Yoga As Opioid Alternatives
The top Democrat in the U.S. House says that doctors should more often suggest medical marijuana and yoga to patients in pain instead of doling out so many prescription opioids.
"Doctors say, 'Don't tell us how many pills we can prescribe.' Well maybe we should," House Minority Leader Nancy Pelosi (D-CA) said at a press conference last week. "Others say there are other ways to relieve stress and relieve pain and that you don't need opioids in the first place. We are too reliant to transition from them. Marijuana, yoga, all kinds of other things that are homeopathic but are not addictive in this dangerous way."
Pelosi, who represents San Francisco in Congress, has long been a supporter of medical cannabis.
Her new remarks about marijuana as a safer alternative to opioids were made at an event in support of opioid treatment, prevention and research funding legislation recently filed by Sen. Elizabeth Warren (D-MA) and Congressman Elijah Cummings (D-MD).
A growing body of research suggests that states with legal marijuana access see reduced opioid overdose rates.
Earlier this year, U.S. Sen. Kirsten Gillibrand (D-NY) called out pharmaceutical companies for opposing marijuana legalization.
"To them it's competition for chronic pain, and that's outrageous because we don't have the crisis in people who take marijuana for chronic pain having overdose issues," she said. "It's not the same thing. It's not as highly addictive as opioids are."
Over the weekend, Pelosi's Republican counterpart in the House, Speaker Paul Ryan, told some marijuana jokes in a video message played at the White House Correspondents Association dinner.
Photo courtesy of Gage Skidmore.
Here's What The DEA Told Agents About Cannabis Enforcement This Week
Officials with the U.S. Drug Enforcement Administration (DEA) aren't allowed to mess with businesses that sell certain cannabis products, the agency clarified to personnel in an internal directive on Tuesday.
However, the directive went on to assert the continuing validity of an earlier Federal Register notice that claimed cannabis extracts—including products that "contain only one cannabinoid" such as cannabidiol (CBD)—fall under Schedule I and are thus banned.
The new directive issued this week states: "Products and materials that are made from the cannabis plant and which fall outside the [Controlled Substances Act] definition of marijuana (such as sterilized seeds, oil or cake made from the seeds, and mature stalks) are not controlled under the CSA" and, thus, "[s]uch products may accordingly be sold and otherwise distributed throughout the United States without restriction under the CSA or its implementing regulations."
"The mere presence of cannabinoids is not itself dispositive as to whether a substance is within the scope of the CSA; the dispositive question is whether the substance falls within the CSA definition of marijuana."
Yet the agency also maintained the legitimacy of its recently clarified ban on cannabinoids, including CBD—whether its extracted from marijuana or hemp.
The DEA said it decided to issue the directive "[i]n response to various inquiries." It seems people have had some questions about the agency's seemingly contradictory positions.
The legal confusion over the DEA's enforcement authority on hemp goes back to a 2004 Ninth Circuit Court ruling. In essence, the court sided with the Hemp Industries Association that the DEA had overreached its authority with respect to hemp products. Even though hemp may contain trace amounts of THC, hemp products are not included in the CSA—and, therefore, the agency is not permitted to regulate the industrial crop, the court ruled.
The DEA acknowledged as much in its new directive.
Eric Steenstra, president of the advocacy group Vote Hemp, told Marijuana Moment in an email that this concession was "the result of a negotiated settlement with the Hemp Industries Association."
The fact that the DEA is insisting CBD and other cannabinoids remain illegal, no matter the source, gets into another contradictory policy matter: the 2014 Farm Bill.
While the DEA's New Drug Code rule with respect to cannabis extracts was upheld in a different Ninth Circuit Court ruling last month, the agricultural law lets states authorize the growing of hemp containing trace amounts of THC under pilot programs. Further, the court determined that the Farm Bill's hemp provision "preempts" the CSA.
As cannabis attorney Daniel Shortt wrote in a recent blog post, the court stated "that when the Industrial Hemp portions of the Farm Bill conflict with the CSA, the Farm Bill prevails."
There's been significant debate and confusion over the accurate interpretation of the DEA's policy with regard to CBD and hemp. The DEA, for its part, seems to acknowledge that in its new directive.
The most promising prospect of clarification or reform on the issue could come from a bill introduced by Senate Majority Leader Mitch McConnell (R-KY), who is calling on the federal government to remove hemp from the list of federally banned substances. He has already announced plans to insert hemp legalization language into this year's version of the Farm Bill.
For now, DEA says that hemp products can be legally imported into and exported out of the U.S., even if current law doesn't allow for legal hemp cultivation by American farmers.
"[A]ny product that the U.S. Customs and Border Protection determines to be made from the cannabis plant but which falls outside the CSA definition of marijuana may be imported into the United States without restriction under the Controlled Substances Import and Export Act," the new notice reads. "The same considerations apply to exports of such products from the United States, provided further that it is lawful to import such products under the laws of the country of destination."
Mitch McConnell Steps Up Hemp Legalization Push With Legislative Move
Photo courtesy of Chris Wallis // Side Pocket Images.
House Committee Takes Aim At Public Welfare In Marijuana Dispensaries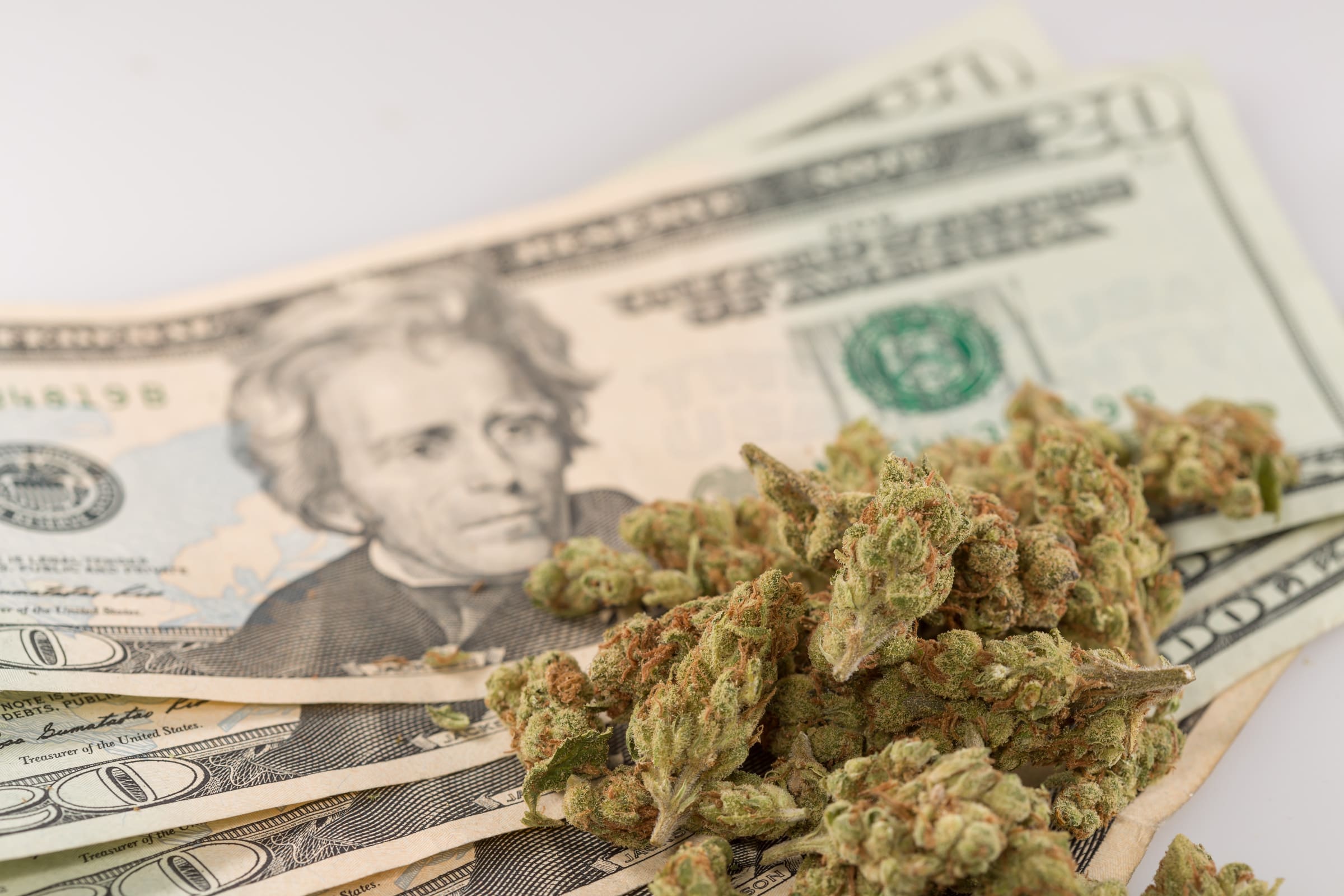 Low-income families receiving federal financial assistance would be barred from withdrawing those funds at stores that sell marijuana under a bill approved by a key House committee.
The JOBS for Success Act is a broader piece of welfare reform legislation, but included inside the bill is a provision that would expand the list of federally prohibited services for Temporary Assistance for Needy Families (TANF) recipients. The language is similar to that of previous standalone bills that have been proposed and one that was introduced earlier this month by Rep. David Reichert (R-WA).
The House Committee On Ways and Means approved the bill in a markup session Thursday by a vote of 22-14. It will now more to the full House before potential Senate consideration.
The cannabis provision would prohibit "cash benefits from being accessed electronically at stores that sell marijuana, amending the current restriction on casinos, liquor stores, and strip clubs," according to a summary.
H.R. 5861 by KyleJaeger on Scribd
During Wednesday's hearing, Rep. Lloyd Doggett (D-TX) said the so-called "needs not weed" provision was another example of the intentional stigmatization of the poor, rather than a practical, fiscal attempt to reform TANF.
Lawmakers who pushed for strip club and dispensary bans for TANF recipients often consider these individuals the "idle poor," "takers not makers" and "deadbeats," Doggett said.
"We get a little flavor of that in this bill," he said, referencing the marijuana provision. He later said "their goal was to stigmatize the disadvantaged" when lawmakers passed the strip club prohibition in 2012.
"Imagine how much good these Republicans would have done if they would have had the foresight to extend that strip show loophole to the White House," Doggett said. "And with all of the crazy tweets that have been coming out of the White House these days, it certainly feels to me like someone's been smoking something strange on Pennsylvania Avenue."
The Democratic lawmaker was then scolded by Chairman Kevin Brady (R-TX) for an alleged personal attack on the president.
The functionality of the provision
The need for the provision is questionable. Records obtained by the National Review in 2014 showed that TANF recipients in Colorado used EBT cards to take out cash at cannabis dispensaries just 64 times, amounting to a total of "$5,475 in public benefits." Nonetheless, Republican lawmakers moved quickly to impose a statewide ban on the withdrawal of TANF benefits at dispensaries.
And as Americans for Safe Access (ASA) noted when the House voted on a similar bill in 2014, the efficacy of the proposed rule is also dubious.
"Even if passed into law, the value of the legislation would be minimal in terms of blocking the use of public assistance funds for medical marijuana," ASA wrote. "By preventing the ability of TANF recipients to access funds from ATMs in medical marijuana dispensaries, the practical impact would only harm those with financial hardship and mobility issues, because TANF recipients could still make financial withdrawals from other nearby ATMs."
Marijuana Business Owners Rally On Capitol Hill As Cannabis Bills Gain Momentum
See below for the full text of the marijuana provision of the committee-approved legislation:
SEC. 13. WELFARE FOR NEEDS NOT WEED.
(a) PROHIBITION.—Section 408(a)(12)(A) (42 U.S.C. 608(a)(12)(A)) is amended—
(1) by striking ''or'' at the end of clause (ii);
(2) by striking the period at the end of clause (iii) and inserting ''; or''; and
(3) by adding at the end the following: ''(iv) any establishment that offers marihuana (as defined in section 102(16) of the Controlled Substances Act) for sale.''.
(b) EFFECTIVE DATE.—The amendments made by subsection (a) shall take effect on the date that is 2 years after the date of the enactment of this Act.
New York Democratic Party Endorses Legalizing Marijuana
The Democratic Party of New York is officially on board with legalizing cannabis.
"The New York State Democratic Committee supports the legalization of marijuana which should be regulated and taxed in a manner similar to alcohol," reads a resolution adopted by delegates at the party's convention on Wednesday.
Legalization "is an important social justice issue," the measure says. "Millions of peaceful Americans have been arrested, imprisoned, fined, or otherwise needlessly criminalized and stigmatized, potentially for life, because of their use of marijuana."
The move comes amid a whirlwind of cannabis developments in New York over the past month.
Last week New York City Mayor Bill de Blasio (D), for example, directed the NYPD to stop arresting people smoking marijuana in public, and is moving to draft a plan to prepare the city for eventual statewide legalization. Days earlier, he announced that the NYPD will "overhaul and reform" its marijuana enforcement policies.
I'm announcing today that the NYPD will overhaul its marijuana enforcement policies in the next 30 days. We must end unnecessary arrests and end disparity in enforcement.

— Bill de Blasio (@NYCMayor) May 15, 2018
As a result, the NYPD commissioner formed a working group to study potential changes.
De Blasio, despite that fact that he remains, for now, personally opposed to ending cannabis prohibition, concedes that legalization is "inevitable."
The legalization of marijuana in New York State is likely inevitable. Our city has to get rules in place before this happens and be prepared for the public safety, public health and financial impact. pic.twitter.com/5y40VlYhjG

— Bill de Blasio (@NYCMayor) May 22, 2018
Meanwhile, Manhattan's district attorney announced he will decline to prosecute marijuana possession and smoking cases, and his office released a related report on cannabis policy. Similarly, Brooklyn's district attorney announced a similar move.
New York City's comptroller released an analysis finding that legalization could generate $436 million annually in new state tax revenue from legal marijuana sales, and the city could bring in as much as $335 million.
Brooklyn's borough president is on board with legalization, too.
It's high time that our state, and our nation, decriminalize and legalize #marijuana. Those of us longtime advocates are ready and waiting to move this #criminaljustice reform over the finish line once and for all. #LegalizeIt.

— Eric Adams (@BPEricAdams) April 20, 2018
The local moves come after the New York Times published an analysis finding that racially disproportionate arrest rates for marijuana have persisted in the city following previous incremental enforcement reforms enacted by de Blasio.
The City Council speaker is calling for an end to prohibition, saying that discriminatory enforcement of cannabis laws won't end "until marijuana is legalized, taxed and regulated in New York City."
Letitia James, the city's public advocate — who is running for state attorney general — said current cannabis enforcement policies "continue to hold communities of color back."
If New York truly wants to be a leader on criminal justice reform, in economic justice, in ensuring a fair and equal state for all, and in combatting decades-old policies that continue to hold communities of color back, then it is past time that we legalize marijuana here. pic.twitter.com/is9SIarusj

— NYC Public Advocate (@NYCPA) April 17, 2018
On the state level Gov. Andrew Cuomo (D) said the results of an official state study on marijuana legalization will be released soon.
New York Marijuana Legalization Effort About To Get A Big Boost
Elsewhere, Buffalo's mayor is considering municipal marijuana reforms.
A poll this month found that New York voters support legalizing marijuana, 63%-32%.
The states's two Democratic U.S. senators — Chuck Schumer and Kirsten Gillibrand — support legalization.
Read the full marijuana resolution adopted by New York Democrats below:
New York Democratic Party Marijuana Resolution by tomangell on Scribd
Kyle Jaeger contributed reporting to this story.