Hemp Advocates Secure Major Win In New House Government Funding Measure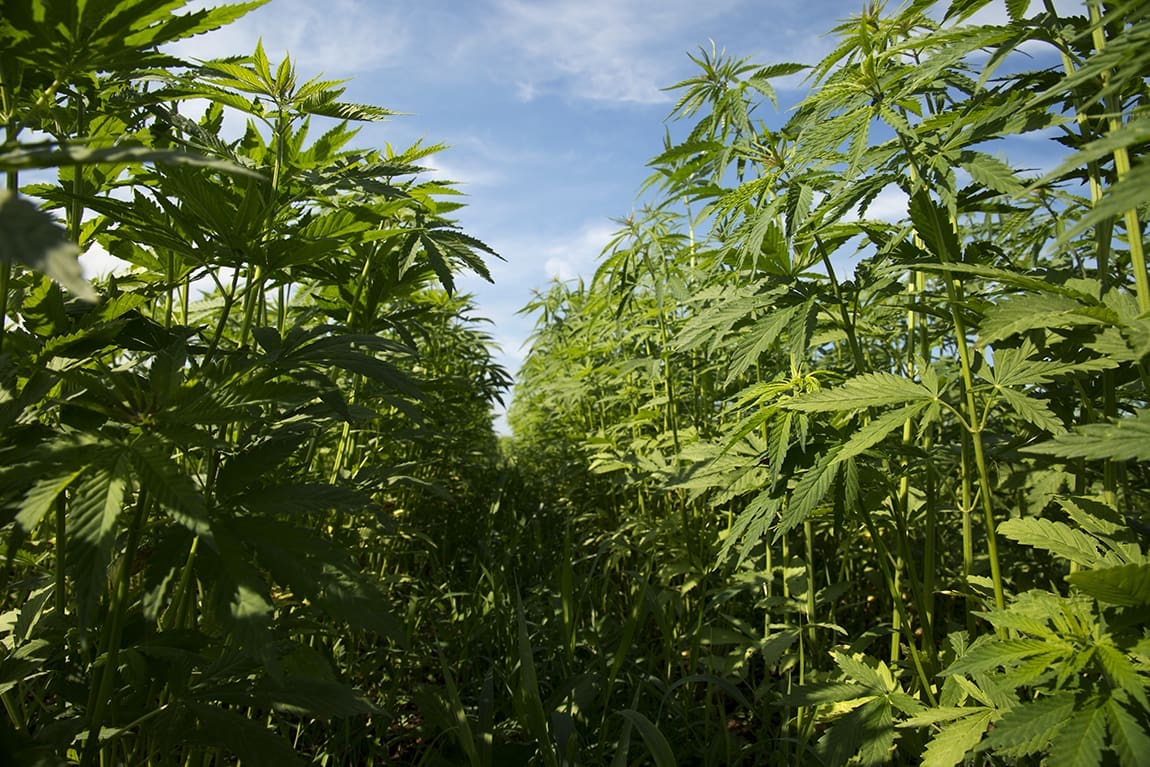 Hemp industry stakeholders are celebrating the introduction of a House of Representatives funding bill that would extend a 2014 pilot program for the crop until 2021.
While the 2018 Farm Bill more broadly legalized hemp, it required the U.S. Department of Agriculture (USDA) to develop regulations for the market—and many farmers and processors have expressed concern about certain proposed rules. Industry groups, lawmakers and producers have been asking USDA to extend the earlier, 2014 Farm Bill pilot program, which they consider to be more flexible.
That program is set to expire on October 31. But if the new continuing resolution to keep the government funded and avoid a shutdown is approved, it would stay in effect until at least September 2021, also pushing back the implementation of USDA's interim final rule on hemp and its derivatives.
Here's the text of the hemp provision in the new funding bill:
"SEC. 122. Section 7605(b) of the Agriculture Improvement Act of 2018 (7 U.S.C. 5940 note; Public Law 115–334) is amended by striking 'the date that is 1 year after the date on which the Secretary establishes a plan under section 297C of the Agricultural Marketing Act of 1946' and inserting 'September 30, 2021.'"
Stakeholders would then have more time to push USDA to adopt changes before it finalizes its hemp rules under the 2018 bill. They've said that testing and disposal requirements, as well as limitations on THC content, are particularly concerning provisions that threaten to inhibit the industry's growth.
"We are very excited to see this language added into the House's continuing resolution, and we will be enlisting our grassroots army behind an advocacy campaign to urge the Senate to concur," Jonathan Miller, general counsel at the U.S. Hemp Roundtable, told Marijuana Moment. "This is a critical step to ensure full flexibility for hemp farmers as the USDA irons out its final rule during these difficult economic circumstances."
Earlier this month, USDA reopened a public comment period for 30 days on its interim final rule (IFR) for the crop, soliciting public input on a series of specific provisions. The federal Small Business Administration recently asked the agency to extend that window by another 30 days.
"We see this as a positive development for hemp farmers across the country," Patrick Atagi, board chairman of the National Industrial Hemp Council (NIHC), said in a press release. "The hemp industry isn't any different from other facets of our economy that have been adversely affected by COVID. We've continued to tell Congress that a global pandemic has made it increasingly difficult for states to meet and develop plans to be submitted to the USDA for approval before the expiration of the pilot program."
Colorado Gov. Jared Polis (D) said the new legislation "provides USDA and the states another year to work together on any challenges with the USDA's proposed regulations."
"Colorado is proud to be a national leader in the hemp industry and the continuation of this program will help support our local farmers and ranchers who are the foundation of this industry in our state," he said. "I welcome the extension of the 2014 Farm Bill in the Continuing Resolution because it provides Colorado with additional time to engage stakeholders and federal agencies before finalizing our State's hemp plan with the U.S. Department of Agriculture."
It remains to be seen whether the Senate will introduce identical language. Senate Republicans and the White House have already voiced general opposition to the proposed continuing resolution in general, without discussing the specific hemp provision. That said, a coalition of hemp associations wrote to Sen. Cory Gardner (R-CO) last week, imploring him to advocate for an extension of the 2014 pilot program and also delay implementation of USDA's IFR.
"As you are aware, stakeholders throughout Colorado (and nationwide), including both government and industry, continue to voice their numerous concerns related to several untenable standards contained in the USDA IFR," the letter, led by led by Vicente Sederberg LLP and Hoban Law Group, states.
"To this end, Colorado is one of a number of states which has delayed the promulgation of a state plan in accordance with the 2018 Farm Bill, to allow Colorado's hemp industry to remain in operation in accordance with the 2014 Farm Bill for at least the 2020 season, while USDA and its sister agencies are afforded the opportunity to meaningfully address the industry's stated concerns," it continues.
The letter was also signed by Buscher Law, Colorado Hemp Industries Association, National Cannabis Industry Association, Hemp Industries Association and Functional Remedies, LLC.
"I think it's an important protection for the hemp industry to allow them to operate under a state regulated program, while there's more time to address the problematic provisions under the federal IFR," Shawn Hauser of Vicente Sederberg LLP told Marijuana Moment. "Especially given the difficulty and transitioning operations with the challenges of COVID and the time and work that needs to be done to address the federal rules, it's important that these state programs be able to continue, and this is going to allow the hemp industry to succeed."
Last month Gardner called on USDA to delay the implementation of the proposed hemp rules, citing concerns about certain restrictive policies that stakeholders oppose.
While Senate leadership might not be amenable to the House proposal overall, it's still the case the Senate Majority Leader Mitch McConnell (R-KY) is a strong advocate for hemp and has made much of his alliance with the industry throughout his reelection campaign.
Pressure is on to get a continuing resolution approved, as the deadline to keep the government funded is in less than 10 days, at the end of this month.
For USDA's part, it does seem to be taking seriously the feedback it's received and may be willing to make certain accommodations on these particular policies. At the same time, it's been in the process of approving hemp regulatory proposals—or requesting resubmissions with edits—from states that are moving ahead despite ongoing concerns about the 2018 provisions.
Certain states like North Carolina and Rhode Island have notified USDA that they intend to continue operating under the 2014 pilot program.
In July, two senators representing Oregon sent a letter to Agriculture Secretary Sonny Perdue, expressing concern that hemp testing requirements that were temporarily lifted will be reinstated in the agency's final rule. They made a series of requests for policy changes.
Senate Minority Leader Chuck Schumer (D-NY) last month wrote to Perdue, similarly asking that USDA delay issuing final regulations for the crop until 2022 and allow states to continue operating under the 2014 Farm Bill hemp pilot program in the meantime.
State agriculture departments and a NIHC made a similar request to both Congress and USDA last month.
Perdue has said on several occasions that the Drug Enforcement Administration (DEA) influenced certain rules, adding that the narcotics agency wasn't pleased with the overall legalization of hemp.
Separately, USDA announced last week that it is expanding its coronavirus relief program for farmers—and this time around, hemp cultivators are eligible for benefits.
Earlier this month, DEA released proposed rules to comply with USDA's hemp rules. However, some industry players suspect that they're really setting the stage to crack down on the newly legal market.
Read the letter the hemp groups sent to Gardner below: 
Colorado Hemp Stakeholders … by Marijuana Moment
This story was updated to include comment from Polis.
Photo courtesy of Brendan Cleak.