Elon Musk Thinks CBD Is 'Fake,' But Joe Rogan Teaches Him A Lesson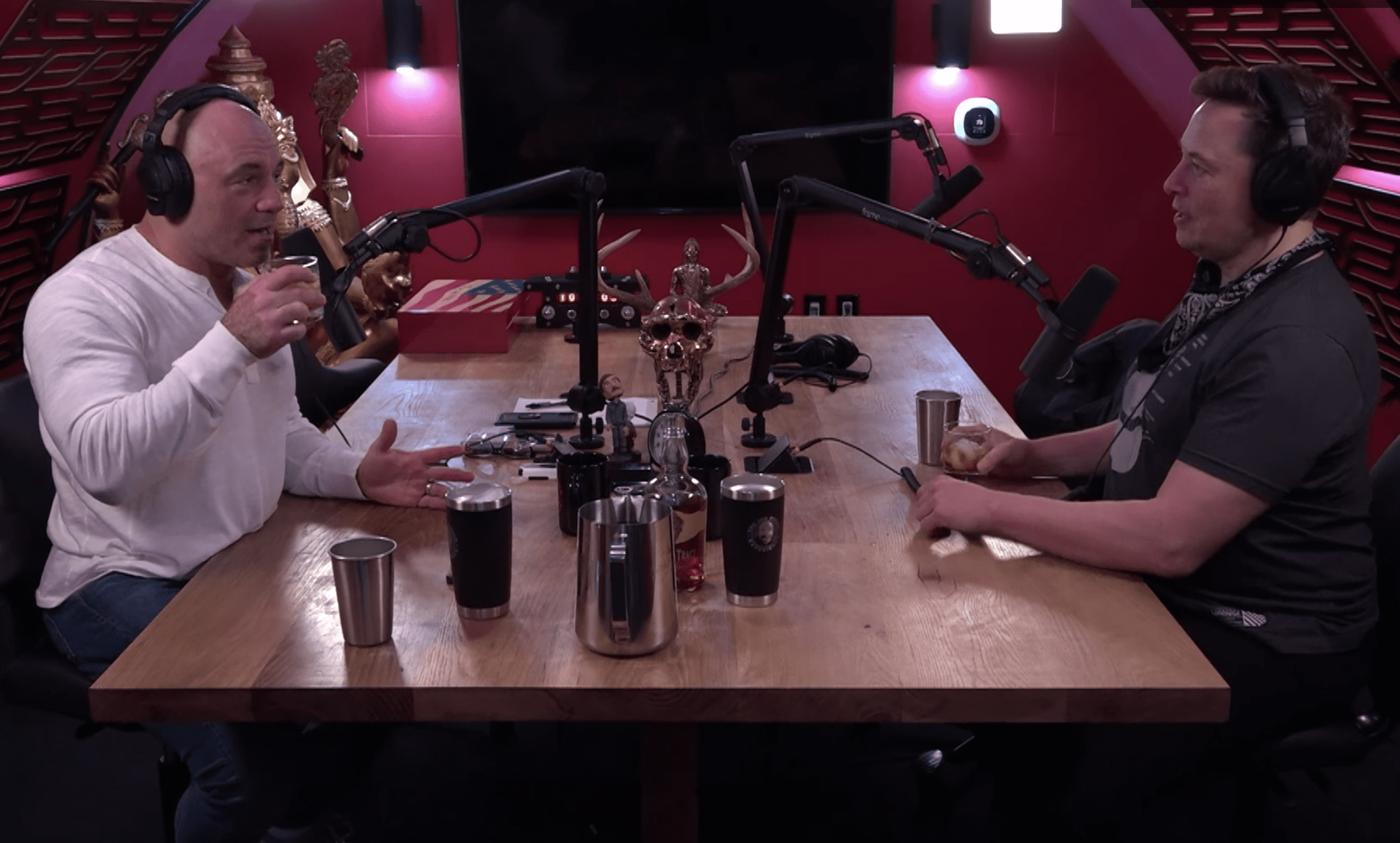 Elon Musk might know a thing or two about rockets and electronic vehicles, but during an interview with podcaster Joe Rogan this week, he revealed something of a blind spot when it comes to cannabis, saying he thinks CBD is "fake."
That's not to say he believes the non-intoxicating cannabinoid doesn't actually exist. Rather, the tech entrepreneur indicated he feels it's overhyped and "doesn't do anything." Rogan, for his part, had a lot to say about cannabidiol's benefits in response.
The exchange started with Musk and Rogan reflecting on an earlier podcast show in 2018, where the SpaceX and Tesla CEO puffed on a marijuana blunt (which he later claimed he never actually inhaled), prompting an investigation by NASA over his aerospace company's "workplace safety" and "adherence to a drug-free environment."
Rogan, who relocated his podcast headquarters from California to Texas last year, noted that his new home state has not yet legalized marijuana, but "CBD is legal here."
"CBD doesn't do anything. Does it?" Musk said. "I think that's fake."
Listen to Musk and Rogan discuss CBD below, starting around 50:00:
Rogan promptly gave Musk a crash course in the numerous therapeutic benefits of CBD that have been identified in an ever-growing body of scientific literature.
Read the rest of the exchange below:
JR: Well, no—no, it definitely does something for inflammation.
EM: It does?
JR: Yeah, for sure.
EM: Well, how much CBD do you have to have before you notice it?
JR: Physically?
EM: Yeah.
JR: Yeah, physically, you don't have to have a lot. Physically, CBD works great for people with arthritis and people with sore muscles and things like that. Yeah, no, CBD definitely works for that, but as far as like psychoactive effects, not much. It relieves anxiety for people.
EM: Okay.
JR: It helps people sleep, especially when it's combined with things like melatonin, you know, things along those lines. But it doesn't get you high. People do mix CBD with THC for muscle creams though, and that doesn't get you high either, but it increases the effectiveness.
EM: Okay.
JR: Yeah, there's some creams that are really good that people like that have THC and CBD in it.
EM: Alright, so you have like sunscreen or something and then, I mean why not just throw it in there?
JR: Why not? Well, it's great for soreness.
EM: You smell like weed all day.
JR: It doesn't smell like weed, though.
EM: It doesn't?
JR: No, no—some of it does, though. That's the thing about anything that's unregulated, right? Like hippies making it, that's always the problem.
EM: Quality control.
JR: Yeah, no quality control. That's the problem with edibles. They're made by a bunch of crazy people, cooking them up and some, you know, Chula Vista apartments, you really don't know what's in there.
Musk might not be quite up-to-speed on CBD, but he does enjoy playing into marijuana culture from time to time.
When shares of Telsa hit $420, for example, he responded on Twitter with crying laughing emojis and said "Whoa … the stock is so high lol."
Of course, 420 is well known among cannabis enthusiasts, as it represents the unofficial cannabis holiday, 4/20. And that wasn't the first time that Musk has played into it, either.
The billionaire tech entrepreneur landed in hot water with the Securities and Exchange Commission (SEC) in 2018 after he said he was considering taking Tesla private at a share price of $420—an announcement that SEC described as "false and misleading" and that was made without required notification to regulators.
Rogan, for his part, is a proud cannabis and psychedelics enthusiast, and once, for example, shared a story about how he hung out with Dave Chappelle while the comedian ate psilocybin mushrooms that were gifted by a stranger.
Texas Would Study Psilocybin And MDMA To Treat PTSD And Depression Under New Bill
Photo courtesy of Joe Rogan Experience/Spotify.