Elon Musk Smokes Marijuana With Joe Rogan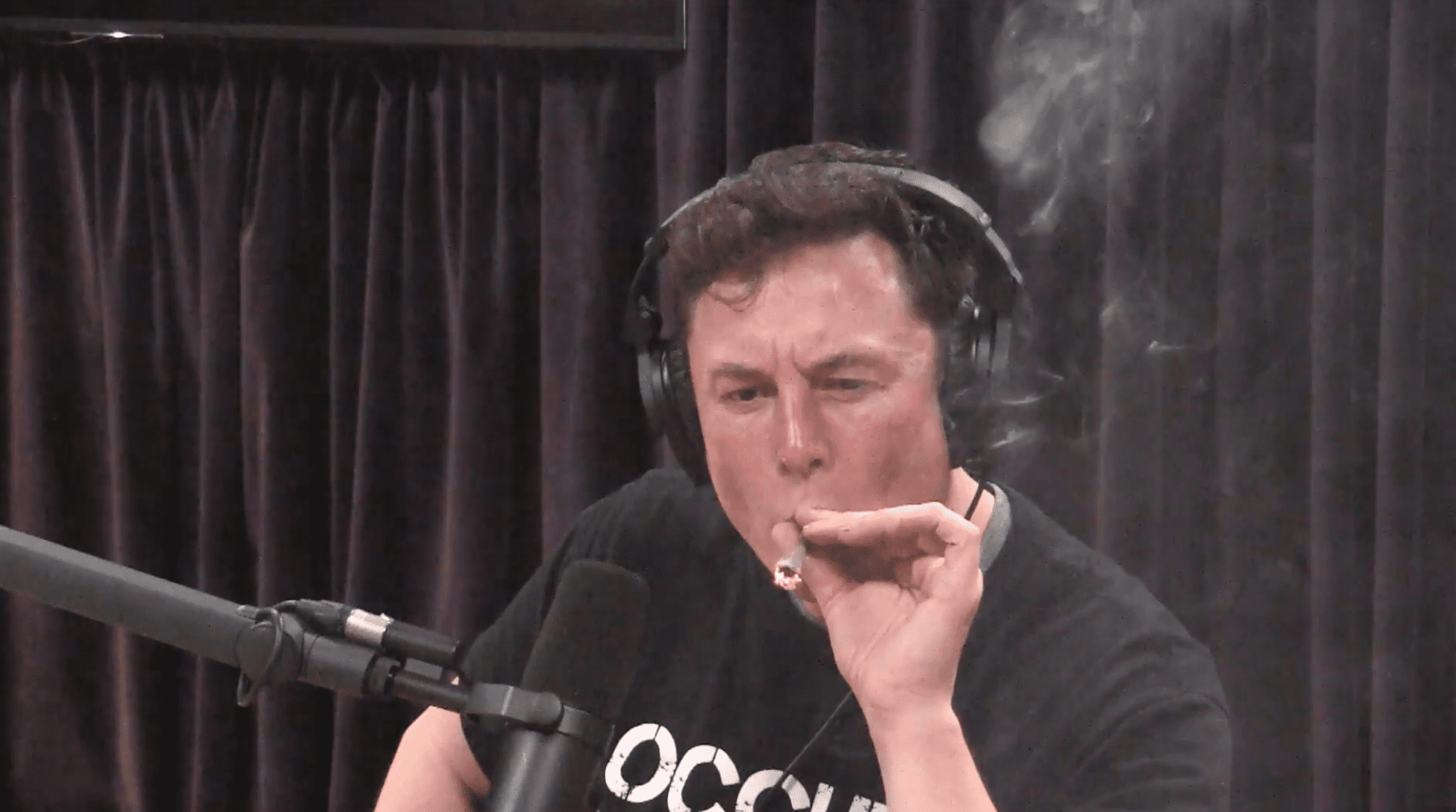 Elon Musk smoked marijuana during a taping of Joe Rogan's podcast on Thursday.
"It's legal, right?" the Tesla and SpaceX founder asked.
Last month Musk generated headlines by tweeting that he was considering taking Tesla private at a price of $420 per share.
Am considering taking Tesla private at $420. Funding secured.

— Elon Musk (@elonmusk) August 7, 2018
He later implied to the New York Times that the figure was a reference to marijuana, but that cannabis consumption "is not helpful for productivity."
"There's a reason for the word 'stoned,'" he said. "You just sit there like a stone on weed"
Elon Musk's worst PR move yet: Dissing marijuana.

"It seemed like better karma at $420 than at $419. But I was not on weed, to be clear. Weed is not helpful for productivity. There's a reason for the word 'stoned.' You just sit there like a stone on weed"https://t.co/kjPLlffjT3

— Tom Angell 🌳📰 (@tomangell) August 17, 2018
Tesla stock dropped sharply on Friday, but it is unclear to what extent investors were reacting to Musk's on-camera cannabis consumption as opposed to the separate news that two senior staffers had departed the company amidst its broader public relations and legal challenges in recent weeks.
Musk replied snidely to an email from the Guardian newspaper asking whether it was a good idea for him to be publicly smoking marijuana while under investigation by the U.S. Securities and Exchange Commission over his $420 tweet.
"Guardian is the most insufferable newspaper on planet Earth," he told the outlet.
When asked in a follow-up message whether Tesla employees must undergo drug testing, the CEO said, "Our policy allows trace amounts of THC during work times, provided they are below the safety limit (much like a minimum alcohol level)."
Marijuana References In Popular Music Are On the Rise, Study Finds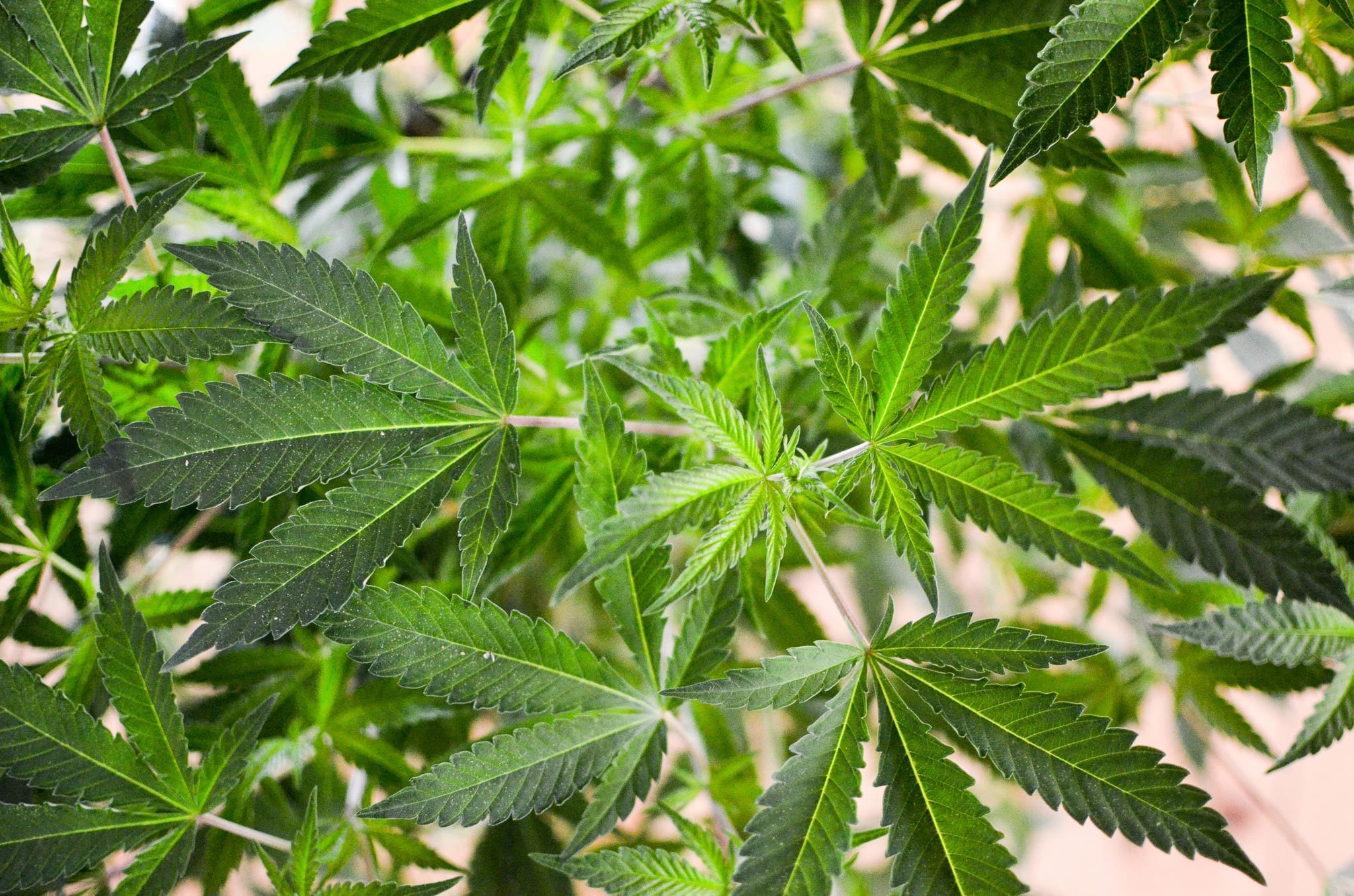 The number of hit songs that feature lyrics referencing marijuana has increased dramatically over the last 30 years, according to a new study. And researchers believe that growing public acceptance of cannabis is fueling a trend that has resulted in more than three out of four top 40 songs in the U.S. now containing shout-outs to weed.
The study, published last week in the Journal of the American Board of Family Medicine, sought to identify a link between popular music and drug trends in the U.S., with a main focus on opioids. Researchers at the University of Minnesota and Wayne State University examined the lyrics of Billboard's top 40 songs for each year from 1986 to 2016, filtering for songs that reference marijuana, alcohol, opioids and tobacco.
During the time period under review, references for all categories except tobacco increased.
The first mentions of cannabis appeared in 1989, for example, with fewer than five references in that year's top 40 chart, as ranked by Billboard. But by 2016, there were more than 30 marijuana references, more than for any other substance tracked in study.
Public acceptance of marijuana use for medical or recreational purposes also grew demonstrably over that time span, which may have "influenced the acceptability of mentioning marijuana in Top 40's music," the researchers wrote.
"If this demonstrated 'acceptability' trend is mirrored through a similar rise in the mention of opioid narcotics in Top 40's music, America's epidemic of overdose fatality may continue to escalate."
References to opioids, including heroin and prescription painkillers, weren't featured until the late 1990s, according to the analysis. That same decade marked the beginning of a larger push on the part of pharmaceutical companies to promote opioid-based painkillers.
"Over 50 percent of current Top 40's hit references discuss narcotic prescription or synthetic medication use, with the most common references including codeine, Percocet, and even remifentanil, among others," the study found.
Those results should be instructive to public health officials, the researchers argued. Because "if reference to opioid medications continues to become 'casual or trendy,' as exemplified in the prose of many popularly aired lyrics, a more targeted public awareness campaign may be warranted to combat this growing national public health concern."
While a larger share of today's popular song lyrics contain drug and alcohol references overall, one notable exception is tobacco. As rates of tobacco use and public acceptance of tobacco has fallen, so too has the prevalence of tobacco references in top 40 songs. In fact, there were no references to tobacco in top 40 songs in 2016.
"Although marijuana use has become increasing acceptable among American consumers, tobacco has become increasingly unpopular and stigmatized."
"Further inquiry may be warranted to evaluate the societal impact and persuasive abilities of popular culture, including Top 40's music, on American drug and alcohol use," the researchers concluded. 
South By Southwest Fans Choose From Dozens Of Marijuana-Themed Panels For 2019
Photo courtesy of Philip Steffan.
Neil deGrasse Tyson Warns People Not To Smoke Marijuana In Space
It's probably not wise to blaze up in space, renowned astrophysicist Neil deGrasse Tyson said on Wednesday.
TMZ approached Tyson to get his take on Tesla CEO Elon Musk, who smoked cannabis on camera during an interview with podcaster Joe Rogan last week. Some people have criticized the executive for allegedly violating company drug policy, and the U.S. Air Force has suggested that it could launch an investigation, as Musk's other company, SpaceX, holds federal military contracts and his marijuana use may violate those agreements.
"I think—can they leave him alone?" Tyson said. "Let the man get high if he wants to get high."
"You know, he's got to obey the [Securities and Exchange Commission], clearly. But if he doesn't want to obey the SEC, then he's got to have a private company, then he can do what he wants. But he took his company public, so there's an accountability there to the public trust of what goes on on the stock market. But other than that, he's the only game in town… Count me as team Elon."
"He's the best thing we've had since Thomas Edison," Tyson said of the modern innovator.
But when the TMZ reporter asked what it would be like to "smoke weed in space," Tyson urged caution.
"Well, the problem is, in space now, many things will kill you," he said. "So if you do anything to alter your understanding of what is reality, that's not in the interest of your health."
"So if you want to get high in space, like lock yourself in your cabin and don't come out because you could break stuff inadvertently. OK? That's how that goes." 
The popular scientific figure endorsed marijuana legalization last year, arguing that "relative to other things that are legal, there's no reason for [cannabis] to ever have been made illegal in the system of laws."
Tyson has also said that he doesn't partake in recreational use, preferring to stay sober-minded—at least for work purposes. Even so, he does tend to share some pretty stoney space facts on social media on a regular basis.
In case your mind hasn't been blown yet today: The speed of light through space is 670x faster than a million miles per hour

— Neil deGrasse Tyson (@neiltyson) September 12, 2018
Photo courtesy of YouTube/TMZ. 
Google Execs Told Marijuana Jokes To Lighten The Mood After Trump's Election, Leaked Video Shows
Shortly after the 2016 presidential election, Google executives spoke at an all-hands meeting about the political ramifications of Donald Trump's victory and fielded questions from employees about the path moving forward.
And to lighten the mood, they also cracked a few jokes about marijuana, which had just been fully legalized in California, the home of Google's headquarters.
"Let's face it, most people here are pretty upset and pretty sad because of the election," Google co-founder Sergey Brin said at the beginning of the meeting. "But there's another group—a small group—that we should also think about who are very excited about the legalization of pot." 
Employees are heard applauding and laughing in the video, which was leaked to Breitbart by an anonymous source. (The video cannot currently be embedded, but it appears at the top of the page linked above).
"I was asking if we could serve joints outside on the patio, but apparently these things take a little while to take effect," Brin continued. "It was a huge, huge disappointment."
"I've been bemoaning that all week, I'll be honest with you." 
Of course, the meeting took on a more serious tone as executives discussed the policy implications of the incoming Trump administration and the role of Google in the modern political landscape. But the meeting didn't wrap without one final nod to the passage of Proposition 64 in California.
Asked to weigh in on speculation that economist Jefferey Eisenach would be named as the chairman of the Federal Communications Commission, Google's chief legal officer Kent Walker brushed it off with his own marijuana joke. 
"Anybody who thinks they know of the likely members of the Trump administration is taking premature advantage of Sergey's favorite California proposition," Walker said. "Nobody knows."
Just as a matter of housekeeping, California's adult-use marijuana law went into effect immediately after the proposition's passage. So technically speaking, anyone 21 or older who would have consumed cannabis after the election wouldn't be taking "premature advantage" of the law.
Perhaps to that end, Brin closed the post-election event by telling Googlers that "there's food and drink on the patio," but warned them to "be careful of the cookies."
New Book: Obama Considered Decriminalizing Marijuana, But Then Trump Won