Elon Musk Smokes Marijuana With Joe Rogan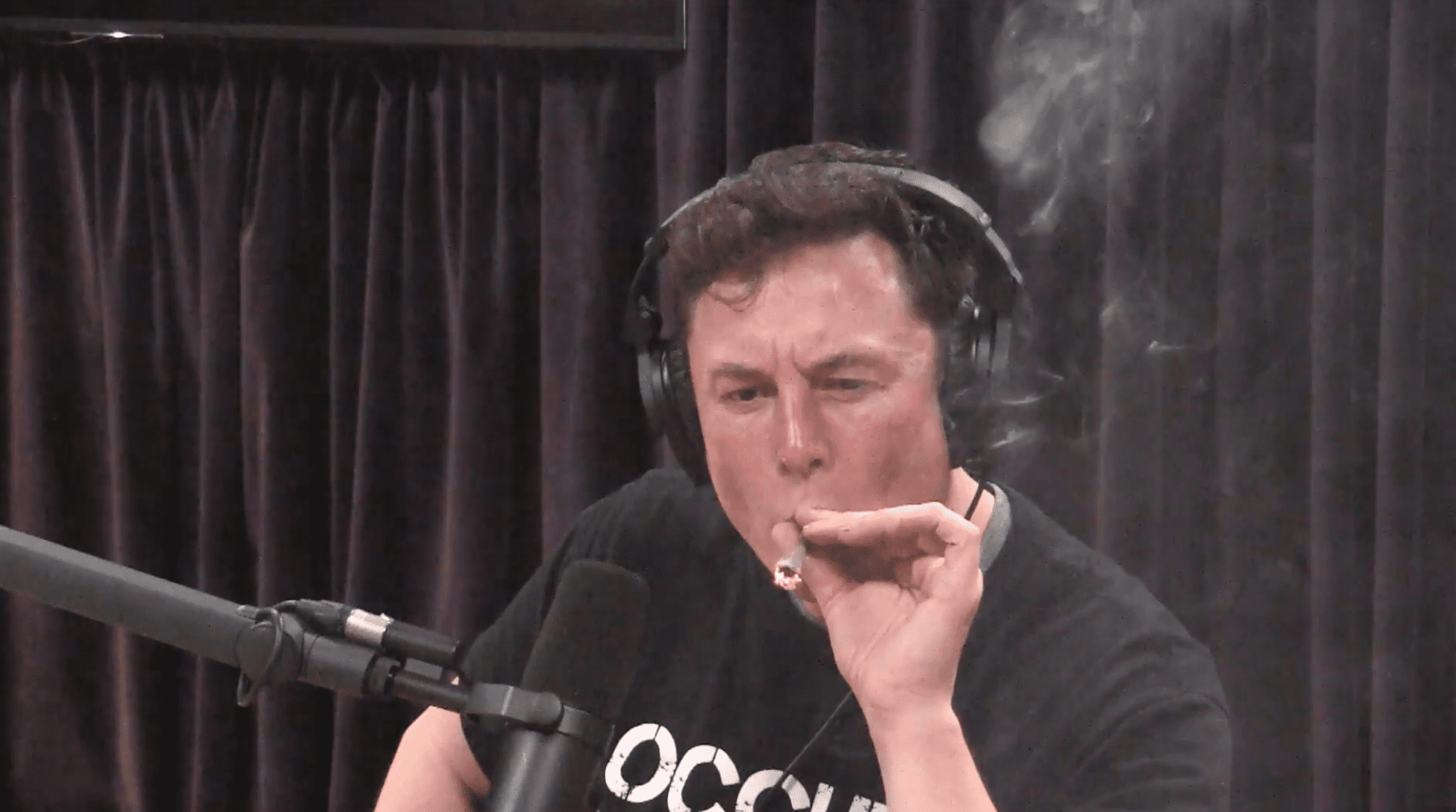 Elon Musk smoked marijuana during a taping of Joe Rogan's podcast on Thursday.
"It's legal, right?" the Tesla and SpaceX founder asked.
Last month Musk generated headlines by tweeting that he was considering taking Tesla private at a price of $420 per share.
Am considering taking Tesla private at $420. Funding secured.

— Elon Musk (@elonmusk) August 7, 2018
He later implied to the New York Times that the figure was a reference to marijuana, but that cannabis consumption "is not helpful for productivity."
"There's a reason for the word 'stoned,'" he said. "You just sit there like a stone on weed"
Elon Musk's worst PR move yet: Dissing marijuana.

"It seemed like better karma at $420 than at $419. But I was not on weed, to be clear. Weed is not helpful for productivity. There's a reason for the word 'stoned.' You just sit there like a stone on weed"https://t.co/kjPLlffjT3

— Tom Angell 🌳📰 (@tomangell) August 17, 2018
Tesla stock dropped sharply on Friday, but it is unclear to what extent investors were reacting to Musk's on-camera cannabis consumption as opposed to the separate news that two senior staffers had departed the company amidst its broader public relations and legal challenges in recent weeks.
Musk replied snidely to an email from the Guardian newspaper asking whether it was a good idea for him to be publicly smoking marijuana while under investigation by the U.S. Securities and Exchange Commission over his $420 tweet.
"Guardian is the most insufferable newspaper on planet Earth," he told the outlet.
When asked in a follow-up message whether Tesla employees must undergo drug testing, the CEO said, "Our policy allows trace amounts of THC during work times, provided they are below the safety limit (much like a minimum alcohol level)."
Rapper Redman Discovers 20-Year-Old Marijuana At Mom's House
If you live in a state marijuana is legal, you might have already grown accustomed to having your freshly harvested cannabis sold in neat, child-proof packaging.
But 20 or so years ago, you were more likely to get something that resembles what rapper Redman's mom recently unearthed: schwag stuffed tightly into little baggies.
In a video posted on Instagram on Saturday, Redman shared the discovery with his 1.2 million followers. He said his mom, who made sure the artist didn't use her name in the post, found the baggies, which were still packed full of what he estimated to be at least 20-year-old bud.
"We're selling this on eBay," the mom joked.
"You gonna say not to use your name then say we're selling it, mom?" Redman said.
One bag in particular—a triangle with a red symbol—"has history," he said. It's from an era of rap that saw some of the greatest marijuana enthusiasts: Biggie Smalls, The Lox, Cam'ron, Lil' Cease, Norega.
"If you don't know what that bag is, it's from one of the east coast riders of marijuana," Redman said. "Branson, baby. That's an official Branson bag."
No word on whether Redman tried to smoke the historic cannabis, but if it really is 20 years old, then it's unlikely to be especially potent. So perhaps he's better off holding on to the relic, or even donating it to the Weedmaps Museum of Weed—a pop-up exhibit that's set to launch in Los Angeles later this year.
Study: Festival Attendees Use Different Drugs Based On Music Genre, But They All Love Marijuana
Photo courtesy of Redman.
Hertz Rep Expertly Dismisses Twitter Complaint About Rental Car Smelling Like Marijuana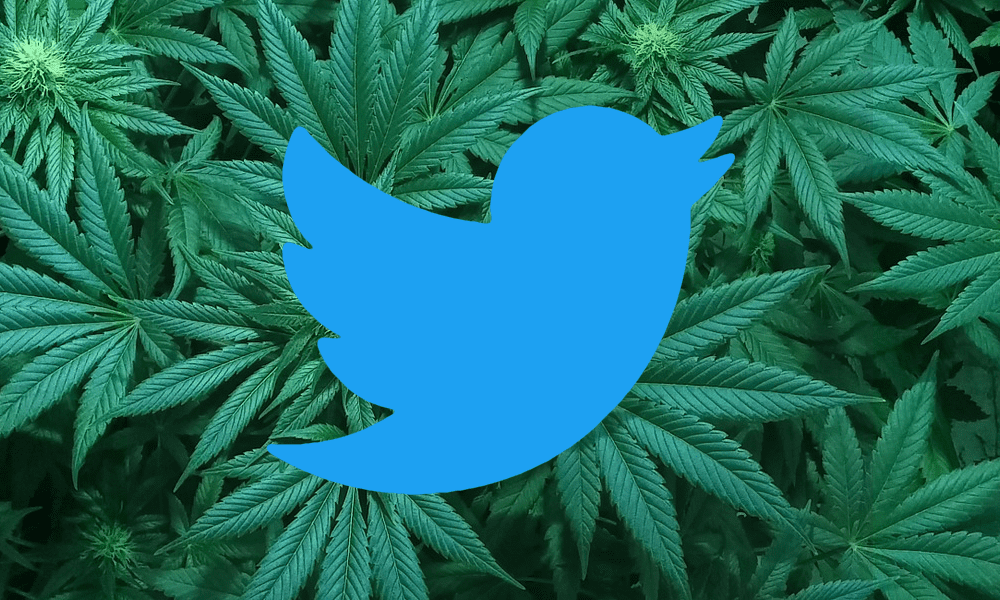 The Hertz social media team has to deal with a lot of questions and complaints on any given day. But on Thursday, the rental car company's Twitter account heard from someone who was especially upset that the vehicle they picked up in California was "infested with the smell of marijuana."
The person behind the Hertz account, who identified themselves as "JG," apologized to the dissatisfied customer and recommended reaching out to its roadside assistance line for an exchange.
We are sincerely sorry to hear this. Please reach out to our roadside assistance team at this number 1-800-654-5060 and they may be able to arrange an exchange. Additionally, a nearby Hertz location may be able to help. -JG

— Hertz (@Hertz) January 4, 2019
Well, the customer, using the Twitter handle @landryandlee, had apparently tried that already and was asked whether the car was still drivable. If it was and they still didn't want to drive it, the company's staff reportedly suggested getting the car towed at the customer's expense.
"To clarify, have you found drugs in the car?" Hertz's JG asked. "Are you in immediate danger?"
To clarify, have you found drugs in the car? Are you in immediate danger?-JG

— Hertz (@Hertz) January 4, 2019
The customer was uncertain whether there actually was cannabis in the vehicle but said "I do not feel comfortable driving the car." Worse yet, the customer's son had a hockey game the next morning and "I have now spent my entire afternoon dealing with this and no resolution."
Alas, as a member of the Hertz social media team whose job generally requires them to defer complaints to employees who can handle the situation, JG informed the customer that they "cannot assist further."
We apologize. We as the social media team cannot assist further. If you did indeed find marijuana in the vehicle please document it, remove it, and contact the authorities if you feel it's actually necessary. If you are not in any immediate danger, please follow the advice. -JG

— Hertz (@Hertz) January 4, 2019
"If you did indeed find marijuana in the vehicle please document it, remove it, and contact the authorities if you feel it's actually necessary," the Hertz account replied. "If you are not in any immediate danger, please follow the advice."
The customer did not find the advice helpful.
"You really cannot help me?" @landryandlee wrote. "All I want is my rental car to be replaced….how can a rental car company not take care of this???"
"We apologize for this. Please go to your nearest Hertz location for more assistance," JG said.
We apologize for this. Please go to your nearest Hertz location for more assistance. -JG

— Hertz (@Hertz) January 4, 2019
Hertz's JG got props from some marijuana enthusiasts on Twitter for the chill response to what seemed to be a relatively benign situation. And one jokester followed up on the threat to ask JG whether it was possible "to have my next rental pre-loaded with pre-rolls?"
And the chill-as-always JG replied, asking the Twitter user to "DM us with your reservation number" and also "clarify your question."
Please DM us with your reservation. number. Can you also clarify your question. — JRG

— Hertz (@Hertz) January 4, 2019
It's unclear whether the customer ultimately got the vehicle exchange or whose team won Friday's hockey match. This story will be updated if we learn more.
15 Of The Best Marijuana-Related Tweets From Politicians In 2018
How Marijuana Enthusiasts Came To Embrace A Reddit Forum Dedicated To Helping People Quit
A new year can bring new resolutions—and for some, that involves either quitting or cutting back on marijuana.
That's why each New Year's Day for the past seven years, an online community meant to support people who want to transition away from cannabis puts out an open invitation on the popular pro-marijuana subreddit r/trees.
And, believe it or not, the members of r/trees welcome the pitch with open arms, voting the posts to the top of their cannabis enthusiast forum.
"We're not anti-pot at all, we just support people who have decided that it's not for them anymore," this year's post from the moderators of r/leaves reads. "If that's you then you're welcome to come by."
People who join are empowered to take what they need from the group but not necessarily adhere to any structured abstention routine. Users share stories about their own experiences, offer tips on what helped them curb cannabis and cheer each other on. One of the only rules of r/leaves is that comments and posts must be supportive and respectful.
"We have a pretty narrow scope," r/leaves founder Dave, who asked that only his first name be used, told Marijuana Moment in a phone interview. "We don't make any claims or have any mission towards providing a cure or a system to have them emerge out the other side not as an addict. You don't even have to define yourself as an addict or any of that kind of stuff—you just have to decide it's time to quit."
Sometimes that decision making time comes around the unofficial marijuana holiday on 4/20, the other time of year that r/leaves promotes its community on the 1.3 million-member r/trees forum.
While cannabis isn't physically addictive in the way that other drugs like cocaine or heroin are, a subset of consumers can become dependent on it. The problem is that some who find themselves in that boat face stigma—and not just from the usual anti-drug suspects but also from marijuana enthusiasts who don't accept that cannabis use can become problematic.
But that's starting to change, Dave said. As more information about cannabis becomes available and more people start talking about their difficulties managing usage, the marijuana community has increasingly embraced the kind of work r/leaves does. The forum features several posts from r/trees users who simply wanted to express their support for the mission, even if they're not interested in quitting.
"If you look at the r/trees community, the r/trees community has been overwhelmingly supportive of r/leaves," Dave said. "It's amazing and heartwarming to me."
"I think there's a growing recognition that you don't have to say there are no dependency problems with cannabis. We can say, 'yeah, you know what some people get dependent, but that's OK.' We can deal with this as a community and do it the right way."
The best advice Dave said he's heard on the forum sounds simple at first, but for someone with a dependency problem, it can be the toughest part to accomplish: ask yourself—and be fully honest with yourself—whether you are problematically dependent.
"That I think is the key—to really look at negative consequences, really evaluate whether they are worth cutting back or quitting," he said. "And if you say, 'yes,' then try to cut back and if you can't, then that's why we're there is to help you quit."
The r/leaves community was formed partly as a response to the rapid evolution of the marijuana legalization movement over the last decade. But Dave said he's not at all opposed to cannabis reform even if it was part of the inspiration. In fact, he said he's "unequivocally in favor of recreational legalization at the federal level."
"Anyone who wants to use the group as any sort of evidence that cannabis shouldn't be legalized will find no friend in me," he said. "We are just the opposite. We are showing that we can recognize that some people who try cannabis can become dependent, that we can talk about that openly, and we can take care of those people and make them better even as legalization progresses."
How Reddit's r/trees Helped Scientists Make Marijuana Discoveries