Elon Musk: 'I Have No Idea How To Smoke Pot'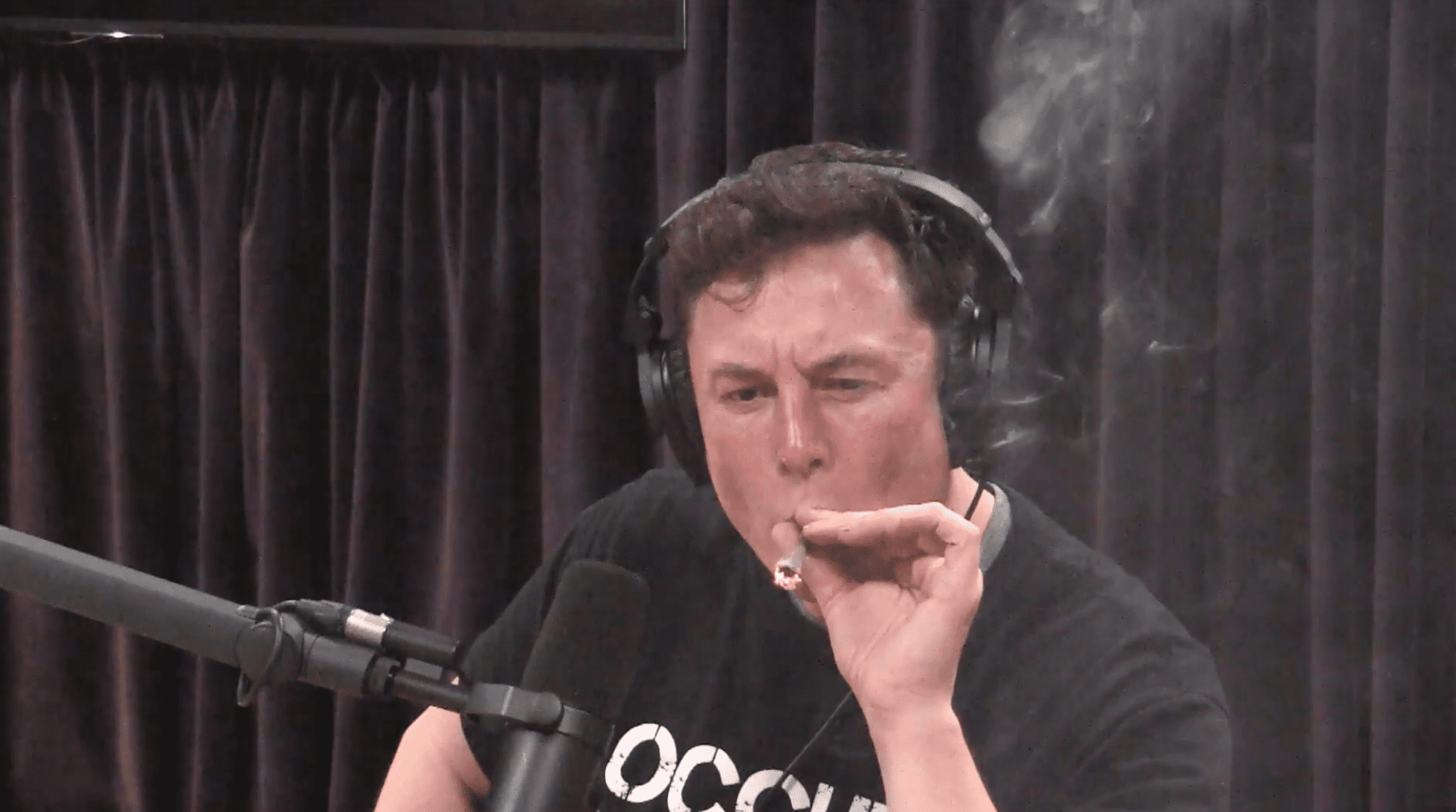 Elon Musk got himself into a bit of trouble after smoking marijuana during an appearance on Joe Rogan's podcast in September.
The move reportedly led to NASA launching an investigation into his company SpaceX's "workplace safety" and "adherence to a drug-free environment."
But now, in a new interview 60 Minutes, the Tesla founder indicated the on-camera puffing was a fluke and that he actually doesn't even know how to smoke weed.
"I do not smoke pot," he said.
"As anybody who watched that podcast could tell, I have no idea how to smoke pot or anything. I don't know how to smoke anything, honestly."
Musk seems to be telling the truth, at least judging from the widespread reaction to the fact that he didn't seem to actually inhale the blunt that Rogan passed him.
I'm sure this point has been made but @elonmusk clearly didn't inhale

— Ryan Lizza (@RyanLizza) September 7, 2018
elon musk didn't inhale lmao baby lungs

— MATT MIGGZ (@mattmiggz) September 7, 2018
"elon musk didn't inhale"

he doesn't inhale smoke

because he doesn't inhale oxygen

because he is a simulation

— kalabar's revenge (@itzthelimit) September 10, 2018
Elon Musk didn't inhale and his stock plummets 6% hahaha

— Parabolic Retard 🤪 (@Crypto_STEEZ) September 8, 2018
The full 60 Minutes interview with Musk is set to air on Sunday.
Seth Rogen's Marijuana Biz Expands To U.S. While Jay-Z Gets Political With Cannabis Ad Campaign
Monday was a big day in the celebrity marijuana space, with actor Seth Rogen announcing the U.S. launch of his cannabis brand and rapper Jay-Z revealing an ad campaign for his company that's meant to highlight the absurdity of the war on drugs by pointing out that some states are more lax on cousin marriage, cannibalism or sex with farm animals than they are on weed.
Rogen's elation in bringing his business, Houseplant, to the U.S. market was evident in a one-minute video he shared on social media.
Almost ten years I go, I envisioned having my own weed company. And today I can say that my company Houseplant's weed will be available in California next week! Also, Houseplant is making lovely Housegoods like ashtrays, lighters, and YES, even ceramics. https://t.co/TNjpWFhbWB pic.twitter.com/00xR8QKNH3

— Seth Rogen (@Sethrogen) March 1, 2021
After showcasing the tins his line of sativa and indica strains come in—as well a "table lighter" that's part of the Houseplant collection—the actor of Pineapple Express and Superbad fame said that this is "honestly my life's work and I've never been more excited about anything."
The company also produced vinyl records with playlists that are meant to complement the effects of the various marijuana varieties like Pancake Ice.
This is our Pancake Ice sativa. (All our strains are named after weather systems like we did with Pineapple Express). Our Pancake Ice is what I smoke all day. It's over 33% THC. pic.twitter.com/buLcuLwZgg

— Seth Rogen (@Sethrogen) March 1, 2021
Rogen has also leveraged his marijuana stardom for philanthropic purposes, putting on an adult carnival last year where the plant was featured to raise money for research into Alzheimer's disease.
He appeared at a congressional hearing in 2014 and joked that while people might expect him to advocate for marijuana reform before the Senate committee, he was actually there to promote research into the disease, which his mother-in-law suffers from.
The actor also appeared in a PSA for National Expungement Week, an effort to help people free themselves from the burdens of prior marijuana convictions.
Meanwhile, JAY-Z, whose real name is Shawn Carter, has his cannabis business, MONOGRAM. And on Monday, the company started a "national awareness campaign that draws attention to the hypocrisy of current regulations governing cannabis" in the U.S., a press release states.
Billboards and murals featuring text that compare laws prohibiting marijuana and other state and federal statutes have been posted in cities like Los Angeles, San Francisco, Washington, D.C. and New York.
You can marry your first cousin in more states than you can buy recreational weed. pic.twitter.com/BcC7PANmck

— MONOGRAM (@monogramcompany) March 1, 2021
Here are a few examples of the campaign messages: 
"Weed is a federal crime. Even in the states where sex with farm animals isn't."
"You can marry your first cousin in more states than you can buy recreational weed."
"The war on drugs worked. If systemic racism was the goal."
"Cannabis laws are out of date and disproportionately cruel and punishing when compared to the rest of the legal code," Carter said. "I created this campaign to amplify the voices of those who have been penalized for the very same thing that venture capitalists are now prospering from with the emerging legal cannabis market."
There's a state in America where cannibalism is technically legal and cannabis isn't.

The hypocrisy of America's drug policy needs to end. pic.twitter.com/4wyHYK6kcC

— MONOGRAM (@monogramcompany) March 1, 2021
Earlier this year, the artist announced that he was putting $10 million toward a fund to promote participation in state-legal marijuana markets by communities most impacted by prohibition—an action that earned the praise of California Gov. Gavin Newsom (D).
I led the effort to decriminalize & legalize cannabis because the war on drugs has been an abject failure—with disproportionate & devastating impacts on communities of color.

These are the types of entrepreneurial opportunities we dreamed of—thanks Jay-Z! https://t.co/jHag1DdWBd

— Gavin Newsom (@GavinNewsom) January 21, 2021
"I led the effort to decriminalize & legalize cannabis because the war on drugs has been an abject failure—with disproportionate & devastating impacts on communities of color," the governor said. "These are the types of entrepreneurial opportunities we dreamed of—thanks Jay-Z!"
Top Washington, D.C. Lawmaker Files Competing Legal Marijuana Bill Days After Mayor Unveils Her Plan
Photo courtesy of Monogram.
NFL Explores How Marijuana And CBD Can Be Used As Opioid Alternatives For Players
The National Football League and NFL Players Association are launching an effort to learn about the potential of marijuana and its components like CBD as alternative treatment options for pain.
They're also more generally interested in discovering how cannabis use affects athletic performance.
A request for information that was published on Tuesday states that the league's goal is "to identify investigators who have the current capability to carry out studies aimed at supplementing the NFL-NFLPA Pain Management Committee's ('PMC') knowledge about pain management and athletic performance in NFL players."
The notice lists three areas of interest:
1. The potential therapeutic role of medications and non-pharmacological interventions that are considered to be alternatives to opioids in routine pain management of NFL players. Medications may include, but are not limited to, cannabinoids such as cannabidiol ("CBD").
2. The impact of cannabis or cannabinoids on athletic performance in NFL players.
3. The potential therapeutic role of medications and non-pharmacological interventions that are considered adjunctive to routine post-surgical orthopedic pain management in NFL football players.
The joint NFL-NFLPA committee also noted that, in 2020, it held two informational forums on CBD "to learn about the current state of CBD science and manufacturing in North America."
The findings of those forums weren't definitive, as PMC found that while the non-intoxicating cannabis compound shows promise in the treatment of some forms of pain, the science doesn't currently live up to the "hype."
"CBD is a promising compound, but the level of its use in the United States outpaces the level of research at this point," the committee wrote in a white paper for players. "Most of the hype about CBD is based upon results from animal studies."
This new request for information stresses that NFL is not committing to funding any particular studies but is more generally meant to help the league find qualified scientists if it does move forward with research projects on these issues. Interested parties have until March 31 to submit relevant information.
Meanwhile, the league's drug testing policy changed demonstrably last year as part of a collective bargaining agreement.
Under the new policy, NFL players will not face the possibility of being suspended from games over positive tests for any drug—not just marijuana.
The decision reflects a significant shift in the league's approach to drug use by players, with the agreement emphasizing the need to focus on "ensuring evaluation and treatment" rather than punishment. Now those who test positive for drugs, exhibit behaviors that indicate drug misuse or self-refer themselves will be required to enter an "intervention program" where they would receive an evaluation and treatment plan.
Testing positive for prohibited substances after that point would result in a half-week salary loss for first violations, a one-week salary loss for second violations, a two-week salary loss for third violations and a three-week salary loss for fourth and subsequent violations. The threat of suspensions would be removed.
In a similar vein, the MLB decided in 2019 to remove cannabis from the league's list of banned substances. Baseball players can consume marijuana without risk of discipline, but officials clarified last year that they can't work while under the influence and can't enter into sponsorship contracts with cannabis businesses, at least for the time being.
Meanwhile, a temporary NBA policy not to randomly drug test players for marijuana amid the coronavirus pandemic may soon become permanent, the league's top official said in December. Rather than mandate blanket tests, Commissioner Adam Silver said the league would be reaching out to players who show signs of problematic dependency, not those who are "using marijuana casually."
37 Members Of Congress Ask Biden To Issue Mass Marijuana Pardons Ahead Of Legalization
Image element courtesy of Marco Verch.
Elon Musk Thinks CBD Is 'Fake,' But Joe Rogan Teaches Him A Lesson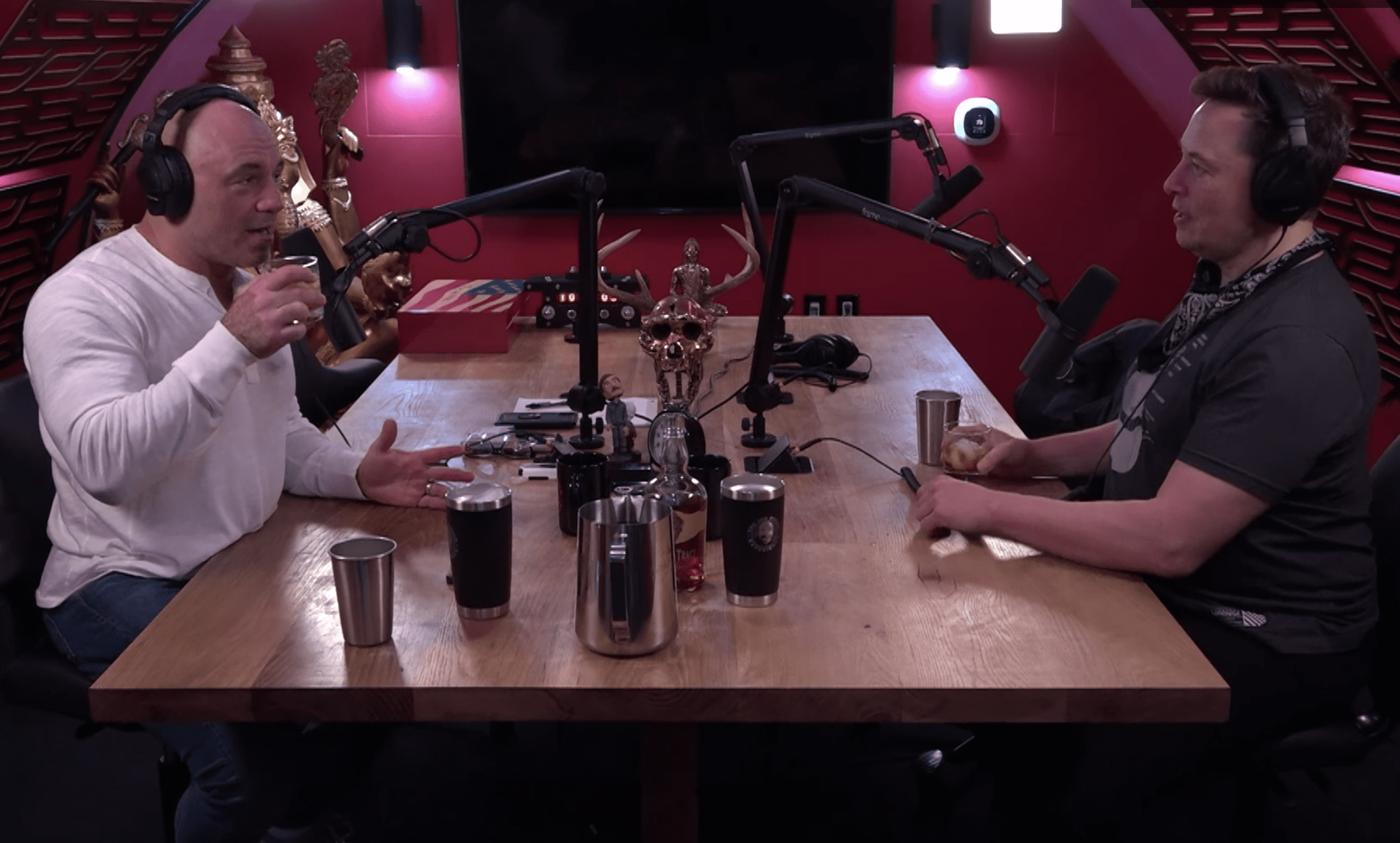 Elon Musk might know a thing or two about rockets and electronic vehicles, but during an interview with podcaster Joe Rogan this week, he revealed something of a blind spot when it comes to cannabis, saying he thinks CBD is "fake."
That's not to say he believes the non-intoxicating cannabinoid doesn't actually exist. Rather, the tech entrepreneur indicated he feels it's overhyped and "doesn't do anything." Rogan, for his part, had a lot to say about cannabidiol's benefits in response.
The exchange started with Musk and Rogan reflecting on an earlier podcast show in 2018, where the SpaceX and Tesla CEO puffed on a marijuana blunt (which he later claimed he never actually inhaled), prompting an investigation by NASA over his aerospace company's "workplace safety" and "adherence to a drug-free environment."
Rogan, who relocated his podcast headquarters from California to Texas last year, noted that his new home state has not yet legalized marijuana, but "CBD is legal here."
"CBD doesn't do anything. Does it?" Musk said. "I think that's fake."
Listen to Musk and Rogan discuss CBD below, starting around 50:00:
Rogan promptly gave Musk a crash course in the numerous therapeutic benefits of CBD that have been identified in an ever-growing body of scientific literature.
Read the rest of the exchange below:
JR: Well, no—no, it definitely does something for inflammation.
EM: It does?
JR: Yeah, for sure.
EM: Well, how much CBD do you have to have before you notice it?
JR: Physically?
EM: Yeah.
JR: Yeah, physically, you don't have to have a lot. Physically, CBD works great for people with arthritis and people with sore muscles and things like that. Yeah, no, CBD definitely works for that, but as far as like psychoactive effects, not much. It relieves anxiety for people.
EM: Okay.
JR: It helps people sleep, especially when it's combined with things like melatonin, you know, things along those lines. But it doesn't get you high. People do mix CBD with THC for muscle creams though, and that doesn't get you high either, but it increases the effectiveness.
EM: Okay.
JR: Yeah, there's some creams that are really good that people like that have THC and CBD in it.
EM: Alright, so you have like sunscreen or something and then, I mean why not just throw it in there?
JR: Why not? Well, it's great for soreness.
EM: You smell like weed all day.
JR: It doesn't smell like weed, though.
EM: It doesn't?
JR: No, no—some of it does, though. That's the thing about anything that's unregulated, right? Like hippies making it, that's always the problem.
EM: Quality control.
JR: Yeah, no quality control. That's the problem with edibles. They're made by a bunch of crazy people, cooking them up and some, you know, Chula Vista apartments, you really don't know what's in there.
Musk might not be quite up-to-speed on CBD, but he does enjoy playing into marijuana culture from time to time.
When shares of Telsa hit $420, for example, he responded on Twitter with crying laughing emojis and said "Whoa … the stock is so high lol."
Of course, 420 is well known among cannabis enthusiasts, as it represents the unofficial cannabis holiday, 4/20. And that wasn't the first time that Musk has played into it, either.
The billionaire tech entrepreneur landed in hot water with the Securities and Exchange Commission (SEC) in 2018 after he said he was considering taking Tesla private at a share price of $420—an announcement that SEC described as "false and misleading" and that was made without required notification to regulators.
Rogan, for his part, is a proud cannabis and psychedelics enthusiast, and once, for example, shared a story about how he hung out with Dave Chappelle while the comedian ate psilocybin mushrooms that were gifted by a stranger.
Texas Would Study Psilocybin And MDMA To Treat PTSD And Depression Under New Bill
Photo courtesy of Joe Rogan Experience/Spotify.