Don't Expect Senate Marijuana Banking Vote Any Time Soon, Key Chairman Says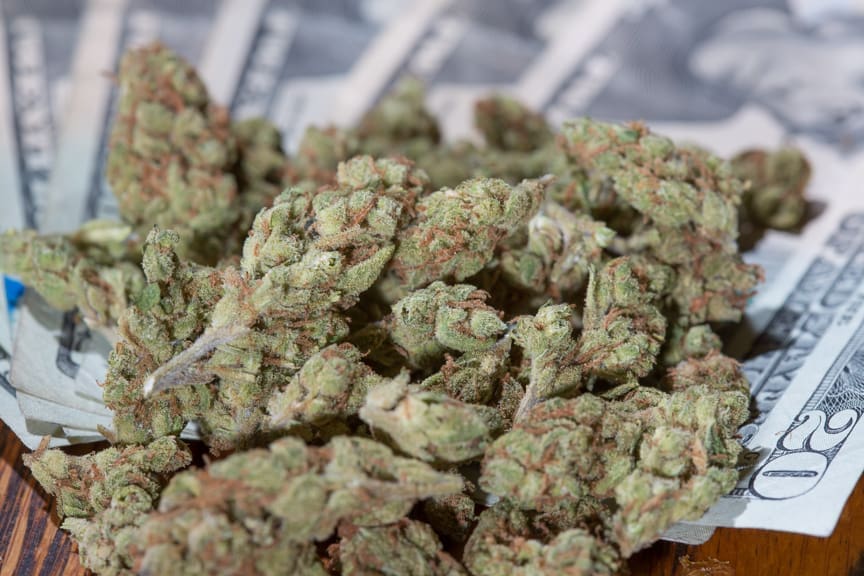 A key Senate chairman is tempering expectations about a vote in his panel on a bill to protect banks that work with state-legal marijuana businesses from being penalized by federal regulators.
While the House approved the Secure and Fair Enforcement (SAFE) Banking Act this week along largely bipartisan lines, Senate Banking Committee Chairman Sherrod Brown (D-OH) said the proposal hasn't won his support just yet "because I think we need to look at a number of things."
Meanwhile, the bill's House sponsor, Rep. Ed Perlmutter (D-CO), says he's open to changing the proposal in a way that's amenable to the chairman if that helps to move it forward.
Brown told Cleveland.com that he's been in talks with Senate Majority Leader Chuck Schumer (D-NY) on the issue "and will see where it goes."
Schumer told Marijuana Moment this week that he doesn't think it is wise for the Senate to pass cannabis banking legislation before tackling more comprehensive reform, because the more modest proposal would likely attract Republican members and undermine efforts to get support for the broader legalization legislation he's working on.
In any case, Brown isn't necessarily ruling out a vote on the SAFE Banking Act, sponsored by Sens. Jeff Merkley (D-OR) and Steve Daines (R-MT). But he says his panel has other priorities.
"This committee's been too much about Wall Street and not enough about housing, not enough about rural and urban affairs and people's everyday economic lives, and that's my focus," Brown said. "I will look at this seriously. We're not ready to move on it."
The senator said in February that he's "willing" to advance marijuana banking reform, "but with it needs to come sentencing reform."
That said, he didn't provide details in his latest comments about what particular reforms he'd want to include, saying "I'm not a lawyer and I want to understand that part better and make sure we do it right."
"We'll probably get one good shot at this and I want to do it right," he said.
Perlmutter, meanwhile, says he's open to doing what it takes to get the bill approved this Congress, and he told KOA News Radio that while he's been "overly optimistic" in the past, he's confident the SAFE Banking Act will pass this session.
Asked about the prospect of adding criminal justice reform provisions to the legislation as Brown said he wants, the congressman said "that's all great."
"Make it a bigger bill," he said. "Do whatever—just do something."
As it stands, the banking legislation has 33 cosponsors, plus Merkley, which means more than a third of the chamber is already formally signed on.
The vote in the House on Monday marked the fourth time the chamber has approved the SAFE Banking Act. Lawmakers passed it as a standalone bill in 2019 and then twice more as part of coronavirus relief legislation. At no point did the measure move forward in the Senate under Republican control last session, however.
The legislation would ensure that financial institutions could take on cannabis business clients without facing federal penalties. Fear of sanctions has kept many banks and credit unions from working with the industry, forcing marijuana firms to operate on a cash basis that makes them targets of crime and creates complications for financial regulators.
After it passed the House last Congress, advocates and stakeholders closely watched for any action to come out of the Senate Banking Committee, where it was referred after being transmitted to the chamber. But then-Chairman Mike Crapo (R-ID) did not hold a hearing on the proposal, despite talk of negotiations taking place regarding certain provisions.
Crapo said he opposed the reform proposal, but he signaled that he might be more amenable if it included certain provisions viewed as untenable to the industry, including a two percent THC potency limit on products in order for cannabis businesses to qualify to access financial services as well as blocking banking services for operators that sell high-potency vaping devices or edibles that could appeal to children.
When legislative leaders announced that the SAFE Banking Act was getting a House vote in 2019,  there was pushback from some advocates who felt that Congress should have prioritized comprehensive reform to legalize marijuana and promote social equity, rather than start with a measure viewed as primarily friendly to industry interests.
Rep. Earl Blumenauer (D-OR), co-chair of the Congressional Cannabis Caucus and an original cosponsor of the bill, said last month that the plan is to pass the banking reform first this session because it "is a public safety crisis now," and it's "distinct—as we've heard from some of my colleagues—distinct from how they feel about comprehensive reform."
Meanwhile, congressional lawmakers are simultaneously preparing to introduce legislation to end federal cannabis prohibition.
Schumer, Senate Finance Committee Chairman Ron Wyden (D-OR) and Sen. Cory Booker (D-NJ) are in the process of crafting a legalization bill, and they've already met with advocates to get feedback on how best to approach the policy change.
Schumer said last week that the legislation will be introduced and placed on the floor "soon."
On the House side, Judiciary Chairman Jerrold Nadler (D-NY) said recently that he plans to reintroduced his legalization bill, the Marijuana Opportunity, Reinvestment and Expungement (MORE) Act, which cleared the chamber last year but did not advance in the Senate under GOP control.
Analysis: How This Week's Marijuana Banking Vote Changed From Earlier 2019 House Action