China Must Import More Hemp From U.S. Under New Trade Deal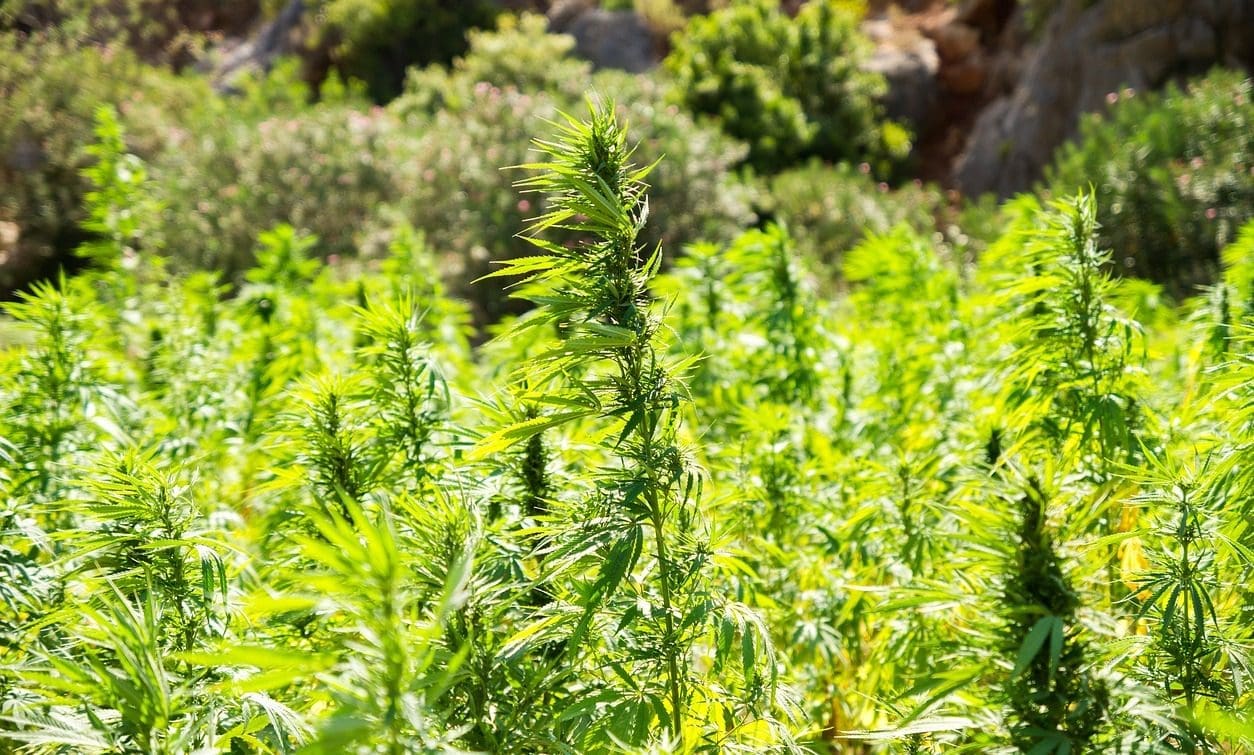 After years of being one of the United States's main sources of hemp imports, China will now be required to buy a lot more of the non-intoxicating cannabis crop from the U.S. under a new trade deal.
Hemp, which was federally legalized under the 2018 Farm Bill, is one of a long list of agricultural products that China agreed to import on a larger scale over the next two years as part of an international trade agreement that was signed on Wednesday.
"The Parties acknowledge that trade and economic structural changes resulting from this Agreement and from other actions being taken by China to open up its economy and improve its trade regime should lead to improved trade flows, including significant increases in exports of goods and services to China by the United States and other countries," the accord says.
"The Parties believe that expanding trade is conducive to the improvement of their bilateral trade relationship, the optimal allocation of resources, economic restructuring, and sustainable economic development, given the high degree of complementarity in trade between them. The Parties recognize that the United States produces and can supply high-quality, competitively priced goods and services, while China needs to increase the importation of quality and affordable goods and services to satisfy the increasing demand from Chinese consumers."
While the deal didn't specify just how much more hemp China will be importing, the document states that the country must spend at least $12.5 billion more than it did in 2017 on more than 200 agricultural commodities, including the cannabis plant, for calendar year 2020. The following year, it must spend at least $19.5 billion more.
Included in the deal is a particular form of cannabis, which is referred to as "true hemp" in the document.
"True hemp (cannabis sativa l.), raw or processed but not spun; tow and waste of true hemp (including yarn waste and garnetted stock)," the description of the item states.
Jonathan Miller, general counsel for the U.S. Hemp Roundtable, told Marijuana Moment that hemp's inclusion in the trade deal is a "really good development."
"The fact that China would be importing our hemp and would be giving a new market for American farmers is pretty exciting," he said, referring to the fact that the U.S. has historically imported the crop from China and that it has sometimes been criticized as being of inferior quality.
While cannabis has been cultivated in China for thousands of years, the country has only recently begun expanding the industry domestically. Part of the delay has to do with strict anti-drug laws, but as the legalization has spread internationally, more businesses are getting into the hemp, and particularly CBD, market.
Meanwhile, in the U.S., the hemp industry has exploded, with bipartisan lawmakers working with regulators to ensure that hemp farmers have access to the resources they need to expand and meet booming consumer demand for CBD products. The U.S. Department of Agriculture (USDA) is currently finalizing its regulations for the crop after releasing an interim final rule last year.
USDA clarified in guidance last year that hemp plants and seeds are able to be imported from other countries. In 2018, the U.S. imported about $3.3 million in hemp from China, according to Hemp Industry Daily.
Congressional Hearing Exposes Marijuana Research Limitations Imposed By Federal Law
Photo courtesy of Pixabay.
Nevada Sold More Than $1 Billion In Marijuana In One Year, Officials Report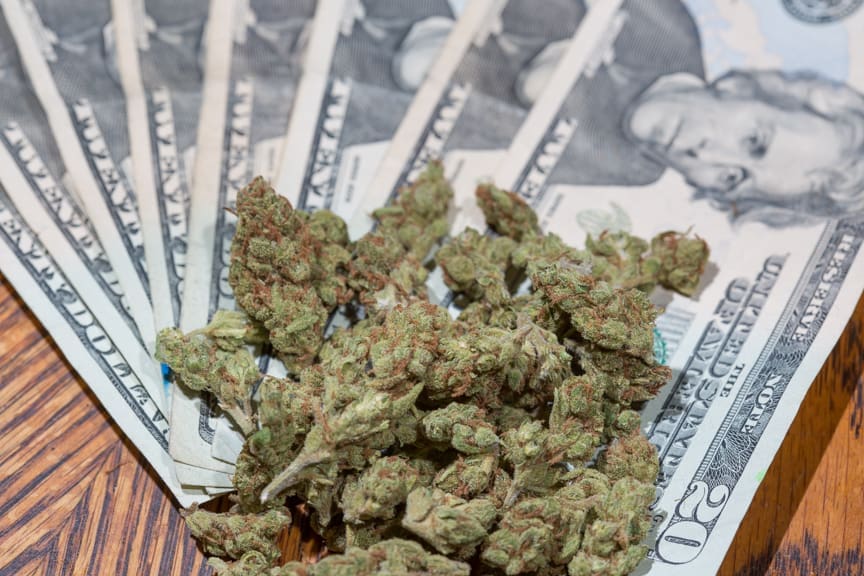 Nevada retailers sold more than $1 billion in medical and recreational marijuana over a one-year period, state officials announced on Wednesday.
The Nevada Cannabis Compliance Board (CCB) and the Nevada Department of Taxation released the data, which shows $1,003,467,655 in taxable cannabis purchases in Fiscal Year 2021, which ran from July 1, 2020 to June 30, 2021.
By contrast, total marijuana sales for the prior 2020 fiscal year amounted to $685 million.
This is what Nevadans expected since the legalization of recreational marijuana. Education remains one of my top priorities, and I'm proud to see promised tax revenue from cannabis sales directly funding our students and classrooms. https://t.co/iy64R47v4G

— Governor Sisolak (@GovSisolak) October 13, 2021
The bulk of the marijuana purchases ($791,100,017) came from Clark County, where Las Vegas is located. Another $135,326,790 of cannabis was sold in Washoe County, with Reno being the major city in that jurisdiction. The $77,040,859 remainder came from other counties.
Ten percent of tax revenue from recreational cannabis sales will support pubic education funding, as prescribed under a bill that Gov. Steve Sisolak (D) previously signed.
"This is what Nevadans expected since the legalization of recreational marijuana," the governor said in a press release about the new sales data. "Education remains one of my top priorities, and I'm proud to see promised tax revenue from cannabis sales directly funding our students and classrooms."
Sisolak also signed a bill in June to legalize marijuana consumption lounges in the state.
The new social use license types statewide and giving consumers this option—especially in the tourist-centric state—could further boost marijuana and other tax revenues.
The governor has also committed to promoting equity and justice in the state's marijuana law. Last year, for example, he pardoned more than 15,000 people who were convicted for low-level cannabis possession.
That action was made possible under a resolution the governor introduced that was unanimously approved by the state's Board of Pardons Commissioners.
—
Marijuana Moment is already tracking more than 1,200 cannabis, psychedelics and drug policy bills in state legislatures and Congress this year. Patreon supporters pledging at least $25/month get access to our interactive maps, charts and hearing calendar so they don't miss any developments.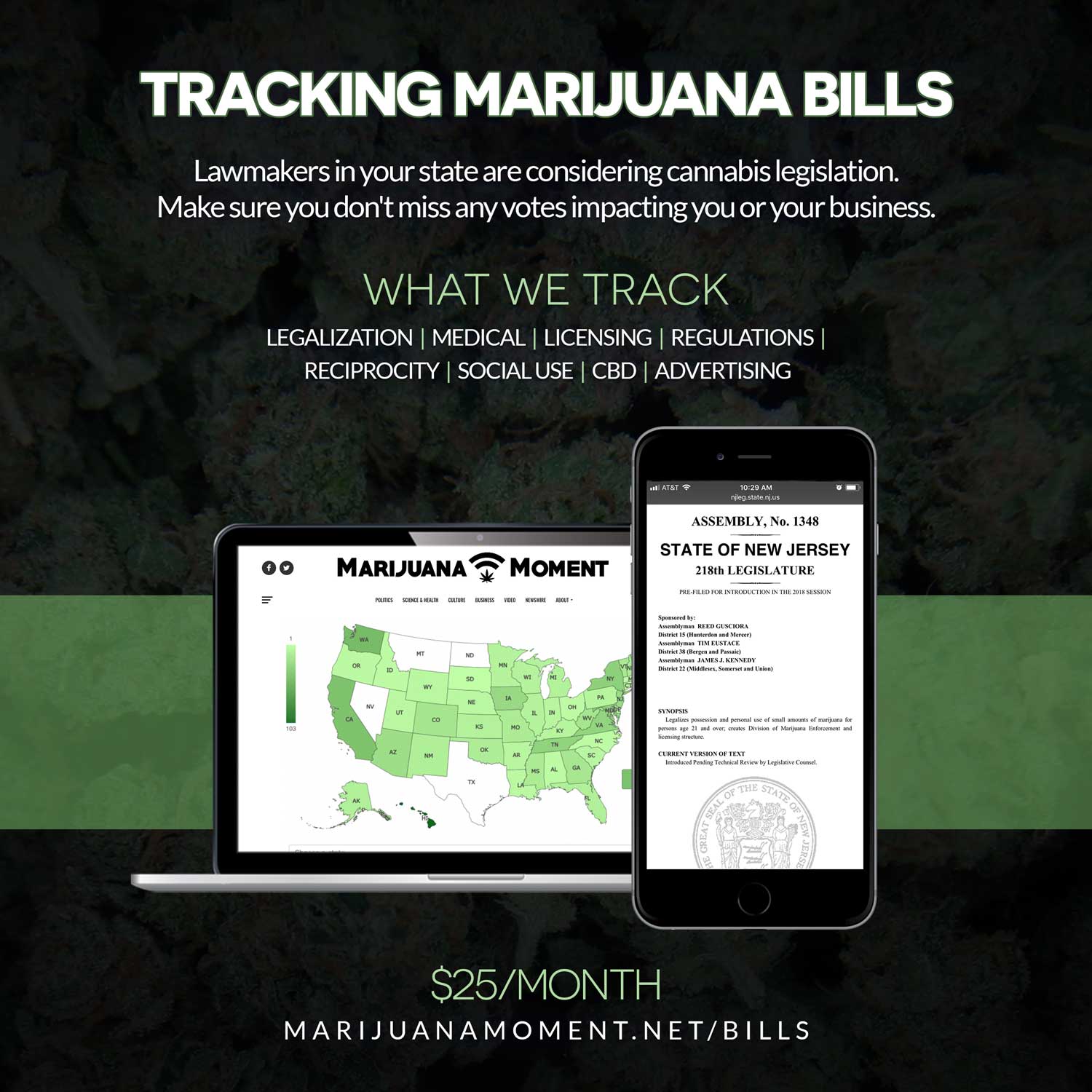 Learn more about our marijuana bill tracker and become a supporter on Patreon to get access.
—
Meanwhile, states across the U.S. have been touting marijuana sales and the resulting tax revenue as markets continue to mature.
For example, Illinois marijuana retailers have sold nearly $1 billion worth of legal recreational cannabis products so far in 2021, officials recently reported.
Maine recreational marijuana sales broke another marijuana sales record in August, exceeding $10 million for the first time since the adult-use market launched in October 2020.
Arizona brought in about $21 million in medical and adult-use marijuana tax revenue in July, state officials reported on a new webpage that enables people to more easily track how the industry is evolving.
California collected about $817 million in adult-use marijuana tax revenue during the 2020-2021 fiscal year, state officials estimated in August. That's 55 percent more cannabis earnings for state coffers than was generated in the prior fiscal year.
A recent scientific analysis of sales data in Alaska, Colorado, Oregon and Washington State found that marijuana purchases "have increased more during the COVID-19 pandemic than in the previous two years."
In July alone, at least three states saw record-breaking sales for recreational cannabis. The same goes for Missouri's medical marijuana program.
Michigan marijuana sales broke another record in July with more than $171 million in cannabis transactions, according to data from the state's regulatory body. There were $128 million in adult-use sales and $43 million in medical cannabis purchases.
Throughout the pandemic, many states allowed cannabis retailers to remain open—with governors and regulators in several markets declaring marijuana businesses to be essential services—and some jurisdictions issued emergency rules allowing curbside pickup, delivery services or other more relaxed policies in order to facilitate social distancing.
Meanwhile, New York officials are projecting that marijuana tax revenue will help keep the state's budget afloat as cigarette sales continue to decline over the coming years. But retails sales have yet to launch as of now.
Read the marijuana sales data that Nevada officials released below: 
Top Federal Drug Official Gives Maryland Lawmakers Marijuana Legalization Advice At Workgroup Hearing
Virginia Medical Marijuana Patients See High Prices And Long Waits For Approvals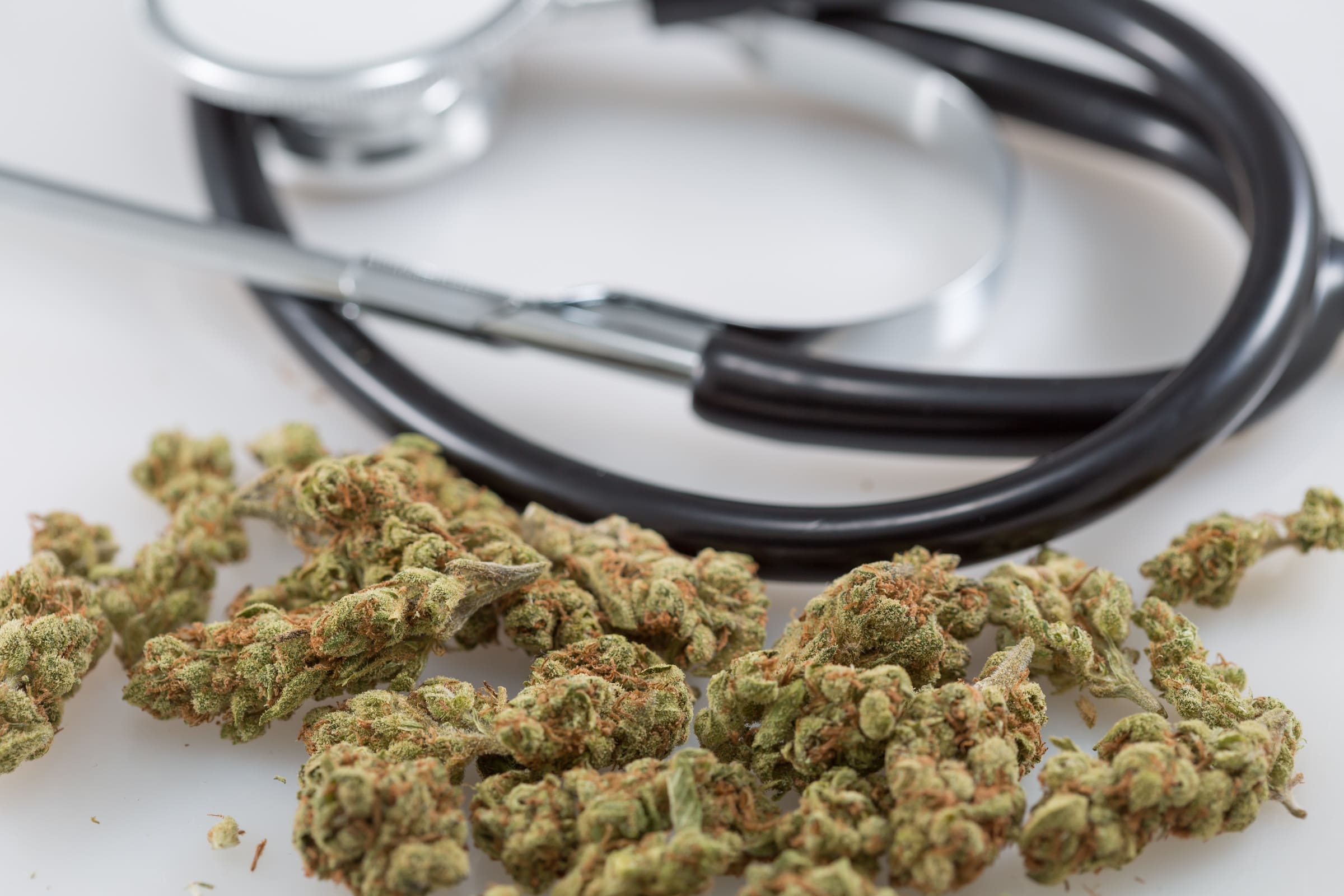 Columbia Care's D.C.-based dispensary sells 3.5 grams of marijuana for $35, compared to the $65 price for the same amount the company charges patients in Virginia.
By Ned Oliver, Virginia Mercury
As Virginia's medical marijuana industry closes out its first year of sales, some patients are complaining about long waits to register with the state and high prices once they get into dispensaries.
"A month's supply costs me between $600 and $700—and that's not covered by insurance," says Tamara Netzel, a former schoolteacher from Virginia Beach who suffers from multiple sclerosis and has found cannabis far more effective than any other available pain treatment.
The state's medical marijuana program is currently the only legal avenue to purchase marijuana in Virginia. The four medical processors currently licensed by the state began opening to patients last October.
But to shop at the medical dispensaries, patients must first get a doctor to write them a recommendation and then apply to the state for a medical marijuana card.
Finding a doctor is easy—dozens of practices have popped up offering to set up online visits with doctors willing to recommend the drug for all manner of ailments. Some even offer deals, promising to reimburse the $100 cost of an appointment if their practitioner declines to sign off on a marijuana card.
But Netzel, who runs a Facebook group for medical marijuana patients, lamented that the next step—getting the state to review an application and issue a medical marijuana card—can take more than a month.
"If a doctor can turn around a letter right away within 30 minutes, why does it take six weeks for the Virginia Board of Pharmacy to send a paper card?" she said.
A spokeswoman for the Board of Pharmacy, Diane Powers, said the board tries to process all applications within 30 business days and is in the process of adding staff to help with an influx of applications, which she said arrive at a rate of more than 1,000 a week.
And by early 2022, she said the board hopes to have a new online application portal in place it says will expedite the process. The board charges patients $50 a year in registration fees.
Patients aren't the only ones frustrated by the delays. Processors have expressed disappointment at the still-narrow pool of patients who can purchase their products, a figure that as of October 4 sits at just under 33,000.
"You can go to a doctor and get a prescription for an opioid and get it filled the same day, but we have patients waiting six, eight, 12 weeks to get a medical cannabis card," said Ngiste Abebe, vice president of public policy at Columbia Care, a multi-state operator that sells medical cannabis under its own name in Hampton Roads and recently purchased Richmond-based Green Leaf Medical, which holds the license to sell medical products in central Virginia.
As for the cost of products, Abebe said the small number of patients is one of the reasons costs are still high. With more patients, she said the companies "will have more efficient economies of scale."
She said the state's regulations have also contributed to higher costs. She specifically cited Virginia's status as one of the only states that requires a pharmacist to oversee every aspect of production and sales. The state also requires a pharmacist be available to consult with patients on site.
Jenn Michelle Pedini, executive director of Virginia NORML, the state chapter of the National Organization for the Reform Marijuana Laws, noted the state's decision to limit the program to five producers, who are only allowed to operate in the specific region of the state in which they are licensed.
"Even though it's completely normal to see higher prices in the early days of retail sales, it's these two factors—limited points of access coupled with a small patient population — that are leaving Virginians with a serious case of sticker shock," Pedini said.
Netzel said that before her local dispensary opened for business last year, she made regular trips to the District of Columbia, where gray-market sales have been tolerated for years.
"I would say I was probably paying about half as much as I am now," she said.
And she said it's not lost on her that Columbia Care's D.C.-based dispensary sells 3.5 grams of marijuana for $35, compared to the $65 price for the same amount the company charges patients in Virginia.
But she said that despite the cost, she has remained loyal to the state's medical market because she wants to see it succeed so more patients will have access to a treatment she said has helped her in a way no traditional pharmaceuticals could.
At the same time, she is pursuing a new avenue to help lower her expenses: She decided to start growing her own now that it is legal.
"So that is, hopefully, going to help with the cost," she said.
This story was first published by Virginia Mercury.
Kentucky Medical Marijuana Bill Will Pass If Leadership Has 'Courage' To Allow A Vote On New Version, Sponsor Says
Farmers Switch From Raising Chickens For Slaughter To Growing Hemp With Help Of Animal Advocacy Group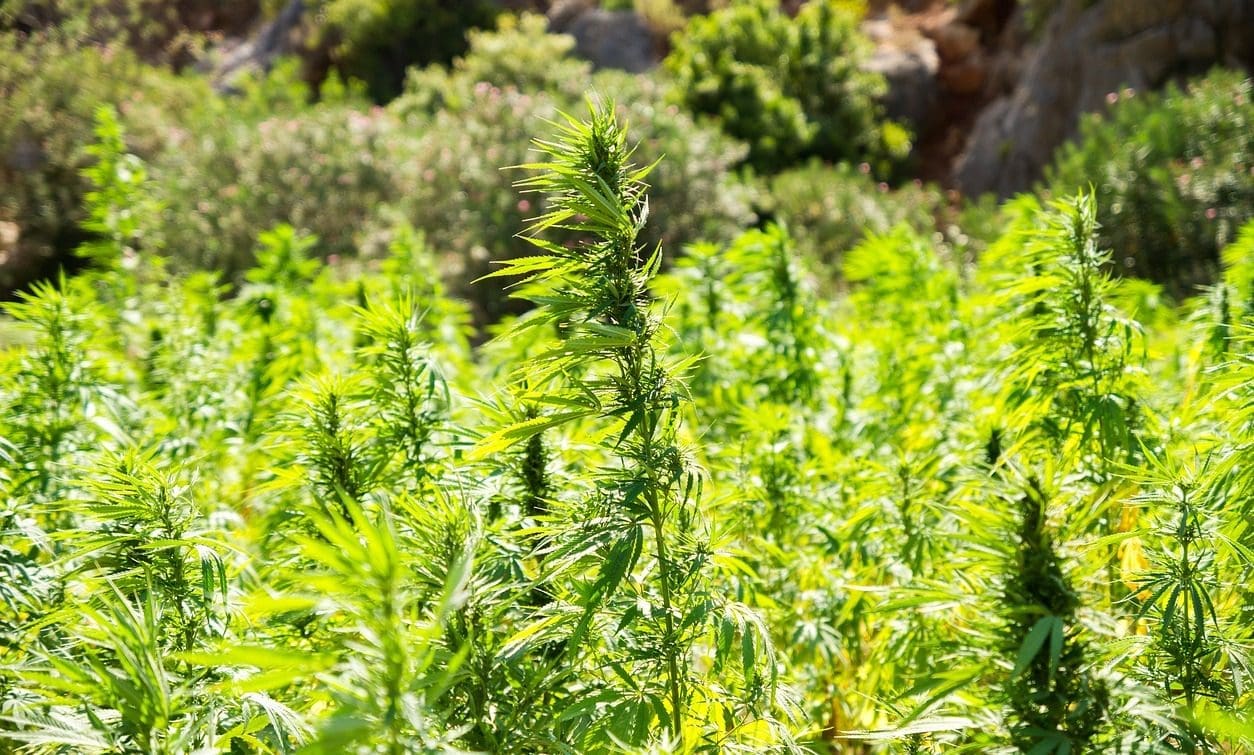 Some farmers are making a financial and ethical transition in the current economy that can be neatly summed up as going from hens to hemp.
The Transfarmation Project, an initiative from the advocacy group Mercy For Animals, helps businesses move away from raising chickens for slaughter to growing crops like industrial hemp instead.
For 30 years, the Halley family raised chickens in 12 factory-style sheds at their farm. But with support from Mercy For Animals' Transfarmation project, they've made a successful shift to growing hemp!🌱https://t.co/4EDhbKUYXF

— Mercy For Animals (@MercyForAnimals) October 9, 2021
Mercy For Animals—which has also conducted numerous investigations into the agro-industrial complex and released footage of certain businesses in an effort to expose cruelty toward animals—has shared several recent stories of farmers who've made the transition to cannabis.
Take the Halley Farm in Texas, for example. For 30 years, the operation "raised six flocks of chickens a year—192,000 birds per batch," the group said. But with support from the animal activists, the family operation switched over to hemp and recently completed its first harvest.
"We decided that we would […] go from killing animals to growing something, from destroying things to creating things."

With help from Mercy For Animals' Transfarmation Project, the Halley family transitioned away from raising chickens to growing hemp 🌱https://t.co/cmIxxcsK7v

— Mercy For Animals (@MercyForAnimals) October 5, 2021
"Growing something just changes your heart, compared to killing something," Evan Penhasi, a hemp farmer who aided Halley Farm's transition from growing birds to growing buds. "And this whole process has transformed a family that really I think was in despair for a very, very, very long time and has transformed it into something now that is thriving and is connected and close."
"We decided that we would grow hemp and go from killing animals to growing something, from destroying things to creating things."
"This is the very first successful transfarmation," Mercy For Animals President Leah Garcés said in a blog post late last month. "There are 12 chicken houses, and they used to house tens of thousands of suffering animals, and now they are going to dry hemp. That is just so beautiful, to see the transformation, the possibilities that can come when people come together and try to find solutions."
"I am going to work hard to make the chicken houses turn into something that [farmers] can make money off of, that can sustain the land and their families," she said. "It is such a moment of creation and growth rather than destruction and death. And I just want to be a part of that."
The group highlighted another transfarmation story where a West Virginia a farmer who previously packed about 45,000 chickens into a warehouse now grows industrial hemp in the same space. Mike Weaver, the business owner, said he was partly inspired to move to cannabis after seeing how it helped a friend with cancer symptoms.
Weaver said that not only is his new hemp business more ethical and better for the environment, but is also much more profitable than his prior chicken slaughtering operation. Next, he plans to make a line of CBD products for pets.
"More and more farmers are seeking a way out of animal farming. Whether they're fed up with Big Ag's exploitative contracts or the poor working conditions, they've had enough," Mercy For Animals said. "At the same time, demand for plant-based ingredients is booming, estimated to grow from $8 trillion USD in 2018 to $13 trillion USD in 2025."
"Credited for this growth is increased demand for clean label ingredients and alternatives to conventional animal products," the organization said. "Companies in all sectors, from food to household detergents to construction, are sourcing more plant-forward ingredients to fulfill their social responsibilities. Transfarmation connects these trends to the goals of fed-up animal farmers to create a better world for us all."
Kentucky Medical Marijuana Bill Will Pass If Leadership Has 'Courage' To Allow A Vote On New Version, Sponsor Says