California Shattered Marijuana Tax Revenue Record In Latest Fiscal Year, State Reports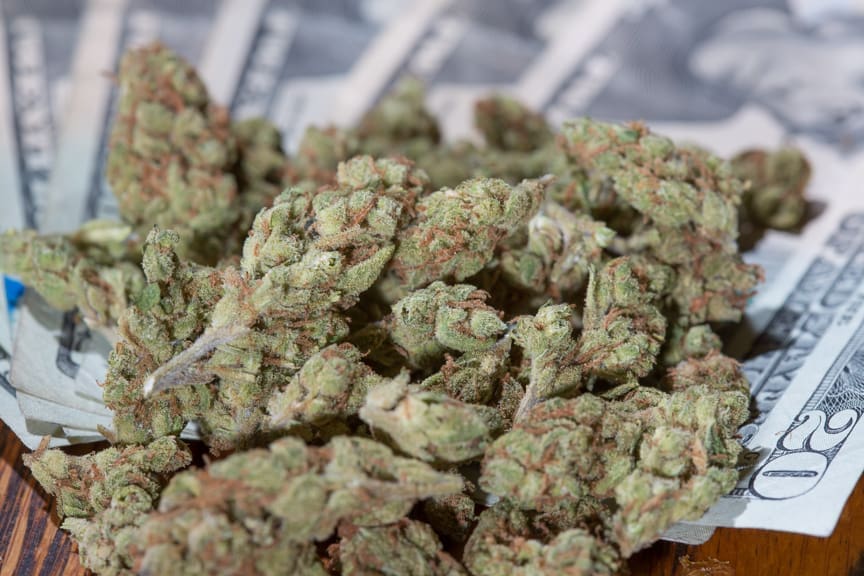 California collected about $817 million in adult-use marijuana tax revenue during the 2020-2021 fiscal year, state officials estimated on Monday. That's 55 percent more cannabis earnings for state coffers than was generated in the prior fiscal year.
The nonpartisan Legislative Analyst's Office said combined excise and cultivation tax revenue for the fourth quarter, which ended in June, amounted to $212 million—roughly tying the first quarter of the fiscal year for the most tax dollars raised in any single three-month period since legal sales launched.
The new figures do not take into account additional regular sales taxes generated from cannabis, nor do they include any local revenues to municipalities where the transactions take place.
Remarkably, this trend of increased sales and tax revenue has been occurring amid the coronavirus pandemic, which forced many businesses to close and contributed to rising unemployment. The marijuana marketplace also thrived in spite of the fact that cannabis businesses are ineligible for federal aid that was afforded to other industries.
Preliminary tally of 2020-21 cannabis tax revenue: $817 million. https://t.co/H7PAegOcwV pic.twitter.com/v3U0S1UHOb

— California Economy & Taxes (@LAOEconTax) August 23, 2021
And the new figures are just a preliminary tally of the state's cannabis revenue haul, as it is typically the case that some businesses file their returns late and the quarterly totals are then adjusted upward. Last quarter's amount was revised in the new report, for example, from an initial estimate of $163 million to a new total of $197 million.
A separate analysis of the new data released by the California Department of Tax and Fee Administration points out that since January 2018, total recreational marijuana revenue to date for the state is $2.8 billion, which includes $1.4 billion in excise tax, $347.4 million in cultivation tax and $1 billion in sales tax.
California isn't an isolated case when it comes to strong cannabis sales. A recent scientific analysis of sales data in Alaska, Colorado, Oregon and Washington State found that marijuana purchases "have increased more during the COVID-19 pandemic than in the previous two years."
In July alone, at least three states saw record-breaking sales for recreational cannabis. The same goes for Missouri's medical marijuana program.
Illinois saw nearly $128 million in recreational cannabis purchases last month—more than double the total monthly sales from a year ago. July marks the fifth consecutive month that sales in Illinois's adult-use market have topped $100 million. If the trend continues, the state is on track to see more than $1 billion in adult-use marijuana sales in 2021.
Adult-use marijuana sales in Maine reached $9.4 million in July—a 45 percent increase from the prior month's record.
Michigan marijuana sales broke another record last month with more than $171 million in cannabis transactions, according to data from a state regulatory body. There were $128 million in adult-use sales and $43 million in medical cannabis purchases in July.
Throughout the pandemic, many states allowed cannabis retailers to remain open—with governors and regulators in several markets declaring marijuana businesses to be essential services—and some jurisdictions issued emergency rules allowing curbside pickup, delivery services or other more relaxed policies in order to facilitate social distancing.
Idaho Supreme Court Gives 2022 Marijuana Legalization Initiative A Boost With Ruling On Signature Requirements