Young Americans Are Twice As Likely To Smoke Marijuana Than Cigarettes, New Gallup Data Shows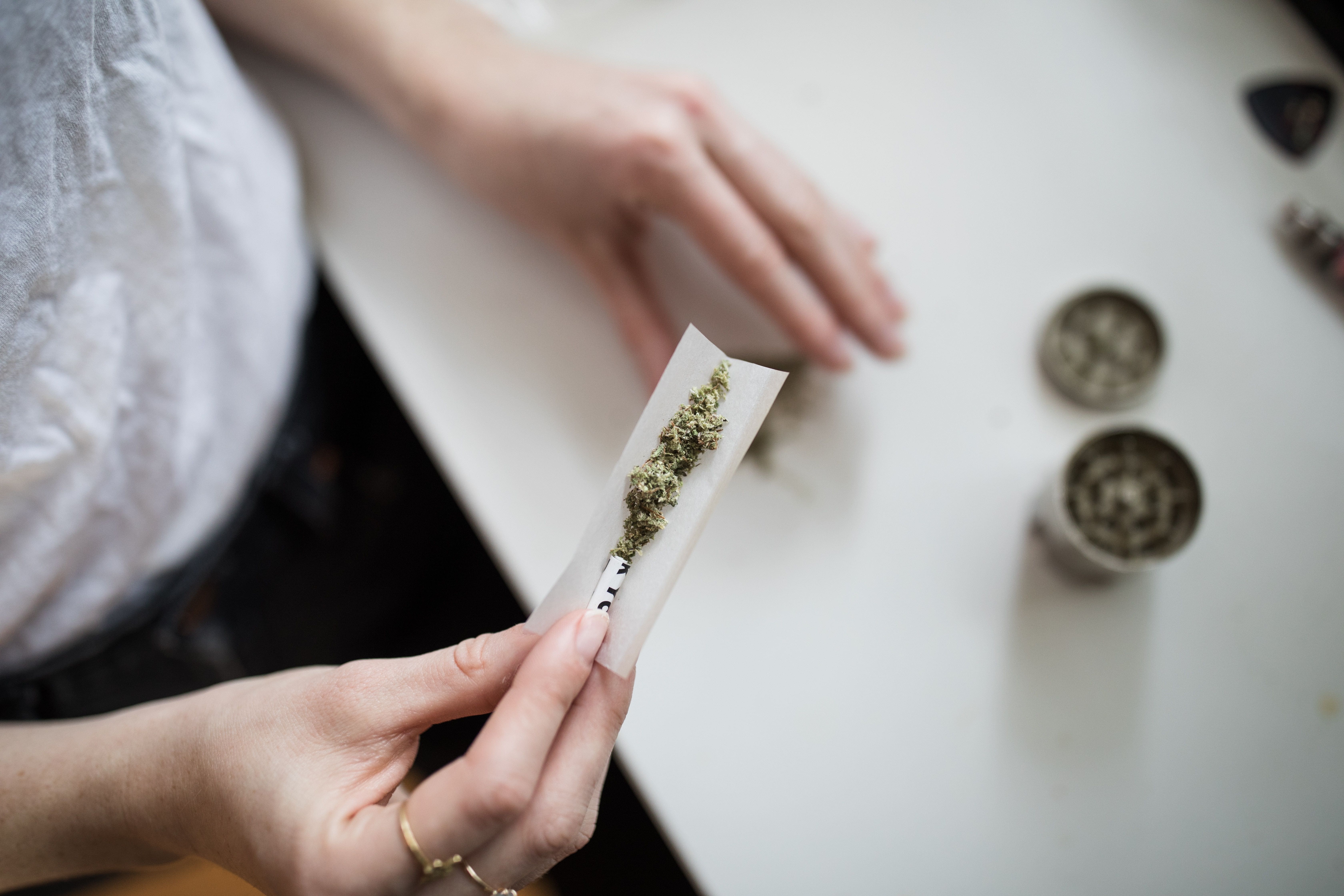 Young people are now more than twice as likely to report smoking marijuana compared to cigarettes, according to a new analysis of survey data from Gallup.
Past-week cigarette smoking by adults 18-29 declined from 15 percent in 2016-2018 to a new low of 12 percent in 2019-2022.
Meanwhile, 26 percent of adults in that age group now say that they smoke cannabis, compared to 21 percent in the earlier survey period.
Overall, the 2019-2022 data shows that 27 percent of Americans smoke cigarettes, marijuana or e-cigarettes. Gallup found that seven percent smoke cannabis alone, nine percent smoke cigarettes alone and three percent smoke e-cigarettes alone.
But it's the youngest generation that is most strongly opting for cannabis over cigarettes—a trend that could be attributed to any number of factors, including public education campaigns about the dangers of tobacco and the decreased public perception of harm around marijuana.
It's also possible that people generally feel more willing to openly report smoking cannabis amid the state-level legalization movement and congressional efforts to end prohibition, aside from the amount of actual change in use patterns.
People in the 18-29 age category are the most likely to smoke or vape something, at 40 percent. But almost four times as many young people smoke only marijuana (11 percent) as they do only cigarettes (three percent).
In contrast, people in the 30-49 age group were slightly more likely to say they exclusively smoked cigarettes in the past week (11 percent) than those who only smoked cannabis (eight percent).
Cigarette smoking rates among young adults have fallen sharply from 35% to 12% over the past two decades. https://t.co/AyQg30jWq8

— GallupNews (@GallupNews) November 28, 2022
Gallup separately released a data analysis in August that found, for the first time, that more Americans openly admitted to smoking marijuana or eating cannabis-infused edibles than those who said they've smoked cigarettes in the past week.
While that survey didn't include an age-based demographic breakdown, Gallup did release data in 2019 that showed young people were more likely to smoke marijuana than cigarettes. And compared to the new poll, the gap in the use of those substances among young people has increased.
"Public health officials would be encouraged by the steep decline in cigarette smoking over the past two decades, a trend driven largely by plummeting smoking rates among young adults," Gallup said. "But young adults are increasingly smoking marijuana, perhaps because it is now legal to use in a growing number of states, and vaping. Both vaping and marijuana are more common activities for young adults than traditional cigarette smoking."
"Still, fewer young adults smoke or vape today than smoked cigarettes two decades ago, before e-cigarettes became widely available. And although many health researchers believe vaping is safer than smoking traditional cigarettes, they do not believe e-cigarettes are safe in general. Further, the long-term health effects of vaping are not as well-known, and the Food and Drug Administration has taken steps to try to limit marketing of vaping to minors."
It should be pointed out that the individual language of Gallup's questions about cigarettes, e-cigarettes and marijuana are distinct in that the cigarette question asks about "past-week" usage, whereas the cannabis question is more general, without a timeline.
Additionally, respondents were asked about "smoking" marijuana, which would potentially exclude a significant portion of the cannabis-consuming population that uses edibles, vapes or other non-combustible products.
This dataset—which involved interviews with 3,545 adults for the 2019-2022 results, with a margin of error ranging from 4-5 percentage points—was released on the heels of Gallup's broader annual survey that includes questions about drug consumption trends.
That poll found that seven in 10 Americans say that marijuana should be legalized—including majorities of all political parties and age demographics.
The findings and demographic trends from the survey are generally consistent with recent polling on the issue, including one that showed just one in ten Americans say that marijuana should remain completely illegal.
Another recent survey that was commissioned by Fox News and the Associated Press and conducted in the lead-up to the election found 63 percent support for legalization nationwide.
Interestingly, that survey also found majority support for ending prohibition among voters in two states that rejected legalization initiatives last week, signaling that the measures might have failed in part because of disagreements about specific provisions rather than the basic concept of legalization.
A poll released last month also shows that a majority of Americans are in favor of President Joe Biden's decision to grant pardons to people who've committed federal marijuana possession offenses, and most also want to see their own governors follow suit with state-level cannabis relief.
Meanwhile, the same young adults who are most likely to report smoking marijuana compared to cigarettes are also the most likely to say that the plant should be legalized, indicating that the trend will continue.
In August, Gallup separately released data showing that more than twice as many Americans think that cannabis has a positive impact on its consumers and society at large than say the same about alcohol.
That's generally consistent with the results of a separate poll released in March that found more Americans think it'd be good if people switched to cannabis and drank less alcohol compared to those who think the substance substitution would be bad.
Interestingly, a 2020 Gallup survey separately showed that 86 percent of Americans view alcohol use as morally acceptable, compared to 70 percent who said the same about marijuana consumption.
Texas Activists Fight Back After Local Lawmakers Undermine Voter-Approved Marijuana Decriminalization Measures