Washington State Lawmakers Downgrade Proposed Drug Possession Penalties Ahead Of House Floor Vote
After the Senate in Washington State last week passed a bill to reimpose criminal penalties for simple drug possession—legislation that was amended in the chamber after first being introduced as a decriminalization proposal—a House panel on Wednesday again revised it to slightly downgrade the proposed penalty to a simple misdemeanor.
The amended bill, which the House Appropriations Committee voted 18–14 to advance, is expected to be debated, along with further amendments, on the House floor later this week. If passed by the full chamber, it would need to be approved by the Senate again before the legislative session ends on Sunday.
"I think it's evident, after discussion on the amendments, that the direction we want to take now is not the same direction that we have had in the past, that we want to treat rather than incarcerate," Rep. Eileen Cody (D), who brought the misdemeanor amendment, said at Wednesday's committee hearing. "The bill that is now before us adds a lot of meat to the bone on treatment and how we are going to move forward as a state. I hope that we can be a model that will see this happen across the country."
The state's attorney general, meanwhile, urged lawmakers on Tuesday not to recriminalize drugs at all after the Blake decision, saying the legislature "has a unique opportunity to reject criminal penalties for non-commercial drug possession."

Lawmakers from both parties have said it's crucial to send a bill to the governor's desk to replace Washington's now-invalidated felony law against drug possession, which the state Supreme Court struck down in a narrow, divided ruling in February. The unexpected decision in the case, State v. Blake, immediately halted arrests and prosecutions for drug possession and has since freed dozens of people incarcerated on charges for mere possession.
In the aftermath of the Blake ruling, lawmakers introduced several bills to replace the old law, ranging from proposals that would effectively reestablish past felony penalties to alternatives that would end penalties for drug possession entirely, instead routing people to assessment and treatment services. A bill that reached the Senate floor last week, SB 5476, originally would have formally decriminalized possession of small amounts of drugs, but a striking amendment adopted during floor debate instead imposed a gross misdemeanor charge, which can carry penalties of up to a year in jail and a maximum $5,000 fine.
On Wednesday, the House committee approved another striking amendment to the bill. The change, introduced by Rep. Cody, replaced the gross misdemeanor with a simple misdemeanor, which carries up to 90 days in jail and a $1,000 fine. Some lawmakers have pointed out that a gross misdemeanor could actually lead to longer sentences in some cases than the original felony-level possession charge given how state sentencing guidelines are structured.
Like the Senate-passed bill, the House-amended legislation still requires that law enforcement divert an individual caught with controlled substances to behavioral health services for their first two violations. Subsequent violations could also be diverted subject to a prosecutor's approval.
The amendment also expands statewide treatment and recovery services, including access to housing, recovery coaching and job education, among other services. Lawmakers on both sides of the aisle have said they support focusing more on treatment than incarceration to address substance use disorder, although Republicans and moderate Democrats have stressed the need for criminal charges as a tool for enforcement.
Another change in the amendment has criminal penalties set to expire in mid-2023, with possession dropping to a Class 2 civil infraction, which carries a $125 fine and no possibility of jail time, unless lawmakers pass separate drug legislation by that point. People could avoid the fee if they completed a behavioral health assessment within 30 days, and fees from the civil infractions would go to fund administrative costs related to the Blake decision.
Some Republicans at the panel hearing worried that the bill's diversion provisions might create promises that some parts of the state couldn't keep. They said it's unclear whether Democrats' pledges to fund expanded services would be sufficient to staff the bill's sweeping treatment and recovery programs.
Rep. Joe Schick (R) noted that the bill prescribes that diversion "will be done to the availability of the money that we've put in there."
"I question whether or not that has been totally worked through," Schick said. "For those areas that have the counseling, great…but we don't have that everywhere, and I am really concerned about that."
The panel adopted a handful of other amendments during the hearing, primarily meant to clarify certain parts of the proposal—for example that diversion opportunities would exist for both adults and minors—and fix minor drafting errors. Most of the changes passed unopposed on voice votes.
Lawmakers defeated two striking amendments that would have effectively replaced Washington's old drug felony law with a similar version, updating it with only a few words to address the state Supreme Court ruling. Democrats said those proposals would be a step backward.
"I think we can all agree that our current policy of a felony and incarcerating individuals is a failed policy. We have lost the war on drugs," said Cody. "To try and continue the same thing is just inexplicable."
Another amendment was offered but then withdrawn by Rep. Nicole Macri (D). That change would have further encouraged law enforcement to divert people to health services before arresting or charging them, but Macri said at the hearing that she's working to revise the amendment after noticing "some technical inconsistencies" in the current legislation. She expects the amendment to be ready for consideration on the House floor.
Macri voted for the amended bill Wednesday, saying she disagreed with criminal charges for simple drug possession but calling SB 5476 a way to move the conversation forward. "I believe strongly that we don't need to hurt people to help them," she said. "And I do think this bill, with the striker and the amendments that have been accepted today, is a much stronger bill than was sent to us by the Senate."
Macri and other Democrats, however, have at the same time expressed regret that the bill includes any criminal penalties whatsoever for simple drug possession, which they say should be treated as a health issue.
"The war on drugs is an abject failure, and interaction with law enforcement and the court system does not assist people with substance use disorders," Macri said, adding that she remains "concerned particularly about the racial, disability and income disparities that we see and who is charged with drug possession in our state."
"A simple possession charge, which could come with up to 90 days in jail and up to $1,000 fine, is something that is unnecessary and harmful to some of the most vulnerable people in this state," she said.
Rep. Roger Goodman (D), a longtime drug reform proponent who has taken a lead role in House negotiations with the Senate on how to respond to the Blake decision, told Marijuana Moment in an interview on Monday that more changes to the bill will be proposed in coming days. "Beyond the Cody striker, there will be further amendments on the [House] floor," he said.
Goodman added that while he'd like to see criminal penalties removed completely for drug possession, he and other more progressive lawmakers are working to identify proposals that the Senate, which has been wary of decriminalization, is willing to accept.
"This comes down to the raw political calculation of counting votes," he said. "What we might prefer in the House might not get enough votes in the Senate, and that has to be part of our calculation."
While Goodman said he's "not happy" with the current proposal to reestablish criminal penalties, he's "not dissatisfied" with the emerging compromise, either.
"The court has given us—you can look at it either as a gift or a grenade," he said of the Blake decision. "We're trying to transform it into something that is really going to help people out there."
As Goodman describes the current House proposal, it will divert people early in the criminal justice process—often before arrest or formal charges are filed—and instead connect them with specialists who would help them navigate an expanded suite of assessment and treatment programs and other support services. "In reality there will be very, very few convictions, because people who need help will get it," he said.
By mid-2023, lawmakers would also be forced to act on recommendations from a new state workgroup that would study drug policy with an eye toward decriminalization and behavioral health. If the legislature were to fail to act by the deadline, simple possession would automatically be downgraded to a civil infraction.
"There's going to be a sunset on this," Goodman said. "It'll expire in the middle of 2023, and at that point we will have analyzed what the needs are, where the gaps are [and] how this new regime is functioning. And if we can demonstrate, which I believe we will, that the therapeutic approach is more effective than the punitive approach, then we will proceed further, and may even reduce the penalty below a misdemeanor or even to something like what they've done in Oregon, where there's not even the possibility of a criminal conviction."
—
Marijuana Moment is already tracking more than 1,000 cannabis, psychedelics and drug policy bills in state legislatures and Congress this year. Patreon supporters pledging at least $25/month get access to our interactive maps, charts and hearing calendar so they don't miss any developments.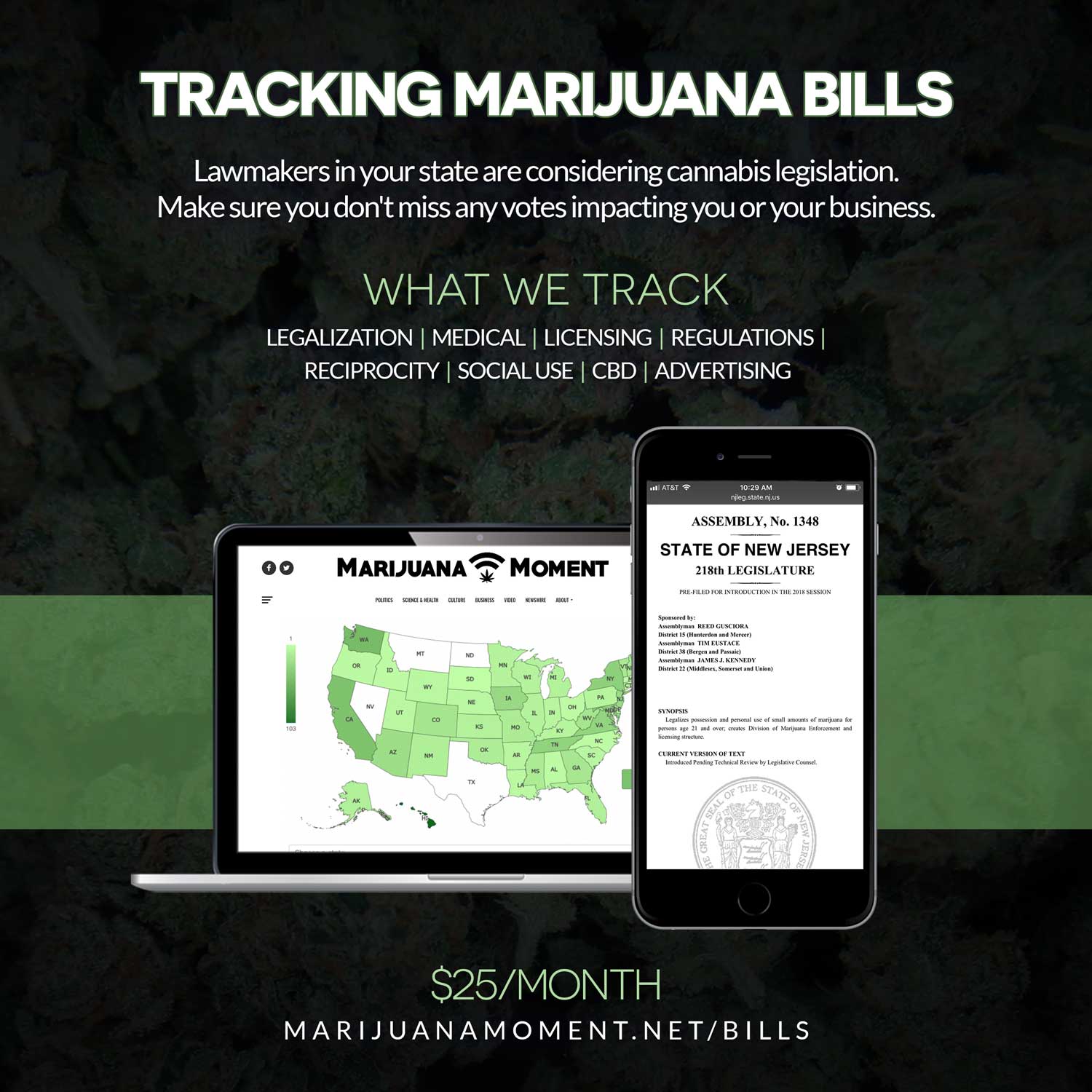 Learn more about our marijuana bill tracker and become a supporter on Patreon to get access.
—
Oregon voters last year passed an initiative that replaced criminal penalties for possessing small amounts of drugs with a $100 fine or a requirement to complete a health assessment within 45 days. The measure also drastically expanded health services through funding from the state's cannabis tax revenue.
Many favor taking a similar approach in Washington. A bill introduced in February, just weeks before the Blake decision came down, would have eliminated penalties for drug possession completely and drastically expanded substance use disorder outreach, treatment and recovery. That bill, HB 1499, passed one House committee, chaired by Rep. Goodman, but failed to advance further before a midterm cutoff deadline.
On Tuesday, Attorney General Ferguson released a statement in favor of broader decriminalization. "This is Washington's moment to overhaul a broken system and end the failed war on drugs," he said. "Criminalizing simple drug possession exacerbates racial disparities. Moreover, it continues our failed criminal justice response to a public health challenge. Public health challenges require public health solutions — including making significant new investments in treatment that expand our current system."
Statement on criminal penalties for simple drug possession: https://t.co/YfX3RoaCDn #waleg pic.twitter.com/17mL8qiYaQ

— Washington State Attorney General (@AGOWA) April 20, 2021
Gov. Jay Inslee (D), for his part, has been quiet on the various proposals in the wake of Blake. Asked last week about the Senate floor vote, a spokesman told Marijuana Moment that usually "we do not explicitly say what we prefer or would sign until such legislation actually makes it to the governor's desk in final form for review."
Goodman, along with nine cosponsors, has introduced legislation to remove criminal penalties for low-level drug possession and replace them with a civil fine.
"What comes out of the legislature this year is certainly not as far as I'd like to go as far as reducing the punishment for what is a health issue," he told Marijuana Moment, "and that's why I introduced a bill that put only a civil infraction in place."
HB 1578, which would expand treatment and recovery services and reclassify low-level possession as a civil infraction, punishable by a fine of up to $125 and no possibility of jail time, was introduced just last Thursday. Goodman called it an "insurance measure," acknowledging that at this point in the process, "the Senate bill is the vehicle" that lawmakers will ultimately send to the governor.
"There's no time for the Senate to do anything but either concur or refuse to concur with what the House passed," he said, "so we are having to confer closely with the Senate to see what they are willing to pass."
There's little appetite among lawmakers for leaving the situation as-is, with no state law against drug possession on the books. "I do believe it would not be responsible to leave this vacuum in the law right now because of the public's concern about young people and because of concern about [use in] public spaces," Goodman said.
On Tuesday, the state Supreme Court denied a motion for reconsideration of Blake, meaning the ball is now squarely in the legislature's court.
The state Supreme Court has denied a motion to reconsider its Blake decision that struck the statute criminalizing drug possession as unconstitutional. It's here to stay: pic.twitter.com/kWoCgvmq4D

— David Kroman (@KromanDavid) April 21, 2021
"What makes me less uncomfortable with this interim measure is that it is an interim measure, and we're not putting something in place permanently," Goodman told Marijuana Moment. Tens of millions of dollars to fund expanded behavioral health services are also set to be included in the legislature's final budget bill, Goodman said, which is expected to be unveiled later this week.
"We are structuring the intervention to be as far upstream as possible so that law enforcement will be making referrals to assessment and treatment and other services even before there are arrests or charges or convictions," he said, making for "very little incarceration and very few convictions."
Overall, he said, the proposals are about creating "as aggressive a therapeutic response as you can create"—constrained by what can muster a passing vote.
Republican lawmakers said in a media briefing Wednesday morning that they're willing to support SB 5476 as the Senate passed it, with criminal charges intact but with opportunities for diversion to behavioral health services.
"There's a group out there that wants that to be fully legal and no restrictions, and what we know is that gives us no real path to treatment," said Senate Minority Leader John Braun (R). "We have to create a system that gets after treatment, and we have some concerns even with the piece that passed off the Senate floor, because you no longer have the Class C felony charge."
"When you talk about diversion, for some folks that works," Braun added. "For a lot of folks, it doesn't work. You have to have some leverage to get folks in and committed to treatment and their misdemeanor gives you 90 days—sometimes you can double that 180 days to keep folks in treatment for underneath—but that's not enough."
Rep. Andrew Barkis (R) said that "the important component out of this particular piece of legislation is the roadmap to treatment." Rather than downgrade criminal penalties, he said, lawmakers should focus on treatment, from detox programs to recovery housing. "That is where our resources should be," he said.
Washington voters, for their part, are generally supportive of decriminalization, according to a statewide poll released by advocates earlier this month. Fifty-nine percent of those surveyed said lawmakers should use the Blake decision to "reconsider and replace past drug possession laws with more effective addiction and treatment alternatives," while only 35 percent favored making a technical change to return to the past system.
Nearly three in four voters (73 percent) said the state's approach to problematic drug use has been a failure. Just nine percent called it a success, while 18 percent were unsure.
Some reform advocates have floated the possibility of decriminalizing drugs in Washington through a ballot initiative similar to the one passed in Oregon. HB 1499, the decriminalization measure introduced earlier this session, was itself an offshoot of an effort by Treatment First Washington to put an initiative on last year's ballot. That campaign, however, was scuttled after the COVID-19 pandemic interrupted signature-gathering.
Outside the Pacific Northwest, lawmakers in both Maine and Vermont have recently unveiled legislation to decriminalize small amounts of controlled substances. Last month, a Rhode Island Senate committee held a hearing on legislation that would end criminal penalties for possessing small amounts of drugs and replace them with a $100 fine. And in New Jersey, Gov. Phil Murphy (D) recently said he's "open-minded" on decriminalizing all drugs.
In California, meanwhile, a bill that would legalize possession of a wide range of psychedelics last week passed its second Senate committee.
"The war on drugs has been an abject failure because it is based on the false belief, the false notion, that criminalizing people, arresting them, incarcerating them for possessing, for using drugs, will somehow deter use and improve public safety," sponsor Sen. Scott Wiener (D) told colleagues before the vote. "It has done neither."
"Instead we have spent trillions in the last half century on the war on drugs, more people are using drugs now, there's more addiction, there are more overdoses—I'm talking about drugs generally, not psychedelics," he said. "We have busted taxpayer dollars, and we need to move towards a more health-based approach."
New House Bills Would Make Cannabis Businesses Eligible For Federal Small-Business Aid
Photo courtesy of Markus Spiske