Washington Governor: 'We've Got The Best Weed'
Washington State's governor is proud of his state's legal marijuana.
"I can honestly say, we've got the best weed in the United States of America," Gov. Jay Inslee (D) said on Friday night. "It's a growing industry, and well-regulated."
Inslee was speaking during an appearance on Bill Maher's HBO show, Real Time.
"Wouldn't it be wonderful if the first time Donald Trump said something that was actually true, if he said he would leave us alone on our marijuana decriminalization?" he added, referring to recent reports that President Trump is preparing to support cannabis reform legislation. "And I hope that that will occur."
"Wouldn't it be wonderful if the first time Donald Trump said something that was actually true, if he said he'd leave us alone on our marijuana decriminalization?" Watch Gov. @JayInslee on last night's #RTOvertime: 420 Edition. pic.twitter.com/6J9oxEKJEU

— Real Time (@RealTimers) April 21, 2018
But Inslee and Washington have some competition: Democratic Congressman Ted Lieu has recently been bragging about how "amazing," "wonderful" and "awesome" his own state's legal cannabis is.
Congressman Wants To Show Fox News Host 'Awesome' California Marijuana
This new study of all 50 states shows California is ranked second (behind Hawaii) in life expectancy of its residents. California also has one of the lowest rates of dying young. https://t.co/4yD79OGdCl

And let's not forget: California has Disneyland, Yosemite & amazing cannabis

— Ted Lieu (@tedlieu) April 10, 2018
Actually, California has now grown to the 6th largest economy in the world. We have a budget surplus. Of all the 50 states, CA ranks second highest in life expectancy after Hawaii.

And our voter approved, regulated #cannabis is wonderful.

— Ted Lieu (@tedlieu) April 15, 2018
Earlier during Friday's show, Maher delivered a monologue urging Democrats to adopt an increased political focus on marijuana.
Photo courtesy of Jay Inslee.
California Lawmakers Use Cryptocurrency To Buy Marijuana From Dispensary
Two city councilmembers in California became the first elected officials to use cryptocurrency to purchase marijuana from a dispensary—at least publicly—on Tuesday.
Berkeley City Councilmember Ben Bartlett and Emeryville City Councilmember Dianne Martinez visited the Ohana Cannabis shop in Emeryville to demonstrate how the technology can reduce transaction fees and improve financial transparency.
FOR IMMEDIATE RELEASE:

Berkeley Councilmember @BenBartlettCA and Emeryville Councilmember @EmeryvilleDi become the first elected officials to buy cannabis with cryptocurrency in history (probably, idk) with help from @EvilleAlly pic.twitter.com/gRTHFW2Zvc

— Rigel Robinson (@RigelRobinson) September 11, 2019
The technology they used, called stablecoin, is a form of digital currency that has "price stable characteristics" linked to the U.S. dollar, meaning the sale and tax proceeds were settled in a way that's consistent with cash.
Blockchain Advocacy Coalition, which is backing the technology, is advocating for legislation that would enable local jurisdictions in California to "determine and implement a method by which a licensee under [the state's legal cannabis program] may remit any city or county cannabis license tax amounts due by payment using stablecoins."
"By providing a cash-free method of cannabis tax collections, AB 953 can reduce costs and safety risks for cities and businesses," Bartlett said in a press release. He added that the marijuana industry is "a 21st-century industry" that "deserves 21st-century legislation."
"Tax collections leveraging stablecoin technology will help bring this new industry into the light."
In a photo taken at the dispensary, Bartlett is holding up a pamphlet for VetCBD, a low-THC, high-CBD tincture that's used to treat conditions such as anxiety and pain in pets. It's not clear what Martinez purchased from the shop.
The bill to provide for alternative payment options at marijuana businesses is timely given that federal prohibition has made banks skittish of servicing such companies and results in many firms operating on a largely cash-only basis—an issue that has captured the attention of federal regulators and lawmakers on both sides of the aisle in Congress.
In California, legislation that would allow credit unions to accept cannabis business clients was pulled by its sponsor on Tuesday. Sen. Bob Herzberg (D) said he plans to reintroduce the bill next year.
"We are thrilled to build technology that solves real problems for customers, merchants, and politicians which will help usher in the next 100 million users of crypto," said Dan Schatt, co-founder of Cred and the Universal Protocol Alliance, which developed the stablecoin technology, said.
"Not only does crypto result in significant cost reduction for consumers and merchants, but it also enables highly productive tax collection, transparency, and predictability for city and state governments," he said.
Marijuana Industry Groups Urge Congressional Action Amid Vaping-Related Injuries
Photo courtesy of Twitter/Rigel Robinson.
Seth Rogen Hosting Marijuana-Fueled Charity Carnival For Alzheimer's Research
Actor Seth Rogen will be the ringmaster at an adults-only charity carnival next month featuring comedians running game booths and marijuana aplenty.
Proceeds from the Hilarity for Charity County Fair will go toward research into combating Alzheimer's disease, an issue close to Rogen.
I'm throwing a carnival for adults for charity! Your favorite comedians will be operating the games! Anderson .Paak wil perform! Get you tix here: https://t.co/Z0MzRiKWre pic.twitter.com/VlxJqxGqhr

— Seth Rogen (@Sethrogen) August 26, 2019
"We here at Hilarity for Charity love to fight Alzheimer's disease, but we also love rides, alcohol and weed!" Rogen, who launched his own cannabis company in March, said in a promotional video for the Los Angeles event. "We also love trying to be good people so that in the event there is an afterlife, we don't go to hell."
Comedians Adam Devine, Andrew Rannells, Ben Feldman, Casey Wilson, Ilana Glazer, Ike Barinholtz, Jeff Ross, Josh Gad, Kate Micucci, Nick Kroll, Regina Hall and Riki Lindhome are participating in the event. Skateboarder Tony Hawk is set to do a halfpipe performance. And rapper Anderson Paak will also put on a show.
Details of where cannabis fits into the program aren't available on the event site. But Gad, one of the comedians participating, noted in a tweet that this is "the only fair I will attend this year other than my children's book fair which has a lot less readily available weed."
I will be at this fair. This is the only fair I will attend this year other than my children's book fair which has a lot less readily available weed. https://t.co/k88ZSMb3O9

— Josh Gad (@joshgad) August 26, 2019
Rogen's passion for fighting Alzheimer's isn't new. He's become an outspoken activist for research into the disease after he witnessed his mother-in-law develop early onset Alzheimer's.
In 2014, the actor opened his testimony before a Senate committee hearing on Alzheimer's research by joking that he wasn't there to discuss the topic some might expect: marijuana.
"First I should answer the question I assume many of you are asking, yes I'm aware this has nothing to do with the legalization of marijuana," he said. "In fact, if you can believe it, this concerns something that I find even more important."
Though he didn't bring it up at the hearing, research has demonstrated that cannabis can help eliminate a toxic protein associated with Alzheimer's disease. Last year, the federal government asked the public to submit additional scientific research into the potential therapeutic benefits of marijuana in the treatment of the condition.
Disneyland Busted Robert Downey Jr. For Smoking Marijuana, He Reveals While Accepting Disney Award
Photo courtesy of Twitter/Seth Rogen.
Disneyland Busted Robert Downey Jr. For Smoking Marijuana, He Reveals While Accepting Disney Award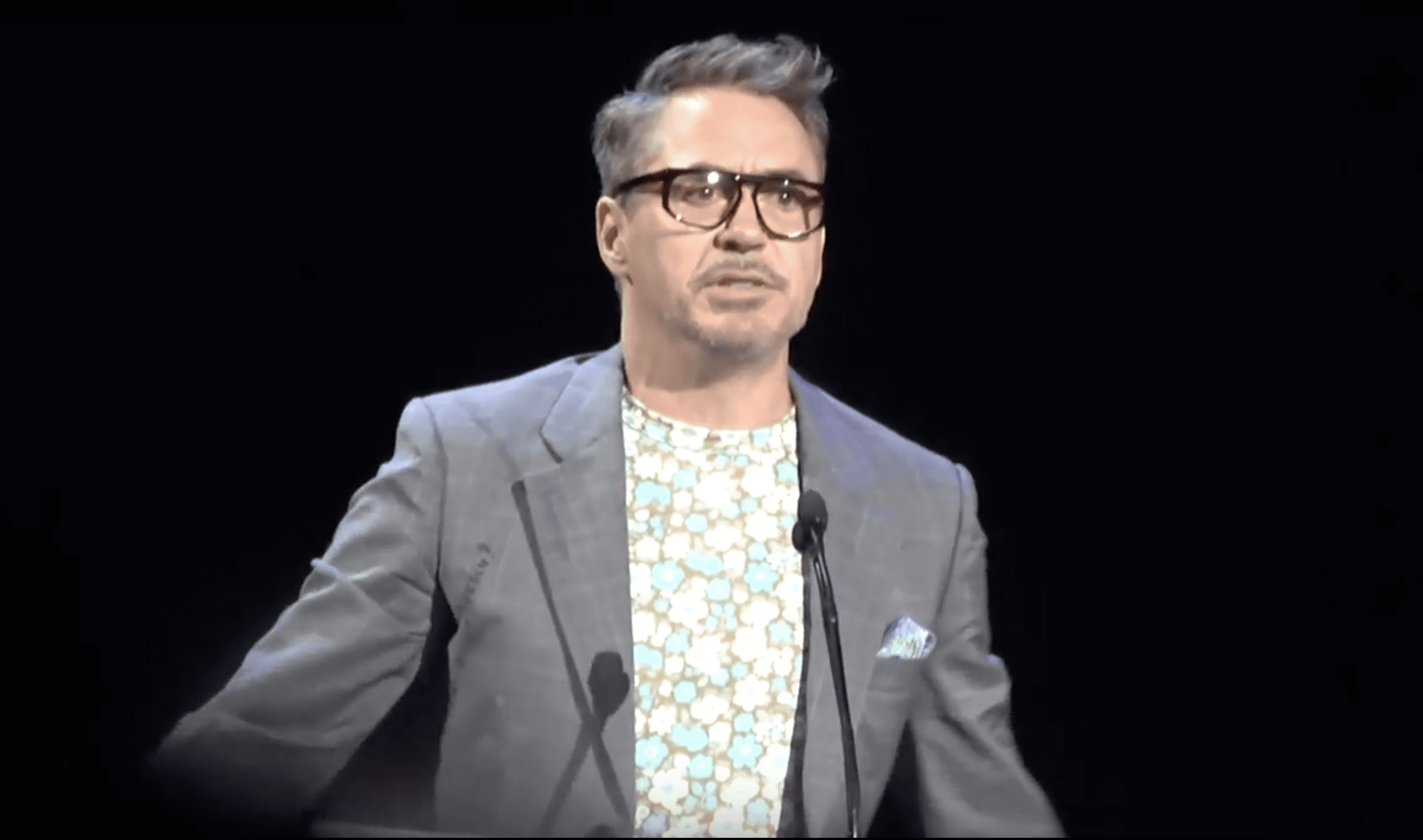 Robert Downey Jr. said he was once detained at Disneyland after getting caught smoking marijuana on a gondola ride.
The Iron Man and Avengers actor shared the anecdote while being honored at the Disney Legends award show on Friday, describing his first trip to the California park.
"Here's a bit of trivia for you. The very first time I went to Disneyland, I was transported to another place—within moments of being arrested," Downey said, drawing laughs. "I was brought to a surprisingly friendly processing center, given a stern warning, and returned to, if memory serves, one very disappointed group chaperone."
"I've been sitting on that shame for a while and I'm just going to release it here tonight," he said. "I would like to make amends to whomever had to detain me for smoking pot in a gondola without a license."
"And I don't wanna further confuse the issue by insinuating that pot smoking licenses for the gondola are in any way obtainable or for any of the other park attractions," Downey added.
"Maybe for the Imagineers, but that's their own business," he joked, referencing Disney's research and development team.
It's not clear when Downey was detained in the so-called "Happiest Place On Earth," but he's previously talked about starting to use cannabis at an early age.
The actor isn't the only high profile figure to get booted from Disneyland over smoking on the gondola ride.
Former President Barack Obama said last year that the same thing happened to him and some friends during college. He said during a speech at a political rally that they were smoking cigarettes on the gondolas, but also seemed to wink, raising questions about exactly what sort of plant material he and his friends were inhaling at the time.
In any case, Downey is right that there are no gondola marijuana smoking licenses available, even in California where cannabis is legal. In fact, Disney specifies on its park rules site that "[s]moking marijuana or any other illegal substances is not permitted at any time."
There are designated cigarette smoking areas, however, which the former president presumably could have taken advantage of, if he really was simply imbibing tobacco.
Dave Chappelle Ate Magic Mushrooms Gifted By A Stranger, Joe Rogan Says
Photo courtesy of YouTube/Spokesmayne.