Vote To Federally Legalize Marijuana Planned In Congress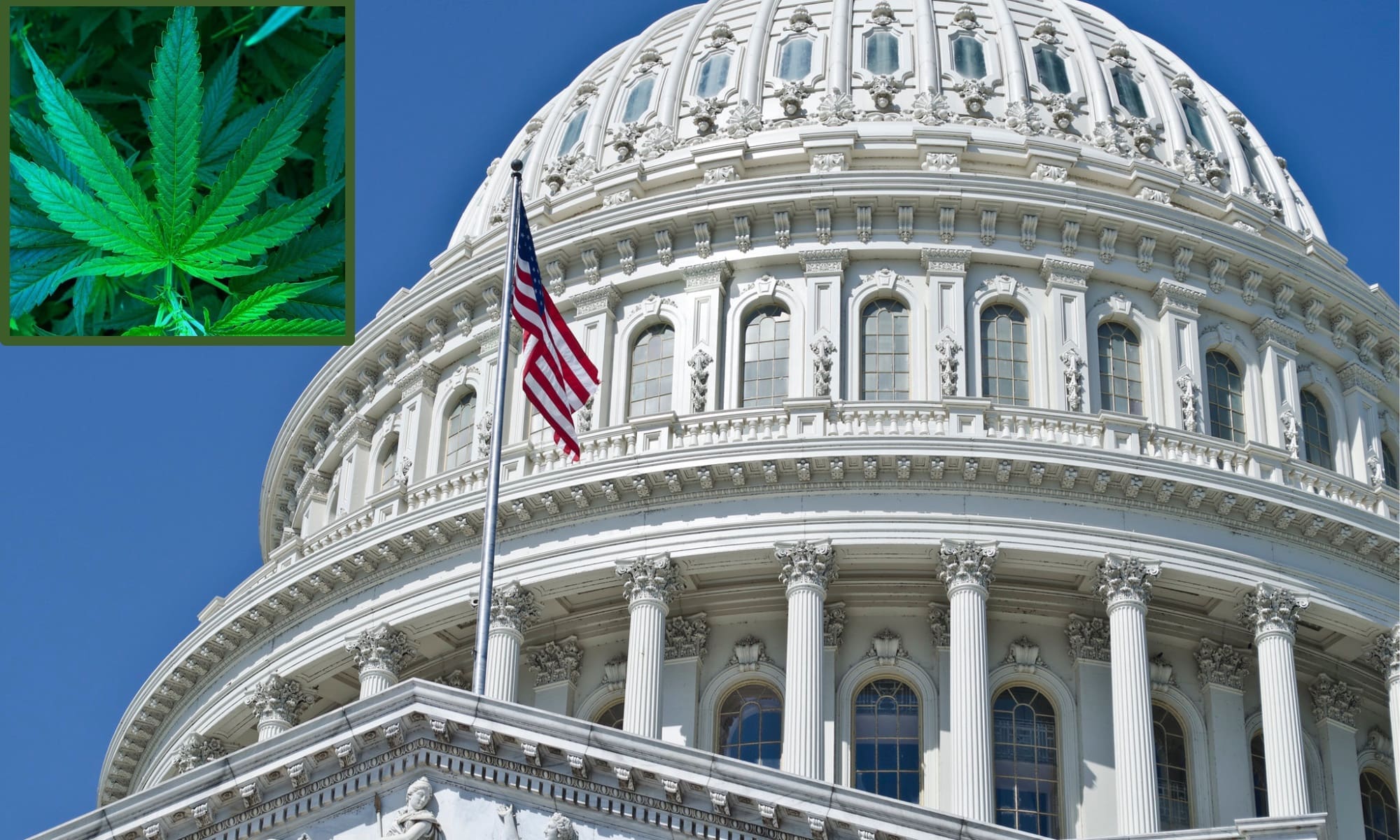 A key congressional committee plans to hold a historic vote on a bill to end the federal prohibition of marijuana next week, two sources with knowledge of the soon-to-be-announced action said.
The legislation, sponsored by House Judiciary Committee Chairman Jerrold Nadler (D-NY), would remove cannabis from the Controlled Substances Act and set aside funding to begin repairing the damage of the war on drugs, which has been disproportionately waged against communities of color.
Those programs—such as job training and legal aid for people impacted by prohibition enforcement, loans for small cannabis businesses owned and controlled by socially and economically disadvantaged individuals and efforts to minimize barriers to licensing and employment in the legal industry—would be paid for with a new federal five percent tax on marijuana sales instituted under the bill, and some of them would be administered by a new Cannabis Justice Office in the Department of Justice.
The proposal, the Marijuana Opportunity Reinvestment and Expungement (MORE) Act, would also provide for resentencing and expungement of records for people previously convicted of cannabis offenses and would shield immigrants from being denied citizenship status over marijuana.
It currently has 55 cosponsors, all but one of whom are Democrats.
A Senate companion is being led by Sen. Kamala Harris (D-CA), a 2020 presidential candidate, though it has not yet been scheduled for action in the GOP-controlled chamber.
Wednesday's planned Judiciary Committee vote on the far-reaching cannabis reform legislation—which hasn't yet been officially listed but is expected to be announced on Monday—comes about two months after the full House overwhelmingly approved a bipartisan bill to increase marijuana businesses' access to banks.
Politico reported on Saturday that Rep. Barbara Lee (D-CA), who is not a member of the panel, mentioned upcoming committee consideration while speaking at a conference in Southern California.
The congresswoman reportedly didn't clarify that the legislation would be formally "marked up," or voted on, a detail that sources shared with Marijuana Moment in recent days. A Judiciary Committee spokesperson hasn't responded to several inquiries about the pending vote.
The planned action on the bill, which would also block federal agencies from denying public benefits or security clearances over marijuana use, follows a hearing a Judiciary subcommittee held in July that examined the connection between marijuana legalization and racial justice.
The markup will provide the opportunity for lawmakers on both sides of the aisle to file amendments to the bill, and could shed further light on an emerging divide between cannabis reform supporters who feel it is essential to address past drug war harms and equity in the cannabis industry immediately and those who believe it makes more sense to advance more limited, states' rights-focused legislation that could stand a better chance of advancing through the Senate and to President Trump's desk.
Those tensions surfaced both during the Judiciary hearing this summer as well as in the lead up to the House floor vote on the cannabis banking legislation. Some pro-legalization groups went so far as to ask leadership to delay the scheduled vote on the financial services bill because they took issue with what is seen as an industry-focused proposal moving ahead of one containing restorative justice provisions such as the MORE Act.
In response to those concerns, top Democrats such as Nadler and House Majority Leader Steny Hoyer (D-MD) pledged that while they were moving ahead with the banking vote, they also saw the importance of following up by advancing more comprehensive cannabis legislation.
Advancing the MORE Act or a similar descheduling proposal through committee and onto the House floor would make good on that pledge.
It's less certain how the Senate would react to House passage of a far-reaching bill to end federal marijuana prohibition. Some advocates believe that only a more modest proposal to exempt state-approved cannabis activity from federal prohibition stands a chance in the Republican-controlled body.
That bill, the Strengthening the Tenth Amendment Through Entrusting States (STATES) Act, would not formally deschedule marijuana under the CSA and doesn't include measures aimed at ensuring equity in the legal industry for communities most harmed by the drug war.
President Trump has voiced support for the less far-reaching bill, which is led by Sens. Elizabeth Warren (D-MA) and Cory Gardner (R-CO).
This piece was first published by Forbes.
Image element courtesy of Tim Evanson.
Trade Associations And Civil Rights Groups Send Mixed Messages On Marijuana Banking To Senate
A coalition of trade associations sent a letter to Senate Banking Committee leadership on Thursday, urging a vote on legislation to protect financial institutions that service state-legal marijuana businesses.
But those senators are also feeling pressure from leading civil rights groups like the ACLU and Human Rights Watch, which sent an earlier letter insisting that they not allow cannabis banking to detract from more comprehensive reform that addresses social equity.
The organizations involved in the latest letter—including the American Bankers Association and Credit Union National Association—said that advancing the Secure and Fair Enforcement (SAFE) Banking Act or similar legislation is pivotal to ensuring that stakeholders receive needed clarity and are shielded from being penalized by federal regulators.
The letter, addressed to Banking Chair Mike Crapo (R-ID) and Ranking Member Sherrod Brown (D-OH), emphasized the bipartisan nature of the House passage of the bill in September and the growing movement at the state level to legalize cannabis for medical or recreational purposes.
"Our organizations support an initial legislative step that allows the legal cannabis industry into the banking system," the groups, which also include the Council of Insurance Agents and Brokers, International Council of Shopping Centers and National Association of REALTORS, wrote. "Ultimately, protecting law-abiding financial institutions and ancillary businesses from their currently untenable position and addressing increasing public safety concerns."
As more states reform their marijuana laws, however, "distribution, sale, possession, research, transaction, housing, employment, and a broader landscape of cannabis is becoming increasingly problematic" for stakeholders under federal prohibition.
"Ultimately, this creates more legal and security concerns that impact the operations and safety of businesses and consumers," they said. "Finally, the lack of an available safe harbor for cannabis will continue to challenge the full adoption and deployment of the legal hemp and CBD products market in the U.S. due to the inextricable link between hemp and cannabis."
"To resolve this, we urge the Committee to vote on the SAFE Banking Act or similar measures. Such measures are meant to create a safe harbor for depository institutions that provide a financial product or service to businesses in a state permitting the use of cannabis. A safe harbor will enable law enforcement and states to effectively monitor and regulate businesses while simultaneously bringing billions into the regulated banking sector."
12 groups including ABA just wrote @MikeCrapo @SenSherrodBrown @senatemajldr @SenSchumer urging a vote on the #SAFEBanking Act. It's time to end the legal limbo over banking cannabis in the growing number of states where it's legal. Read the letter: https://t.co/1529vIHawq

— American Bankers Association (@ABABankers) December 12, 2019
The letter, also signed by Americans for Prosperity and R Street, recognizes that creating a federal regulatory scheme for marijuana will take time but says that the SAFE Banking Act represents "a critical first step to ensure that legal cannabis marketplaces are safe, legal, and transparent."
Crapo has said that he's interested in holding a vote on resolving the cannabis banking issue in his panel before the year's end, but so far nothing has been scheduled. The chairman told Marijuana Moment in earlier interviews that there are several changes to the House-passed bill that he'd like to see but that he's worried impeachment proceedings against the president will interfere with plans to hold a vote.
All that said, pressure from civil rights advocacy groups could complicate congressional efforts to get the banking bill approved. In October, several organizations including the ACLU, Drug Policy Alliance, Human Rights Watch and Center for American Progress sent a letter to Senate leadership, as well as Crapo and Brown, demanding that "marijuana legislation considered in the Senate include provisions that will guarantee equity in the industry."
The letter, which doesn't appear to have been previously reported and was obtained by Marijuana Moment, states that while the coalition agrees the SAFE Banking Act "is an incremental step toward rolling back the federal prohibition of marijuana, it fails to help communities that have been historically and disproportionately devastated by United States' punitive drug laws."
"As the Senate Committee on Banking, Housing, and Urban Affairs considers similar legislation, we insist that the legislation include provisions that ensure equity in the marijuana industry by creating opportunities for individuals who have been prohibited from this growing business either by legal or financial means," the letter, which was also signed by the Immigrant Legal Resource Center, Leadership Conference on Civil and Human Rights and National Association of Social Workers, states.
"Indeed, this Congress has shown it understands the economic impact of legalization. But while progress on the business side of legalization is promising, it is not sufficient. Federal marijuana legislation must be comprehensive and lead with equity, addressing past and current harms to communities of color and low-income communities who bore the brunt of the failed war on drugs. We demand that any marijuana reform or legalization bill considered by the Senate] include robust provisions addressing equity. More than simply adding equity provisions to bills that address industry concerns, we need comprehensive reform that deschedules marijuana and addresses the inequities and harms continually inflicted by the failed war on drugs."
In other words, the groups are insisting on broad reform prior to a vote on a bill viewed as largely beneficial to the cannabis industry—similar to a request they made of House members prior to the legislation's passage in the chamber.
Read the marijuana banking letters from the trade associations and civil rights groups below:
Industry SAFE Senate Bankin… by Marijuana Moment on Scribd
Senate Leadership Letter Re… by Marijuana Moment on Scribd
Senators Demand Update From DEA On Marijuana Growing Applications
GOP Congressman Knocks His Party For Failing To Pass Marijuana Reform
A Republican congressman says that whichever party is responsible for passing federal marijuana reform will "instantly" shoot up in the polls, while lamenting the fact that the GOP failed to do so when they controlled the House.
Rep. Thomas Massie (R-KY), a vocal advocate for hemp, was asked by Fox Business host Kennedy on Wednesday whether cannabis should be rescheduled under federal law.
"Absolutely," he said. "The first party that does this—and I don't understand why either party won't do it—is going instantly gain 10 points in the general poll on which party versus the other."
"We should have done it when we were in the majority," he added. "The liberals should be asking Pelosi why she hasn't put it on the floor yet."
The House Judiciary Committee approved legislation last month to end federal marijuana prohibition, but it hasn't yet been scheduled for floor action.
Massie made similar points during an interview with Marijuana Moment earlier this year, stating that if Republicans had advanced states' rights-focused marijuana legislation, "I think we might still be in the majority."
Of course, while Massie has supported legislation to allow states to set their own cannabis policies without federal intervention, as well as other more modest reform measures such as protecting banks that service marijuana businesses, he's so far declined to cosponsor any bills that seek to deschedule cannabis.
The congressman has also expressed interest in changing federal gun control laws to allow cannabis consumers to purchase firearms.
Though it's not clear exactly how much of a boost either party would get by passing a marijuana reform bill, a Pew poll released last month does show that there's majority support for legalization among those who lean Republican (55 percent) as well those who lean Democratic (78 percent).
Senators Demand Update From DEA On Marijuana Growing Applications
Photo courtesy of YouTube/Rep. Massie.
State Department Warns Travelers About Flying With Cannabis Oil Internationally
The U.S. State Department is warning international holiday travelers that while hemp-derived CBD might be legal in the U.S., it can land you in trouble if you take it certain places abroad.
"Make sure your gift isn't a fa la la la la la la la la fail," the department said in a tweet on Thursday. "Bringing along gifts like drones, CBD oils, and firearms can land you in trouble in foreign countries. Research what is and isn't allowed before you travel."
Please visit Forbes to read the rest of this piece.
(Marijuana Moment's editor provides some content to Forbes via a temporary exclusive publishing license arrangement.)
MLB Officially Removes Marijuana From Banned Substances List For Baseball Players
Photo courtesy of Flickr/DHS.