VA Updating Medical Marijuana Directive For Veterans That's Expiring This Month, As Congress Pushes It To 'Not Interfere'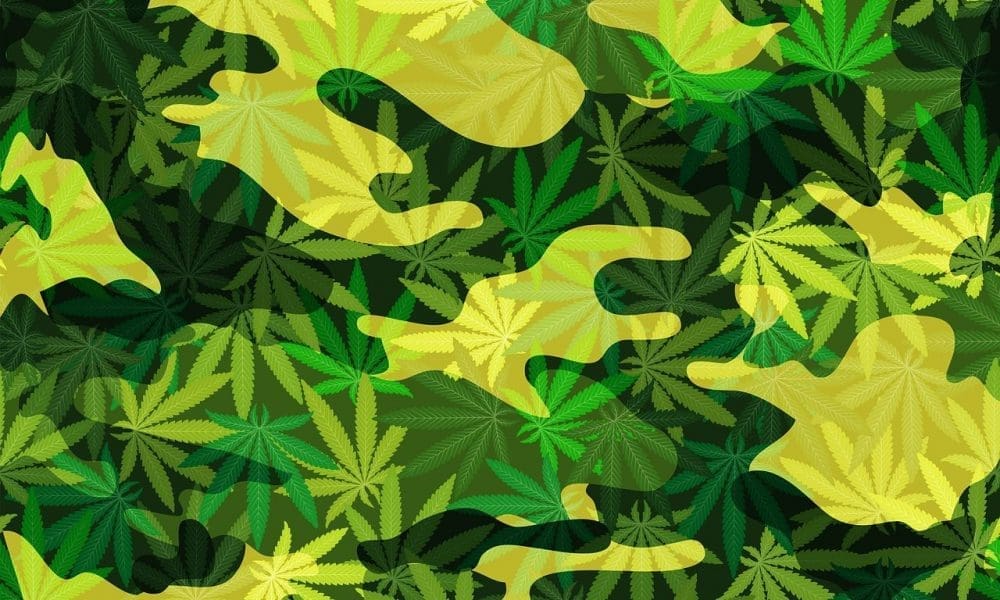 The U.S. Department of Veterans Affairs (VA) is working on updating a directive that's set to expire this month concerning military veteran participation in state-legal medical marijuana programs—and congressional lawmakers are telling the department to "not interfere" in such activity.
Lawmakers declined to put cannabis banking and a number of other drug policy reforms in a spending bill package released on Tuesday—but the relevant appropriations report attached to the legislation notes that VA is "in the process of updating" a Veterans Health Administration (VHA) directive that stipulates the agency's doctors can discuss marijuana use with veteran patients and that benefits can't be denied based solely on a patient's participation in a medical marijuana program.
While advocates have welcomed to adoption of the existing directive, they've taken issue with another key component that precludes VA doctors from issuing medical cannabis recommendations for veterans in states with legal programs. As a result, veterans have to go to outside doctors who may not be as closely familiar with their medical histories, or who may charge expensive fees, to fill out such forms.
The congressional spending bill report "encourages the Department to not interfere with a veteran's decision to participate in such programs and document it appropriately, to the extent allowable under Federal law."
It's unclear whether lawmakers are suggesting that VA maintain the current policy or expand that non-interference position in a way that would allow VA doctors to make cannabis recommendations, for example. That stipulation that the department avoid interfering "to the extent allowable under Federal law" seems to speak to a long-standing debate about whether recommending medical cannabis would put VA doctors at risk of prosecution for aiding and abetting federal crimes.
Federal courts have already determined that doctors who simply recommend medical cannabis to their patients are protected under the First Amendment, but VA's concerns have caused uncertainty among lawmakers as to whether that protection extends to federally employed physicians.
While the existing 2017 directive technically expires at the end of this month, it will stay in place even after that expiration until it's replaced or updated. An earlier version of the directive, which was enacted in 2011, expired in 2016 and wasn't updated until the next year.
Veterans organizations have long criticized VA for opposing cannabis reform legislation, including proposals to mandate certain clinical trials into the medical efficacy of marijuana for certain conditions that commonly afflict veterans and allow VA doctors to issue medical cannabis recommendations in legal states.
"The VA has been hostile to dismissive in dealing with cannabis and the VHA directive did little to protect veterans," Eric Goepel, founder and CEO of the Veterans Cannabis Coalition, told Marijuana Moment on Tuesday. "Language encouraging the VA to modify how it interprets its own directive—without any statutory oversight, enforcement, or even basic data collection—does nothing."
"Congress continues to shirk its duties to actually legislate and the staggering rates of veteran suicide and overdose continue unabated," Goepel, who separately discussed these issues in an op-ed for Marijuana Moment in October, said. "Without descheduling and robust federal cannabis treatment research and development, the whole nation will continue to suffer."
Earlier this month, a coalition of more than 20 veterans service organizations (VSOs) sent a letter to congressional leaders to urge the passage of the bipartisan VA Medicinal Cannabis Research Act before the end of the current Congress. With just a few weeks left during the lame duck session, however, the prospects of that happening are doubtful.
The legislation cleared a House committee last year, despite the protests of VA officials who've argued that it's unduly prescriptive. Earlier versions of the measure moved through committee in 2020 and 2018 as well, but they've yet to become enacted into law.
VA's more recent opposition to the proposal has come as a disappointment to advocates who had hoped the department under President Joe Biden would ultimately embrace the modest reform.
Hopes were raised even higher after the bill sponsor, Rep. Lou Correa (D-CA), informed a separate House panel last year that he'd had a conversation with VA Secretary Denis McDonough about the issue of marijuana and veterans.
McDonough did say last year that while current federal marijuana laws have prevented the department's physicians from recommending medical cannabis to military veterans, officials are "looking at" the possibility of an internal policy change and have discussed it with the White House.
More recently, a large-scale defense spending bill that was released following bicameral negotiations this month excludes separate language from a previously House-passed version that would have authorized VA doctors to recommend medical cannabis to veterans living in states where it is legal.
A joint explanatory statement for the National Defense Authorization Act (NDAA) did direct the Department of Defense to examine the potential of "plant-based therapies" like cannabis and certain psychedelics for service members, however.
A VA official said in September that the department is monitoring research into the therapeutic potential of psychedelics "very, very closely," but that treatment involving the substances is not yet part of the "standard of care" for military veterans.
Meanwhile, veteran advocates have also been pushing congressional leaders to take into account the population's needs as part of their work to craft a package of incremental marijuana reforms known as SAFE Plus.
"There's no excuse for lawmakers to omit from a cannabis bill provisions that would have a material impact on thousands if not millions of veterans' lives," Nick Etten, founder and chairman of the Veterans Cannabis Project, wrote in a recent op-ed for Marijuana Moment. "There is a wide array of bills before Congress–bills with overwhelming, bipartisan support–that would implement simple, commonsense reforms on behalf of vets."
But with SAFE Banking excluded from both NDAA and the new appropriations package—and time running short in the lame duck session—it seems likely that any additional cannabis reforms will be left to the 118th Congress to decide.
Here's the full text of the appropriations report section on VA's medical cannabis directive update: 
"Medical Cannabis.-The agreement acknowledges the Department is in the process of updating VHA Directive 1315, Access to VHA Clinical Programs for Veterans Participating in State-Approved Marijuana Programs, and encourages the Department to not interfere with a veteran's decision to participate in such programs and document it appropriately, to the extent allowable under Federal law."
Majority Of Texas Voters Back Marijuana Legalization, And Three In Four Support Decriminalization, Poll Finds