As Congress Considers Cannabis Reform, Veterans Are Being Left Behind (Op-Ed)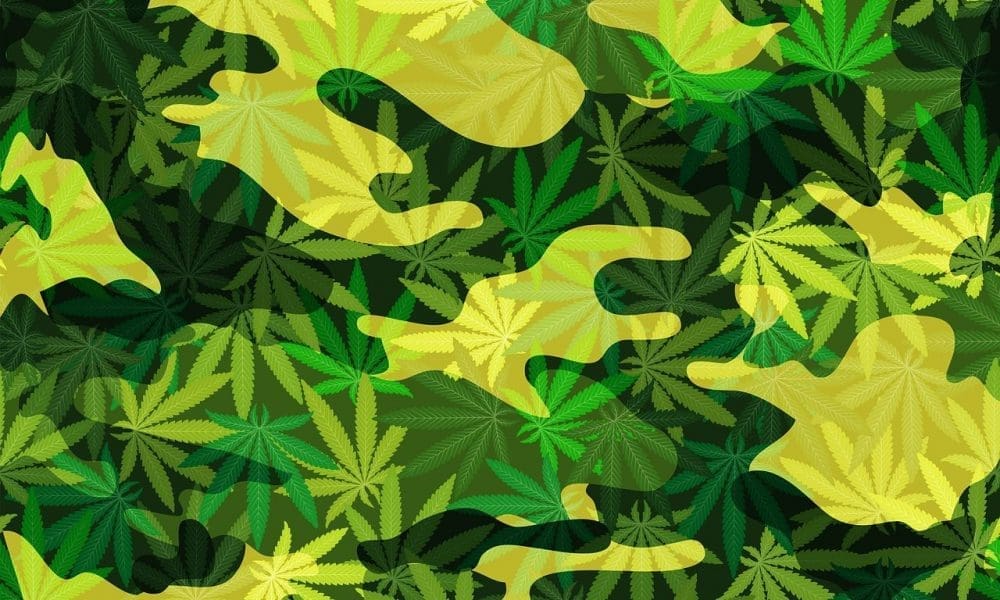 "Though the banking and equity provisions reportedly being considered by lawmakers in the year-end cannabis bill are important and life-changing for many, their inclusion alone is not enough."
By Nick Etten, Veterans Cannabis Project
Over the past few years, our country has thankfully begun to leave many of its post-9/11 conflicts in the rear-view mirror. Unfortunately, a staggering number of our veterans are still dealing with the aftermath of those wars.
Veterans returning from recent deployments suffer from PTSD, traumatic brain injuries, anxiety and depression and a litany of other issues. Older veterans are subject to chronic pain far more than the national average. And overall, veterans are twice as likely to die from an opioid overdose than their fellow Americans.
Veteran suicide rates remain alarmingly high. A recent analysis released by America's Warrior Partnership, in a joint study with the University of Alabama and Duke University, estimates the annual rate of suicide among veterans may actually be more than double the figures reported by federal officials due to undercounting related to drug overdose deaths, among other causes.
Every day, we hear from veterans who have turned to medical cannabis as a solution to these problems. About how they use it as a form of therapy to wean themselves off the deadly opiates upon which they have come to rely after having been prescribed them by the Veterans Health Administration. We hear stories from struggling veterans who have found relief in the form of medical cannabis, but who are stymied at nearly every turn by a federal government and a nation they've given their lives to serve.
Congress has a chance to help these veterans in need. Federal lawmakers are considering passing a legislative package focused on marijuana reform during the year-end lame-duck period.
While the bill is centered around marijuana banking (specifically, the SAFE Banking Act), it will also reportedly include a variety of provisions related to equity, social justice and other reforms. It is critical that veterans' cannabis reforms are also included in this legislative package.
While these items under consideration are assuredly worthy and positive reforms, relief for the nine million veterans who receive their healthcare from the Veterans Administration is equally important. But shockingly, there is real risk of veterans being left behind in these negotiations.
Bottom line – any #SAFEBanking package MUST include veterans' provisions.

The vets who would benefit from these bipartisan, commonsense reforms are too many to ignore. https://t.co/kq8EU4L3dV

— Veterans Cannabis Project (@VetCannabisProj) December 12, 2022
There's no excuse for lawmakers to omit from a cannabis bill provisions that would have a material impact on thousands if not millions of veterans' lives. There is a wide array of bills before Congress–bills with overwhelming, bipartisan support–that would implement simple, commonsense reforms on behalf of vets. This includes measures requiring the Department of Veterans Affairs to research the impact of cannabis of veterans' health issues and allowing VHA doctors to recommend cannabis as a treatment option while counseling vets on how to participate in medical programs. Such incremental measures are non-controversial, and though they are a far cry from the full legalization regime vets deserve, they're undoubtedly a step in the right direction.
This isn't new territory for lawmakers in Washington. Just recently, a bill seeking to streamline the federal marijuana research process was signed into law. And President Joe Biden's pardon of thousands convicted for simple cannabis possession made national headlines. But these actions excluded veterans—and veterans cannot afford to be excluded from cannabis access any longer.
Like broad cannabis measures, reforms related to veterans are exceedingly popular. Veteran service organizations like the American Legion and Iraq and Afghanistan Veterans of America have found that more than 80 percent of veterans support medical cannabis research and legalization.
Yet veterans are unable to participate in medical marijuana programs. Their doctors at the VA are prohibited from recommending medical marijuana as a treatment option or even discussing its benefits.
Medical marijuana groups are routinely blocked from health and wellness grant programs offered by the VA, including those focused on suicide prevention.
Despite claims to the contrary, veterans run the risk of losing their benefits, being denied loans, and being de-banked if they use cannabis or work in the industry.
While most of the country enjoys the legal (and extralegal) benefits brought to life by cannabis reform, millions of veterans are forced to live under a separate set of rules.
It's time for that to change. Though the banking and equity provisions reportedly being considered by lawmakers in the year-end cannabis bill are important and life-changing for many, their inclusion alone is not enough.
Since the inception of our organization, we have heard from countless veterans who gain critical relief from cannabis and use it to improve their quality of life. They served their country and suffered for it, and they deserve the same rights and protections as their fellow citizens. Veterans who rely on cannabis as a treatment option have waited long enough.
Every comprehensive cannabis bill that moves in Congress without veterans' provisions fails our servicemembers, cannot be supported by Veterans Cannabis Project, and should be rejected by all who advocate on behalf of those who served.
Nick Etten is founder and chairman of the Veterans Cannabis Project.
Kansas Lawmakers To Tour Marijuana Grow Facility In Missouri As They Finalize Medical Cannabis Bill For 2023