VA Continues To Oppose Marijuana Research Bill For Military Veterans Under Biden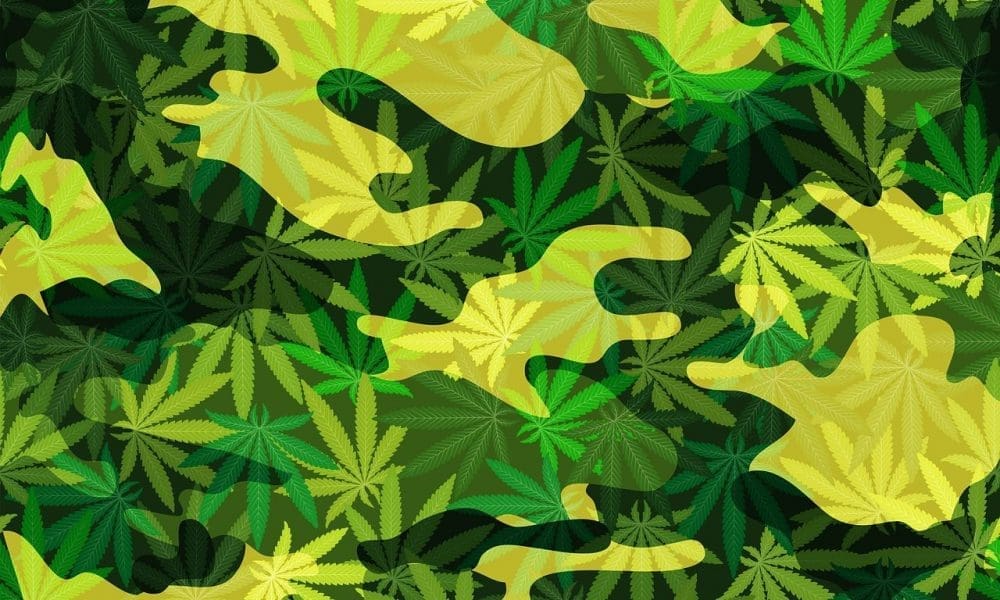 A Senate committee on Wednesday held a hearing on a bill to require the U.S. Department of Veterans Affairs (VA) to conduct clinical trials into the therapeutic potential of marijuana for military veterans with PTSD and chronic pain—but a VA representative said that the Biden administration is opposed to the reform.
The Senate Veterans' Affairs Committee discussed the cannabis proposal, sponsored by Chairman Jon Tester (D-MT) and Sen. Dan Sullivan (R-AK), at the hearing, along with 20 other veterans-related bills.
While VA officials gave the agency's perspective on most of the other bills listed at the hearing, they did not orally weigh in on the marijuana measure. Instead, VA offered written testimony in opposition to the proposal.
Despite bipartisan support for giving veterans access to alternative treatment options like cannabis, VA Acting Deputy Under Secretary of Health for Community Care Mark Upton said plainly that the agency "does not support this proposed legislation."
VA isn't necessarily opposing cannabis research for veterans overall, but it argued that the proposed legislation is unnecessary because it is "already dedicating resources and research expertise to study the effects of cannabis on conditions affecting veterans."
The testimony states that "the proposed legislation is redundant to the extent that VA is already examining risks and benefits of cannabis in treating PTSD and chronic pain" and is "not consistent with VA's practice of ensuring scientific merit as the basis for a randomized clinical trial."
VA took particular issue with a provision included in the measure that would require it to study "at least seven types of cannabis and their effects on symptoms of PSTD and chronic pain."
Upton, who was appointed to the role under the Trump administration in 2020 but continues to serve under President Joe Biden, said that directive "is not consistent with the current state of scientific evidence, which suggests that smaller, early phase, controlled clinical trials with a focused set of specific aims are optimal to determine proof of concept for use of cannabis in treating specific conditions."
"VA has and continues to examine the current clinical evidence regarding use of marijuana for medical purposes and agrees that more research is needed," he wrote. "VA has utilized the scientific peer review system and is currently supporting a clinical trial of CBD to treat PTSD where CBD is used as an add-on treatment to standard of care psychotherapy. The results from this study should be available next year."
The cannabis measure that was under consideration at the hearing explicitly requires that VA conduct a series of clinical trials—rather than just one trial as would have been the case under an earlier version was introduced last Congress—and also sets out specific guidelines for researching the effects of several marijuana varieties with various THC and CBD concentrations.
Tester, the committee chairman and the bill's sponsor, said in opening remarks that the measure "expands research on alternative treatments for veterans who suffer from the seen and unseen wounds of war."
"A survey conducted by the American Legion tells us 22 percent of veterans who responded already use cannabis to treat a medical condition," he said. "Our bill will help the VA get the necessary data to fully evaluate this treatment and educate veterans on the outcomes of using medicinal cannabis to treat certain conditions."
Upton's written testimony argues that "the scientific peer review system would not favor simultaneously studying seven variants of cannabis and their effects on varying diagnoses without first demonstrating a specific rationale for each of the queries."
"Progress in cannabis research must start with a scientific query of what is already known for specific diagnostic categories of interest, then moving to next level clinical investigation," Upton said.
"VA has a history of scientifically driven research and high-quality clinical trials that have advanced Veterans' and the Nation's health care. VA's Office of Research and Development regularly funds clinical trials approved through its expert peer review system, which evaluates studies for scientific merit based upon the rationale, design and feasibility of the study proposal. Such trials already include medical uses of cannabis for conditions that impact Veterans."
At a 2019 House hearing, VA officials under Trump came out against a series of cannabis bills, including the prior version of the one before the Senate panel on Wednesday.
The VA secretary "shall carry out a series of clinical trials on the effects of medical-grade cannabis on the health outcomes of covered veterans diagnosed with chronic pain and covered veterans diagnosed with post-traumatic stress disorder," the text of the current bill states. It lists "required elements" of the trials as well as "optional elements" the department could add.
When it comes to the chronic pain trials, the agency would have to look at the impact of marijuana consumption on osteopathic pain, opioid use and dosage, benzodiazepine use and dosage, alcohol use, inflammation, sleep quality, agitation and quality of life.
For the PTSD-specific studies, VA would examine the extent to which cannabis affects basic symptoms of the condition, the use and dosage of benzodiazepines, alcohol use, mood, anxiety, social functioning, agitation, suicidal ideation and sleep quality.
At 3pm the @SVACDems @SVACGOP will hold a hearing on many IAVA backed bills including the VA Medicinal Cannabis Research Act of 2021 ( S.1467 ). Tune in below and tell Congress they need to pass this important piece of legislation: 👇https://t.co/Xls736HIKs #CannabisForVets https://t.co/Grikh741Nv

— IAVA (@iava) June 23, 2021
Optionally, the clinical trials "may include an evaluation of the effects of the use of cannabis to treat chronic pain and post-traumatic stress disorder on" pulmonary function, cardiovascular events, various forms of cancer, intestinal inflammation, motor vehicle accidents, mania, psychosis, cannabinoid hypermesis syndrome, neuropathy or spasticity.
The bill further details specific methodological standards of the clinical trials that would be required. It would, for example, mandate that researchers use "not fewer than seven unique plant cultivars" with specific ratios of THC and CBD. That previous version of the bill in the last Congress only required three different marijuana strains.
The trials will involve "whole plant raw material and extracts." However, the measure no longer stipulates that "varying methods of cannabis delivery, including combustible and non-combustible inhalation and ingestion" would have to be used as would have been the case under the last version.
Veterans groups voiced support for the cannabis research bill during a second panel at Wednesday's hearing.
Disabled American Veterans (DAV) said in written testimony to the Senate committee that the organization supports "more comprehensive and scientifically rigorous research by the VA into the therapeutic benefits and risks of cannabis and cannabis-derived products as a possible treatment for service-connected disabled veterans."
The American Legion, meanwhile, said it "supports efforts to enhance medical cannabis research, urges Congress to remove cannabis from the Schedule I controlled substance list, and believes the DEA should license privately funded medical marijuana production operations in the U.S."
"Any medical cannabis research legislation should take into consideration clinical trials that track the developing of symptoms related to Cannabis Use Disorder. Enabling safe and efficient cannabis drug development research is vital to providing innovative evidence-based, complementary, and alternative medicine to veterans in the treatment of chronic pain and mental health disorders. It is imperative that VA continue to explore alternative treatments to ensure those suffering from PTSD and chronic pain are provided the best possible care."
Reps. Lou Correa (D-CA) and Peter Meijer (R-MI) are sponsoring the House companion version of Tester and Sullivan's bill.
Last year, the House Veterans' Affairs Committee approved the prior version of the VA Medical Cannabis Research Act, as well as a separate proposal to allow VA doctors to issue medical cannabis recommendations to their patients in states where it's legal, but they did not advance to the floor.
The Senate under GOP control did not move any standalone marijuana bills in the last session, but with Democrats now in charge of both chambers and the White House, there's renewed optimism that modest reforms like this latest measure stand a solid chance of becoming law.
In April, a bipartisan coalition of congressional lawmakers reintroduced bills that would federally legalize medical cannabis for military veterans.
Rep. Greg Steube (R-FL) in January introduced a proposal aimed at ensuring that military veterans aren't penalized for using medical cannabis in compliance with state law. It would also codify that VA doctors are allowed to discuss the risks and benefits of marijuana with their patients.
VA doctors are currently permitted to discuss cannabis with patients and document their usage in medical records, and those veteran patients are already shielded by agency policy from losing their benefits for marijuana use—but the bill would enshrine those policies into federal statute so they could not be administratively changed in the future.
Meanwhile, congressional leaders are working to end federal marijuana prohibition altogether.
Advocates are pushing for a vote on a federal legalization bill from House Judiciary Committee Chairman Jerrold Nadler (D-NY) to take place this month.
Senate Majority Leader Chuck Schumer (D-NY) is also in the process of drafting a bill to end federal cannabis prohibition, which he's repeatedly said would be introduced "soon." Senate Finance Committee Chairman Ron Wyden (D-OR), who is also working the bill alongside Schumer and Sen. Cory Booker (D-NJ), said to expect a filing "very soon."
Read VA's written testimony on the marijuana research bill for veterans below:
VA Marijuana Research Testi… by Marijuana Moment
Congressional Democrats Defy Biden By Scrapping D.C. Marijuana Sales Ban
Wisconsin Republicans Announce Limited Medical Marijuana Legalization Bill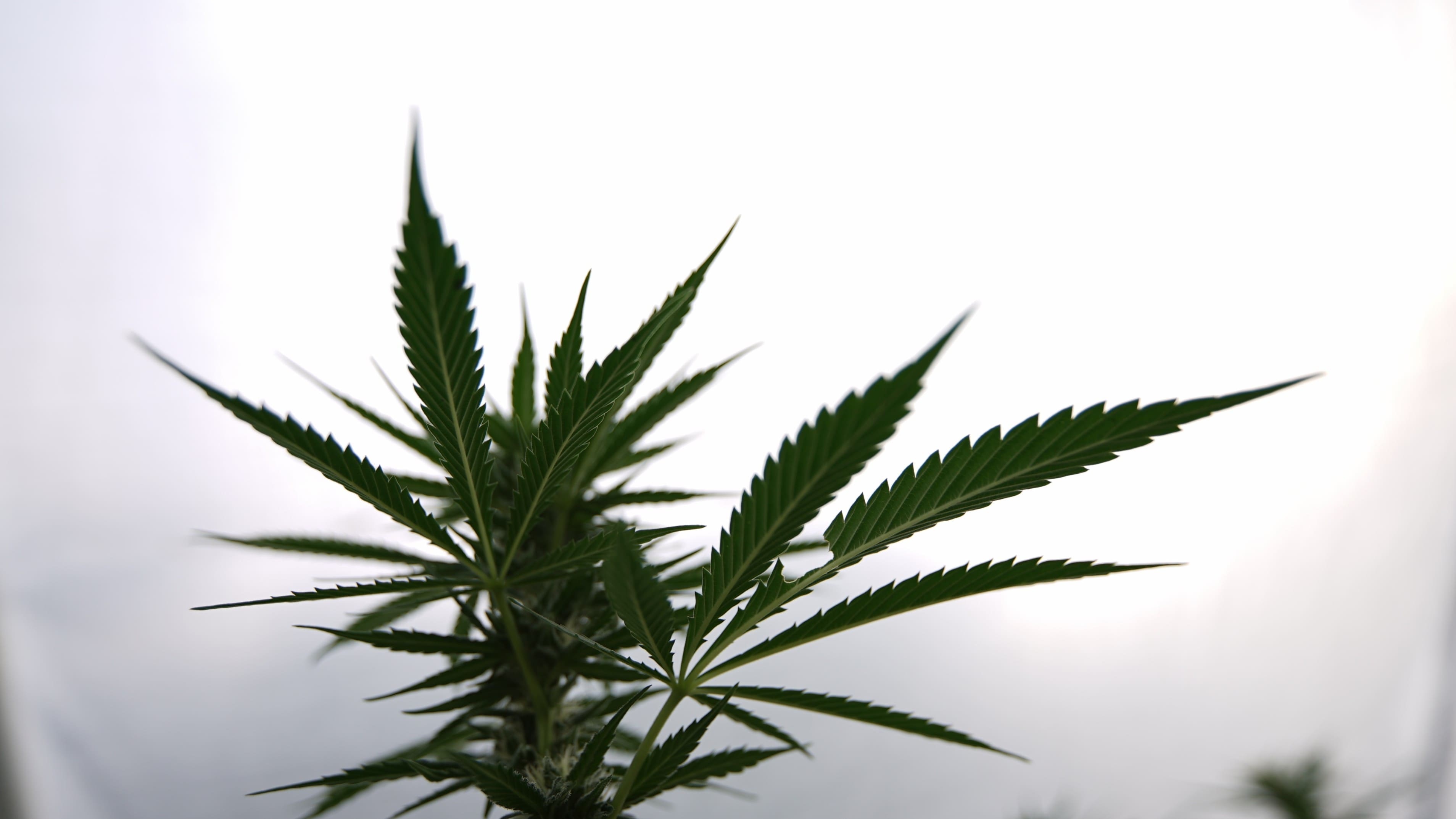 More than a dozen Republican Wisconsin lawmakers announced on Wednesday that they are filing a bill to legalize medical marijuana in the state.
Sen. Mary Felzkowski (R) and Rep. Patrick Snyder (R) are leading the bicameral effort, though advocates are already skeptical considering how the GOP-legislature has historically resisted and blocked cannabis reform. On Tuesday, for example, the Senate passed a bill to increase penalties for people who use butane to extract marijuana resin, and GOP members also shot down an amendment to the measure that would have legalized adult-use cannabis.
The Republican-led medical cannabis legislation is also fairly restrictive, as it prohibits smokable marijuana products and doesn't allow patients to grow cannabis for personal use. Patients could only obtain cannabis preparations in the form of oils, pills, tinctures or topicals.
Wisconsinites deserve another tool in the toolbox as they go through difficult treatment and recovery journeys, look to alleviate their chronic pain, and handle the debilitating effects of PTSD.

— Sen. Mary Felzkowski (@MaryFelzkowski) January 26, 2022
What it would do is allow doctors to issue medical cannabis recommendations to patients with one of eight conditions, including cancer, seizure disorders, post-traumatic stress disorder and multiple sclerosis.
Assembly Speaker Robin Vos has expressed support for medical cannabis reform, and the lead Senate sponsor said at Wednesday's press conference that Majority Leader Devin LeMahieu (R) is "more than willing" to hold a hearing on the proposal.
Under the bill, a medical marijuana regulatory commission would be established through the Department of Revenue to promulgate rules for the program in consultation with a medical cannabis advisory board. The commission could add more qualifying conditions.
Licensed processors would be taxed at a rate of 10 percent for "each wholesale sale in this state of medical marijuana to a licensed dispensary," the text of the bill says. Revenue would go toward a medical marijuana fund to support drug prevention and treatment programs.
—
Marijuana Moment is already tracking more than 1,000 cannabis, psychedelics and drug policy bills in state legislatures and Congress this year. Patreon supporters pledging at least $25/month get access to our interactive maps, charts and hearing calendar so they don't miss any developments.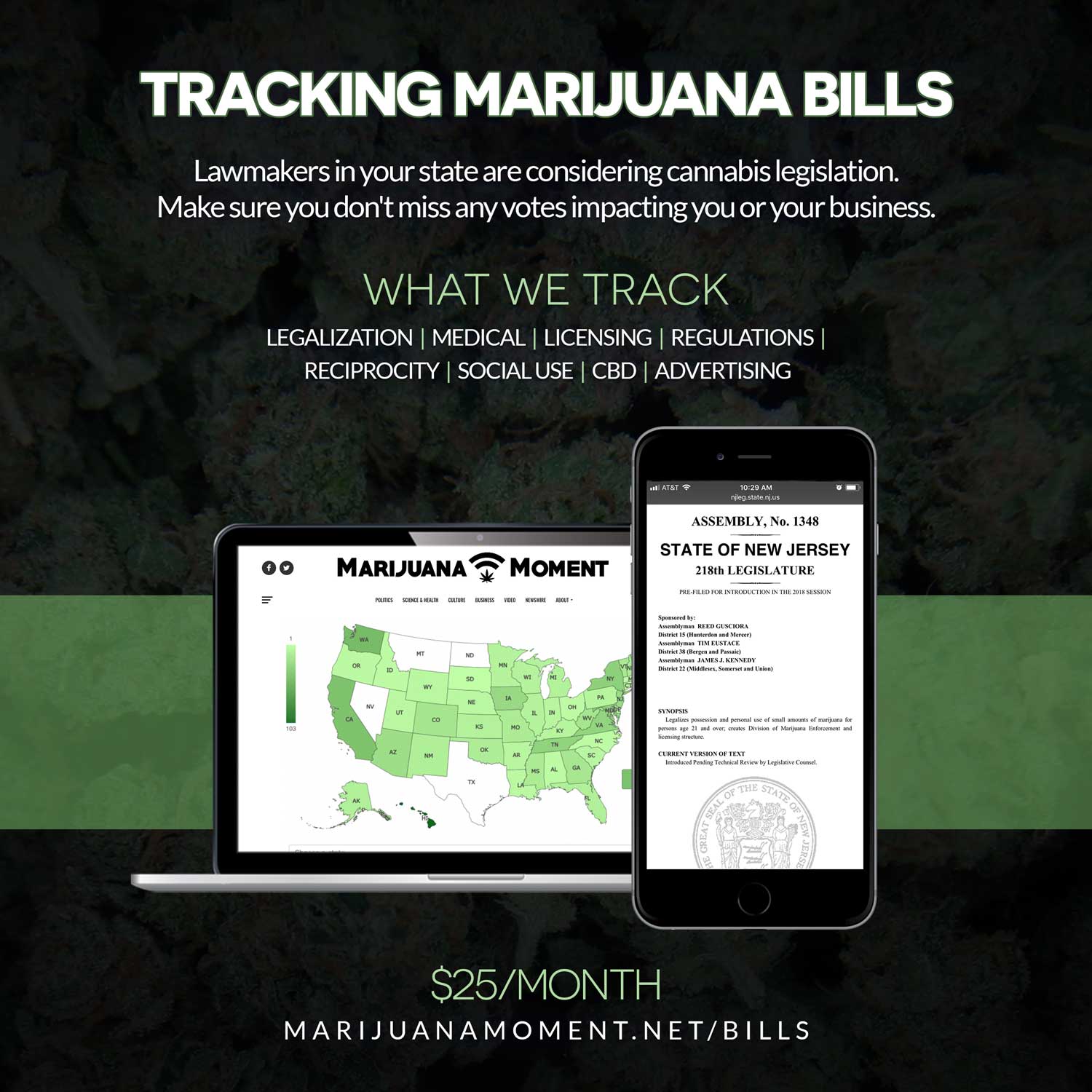 Learn more about our marijuana bill tracker and become a supporter on Patreon to get access.
—
It does not appear that the measure contains equity provisions like expungements that are favored by progressives.
"Currently 36 other states, including our neighbors Michigan, Illinois, and Minnesota, have passed laws allowing patients with certain medical conditions to access medical marijuana if their doctors recommend it," a co-sponsorship memo that Felzkowski and Snyder sent to fellow legislators on Wednesday says. "Medicine is never one-size-fits-all, and it is time for Wisconsin to join the majority of the country in adding another option which may help patients find the relief they need."
The memo also discusses how voters in multiple cities and counties across Wisconsin have strongly approved local, non-binding ballot referendums expressing support for marijuana reform in recent years.
"Wisconsinites who have discussed the positive benefits of using marijuana for medicinal purposes with their primary care physicians are currently forced to endure pain and physical agony, traffic drugs into Wisconsin and become criminals, or be held hostage by the FDA approved pain killers that may alleviate their pain, but come with a host of side effects that diminish quality of life," a summary of the proposal says.
This isn't the only cannabis bill that's up for consideration in the Wisconsin legislature.
Every single Republican voted against taking up my amendment to fully legalize cannabis for responsible, adult usage.

Every. Single. One. https://t.co/jAOk0mZno2

— Senator Melissa Agard (@SenatorAgard) January 25, 2022
In November, a bipartisan pair of legislators introduced a bill to decriminalize low-level marijuana possession. In August, three senators separately filed legislation to legalize cannabis for adult use in the state.
As it stands, marijuana possession is punishable by a maximum $1,000 fine and up to six months in jail for a first offense. People convicted of a subsequent offense would face a felony charge punishable by a maximum $10,000 fine and up to three and a half years in prison.
Gov. Tony Evers (D) tried to legalize recreational and medical marijuana through his proposed state budget last year, but a GOP-led legislative committee stripped the cannabis language from the legislation. Democrats tried to add the provisions back through an amendment the next month, but Republicans blocked the move.
Other Republican lawmakers have filed bills to more modestly decriminalize marijuana possession in the state, but none of those proposals advanced during last year's session.
Evers held a virtual town hall event last year where he discussed his cannabis proposal, emphasizing that polling demonstrates that Wisconsin residents back the policy change.
And in the interim as lawmakers pursue reform, the governor has issued more than 300 pardons during his years in office, primarily to people convicted of non-violent marijuana or other drug offenses.
Colorado Activists File Revised Ballot Initiatives To Legalize Psilocybin And Establish 'Healing Centers'
Photo courtesy of Chris Wallis // Side Pocket Images.
Delaware Lawmakers Approve Marijuana Legalization Bill In Committee Vote
A bill to legalize marijuana in Delaware cleared its first legislative hurdle on Wednesday, advancing out of the House Health and Human Development Committee on a 10-4 vote.
The legislation is sponsored by Rep. Ed Osienski (D), who introduced a similar proposal last year. The Health and Human Development Committee approved last year's measure, too, but it ultimately stalled ahead of an expected floor vote due to disagreements over social equity provisions. At the time, Osienski pledged to bring a revised bill for the 2022 session that could earn broad enough support to pass.
Osienski said at the hearing that the proposal would "create good-paying jobs for Delawareans while striking a blow against the criminal element which profits from the thriving illegal market in our state."
Rep. Paul Baumbach (D), a cosponsor of both the current and past versions of the legalization bill, thanked Osienski for his efforts to tweak and strengthen the bill over time.
"You've listened so much to so many concerns," he said, "and you and the staff have incorporated so many of the best ideas there are for this matter."
Pending signatures, the Marijuana Control Act (HB 305) will be released from the Health Committee.

Appreciate everyone who provided comment on the bill. It's past time to get this done. It's clear the public broadly supports this legislation.

— David Bentz (@DaveBentz) January 26, 2022
One of the few vocal opponents to the bill at Wednesday's hearing was Rep. Charles S. Postles Jr. (R), who said he didn't "believe in either extreme, that of legalization or of excessive punitiveness" and worried that legalization would send a message to kids that cannabis use is safe. "We're talking about the government telling our young people, 'This stuff is fine. Go do it.'"
The bill, HB 305, would allow adults 21 and older to purchase and possess up to one ounce of cannabis, including up to five grams of cannabis concentrates. Growing marijuana at home, as well as home delivery by licensed businesses, would be prohibited.
A marijuana commissioner under the state Division of Alcohol and Tobacco Enforcement would regulate the industry and oversee licensing of retailers, cultivators, manufacturers and laboratories. Licenses would be granted through a scored, competitive process, with advantages given to those who pay workers a living wage, provide health insurance or meet certain other benchmarks.
—
Marijuana Moment is already tracking more than 1,000 cannabis, psychedelics and drug policy bills in state legislatures and Congress this year. Patreon supporters pledging at least $25/month get access to our interactive maps, charts and hearing calendar so they don't miss any developments.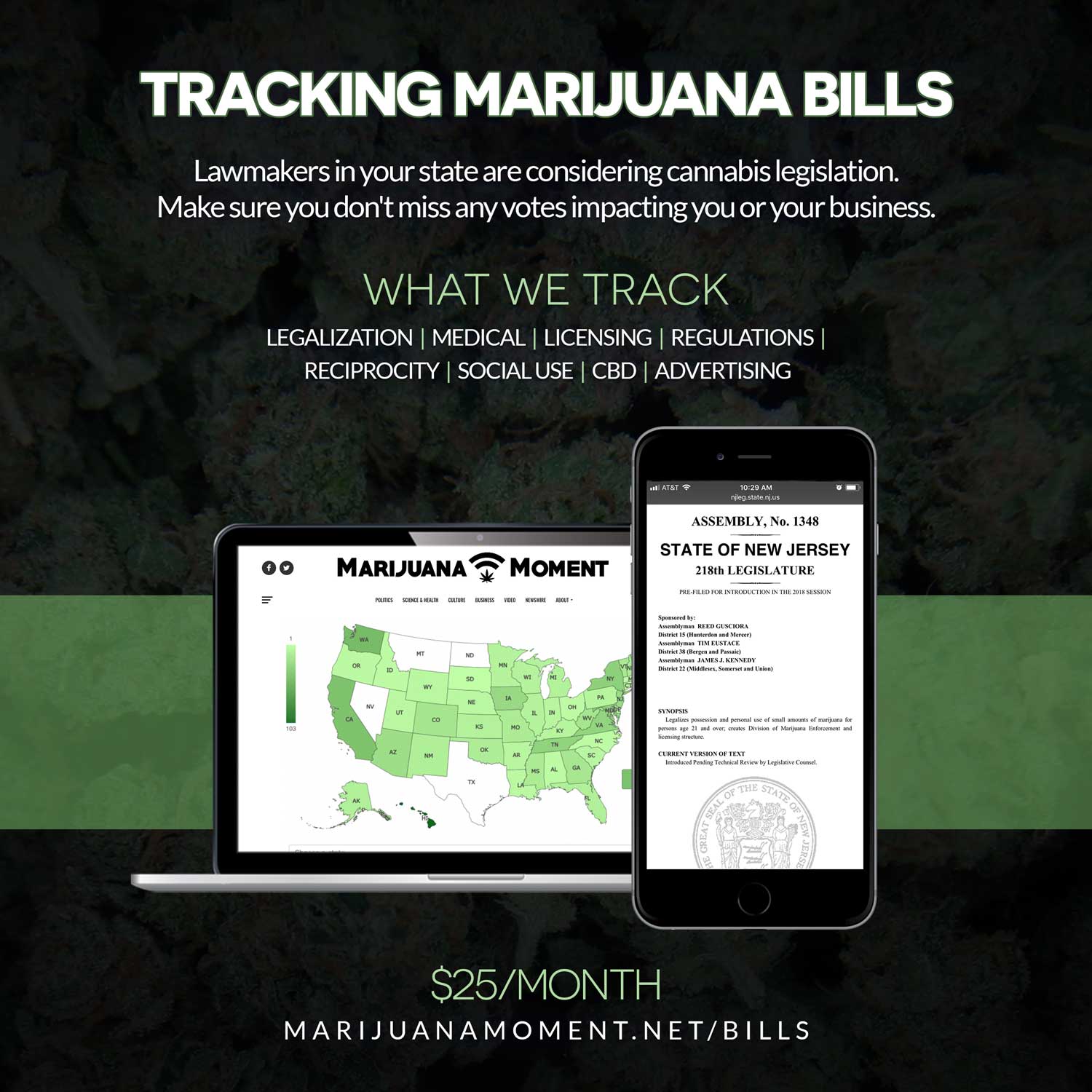 Learn more about our marijuana bill tracker and become a supporter on Patreon to get access.
—
Efforts at social equity are built into the licensing scheme. After 19 months of the bill's enactment, for example, regulators would have to approve 30 retailer licenses, half of which would go to social equity applicants. Social equity applicants—defined as entities majority-owned by people with past cannabis convictions or who live in an area disproportionately impacted by the drug war—would also be allotted one-third of the planned 60 cultivation licenses, one-third of manufacturing licenses and two of five licenses for testing laboratories.
Equity applicants would also qualify for reduced application and licensing fees as well as technical assistance from the state.
Retail sales of cannabis would be subject to a 15 percent excise tax, which would not be applied to medical marijuana products.
Of the tax revenue, 7 percent would go to a new Justice Reinvestment Fund, which would support grants, services and other initiatives that focus on issues such as jail diversion, workforce development and technical assistance for people in communities that are economically disadvantaged and disproportionately impacted by the drug war. The money would also be used to help facilitate expungements, according to a summary from the advocacy group Marijuana Policy Project (MPP).
When Osienski's earlier bill was being considered last year, a similar equity fund provision was included, and the sponsor said he was caught off guard when he was informed that its inclusion meant the bill would require 75 percent of legislators in the chamber to approve it.
Osienski attempted to address the problem through an amendment, but some members of the Black Caucus opposed the changes, and the measure failed.
The current bill will still require a supermajority threshold to pass, but a smaller one of 60 percent.
Osienski has worked with the Black Caucus in the ensuing months to build support and move toward more passable legislation. And a clear sign of the progress is that Reps. Rae Moore (D) and Nnamdi Chukwuocha (D) have already signed on as cosponsors to the new bill after pulling their support for the 2021 version over equity concerns.
Chukwoucha said at Wednesday's hearing that he believed past versions of the bill fell short on addressing past injustice against people of color. The current version, he said, does better.
"We spoke about the harms in communities and [how] individuals who look like me are four times more likely to be arrested for marijuana offenses, but we didn't really see redress in the bill," Chukwoucha said. He thanked Osienski for working with stakeholders to address those concerns.
In 2019, Osienski was the chief sponsor of a legalization bill that cleared a House committee but did not advance through the full chamber. That bill would have allowed medical cannabis dispensaries to begin selling marijuana to adults 21 and older while the rest of the adult-use industry was still preparing to launch, a provision that was removed from later versions.
Four of the state's six medical marijuana companies came out publicly against that change and testified in opposition to last year's bill. In response, Delaware activists mounted a boycott against those operators.
During public testimony on Wednesday, a representative from a subsidiary of one multi-state dispensary operator, Columbia Care, said the group supports the bill.
Representatives from various state agencies, meanwhile, raised worries about some of the bill's provisions and encouraged changes to the plan. The Department of Health and Social Services, for example, urged investment in substance use disorder treatment programs and public awareness campaigns about the risks of cannabis use. A Department of Agriculture representative called for outdoor cannabis cultivation to be forbidden, among other changes.
The Department of Finance, meanwhile, said that while the bill addressed some of the department's past concerns, it would nevertheless create problems for administrators handling tax collection and other transactions, especially because much of the cannabis industry relies on cash.
Osienski said at the beginning of the hearing that he was expecting the agency pushback after Gov. John Carney's (D) office sent him a list of concerns on Tuesday afternoon. "I want to reassure you that we have met in the past with these agencies," he said, "and we will continue to meet with them to address these concerns."
Advocates cheered the decision to advance the bill.
"The House Human Development committee's approval of HB 305 today is the first step towards bringing equitable legalization to the state this year," Olivia Naugle, senior policy analyst for Marijuana Policy Project, told Marijuana Moment on Wednesday. "Delaware has the opportunity to join 18 other states and DC that have legalized cannabis for adults—including their neighbor, New Jersey. It is past time for the legislature to listen to their constituents and meet the moment."
Several modest amendments that were filed when last year's bill was being considered have been incorporated into the new measure. Those include provisions related to quality control standardization, accreditation for marijuana testing facilities and packaging and labeling requirements.
Portions of the bill on expungements were also removed, as they were made redundant by the enactment of separate legislation last year.
Individual municipalities would be able to establish their own regulations for marijuana business operating times and locations, and they would also be able to ban cannabis companies altogether from their jurisdiction.
As supportive lawmakers work to push the bill through the legislature, they also face the challenge of winning over Carney, one of the rare Democratic governors who remain opposed to legalization.
Despite his wariness about adult-use legalization, Carney did sign two pieces of marijuana expungement legislation in recent years. In 2017 and 2018, a state task force met to discuss issues related to legalization, and the governor hosted a series of roundtable meetings about cannabis.
A legalization bill previously received majority support on the House floor in 2018, but it failed to receive the supermajority needed to pass.
Carney's predecessor approved a measure to decriminalize simple possession of cannabis in 2015.
An analysis from State Auditor Kathy McGuiness (D) released last year found that Delaware could generate upwards of $43 million annually in revenue from regulating marijuana and imposing a 20 percent excise tax. The legal market could also create more than 1,000 new jobs over five years if the policy is enacted, according to the report.
Amazon Endorses GOP-Led Bill To Federally Legalize Marijuana
Colorado Activists File Revised Ballot Initiatives To Legalize Psilocybin And Establish 'Healing Centers'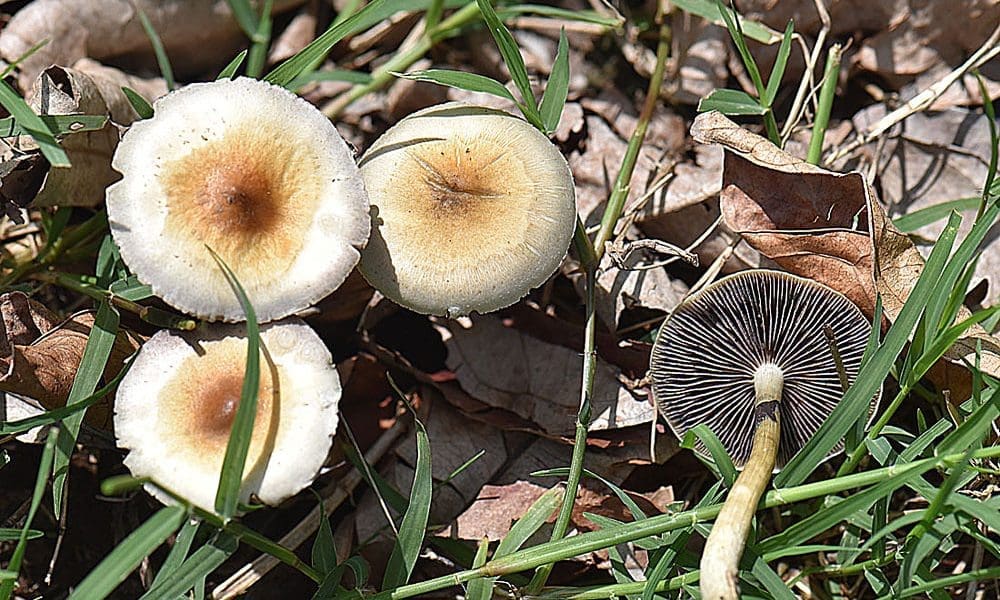 Colorado activists have filed revised versions of a pair of 2022 ballot initiatives to legalize psilocybin and create licensed "healing centers" where people can use the psychedelic for therapeutic purposes. The move comes as state lawmakers have introduced a separate bill to require a study into the efficacy of plant-based psychedelics.
The ballot measures—filed by Kevin Matthews, the campaign manager behind Denver's historic 2019 vote to locally decriminalize psilocybin and entrepreneur Veronica Perez—are similar to earlier versions the advocates filed with the secretary of state's office last month, with a few key changes concerning the rollout of the reform, promoting equity and possession limits.
For the original initiatives, the campaign was considering two options: one would have legalized a wide range of entheogenic substances including DMT, ibogaine and mescaline, as well as establish a regulatory model for psychedelics therapy. The other would have initially enacted the reform for psilocybin and psilocin alone.
But recognizing that regulators would be faced with an onerous task to set up rules for multiple psychedelics, activists decided to take a different approach with the new measures. For both, there would be a two-tiered regulatory model, where only psilocybin would be legalized and regulated for therapeutic use until June 2026, after which point regulators could expand the policy change to include other psychedelics that are listed in the proposal.
"We really wanted to make sure that the administration had time to set up a proper regulatory structure—first for psilocybin and then for any further natural medicines," Rick Ridder of RBI Strategies, a spokesperson for the campaign, told Marijuana Moment on Monday.
The decision to add additional psychedelics to the program would be made by the Department of Regulatory Agencies in consultation with a Natural Medicine Advisory Board that would be established. The board would be comprised of 15 members, including people who have experience with psychedelic medicine in a scientific and religious context.
Another major change from the prior versions is that the revised initiatives do not contain explicit "allowable" possession limits—a provision that had garnered pushback from certain Colorado activists when the original measures were filed.
And unlike the last two versions of the initiatives, these new measures also include specific provisions meant to "ensure the regulatory access program is equitable and inclusive and to promote the licensing of and the provision of natural medicine services" for people who have been disproportionately impacted by drug criminalization, who face challenges accessing health care, have "traditional or indigenous history with natural medicines" and military veterans.
Those rules could involve, but are not limited to, reduced licensing fees, reduced costs for low-income people and an annual review of "the effectiveness of such policies and programs."
"I think what this is is a giant step forward for mental health treatment in the state of Colorado," Ridder said. "As we've looked at the results of research throughout the world, we're seeing very promising data related to particularly healthy people with PTSD, with suicidal tendencies and end-of-life. And this is just an opportunity to bring that kind of natural medicine and medicinal help to citizens here in Colorado."
The two new initiatives are nearly identical to each other, except that one contains a component specifically authorizing people to petition courts for record sealing for past convictions that would be made legal under the proposal.
Under the proposals, the Department of Regulatory Agencies would be responsible for developing rules for a therapeutic psychedelics program where adults 21 and older could visit a licensed "healing center" to receive treatment under the guidance of a trained facilitator.
This latest filing comes more than two years after Denver became the first city in the U.S. to decriminalize psilocybin mushrooms. Various activists, including those involved in the 2019 campaign, have signaled interest in building upon the reform.
The initiatives must still be assigned an official ballot title and summary from the state before they're approved to begin signature gathering. The measures are scheduled to receive a review and comment hearing on February 3. If approved by state officials, activists will choose one of the measures to pursue and will then need to collect 124,632 valid signatures from registered voters to achieve ballot access.
The Colorado ballot initiatives seek to accomplish something similar to what California activists are actively pursuing. California advocates are in the process of collecting signatures for a ballot initiative to legalize psilocybin mushrooms in the state.
Meanwhile, in Colorado, Sen. Joann Ginal (D) and Rep. Alex Valdez (D) filed a modest bill last week to create a one-year plant-based medicine policy review panel that would be tasked with studying the "use of plant-based medicines to support mental health," according to a summary. The ballot campaign is not affiliated with that legislative effort.
—
Marijuana Moment is already tracking more than 1,000 cannabis, psychedelics and drug policy bills in state legislatures and Congress this year. Patreon supporters pledging at least $25/month get access to our interactive maps, charts and hearing calendar so they don't miss any developments.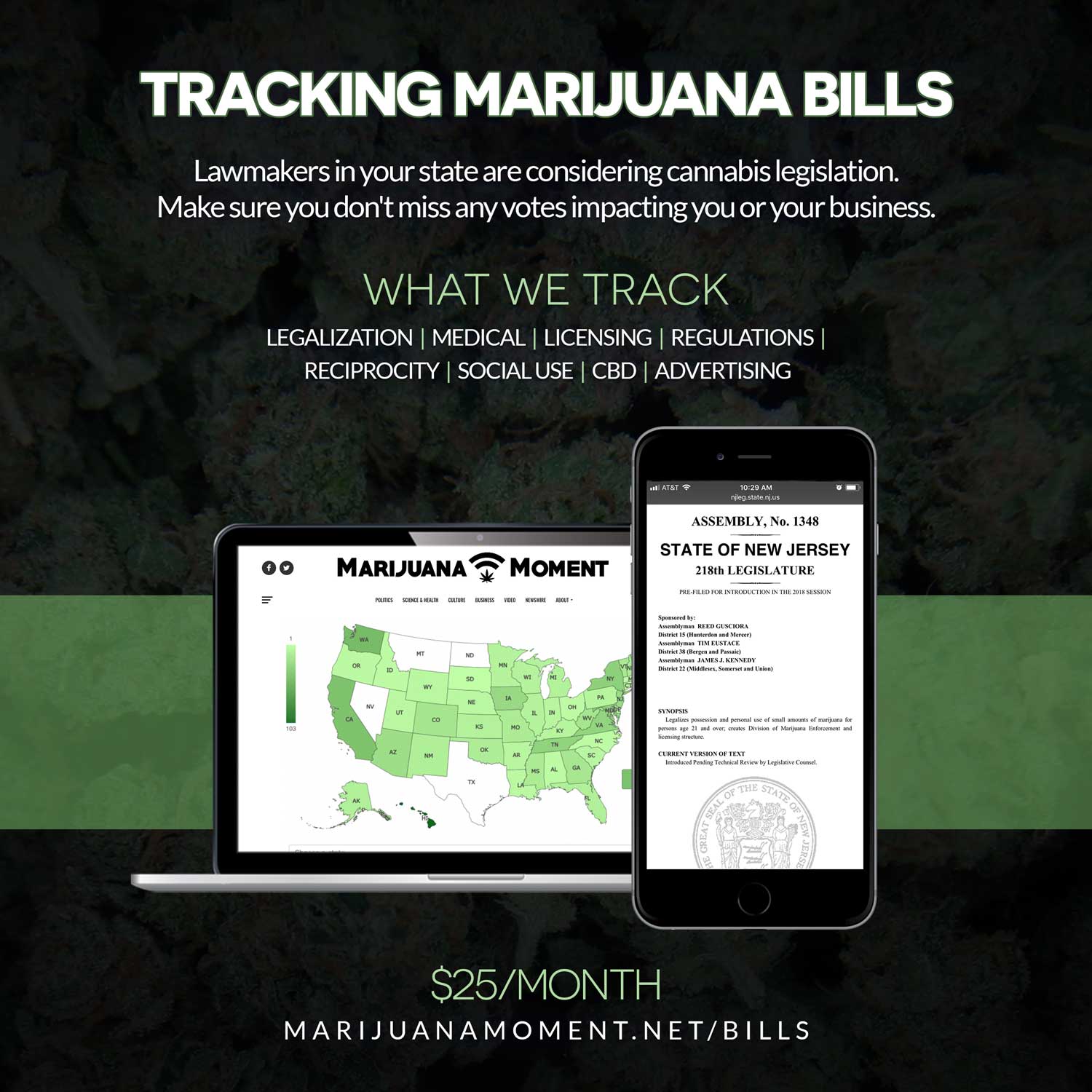 Learn more about our marijuana bill tracker and become a supporter on Patreon to get access.
—
"The policy review panel shall submit a report on its findings and policy recommendations to the House of Representatives Public and Behavioral Health and Human Services Committee and the Senate Health and Human Services Committee, or any successor committees; the governor; and the Department of Human Services," it says.
Meanwhile, legislative efforts to enact psychedelics reform are also underway in other states across the country.
For example, a bill to decriminalize a wide array of psychedelics in Virginia was taken up by a House of Delegates panel on Monday, only to be pushed off until 2023. But there's still a separate but similar reform proposal that's pending in the Senate.
Two Republican Oklahoma lawmakers recently filed bills meant to promote research into the therapeutic potential of psilocybin, and one of the measures would further decriminalize low-level possession of the psychedelic.
A GOP Utah lawmaker also introduced a bill last week that would set up a task force to study and make recommendations on the therapeutic potential of psychedelic drugs and possible regulations for their lawful use.
In Kansas, A lawmaker also recently filed a bill to legalize the low-level possession and cultivation of psilocybin mushrooms.
A Republican Missouri lawmaker introduced a bill this month to give residents with serious illnesses legal access to a range of psychedelic drugs like psilocybin, ibogaine and LSD  through an expanded version of the state's existing right-to-try law.
California Sen. Scott Wiener (D) told Marijuana Moment in a recent interview that his bill to legalize psychedelics possession stands a 50/50 chance of reaching the governor's desk this year. It already cleared the full Senate and two Assembly committees during the first half of the two-year session.
In Michigan, a pair of state senators introduced a bill in September to legalize the possession, cultivation and delivery of various plant- and fungi-derived psychedelics like psilocybin and mescaline.
Washington State lawmakers also introduced legislation this month that would legalize what the bill calls "supported psilocybin experiences" by adults 21 and older.
In Vermont, a broad coalition of lawmakers representing nearly a third of the House introduced a bill to decriminalize drug possession.
New Hampshire lawmakers filed measures to decriminalize psilocybin and all drugs.
Last year, the governor of Connecticut signed legislation that includes language requiring the state to carry out a study into the therapeutic potential of psilocybin mushrooms.
At the congressional level, bipartisan lawmakers sent a letter to the Drug Enforcement Administration (DEA) this month, urging that the agency allow terminally ill patients to use psilocybin as an investigational treatment without the fear of federal prosecution.
Virginia House Committee Pushes Back Psychedelics Decriminalization Bill Until 2023, But Senate Proposal Still Pending
Photo courtesy of Dick Culbert.