VA Continues To Oppose Marijuana Research Bill For Military Veterans Under Biden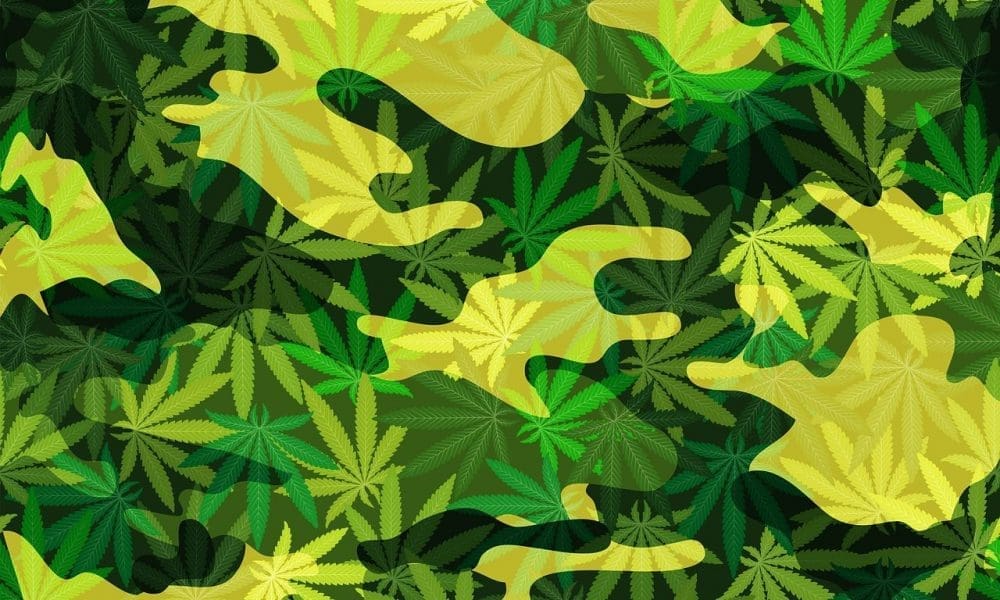 A Senate committee on Wednesday held a hearing on a bill to require the U.S. Department of Veterans Affairs (VA) to conduct clinical trials into the therapeutic potential of marijuana for military veterans with PTSD and chronic pain—but a VA representative said that the Biden administration is opposed to the reform.
The Senate Veterans' Affairs Committee discussed the cannabis proposal, sponsored by Chairman Jon Tester (D-MT) and Sen. Dan Sullivan (R-AK), at the hearing, along with 20 other veterans-related bills.
While VA officials gave the agency's perspective on most of the other bills listed at the hearing, they did not orally weigh in on the marijuana measure. Instead, VA offered written testimony in opposition to the proposal.
Despite bipartisan support for giving veterans access to alternative treatment options like cannabis, VA Acting Deputy Under Secretary of Health for Community Care Mark Upton said plainly that the agency "does not support this proposed legislation."
VA isn't necessarily opposing cannabis research for veterans overall, but it argued that the proposed legislation is unnecessary because it is "already dedicating resources and research expertise to study the effects of cannabis on conditions affecting veterans."
The testimony states that "the proposed legislation is redundant to the extent that VA is already examining risks and benefits of cannabis in treating PTSD and chronic pain" and is "not consistent with VA's practice of ensuring scientific merit as the basis for a randomized clinical trial."
VA took particular issue with a provision included in the measure that would require it to study "at least seven types of cannabis and their effects on symptoms of PSTD and chronic pain."
Upton, who was appointed to the role under the Trump administration in 2020 but continues to serve under President Joe Biden, said that directive "is not consistent with the current state of scientific evidence, which suggests that smaller, early phase, controlled clinical trials with a focused set of specific aims are optimal to determine proof of concept for use of cannabis in treating specific conditions."
"VA has and continues to examine the current clinical evidence regarding use of marijuana for medical purposes and agrees that more research is needed," he wrote. "VA has utilized the scientific peer review system and is currently supporting a clinical trial of CBD to treat PTSD where CBD is used as an add-on treatment to standard of care psychotherapy. The results from this study should be available next year."
The cannabis measure that was under consideration at the hearing explicitly requires that VA conduct a series of clinical trials—rather than just one trial as would have been the case under an earlier version was introduced last Congress—and also sets out specific guidelines for researching the effects of several marijuana varieties with various THC and CBD concentrations.
Tester, the committee chairman and the bill's sponsor, said in opening remarks that the measure "expands research on alternative treatments for veterans who suffer from the seen and unseen wounds of war."
"A survey conducted by the American Legion tells us 22 percent of veterans who responded already use cannabis to treat a medical condition," he said. "Our bill will help the VA get the necessary data to fully evaluate this treatment and educate veterans on the outcomes of using medicinal cannabis to treat certain conditions."
Upton's written testimony argues that "the scientific peer review system would not favor simultaneously studying seven variants of cannabis and their effects on varying diagnoses without first demonstrating a specific rationale for each of the queries."
"Progress in cannabis research must start with a scientific query of what is already known for specific diagnostic categories of interest, then moving to next level clinical investigation," Upton said.
"VA has a history of scientifically driven research and high-quality clinical trials that have advanced Veterans' and the Nation's health care. VA's Office of Research and Development regularly funds clinical trials approved through its expert peer review system, which evaluates studies for scientific merit based upon the rationale, design and feasibility of the study proposal. Such trials already include medical uses of cannabis for conditions that impact Veterans."
At a 2019 House hearing, VA officials under Trump came out against a series of cannabis bills, including the prior version of the one before the Senate panel on Wednesday.
The VA secretary "shall carry out a series of clinical trials on the effects of medical-grade cannabis on the health outcomes of covered veterans diagnosed with chronic pain and covered veterans diagnosed with post-traumatic stress disorder," the text of the current bill states. It lists "required elements" of the trials as well as "optional elements" the department could add.
When it comes to the chronic pain trials, the agency would have to look at the impact of marijuana consumption on osteopathic pain, opioid use and dosage, benzodiazepine use and dosage, alcohol use, inflammation, sleep quality, agitation and quality of life.
For the PTSD-specific studies, VA would examine the extent to which cannabis affects basic symptoms of the condition, the use and dosage of benzodiazepines, alcohol use, mood, anxiety, social functioning, agitation, suicidal ideation and sleep quality.
At 3pm the @SVACDems @SVACGOP will hold a hearing on many IAVA backed bills including the VA Medicinal Cannabis Research Act of 2021 ( S.1467 ). Tune in below and tell Congress they need to pass this important piece of legislation: 👇https://t.co/Xls736HIKs #CannabisForVets https://t.co/Grikh741Nv

— IAVA (@iava) June 23, 2021
Optionally, the clinical trials "may include an evaluation of the effects of the use of cannabis to treat chronic pain and post-traumatic stress disorder on" pulmonary function, cardiovascular events, various forms of cancer, intestinal inflammation, motor vehicle accidents, mania, psychosis, cannabinoid hypermesis syndrome, neuropathy or spasticity.
The bill further details specific methodological standards of the clinical trials that would be required. It would, for example, mandate that researchers use "not fewer than seven unique plant cultivars" with specific ratios of THC and CBD. That previous version of the bill in the last Congress only required three different marijuana strains.
The trials will involve "whole plant raw material and extracts." However, the measure no longer stipulates that "varying methods of cannabis delivery, including combustible and non-combustible inhalation and ingestion" would have to be used as would have been the case under the last version.
Veterans groups voiced support for the cannabis research bill during a second panel at Wednesday's hearing.
Disabled American Veterans (DAV) said in written testimony to the Senate committee that the organization supports "more comprehensive and scientifically rigorous research by the VA into the therapeutic benefits and risks of cannabis and cannabis-derived products as a possible treatment for service-connected disabled veterans."
The American Legion, meanwhile, said it "supports efforts to enhance medical cannabis research, urges Congress to remove cannabis from the Schedule I controlled substance list, and believes the DEA should license privately funded medical marijuana production operations in the U.S."
"Any medical cannabis research legislation should take into consideration clinical trials that track the developing of symptoms related to Cannabis Use Disorder. Enabling safe and efficient cannabis drug development research is vital to providing innovative evidence-based, complementary, and alternative medicine to veterans in the treatment of chronic pain and mental health disorders. It is imperative that VA continue to explore alternative treatments to ensure those suffering from PTSD and chronic pain are provided the best possible care."
Reps. Lou Correa (D-CA) and Peter Meijer (R-MI) are sponsoring the House companion version of Tester and Sullivan's bill.
Last year, the House Veterans' Affairs Committee approved the prior version of the VA Medical Cannabis Research Act, as well as a separate proposal to allow VA doctors to issue medical cannabis recommendations to their patients in states where it's legal, but they did not advance to the floor.
The Senate under GOP control did not move any standalone marijuana bills in the last session, but with Democrats now in charge of both chambers and the White House, there's renewed optimism that modest reforms like this latest measure stand a solid chance of becoming law.
In April, a bipartisan coalition of congressional lawmakers reintroduced bills that would federally legalize medical cannabis for military veterans.
Rep. Greg Steube (R-FL) in January introduced a proposal aimed at ensuring that military veterans aren't penalized for using medical cannabis in compliance with state law. It would also codify that VA doctors are allowed to discuss the risks and benefits of marijuana with their patients.
VA doctors are currently permitted to discuss cannabis with patients and document their usage in medical records, and those veteran patients are already shielded by agency policy from losing their benefits for marijuana use—but the bill would enshrine those policies into federal statute so they could not be administratively changed in the future.
Meanwhile, congressional leaders are working to end federal marijuana prohibition altogether.
Advocates are pushing for a vote on a federal legalization bill from House Judiciary Committee Chairman Jerrold Nadler (D-NY) to take place this month.
Senate Majority Leader Chuck Schumer (D-NY) is also in the process of drafting a bill to end federal cannabis prohibition, which he's repeatedly said would be introduced "soon." Senate Finance Committee Chairman Ron Wyden (D-OR), who is also working the bill alongside Schumer and Sen. Cory Booker (D-NJ), said to expect a filing "very soon."
Read VA's written testimony on the marijuana research bill for veterans below:
VA Marijuana Research Testi… by Marijuana Moment
Congressional Democrats Defy Biden By Scrapping D.C. Marijuana Sales Ban