VA Admits It "Can Look At Marijuana As An Option For Treating Veterans"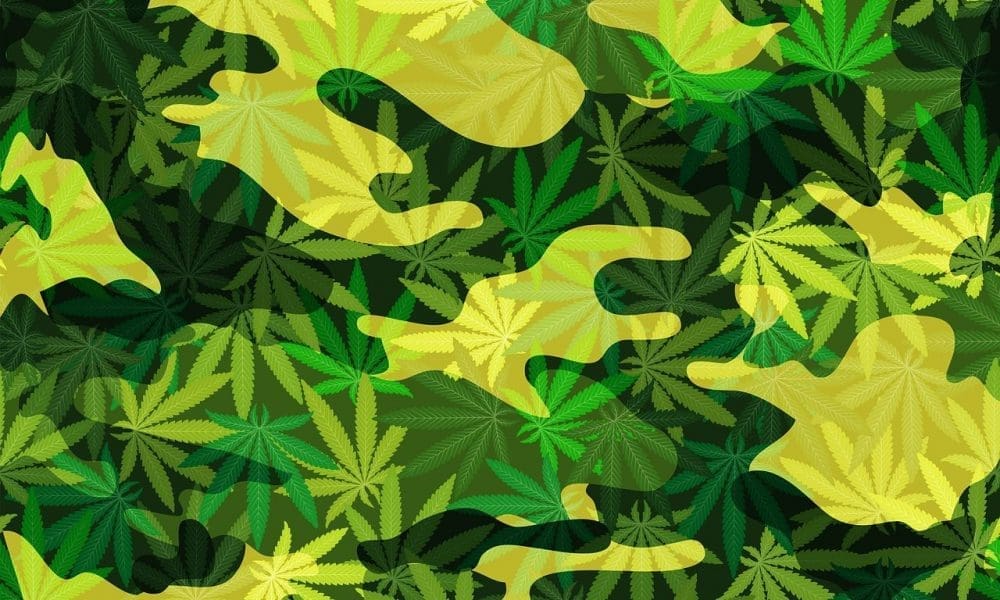 Despite repeated claims to the contrary, the U.S. Department of Veterans Affairs (VA) is now admitting that it "can look at marijuana as an option for treating Veterans."
The stance, which comes in the form of new content uploaded to a VA webpage last week, contrasts with a letter that Veterans Affairs Sec. David Shulkin sent to members of Congress in December, less than two months ago.
"Federal law restricts VA's ability to conduct research involving medical marijuana, or to refer veterans to such projects," he claimed at the time.
There have been no changes to federal cannabis laws in the interim.
The VA Office of Research & Development's webpage on Post-Traumatic Stress Disorder (PTSD) now says that earlier research on medical cannabis "found limited evidence that marijuana use might alleviate neuropathic pain in some patients, and that it might reduce spasticity associated with multiple sclerosis, but found insufficient evidence to assess the effects of marijuana on PTSD."
"VA is not currently able to prescribe medical marijuana to Veterans," it continues, "but can look at marijuana as an option for treating Veterans."
A cached previous version of the same page doesn't mention marijuana at all.
The update to the webpage comes as Shulkin and the department are under increasing pressure on medical cannabis and completely unrelated issues.
A group of members of Congress are pushing the VA to allow its physicians to recommend medical cannabis, or at least to refer veterans to studies on the drug's potential.
And a VA inspector general's report released last week found that Shulkin made "serious derelictions" that resulted in improper use of taxpayer money to cover portions of an overseas trip he and his wife took to Denmark and the UK last year.
The report, which included portions of Shulkin's travel agenda, happened to reveal that on July 19 he met with British officials to discuss medical cannabis as part of the trip.
Under an internal VA administrative directive, the department's policy is that its "providers are prohibited from recommending, making referrals to or completing paperwork for Veteran participation in State marijuana programs."
Shulkin has repeatedly tried to pass the buck to Congress when asked about the issue.
During a White House briefing last year, for example, he said that state medical cannabis laws may be providing "some evidence that this is beginning to be helpful, and we're interested in looking at that and learning from that." But he added that "until time the federal law changes, we are not able to be able to prescribe medical marijuana for conditions that may be helpful."
The distinction between recommendation and prescription is an important one. No physician in the U.S. — government or private — can prescribe marijuana, because prescription is a federally-regulated process and cannabis currently falls under the Controlled Substances Act's restrictive Schedule I, a category that is supposed to be reserved for drugs with a high potential for abuse and no medical value.
That's why the 29 states with medical cannabis access allow doctors to simply recommend the drug, circumventing the prescription process.
Shulkin has the unilateral authority to rescind the internal ban and clear the way for VA doctors to recommend medical cannabis to veterans in states where it is legal, but he has repeatedly claimed that federal law — without citing a particular statute — blocks him from doing so.
The secretary's unwillingness to move on marijuana goes beyond just letting doctors who work for him recommend it. He has also thus far refused to help lift institutional roadblocks preventing the department from participating in scientific research on cannabis's uses.
In an interview last year, he said that it is "not within our legal scope to study that in formal research programs."
That position has led to recruitment issues for researchers conducting trials. For example, one such study on marijuana's effects on PTSD has been prevented from reaching veterans at the Phoenix, Arizona VA hospital.
"This study needs 50 more participants and the Phoenix V.A. is in the best possible position to assist by simply allowing principle investigators to brief [VA] medical staff on the progress of the study, and by allowing clinicians to reveal the existence of the study to potential participants," the American Legion, which represents more than 2.4 million military veterans, wrote to Shulkin in September. "Your immediate attention in this important matter is greatly appreciated. We ask for your direct involvement to ensure this critical research is fully enabled."
And John Hudak, a researcher with the Brookings Institution said that despite Shulkin's claims, "doctors and researchers at the VA or in VA hospitals could conduct research into the medical efficacy of marijuana while remaining completely compliant with federal laws, regulations, and the United States' obligations under international agreements."
In December, VA issued an updated policy offers physicians greater encouragement to discuss cannabis with their patients.
The new directive urges government doctors to "discuss with the Veteran marijuana use, due to its clinical relevance to patient care, and discuss marijuana use with any Veterans requesting information about marijuana."
But it maintains the longstanding departmental ban on physician recommendations.
V.A. Issues New Medical Marijuana Policy For Military Veterans
The new website language, however, and the revelation that Shulkin discussed the issue on his overseas trip, shows that VA's opposition to cannabis is not necessarily set in stone, at least when it comes to research, though the implications aren't immediately clear.
"No other arguments have worked in the past so this may be a breakthrough," Sue Sisley, the researcher running the Arizona PTSD trial, told Marijuana Moment in an interview, referring to the webpage update. "VA can definitely be more helpful if they wanted to. There is nothing blocking them."
Hemp Legalization Is Officially Headed to President Trump's Desk For Signature
The 2018 Farm Bill, which would legalize industrial hemp, is officially headed to President Donald Trump's desk. The House passed the legislation on Wednesday, one day after the Senate approved it.
It's been decades since the ban on hemp was imposed—a byproduct of the federal government's war on marijuana and other drugs. The ban, it seems, will be lifted in a matter of days.
The House passed the bill, 369-47.
The votes come after months of debate over other aspects of the wide-ranging agriculture bill. But the hemp legalization provision, shepherded by Senate Majority Leader Mitch McConnell (R-KY), has received bipartisan support at every step of the legislative process.
Hemp legalization made it through a conference committee where the Senate and House Agriculture Committees reconciled their respective versions of the bill. McConnell marked the occasion this week by signing the conference report with a hemp pen, which he said on Wednesday that the president was free to use to sign the bill into law.
The hemp provision would allow U.S. farmers to grow, process and sell the crop. The Justice Department would no longer have jurisdiction over hemp under the legislation; rather, the U.S. Department of Agriculture would lightly regulate it.
One element of the hemp language created tension between lawmakers and advocates. The original Senate-passed bill prohibited people with felony drug convictions from participating in the hemp industry, but a compromise was reached last week that limited that ban in the final version to 10 years after the last offense.
House Democrats in the Agriculture Committee listed hemp legalization as one of several reasons they were calling for a "yes" vote on the legislation.
The farm bill conference report legalizes industrial hemp. pic.twitter.com/2u5xxtKwaS

— House Agriculture Committee Democrats (@HouseAgDems) December 12, 2018
According to VoteHemp, if the president signs the bill before the year's end, it will take effect on January 1, 2019.
Mitch McConnell Says Trump Can Borrow His Hemp Pen To Sign Farm Bill Into Law
Marijuana Industry Border Issues Would Be Solved Under New Congressional Bill
Marijuana can really mess up border and immigration issues for people who partake in consumption or participate in the industry, but that would change if a new bill being introduced in Congress this week is enacted.
Under current U.S. laws, people who admit to past cannabis use or who work for or invest in marijuana businesses can be barred from visiting the country under certain circumstances. And marijuana consumption, even if it is legal under state law, can lead to an immigrant being deported.
The new legislation, the Maintaining Appropriate Protections For Legal Entry Act, would provide exceptions for conduct that "was lawful in the State, Indian Tribe, or foreign country in which the conduct occurred" or that was "subsequently made lawful under the law or regulation of such jurisdiction," according to a draft obtained by Marijuana Moment.
The bill, known as the MAPLE Act for short—surely a nod to the leaf on Canada's flag—is being filed on Wednesday by Rep. Earl Blumenauer (D-OR).
U.S. border policies on entry by marijuana industry participants were slightly loosened just ahead of the launch of Canada's legal marijuana market in October to clarify that people working for cannabis businesses are generally admissible to the U.S., with the caveat that "if a traveler is found to be coming to the U.S. for reason related to the marijuana industry, they may be deemed inadmissible."
And that's a key exception. Several Canadians traveling to a cannabis industry conference in Las Vegas last month were detained for hours, with one investor being given a lifetime ban from visiting the U.S.
While there is almost certainly not enough time for Blumenauer's proposal to be considered and voted on by the end of the year, its language could easily be adopted into new legislation after the 116th Congress is seated in January.
In October, the congressman laid out a plan for a step-by-step approach to federally legalizing marijuana in 2019 in a memo to fellow House Democrats.
Marijuana Moment supporters on Patreon can read the full text of the new MAPLE Act below:
Chicago Mayor Wants Legal Marijuana Revenue To Fund Pensions
Tax revenue from legal marijuana sales should be earmarked to fund pension programs, the mayor of Chicago said on Wednesday.
"Illinois legislators will be taking a serious look next year at legalizing recreational marijuana," Mayor Rahm Emanuel (D) said in a speech to the City Council. "Should they follow that course, a portion of that revenue could go toward strengthening our pension funds and securing the retirement of the workers who depend on them."
Please visit Forbes to read the rest of this piece.
(Marijuana Moment's editor provides some content to Forbes via a temporary exclusive publishing license arrangement.)
Photo courtesy of Daniel X. O'Neil.