USDA Touts Hemp Industry's Growth But Says Challenges Remain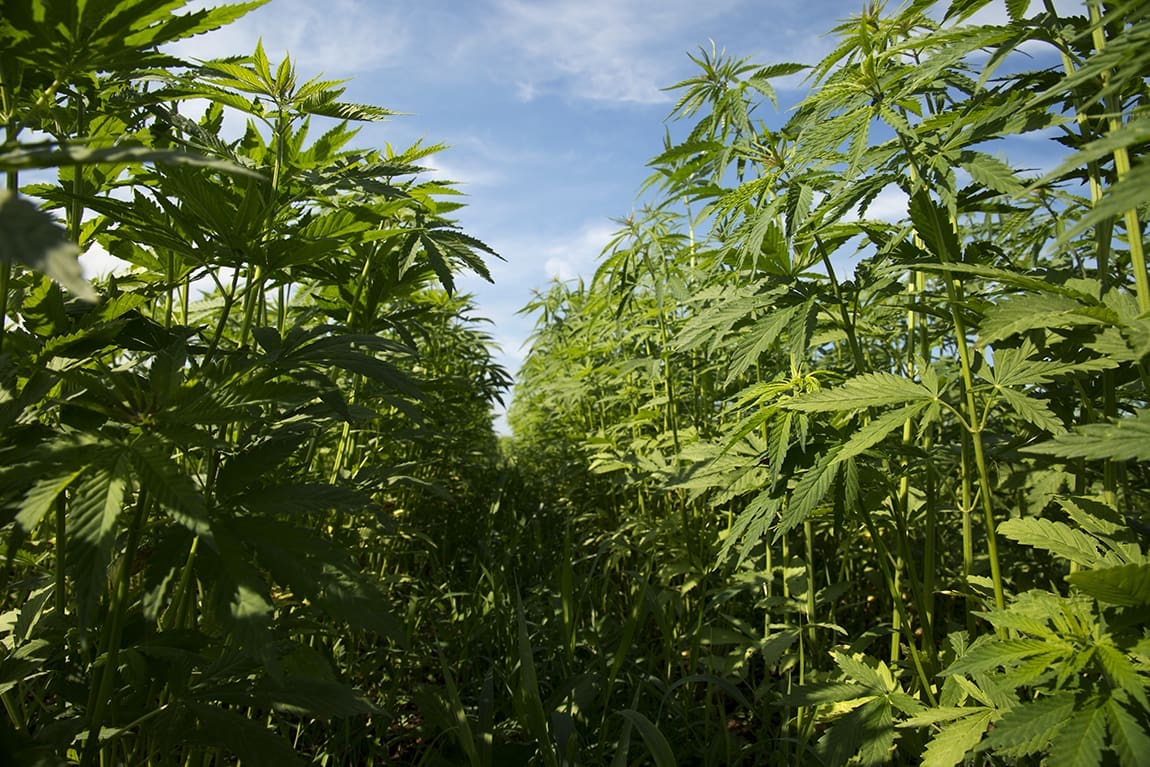 Hemp production in the U.S. has scaled up rapidly since lawmakers lifted federal prohibition of the crop, with more acres of hemp grown in the country today than at any point since the 1940s. But the fledgling industry is still very much in flux, and reporting practices that vary wildly from state to state have hampered efforts to fully understand it.
Those are the top-level takeaways of a report released Wednesday by the U.S. Department of Agriculture (USDA) that explores the economic viability of the American hemp industry as the country transitions to a legal era.
After decades of prohibition due to hemp's close relationship to its high-THC cannabis cousin marijuana, Congress in 2014 approved state-level pilot programs, allowing growers in certain states to produce and sell hemp as part of limited research initiatives. In 2018, lawmakers went further, ending federal hemp prohibition entirely. Since then, the sector has exploded.
"Under the pilot programs, United States industrial hemp acreage reported by States increased from zero in 2013 to over 90,000 acres in 2018, the largest U.S. hemp acreage since the 146,200 acres planted in 1943," the USDA study found. "By December 2019, hemp could be grown legally in every State except Idaho, Mississippi, and South Dakota."
As of last year, more than 146,065 acres of planted hemp were reported to the agency.
US industrial #hemp acreage reported by State pilot programs increased from zero in 2013 to over 90,000 acres in 2018. https://t.co/Uukn12YX4W pic.twitter.com/993VONvSu4

— Economic Research Service (@USDA_ERS) February 19, 2020
The 83-page report, "Economic Viability of Industrial Hemp in the United States: A Review of State Pilot Programs," attempts to draw conclusions about the legal, logistical and economic challenges that might arise as US farmers return to a crop that hasn't been grown in the country for generations.
One of the biggest obstacles, the study shows, is keeping everyone on the same page.
"There is no systematic comprehensive data source regarding the emerging United States hemp industry or requirement to report a consistent set of data for the pilot programs," noted the authors, who said they drew on annual reports, website information, internal USDA data, unstructured discussions with state agencies and other third-party information to compile the document.
"States collected data at various times and levels of aggregation," the study says. "For example, some States report hemp data by intended end use (i.e., grain, fiber, cannabidiol (CBD) or other extracts) while others do not report data."
Inconsistency between state requirements was one of the main obstacles highlighted by the report. USDA found that state-level hemp programs ran into a handful of common problems, starting with the difficulty of passing state-level legislation to regulate the new programs. Other problems arose in obtaining "critical production inputs," such as seeds and insecticides, or in trying to easily distinguish industrial hemp from high-THC marijuana, which remains federally illegal.
A fundamental problem, the USDA report found, was "lack of basic data and information for decision-making"—something that should come as no surprise to anyone who's watched a legislative hearing on cannabis.
Getting stakeholders involved early seemed to help smooth some wrinkles, the study found. In some states, authors wrote, "hemp legislation failed repeatedly, typically because of law enforcement concerns or lack of public support."
"Colorado and Kentucky are two examples of States that included law enforcement stakeholders early when establishing their pilot programs," the report notes. "This allowed an early basis for dialogue and shared knowledge."
Data from state pilot programs also led analysts to conclude that while industrial hemp is a burgeoning industry in the U.S., it likely won't emerge as a strong economic player in every state.
"As with other crops, it is not likely that hemp will be economically viable in every State," the study concludes. "States that moved quickly to establish pilot programs were not leading producers of competing major field crops," it found, and "growers are not likely to plant or process hemp if more profitable options exist.
Hemp-producing states could also run into competition internationally, the report says, acknowledging that the U.S. is one of many hemp-producing regions globally. "While the reintroduction of hemp production in the United States is relatively recent," it says, "hemp production has already been legal in other parts of the world," including Canada, Europe and China.
Under a recent trade deal with the U.S., China agreed to import more American-grown hemp and other agricultural products over the next two years.
For now, the rising tide of interest in hemp-derived CBD appears to be lifting all boats. "Global production was small and relatively stable until the recent worldwide interest in CBD oil," the USDA study found. "There is some demand for hemp as a sustainable natural fiber, hemp seeds and protein as a food ingredient, and hemp extracts for cosmetics and food, but CBD oil has been the primary source of demand growth."
Earlier this month, USDA officials said they won't be able to comply with a request by farmers and some state lawmakers to increase the federal THC limit on industrial hemp, which is currently defined as cannabis that contains no more than 0.3 percent THC. Advocates had asked for that limit to be increased to 1 percent, but the agency said that's a job for Congress.
They did, however, say that a new public comment period will be opened before hemp rules are finalized.
Photo courtesy of Brendan Cleak.
Legal Marijuana States See Reduced Workers' Compensation Claims, New Study Finds
Legalizing marijuana for adult use is associated with an increase in workforce productivity and decrease in workplace injuries, according to a new study partly funded by the federal government.
In a working paper published by the National Bureau of Economic Research, researchers looked at the impact of recreational cannabis legalization on workers' compensation claims among older adults. They found declines in such filings "both in terms of the propensity to receive benefits and benefit amount" in states that have enacted the policy change.
Further, they identified "complementary declines in non-traumatic workplace injury rates and the incidence of work-limiting disabilities" in legal states.
These findings run counter to arguments commonly made by prohibitionists, who have claimed that legalizing marijuana would lead to lower productivity and more occupational hazards and associated costs to businesses. In fact, the study indicates that regulating cannabis sales for adults is a workplace benefit by enabling older employees (40-62 years old) to access an alternative treatment option.
"We offer evidence that the primary driver of these reductions [in workers' compensation] is an improvement in work capacity, likely due to access to an additional form of pain management therapy," the study, which received funding from the National Institute on Drug Abuse, states.
The implementation of adult-use legalization seems to "improve access to an additional channel for managing pain and other health conditions, suggesting potential benefits on populations at risk of workplace injuries," it continues.
The study is based on an analysis of data on workers' compensation benefit receipt and workers' compensation income from
2010 to 2018 as reported in the Annual Social and Economic Supplement of the Current Population Survey.
"Our results show a decline in workers' compensation benefit propensity of 0.18 percentage points, which corresponds to a 20 percent reduction in any workers' compensation income, after states legalize marijuana for recreational use. Similarly, we find that annual income received from workers' compensation declines by $21.98 (or 20.5%) post-[recreational marijuana legalization]. These results are not driven by pre-existing trends, and falsification exercises suggest that observing estimates of this magnitude is statistically rare."
Researchers said that they've found evidence that cannabis use increases post-legalization among the age cohort they studied, but no such spike in misuse. Further, they found a decline in post-legalization prescriptions for medications used to treat chronic pain, indicating that some people are using marijuana as a substitute for traditional painkillers.
"We hypothesize that access to marijuana through [recreational marijuana laws] increases its medical use and, in turn, allows better management of symptoms that impede work capacity—e.g., chronic pain, insomnia, mental health problems, nausea, and so forth," the study says. "Chronic pain management is likely to be particularly important in our context as this is the health condition most commonly reported among medical marijuana users."
Beyond decreasing workers' compensation claims and costs, legalization also is a boon to the economy by adding jobs in legal states.
The cannabis industry added more than 77,000 jobs over the past year—a 32 percent increase that makes the sector the fastest in job creation compared to any other American industry, according to a report released by the cannabis company Leafly last week.
Starting A Business? Study Finds Marijuana May Help—And Hinder
Marijuana Industry Sees Record Jobs Gains In 2020 Despite Pandemic, New Report Shows
The marijuana industry added more than 77,000 jobs over the past year—a 32 percent increase that makes the sector the fastest in job creation compared to any other American industry, according to a new report from the cannabis company Leafly.
In total, there are now approximately 321,000 full-time jobs in the marijuana sector across 37 states that have legalized the plant in some form. The data bolsters one of the common, bipartisan arguments in favor of reform: legalizing and regulating cannabis is an economic plus.
But Leafly's report—which is based on an independent analysis by journalists, data experts and labor economists at Whitney Economics—is all the more striking considering that it shows significant job growth amid the coronavirus pandemic. At a time when unemployment rates have risen and businesses have been shuttered across the U.S., the marijuana industry has proven resilient.
"We're proud of the cannabis industry as a bright spot for so many after a difficult 2020 for everyone," Leafly CEO Yoko Miyashita said in a press release. "The essential cannabis industry is our nation's unseen and unrecognized economic engine, creating good, full-time jobs that have helped to keep people and local economies afloat."
"It's time that our federal policies reflect this reality, and we legalize cannabis while ensuring equity and participation for those disproportionately affected by the War on Drugs, so everyone can benefit from this rapidly growing industry," she said.
In the past four years, the number of full-time jobs in the marijuana industry has jumped by about 161 percent. While California's cannabis market has the lion's share of jobs in the sector (about 58,000), that spike is also largely attributable the state-level legalization movement, which has opened up industries from Massachusetts to Illinois in that time.
Illinois, which has consistently seen record-breaking marijuana sales since retail sales launched last year, added more than 8,000 full-time cannabis sector jobs alone.
There are now more cannabis workers in the U.S. than dentists (127,200), EMTs (260,600) or electrical engineers (314,400), the report found.
In one of the more notable findings, while marijuana sales increased demonstrably—increasing 71 percent from 2019 to 2020—the pandemic did take a hit on staffing.
"The pandemic ultimately drove increased sales industry-wide. But social distancing, occupancy limits, and shelter-in-place orders limited the ability of staff members to occupy a public retail space and work closely together," the report says.
LEAFLY 2021 #CANNABISJOBS REPORT: The legal cannabis industry added 77,300 full-time jobs in the past year. Our industry now supports 321,000 full-time American jobs. That is an astonishing 32% year-over-year in growth. https://t.co/6bg4Tzp5bi

— Leafly (@Leafly) February 16, 2021
"In some cases, a reverse dynamic came into play," it continues. "Some booming businesses reported staffing shortages as employees themselves fought off the virus, quarantined due to contact tracing, showed signs of possible infection, or were forced to stay at home due to underlying medical conditions."
Even as the industry has seen significant gains in consumer purchases, however, Leafly identified a major area of concern among advocates: racial and gender disparities have persisted in the marijuana market.
While there's limited data at the state level on these demographic trends, an independent database maintained by Cannaclusive found that while black Americans represent about 13 percent of the national population, fewer than two percent of the population own existing cannabis companies.
"The cannabis industry must show true commitment to equity as it expands, so the wealth generated by this new opportunity will uplift minority communities," the report says. "If it cannot, we will continue to see these communities struggle in the shadow of white supremacy without a fair shot."
New York Governor To Send Amended Marijuana Legalization Plan To Lawmakers Amid Criticism
Starting A Business? Study Finds Marijuana May Help—And Hinder
A new study out of Washington State University suggests cannabis may inspire entrepreneurs to come up with big, bold business ideas—but could also lead them down a rabbit hole of wishful thinking.
Researchers found that entrepreneurs who were frequent marijuana consumers came up with business pitches that were more original but less feasible, according to a panel of experts who scored the ideas.
"Beyond their innate creative aptitude, entrepreneurs may attempt to enhance their creativity," says the study, which will appear in the March 2021 issue of the Journal of Business Venturing. "Despite generating more original ideas, we found that cannabis users' ideas were less feasible."
Also important variables, the study found, were an entrepreneur's passion, which may heighten creativity at the expense of feasibility, as well as their past entrepreneurial experience, which tended to increase idea feasibility but rein in creativity.
The findings "provide insight into the creative benefits and detriments associated with being a cannabis user," the study says, "suggesting that cannabis users—especially those who are passionate about exploring new venture ideas or those with relatively little entrepreneurial experience—may benefit from non-users' insights to develop the feasibility of their ideas."
To test the effects of marijuana on business-idea generation, researchers had 254 entrepreneurs come up with "as many new venture ideas as possible" based on virtual reality—a prompt provided by researchers. Participants had three minutes to generate ideas, then selected the idea they believed to be their best. Two "expert raters" then evaluated the chosen pitches for originality and feasibility.
Reachers say their findings support one of the study's core hypotheses: that there are differences between how cannabis users and non-users arrive at business ideas. "Cannabis users are more impulsive, disinhibited, and better at identifying relationships among seemingly disparate concepts," the study proposes. "However, these differences and cannabis users' diminished executive functioning likely detracts from idea feasibility."
Notably, the researchers did not ask participants to consume marijuana in the study setting itself. Rather, to compare cannabis-users to non-users, researchers split participants into two groups: those who had used marijuana less than five times in their lives and never in the past month (non-users) and those who'd consumed more than five times in their life and at least twice in the past month (users).
"Unlike alcohol, where health organizations have established standards for heavy drinking," the study notes, "scholars have yet to reach a consensus on what constitutes a cannabis user versus a non-user."
Because the study was merely observational, it also cannot determine whether marijuana use was in fact the cause of the differences between the two groups' ideas. It may be that some other trait or traits explain both a person's idea generation and their decision to consume cannabis.
The study's cannabis user group comprised 120 people, or 47.2 percent of all participants. Researchers attempted to control for certain other factors, such as gender, age, education and technological familiarity.
While the findings suggest that, overall, cannabis can both inspire originality and limit feasibility, the outcomes were influenced strongly by what researchers described as "entrepreneurial passion for inventing" as well as their "entrepreneurial experience."
"Cannabis users' diminished idea feasibility compared to non-users was significant in those with low entrepreneurial experience," the study's authors wrote, "but not in those with high entrepreneurial experience."
Similarly, "cannabis users' lower idea feasibility was signifiant at high entrepreneurial passion for inventing but not low entrepreneurial passion for inventing," the study found.
"Entrepreneurial passion for inventing appears to play a role in channeling cannabis users toward idea originality but away from idea feasibility," it says. "Conversely, entrepreneurial experience appears to attenuate the positive relationship of being a cannabis user with idea originality and its negative relationship with idea feasibility."
As the study itself acknowledges, many successful business leaders and visionaries have credited the inspirational powers of cannabis. Apple luminary Steve Jobs, for example, "noted that his use of cannabis helped him feel 'relaxed and creative.'" (Biographer Walter Isaacson also quoted Jobs as saying another drug, LSD, was "one of the most important things in my life. … It reinforced my sense of what was important—creating great things instead of making money.")
On the other hand, researchers argue that cannabis use can be a double-edged sword. "Regular cannabis use is associated with numerous detrimental effects, such as the potential for dependence and addiction, risk of motor vehicle accidents, mental and respiratory health problems, as well as memory and other cognitive impairments."
Benjamin Warnick, assistant professor at Washington State University's Carson School of Business and lead author of the study, said in a press release that the research is "the first study we know of that looks at how any kind of drug use influences new business ideation," adding that "there is still much to explore."
"Clearly there are pros and cons to using cannabis that deserve to be investigated further," Warnick said. "As the wave of cannabis legalization continues across the country, we need to shed light on the actual effects of cannabis not only in entrepreneurship but in other areas of business as well."
Best Music Playlists For Psychedelic Therapy Are Explored In New Johns Hopkins Study
Photo courtesy of the Drug Policy Alliance, Sonya Yruel