USDA Touts Hemp Industry's Growth But Says Challenges Remain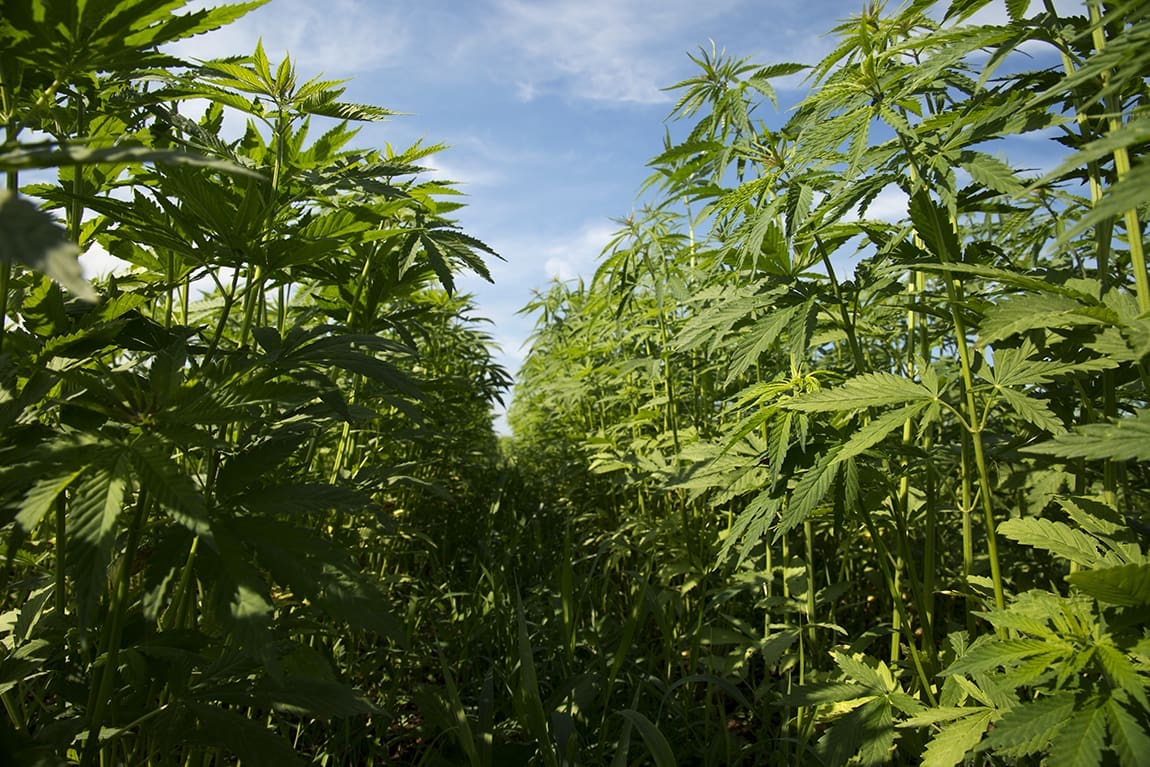 Hemp production in the U.S. has scaled up rapidly since lawmakers lifted federal prohibition of the crop, with more acres of hemp grown in the country today than at any point since the 1940s. But the fledgling industry is still very much in flux, and reporting practices that vary wildly from state to state have hampered efforts to fully understand it.
Those are the top-level takeaways of a report released Wednesday by the U.S. Department of Agriculture (USDA) that explores the economic viability of the American hemp industry as the country transitions to a legal era.
After decades of prohibition due to hemp's close relationship to its high-THC cannabis cousin marijuana, Congress in 2014 approved state-level pilot programs, allowing growers in certain states to produce and sell hemp as part of limited research initiatives. In 2018, lawmakers went further, ending federal hemp prohibition entirely. Since then, the sector has exploded.
"Under the pilot programs, United States industrial hemp acreage reported by States increased from zero in 2013 to over 90,000 acres in 2018, the largest U.S. hemp acreage since the 146,200 acres planted in 1943," the USDA study found. "By December 2019, hemp could be grown legally in every State except Idaho, Mississippi, and South Dakota."
As of last year, more than 146,065 acres of planted hemp were reported to the agency.
US industrial #hemp acreage reported by State pilot programs increased from zero in 2013 to over 90,000 acres in 2018. https://t.co/Uukn12YX4W pic.twitter.com/993VONvSu4

— Economic Research Service (@USDA_ERS) February 19, 2020
The 83-page report, "Economic Viability of Industrial Hemp in the United States: A Review of State Pilot Programs," attempts to draw conclusions about the legal, logistical and economic challenges that might arise as US farmers return to a crop that hasn't been grown in the country for generations.
One of the biggest obstacles, the study shows, is keeping everyone on the same page.
"There is no systematic comprehensive data source regarding the emerging United States hemp industry or requirement to report a consistent set of data for the pilot programs," noted the authors, who said they drew on annual reports, website information, internal USDA data, unstructured discussions with state agencies and other third-party information to compile the document.
"States collected data at various times and levels of aggregation," the study says. "For example, some States report hemp data by intended end use (i.e., grain, fiber, cannabidiol (CBD) or other extracts) while others do not report data."
Inconsistency between state requirements was one of the main obstacles highlighted by the report. USDA found that state-level hemp programs ran into a handful of common problems, starting with the difficulty of passing state-level legislation to regulate the new programs. Other problems arose in obtaining "critical production inputs," such as seeds and insecticides, or in trying to easily distinguish industrial hemp from high-THC marijuana, which remains federally illegal.
A fundamental problem, the USDA report found, was "lack of basic data and information for decision-making"—something that should come as no surprise to anyone who's watched a legislative hearing on cannabis.
Getting stakeholders involved early seemed to help smooth some wrinkles, the study found. In some states, authors wrote, "hemp legislation failed repeatedly, typically because of law enforcement concerns or lack of public support."
"Colorado and Kentucky are two examples of States that included law enforcement stakeholders early when establishing their pilot programs," the report notes. "This allowed an early basis for dialogue and shared knowledge."
Data from state pilot programs also led analysts to conclude that while industrial hemp is a burgeoning industry in the U.S., it likely won't emerge as a strong economic player in every state.
"As with other crops, it is not likely that hemp will be economically viable in every State," the study concludes. "States that moved quickly to establish pilot programs were not leading producers of competing major field crops," it found, and "growers are not likely to plant or process hemp if more profitable options exist.
Hemp-producing states could also run into competition internationally, the report says, acknowledging that the U.S. is one of many hemp-producing regions globally. "While the reintroduction of hemp production in the United States is relatively recent," it says, "hemp production has already been legal in other parts of the world," including Canada, Europe and China.
Under a recent trade deal with the U.S., China agreed to import more American-grown hemp and other agricultural products over the next two years.
For now, the rising tide of interest in hemp-derived CBD appears to be lifting all boats. "Global production was small and relatively stable until the recent worldwide interest in CBD oil," the USDA study found. "There is some demand for hemp as a sustainable natural fiber, hemp seeds and protein as a food ingredient, and hemp extracts for cosmetics and food, but CBD oil has been the primary source of demand growth."
Earlier this month, USDA officials said they won't be able to comply with a request by farmers and some state lawmakers to increase the federal THC limit on industrial hemp, which is currently defined as cannabis that contains no more than 0.3 percent THC. Advocates had asked for that limit to be increased to 1 percent, but the agency said that's a job for Congress.
They did, however, say that a new public comment period will be opened before hemp rules are finalized.
Photo courtesy of Brendan Cleak.