Businesses Are More Profitable And Innovative In States With Legal Marijuana, Study Finds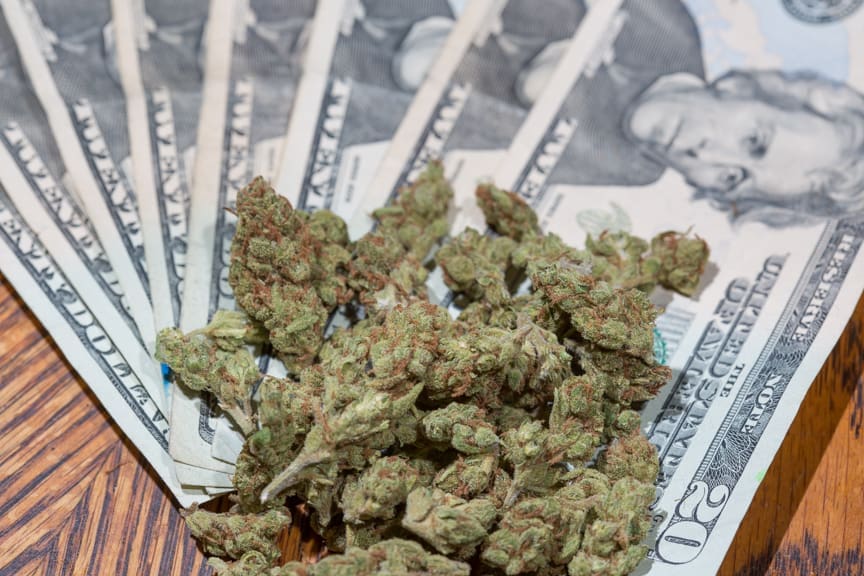 States have been experimenting with various forms of marijuana legalization for years and, according to new research, business is better where cannabis is legal.
To investigate the impact legalization has on the economy, researchers at the University of Iowa analyzed 9,810 corporations between 1991 and 2017, finding "a multitude of positive effects" after a state enacts medical marijuana laws.
"Firms headquartered in marijuana-legalizing states receive higher market valuations, earn higher abnormal stock returns, improve employee productivity, and increase innovation," the authors said.
The study, which was reviewed by Marijuana Moment but has yet to be published, found that having cannabis laws on the books can unleash the previously untapped potential of employees and helps companies attract new talent.
Corporations "become more productive and hire more productive human capital from out of state after the passage of the law," the authors wrote.
They also report that "firms earn higher net income per employee" after a medical cannabis law is passed, and "the positive impact is sustained over the next two years."
Additionally, the study found a 4.2 percent increase in company value, which translates into an average increase of the market-value of corporations by $166 million after a medical marijuana law is enacted.
"Firms experience an increase in profitability likely due to the positive shock to the human capital post-legalization," the study finds.
"State-level medical marijuana laws have a considerable positive impact on firms in the state, likely by having a positive impact on the human capital of firms."
Higher profits and more productivity aren't the only benefits a company sees after marijuana is legalized. When it comes to stock prices, companies located in states with medical cannabis fare better than those in jurisdictions where the plant is prohibited.
Additionally, the stock value of corporations in medical marijuana states increased by 4.56 percent. An "equal-weighted portfolio" composed of similar stocks located in states without a medical marijuana program showed a loss of about two percent annually.
Returns on stocks were also 4.44 percent higher per year for companies in states that have legalized.
What's the source of such financial benefits? The authors suggested that companies will ramp up innovation after marijuana laws are passed, making the company more profitable over time, compared to their counterparts in areas that don't permit cannabis at all.
"Our results imply that after marijuana legalization, firms not only apply for more patents and receive more citations on those patents, but also are more productive and efficient in generation innovation output from labor and [research and development] input," the study determined.
"We also find an increase in both entrepreneurial activity and venture capital funding in states that legalize marijuana."
Finally, the study measures the "innovation productivity" of those working, living and moving to the state, following the passage of a medical marijuana law.
"The inventors that are in the state both before and after legalization become more creative" post-legalization, the authors found.
And when it comes to attracting new talent from other states, "more inventors relocate to states after medical marijuana legalization than before passage of the law."
The benefit is two-fold for such corporations. In addition to being "able to attract more productive inventors" in states with medical marijuana "relative to states that do not legalize," existing employees also see an uptick in innovation after a cannabis law is passed, the study concluded.
House Lawmakers Caution Key Senate Chairman Not To Overhaul Marijuana Banking Bill
Legal Marijuana States See Reduced Workers' Compensation Claims, New Study Finds
Legalizing marijuana for adult use is associated with an increase in workforce productivity and decrease in workplace injuries, according to a new study partly funded by the federal government.
In a working paper published by the National Bureau of Economic Research, researchers looked at the impact of recreational cannabis legalization on workers' compensation claims among older adults. They found declines in such filings "both in terms of the propensity to receive benefits and benefit amount" in states that have enacted the policy change.
Further, they identified "complementary declines in non-traumatic workplace injury rates and the incidence of work-limiting disabilities" in legal states.
These findings run counter to arguments commonly made by prohibitionists, who have claimed that legalizing marijuana would lead to lower productivity and more occupational hazards and associated costs to businesses. In fact, the study indicates that regulating cannabis sales for adults is a workplace benefit by enabling older employees (40-62 years old) to access an alternative treatment option.
"We offer evidence that the primary driver of these reductions [in workers' compensation] is an improvement in work capacity, likely due to access to an additional form of pain management therapy," the study, which received funding from the National Institute on Drug Abuse, states.
The implementation of adult-use legalization seems to "improve access to an additional channel for managing pain and other health conditions, suggesting potential benefits on populations at risk of workplace injuries," it continues.
The study is based on an analysis of data on workers' compensation benefit receipt and workers' compensation income from
2010 to 2018 as reported in the Annual Social and Economic Supplement of the Current Population Survey.
"Our results show a decline in workers' compensation benefit propensity of 0.18 percentage points, which corresponds to a 20 percent reduction in any workers' compensation income, after states legalize marijuana for recreational use. Similarly, we find that annual income received from workers' compensation declines by $21.98 (or 20.5%) post-[recreational marijuana legalization]. These results are not driven by pre-existing trends, and falsification exercises suggest that observing estimates of this magnitude is statistically rare."
Researchers said that they've found evidence that cannabis use increases post-legalization among the age cohort they studied, but no such spike in misuse. Further, they found a decline in post-legalization prescriptions for medications used to treat chronic pain, indicating that some people are using marijuana as a substitute for traditional painkillers.
"We hypothesize that access to marijuana through [recreational marijuana laws] increases its medical use and, in turn, allows better management of symptoms that impede work capacity—e.g., chronic pain, insomnia, mental health problems, nausea, and so forth," the study says. "Chronic pain management is likely to be particularly important in our context as this is the health condition most commonly reported among medical marijuana users."
Beyond decreasing workers' compensation claims and costs, legalization also is a boon to the economy by adding jobs in legal states.
The cannabis industry added more than 77,000 jobs over the past year—a 32 percent increase that makes the sector the fastest in job creation compared to any other American industry, according to a report released by the cannabis company Leafly last week.
Starting A Business? Study Finds Marijuana May Help—And Hinder
Marijuana Industry Sees Record Jobs Gains In 2020 Despite Pandemic, New Report Shows
The marijuana industry added more than 77,000 jobs over the past year—a 32 percent increase that makes the sector the fastest in job creation compared to any other American industry, according to a new report from the cannabis company Leafly.
In total, there are now approximately 321,000 full-time jobs in the marijuana sector across 37 states that have legalized the plant in some form. The data bolsters one of the common, bipartisan arguments in favor of reform: legalizing and regulating cannabis is an economic plus.
But Leafly's report—which is based on an independent analysis by journalists, data experts and labor economists at Whitney Economics—is all the more striking considering that it shows significant job growth amid the coronavirus pandemic. At a time when unemployment rates have risen and businesses have been shuttered across the U.S., the marijuana industry has proven resilient.
"We're proud of the cannabis industry as a bright spot for so many after a difficult 2020 for everyone," Leafly CEO Yoko Miyashita said in a press release. "The essential cannabis industry is our nation's unseen and unrecognized economic engine, creating good, full-time jobs that have helped to keep people and local economies afloat."
"It's time that our federal policies reflect this reality, and we legalize cannabis while ensuring equity and participation for those disproportionately affected by the War on Drugs, so everyone can benefit from this rapidly growing industry," she said.
In the past four years, the number of full-time jobs in the marijuana industry has jumped by about 161 percent. While California's cannabis market has the lion's share of jobs in the sector (about 58,000), that spike is also largely attributable the state-level legalization movement, which has opened up industries from Massachusetts to Illinois in that time.
Illinois, which has consistently seen record-breaking marijuana sales since retail sales launched last year, added more than 8,000 full-time cannabis sector jobs alone.
There are now more cannabis workers in the U.S. than dentists (127,200), EMTs (260,600) or electrical engineers (314,400), the report found.
In one of the more notable findings, while marijuana sales increased demonstrably—increasing 71 percent from 2019 to 2020—the pandemic did take a hit on staffing.
"The pandemic ultimately drove increased sales industry-wide. But social distancing, occupancy limits, and shelter-in-place orders limited the ability of staff members to occupy a public retail space and work closely together," the report says.
LEAFLY 2021 #CANNABISJOBS REPORT: The legal cannabis industry added 77,300 full-time jobs in the past year. Our industry now supports 321,000 full-time American jobs. That is an astonishing 32% year-over-year in growth. https://t.co/6bg4Tzp5bi

— Leafly (@Leafly) February 16, 2021
"In some cases, a reverse dynamic came into play," it continues. "Some booming businesses reported staffing shortages as employees themselves fought off the virus, quarantined due to contact tracing, showed signs of possible infection, or were forced to stay at home due to underlying medical conditions."
Even as the industry has seen significant gains in consumer purchases, however, Leafly identified a major area of concern among advocates: racial and gender disparities have persisted in the marijuana market.
While there's limited data at the state level on these demographic trends, an independent database maintained by Cannaclusive found that while black Americans represent about 13 percent of the national population, fewer than two percent of the population own existing cannabis companies.
"The cannabis industry must show true commitment to equity as it expands, so the wealth generated by this new opportunity will uplift minority communities," the report says. "If it cannot, we will continue to see these communities struggle in the shadow of white supremacy without a fair shot."
New York Governor To Send Amended Marijuana Legalization Plan To Lawmakers Amid Criticism
Starting A Business? Study Finds Marijuana May Help—And Hinder
A new study out of Washington State University suggests cannabis may inspire entrepreneurs to come up with big, bold business ideas—but could also lead them down a rabbit hole of wishful thinking.
Researchers found that entrepreneurs who were frequent marijuana consumers came up with business pitches that were more original but less feasible, according to a panel of experts who scored the ideas.
"Beyond their innate creative aptitude, entrepreneurs may attempt to enhance their creativity," says the study, which will appear in the March 2021 issue of the Journal of Business Venturing. "Despite generating more original ideas, we found that cannabis users' ideas were less feasible."
Also important variables, the study found, were an entrepreneur's passion, which may heighten creativity at the expense of feasibility, as well as their past entrepreneurial experience, which tended to increase idea feasibility but rein in creativity.
The findings "provide insight into the creative benefits and detriments associated with being a cannabis user," the study says, "suggesting that cannabis users—especially those who are passionate about exploring new venture ideas or those with relatively little entrepreneurial experience—may benefit from non-users' insights to develop the feasibility of their ideas."
To test the effects of marijuana on business-idea generation, researchers had 254 entrepreneurs come up with "as many new venture ideas as possible" based on virtual reality—a prompt provided by researchers. Participants had three minutes to generate ideas, then selected the idea they believed to be their best. Two "expert raters" then evaluated the chosen pitches for originality and feasibility.
Reachers say their findings support one of the study's core hypotheses: that there are differences between how cannabis users and non-users arrive at business ideas. "Cannabis users are more impulsive, disinhibited, and better at identifying relationships among seemingly disparate concepts," the study proposes. "However, these differences and cannabis users' diminished executive functioning likely detracts from idea feasibility."
Notably, the researchers did not ask participants to consume marijuana in the study setting itself. Rather, to compare cannabis-users to non-users, researchers split participants into two groups: those who had used marijuana less than five times in their lives and never in the past month (non-users) and those who'd consumed more than five times in their life and at least twice in the past month (users).
"Unlike alcohol, where health organizations have established standards for heavy drinking," the study notes, "scholars have yet to reach a consensus on what constitutes a cannabis user versus a non-user."
Because the study was merely observational, it also cannot determine whether marijuana use was in fact the cause of the differences between the two groups' ideas. It may be that some other trait or traits explain both a person's idea generation and their decision to consume cannabis.
The study's cannabis user group comprised 120 people, or 47.2 percent of all participants. Researchers attempted to control for certain other factors, such as gender, age, education and technological familiarity.
While the findings suggest that, overall, cannabis can both inspire originality and limit feasibility, the outcomes were influenced strongly by what researchers described as "entrepreneurial passion for inventing" as well as their "entrepreneurial experience."
"Cannabis users' diminished idea feasibility compared to non-users was significant in those with low entrepreneurial experience," the study's authors wrote, "but not in those with high entrepreneurial experience."
Similarly, "cannabis users' lower idea feasibility was signifiant at high entrepreneurial passion for inventing but not low entrepreneurial passion for inventing," the study found.
"Entrepreneurial passion for inventing appears to play a role in channeling cannabis users toward idea originality but away from idea feasibility," it says. "Conversely, entrepreneurial experience appears to attenuate the positive relationship of being a cannabis user with idea originality and its negative relationship with idea feasibility."
As the study itself acknowledges, many successful business leaders and visionaries have credited the inspirational powers of cannabis. Apple luminary Steve Jobs, for example, "noted that his use of cannabis helped him feel 'relaxed and creative.'" (Biographer Walter Isaacson also quoted Jobs as saying another drug, LSD, was "one of the most important things in my life. … It reinforced my sense of what was important—creating great things instead of making money.")
On the other hand, researchers argue that cannabis use can be a double-edged sword. "Regular cannabis use is associated with numerous detrimental effects, such as the potential for dependence and addiction, risk of motor vehicle accidents, mental and respiratory health problems, as well as memory and other cognitive impairments."
Benjamin Warnick, assistant professor at Washington State University's Carson School of Business and lead author of the study, said in a press release that the research is "the first study we know of that looks at how any kind of drug use influences new business ideation," adding that "there is still much to explore."
"Clearly there are pros and cons to using cannabis that deserve to be investigated further," Warnick said. "As the wave of cannabis legalization continues across the country, we need to shed light on the actual effects of cannabis not only in entrepreneurship but in other areas of business as well."
Best Music Playlists For Psychedelic Therapy Are Explored In New Johns Hopkins Study
Photo courtesy of the Drug Policy Alliance, Sonya Yruel