Top GOP And Dem Lawmakers Push Veterans Medical Marijuana Study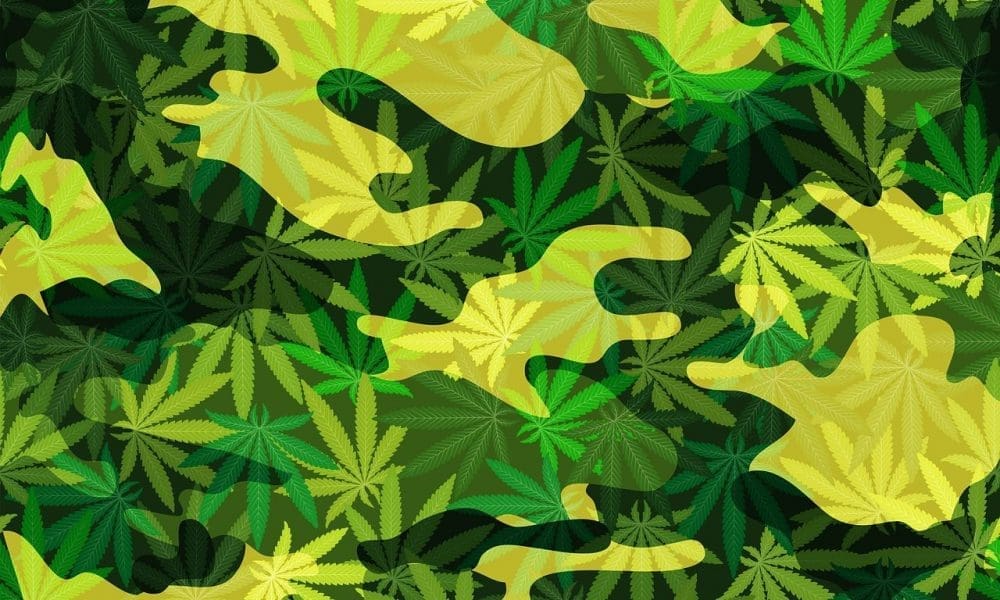 A key U.S. House panel is considering legislation to dramatically expand studies on marijuana's potential medical benefits for military veterans.
Filed by Veterans' Affairs Committee GOP Chairman Phil Roe of Tennessee and Congressman Tim Walz of Minnesota, the top Democrat on the committee, the bill would encourage the U.S. Department of Veterans Affairs (VA) to "conduct and support research relating to the efficacy and safety" of medical cannabis "on the health outcomes of covered veterans diagnosed with chronic pain, post-traumatic stress disorder, and other conditions."
22% of vets report using cannabis as a safer & more effective alternative to opioids & drug cocktails currently prescribed by VA for PTSD or chronic pain; yet, there has been a severe lack of research studying the full effect of #MedicinalCannabis on vets. https://t.co/4bkmZ97ix9

— Rep. Tim Walz (@RepTimWalz) April 17, 2018
Research would be done on full plant marijuana as well as extracts, and involve "at least three different strains of cannabis with significant variants in phenotypic traits and various ratios of tetrahydrocannabinol and cannabidiol in chemical composition."
Studies would examine "varying methods of cannabis delivery, including topical application, combustible and noncombustible inhalation, and ingestion."
It would require VA to preserve all data collected from the studies and issue a report to Congress within 180 days that includes a plan for implementation of research. The department would also have to send updates no less than annually for five years.
The panel's Health Subcommittee will hold a hearing on the proposal on Tuesday afternoon.
Sen. Jon Tester (D-MT) plans to introduce a companion bill in the Senate.
While VA is already permitted to participate in cannabis research under current law, its leadership has been reluctant. Recently deposed Sec. David Shulkin, for example, repeatedly claimed in public remarks that Congress needs to act before the department can refer veterans to cannabis studies.
V.A. Doesn't Understand Marijuana Laws, So Veterans Lose Access
Now, bipartisan leadership of the committee that oversees VA is stepping in to provide direction with the new bill.
"As so many veterans are currently using cannabis for medicinal purposes, it is important that clinicians are able to fully advise veterans on the potential impacts, harms, and benefits of cannabis use on those with various diagnoses including post-traumatic stress disorder (PTSD) and chronic pain," Walz wrote in a letter circulated to colleagues seeking cosponsorship for the new bill.
"As a physician, I am keenly aware of the need to look for opioid alternatives to treat patients' chronic pain," said Roe said in a press release. "Since serving as Chairman of the House Committee on Veterans' Affairs, I've heard from many veterans, both with physical and invisible wounds, who believe medical cannabis could benefit them. This is why I support the department researching cannabis just like any other drug to see if this alternative therapy would truly benefit patients."
Several veterans advocacy organizations submitted testimony in support of the legislation.
"With the ongoing opioid epidemic, an increase in veterans who suffer from chronic pain, the constant co-morbidity of chronic pain with PTSD and a continuing list of other health ailments –– all while VA is under constant scrutiny for over-prescribing pharmaceuticals, while still managing to prescribe opioids at nearly half the rate of the private sector, VA must be proactive in finding solutions to responsibly treat veterans," an official with Veterans of Foreign Wars of the United States said. "VA must conduct research on medical marijuana to determine what is in the best interest of veteran patients."
Tomorrow, we will testify on several pieces of pending legislation as well as a draft bill to authorize VA to conduct & support research on the efficacy & safety of medicinal cannabis; and, a draft bill to make certain improvements to the Family Caregiver Program. #VFWTestimony https://t.co/qmIlUwieCa

— VFW National HQ (@VFWHQ) April 16, 2018
The American Legion is also on board, saying it "fully supports research for potential medicinal use of cannabis and responsible action in the interest of advancing medicine, particularly for veterans who report relief from service-connected conditions, thanks to this important drug."
The organization, which represents more than 2.4 million military veterans, released a poll last year finding that 81% percent of veterans said they "want to have cannabis as a federally-legal treatment."
"The opioid crisis in America is having a disproportionate impact on our veterans, according to a 2011 study of the VA system, as they contend with the facts that poorly-treated chronic pain increases suicide risk, and veterans are twice as likely to succumb to accidental opioid overdoses," the group's new testimony says. "Traumatic brain injury and PTSD remain leading causes of death and disability within the veteran community. VA officials report that about 60 percent of veterans returning from combat deployments and 50 percent of older veterans suffer from chronic pain compared to 30 percent of Americans nationwide. Many veterans suffering from post-traumatic stress disorder and chronic pain – especially those of the Iraq and Afghanistan generation – have told The American Legion that they have achieved improved health care outcomes by foregoing VA-prescribed opioids in favor of medical cannabis."
Several veterans groups pushed for updates to VA's marijuana policies at hearings earlier this year.
Veterans Groups Battle Medical Marijuana Ban On Capitol Hill
O'Rourke And Cruz Clash On Marijuana And Drugs At Senate Debate
Candidates in one of the most contentious U.S. Senate races in the country this year clashed about the issues of marijuana legalization and drug policy reform during a debate on Friday night.
"I want to end the war on drugs and specifically want to end the prohibition on marijuana," Democratic Congressman Beto O'Rourke said in response to an attack on his drug policy record from Republican Sen. Ted Cruz, whom he is seeking to unseat in November.
During one of the most heated exchanges of the hour-long debate, the GOP incumbent slammed O'Rourke for sponsoring an amendment as an El Paso city councilman in 2009 that called for a debate on legalizing drugs as a possible solution to violence along the Mexican border.
"I think it would be a profound mistake to legalize all narcotics and I think it would hurt the children of this country," Cruz argued.
He also criticized a bill the Democrat filed in Congress to repeal a law that reduces highway funding for states that don't automatically suspend drivers licenses for people convicted of drug offenses. "That's a real mistake and it's part of pattern," he said.
"There's a consistent pattern when it comes to drug use, that in almost every single instance, Congressman O'Rourke supports more of it."
Calling the issue "personal to me," Cruz spoke about his older sister, who died of a drug overdose.
"To be clear, I don't want to legalize heroin and cocaine and fentanyl," O'Rourke countered.
"What I do want to ensure is that where, in this country, most states have decided that marijuana will legal at some form—for medicinal purposes or recreational purposes or at a minimum be decriminalized—that we don't have another veteran in this state, prescribed an opioid because the doctor at the VA would rather prescribe medicinal marijuana but is prohibited by law from doing that," he said.
It's time to end the war on drugs. That starts by ending the federal prohibition on marijuana.

— Beto O'Rourke (@BetoORourke) September 21, 2018
Enumerating other potential beneficiaries of cannabis reform, the Democrat also referenced an "older woman with fibromyalgia" and "an African-American man, because more likely than not, that's who will be arrested for possession of marijuana, to rot behind bars, instead of enjoying his freedom and the opportunity to contribute to the greatness of this country."
Cruz, who called O'Rourke, "one of the leading advocates in the country for legalizing marijuana," said that he thinks ending cannabis prohibition "is actually a question on which I think reasonable minds can differ."
"I've always had a libertarian bent myself," he said. "I think it ought to be up to the states. I think Colorado can decide one way. I think Texas can decide another."
But despite his support for letting states set their own cannabis laws, which he also voiced during his failed candidacy for the 2016 Republican presidential nomination, Cruz hasn't cosponsored a single piece of legislation during his time in the Senate that would scale back federal marijuana prohibition.
Ted Cruz accidentally advocating against marijuana legalization, an incredibly popular policy in the country and in Texas…

— Texas College Dems (@CollegeDemsTX) September 21, 2018
Earlier in the debate, the two sparred over the killing this month of Botham Jean, an African-American man shot in his own apartment by a Dallas police officer, a subject about which O'Rourke recently made headlines by calling out in a fiery speech to a black church.
Marijuana In Texas: Where Ted Cruz And Beto O'Rourke Stand On Legalization
Photo courtesy of NBC News.
Lawmaker Pushes For Marijuana Legalization In Kenya
A Kenyan lawmaker is introducing legislation to legalize marijuana nationwide.
Member of Parliament Kenneth Okoth wrote a letter to the National Assembly speaker on Friday, requesting help to prepare the legislation so that it can be published.
The bill would decriminalize cannabis possession and use, clear criminal records of those with prior cannabis-related convictions, enact a legal and regulated commercial sales program and impose "progressive taxation measures" in order to "boost economic independence of Kenya and promote job creation."
It's high time Kenya dealt with the question of #marijuana like we do for miraa, tobacco, and alcohol#DecriminalizeIt #LegalizeIt #RegulateIt #TaxIt #HarmReduction #PettyOffences @YoungMPsKenya @HumanRightsMPs @KEWOPA @ICJKenya @lawsocietykenya @shecyclesnbi @DavidNdii @gathara pic.twitter.com/6ISnxjt2gS

— Kenneth Okoth, MP Kibra (@okothkenneth) September 21, 2018
Currently, marijuana (or "bhang," as it's locally known) is illegal in Kenya—as it is in most of Africa.
Another provision of the draft legislation concerns "research and policy development." Okoth wants the country to conduct studies on the medical, industrial, textile and recreational applications of cannabis. And that research would have a "focus on the preservation of intellectual property rights for Kenyan research and natural heritage, knowledge, and our indigenous plant assets," according to the letter.
Kenya Gazette special issue "..Act of Parliament to decriminalize the growth and use of Marijuana.." pic.twitter.com/gXFNx8ehbC

— The African Voice (@teddyeugene) September 21, 2018
"It's high time Kenya dealt with the question of marijuana like we do for tobacco, miraa, and alcohol," Okoth wrote on Facebook.
"Legalize, regulate, tax. Protect children, eliminate drug cartels, reduce cost of keeping petty offenders in jail. Promote research for medical purposes and protect our indigenous knowledge and plants before foreign companies steal and patent it all."
Okoth's push for legalization in Kenya comes days after South Africa's Constitutional Court ruled that individuals can grow and use marijuana for personal purposes. The court determined that prohibition violated a person's right to privacy, effectively legalizing cannabis in the country.
It'll take a while for Okoth's bill to move forward. The legislation will need cabinet approval, then it must be published so that all interested parties can review the proposal before it enters into parliamentary debates. Whether Okoth's fellow lawmakers will embrace the legislation is yet to be seen.
Don't Legalize Marijuana, UN Drug Enforcement Board Warns Countries
Photo courtesy of Wikimedia.
Governor Signs Marijuana Legalization Bill, Making History In US Territory
With a governor's signature on Friday, the latest place to legalize marijuana in the U.S. isn't a state. It's the Commonwealth of the Northern Mariana Islands (CNMI)—a tiny Pacific territory with a population of just over 50,000.
Under the new law signed by Gov. Ralph Torres (R), adults over 21 years of age will be able to legally possess up to one ounce of marijuana, as well as infused products and extracts. Regulators will issue licenses for cannabis producers, testing facilities, processors, retailers, wholesalers and lounges. Home cultivation of a small number of plants will be allowed.
Please visit Forbes to read the rest of this piece.
(Marijuana Moment's editor provides some content to Forbes via a temporary exclusive publishing license arrangement.)
Photo courtesy of Max Pixel.