Rohrabacher Pushes New Marijuana Bill In Wake of Trump Pledge
One of Congress's leading proponents of marijuana law reform — a key Trump ally — announced he will soon be filing new legislation in line with the president's pledge to support changing federal cannabis laws.
"I am extremely happy that President Trump has made perfectly clear that he meant his campaign promise to respect state laws with regard to marijuana. Now there should be no question in Attorney General Sessions' mind about the president's intention," Congressman Dana Rohrabacher (R-CA) said in a press release. "This is a fundamental issue of federalism and freedom, as state after state moves to take marijuana out of the hands of the cartels and place it in a competitive market where consumers can be assured of product safety. It also encourages more exploration of medical uses for cannabis, which has shown unquestionable promise in the treatment of multiple ailments and disorders."
U.S. Sen. Cory Gardner (R-CO) and White House officials announced late last week that Trump is in support of passing legislation to protect state cannabis laws from federal interference.
"I look forward to working with President Trump and Senator Gardner to move my legislation through Congress," Rohrabacher said. "The authors of our great Constitution most assuredly would approve."
The congressman's new "Cannabis States' Rights Act" would make "restraint on federal enforcement permanent," the release said.
The proposal will be similar to legislation that Rohrabacher already introduced this Congress, known as the "Respect State Marijuana Laws Act," which says that the federal Controlled Substances Act "shall not apply to any person acting in compliance with State laws relating to the production, possession, distribution, dispensation, administration, or delivery of marihuana."
The new bill will add broader language protecting people complying with laws of Indian tribes, and not just states.
"If it's legal under state law, it's legal under federal law," Rick Dykema, the congressman's chief of staff and legislative director, told Marijuana Moment in an interview.
The language will also be "tightened" a bit to clarify that the bill doesn't prevent federal authorities from enforcing the law on federal land, even if that land is within the borders of a state that has legalized cannabis, Dykema said, adding that it is expected to be filed within the next week or two.
The current bill has 45 cosponsors, and Dykema said his office is working to line up as many as possible of those to sign onto the new legislation.
Rohrabacher has been one of the most consistent advocates for cannabis law reform on Capitol Hill, and is a co-author of a current federal spending rider that prohibits Justice Department interference with state medical cannabis laws.
Photo courtesy of Gage Skidmore.

New Mexico Lawmakers Will Work To Unify Conflicting Marijuana Proposals This Week Following House Passage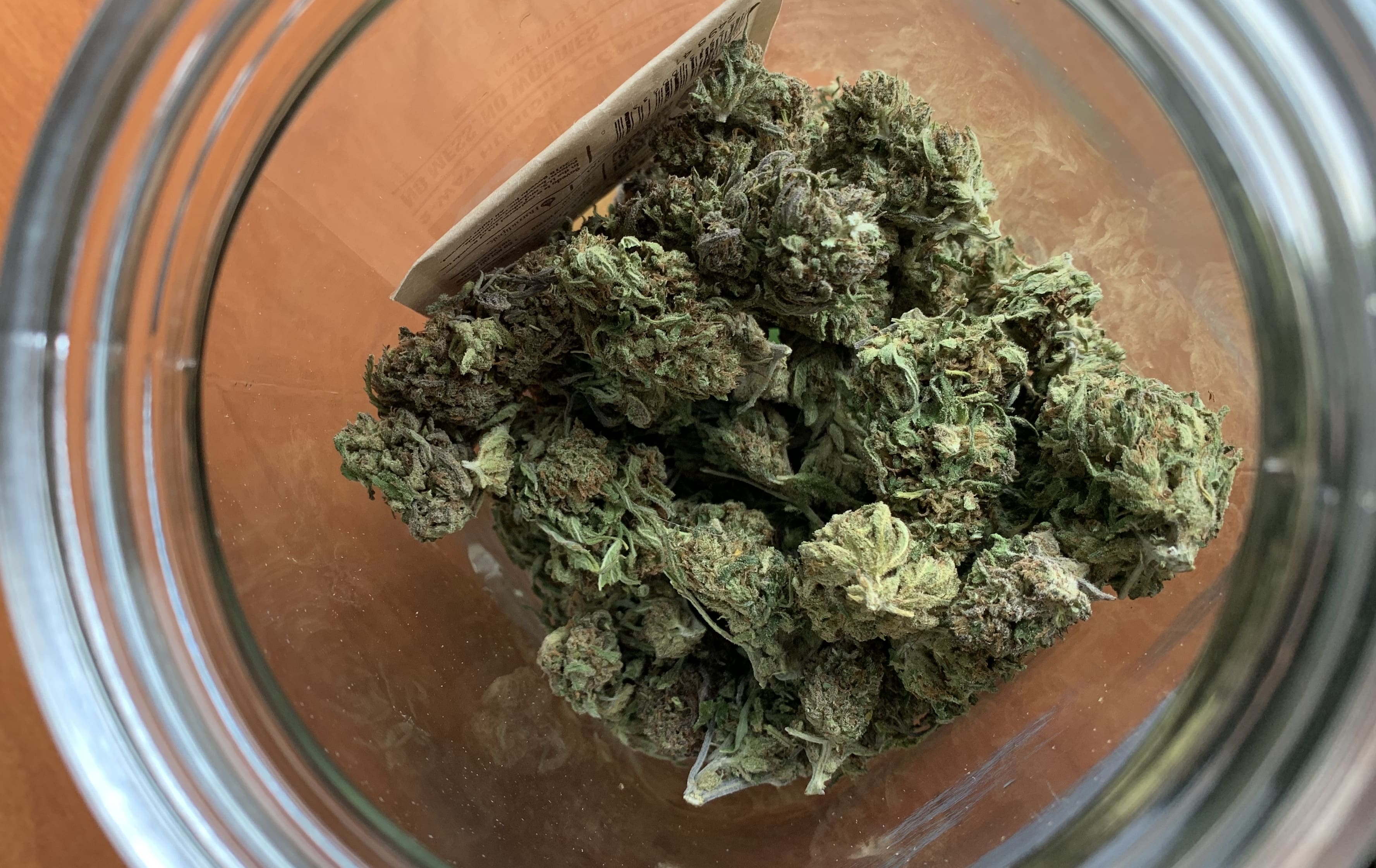 One day after New Mexico's House of Representatives passed legislation to legalize marijuana for adults 21 and older, a Senate panel held a Saturday hearing to take initial testimony on three competing legalization bills introduced in that chamber.
The committee did not vote on any of the measures, instead using the hearing to compare the various Senate proposals to one another as well as to the House-passed legislation, HB 12. "I think we're just trying to get a feel for these four bills," said Senate Tax, Business and Transportation Committee Chairman Benny Shendo Jr. (D), who led the hearing.
The bills' sponsors will now work to combine elements of the various Senate proposals before returning to the committee for a possible vote next Saturday. Despite overlap on some issues, major disagreements remain over the structure of the commercial cannabis market, how tax revenue will be allocated and the makeup of a state oversight board that would regulate the new industry.
"In the next week, basically, the sponsors of these four bills need to see if we can get to one bill," Senate Majority Leader Peter Wirth (D) said at the hearing, "and make a decision in this committee so that we don't end up in a situation where there's just multiple moving pieces."
If backers can't do that, Wirth added, "there's a good chance we end up with nothing" by the time the legislative session ends on March 20.
First up for Discussion in Senate Tax, Business & Transportation Committee: Senate Bill 13, CANNABIS REGULATION ACT (Ivey-Soto) https://t.co/ts1cR6URou#nmleg #nmpol

— NM Senate Democrats (@NMSenateDems) February 27, 2021
Sen. Jacob Candelaria's (D) SB 363 is the most closely aligned with the House measure, although Republican members of the Senate panel said they prefer SB 288, introduced by GOP Sen. Cliff Pirtle, who said he brought the measure "because I felt like something as important as legalizing the sale of recreational cannabis really needed to have a bipartisan approach."
Sen. Craig Brandt (R), a member of the Senate panel, indicated he's open to legalization depending on how it's done.
"I think I can support this issue with the right pieces," he said at the end of Saturday's hearing, adding that SB 288 is "very close" to what he'd like to see in marijuana legislation. "There are certain things that I cannot and will not support in the House bill."
The third cannabis bill being introduced to the Senate Tax, Business & Transportation Committee this morning is Senate Bill 363 (Candelaria)https://t.co/sWa06a3RFU#nmleg #nmpol @SenCandelaria

— NM Senate Democrats (@NMSenateDems) February 27, 2021
The third bill in the Senate, SB 13, is a pared-down version of the other legalization proposals and is seen as a comparative outlier. The industry-backed bill's House companion, HB 17, sponsored by Rep. Tara Lujan (D), was defeated in a House committee earlier this month as lawmakers proceeded with HB 12.
Lujan spoke in favor of SB 13 at the Senate hearing on behalf of the bill's sponsor, Sen. Daniel Ivey-Soto (D), warning the panel against adopting an overly complex bill.
"There is a lot of stuff going on here," Lujan said, "and I've seen cannabis legislation fail because it's too complicated."
But Rep. Javier Martínez (D), lead sponsor for HB 12, seemed to dismiss that criticism later in the hearing, stressing that it's important the new law be comprehensive.
—
Marijuana Moment is already tracking more than 700 cannabis, psychedelics and drug policy bills in state legislatures and Congress this year. Patreon supporters pledging at least $25/month get access to our interactive maps, charts and hearing calendar so they don't miss any developments.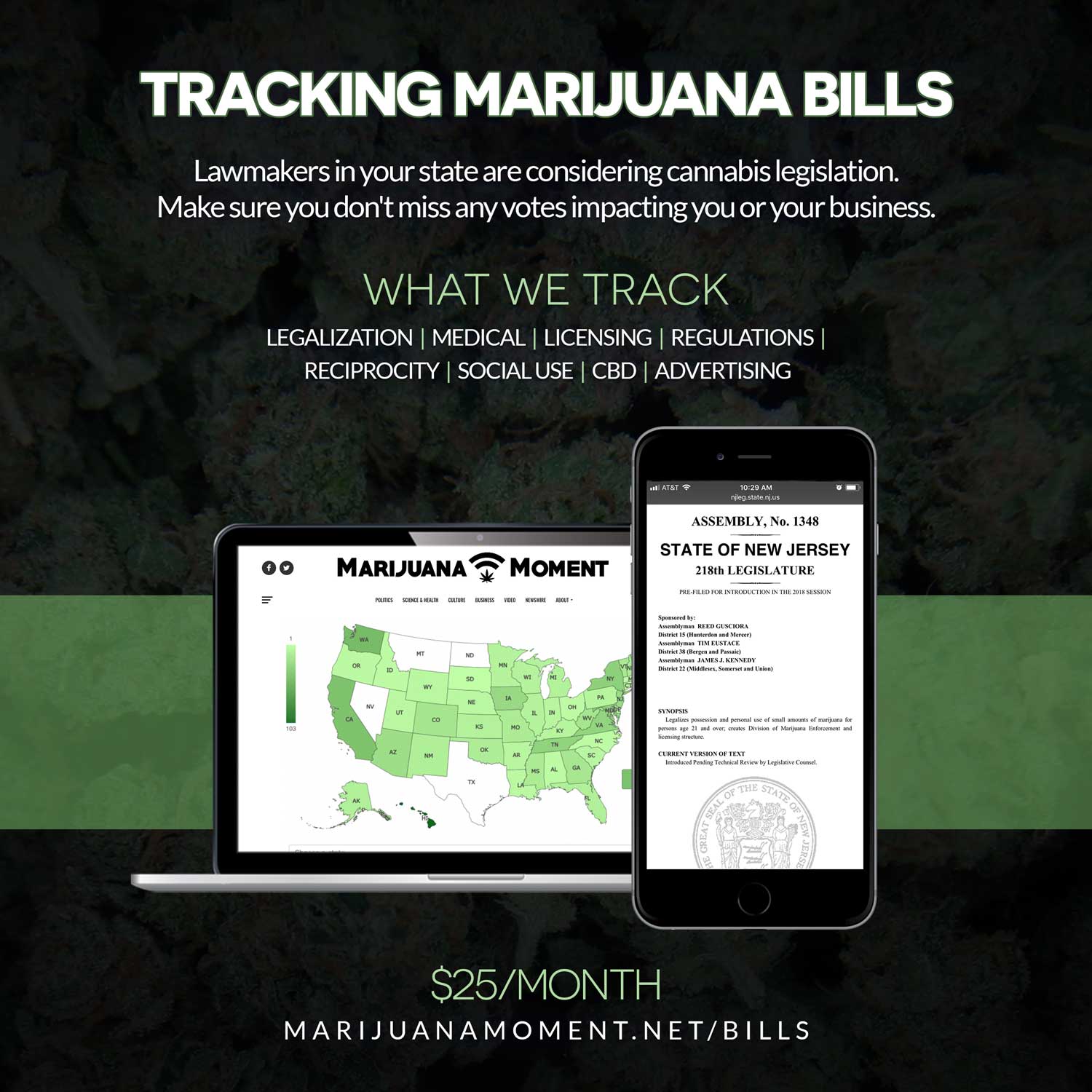 Learn more about our marijuana bill tracker and become a supporter on Patreon to get access.
—
"This is a big deal," he said. "This is a big industry that we're about to create, and we get a chance to design what the industry will look like ahead of time. That hasn't happened with the other big industries in New Mexico."
Martínez's bill, passed Friday by House lawmakers in a 39–21 vote, would set up an extensive system of licensing and regulation for the cannabis industry. Rules for the new market would need to be implemented by January 2022. Small businesses and existing medical marijuana companies could begin selling products that same month, with other businesses set to open in September 2022.
The bill would allow adults to possess "at least" two ounces of cannabis (regulators could set limits beyond that) and grow up to six mature and six immature plants for personal use.
Senate Tax, Business & Transportation Committee now taking public comment on the four cannabis measures being presented today. This meeting will provide an opportunity for public comment and committee discussion only. #nmleg #nmpol

— NM Senate Democrats (@NMSenateDems) February 27, 2021
Martínez said SB 363 was the most similar to the House bill of all the Senate measures, calling it "very, very aligned to what we're doing."
Much of Saturday's committee hearing focused on proposed limits on business licenses and how many plants licensed producers could grow. Not only will those rules determine how easily people can enter the new market, but they'll also likely affect available supply—a big determinant of product prices.
Both HB 12 and SB 363 would allow businesses with cultivation licenses to grow an unlimited number of plants and create a separate category of small, so-called microbusinesses that could grow a small number of plants and then process and sell marijuana products directly. Those businesses would have a lower barrier to entry in terms of licensing and fees, aimed at ensuring wider access to the industry.
SB 288, meanwhile, wouldn't create separate license categories but would set a per-plant fee on licensing in an effort to allow a lower point of entry for small growers.
One important difference between HB 12 and SB 363, Candelaria pointed out to the panel, is that his Senate bill would allow standalone businesses to establish cannabis consumption areas, designated zones where marijuana could be used openly. The areas would be regulated by the same board that would oversee the commercial industry.
The House-passed bill would allow social consumption, too, but would limit consumption licenses to businesses engaged in other elements of the industry, such as retail marijuana stores.
Pirtle, the sponsor of SB 288, said his bill approaches legalization with the aim of ending underground sales, not necessarily raising revenue. "The first goal when legalizing cannabis," he said at the beginning of his testimony, "is to put the illicit market out of business."
While there's some disagreement over how to model tax projections, estimates of how much revenue the market could raise range between $13 million and $25 million for the first year of legal sales and as much as $150 million by year five.
SB 288 would raise less money due to its comparatively lower taxes, which Pirtle said would help make legal sales more competitive with the illicit market. His measure would route virtually all of the money back to municipal governments where the cannabis transactions take place. "Those are the communities that are going to be impacted," Pirtle said, "so they can add more police officers or cop cars."
Candelaria, for his part, said taxes rates aren't the way to ensure legal businesses are competitive with the illicit market. Ensuring adequate supply, such as through allowing unlimited cultivation under SB 363 and HB 12, would do far more to ensure legal products can compete on price.
"As the result of New Mexico's plant cap" on existing medical marijuana businesses, he said, "one gram of medical cannabis costs approximately on average $10 in New Mexico. It costs $8.15 a gram in Arizona and $5.96 in Colorado."
Those prices in Arizona and Colorado, he added, include tax.
The three Senate bills also differ on how they would address social equity and racial justice. While those issues were raised only in passing at Friday's hearing, drug reform advocates have said they prefer HB 12's equity provisions over any of the Senate bills.
"HB 12 legalizes cannabis in an equitable way that begins to repair the harms that have disproportionately impacted Hispanic/Latinx, Black, Native and Indigenous people in New Mexico," Emily Kaltenbach, senior director of resident States and New Mexico for the Drug Policy Alliance, told Marijuana Moment after Friday's vote in the House. "New Mexicans are absolutely ready to see marijuana legalization become a reality in the state, but they have made it clear that repairing the damage done by the drug war is non-negotiable."
The House measure would establish a fund to reinvest in communities most impacted by the war on drugs, especially Black and brown communities, and includes provisions to automatically expunge prior convictions.
SB 363 includes expungement and release provisions that "mimic" those in HB 12, Candelaria told the committee, noting that his bill would also criminal reduce penalties for possession all controlled substances, not just marijuana. Simple possession of a controlled substance would become a misdemeanor under SB 363 rather than a fourth-degree felony.
Candelaria proposed that his bill, SB 363, be the main vehicle to reconcile with the House measure. "What I think makes the most sense," he told the committee chairman, "is because the House bill has already gone through the process, is that…my bill is basically merged into House Bill 12. I think they are the most similar, both in values and their approach."
He added that he and Pirtle "already have plans to have lunch on Monday," to discuss how to incorporate SB 288.
If all goes well, lawmakers will have whittled down the number of bills by the committee's scheduled meeting on the measures this coming Saturday.
"I think the message was pretty loud and clear to the sponsors," Shendo, the panel's chairman, said at the end of this weekend's hearing. "They've got a lot of work ahead of them, and I hope I get invited to one of those lunches."
Meanwhile, New Mexico Gov. Michelle Lujan Grisham (D) has repeatedly described legalization as a means to boost the economy, especially amid the coronavirus pandemic. She said during a State of the State address in January that "a crisis like the one we've experienced last year can be viewed as a loss or as an invitation to rethink the status quo—to be ambitious and creative and bold."
The governor also included cannabis legalization as part of her 2021 legislative agenda and said in a recent interview that she's "still really optimistic about cannabis" this session.
Additional pressure to end cannabis prohibition this year is coming from neighboring Arizona, where voters approved legalization in November and where sales officially launched in January. New Mexico shares another border with Colorado, one of the first states to legalize for adult use.
Cannabis is also expected to be legalized across the southern border, in Mexico, with lawmakers facing a Supreme Court mandate to end prohibition by April.
Last year in New Mexico, a Senate panel passed a bill to legalize cannabis for adult use passed one New Mexico Senate committee —a measure promptly rejected in another committee before the end of the 30-day legislative session.
In 2019, the House approved a legalization bill that included provisions to put marijuana sales mostly in state-run stores, but it died in the Senate. Later that year, Gov. Lujan Grisham created a working group to study cannabis legalization and issue recommendations.
Polling indicates that voters are ready for the policy change. A survey released in October found that a strong majority of New Mexico residents are in favor of legalization with social equity provisions in place, and about half support decriminalizing drug possession more broadly.
Last May, the governor signaled that she was considering actively campaigning against lawmakers who blocked her legalization bill in 2020. She also said that she's open to letting voters decide on the policy change via a ballot referendum if lawmakers can't send a legalization bill to her desk.
Washington, D.C. Could Allow Marijuana Sales Under Mayor's New Bill And Democratic Control Of Congress
Photo courtesy of Kimberly Lawson
Washington, D.C. Could Allow Marijuana Sales Under Mayor's New Bill And Democratic Control Of Congress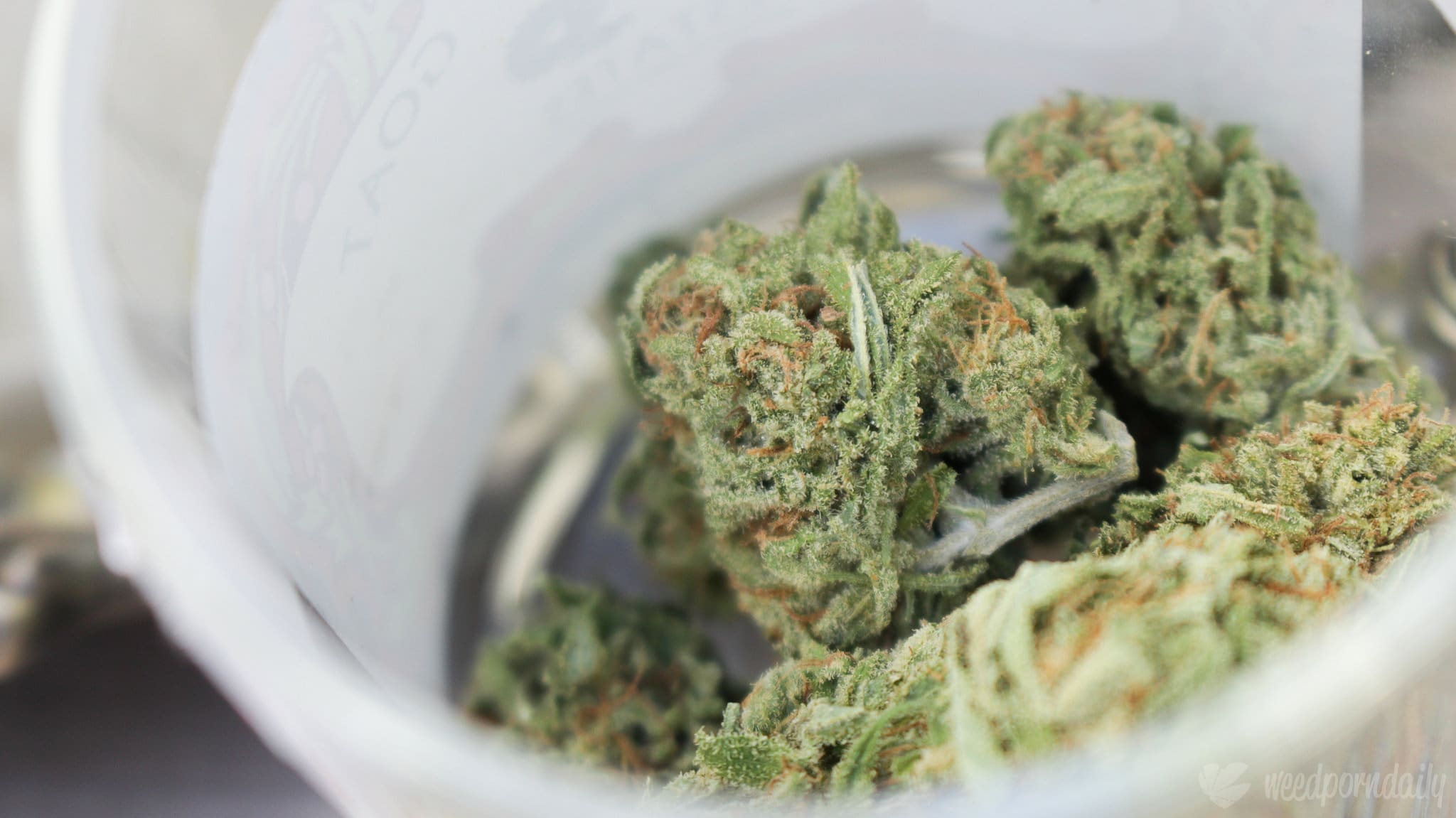 The mayor of Washington, D.C. on Friday introduced a bill to create a regulated marijuana market in the District. And while similar legislation has been introduced in past years, the new proposal comes as Democrats take control of both chambers of Congress—a situation that bodes well for removing a federal spending rider that has long blocked legal cannabis sales from being implemented in the nation's capital.
In other words, there's renewed hope among advocates that 2021 will finally be the year that a commercial cannabis industry can be established in D.C., where voters approved an initiative legalizing marijuana possession and home cultivation in 2014. Congressional appropriations legislation has since prevented the District from authorizing sales, with Republicans in the majority in at least one chamber on Capitol Hill.
Mayor Muriel Bowser's (D) bill largely reflects past proposals, though it does include new licensing provisions and funding mechanisms that are meant to bolster social equity in the industry.
Today, we introduced the Safe Cannabis Sales Act of 2021 to create an equitable adult-use cannabis program, advance a safer and more just DC, and empower and uplift residents who have been disproportionately affected by the criminalization of cannabis.

— Mayor Muriel Bowser (@MayorBowser) February 26, 2021
"This is about safety, equity, and justice," Bowser said in a press release. "Through this legislation, we can fulfill the will of D.C. voters, reduce barriers for entering the cannabis industry, and invest in programs that serve residents and neighborhoods hardest hit by the criminalization of marijuana."
Under the Safe Cannabis Sales Act, adults 21 and older would be allowed to purchase marijuana from licensed dispensaries starting October 1, 2022. A 17 percent tax would be imposed on cannabis sales.
The bill would provide for automatic expungements of prior marijuana convictions and use part of the tax revenue from cannabis sales to support reinvestments in communities most impacted by prohibition. It would also create a new licensing category for delivery services, with a stipulation that eligibility is continent on residency and income factors, such as requiring owners to have lived in certain low-income wards for at least five years.
—
Marijuana Moment is already tracking more than 700 cannabis, psychedelics and drug policy bills in state legislatures and Congress this year. Patreon supporters pledging at least $25/month get access to our interactive maps, charts and hearing calendar so they don't miss any developments.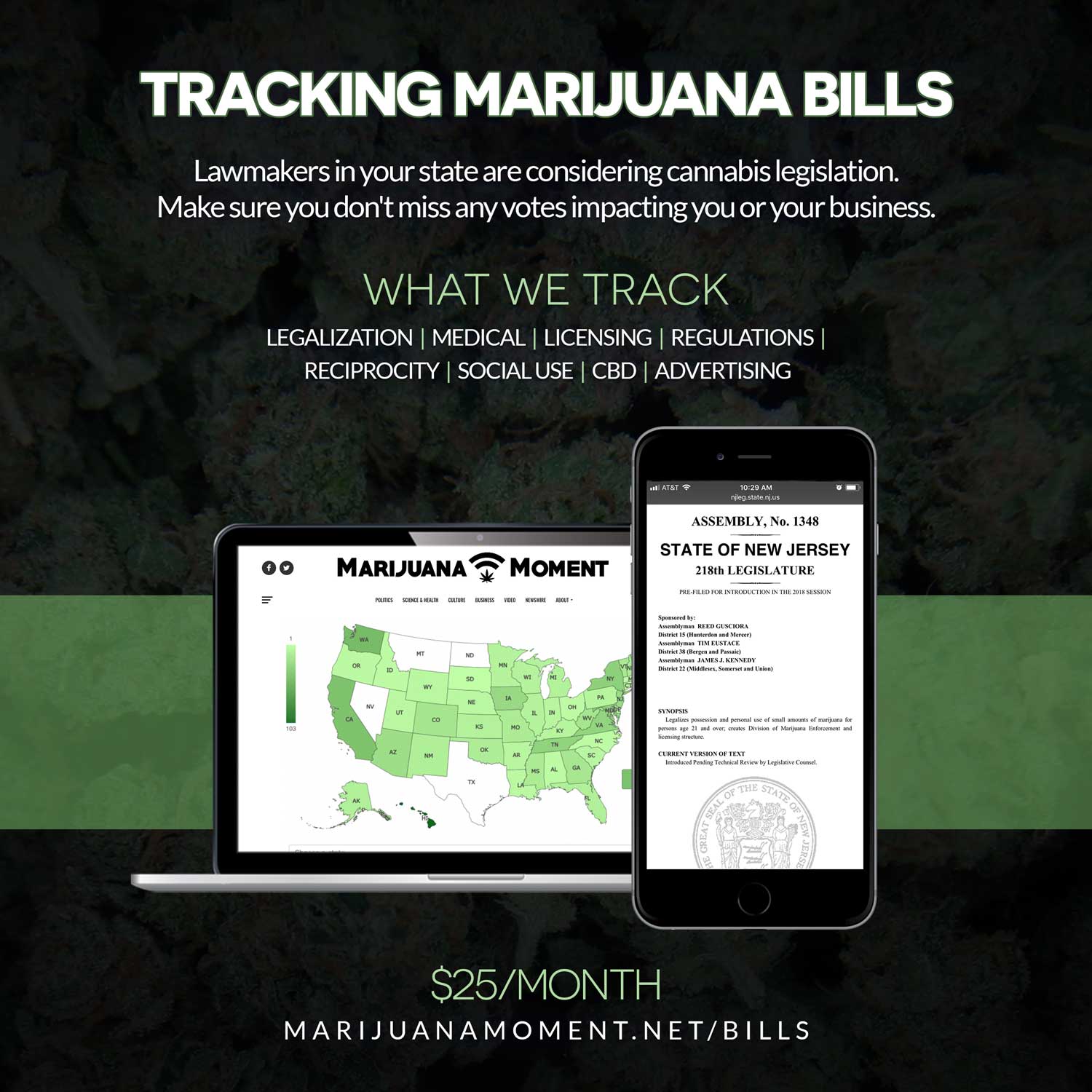 Learn more about our marijuana bill tracker and become a supporter on Patreon to get access.
—
The proposal calls for some tax revenue to be used for grants to be awarded to "locally disadvantaged certified business enterprises to open/expand sit-down restaurants in Wards 7/8. Additional monies would be used to support small grocery stores in those areas. Starting in fiscal year 2023, revenue would fund "school supplies, equipment, and afterschool sports and activities for students attending public schools" in those wards.
With respect to licensing, the legislation would also provide "preference points for certain cannabis business applications for returning citizens or D.C. residents arrested or convicted of a cannabis offense or to a cannabis certified business enterprise or veteran owned business enterprises."
The activist group D.C. Marijuana Justice expressed concerns with several provisions of Bowser's bill, including that it could limit the amount of cannabis that people could possess after growing the plant at home under the city's current law.
You know the "cannabis that has been cut from the cannabis plant" weighs MORE immediately after it is cut from the plant due to water weight.

One *BRANCH* from the cannabis plant, with leaves, buds, and stem can weigh well over 10ozs after it's been cut. pic.twitter.com/i5foTTkCsE

— DC Marijuana Justice💨🏛💨🏛💨🏛💨 (@DCMJ2014) February 27, 2021
Last year, the mayor released a budget plan for the 2021 fiscal year that contained a signal that the local government was preparing to implement regulations for retail marijuana sales just as soon as Congress allowed it by shifting the city's current medical cannabis program to the jurisdiction of the Alcoholic Beverage Regulation Administration (ABRA).
Bowser also unveiled a legalization bill in 2019, and part of it called for ABRA to regulate the legal industry and for the agency to be renamed the Alcoholic Beverage and Cannabis Administration, a change that is also included in the mayor's latest legislation.
Meanwhile, next door to the District, lawmakers in Virginia sent a marijuana legalization bill to the desk of Gov. Ralph Northam (D) on Saturday. On the other side of the city, legislators in Maryland are also considering legalizing cannabis this year.
In D.C., Bowser approved legislation in December to decriminalize possession of drug paraphernalia for personal use and promote harm reduction.
Activists filed a proposed ballot initiative to legalize marijuana sales in August, but it did not advance.
Separately, a local councilman introduced a bill in October that would expand opportunities for formerly incarcerated people to participate in the city's existing medical cannabis market. The new legislation from Bowser would specifically make it so "returning citizens and D.C. residents with a criminal background" could work or manage a marijuana businesses. And those with past cannabis convictions could own a marijuana business.
Read the mayor's marijuana sales bill below: 
Safe Cannabis Sales Act of … by Marijuana Moment
Marijuana Use Won't Automatically Block People From Federal Jobs, Biden Administration Memo Says
Photo courtesy of WeedPornDaily.
Virginia Lawmakers Send Marijuana Legalization Bill To Governor's Desk Just Hours Before Deadline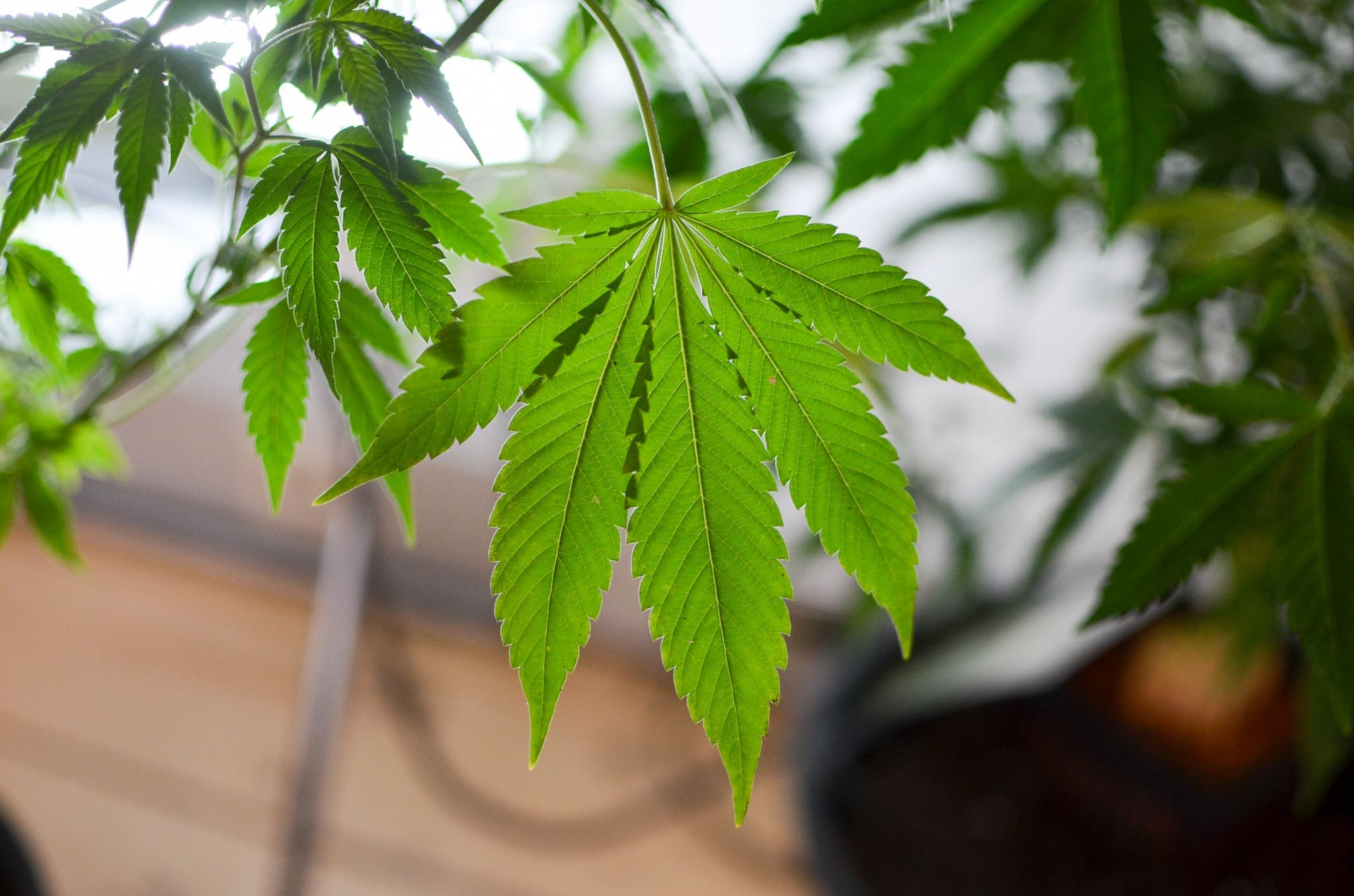 Virginia lawmakers approved a bill to legalize marijuana with just hours left before the deadline to get legislation to the governor this session.
The Senate and House of Delegates approved differing reform proposals earlier this month, and negotiators have since been working to reconcile the bills in conference committee—a contentious process that at times appeared as if it would end without a deal.
But on Saturday, lawmakers agreed to the bicameral compromise plan.
The Senate voted 20-19 to approve the conference committee report on its bill as well as the identical version for the House legislation. The House voted to approve the conference report on its bill, 48-43, with two abstentions. When considering the Senate version, the House voted 47-44, with one abstention.
"It's been a lot of work to get here," Sen. Adam Ebbin (D), the lead sponsor of the Senate version of the legislation, said prior to the Senate vote. "But I would say that we're on the path to an equitable law allowing for responsible adults to use cannabis."
House Majority Leader Charniele Herring (D), the chief sponsor of the her chamber's legalization bill, said that "racial justice is about more than addressing penalties for simple possession."
"It is about reformative justice that provides equitable and social economic opportunity for individuals and communities which have been harmed by disproportionate policing and prosecution of cannabis," she said. "Legalizing cannabis does not end systematic racism but it does remove one of the tools used in advancing systematic racism."
The compromise legislation now goes to the desk of Gov. Ralph Northam (D), who supports ending cannabis prohibition.
Among the most pressing issues for lawmakers to negotiate in recent weeks was the timeline for crafting regulations for the cannabis market. The Senate has pushed for a reenactment clause to be included which would extend the process into next session, whereas the House side wanted to complete legislative work during the current session, arguing that enough research has already been done to effectively decide the issue. But Senate negotiators won out, meaning that the legislature will revisit cannabis regulations and post-legalization penalty structures next session.
Another major area of contention dealt with how the state would approach cannabis possession in the time between the bill's signing and implementation of legal sales going into effect. Under both versions, the adult-use market wouldn't launch until January 1, 2024 to give the state time to establish a regulatory agency to oversee the program. While the Senate had wanted to make the legalization of simple possession and home cultivation take effect starting on July 1 of this year, negotiators ultimately agreed to delay it to coincide with commercialization in 2024.
In the meantime, under the deal, a new Virginia Cannabis Control Authority will begin work this July to lay the ground for a legal marijuana industry.
Here are some of the other major provisions that were resolved in conference: 
Referendum—The Senate version of the bill would have asked voters to weigh in on legalization through a nonbinding referendum on this November's ballot. But the issue became increasingly contentious in recent days and conference negotiators decided to drop the idea.
Local control—Whereas the Senate measure called for individual cities to be able to ban marijuana businesses from operating in their area, the House version did not include an opt-out provision. Conferees decided to allow municipalities to elect to ban cannabis commercialization, but they must do so by December 31, 2022.
Penalties for youth—Under the House bill, minors caught possessing cannabis would be subject to a $25 fine with a referral to substance misuse treatment. The Senate, meanwhile, proposed a $250 fine for youth possession for the first offense and then criminal charges and even jail time for subsequent convictions. The agreed-upon final legislation would continue the current approach of treating youth possession as a delinquency, subject to a civil penalty of up to $25, but add a mandatory substance misuse treatment or education program or both. There would be no interaction with courts for such youths. For people between the ages of 18 and 20, the conference deal would continue the existing $25 fee that exists under the state's decriminalization law and add that they may be ordered to enter a treatment or education program or both.
Social equity—Both versions of the legislation called for licensing priorities for social equity businesses, but there were differences in how each chamber defined what constitutes a social equity applicant. The final legislation defines an equity business as one that has at least 66 percent ownership by people who have been convicted of misdemeanor marijuana offenses (or have family members with such convictions) or people who live in a geographic area that is economically distressed or has a disproportionate rate of cannabis policing. People who graduated from a historically black college or university located in the state would also qualify. Also, beginning on July 1, the state would establish Cannabis Equity Reinvestment Fund and a Cannabis Equity Business Loan Fund.
Vertical integration—The House's measure would ban vertical integration, a process that would allow a single company could control aspects of growing, processing and selling marijuana products. The Senate, meanwhile, wanted to allow vertical integration only if a cannabis business paid a $1 million fee into a state equity fund. Under the final legislation, vertical integration will be generally limited but will allow existing medical cannabis and hemp businesses to partially vertically integrate. Micro-businesses will also be able to vertically integrate.
In general under the legislation, adults 21 and older would be able to purchase and possess up to one ounce of cannabis and cultivate up to four plants for personal use. It also allows people to petition for suspended or modified sentences for marijuana convictions and establishes criteria for sealing past records.
The bill would set a cannabis excise tax of 21 percent and allow localities to add an additional 3 percent tax on top of the state's existing 6 percent retail sales tax. Revenue would partly fund pre-K education programs for at-risk youth and would support the new equity funds as well as addiction prevention and treatment services and public health initiatives.
—
Marijuana Moment is already tracking more than 700 cannabis, psychedelics and drug policy bills in state legislatures and Congress this year. Patreon supporters pledging at least $25/month get access to our interactive maps, charts and hearing calendar so they don't miss any developments.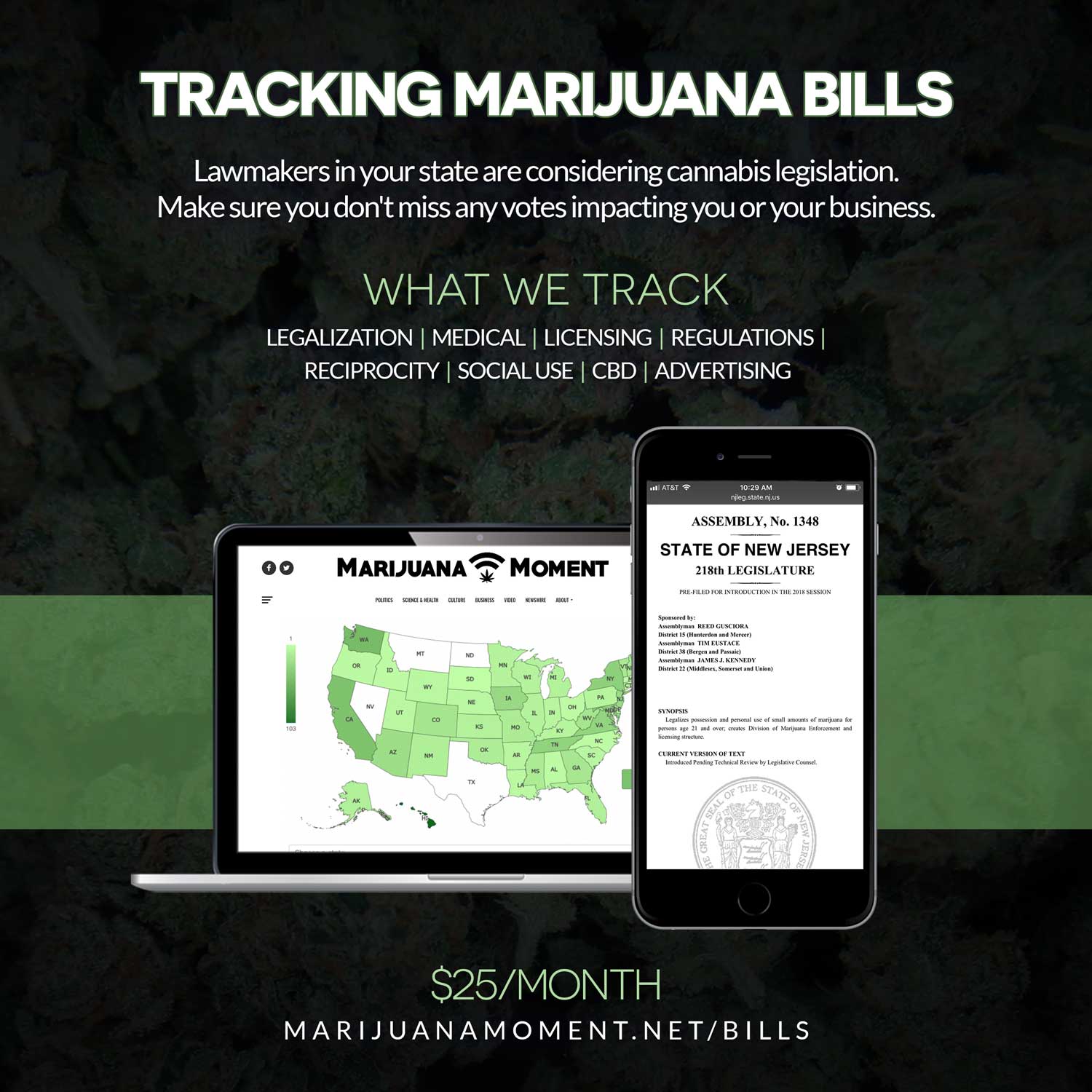 Learn more about our marijuana bill tracker and become a supporter on Patreon to get access.
—
The proposal would create a new cannabis-focused state agency to regulate the legal market as opposed to having it fall under the existing alcoholic beverage authority as was the case under the governor's original plan.
Post-legalization penalties set to go into effect in 2024, which are subject to renewal by the legislature next session, would include a $25 fine for possessing between one ounce and one pound in public. For public consumption, there would be a civil penalty of no more than $25 for first offense. A second offense would come with a $25 civil penalty and an order to enter a substance misuse treatment or education program, or both. Third or subsequent offenses would constitute a Class 4 misdemeanor with no possibility of jail time. Meanwhile, bringing marijuana across state lines would be a Class 1 misdemeanor.
Now that the final bill is headed to Northam's desk, the governor will have the opportunity to suggest amendments to lawmakers, who can then adopt the suggestions as is or change or reject them, at which point the bill would go back to the governor for final action.
Northam's spokesperson indicated on Saturday that the governor intends to make some changes to the bill, saying that while its passage is a "major step," he "looks forward to continuing to improve this legislation."
Jenn Michelle Pedini, executive director of Virginia NORML, said the bill's passage "is another historic step for cannabis justice" that will "replace the failed policy of cannabis prohibition with one that promotes Virginia's economy as well as Virginians' public health and safety."
"This effort remains a work in progress and our efforts in Virginia are far from over," Pedini, who also serves as NORML's national development director, said. "NORML is dedicated to continuing our work with lawmakers and regulators to advance legislative reforms that are most closely aligned with the views of the majority of Virginians who desire a safe, legal cannabis market. In particular, we hope to expedite the timeline with which Virginia adults will no longer face either criminal or civil penalties for the personal possession and cultivation of cannabis."
Matt Simon, senior legislative analyst for the Marijuana Policy Project, said it's "exciting that Virginia is on track to end cannabis prohibition and replace it with sensible regulation."
"Lawmakers in other states are already taking notice and seeking to learn from Virginia's example," he said.
Earlier on Saturday, the ACLU of Virginia and other groups had urged lawmakers to defeat the final proposal prior to the release of its actual text, saying that the provisions as described in media reports showed it to be a "symbolic marijuana legalization bill made behind closed doors that does not advance the cause of equal justice and racial justice."
BREAKING: We, @thcjusticenow, @RISEforYouth, and @JusticeFwdVa urged Virginia lawmakers to vote no on a symbolic marijuana legalization bill made behind closed doors that does not advance the cause of equal justice and racial justice in Virginia. https://t.co/kS47X9qK7g

— ACLU of Virginia (@ACLUVA) February 27, 2021
The Virginia NAACP argued that the bill, based on press accounts, "includes Systemically Racist probable cause provisions" and pledged that its members "will not stand by while Jim Crow's sister Jane tries to creep her way into Virginia law."
We will not stand by while Jim Crow's sister Jane tries to creep her way into Virginia law."
2/2

— Virginia NAACP (@NAACPVirginia) February 27, 2021
But after the bill's text came out, NAACP issued an updated statement saying that while the final legislation "is not perfect, it's a step in the right direction."
The Virginia NAACP will not rest until full equity and restorative justice is achieved."
2/2

— Virginia NAACP (@NAACPVirginia) February 28, 2021
The ACLU, for its part, maintained its opposition, saying that lawmakers "failed to legalize marijuana for racial justice" and "paid lip service to the communities that have suffered decades of harm caused by the racist War on Drugs with legislation that falls short of equitable reform and delays justice."
The new changes, which would not legalize simple possession until 2024, do nothing to break the chains of marijuana prohibition.

It would delay & deny justice to all those whose lives have been upended & who are still being harassed by police on the streets every day.

— ACLU of Virginia (@ACLUVA) February 28, 2021
All of this legislative action comes a little over a month after Northam and top lawmakers initially unveiled their legalization proposal.
The cannabis legislation's structure was informed by separate studies conducted by a legislative research body and a working group made up of state cabinet officials.
Support for legalizing marijuana is strong in Virginia, according to a poll released this month. It found that a majority of adults in the Commonwealth (68 percent) favor adult-use legalization, and that includes most Republicans (51 percent).
The legislature has also taken up a number of other more modest cannabis reform proposals this session.
Bills to allow medical patients to access whole-flower cannabis in addition to oils, facilitate automatic expungements for certain marijuana convictions, protect employment rights of medical cannabis patients and allow those in hospice and nursing facilities to access medical marijuana have also advanced this session.
Virginia lawmakers passed separate legislation last year that decriminalized possession of up to an ounce of marijuana, replacing existing penalties with a $25 civil fine and no threat of jail time. The law took effect last July.
Read a summary of the provisions of the Virginia marijuana legalization conference report below:
Virginia Marijuana Legalization Conference Details by Marijuana Moment on Scribd
New Mexico House Approves Marijuana Legalization Bill, With Senate Action Imminent
Photo courtesy of Philip Steffan.