The EPA Is Funding Research On Using Hemp As A Sustainable Alternative To Concrete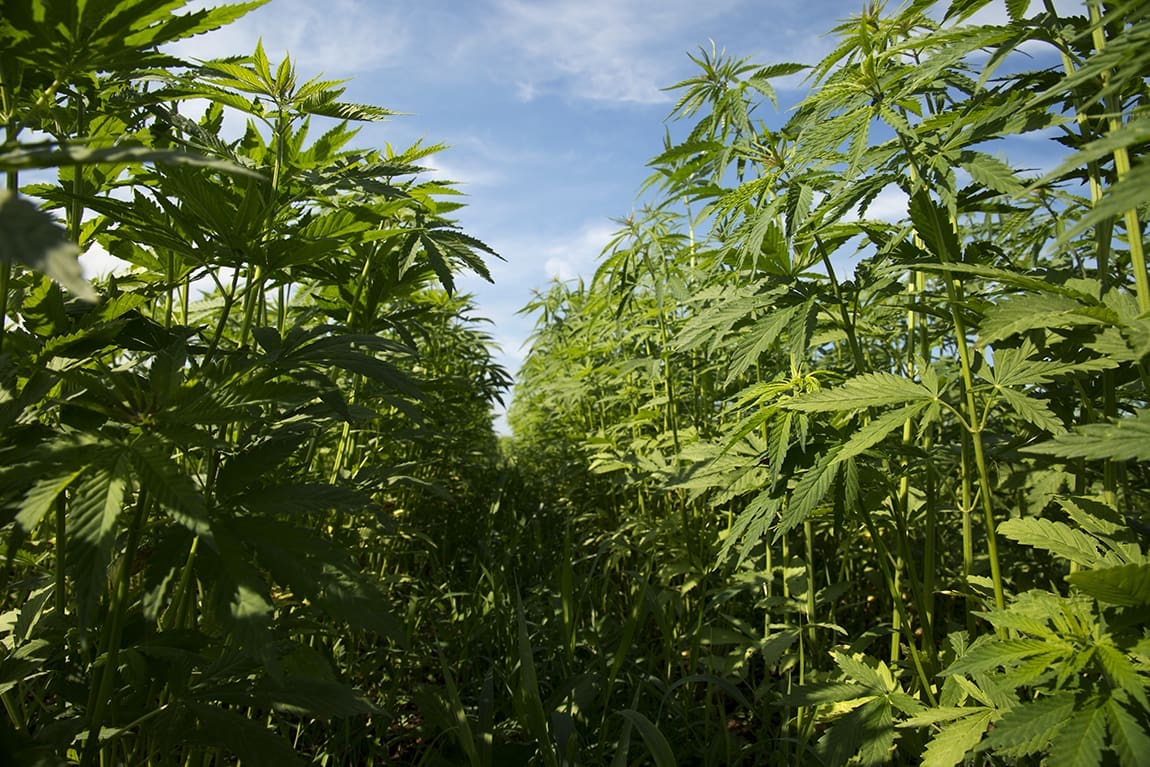 The Environmental Protection Agency (EPA) is funding a research project looking into the sustainable production of hempcrete, a hemp-based mixture that's better for the environment than traditional concrete.
According to a notice published on the EPA website, the agency awarded a roughly $12,000 grant to a student-led research team at the University of California, Riverside, to support a study on the use of hemp as an "industrially relevant renewable fiber for construction."
A 2nd #EPAp3 student team @UCRiverside will study hemp fiber properties and ultimately produce hempcrete as a lighter, stronger, and more environmentally friendly alternative to conventional fossil-based concrete. https://t.co/tmt8uLX66i #STEM

— US EPA Research (@EPAresearch) March 29, 2019
But while hempcrete is a natural alternative to fossil-based concrete, the most common method for pulping the crop to use its fibers is wasteful, according to a summary of the study. The so-called Kraft pulping process—which involves treating hemps stalks with hot water, sodium hydroxide and sodium sulfide to separate the fibers—produces seven tons of toxic waste for every ton of pulp extracted, it says.
With that in mind, the EPA grant will go toward the development of hempcrete using a more sustainable pulping process. Researchers will use co-solvent enhanced lignocellulosic fractionation technology "to allow for much cleaner and faster pulping of hemp fibers without the production of [toxic waste]."
"Our project goal is to produce hempcrete, as a lighter, stronger, and more environmentally friendly alternative to conventional fossil-based concrete."
Instead of a multi-step pulping procedure, the hemp fibers will be extracted by simply applying tetrahydrofuran, a renewable organic compound, and diluted sulfuric acid to the hemp stalks. The EPA said this mechanism "is comparable to that of the Kraft pulping process while also producing a useful fermentable sugar solution as a byproduct, thus allowing more of the original hemp to be used before waste treatment."
Once the hemp fibers are extracted, they can be added to cement as a "reinforcing agent" or used on their own for drywall or "structural reinforcements."
With the passage of the 2018 Farm Bill, which legalized industrial hemp at the federal level, farmers and manufacturers are exploring the crop's potential for a variety of industries, including construction. Hempcrete has even intrigued allies of President Donald Trump who reached out to a Kansas-based hemp business to learn how the crop could be used to build a proposed border wall.
Study Shows That Bees Like Hemp, And That's Great News For The Environment
Photo courtesy of Brendan Cleak.
Two More Studies Show Patients Are Replacing Prescription Painkillers With Marijuana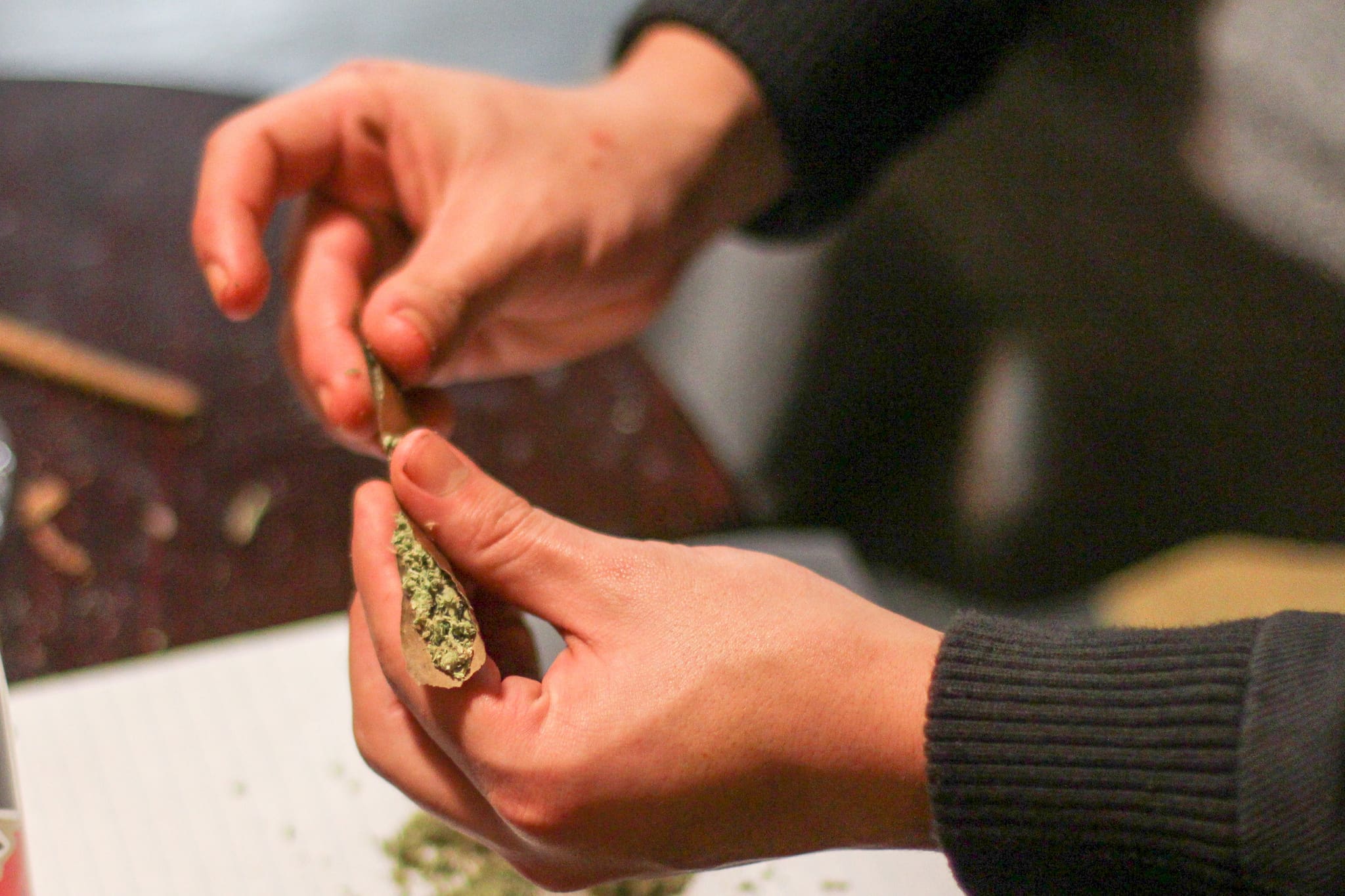 Two new studies out this month offer additional evidence that chronic pain patients are skipping addictive pharmaceuticals and using marijuana instead to help them find relief.
The findings are just the latest in an ever-growing body of research revealing cannabis's potential to help address the country's opioid crisis.
The first study, published in the International Journal of Drug Policy, aimed to investigate whether it's "plausible" that people are substituting marijuana for opioids to help them with pain. Researchers from Florida International University used data from the National Survey on Drug Use and Health to evaluate whether people who live in states where medical cannabis is legal were less likely to turn to opioids for pain relief than those who lived in states where medical marijuana was not an option.
The researchers focused on several variables: whether respondents used or misused any prescription pain relievers during the past year, what states they lived in and whether those states had legalized cannabis for medicinal purposes, among other factors. The responses of 120,764 participants were analyzed for the years 2015 through 2017 of the survey.
According to the authors, "the results generated from the multivariate logistic regression equations show that [medical marijuana laws] are associated with a lower likelihood of opioid pain reliever use, but not misuse."
"Results provide evidence that MMLs may be effective at reducing opioid reliance as survey respondents living in states with medical cannabis legislation are much less apt to report using opioid analgesics than people living in states without such laws, net other factors."
These results, the study states, support other research that shows patients prefer to consume medical marijuana over opioids.
"In addition, cannabis enabled patients to reduce their reliance on opioids with a significant proportion indicating that cannabis was equal to opioids for pain relief and preferring cannabis over opioids if it were an available alternative," it concludes. "Such subjective appraisals by patients are important in this context as the success of a treatment plan is in part determined by the patient's perceptions of treatment efficacy and tolerance of side effects."
The second study, published in PLoS ONE, took the question of whether or not patients substituted marijuana for prescription painkillers directly to the people. In a nationally representative survey of 16,280 adults, researchers from the San Francisco Veterans Affairs Medical Center asked participants to share information about their opioid and marijuana use. They also asked if they'd noticed a change in the amount of opiate medications they needed for pain because of marijuana use, and why patients who substituted cannabis for their prescription pain killers did so.
More than half of the people queried responded to the survey. Of the 9,003 respondents, 486 (5 percent) reported using marijuana and opioids in the past year; 43 percent said they took opioids daily and 23 percent reported consuming marijuana within the past month.
According to the study's findings, 41 percent of that sample decreased or stopped using opioids because of marijuana use, while 46 percent reported no change in opioid use and 8 percent said they increased their opioid intake.
"We found that a substantial number of US adults reported that they substituted marijuana for opioids."
"The most commonly reported reasons for substitution were better pain management (36%) and fewer side effects (32%) and withdrawal symptoms (26%), compared to the non-medical reasons for use: cheaper (13%) and more social acceptance from marijuana use (13%)," the study's authors write.
"More research on this topic is clearly needed," the study states. "Nonetheless, our findings suggest that even if objective measures do not support that marijuana is substitutive for opioid use, patients perceive that marijuana use has reduced their opioid use. Perhaps the commercialization of marijuana and the favorable media coverage surrounding the health effects of marijuana are fostering such a perception."
Ultimately, both studies reveal the importance of patient-centered care in efforts to mitigate opioid use and misuse. That's exactly what the Department of Health & Human Services (HHS) Pain Management Inter-Agency Task Force called for earlier this year.
Pilot Study Shows Marijuana Can Help Chronic Pain Patients Stop Taking Opioids
Photo courtesy of Martin Alonso.
A 'Significant' Number Of Patients Stopped Taking Benzodiazepines After Starting Medical Marijuana
Nearly half of patients using marijuana to help with their respective medical conditions stopped taking prescribed benzodiazepines, a new study reports.
"Within a cohort of 146 patients initiated on medical cannabis therapy, 45.2% patients successfully discontinued their pre-existing benzodiazepine therapy," the study's authors write. "This observation merits further investigation into the risks and benefits of the therapeutic use of medical cannabis and its role relating to benzodiazepine use."
While much research has been dedicated to understanding how medical cannabis could potentially replace opioids for patients who deal with chronic pain and other ailments, the new study suggests patients who take Valium, Xanax and other popular tranquilizers for neurological conditions (such as anxiety, insomnia and seizures) may find relief through marijuana. The findings were published last month in the journal Cannabis and Cannabinoid Research.
Researchers in Canada conducted a retrospective analysis of data collected from a group of patients who had been referred to the Canabo Medical Clinic for medical cannabis to treat a variety of medical conditions. They identified 146 patients who reported taking benzodiazepines regularly at the start of their cannabis therapy.
According to their findings, 44 patients (30 percent) had discontinued their benzodiazepines by their first follow-up visit. Another 21 had stopped the benzodiazepine treatment by their second follow-up visit, and one more person reported doing so at the third visit. All in all, 66 patients, or 45 percent of the sample, stopped taking benzodiazepines after starting a medical marijuana regimen.
"Patients initiated on medical cannabis therapy showed significant benzodiazepine discontinuation rates after their first follow-up visit to their medical cannabis prescriber, and continued to show significant discontinuation rates thereafter," the study states. "Discontinuation was not associated with any measured demographic characteristic. Patients also reported decreased daily distress due to their medical condition(s) following prescription cannabinoids."
The amount of CBD and THC content did not appear to play a role in who continued to discontinued taking the tranquilizers.
The design of the study, however, limited the authors' ability to speculate about the mechanisms underscoring their results. Additionally, because they didn't have access to information on what marijuana strains patients used or how they consumed it, the authors caution that their results can't be generalized to what's available in legal commercial markets today.
"The study results are encouraging, and this work is concurrent with growing public interest in a rapidly developing Canadian cannabis market," said lead author Chad Purcell in a statement. "We are advising the public to observe caution. The results do not suggest that cannabis should be used an alternative to conventional therapies. Our purpose is inspiring others to advance current cannabis understanding as we collect stronger efficacy and safety data that will lead to responsible policy and recommended practices for use."
The study also serves as an opportunity to draw more attention to the potential risks associated with benzodiazepines, Purcell told PsyPost. "I was interested in this project because it presented an opportunity to address benzodiazepines and cannabis use, both of which are becoming increasingly socially relevant. Benzodiazepines can be effective in treating many medical conditions but unlike opioids, there seems to be little public awareness of the risks associated with these commonly used prescription medications."
According to the Centers for Disease Control and Prevention, overdose deaths related to benzodiazepines rose 830 percent between 1999 and 2017.
Patients Are Substituting Marijuana For Addictive Pharmaceutical Drugs, Two New Studies Show
Photo courtesy of Ndispensable. 
Marijuana Legalization Doesn't Cause Increased Crime, Federally Funded Study Finds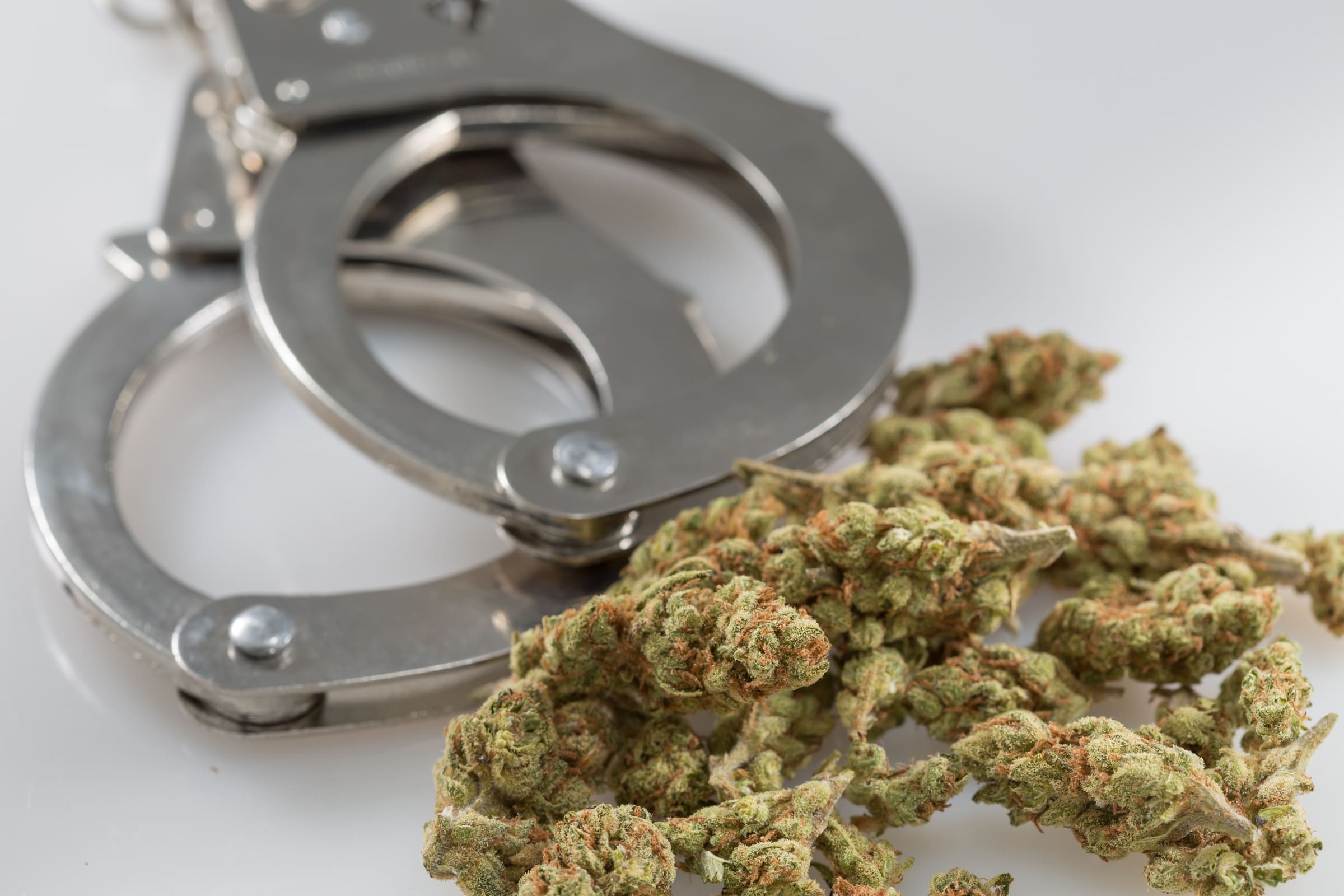 Legalizing marijuana has little to no impact on rates of violent or property crime, according to a new study that was funded by a federal agency. The policy change did seem connected to a long-term decline in burglaries in one state, however.
While previous attempts to understand the relationship between legal cannabis markets and crime have turned up mixed results, researchers involved in this study used an enhanced methodology—a "quasi-experimental, multi-group interrupted time-series design"—to produce stronger evidence.
The study, published in the journal Justice Quarterly and funded by the federal National Institute of Justice, found that violent and property crimes rates were not affected in a statistically significant way in the years after Colorado and Washington State became the first in the nation to legalize marijuana for adult use.
"Our results suggest that marijuana legalization and sales have had minimal to no effect on major crimes in Colorado or Washington," the paper concluded. "We observed no statistically significant long-term effects of recreational cannabis laws or the initiation of retail sales on violent or property crime rates in these states."
The study authors explicitly cited claims made by prohibitionist group Smart Approaches to Marijuana and author Alex Berenson as being contradicted by their findings.
To determine the impact of legalization, researchers designed experimental models that compared crime rates in Colorado and Washington to those in 21 non-legal states from 1999 to 2016. The analysis was based on FBI data on violent, property, aggravated assault, auto theft, burglary, larceny and robbery crime rates.
Following legalization, there were one-time increases in property crime in the two states, as well as a spike in aggravated assault in Washington, but those did not reflect long-term trends, "suggesting that if marijuana legalization influenced crime, it was short-lived," the study authors wrote.
There was one statistically significant long-term impact that the researchers did attribute to state marijuana laws: The burglary rate in Washington decreased, and that trend has held.
It's not immediately clear why that is the case, and the study's conclusion encourages future research that replicates and refines the design used for this experiment to solve answered questions.
"In summary, our results suggest that there may have been some immediate increases in crime at the point of legalization, yet there have been essentially no longterm shifts in crime rates because of legalization, aside from a decline in Burglary in Washington. Though the short-term increases might appear to suggest that marijuana increased crime, we caution against this interpretation as the increases do not reflect permanent shifts (that is, these are shifts in intercepts, not slopes) and could be artificially induced by the small number of time units between legalization and sales."
Dale Willits, a study coauthor, said in a press release that in light of the "nationwide debate about legalization, the federal classification of cannabis under the Controlled Substances Act, and the consequences of legalization for crime continues, it is essential to center that discussion on studies that use contextualized and robust research designs with as few limitations as possible."
"This is but one study and legalization of marijuana is still relatively new, but by replicating our findings, policymakers can answer the question of how legalization affects crime," he said.
Study authors also noted that their analysis did not take into account other crimes such as drug impaired driving.
"Given the likelihood of further liberalization of state and even federal marijuana laws, it is imperative that policy makers and research funders allocate the necessary resources to conduct these more rigorous and intensive types of contextualized studies," they concluded. "Large-scale policy shifts can take a considerable amount of time to produce stable and understandable effects."
This is the second recent study that's received Justice Department funding and arrived at a conclusion that runs against the logic of prohibition. Another example looked at the impact of legalization on law enforcement resources and trafficking trends.
Study Funded By Feds Debunks Myths About Marijuana Legalization's Alleged Harms