Study Shows That Bees Like Hemp, And That's Great News For The Environment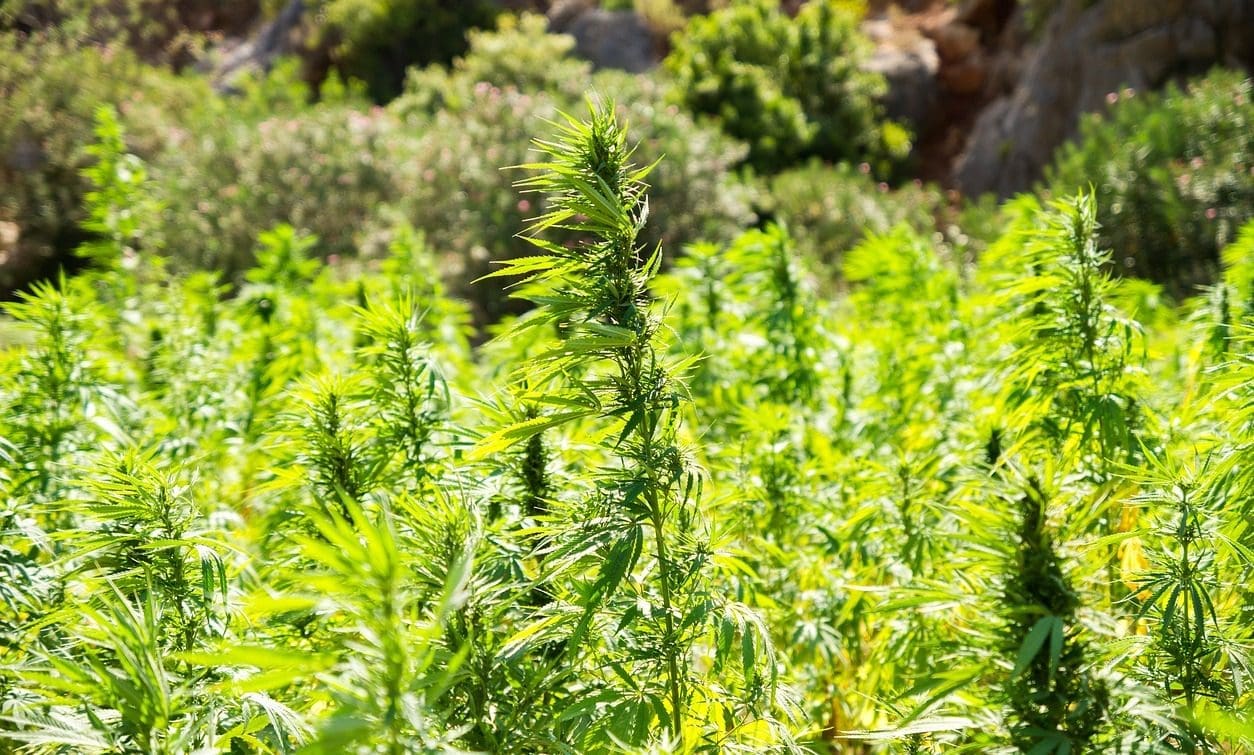 Farmers (and Sen. Mitch McConnell) aren't the only ones who are excited about hemp. According to a recent study, the crop also attracts a variety of bees—and that can help inform ecologically sustainable agriculture practices.
For the study, published this month in the journal Biomass and Bioenergy, researchers at Colorado State University set up 10 traps at industrial hemp fields in northern Colorado and collected bees over the course of five days during peak flowering season.
There are few other crops that pollinate in the region during the same timeframe, so the team wanted to know whether the non-psychoactive cannabis cousin of marijuana represented "a potentially valuable source of pollen for foraging bees," which play a critical role in maintaining "sustainable productivity in natural and agricultural ecosystems."
When the researchers looked at their collection, they found almost 2,000 bees from 23 different bee genera. Most of those (38 percent) were classic honeybees, but there were also specialized genera such as Melissodes bimaculata and Peponapis pruinosa that turned up in surprisingly "high proportions."
The sample also indicated that hemp flowers are uniquely attractive to bees because previous reports looking at bee abundance and diversity for crops like genetically modified canola flowers didn't produce the same volume or variety.
"Industrial hemp can play an important role in providing sustained nutritional options for bees during the cropping season."
The study could prove helpful as ecologists attempt to address declining bee populations. The insects "continue to face debilitating challenges due to a number of different stressors," the researchers wrote, but chief among them is the overall health of their respective habitats.
Finding a suitable pollinating crop to improve their habitats is, therefore, critical to the lives of bees and the ecosystems they occupy. Hemp "can thus be an ecologically valuable crop whose flowers are attractive to managed honey bees and a wide range of wild bees," the researchers concluded.
"In addition, access to crucial phytochemicals through pollen and nectar from diverse plant sources is important for improved survival and pathogen tolerance in honey bees," the team wrote. "Further studies analyzing the nutritive value of hemp pollen, would provide strong evidence in support of the ecological benefits."
But the study also includes a warning: as hemp cultivation expands, which experts expect it will significantly since it has recently been federally legalized, there will be an increased risk of insect pests infecting the crop. And so the researchers said they "strongly urge that the information generated in this study on the diversity and abundance of bees on hemp be used to develop an integrated pest management plan designed to protect pollinators while controlling pests."
Photo courtesy of Pixabay.
Hemp-Derived CBD Helps Chronic Pain Patients Reduce Opioid Use, Study Finds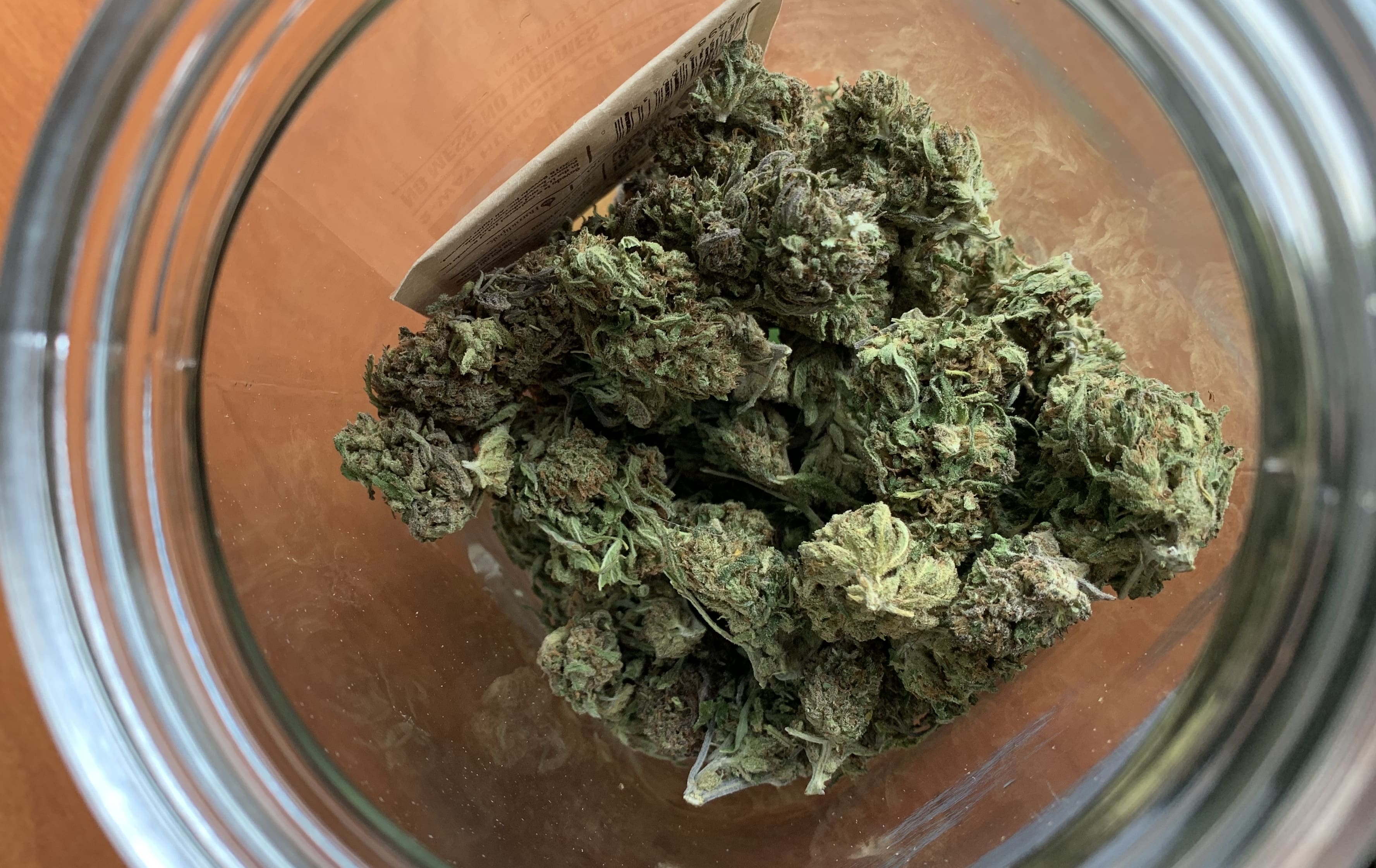 Chronic pain patients consuming hemp-derived cannabidiol, or CBD, on a daily basis for eight weeks reported a decrease in the opioid medications they needed, a new study reports.
"This is a prospective, single-arm cohort study for the potential role of cannabinoids as an alternative for opioids," the paper states. "The results indicate that using the CBD-rich extract enabled our patients to reduce or eliminate opioids with significant improvement in their quality of life indices."
The study, published this month in Postgraduate Medicine, sheds new light on the potential benefits of CBD extracted from hemp, a crop that became federally legal under the 2018 Farm Bill, although the Food and Drug Administration has yet to issue finalized guidelines that would allow CBD to be sold in dietary supplements and food products.
Researchers recruited 131 patients who obtain their care from the same pain clinic; 97 completed the eight-week follow-up period. All had been diagnosed with chronic pain and were taking opioid medications for relief.
For the study, participants were given a 60-count bottle of hemp-derived, CBD-rich soft gels. Each gel, according to the study, contained 15.7 mg CBD, 0.5 mg THC, 0.3 mg cannabidivarin, 0.9 mg cannabidiolic acid, 0.8 mg cannabichrome, and less than 1 percent of a botanical terpene blend. Nearly all (91) took two gel caps a day, totaling 30 mg of CBD; three participants opted not to use the hemp extract at all.
"CBD could significantly reduce opioid use and improve chronic pain and sleep quality among patients who are currently using opioids for pain management."
Researchers asked participants to complete a series of questionnaires to access various factors at the onset of the study, at the four-week mark and at the eight-week point. Among them: their pain intensity level, how much their pain disrupted their lives, the quality of their sleep and how willing they were to cut back on opioids.
Of the total 94 participants who took CBD regularly, 50 reported they were able to reduce opioid medications at week 8. The authors also note: "Additional reductions in polypharmacy on the medication receipt were noted; six participants reported reducing or eliminating their anxiety medications, and four participants reported reducing or eliminating their sleep medication."
Overall, 89 participants reported their quality of life had improved over the study period. Two measures changed significantly: patients' self-rating of sleep quality and pain intensity and interference.
At baseline, the study's authors calculated respondents' scores regarding sleep quality to an average of 12.09—the higher the score, the poorer the quality of sleep. At the four-week and eight-week check-in points, the score decreased to 10.7 and 10.3, respectively. Similarly, another scale the authors used to measure pain and how it interferes with the enjoyment of life found the mean score value change from 6.5 at baseline to 5.9 at week 4 and 5.7 at week 8.
"The results of this study suggest that using CBD-rich hemp extract oil may help reduce opioid use and improve quality of life, specifically in regards to pain and sleep, among chronic pain patients," the study concludes. "This is consistent with emerging literature on the topic, which has concluded that CBD is an effective analgesic, and one that helps reduce barriers to opioid reduction, such as physiological withdrawal symptoms."
In an interview with Appalachian News Express, the study's lead author Alex Capano said that outside of survey studies, her research is "the largest study on the use of CBD to reduce the use of opioids in the treatment of chronic pain."
"It's also the first study on CBD and opioid reduction to identify key data points, such as hemp extract doses, delivery method, and specific cannabinoid content," she continued. "Most participants used a relatively low dose of 30mg of CBD per day, whereas other studies on CBD have tested very large doses, 10x or 20x that amount. Lower doses of CBD mean reduced risk of side effects and improved outcomes."
Americans Are Googling CBD More Than Acupuncture, Meditation And Exercise, Study Finds
Problematic Marijuana Use Is Declining Among People Who Consume Every Day, Study Finds
Contrary to the expectations of public health experts, the rate of frequent marijuana consumers who are diagnosed with cannabis use disorder (CUD) is not increasing, a new study reports. In fact, it's actually decreasing, and that may be due to the growing number of states that have legalized access to marijuana.
According to the paper, "CUD prevalence decreased significantly across all ages reporting daily/almost daily cannabis use between 2002-2016. Cannabis dependence prevalence decreased for adolescents and young adults and was stable only among adults ages 26+ reporting daily/almost daily cannabis use."
Recent studies have had mixed results on the prevalence of CUD—a diagnosis that includes either misuse and/or dependence—in the last two decades. Because people who consume marijuana every day or almost every day are the most at risk for problematic use, researchers at Columbia University's Mailman School of Public Health set out to get a better understanding of this group's general health.
Their findings were published last month in the journal Drug and Alcohol Dependence.
The study's authors used data from the National Surveys on Drug Use and Health for the years 2002-2016. The final sample, totaling 22,651 people, included participants who were 12 and older and reported using marijuana at least 300 days in the past year.
To measure problematic marijuana use, the authors used criteria from the Diagnostic and Statistical Manual of Mental Disorders, Fourth Edition, for cannabis dependence and cannabis abuse, such as:
Spent a great deal of time over a period of a month obtaining, using, or getting over the effects of marijuana
Unable to keep set limits
Unable to cut down cannabis use
Recurrent use resulting in failure to fulfill major role obligations
Continued use despite persistent or recurrent social or interpersonal problems
Other factors considered in the research asked whether participants had a perceived need for mental health treatment, whether a doctor had indicated they had other health issues and whether or not they'd driven under the influence of illegal drugs with and without alcohol.
Over the study period, the authors found that the prevalence of CUD decreased among their sample in all age groups: For adolescents ages 12 to 17, the rate fell by 26.8 percent; for 18- to 25-year-olds, by 29.7 percent; and for adults 26 and older, by 37.5 percent.
"Among those with past-year daily/almost daily cannabis use, there were reductions in the prevalence of DSM-IV cannabis abuse across all age groups, with reductions observed for all individual abuse items in adolescents and young adults," the study states. "There were also reductions in the prevalence of DSM-IV cannabis dependence among adolescents and young adults, but not in adults ages 26+. Reductions in most DSM-IV dependence items were observed in young adults while reductions in only a few dependence items were found for adolescents and older adults."
Researchers offer several possible explanations for the declining rates, many of which point to the influence of legalization. "First, the new national cannabis policy environment, with 33 states legalizing medical use and 10 states allowing recreational use of cannabis may have played a role in reducing stigma and perceptions of risk associated with cannabis use," Silvia Martins, one of the study's authors, said in a statement. "Secondly, increasing legalization may also be associated with changes in social attitudes resulting in fewer conflicts with relatives and friends around cannabis use."
As a result, according to the paper, "[t]his could explain reductions in the abuse item 'Continued use despite persistent or recurrent social or interpersonal problems,' which reflects difficulties in interactions with others due to cannabis use."
It's also possible that "a sector of the population that is healthier overall" is starting to use marijuana more because of legal access, which "may have diluted the prevalence of cannabis abuse/dependence over time." They may use "less potent" cannabis or in lower daily amounts, researchers note. Additionally, more people may feel less afraid to admit on a federal survey that they use marijuana frequently.
Ultimately, Martins said, the study's results "contradict the predominating hypothesis that the prevalence of DSM-IV CUD would be stable, or increase, among those using with this regularity."
Here's What Researchers Know So Far About How Marijuana Legalization Affects Public Health
Photo courtesy of Sharon McCutcheon on Unsplash 
Marijuana Use Tied To Lower Rates Of Depression And Suicidal Ideation Among PTSD Patients
People suffering from post-traumatic stress disorder (PTSD) who consume marijuana experience significantly fewer depressive episodes and lower rates of suicidal ideation compared to non-users, according to a new study.
The research, published in the Journal of Psychopharmacology on Tuesday, analyzed nationally representative health data from Statistics Canada's 2012 Community Health Survey and found that people with PTSD who have not reported past-year marijuana use are much more likely to have suicidal thoughts and go through depressive phases.
"This study provides preliminary epidemiological evidence that cannabis use may contribute to reducing the association between post-traumatic stress disorder and severe depressive and suicidal states."
Among the more than 24,000 people who were eligible for the study, with was conducted by researchers at the the British Columbia Centre on Substance Use and University of British Columbia, 420 were clinically diagnosed with PTSD. Of those, 106 individuals with PTSD (28.2 percent) said they used cannabis in the past year. That's markedly higher than the average of those who don't have PTSD (11.2 percent).
"We know that with limited treatment options for PTSD, many patients have taken to medicating with cannabis to alleviate their symptoms," Stephanie Lake, lead author of the study, said in a press release. "However, this is the first time that results from a nationally representative survey have shown the potential benefits of treating the disorder with cannabis."
Those suffering from PTSD who didn't report past-year cannabis use were about seven times as likely to have experienced a recent major depressive episode, the study found. They were also 4.3 times as likely to have contemplated suicide.
"Among cannabis-using respondents, PTSD was not associated with a recent depressive episode or suicide ideation."
While the study only looked at Canadian respondents, the findings are relevant to U.S. patients as well, as members of the military stateside also experience higher rates of PTSD compared to the general population.
A former secretary of the U.S. Department of Veterans Affairs (VA), David Shulkin, has said recently that he's in favor of having the department conduct clinical research into the therapeutic benefits of marijuana for veterans with PTSD, stating that the suicide rate among the population demonstrates that ignoring the treatment option comes at the "peril" of service members.
While VA declined to support research initiatives into cannabis for medical conditions that commonly afflict veterans under his leadership, Shulkin said this week that the department "should be involved and should be open to research for anything that will help veterans improve their lives, including medical cannabis."
"We're only just beginning to understand what the therapeutic potential of cannabis may be for a variety of health conditions," M-J Milloy, senior author of the new study, said. "These findings are promising, and merit further study in order to fully understand the benefits of cannabis for people living with PTSD."
Former VA Secretary Again Calls For Marijuana Research That His Department Resisted
Photo by davide ragusa on Unsplash.