Senate Approves Bill Protecting Medical Marijuana States From Federal Intervention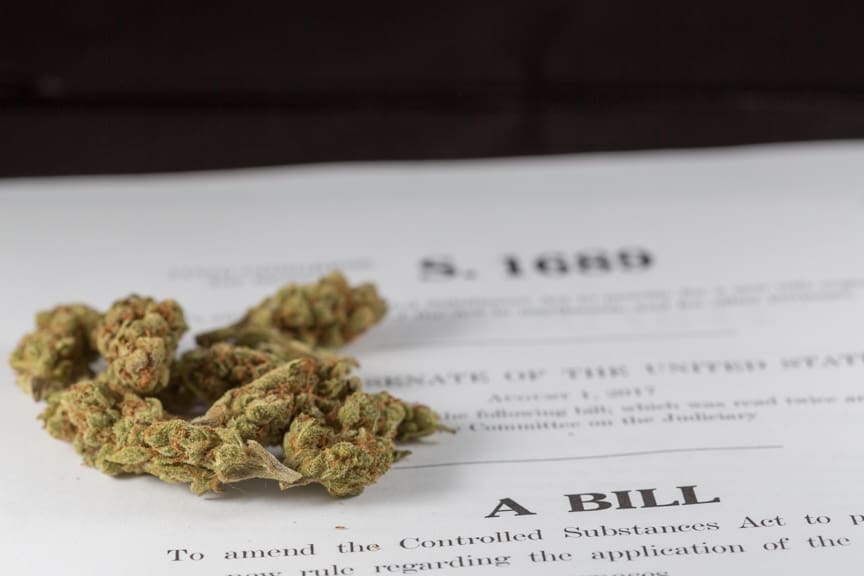 The Senate approved spending legislation on Thursday that extends a provision protecting medical marijuana states from federal interference—but the question remains as to whether a House-passed version with broader protections for all state cannabis programs could still be adopted in the final bill that's sent to the president.
The so-called "minibus" appropriations legislation covers funding for Commerce, Justice, Science, Agriculture, Rural Development, Food and Drug Administration, Interior, Environment, Military Construction, Veterans Affairs, Transportation and Housing and Urban Development for the 2020 fiscal year.
The vote on the bill, which also includes new hemp and CBD-related language, was 84 to 9.
The medical cannabis provision in question prohibits the Department of Justice from using its resources to prosecute individuals acting in compliance with state laws. The rider has been in place and renewed each year since 2014.
But after the House passed a Justice Department spending bill in June that for the first time would extend those protections to all state cannabis programs, including those allowing recreational use and sales, some advocates hoped the Senate would follow suit. In the lead up to a committee markup where that would have happened, however, several senators told Marijuana Moment that the prospects were unlikely, as congressional leaders made a bicameral agreement not to add new policy riders in the appropriations process unless agreed to by leadership on a bipartisan basis.
Now the only chance that Congress will send the broader provision to President Trump's desk for 2020 is if negotiators on a bicameral conference committee agree to put the House language in the final package, though there is a chance that the larger chamber could simply approve the bill as passed by the Senate in an effort to avoid a government shutdown that would occur if no spending legislation is signed into law by November 21.
"It's our hope that the House will insist that today's minibus appropriations package include the provision to restrict the Department of Justice from interfering with state-legal marijuana programs that passed with bipartisan support," said Justin Strekal, political director for NORML.
Sen. Bob Menendez (D-NJ) introduced a separate amendment to the large-scale appropriations bill last week that would have called on the attorney general to study the criminal justice implications of marijuana legalization, but the measure was not considered on the Senate floor.
The medical marijuana protections language isn't the only cannabis-related rider that has advanced via the spending process this year. The Senate Appropriations Committee also approved legislation that includes existing policies barring Washington, D.C. from using its local tax dollars to implement a legal marijuana market, in addition to a provision providing funds to the U.S. Department of Agriculture (USDA) to enact regulations for a legal hemp program.
The latter language is included in the minibus the Senate approved on Thursday, as are report provisions urging the Food and Drug Administration (FDA) to issue enforcement discretion guidelines for CBD, encouraging the Farm Credit Administration to provide services to hemp businesses and supporting "competitive USDA grants for hemp projects."
"The FDA has been dragging its feet to issue the guidance required following the legalization of hemp-derived CBD," Sen. Ron Wyden (D-OR), told Marijuana Moment. "This is about helping Oregon's hemp industry continue to create jobs, protecting consumers and putting an end to the regulatory confusion and uncertainty. This language again shows that the Senate is serious about the FDA doing its job."
Senate Majority Leader Mitch McConnell (R-KY), who with Wyden was a leading advocate for hemp legalization, also cheered the spending bill provisions.
"Hemp farmers, processors and manufacturers are exploring the crop's great potential, and I'm proud to work with them every step of the way. As federal and state governments continue to develop how to best support this industry, I'll keep working to benefit Kentucky producers and ensure hemp is treated just like any other legal commodity," he said in a press release. "Ensuring law enforcement can differentiate between industrial hemp and its illicit cousin is critical, and I'll continue working with the DEA and other federal agencies so hemp can be treated the same as any other legal commodity."
Senate approves @SenateMajLdr McConnell's funding requests to:
✅combat Asian Carp in #Kentucky
✅implement & research Kentucky's #hemp industry
✅help address #opioid & substance abuse epidemic
✅support economic development & infrastructure prioritieshttps://t.co/dOMA8VUUib

— Senator McConnell Press (@McConnellPress) October 31, 2019
The hemp riders are timely given that USDA unveiled draft rules for hemp, which was federally legalized under the 2018 Farm Bill, on Tuesday. The interim final rule will be formally adopted following a 60-day public comment period.
Another House-passed appropriations bill also includes protections for banks that work with the marijuana industry, and the rider preventing D.C. from establishing a cannabis market was removed from the chamber's version of the legislation.
While the Republican-controlled Senate is mostly sticking to the agreement not to add new policy riders to appropriations legislation, it could soon take up a separate, standalone marijuana bill: the Secure and Fair Enforcement (SAFE) Banking Act, which would allow banks to service cannabis businesses without being penalized by federal regulators.
The House overwhelmingly approved that legislation in September, along largely bipartisan lines, and the chair of the Senate Banking Committee said recently that he plans to take up the legislation in his panel before the year's end. He also outlined several changes he'd like to see to the House-passed version in an interview with Marijuana Moment.
This story has been updated to include comments from Wyden and McConnell.