Rhode Island Lawmakers Unveil Marijuana Legalization Bill After Months Of Negotiations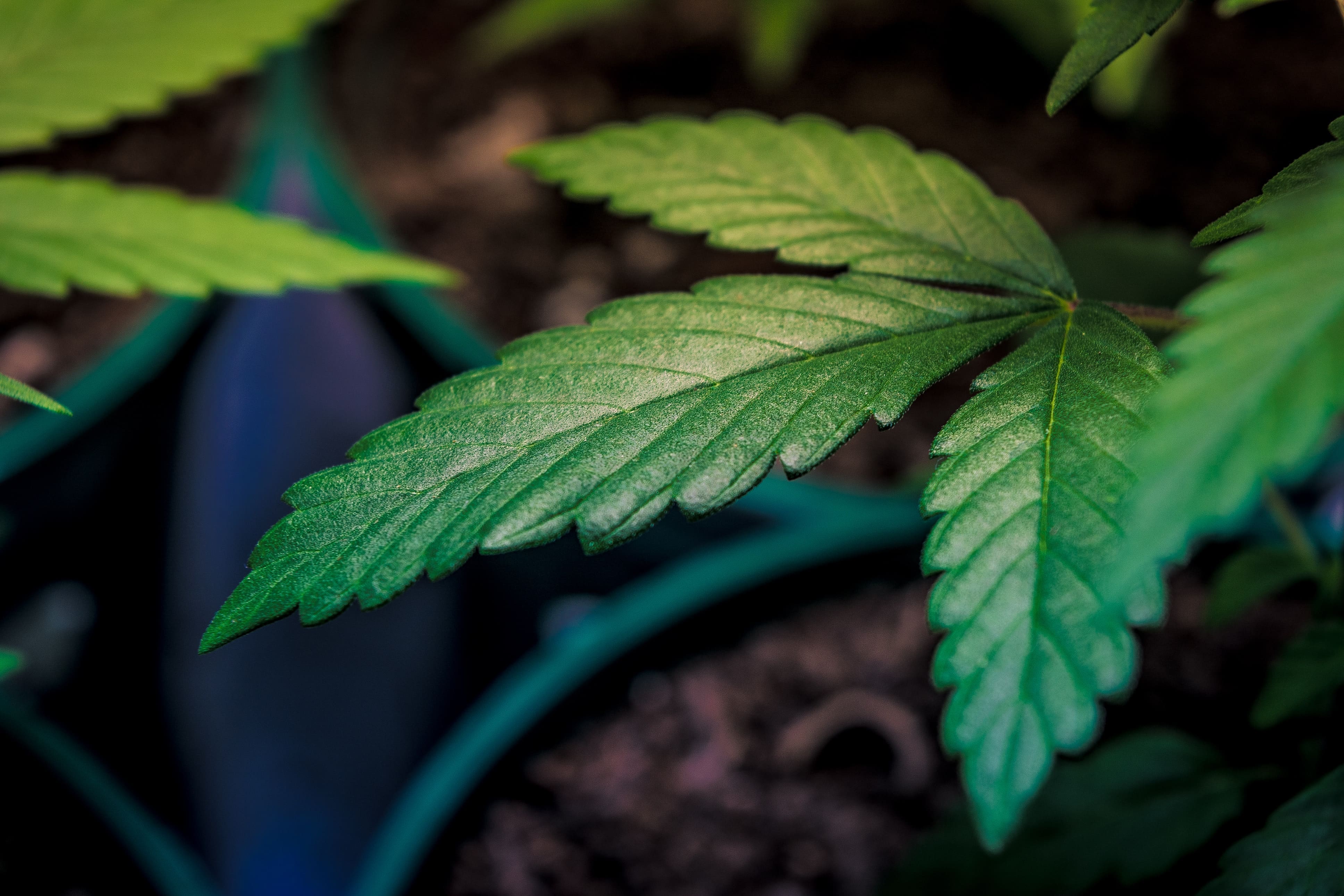 Rhode Island lawmakers from both chambers on Tuesday unveiled a much-anticipated bill to legalize marijuana in the Ocean State—a move that comes about a month after Gov. Dan McKee (D) included a proposal to end cannabis prohibition as part of his annual budget plan.
Sen. Joshua Miller (D) and Rep. Scott Slater (D) introduced the new legislation, which would create a system of licensed businesses to produce and sell cannabis while allowing adults 21 and older to purchase and possess up to an ounce. They could also grow up to six plants at home, three of which could be mature. The allowable possession limit for marijuana stored in a given household would be maxed out at 10 ounces.
Key Rhode Island lawmakers have said for months that they were nearing a deal on the legalization measure and have been working since last year to reconcile competing proposals that have previously been brought forward by the House, Senate and governor's office.
One of the key provisions that's divided legislators concerns whether the adult-use market should be regulated by an existing agency or a newly created body. The bill released on Tuesday calls for a hybrid model, with responsibilities being shared by a new independent Cannabis Control Commission (CCC) and a Cannabis Office under the Department of Business Regulation (DBR). A new advisory board would also assist.
Lawmakers had previously hinted that a hybrid approach to regulation would be an ideal compromise between past competing proposals.
Miller, who sponsored a legalization proposal that was approved in the Senate last year, said in a press release on Tuesday that the "time for Rhode Island to move forward with cannabis legalization is now."
"This historic shift in public policy will create a vibrant new marketplace in our state and end the failed practice of prohibition, which has caused such harm to so many in our communities," he said. "To help address those past wrongs, and to ensure all Rhode Islanders have the opportunity to share the economic benefits associated with legalization, equity is a central focus of this legislation."
@SenatorMillerRI today introduced the Rhode Island Cannabis Act in @RISenate.
 
The proposal would legalize recreational cannabis in RI, create a regulatory structure, and address social inequities resulting from decades of prohibition.
 
Learn more here: https://t.co/T9Ui5dmiTt pic.twitter.com/3JJfGozJ3l

— Rhode Island Senate (@RISenate) March 1, 2022
Legalization of possession of up to one ounce would begin on October 1, 2022—and sales would start then too, though it'd be initially limited to existing medical cannabis dispensaries that pay a fee to operate as hybrid medical-recreational retailers. Possession of more than one ounce but up to two ounces for adults 18 and older would be decriminalized, with people facing a civil penalty without the threat of jail time.
House Speaker Joseph Sherkarchi (D) previously said that he'd be open to a compromise on regulatory structure and hinted at the possibility of the hybrid model.
Under the new proposal, adult-use marijuana sales would be subject to the state's seven percent sales tax, a 10 percent excise tax and a local three percent tax for municipalities that allow cannabis businesses to operate. Localities would be able to opt out of permitting marijuana businesses if they put it to a vote on the November 2022 ballot.
For the initial rollout, a total of 33 marijuana retailers could be licensed. Twenty-four of those licenses would be new standalone adult-use retailers, divided up equally between six geographic zones of the state, and nine other hybrid licenses could be approved for existing medical cannabis dispensaries if they pay a $125,000 fee for the privilege to add recreational sales.
Of the 24 standalone retailers, 25 percent would need to go to social equity applicants and another 25 percent would be for worker-owned cooperatives.
—
Marijuana Moment is already tracking more than 1,000 cannabis, psychedelics and drug policy bills in state legislatures and Congress this year. Patreon supporters pledging at least $25/month get access to our interactive maps, charts and hearing calendar so they don't miss any developments.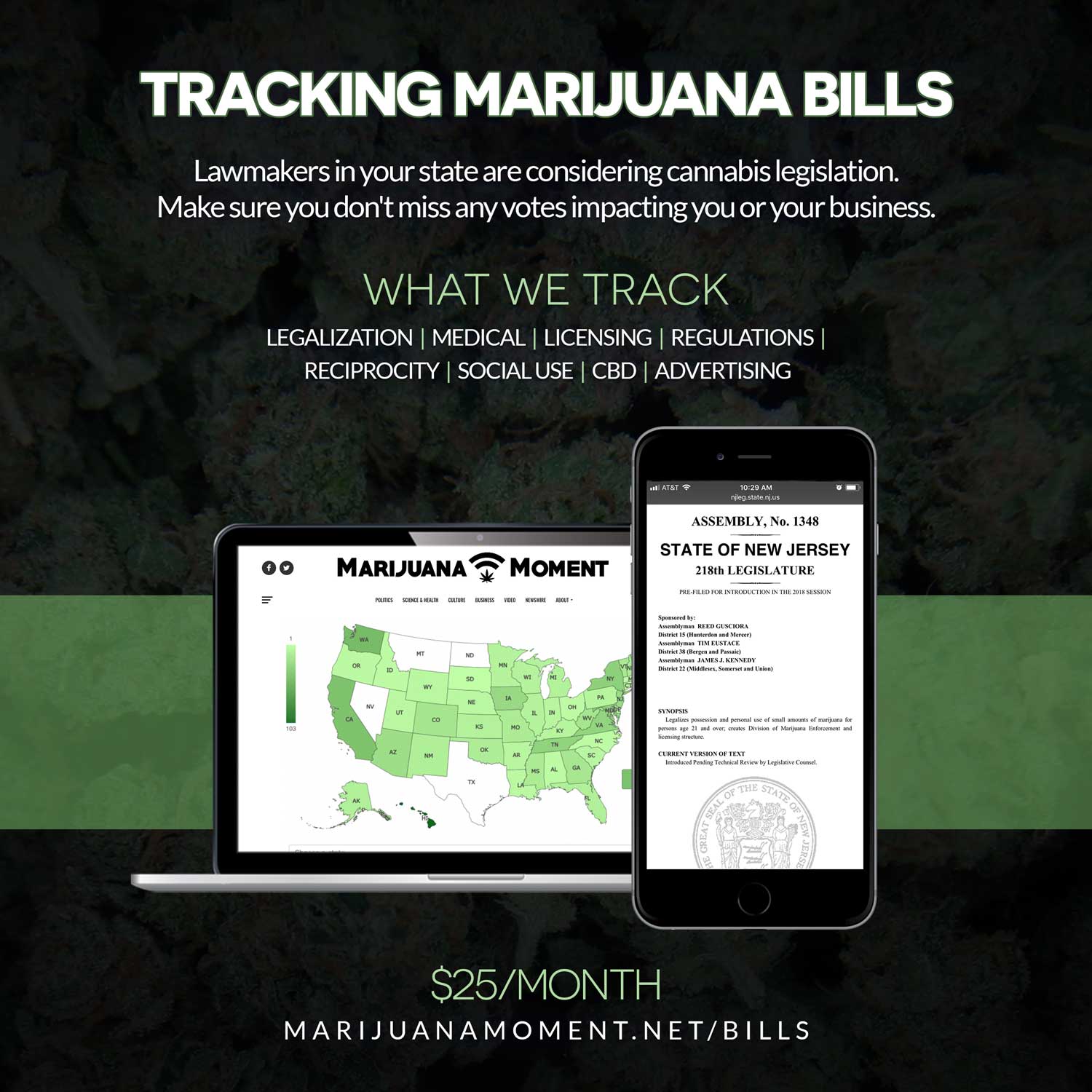 Learn more about our marijuana bill tracker and become a supporter on Patreon to get access.
—
No single entity would be allowed to possess more than one business license, but people could invest in multiple companies.
It's not immediately clear whether, or to what extent, the governor's office was involved in the drafting of this bill, but the press release notes that legislative leaders view this measure as a starting point that will likely continue to be revised as the session goes on.
McKee's own proposal would have DBR be the sole regulatory agency responsible for overseeing the program. It remains to be seen if the compromise hybrid proposal will be enough to win over his support.
"It is the right public policy for Rhode Island to make cannabis possession and sales legal. We have been studying legalization proposals here for many years, and we now can look to our neighboring states' experiences and see that taxing and regulating cannabis makes sense," Slater said. "I'm especially proud that we have made a very deliberate effort to address social equity through this bill."
"We have to recognize the harm that prohibition has done to communities, particularly minorities and poor, urban neighborhoods, and ensure that those communities get the support they need to benefit from legalization," he said.
To that end, beside setting aside licenses for equity applicants who have been disproportionately impacted by criminalization, part of the money collected from cannabis licensing fees would support a new "Social Equity Assistance Fund."
The fund would "provide assistance to applicants from communities disproportionately impacted by prohibition of cannabis," according to a summary.
Equity business applicants would need to meet one of several criteria to qualify, including at least 51 percent ownership by people who have resided in a disproportionately impacted area for five of the past 10 years, 51 percent ownership by people who have faced arrests or convictions over offenses that would qualify for expungements under the law or having income that does not exceed 400 percent of the median income in a disproportionately impacted area for five of the past 10 years.
A business that has at least 10 employees, with at least 51 percent residing in disproportionally impacted areas or who have been arrested or convicted for an expungable offense offense under the bill would also qualify as would being able to demonstrate significant experience in types of businesses that promote economic development.
"We are grateful to Speaker Shekarchi, Senate President Ruggerio, and their staff for the many months of work that went into finding common ground and crafting a thoughtful proposal that will end the failed policy of cannabis prohibition and create many economic and social benefits for the state," Jared Moffat, state campaigns manager at the Marijuana Policy Project, told Marijuana Moment.
"We're looking forward to the public discussion on this important issue, and we're excited that Rhode Island appears poised to join 18 other states that have legalized cannabis for adults later this year," he said.
The bill also provides an avenue for expungements for people with convictions of marijuana possession of up to two ounces. People with such convictions would need to submit a request to the courts, after which point the expungement would be automated.
Activists have rallied behind an agenda for reform that emphasizes the need for bold social equity provisions.
"Without an automatic record clearance process, Rhode Island will continue to fail the very communities who bear the brunt of the war on drugs to this day," Gracie Burger, state policy director for the Last Prisoner Project, said in a press release. "To begin to right the wrongs of prohibition and make legalization accessible to all residents, the onus must be on the government to remove these erroneous convictions from peoples' records, so that they may begin to rebuild their lives."
Senate President Dominick Ruggerio (D) said in his session opening remarks last month that the bill the body passed last year "included substantial measures to rectify the wrongs associated with the decades-long policies of prohibition."
Under the new bill, there would be a two-year moratorium on licensing additional cultivators beyond those that are already operating for the medical cannabis market.
Miller previously said that negotiators had reached an agreement to place the temporary moratorium on approving additional cannabis cultivator licenses. Some have protested adding cultivators beyond the existing medical marijuana licensees because they say there's already a sufficient supply to meet demand in the adult-use market.
Regulators would also be responsible for setting limits on "cannabis product serving sizes, doses, and potency, including, but not limited to, regulations which provide requirements for reasonable tetrahydrocannabinol (THC) potency limits for each type of cannabis product sold by a licensee and reasonable potency or dosing limits for cannabis concentrates and edible products, that shall apply for adult use cannabis only," according to the text of the bill.
Ruggerio has said he feels that the legalization bill that has already been approved in the Senate contained "very strong social justice provisions" and the its expedited expungements provisions are "as close to automatic as practical."
He also said in July that he's not disappointed the House hasn't advanced legalization legislation yet and that "what we really wanted to do was send it over and have them take a look at it" when his chamber passed its cannabis reform measure.
"We've been working hard since the end of last session to establish consensus on the details, but our efforts to address the issue have been going on for many years, during which time our neighboring states have already made this move ahead of us," Senate Majority Leader Michael McCaffrey (D) said. "Rhode Island is now behind them from a competitive standpoint, since it's fairly easy for most Rhode Islanders to cross the state line to make a legal purchase."
"The truth is, legal cannabis is already widely available to Rhode Islanders, but the resulting revenue is not. With this bill, we will create jobs, revenue and control in our own state, and help address some of the inequities that have resulted from prohibition," he said. "I look forward to working with my colleagues, stakeholders and the public to ensure that we take the careful, nuanced and equitable approach we need to transform this economic sector."
A coalition of 10 civil rights and drug policy reform advocacy groups—including the Rhode Island chapters of the ACLU and NAACP—had demanded that lawmakers move ahead with enacting marijuana reform in the state before the end of 2021. But that did not pan out.
"Rhode Island has taken a historic step toward becoming the first state to reserve licenses for worker-owned cooperatives," Miguel Martínez Youngs, organizing director of Reclaim RI, said. "Co-ops and social equity ensure that the benefits of legalization go to those who suffered the most under prohibition and not just to Big Weed. But without automatic expungement, we will still be punishing those people for something that isn't even a crime anymore. We look forward to working with legislators to amend the bill."
Lawmakers have noted that neighboring states like Connecticut and Massachusetts have enacted legalization, and that adds impetus for the legislature to pursue reform in the state.
Shekarchi, meanwhile, said in July that he doesn't intend to let regional pressure dictate the timeline for when Rhode Island enacts a policy change. Social equity, licensing fees, labor agreements and home grow provisions are among the outstanding matters that need to be addressed, the speaker said.
In Tuesday's press release, Shekarchi thanked Slater for working "tirelessly on this legislation."
"I want to emphasize that the bill introduced today is not the final product—rather, it is the beginning of the public process of legalizing cannabis for recreational use in Rhode Island," he said. "We welcome input from the public as to whether or how we should implement recreational usage, and I expect robust discussions with House membership as well."
In June, the House Finance Committee held a hearing on an earlier legalization measure that Slater introduced.
The governor previously told reporters that while he backs legalization it is "not like one of my highest priorities," adding that "we're not in a race with Connecticut or Massachusetts on this issue."
"I think we need to get it right," he said, pointing to ongoing discussions with the House and Senate.
The House Finance Committee discussed the governor's proposal to end prohibition at an earlier hearing in April.
Both the governor and the leaders' legalization plans are notably different than the proposal that former Gov. Gina Raimondo (D) had included in her budget in 2020. Prior to leaving office to join the Biden administration as commerce secretary, she called for legalization through a state-run model.
McKee gave initial insights into his perspective on the reform last January, saying that "it's time that [legalization] happens" and that he's "more leaning towards an entrepreneurial strategy there to let that roll that way."
Shekarchi, meanwhile, has said he's "absolutely" open to the idea of cannabis legalization and also leans toward privatization.
In late 2020, the Senate Finance Committee began preliminary consideration of legalization in preparation for the 2021 session, with lawmakers generally accepting the reform as an inevitability. "I certainly do think we'll act on the issue, whether it's more private or more state," Sen. Ryan Pearson (D), who now serves as the panel's chairman, said at the time.
Meanwhile, the governor in July signed a historic bill to allow safe consumption sites where people could use illicit drugs under medical supervision and receive resources to enter treatment. Harm reduction advocates say this would prevent overdose deaths and help de-stigmatize substance misuse. Rhode Island is the first state to allow the facilities.
The Senate Judiciary Committee also held a hearing last year on legislation that would end criminal penalties for possessing small amounts of drugs and replace them with a $100 fine.
Read the powerpoint presentation on the main components of the legalization proposal below: 
Article On Bill Clinton's CBD Comments Deleted Following Alleged Pressure From Former President's Team