Oregon Marijuana Sales Spike Could Continue As Consumers 'Permanently Adjust Their Behavior' Following COVID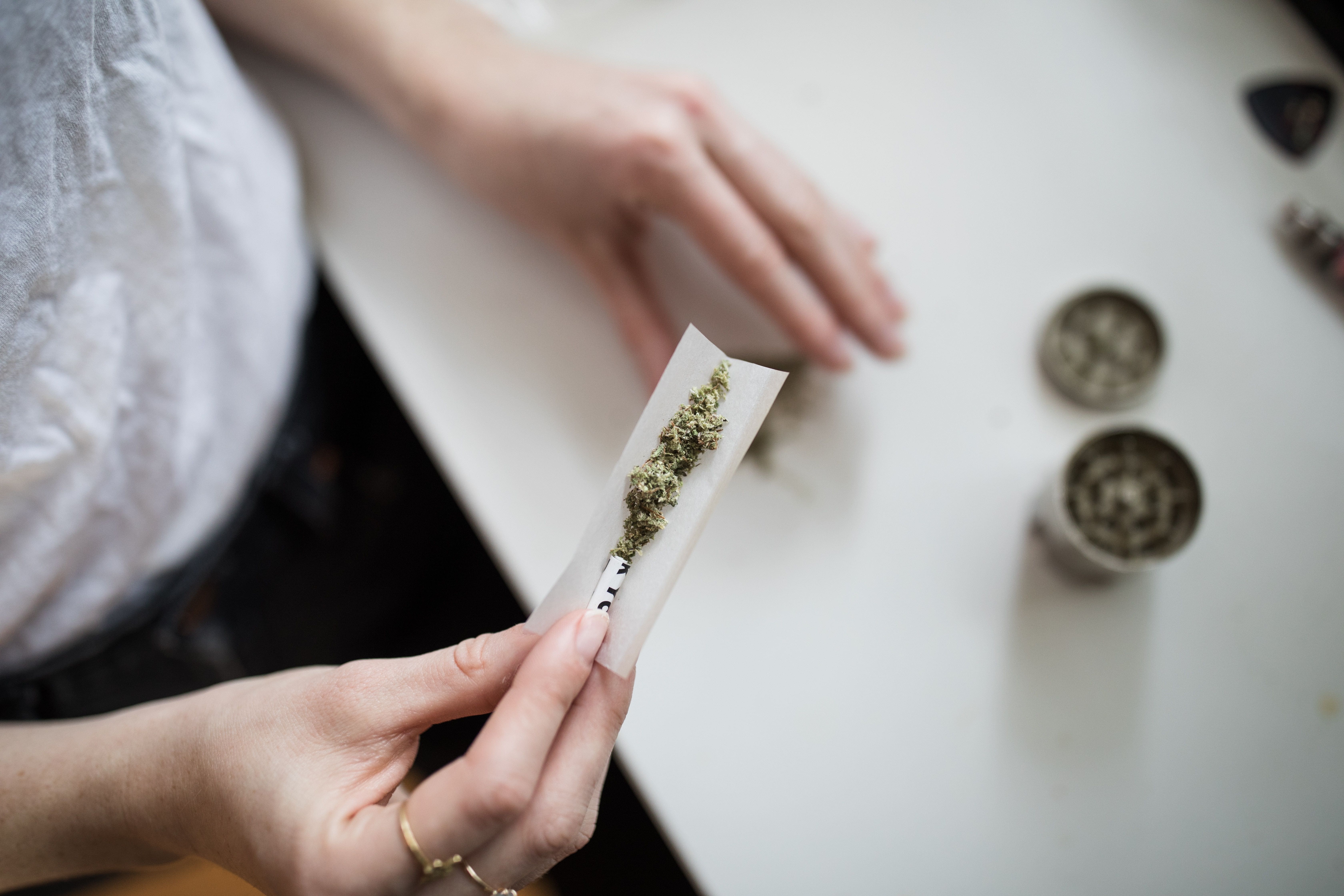 Record-setting Oregon marijuana sales continue to be a bright spot in the state's coronavirus-slowed economy, state analysts reported this week, but a convergence of unknowns—including the end of federal coronavirus relief and a possible rise in cannabis prices due to devastating wildfires—could still mean a rocky road ahead for consumers.
"Marijuana sales continue to be strong," Oregon's Office of Economic Analysis wrote in a quarterly revenue forecast published on Wednesday. "Since the pandemic began, the increase in recreational sales have been more than 30 percent above forecast."
The increase tracks with other more established cannabis markets, such as those in Colorado, Washington and Nevada, which have also seen "strong gains" since the pandemic, the office said. "There are a number of likely reasons for these higher level of sales and expectations are that some of these increases will be permanent."
Analysts also expressed a rosier outlook on the future of the state's marijuana market than they did in last quarter's report, which acknowledged a spike in sales since the pandemic began but concluded that business was eventually "expected to mellow" as incomes fell and bars reopened. Officials now forecast Oregon will see "somewhat more" in sales than previously projected.
The state has recently seen a string of record-setting months for cannabis sales. Over the summer, monthly cannabis sales had averaged more than $100 million, according to an Oregon Liquor Control Commission (OLCC) report.
The projected uptick in sales will mean an extra $30 million in marijuana tax revenue for the state during its two-year budget period ending in 2021. Total adult-use cannabis taxes for that period are now forecast to end up at more than $276 million.
"Factors leading to increases in sales include higher incomes due to federal support, increased stressors in everyday life, reductions in other forms of entertainment or recreational opportunities, and simply more time on one's hand be it due to a COVID-related layoff, or increased working from home," the report said.
"A key question is now that the federal aid is gone and other entertainment options return in the months ahead, will some of this increase in sales in recent months subside?" the Office of Economic Analysis wrote in the new report. "In a recent meeting of our office's marijuana forecast advisory group, the broad consensus was that yes, some of these sales will come off, but not entirely so. And the longer the pandemic lasts, the more likely customers will permanently adjust their behavior as they become accustomed to their new routines and buying patterns."
For now, the bulk of the increases appear to be driven by existing consumers. While "indications are that the customer base is broadening some as the market grows due to more users trying an increasingly socially acceptable product and ongoing converts from the black market to the legal market," the report said, the increase "is more likely to be due to larger or more frequent sales to existing consumers than due to more consumers alone."
"One item to watch moving forward are prices," analysts wrote. "In recent years the supply of marijuana has greatly outstripped the demand, leading to lower prices. This is great news for consumers. Given that marijuana is a normal good, lower prices have led to larger quantities sold. But now that demand has increased, while supply has held steady, and with the potential impact of the wildfires right as growers are prepping for harvest, this balance in the market may shift… As such, it may be that prices rise, or at least not decline like they have in recent years."
As far as tax revenue goes, any price increase would likely lead to more money for the state, "as the decline in quantity sold is not large enough to outweigh the price impact," the report said.
How cannabis revenue is spent would also be affected by a drug decriminalization ballot proposition, Measure 110, that voters will decide in November. While the initiative isn't expected to change the amount of taxes collected, it would redirect marijuana tax funds to expand drug treatment programs. "Whether current programs receiving marijuana tax revenue would ultimately see budgetary impacts," analysts said, "would remain up to the Legislature should voters approve the measure this fall."
Measure 110, which broadly seeks to reframe problem drug use in medical rather than criminal terms, is one of two key drug-reform measures on Oregon's ballot in less than six weeks. The other would legalize the therapeutic use of psilocybin, the main psychoactive ingredient in psychedelic mushrooms. That measure would be the first of its kind in the U.S., although Canada has recently granted some patients immunity from that country's prohibition on psilocybin.
Oregon Marijuana Businesses Impacted By Wildfires Are Ineligible For Federal Relief, Agency Confirms
Uber Will 'Absolutely' Explore Marijuana Deliveries When Federal Prohibition Ends, CEO Says
The CEO of Uber said on Monday that the ride share company will "absolutely" explore adding marijuana deliveries to its services when federal prohibition ends.
Dara Khosrowshahi was asked about the prospect of expanding his business to include cannabis deliveries during an interview with CNBC. He said while the company remains focused on grocery and alcohol deliveries, in addition to its core ridesharing service, that's certainly in the cards if marijuana is federally legalized.
Uber is interested in "the types of deliveries that a high percentage of consumers are going to want delivered fast into their home and are quite frequent," he said. "We think, obviously, food, grocery, pharmacy and alcohol are part of that category," but cannabis also holds potential.
"When the road is clear for cannabis when federal laws come into play, we're absolutely going to take a look at it," Khosrowshahi said. "But right now with grocery, with food, with alcohol, et cetera, we see so much opportunity out there and we're going to focus on the opportunity at hand."
Could you get your weed delivered through Uber? CEO Dara Khosrowshahi discusses the potential business strategy: "When the road is clear for cannabis and federal laws come into play, we're absolutely going to look at it." (via @CNBCTechCheck) https://t.co/6VM454ugka pic.twitter.com/bRjpv7vvhU

— CNBC (@CNBC) April 12, 2021
The tech executive was specially asked about the possible expansion into the cannabis market in light of legalization recently being enacted in New York. And if polling from that state is any indication, Uber would see the demand for deliveries that it's looking for, as 53 percent of New Yorkers said in a survey that they would favor having that option available to consumers.
But for now, the CEO said the business is keeping its eyes on current expansions, which includes its recent acquisition of the alcohol delivery service Drizly. That company did launch an ancillary cannabis delivery service called Lantern—but following the Uber deal, it announced that the two entities would be separated, with Lantern operating independently as a private company.
Of course, as a national corporation, Uber is also making a risk assessment given the ongoing ban on cannabis at the federal level. But a policy change to that end could come sooner than later.
Senate Majority Leader Chuck Schumer (D-NY) has said that a bill to legalize marijuana that he's been working on with Senate Finance Chairman Ron Wyden (D-OR) and Sen. Cory Booker (D-NJ) will be released "shortly."
On the House side, Judiciary Chairman Jerrold Nadler (D-NY) has similarly signaled that his cannabis descheduling bill—the Marijuana Opportunity, Reinvestment and Expungement (MORE) Act—will be reintroduced this session. That proposal passed the House last year but did not advance in the Senate.
With Democrats in control of both chambers and the White House this session, there's renewed hope among advocates that the days of prohibition are soon to be over. Still, questions remain about President Joe Biden's role in the reform, as he opposes adult-use legalization and his press secretary said last month that his position "has not changed" to that end.
In any case, Uber's apparent interest in participating in the market once those federal barriers are lifted is another sign of the industry's potential. That said, many advocates have expressed that small businesses—particularly those operated by people most impacted by cannabis criminalization—should be prioritized in any legalization legislation over large companies.
Four More States Could Still Legalize Marijuana This Year After New Mexico, New York And Virginia
Congressional Researchers Analyze 280E Marijuana Tax Penalty And Legislative Solutions
In a new report published this month, Congressional researchers examine tax policies and restrictions for the marijuana industry—and how those could change if any number of federal reform bills are enacted.
The Congressional Research Service (CRS) analysis focuses on a section of Internal Revenue Services (IRS) code known as 280E, which precludes cannabis companies from taking certain federal tax deductions or credits that are available to other businesses, regardless of their state legality. But they are still obligated to pay taxes on their federally illegal income.
"The Schedule I status of marijuana means that marijuana businesses are treated differently from many other businesses for tax purposes," CRS said. However, "Congress has broad authority to alter the tax treatment of marijuana businesses."
"The legislative history of Section 280E indicates that Congress enacted the provision to codify a sharply defined public policy against drug dealing," the report states.
The provision was enacted in 1982 as a way to prevent drug traffickers from writing expenses off their taxes, but it is widely applied today on state-licensed marijuana growers, processors and dispensaries, greatly increasing their effective tax rates as compared to businesses in other industries.
280E applies to substances in Schedules I and II of the Controlled Substances Act (CSA).
"Recent legislative proposals aim to relax federal restrictions on marijuana or to mitigate the disparity between federal and state marijuana regulation," the new CRS report states. "Many of these proposals would alter the tax treatment of marijuana businesses by re-scheduling or descheduling marijuana under the CSA or by making marijuana-specific exceptions."
"Under these proposals, Section 280E would no longer prohibit marijuana businesses from taking deductions and credits," it says.
While several bills were introduced last session to federally legalize cannabis—including the House-passed Marijuana Opportunity, Reinvestment and Expungement (MORE) Act—they have not been refiled so far this year.
Senate Majority Leader Chuck Schumer (D-NY), Senate Finance Chairman Ron Wyden (D-OR) and Sen. Cory Booker (D-NJ) are in the process of developing legislation to end cannabis criminalization and promote social equity, and they've met with advocates about how best to draft that proposal.
Meanwhile, House Judiciary Chairman Jerrold Nadler (D-NY) recently said he will soon be reintroducing the MORE Act.
A number of standalone bills to remove the 280E penalty's application on marijuana businesses have also been filed over the years in Congress, but none has ever been given a hearing or a vote.
But for the time being, the marijuana industry continues to face tax policy challenges under the umbrella of prohibition. And CRS noted that IRS "has offered little tax guidance about the application of Section 280E."
It did provide some guidance in an update last year, explaining that while cannabis businesses can't take standard deductions, 280E does not "prohibit a participant in the marijuana industry from reducing its gross receipts by its properly calculated cost of goods sold to determine its gross income."
The IRS update seemed to be responsive to a Treasury Department internal watchdog report that was released last year. The department's inspector general for tax administration had criticized IRS for failing to adequately advise taxpayers in the marijuana industry about compliance with federal tax laws. And it directed the agency to "develop and publicize guidance specific to the marijuana industry."
One note that IRS especially wants to make clear to cannabis firms is that they still have to pay income tax. And CRS articulated that in its report as well.
"Like non-marijuana businesses, marijuana businesses are subject to tax on all of their income," it said. "Under federal law, all income is taxable, including income from unlawful activities. In contrast, not all expenses are deductible from a taxpayer's gross income."
But paying those taxes has proved onerous—both for cannabis businesses and the IRS itself. The head of the agency told Congress last month that it would "prefer" for state-legal marijuana firms to be able to pay taxes electronically, as the current largely cash-based system is complex and inefficient.
Former Treasury Secretary Steven Mnuchin said in 2019 that he'd like to see Congress approve legislation resolving the cannabis banking issue and he pointed to the fact that IRS has had to build "cash rooms" to deposit taxes from those businesses as an example of the problem.
CRS also discussed legislation that's "attempted to increase marijuana businesses' access to banking and financial service" like the Secure and Fair Enforcement (SAFE) Act, which passed the House in 2019 and also as part of two COVID-19 relief packages. "Many financial institutions are unwilling to provide state-sanctioned marijuana businesses with common banking products and financial services due to federal laws that impose civil and criminal liability on financial institutions handling money tied to marijuana."
While there may be that reluctance, federal data released earlier this month shows that the number of banks and credit unions that report servicing marijuana businesses seems to be stabilizing.
For three quarters in a row, those numbers were consistently declining—due partly to revised reporting requirements from the Financial Crimes Enforcement Network (FinCEN) and also because of the coronavirus pandemic. But the latest report signals that the trend is lifting.
Lawmakers in the Senate and House filed new bills to address the marijuana banking issue in recent days.
GOP Congressman Condemns Marijuana-Related White House Firings In Letter To Biden
Colorado Sold More Than $187 Million In Legal Marijuana In January
The state has now surpassed $10 billion in total sales since legal cannabis commerce began in 2014.
By Robert Davis | The Center Square
Marijuana sales in Colorado reached $187,603,697 in January, the state's revenue department said this week.
The state has now surpassed $10 billion in total marijuana sales since legalizing the drug in 2014. In return, the state has collected over $1.6 billion in marijuana taxes and fee revenues since then.
January's sales were slightly more than the $186 million in sales in December 2020.
Marijuana taxes and fees are assessed against both recreational and medical marijuana. The tax and fee revenue is distributed to local governments and educational institutions.
Three-quarters of marijuana tax and fee revenue is appropriated to the state's marijuana tax cash fund, which provides funding to the governor's office, education department, and the attorney general's office, among others.
Another 15.56 percent is apportioned to the state's general fund, with the remaining 12 percent going to the state public school fund, according to the nonpartisan Legislative Council Staff.
Tax revenue is collected through a 2.9 percent state sales tax on marijuana sold in stores, a 15 percent tax on retail marijuana sold in stores and a 15 percent retail marijuana excise tax on wholesale sales or transfers of retail marijuana. Fee revenue comes from marijuana license and application fees.
In February, Colorado collected $34,747,575 in marijuana tax and fee revenue. The Colorado Department of Revenue will release the total sales for that month in April.
Colorado has collected a total of $69,728,521 in marijuana tax and fee revenue so far this year.