No, Marijuana DNA Is Not From Outer Space (And Other Cannabis-Related Fake News)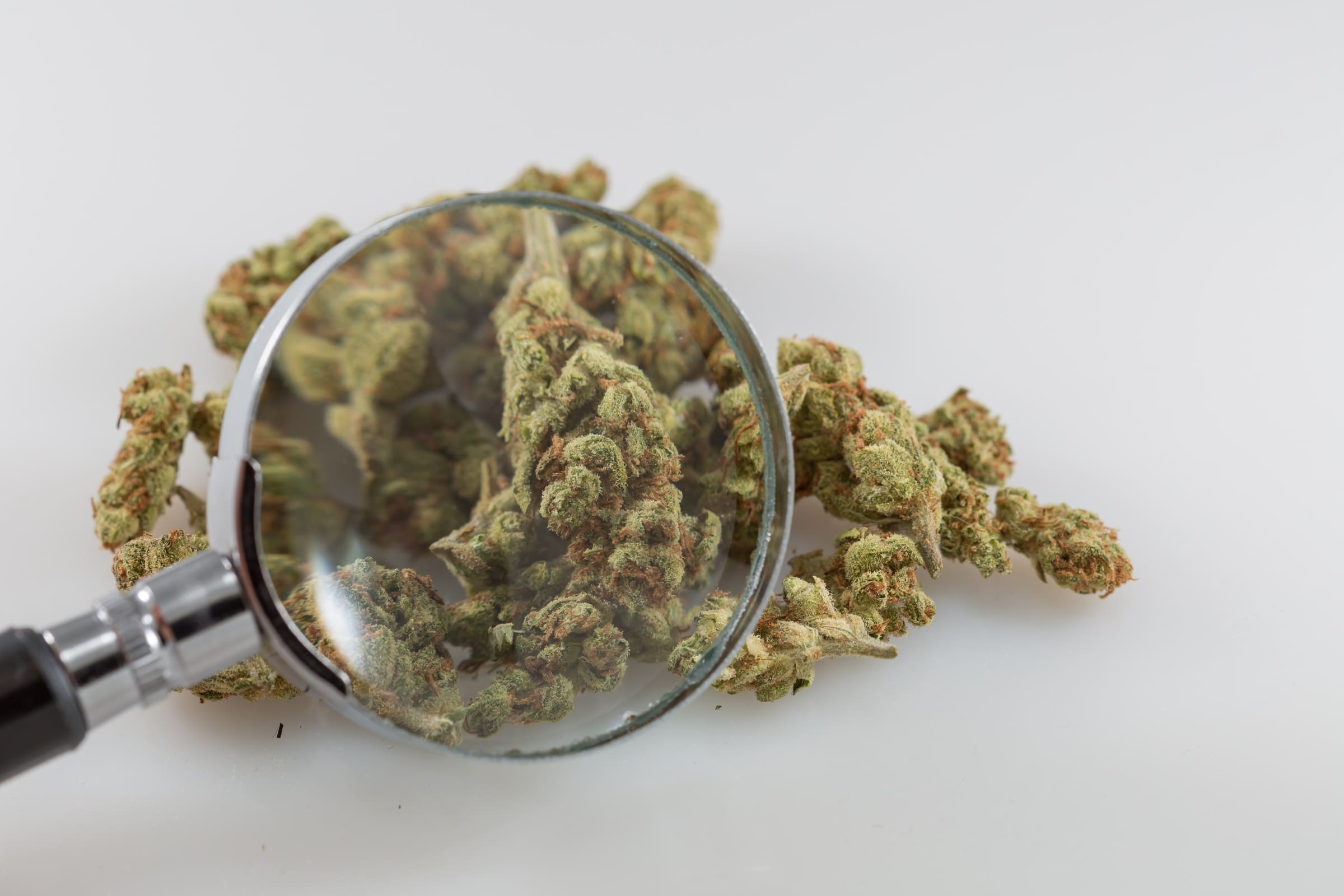 The master debunkers over at Snopes published an item on Monday that, in a sane and rational world, would not require publishing. But we live in a world where articles positing that cannabis contains "Alien DNA" — a "fact" attributed to NASA! — are shared widely on social media. And so, these and other patently false claims must be identified as such by shrewd analysts.
Sadly, there is no shortage of fake marijuana news—and in this case, credulous internet users share at least a portion of the blame. And, unfortunately, "credulous internet users" include some marijuana reform-minded websites, who would rather believe the next new awesome and exciting thing without putting in a few minutes of research.
On July 13, 2016, a website called IFLScience launched a thought experiment with an article titled "Marijuana Contains 'Alien DNA' from Outside of Our Solar System, NASA Confirms."
IFLScience is a "real" website–that is, it publishes items that are truthful and not deliberately misleading. However, this headline is wrong and false–and intentionally so.
IFLScience's article was intended to illustrate a bit of research from Columbia University that found most people who share items on social media had never bothered to read them before sharing.
In an object lesson, several click-bait websites lurking in the sewer of the internet went ahead and plagiarized the entire article in search of clicks. And gullible internet users obliged, with one instance of the article generating 100,000 shares in a matter of days, according to Snopes.
In a way, victims of marijuana-related fake news have at least some excuse: For generations, much of what "the authorities" in law enforcement, public health and the media told us about marijuana was blatantly false. Solemn-faced promises that cannabis would cause insanity or certain death turned out to be certified garbage; if these were lies, what else of what we "knew" about cannabis was untrue—and what actual facts were the authorities hiding?
And following several generations of the above, real marijuana reform is coming hard and fast. Developments that even a few years ago were unthinkable—Republican senators embracing marijuana reform, red states like Oklahoma quickly legalizing medical marijuana—happen nearly every day. The unbelievable is happening, the rules are all being broken.
This could perhaps explain why cannabis-centered websites like Green Rush Daily would rush to publish news that the National Institute on Drug Abuse was paying marijuana consumers to smoke weed "for research," without bothering to do the basic fact-checking that would have revealed, quickly, that they were being duped by a satirical website.
At the same time, even major news outlets have proven susceptible to hoaxing. In 2016, the Los Angeles Times fell victim to a somewhat-sophisticated 4/20 prank pulled off by The Yes Men, anti-corporate culture jammers who fooled a reporter into publishing a piece that said the United Nations Office on Drugs and Crime had called for worldwide decriminalization of all drugs.
Other instances of marijuana-related fake news spreading like a cough across the internet can be attributed to the internet itself, which rewards viral content regardless of intent or effect. Earlier this year, thanks to key shares on several celebrity Facebook accounts, internet users were subjected to the false hope that cannabis can lead to a "complete remission" of Crohn's disease. Marijuana does indeed help treat the condition, but R. Kelly and a few other celebrities all shared an item from otherwise-unknown websites making the altogether unproven claim.
Remember: Trust, but verify. If you've never heard of the news outlet making a particular claim, chances are it's not to be trusted. And if it's too good, weird or patently absurd to be true–chances are, it may be.
Cypress Hill Rapper Who Opposed California Legalization Opens A Marijuana Store
On Wednesday, rapper B-Real of Cypress Hill and Prophets of Rage will celebrate the grand opening of his new "Dr. Greenthumb" recreational marijuana dispensary in southern California.
It's the latest stage in what's been a significant evolution for the prominent cannabis-friendly musician, who less than two years ago declared himself opposed to the state's marijuana legalization ballot measure that is making his new venture possible.
In a press release issued Friday advertising "an all day blowout" at Dr. Greenthumb in Sylmar, California, B-Real is described as "a prominent figure at the forefront of cannabis legalization for over two decades."
"We have a lot of history behind us as it relates to music and the pro-legalization movement," B-Real said, according to the statement.
That history includes opposing Proposition 64, which legalized marijuana for adults 21 and over and also paved the way for regulated commercial storefronts like the one B-Real is opening.
In the run-up to the November 2016 election, where Prop. 64—also known as the Adult Use of Marijuana Act—passed with more than 57 percent of the vote, the rapper used social media to agitate against its passage.
These are the lines in between the lines. Read up Cali! People from out of our state have no clue but people in Washington can relate pic.twitter.com/v4rWHLsLLb

— B Real ™ (@B_Real) October 11, 2016

On October 10, 2016, less than a month before Election Day, the rapper shared an image on social media that claimed Prop. 64 "helps keep the drug cartels in business," "sets up HUGE growing operations for rich white people, destroying small businesses" and "turns rights into priviledges" [sic].
"Read up Cali!" B-Real wrote on Twitter, where he posted the image that claimed "This is NOT Legalization. VOTE NO."
B-Real's opposition was similar to anti-legalization messaging coming from other marijuana advocates, many of whom claimed that the measure was a corporate giveaway that would harm small-and-medium producers. At least some of that has come to pass as the cannabis economy adapts in response to the new reality of broader legalization.
But B-Real seems to have adjusted to the new reality almost immediately.
On Election Night, after cannabis ballot measures won in California, Maine, Massachusetts and Nevada, he posted a message of congratulations.
"Although I'm someone that was and is concerned about prop 64, California made history tonight and to that I tip my hat," he wrote.
In an e-mail sent via a spokeswoman in response to Marijuana Moment's questions about B-Real's evolution on California legalization, the rapper took a free-market approach. He opposed Prop. 64 because of legalization's regulations and taxes, he explained.
"I was opposed to it at the time because some of the new regulations and penalties along with overwhelming taxation which seemed to be unfair to smaller businesses," he wrote. "Additionally, a number of other complicated issues that are just now being addressed with new and changing policies. I still think there are things that need further due diligence to give the small business owner a chance at succeeding before the big businesses start to come into play."
A week after the election, B-Real released a record that, according to a press release, "passionately advocates for marijuana legalization across all 50 states."
In promotional material for "Prohibition Part 3," B-Real appeared in a photoshopped image smoking marijuana in public—an act that, were he to do it in real life, is punishable only by a $100 citation thanks to Prop. 64.
And earlier this year, B-Real gave an interview to a New Zealand-based website in which he declared that legalization has "been great."
"For most of us that have been in the culture for a long time, we're just seeing and waiting for more of the regulations to happen to know how it's going to operate officially," he told Under the Radar. "Right now all the rules and regulation aren't implemented and in place so we're just taking it as each day comes and try to be informed and being a step ahead. But it's been great, a lot of people are happier."
Regulated and taxed commercial sales of marijuana began in California on January 1.
B-Real, whose musical repertoire with Cypress Hill includes "Hits from the Bong," "Dr. Greenthumb" has been trying to enter the marijuana-dispensary business since 2015.
In February of that year, he won a lottery drawing to open one of the first medical-cannabis dispensaries in Santa Ana, in Orange County, California.
But by September 2016, shortly before B-Real's public disavowal of marijuana legalization, the dispensary had still yet to open.
Now, thanks to the passage of Amendment 64 over his own objections, B-Real will be able to sell cannabis to adults over 21 years of age regardless of whether they have a doctor's recommendation.
"I never changed that stance, but I do have a brand that myself and my partners have been building for a number years in the cannabis industry aside from my over 20 years of advocacy," B-Real said in his statement to Marijuana Moment about his concerns with the measure. "My intention was always open a shop when the right opportunity presented itself and that we could be fully compilant [sic]. This would ultimately allow me to have a landing place for our brands in the cannabis community for recreation and medicinal consumers."
The rapper also said that he plans to use some of the proceeds from the new retail operation to "give back to the community and create programs for the youth and show the positive impact from the cannabis community and break some of the still existing opposition."
"Good can come from this community and we plan to educate through our example," he said.
Photo courtesy of Festivalsommer // Biha.
Watch Rep. Barbara Lee Talk Marijuana In This Hilarious Comedy Central Appearance
Congresswoman Barbara Lee (D-CA) sat down with Comedy Central host Jim Jeffries this week to talk immigration, the Trump administration and, of course, marijuana.
Despite some overworked munchies jokes from Jeffries, the California representative fired back with sharp wit. After Jeffries mentioned that Lee is protecting the state from President Trump's "stubby little fingers," talk turned to a bill Lee filed earlier this year to shield states that have passed laws to legalize and regulate marijuana from federal interference.
"The federal government needs to stay out of our business," Lee said, touting her the Restraining Excessive Federal Enforcement and Regulations of Cannabis (REFER) Act.
Jeffries joked, "Why don't you call it the REEFER Act?" (Insert sad trombone sound effect here.)
The Congresswoman replied, "If you smoke it's reefer; if you don't, it's refer." Easily one of the best responses from a lawmaker to a lowball pot joke in recent memory.
Did you catch me on the @JefferiesShow last night? I had a blast with @JimJefferies talking marijuana policy, sex education & more. Watch the full interview HERE → https://t.co/AIMdO8MxYQ pic.twitter.com/bZPLq4EcnZ

— Rep. Barbara Lee (@RepBarbaraLee) August 8, 2018
After confirming the lack of an increase in crime since California began allowing recreational marijuana, Jeffries implied Doritos sales are on a sharp upswing. Then he asked the congresswoman if she partakes, and Lee kept the host on his toes by replying, "Do I eat Doritos?" And she followed that with, "I don't even drink wine." A shining example of doing the right thing for public policy despite a lack of any personal proclivity towards cannabis.
It's almost like Lee has heard these jokes a hundred times (spoiler alert: she probably has). But even pushing through the uninspired soft lobs from Jeffries, she shined like the beacon of hope and progress that she is. There's no reason a Comedy Central host should be making tired munchies jokes a la Colorado Governor John Hickenlooper in 2012. But Lee's sharp, woke replies should be an example to us all.
For real, journalists, politicians, talk show hosts, et al.: WE. CAN. DO. BETTER. It's 2018. Worn-out pot puns weren't funny when Colorado and Washington legalized marijuana six years ago and they haven't gotten any funnier since. Next time you see the opportunity for an easy marijuana joke, just don't. I could've said "puff puff pass on using it," but I didn't. See how easy that was? Flex that creative muscle, maybe enjoy some marijuana and give consumers something to really laugh about.
New Congressional Bill Handcuffs Sessions's Marijuana Enforcement
Photo courtesy of Comedy Central.
Kevin Smith's 'Hollyweed' TV Show Isn't Top-Shelf Marijuana Content
Kevin Smith loves weed. This we know to be true. Continually mentioned in his films and podcasts, the man is a fan of the plant. It's also, according to his doctor, "probably" the reason he survived a recent heart attack earlier this year. So of course he was going to make a TV show about it.
Described as "Clerks in a weed store", Hollyweed stars Smith in a rare dialogue-rich role as Pete and former Chappelle's Show actor Donnell Rawlings as Nipsy, as growers and dispensary operators. Their shop? LA Confidential Caregivers based in, you guessed it, Hollywood.
The show started production a few years ago but the pilot never found a home. Initially turned down by networks, most likely because Netflix's marijuana show Disjointed was in production, the pilot is now being hosted at Rivit TV. A new platform for media makers, fans get to watch the pilot for free then bid on what they'd pay per episode for the whole season. They're only charged if the show meets its goal by the deadline.
Unfortunately, that's likely the most interesting thing about Hollyweed. The storyline is twisty enough to keep you watching, but the rolling-paper-thin plot just barely supports it. A few of the jokes warrant laughs even through the sometimes rigid delivery and pacing. But with movie and comic book references abounding, and Smith's longtime collaborator Jason Mewes making an appearance (in a questionable portrayal of a person experiencing homelessness), it still has that Kevin Smith flavor.
The pilot starts with Nipsy and Pete in what looks like a flowering room arguing about the presence of dragons in Schindler's List. Nipsy smokes a joint as Pete trims a plant right where it's growing. Later, in the shop, a producer-type shouting obscenities at someone through his bluetooth earpiece (an almost-believable performance by Adam Brody) walks in and demands "the best stuff" he can get for a thick wad of bills. Sensing the chance to take advantage of this L.A. stereotype, Nipsy tells Pete to "go in the safe" to get "three ounces of Anal Destruction." Minutes before, Pete tells one of their regulars (played by Ralph Garman wearing an eye-patch) that Anal Destruction is the dirt weed they've renamed so the "Saturday stoners" will buy it for the exotic nomenclature.
We follow Pete on a weed run to a movie set that is, unbeknownst to him, a porn shoot where he meets Brookline Mass, the star of the adult film, played by Frankie Shaw. It's when Brookline and Pete smoke up together that things start to feel forced and kind of awkward. The rest of the story has some surprises and by the end we almost feel sorry for Pete.
The show has some fun with the cannabis industry; I'll give it that. Renaming low quality bud so it appears attractive: funny, but most likely not based in reality. Nipsy smokes a few joints inside the dispensary throughout the episode. We get it—he likes to smoke. The three ounces he grabs for the delivery looks more like three slightly dirty freezer bags. Even this small detail was disappointing; I guess I expected more from a fellow consumer like Smith. They toss stems out into the dumpster behind the shop; a move that nearly shut down a dispensary in Alaska in real life. And "compassionate care" means feeding nearly-expired edibles to Rolo, the person living next to the dumpster played by Mewes. It's not totally clear if these are riffs on industry stereotypes or a surreal, alternate universe.
It is clear, though, that Smith has never worked a day in a dispensary. But if you were the guy that made Clerks and Mallrats, would you?
Similar to, though far more palatable than, the poorly written and executed Disjointed, Hollyweed isn't a show for people who are living in the cannabis industry every day. I'm not sure it's for people who really enjoy marijuana, either. But it's the show Kevin Smith wanted to make, and like Yoga Hosers and Tusk, he really doesn't care what people think. He's just happy to have made it.
And it's not up to studio execs to greenlight the rest of the season. If the show reaches its goal of $5.3 million on Rivit TV before August 25, we'll get to see what the future holds for Pete and LA Confidential Caregivers. Then consumers will decide for themselves if the quality is top shelf or Anal Destruction.
Photo courtesy of Rivit TV.
Correction: An earlier version of this article stated Rivit TV was a crowdfunding platform. Fans do not donate money, but commit to paying a price per episode and are only charged if the series reaches its goal.