No, Marijuana DNA Is Not From Outer Space (And Other Cannabis-Related Fake News)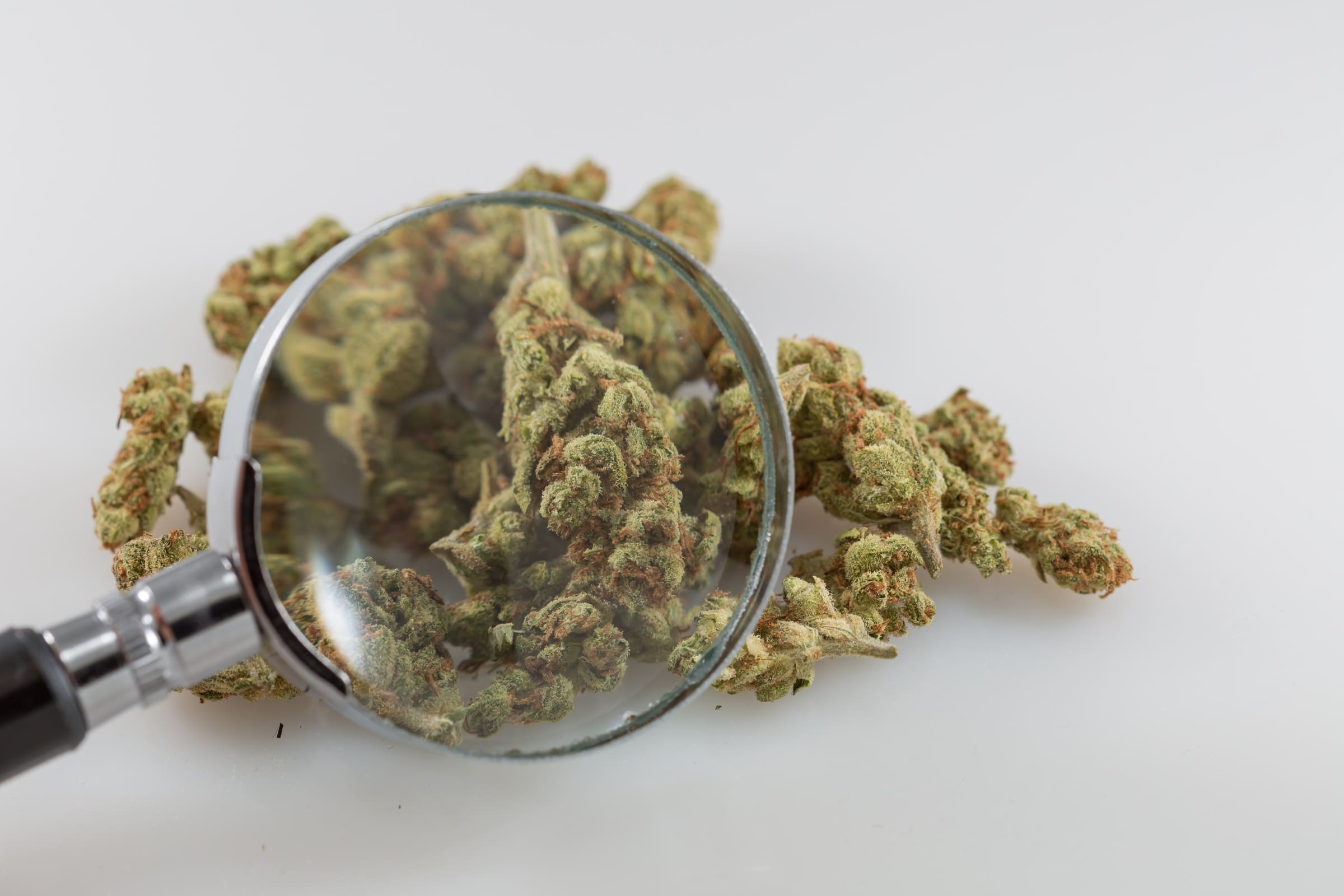 The master debunkers over at Snopes published an item on Monday that, in a sane and rational world, would not require publishing. But we live in a world where articles positing that cannabis contains "Alien DNA" — a "fact" attributed to NASA! — are shared widely on social media. And so, these and other patently false claims must be identified as such by shrewd analysts.
Sadly, there is no shortage of fake marijuana news—and in this case, credulous internet users share at least a portion of the blame. And, unfortunately, "credulous internet users" include some marijuana reform-minded websites, who would rather believe the next new awesome and exciting thing without putting in a few minutes of research.
On July 13, 2016, a website called IFLScience launched a thought experiment with an article titled "Marijuana Contains 'Alien DNA' from Outside of Our Solar System, NASA Confirms."
IFLScience is a "real" website–that is, it publishes items that are truthful and not deliberately misleading. However, this headline is wrong and false–and intentionally so.
IFLScience's article was intended to illustrate a bit of research from Columbia University that found most people who share items on social media had never bothered to read them before sharing.
In an object lesson, several click-bait websites lurking in the sewer of the internet went ahead and plagiarized the entire article in search of clicks. And gullible internet users obliged, with one instance of the article generating 100,000 shares in a matter of days, according to Snopes.
In a way, victims of marijuana-related fake news have at least some excuse: For generations, much of what "the authorities" in law enforcement, public health and the media told us about marijuana was blatantly false. Solemn-faced promises that cannabis would cause insanity or certain death turned out to be certified garbage; if these were lies, what else of what we "knew" about cannabis was untrue—and what actual facts were the authorities hiding?
And following several generations of the above, real marijuana reform is coming hard and fast. Developments that even a few years ago were unthinkable—Republican senators embracing marijuana reform, red states like Oklahoma quickly legalizing medical marijuana—happen nearly every day. The unbelievable is happening, the rules are all being broken.
This could perhaps explain why cannabis-centered websites like Green Rush Daily would rush to publish news that the National Institute on Drug Abuse was paying marijuana consumers to smoke weed "for research," without bothering to do the basic fact-checking that would have revealed, quickly, that they were being duped by a satirical website.
At the same time, even major news outlets have proven susceptible to hoaxing. In 2016, the Los Angeles Times fell victim to a somewhat-sophisticated 4/20 prank pulled off by The Yes Men, anti-corporate culture jammers who fooled a reporter into publishing a piece that said the United Nations Office on Drugs and Crime had called for worldwide decriminalization of all drugs.
Other instances of marijuana-related fake news spreading like a cough across the internet can be attributed to the internet itself, which rewards viral content regardless of intent or effect. Earlier this year, thanks to key shares on several celebrity Facebook accounts, internet users were subjected to the false hope that cannabis can lead to a "complete remission" of Crohn's disease. Marijuana does indeed help treat the condition, but R. Kelly and a few other celebrities all shared an item from otherwise-unknown websites making the altogether unproven claim.
Remember: Trust, but verify. If you've never heard of the news outlet making a particular claim, chances are it's not to be trusted. And if it's too good, weird or patently absurd to be true–chances are, it may be.
SXSW Goes Big On Marijuana Panels For 2019
South by Southwest (SXSW) has announced its conference sessions for next year's festival, and this time the annual Austin gathering has boosted its marijuana panel selections bigtime.
With over 20 different cannabis events, attendees have their pick of topics. Ranging from social justice to industry, there seems to be something for veterans and newbies alike.
Online voting on panels was open to the public earlier this year, with at least 62 separate cannabis proposals up for consideration.
Here are some standouts among the ones that got picked for the 2019 festival:
The Cannabis Feminism Meet Up will celebrate "female entrepreneurship in the budding cannabis industry" and be an open conversation with Cannabis Feminist Jessica Assaf.
Can We Heal Ourselves From The War On Drugs? is a panel that "will outline the racist roots of the War on Drugs and focus on the instruments of oppression that persist today" featuring panelists from the ACLU and other advocacy groups.
The Politics of Marijuana: What's in Store for Texas "will examine where Texas is at now and what a changing national tone regarding marijuana policy could mean for Texas," featuring Eddie Lucio III from the Texas State House of Representatives, Heather Fazio from Texans for Responsible Marijuana Policy and journalist Alexandra Samuels from The Texas Tribune.
Cannabis industry celebrity Steve DeAngelo will be a featured speaker, and there will be also be sessions on cannabis and aging brains, building brands, disruptive cannatech and more. CBD, California-specific branding and industry trends also get some stage time. For those interested in the more sensual side, there's even Sex, Health and Cannabis. You can see them all for yourself on the SXSW site.
It's encouraging to see the social-justice-focused sessions that made it through voting. Perhaps the public—and SXSW organizers—are getting hip to the idea that the industry wouldn't exist without the activism that changes laws in the first place and that its important for legal markets to prioritize equitable access and ownership.
SXSW rocks Austin March 8 – 17, 2019.
Marijuana And Tobacco Appear In Almost Half Of Popular Music Videos, Study Shows
Marijuana and tobacco were featured in nearly half of the most popular hip-hop and R&B music videos from 2013 to 2017, new research finds.
The study, published in the Journal of the American Medical Association Internal Medicine on Monday, takes a critical look at the prevalence of regulated products appearing in hit music videos. The team of researchers found that 40 to 50 percent of the videos reviewed depicted smoking or vaping tobacco or cannabis.
"While there is no doubt that hip-hop artists have made many positive contributions to social change—speaking out on issues like police violence against minorities—there's also a history of showing regulated substances in hip-hop and other popular music," Kristin Knutzen, lead author of the study, said in a press release.
"These depictions may affect fans' attitudes toward smoking and increase the likelihood of smoking—particularly among young people."
For the analysis, researchers examined the Billboard Top 50 charts for R&B and hip-hop from 2013 to 2017. Of the 1,250 songs covered in those charts, 769 had accompanying music videos that were included in the review.
"The proportion of songs with accompanying music videos that contained combustible use, electronic use, or smoke or vapor equaled 44 percent in 2014, 40 percent in 2015, 50 percent in 2016, and 47 percent in 2017. (For a total of 39.5 billion views)."
Besides the significant prevalence of marijuana and tobacco depictions in these videos, researchers also observed that the more views a given music video received, the more likely it was that they featured tobacco or cannabis products.
In other words, people seem to be more likely to watch and share music videos that show marijuana or tobacco consumption.
Forty-two percent of the songs that received 8,700 to 19 million views showed marijuana or tobacco products. For videos that received 112 million to four billion views, though, 50 percent featured these products.
When it comes to tobacco products, one interesting trend is the lack of manufactured cigarettes that appeared in these videos. Only 8 percent of the songs reviewed showed manufactured, as opposed to rolled, cigarettes.
But depictions of brands seem to be on the rise. Brand placement showing combustable (i.e. smokable) cannabis or tobacco products appeared in appeared in 0 percent of the top music videos in 2013, compared to 10 percent in 2017. Depictions of electronic vaping products rose from 25 percent in 2013 to 88 percent in 2017.
The researchers expressed concern with the rise of smoking or vaping depictions in popular videos.
"When young people, especially adolescents, see their favorite artists using tobacco products in music videos, they can begin to view them as normal in hip-hop culture, and they can begin to see themselves using them," study co-author Samir Soneji said in a press release. "They also could view them as less harmful than they are. That's a very real public health threat."
While few studies to date have examined the relationship between the appearance of cannabis products in popular culture and youth consumption habits, the medium has seen renewed interest recently. A study published earlier this year, for example, also showed a dramatic increase in references to marijuana in popular songs.
Marijuana References In Popular Music Are On the Rise, Study Finds
Photo courtesy of Chris Wallis // Side Pocket Images.
Melissa Etheridge Talks Art, Culture and Marijuana Advocacy In The Legalization Era
It's been a little over a year since singer, activist and marijuana entrepreneur Melissa Etheridge was arrested for cannabis possession by federal agents in North Dakota near the U.S.-Canada border. Her tour bus was stopped and searched shortly after touring in Alberta, and agents discovered a vape pen containing cannabis oil.
Etheridge, who's become an outspoken advocate for legalization in the years since she started using the plant medicinally after being diagnosed with breast cancer in her 40s, told Marijuana Moment in a new interview that the experience of being busted did not deter her.
Rather, it has motivated her to continue advocating for patients and spreading the word about marijuana's therapeutic potential.
Later this month, the singer plans to continue that mission, giving a keynote talk on how art and culture can help bring cannabis into the mainstream at the California Cannabis Business Conference in Anaheim. In the interview below, which has been lightly edited for length and clarity, she speaks about what the audience can expect and the role of celebrities in the legalization movement.
Marijuana Moment: Let's start by talking about your upcoming speech. How exactly can art and culture "mainstream" cannabis?
Melissa Etheridge: I know that I have lived my life in art. I have made my life art, and my art is my life. I write music and I have experience—when I went through my breast cancer experience, and I used cannabis as medicine for the first time, it was inspiring. It made sense to me on so many levels. Artists, we spend a lot of time in our right brain. We get inspiration—which means "in spirt"—from nothing and make something of it. So it's easy for us to understand plant medicine. Why shouldn't we be the ones to help bridge that gap?
MM: Inversely, I wonder how using marijuana has influenced your artistic career?
ME: Oh my goodness, well if you hear everything from after my cancer on, you can hear it. The difference in the work, the depth of my soul-searching, the depth of my spiritual journey. It changed my understanding of parenting. To be more balanced in one's consciousness, to understand that we have a problem-solving consciousness—the left side, and that gets everything done—yet we need a balance of the oneness, the all there is that's in the right side.
MM: Where do you see the role of celebrities when it comes to advancing marijuana reform?
ME: Celebrities have a funny role in our world, you know? We keep saying, we're just people, people. And sometimes we're just people who have done one thing really well for a long time and that's what you become a "genius" at—that's all that that is. So all of a sudden, people are interested in that, so you get this currency, this energy, that is celebrity. Then it's up to each of us.
I went through this with the LGBT community. I proudly came out and said 'yes!' and I've heard from, and know that I've inspired, many, and that makes me just so happy in my life. Yet I've made some mistakes, you know? And we're all just walking through this. Celebrities, if they choose to, can do a lot. My hope is that I can help others look at cannabis as medicine, as an alternative, when the choice that they're given is a painkiller, an opioid, to say, "Hey, let's try to put the stigma away and really get into this plant medicine that won't harm us as much." I hope my celebrity can help there.
MM: Do you think there's a greater need for celebrities who are profiting from the marijuana industry to contribute to the movement in terms of grassroots organizing or contributing to national advocacy groups, for example?
ME: I think that's a natural byproduct of the movement. I think that the majority of people in the cannabis industry understand it is as a social game-changer on so many levels—on justice reform, on racial inequality, it goes deep. This is a movement.
MM: You also run a marijuana business based in California. What has your experience been like since Proposition 64 went into effect?
ME: We all agree that legalization is a good thing. Prop. 64 is full of almost impossible criteria to me, and it's causing undue financial burdens. No other industry has ever had to meet these regulation requirements—not even the food industry and certainly not the pharmaceutical industry.
MM: The anniversary of your arrest near the border recently passed. I wonder what you make of the progress we're seeing in Canada, which is set to launch its legal cannabis system next week, compared to the United States.
ME: Oh, Canada. Again, there are parallels with the LGBT movement. I remember Canada went completely federal—we're doing gay marriage, bam, same-sex marriage, equality. I don't know what it is, unless it's just that anybody who would come to Canada to live—because it's so darn cold—that they really believe in rights for all, this great thing. I think they also jumped on cannabis pretty early and have seen what it can do for communities, what it can do medicinally, what it can do for businesses and that's what's going to just kill us. We are missing out on the opportunity to be the international leaders on cannabis. And it's these beautiful people up in Canada who are doing it so well. It's like when the Japanese started making better cars than us.
MM: As a longtime activist, what message would you send to our elected official in Congress, where cannabis reform has stalled for decades?
ME: I'd say, I understand the fear. It has been many decades of misinformation telling us that cannabis is evil. I get it. I've heard that also. These are different times and it's possible to think differently about this medicine. This is an answer for you. Really give it a chance.