No, Marijuana DNA Is Not From Outer Space (And Other Cannabis-Related Fake News)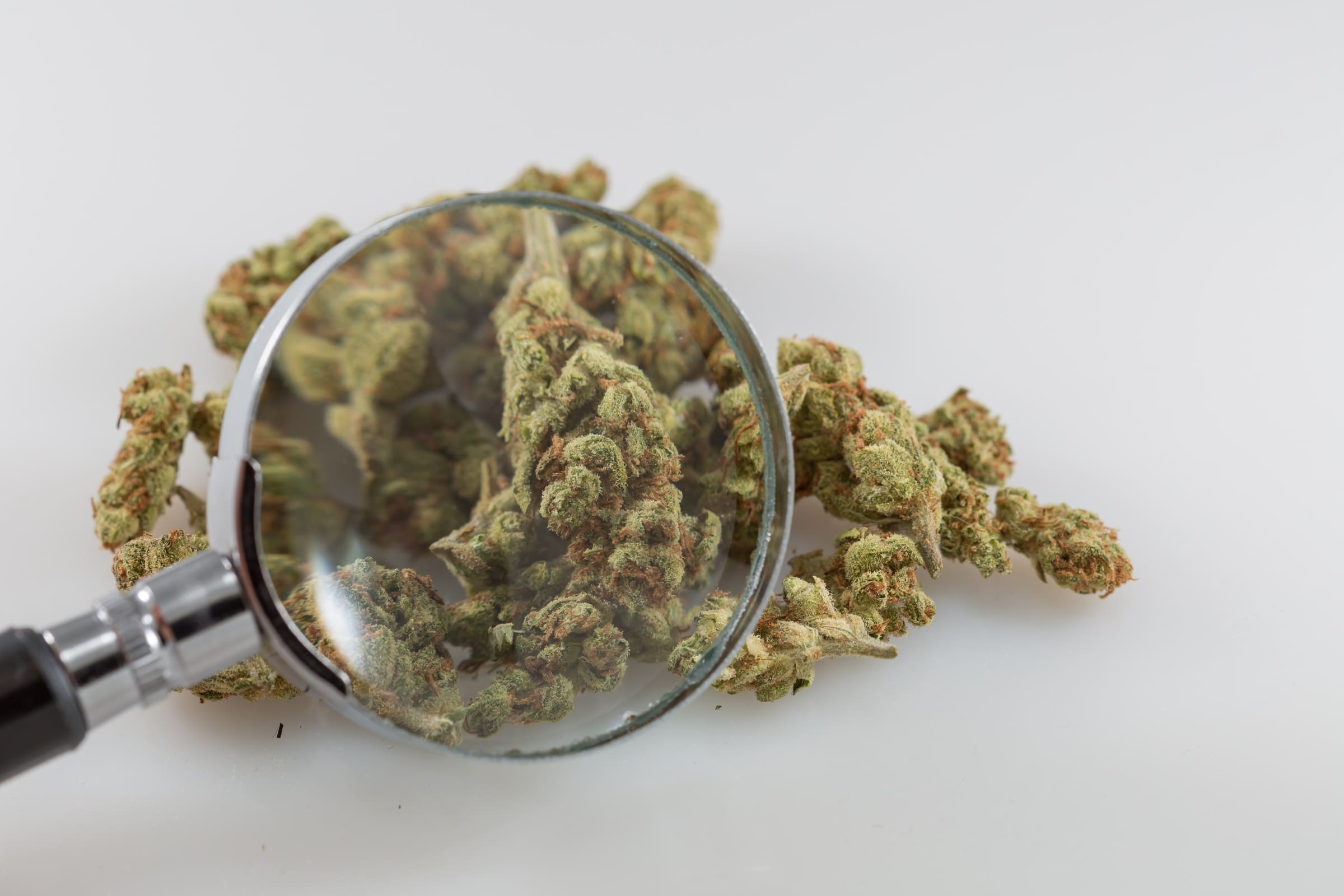 The master debunkers over at Snopes published an item on Monday that, in a sane and rational world, would not require publishing. But we live in a world where articles positing that cannabis contains "Alien DNA" — a "fact" attributed to NASA! — are shared widely on social media. And so, these and other patently false claims must be identified as such by shrewd analysts.
Sadly, there is no shortage of fake marijuana news—and in this case, credulous internet users share at least a portion of the blame. And, unfortunately, "credulous internet users" include some marijuana reform-minded websites, who would rather believe the next new awesome and exciting thing without putting in a few minutes of research.
On July 13, 2016, a website called IFLScience launched a thought experiment with an article titled "Marijuana Contains 'Alien DNA' from Outside of Our Solar System, NASA Confirms."
IFLScience is a "real" website–that is, it publishes items that are truthful and not deliberately misleading. However, this headline is wrong and false–and intentionally so.
IFLScience's article was intended to illustrate a bit of research from Columbia University that found most people who share items on social media had never bothered to read them before sharing.
In an object lesson, several click-bait websites lurking in the sewer of the internet went ahead and plagiarized the entire article in search of clicks. And gullible internet users obliged, with one instance of the article generating 100,000 shares in a matter of days, according to Snopes.
In a way, victims of marijuana-related fake news have at least some excuse: For generations, much of what "the authorities" in law enforcement, public health and the media told us about marijuana was blatantly false. Solemn-faced promises that cannabis would cause insanity or certain death turned out to be certified garbage; if these were lies, what else of what we "knew" about cannabis was untrue—and what actual facts were the authorities hiding?
And following several generations of the above, real marijuana reform is coming hard and fast. Developments that even a few years ago were unthinkable—Republican senators embracing marijuana reform, red states like Oklahoma quickly legalizing medical marijuana—happen nearly every day. The unbelievable is happening, the rules are all being broken.
This could perhaps explain why cannabis-centered websites like Green Rush Daily would rush to publish news that the National Institute on Drug Abuse was paying marijuana consumers to smoke weed "for research," without bothering to do the basic fact-checking that would have revealed, quickly, that they were being duped by a satirical website.
At the same time, even major news outlets have proven susceptible to hoaxing. In 2016, the Los Angeles Times fell victim to a somewhat-sophisticated 4/20 prank pulled off by The Yes Men, anti-corporate culture jammers who fooled a reporter into publishing a piece that said the United Nations Office on Drugs and Crime had called for worldwide decriminalization of all drugs.
Other instances of marijuana-related fake news spreading like a cough across the internet can be attributed to the internet itself, which rewards viral content regardless of intent or effect. Earlier this year, thanks to key shares on several celebrity Facebook accounts, internet users were subjected to the false hope that cannabis can lead to a "complete remission" of Crohn's disease. Marijuana does indeed help treat the condition, but R. Kelly and a few other celebrities all shared an item from otherwise-unknown websites making the altogether unproven claim.
Remember: Trust, but verify. If you've never heard of the news outlet making a particular claim, chances are it's not to be trusted. And if it's too good, weird or patently absurd to be true–chances are, it may be.
NFL Says 'Hype' Over CBD Isn't Backed By Science
An expert panel created by the National Football League (NFL) and its players union is downplaying the potential benefits of CBD for players, stating that while the cannabis compound shows promise in the treatment of some forms of pain, the science doesn't currently live up to the "hype."
Following a fact-finding forum on alternatives to opioid painkillers, which involved conversations with CBD manufacturers, the Pain Management Committee for the NFL and the NFL Payers Association (NFLPA) noted on Tuesday that there's strong interest in CBD and medical marijuana more broadly. But the panel didn't seem convinced that the non-intoxicating ingredient would benefit players.
"CBD is a promising compound, but the level of its use in the United States outpaces the level of research at this point," the committee wrote in a white paper for players. "Most of the hype about CBD is based upon results from animal studies."
"Clinical trials in large numbers of people are usually needed before millions of Americans use a medication for serious medical problems," the group said. "There are two small clinical studies that suggest that CBD may be effective for treating a kind of pain called neuropathic pain that involves a burning feeling usually in a person's feet."
The paper also said that because CBD products are largely unregulated, it's hard to determine whether they are properly labeled, and there's the potential for such products to contain THC, which could result in a positive drug test for players.
Additionally, "there may be drug-drug interactions caused by CBD or players may opt for CBD as a medical treatment in lieu of treatments with more scientific evidence supporting them," the NFL and NFLPA committee said in another white paper intended for league medical staff.
The body also raised doubts about clinical studies into Food and Drug Administration-approved medications composed of synthetic cannabinoids that are used in the treatment of chronic and neuropathic pain, arguing that those investigations relied on small sample sizes and limited follow-ups that call into question their therapeutic value.
"Of course, cannabis remains a banned substance under the NFL Policy for Substances of Abuse," the committee concluded. "In addition, the potential problems associated with cannabis, from acute impairment of driving, addiction, and exacerbation of psychiatric disorders such as depression and anxiety, make it a substance to approach with extreme caution."
A fact-finding forum the panel held on Tuesday wasn't aimed at amending league policy directly, but rather it was meant to be "an educational and scientific exercise" that "does not impact the jointly administered Policy and Program on Substances of Abuse," the groups said in a joint statement to NFL.com.
That said, negotiations are ongoing between the league and players union, and there's pressure on NFL to adopt a more permissive policy when it comes to marijuana, especially as more states opt to legalize it for medical or recreational purposes.
After the MLB announced last year that it is removing cannabis from its list of banned substances for baseball players, Dallas Cowboys owner Jerry Jones and star quarterback Tom Brady of the New England Patriots both said they were expecting the league to follow suit and change its marijuana policy.
MLB Officially Removes Marijuana From Banned Substances List For Baseball Players
Image element courtesy of Marco Verch.
Sarah Silverman Calls Out Dave Chappelle For Not Sharing His Marijuana
Dave Chappelle is a marijuana bogart, Sarah Silverman revealed at an award ceremony honoring the fellow comedian.
In a clip from the Mark Twain Prize for American Humor gala that was posted on Sunday, Silverman talked about her long friendship with Chappelle and went on to share an anecdote about how he once visited her and smoked an entire joint himself without sharing.
"We were together in Vancouver and he came over to smoke a joint. And that's exactly what he did," she said. "He came over and he smoked a joint—the whole thing. Like by himself, while pontificating about everything that's wrong with the world."
"I'll tell you what's wrong with the world: a lack of sharing," she joked. "I think it's puff, puff, pass—not puff, puff, puff, puff."
This was at least the second time that Chappelle's affinity for mind-altering substances came up during the prestigious awards ceremony that was taped in October and is being aired on PBS on Tuesday. Another fellow comedian, Aziz Ansari, came on stage and joked about a psychedelic experience he had with Chappelle the day before he was announced as the prize's recipient.
In that bit, Ansari said Chappelle asked him if he wanted to take psilocybin mushrooms together. While Ansari initially said he wanted to take it easy and relax, Chappelle persuaded him that eating the psychedelic fungi would be a more memorable experience to mark the occasion.
"I said, 'Dave you've got a point, let's eat those mushrooms—to Twain,'" Ansari said.
Another person with a drug story about Chappelle is podcaster Joe Rogan, who recently talked about the comedian going to a private screening of Once Upon a Time In Hollywood and eating magic mushrooms that he got from a fan. Rogan didn't partake, but he said Chappelle gifted him an unlabeled bag of cannabis edibles.
Both psilocybin and marijuana have regularly been featured in Chappelle's comedy routines. In 1998, for example, he joked about a time he took mushrooms (also from a stranger) and started hallucinating during a haircut.
Beyond comedy, Chappelle has also advocated for marijuana reform on a serious basis. Former NAACP President Ben Jealous, who ran for governor of Maryland in 2018 on a pro-legalization platform, said Chappelle was the person who first put the idea of cannabis reform in his head.
Dave Chappelle Ate Magic Mushrooms Gifted By A Stranger, Joe Rogan Says
Photo courtesy of YouTube/Kennedy Center.
Dave Chappelle And Aziz Ansari Took Magic Mushrooms To Celebrate Comedy Award
When comedian Dave Chappelle wins a prestigious award, he opts for psychedelics over champagne to celebrate, fellow comedian Aziz Ansari said
In a clip from the Mark Twain Prize for American Humor gala that was posted online this week, Ansari shared an anecdote about the night before it was announced Chappelle was the award's recipient.
While Ansari wanted to get some rest after the two comedians finished their sets at an Austin, Texas show, Chappelle proposed that they take psilocybin mushrooms instead.
"Dave said, 'what kind of night are you trying to have tonight, Aziz?'"
"I said, 'I'm probably going to take it easy, we went hard yesterday and we've got shows tomorrow.'"
"He said, 'well you want to eat these psychedelic mushrooms I got? They're supposed to be amazing.'"
Unconvinced, Ansari said he might "just take it easy and get some rest for tomorrow," but his partner wasn't deterred.
"He said, 'well, Aziz, no one knows this, but tomorrow they're going to announce that I am the winner of the Mark Twain Prize for American Humor.'
"And he said, 'what are you going to tell your kids 20 years from now, Aziz? Are you going to tell them, I was there the day Dave Chappelle found out he won the Mark Twain award and we ate mushrooms together and we had the night of our lives? Or are you going to tell them you got some sleep?'"
Ansari, who described the back-and-forth at the award ceremony, which was taped in October, acquiesced: "I said, 'Dave you've got a point, let's eat those mushrooms—to Twain.'"
It's unclear if the psilocybin mushrooms the pair shared are the same ones that Chappelle apparently got from a stranger ahead of a private screening of Once Upon a Time In Hollywood—another recent psilocybin anecdote about the comedian that was shared by podcaster Joe Rogan.
While Rogan didn't partake in the psychedelic fungus, he said Chappelle did gift him a bag of unlabeled marijuana edibles.
Chappelle has joked about his marijuana and magic mushrooms experience in several of his comedy routines—including a 1998 bit where he also talked about taking shrooms he got from a stranger and then hallucinating during a haircut.
But the comedian has also seriously advocated for cannabis policy reform. Former NAACP President Ben Jealous, who ran for governor of Maryland in 2018 on a pro-legalization platform, credited Chappelle for first putting the idea of marijuana reform in his head.
PBS is set to air a special on Chappelle's Twain prize on Tuesday.
Elon Musk Makes Marijuana Joke After Tesla's Stock Hits $420
Image elements courtesy of John Bauld and David Shankbone.