Anti-Marijuana Funder Says Jailing Of Grandmother For Medical Cannabis No 'Big Deal'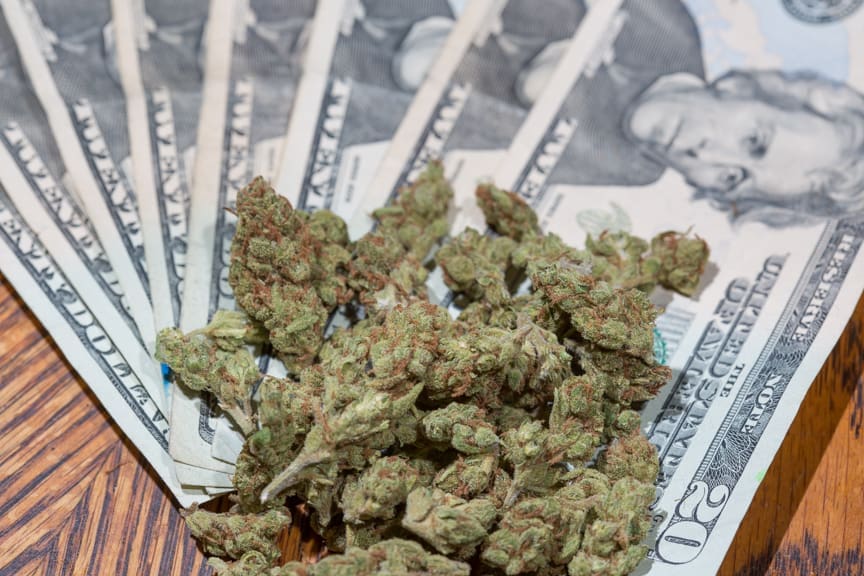 A retired art professor who donated more than $1.4 million in a failed effort to defeat marijuana legalization has come to the defense of Michigan police who arrested and jailed an 80-year-old grandmother for marijuana possession.
Julie Schauer's political contributions to anti-legalization group SAM Action in 2016 were that organization's main source of funding (and also led to fines from the California Fair Political Practices Commission, after the prohibitionist campaign committee failed to properly report her involvement). Schauer donated to the anti-legalization efforts in California, Massachusetts and Nevada that year, all of which ended up legalizing recreational marijuana for adults 21 and over.
This week, Schauer argued that it was "not such a big deal" for 80-year-old Delores Saltzman—an arthritis sufferer who was arrested and jailed for possessing less than an eighth of an ounce of marijuana in June, after she let her medical cannabis card expire—to be incarcerated overnight.
A night in jail is not such a big deal. Michigan has been notoriously bad at regulation, and they're trying hard to make up for it. No evidence that Michigan will know how to regulate with "full legalization." MI has big problem w/BHO explosions

— Julie Schauer (@InAweofArt) August 7, 2018
Saltzman said the night behind bars aggravated her arthritis. Charges against the octogenarian great-grandmother were dropped earlier this month, and Saltzman is now a vocal supporter for a campaign to legalize recreational marijuana in Michigan.
Michigan Cops Lock Up 80-Year Old Grandmother For Expired Medical Marijuana Card
The comment is consistent with Schauer's regular output of anti-marijuana hysteria—she recently suggested that cannabis played a role in the February mass shooting at a high school in Parkland, Florida that left 17 dead—but it also marks a significant flip-flop.
Last year, when Schauer attempted to unsuccessfully challenge California's campaign finance reporting fine against SAM Action, she claimed—inaccurately—that "no one ever goes to jail only for possessing small amounts of pot."
This is messaging routinely used to downplay the importance of marijuana legalization—but, as Saltzman's arrest demonstrated, it is not accurate.
According to the American Civil Liberties Union, of the 8.2 million people arrested on marijuana charges between 2001 and 2010, 88 percent were for possession. And in 2016, police arrested more people for marijuana possession than they arrested for all violent crimes, including murder, rape, assault and arson, according to FBI statistics.
In her letter to California officials—dated April 20, 2017—Schauer also claimed to have a friend in the state "whose son… was killed by marijuana."
According to the U.S. Drug Enforcement Administration, "no death from overdose of marijuana has been reported."
Schauer also blamed California for leading "the long-term disabling of so many youths through medical pot" and blamed the state's election laws, which allow for transparency by publishing the names of donors, for "ruining my career."
"My reputation as a teacher of 30 years is now tarnished and damaged so that I can never go back to teaching again," she wrote. "Thank you, California, and thank you, marijuana activists and marijuana groups, for ruining my career and harming my reputation."
Though some news organizations have investigated the source of Schauer's money—a significant sum for anyone to contribute to a political cause, particularly for a self-described teacher—the source of her anti-cannabis fortune is not known.
Another anti-legalization nonprofit to which Schauer donated $200,000, called Strong Economy For Growth, paid Massachusetts $31,000 in fines for also failing to properly disclose its donors.
Schauer is one of handful of large donors to anti-legalization efforts. In nearly every ballot-initiative campaign where legalization was in play, fundraising in support of legalization has dwarfed spending in opposition.
That was not the case this year in Oklahoma's medical cannabis ballot fight, however, but supporters prevailed nonetheless.
Oklahoma Medical Marijuana Campaign Reports Show Grassroots Can Trump Big Money
'I Can't Breathe': Video Shows Grandmother With Arthritis Arrested For CBD At Disney World
Police released body camera footage of a 69-year-old woman being arrested at a Florida amusement park for possessing CBD oil without a state medical cannabis card on Tuesday.
Hester Burkhalter, a grandmother who suffers from arthritis, was arrested after an off duty sheriff's deputy discovered the oil in her purse at a checkpoint at Disney's Magic Kingdom last month in a case that made headlines around the world.
The newly released video shows Burkhalter being handcuffed and placed in the back of a patrol car, where she began to feel claustrophobic and said, "I can't breathe. I feel like I'm going to pass out." One deputy said that she threw up, according to News 6.
Burkhalter, who says her doctor in Tennessee recommended CBD, later spent 12 hours in custody and was released on a $2,000 bond.
Burkhalter requested to be transported to the jail alone, as opposed to being transported along with another individual who was arrested for possession of a cannabis vaporizer, and a deputy made a call to accommodate her. She was allowed to be taken to the facility in the front seat of a separate patrol car.
"The older female said she gets claustrophobic, and feels like she's going to pass out, and wants somebody else so she can go by herself," the deputy said on a call.
Once she was in the front seat with air conditioning on, she said she felt better and thanked the deputy.
"I couldn't breathe back there," she reiterated.
When the arrest was first reported, reform advocates condemned the park and sheriff's department for subjecting an older woman to an arrest on a family vacation for simple possession of a non-intoxicating compound that is known to treat pain and inflammation.
CBD is legal for medical purposes in Florida, but individuals must be registered to possess medical cannabis in the state. Hemp-derived CBD was federally legalized under the 2018 Farm Bill, though the Food and Drug Administration (FDA) has not yet developed regulatory guidelines allowing for its lawful marketing as a food item or supplement.
Prosecutors dropped the charges against Burkhalter earlier this month, finding her case unsuitable for prosecution. She's since announced plans to file a lawsuit against Disney and the sheriff's department.
"Horrific treatment that they placed upon this church-going, law-abiding grandmother," her lawyer said at a press conference.
In a similarly confounding recent case, a 72-year-old woman was arrested at a Texas airport after security discovered CBD oil. She was charged with a felony that carried a maximum sentence of 20 years, and she stayed in custody for two days.
"To be honest, I did not even think about the possibility of my CBD being illegal or being challenged," Lena Bartula, who was going to visit family in Oregon, said. "It is such an integral part of my wellness that it got thrown into my bag along with Vitamin C and oregano oil."
"Had I thought about it, I would have remembered that I could buy it in Portland," she said.
The charges in that case were also dropped about two months after the arrest.
In other recent cannabis enforcement action called out as excessive by reform advocates, Missouri police officers searched through the belongings of a man with stage-four pancreatic cancer in March after a security guarded reported the smell of marijuana.
The officers found nothing, but video of the search sparked public outrage over the harassing behavior of the officers toward a sick man who said he does benefit from medical cannabis.
Video: Missouri Police Search Cancer Patient's Bags For Marijuana In Hospital Room
Photo courtesy of YouTube.
Presidential Candidate Jokes About Why Denver Decriminalized Psychedelic Mushrooms
Sen. Michael Bennet (D-CO) joked on Thursday that Denver voters approved a measure to decriminalize psychedelic mushrooms because they thought the state of Colorado was running low on marijuana.
The 2020 Democratic presidential candidate made the remark during an appearance on Late Night with Seth Meyers. The host asked Bennet if it was "true that magic mushrooms are going to be legal in Colorado."
(The measure actually simply decriminalizes psilocybin mushrooms for adults, and only in the city of Denver.)
Bennet slapped his knee and quipped, "I think that our voters just voted to get Denver to do that, and I think they might've thought that we were out of marijuana all of a sudden."
"And by the way, we're not out of marijuana in Colorado," he said.
"That's what it says on the state flag now, right?" Meyers said.
"Yeah, exactly," Bennet replied.
The senator, who previously served as the superintendent of the Denver Public Schools, has cosponsored several wide-ranging cannabis bills in Congress, including legislation to federally deschedule marijuana and penalize states that enforce cannabis laws in a discriminatory way.
But before his state voted to legalize marijuana in 2012, Bennet stood opposed.
It's not clear how he voted on Denver's historic psilocybin initiative.
At least Bennet is aware of the measure and was willing to joke about it, though. Several of his colleagues who have worked on cannabis issues declined to weigh in on decriminalizing psychedelics when asked by Marijuana Moment recently.
Congressional Lawmakers Have Little To Say About Decriminalizing Psychedelics Following Denver Victory
Photo courtesy of YouTube/Late Night with Seth Meyers.
Horses Should Lay Off CBD, Equestrian Sports Regulator Says
Hay is for horses, but CBD isn't.
That's according to the U.S. Equestrian Federation (USEF), which set the rules for most horse-related sports in the country, including dressage, jumping and endurance riding.
In a press release on Tuesday, the organization clarified that just because the 2018 Farm Bill legalized industrial hemp and its derivatives such as CBD, that doesn't mean that horses competing in various equestrian events are allowed to partake.
Horses competing under USEF rules who test positive for CBD will be considered in violation of GR4 beginning September 1, 2019. Read more 👇https://t.co/6M0MHo8Vq4

— US Equestrian (@USequestrian) May 14, 2019
"From time to time, new products appear on the equine supplement market claiming to enhance a horse's performance," USEF, which does not regulate thoroughbred horse racing, wrote. "Over the last several years, cannabinoids have gained increased attention and have become nearly mainstream."
CBD, both synthetic and natural, "are likely to effect the performance of a horse due to its reported anxiolytic effects" and the products are therefore "no different than legitimate therapeutics that effect mentation and behavior in horses."
"It is for these reasons that USEF prohibits CBD and all related cannabinoids," USEF explained. "Horses competing under USEF rules who test positive for natural cannabinoids, synthetic cannabinoids and other cannabimimetics will be considered in violation of GR4 beginning September 1, 2019."
It's unclear whether USEF has already developed technology capable of testing for CBD metabolites, as standard cannabis testing instruments are generally only designed to detect for metabolites of THC, the main psychoactive ingredient in marijuana.
However, USEF said that, in fact, "analytical methods are being implemented to detect CBD and similar cannabinoids."
What about the human athletes involved in the horse sports? USEF referred anyone curious about that policy to the World Anti-Doping Code, which does allow the use of CBD while maintaining a ban on THC.
Professional golfers are also being warned about using CBD products. Last month, the PGA Tour published a newsletter urging caution when using CBD, as some products may contain trace amounts of THC that could turn up in a drug test.
As in equestrian sporting, golfers are also barred from using marijuana.