New York Recreational Marijuana Sales Begin, With State Official Getting First Dibs Before Public 4:20 Launch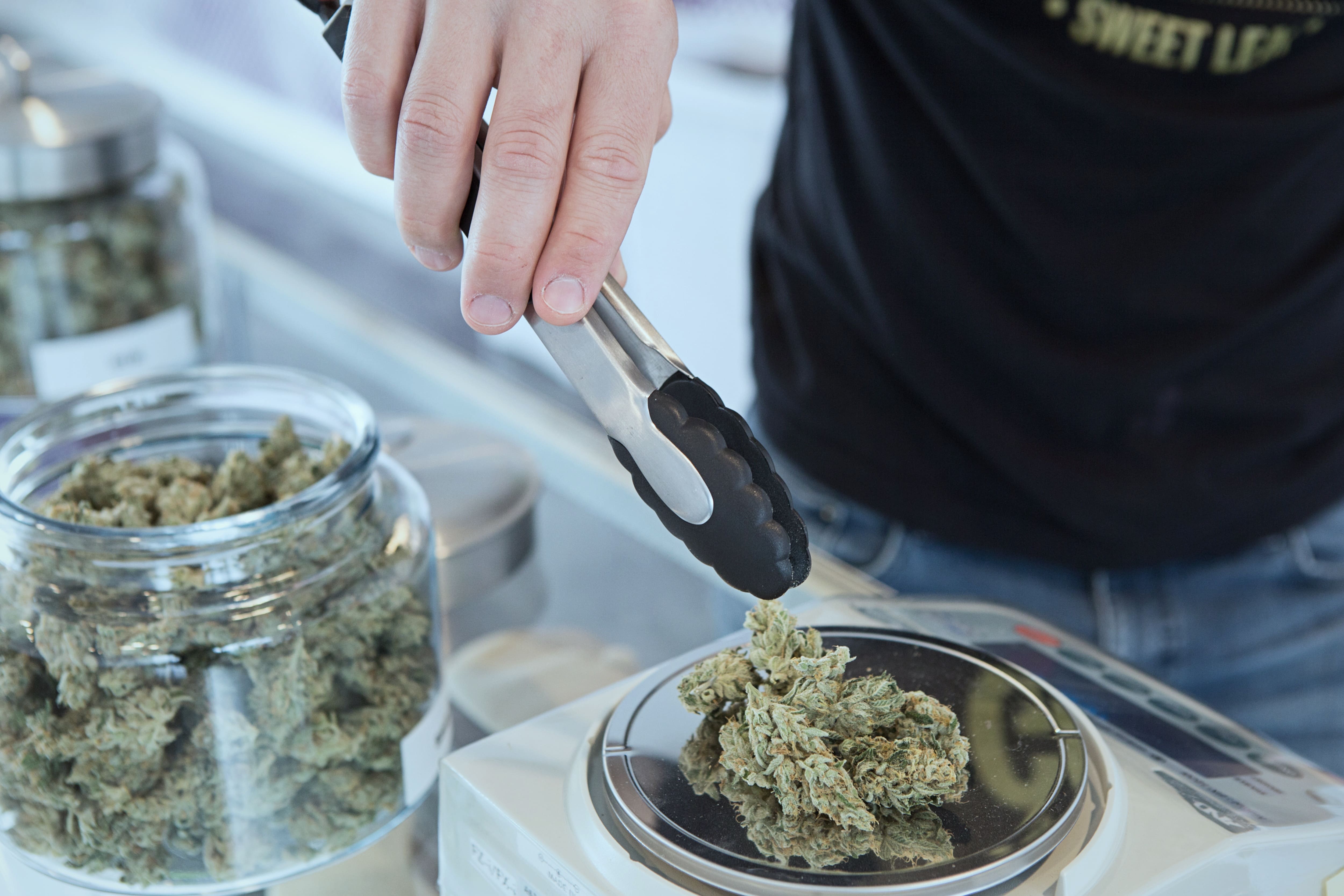 New York's first legal adult-use marijuana sales got underway on Thursday morning, with the inaugural purchase being made by the state's top cannabis regulator. Broader sales to the general public began later in the afternoon at the symbolic time of 4:20 PM.
Adults 21 and older will be able to make cannabis purchases at the Manhattan-based storefront run by the nonprofit organization Housing Works, which focuses on addressing AIDS and homelessness issues.
The governor and regulators confirmed the location and open date last week, touting the administration's fulfilled promise to launch the recreational market this year—albeit with only a few days to spare and on a limited scale.
And we'll open for business at 4:20! https://t.co/c8adqOe2qr

— Housing Works (@housingworks) December 28, 2022
A total of 36 organizations have so far received Conditional Adult Use Retail Dispensary License (CAURD), which were approved by the Cannabis Control Board (CCB) late last month. The administration has frequently emphasized the importance to establishing a regulated industry that puts equity front and center.
That said, questions are already being raised about potential federal ramifications related to having non-profits sell adult-use cannabis, with at least one lawyer arguing in a recent op-ed that it could jeopardize their federal 501(c)(3) status that makes them tax exempt.
Housing Works's first sale on Thursday was to Chris Alexander, the executive director of the New York Office of Cannabis Management.
"It is a privilege and an honor to be here today, as we said we would earlier this year, to make history with the first ever legal retail sale of cannabis in New York State," he said. "This is a significant part of the battle to end cannabis prohibition that we can say has finally been won."
Cannabis sales in New York State has a nice ring to it! 🍃

Come through to 750 Broadway at 4:20. We're blazing our trail to equity! pic.twitter.com/2eA6uQZJHz

— NYS Office of Cannabis Management (@nys_cannabis) December 29, 2022
Before taking on the leadership role in implementing a legal cannabis market, Alexander led the charge to enact legalization as an activist with the Drug Policy Alliance and then as a state Senate staffer.
State officials touted the launch of legal sales on Thursday.
"The first legal adult-use cannabis sales mark a historic milestone in New York's cannabis industry," Gov. Kathy Hochul (D) said in a press release. "Today is only the beginning, and I look forward to continuing our efforts to solidify New York as a national model for the safe, equitable and inclusive industry we are now building."
Today's the day: Legal, adult-use cannabis is now for sale in New York State!

This is a historic milestone for New York's budding cannabis industry, and I look forward to solidifying our state as a national model for building an industry that's equitable and inclusive.

— Governor Kathy Hochul (@GovKathyHochul) December 29, 2022
New York City Mayor Eric Adams (D) said that "the opening of the first legal dispensary in our state right here in New York City is more than just a promising step for this budding industry—it represents a new chapter for those most harmed by the failed policies of the past."
"The legal cannabis market has the potential to be a major boon to New York's economic recovery—creating new jobs, building wealth in historically underserved communities, and increasing state and local tax revenue," he said. "At the same time, we will continue our efforts to educate unlicensed operators about the law and hold bad actors accountable."
New Yorkers can now purchase legal cannabis after the first dispensary opened its doors in Lower Manhattan today.

This is a major milestone in our efforts to create the most equitable cannabis industry in the country.

Learn more about Cannabis NYC here: https://t.co/1QLKziqv30 pic.twitter.com/dnSSuxRiUd

— NYC Mayor's Office (@NYCMayorsOffice) December 29, 2022
Charles King, CEO of Housing Works, said, said that the dispensary "is an opportunity to provide employment opportunities to people who have experienced the harms of cannabis criminalization."
"We're humbled to be able to provide on-going training to help people advance into cannabis as a career in addition to educating our community on cannabis as the market continues to evolve," he said. "We're also looking forward to reinvesting profits to further Housing Works' mission of providing lifesaving services for tens of thousands of New Yorkers in need."
Earlier this month, Hochul unveiled a marijuana business and product verification tool, with plans to post a QR code on licensed cannabis retailers and a universal symbol label for authorized cannabis products.
Officials also recently selected 10 teams of firms to build out about 150 turn-key storefront facilities for social equity marijuana retailers to operate out of once the market officially launches.
Most of the newly licensed business will be run by justice-involved people who've been disproportionately impacted by the war on drugs, while others will be operated by nonprofit organizations that have a history of helping people reenter society after having been incarcerated.
Meanwhile, Hochul signed a bill late last month aimed at expanding the state's hemp market by promoting collaborative partnerships to identify more opportunities to utilize the crop and its derivatives for packaging, construction and other purposes.
In Connecticut, the state's first adult-use shops are expected to open next month, officials recently announced.
Also in the region, Rhode Island's first recreational cannabis sales started at the beginning of December.
South Dakota Activists File Measure That Could Put Marijuana Legalization On Ballot For Third Election In A Row