VA Report Says Psilocybin And MDMA Show Therapeutic 'Promise' For Veterans' Mental Health Conditions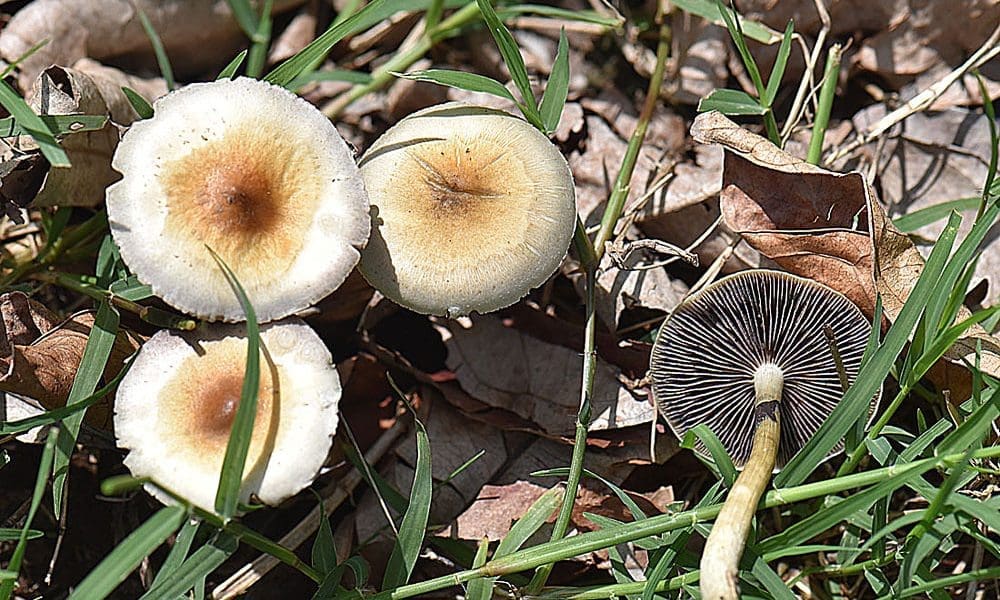 The U.S. Department of Veterans Affairs (VA) has concluded that psychedelics like MDMA and psilocybin show promise in the treatment of certain mental health conditions like post-traumatic stress disorder (PTSD) and severe depression.
In a recent report from VA's Evidence Synthesis Program (ESP), officials said that their review of more than 2,500 "potentially relevant articles" turned up 38 key studies that back the therapeutic potential of psychedelics.
The report determined that "MDMA-assisted psychotherapy for PTSD may improve symptoms and lead to remission for some individuals in the short-term," while psilocybin-assisted psychotherapy "for depression also shows some promise."
VA caveated, however, that evidence is "very preliminary and several critical gaps need to be addressed by future research."
The report further demonstrated that psilocybin therapy "may reduce heavy drinking days and average daily alcohol consumption among adults with alcohol use disorder."
Additionally, the department's researchers cast doubts on the idea that the psychedelic ibogaine can treat opioid-related withdrawal symptoms.
"Critical gaps to address in future research include whether treatment effects vary according to patient characteristics and disease severity and whether benefits are durable over time," the report, dated October and posted online last month, says. "The feasibility of implementing intensive psychotherapy protocols in real-world settings is another critical gap, as is determining how psychedelic treatments could fit into current standard of care and usual care pathways."
With respect of MDMA and psilocybin, which have been designated as "breakthrough therapies" by the Food and Drug Administration (FDA), VA's ESP supported findings about the substances' therapeutic potential.
"MDMA-assisted psychotherapy for PTSD has been the most extensively studied therapeutic intervention involving psychedelics," it said. "Similarly, psilocybin-assisted psychotherapy for depression shows some promise."
"Psychedelics and psychedelic-assisted psychotherapy have been proposed as novel treatments for adults with mental health and substance use disorders based on the supposition that intentional use of psychedelics over a limited period can disrupt problematic thought patterns, facilitate psychotherapy, and potentially lead to behavior change. New treatment options are needed given the limitations of existing therapies."
The division emphasized that research into the medical value of psychedelics is "still in an early phase of development and many gaps in the evidence exist."
"Other critical gaps in the evidence include whether psychedelic treatment protocols are reproducible and scalable in real-world settings and whether the benefits of discontinuing mental health medications to undergo psychedelic treatments outweigh the risks. In addition to addressing these gaps, areas for future research include study of Veterans with combat-related trauma and study of more diverse populations, particularly with respect to race/ethnicity, socioeconomic status, and rurality."
"Although promising, our confidence in these findings is low," the VA ESP researchers said in the report, which was previously noted by Psychedelic Alpha. "The evidence on MDMA-assisted psychotherapy remains preliminary and several important research questions have yet to be addressed."
The report also included the following recommendations for future research areas: 
Inclusion of Veteran populations, particularly those with combat-related trauma, with detailed reporting of treatment histories and disease severity at baseline.
Inclusion of more diverse populations, particularly with respect to race/ethnicity, socioeconomic status, and rurality, to better understand variability in treatment effectiveness, safety, and acceptability.
Evaluation of the clinical implications of discontinuing mental health medications prior to undergoing psychedelic treatments and whether the benefits of doing so outweigh potential harms.
Use of low-dose placebo rather than 0mg placebo to improve the adequacy of blinding, and improved reporting of blinding effectiveness
The report's release comes amid a surge of local, state and federal psychedelics policy developments.
Most recently, a California senator refiled a revised bill to legalize possession of certain psychedelics after his last attempt was derailed in the eleventh hour of the 2022 session.
A analysis published in an American Medical Association journal this month also projected that a majority of states will legalize psychedelics by 2037.
Meanwhile, congressional lawmakers recently released a joint explanatory statement for a must-pass defense bill that contains a directive for the military to examine the potential of "plant-based therapies" like cannabis and certain psychedelics for service members.
A VA official told Congress in September that the government is monitoring research into the therapeutic potential of psychedelics "very, very closely," but that treatment involving the substances is not yet part of the "standard of care" for military veterans.
DEA separately released its final 2023 production quotas for drugs to be used in research—and the agency is now calling for even more manufacturing of psychedelic compounds like MDMA, psilocyn and 5-MeO-DMT than the existing significant increases it had initially proposed for next year.
The National Institute of Mental Health (NIMH) published a notice of information last month giving researchers guidance on the types of studies it's interested in funding for the development of psychedelic drugs to treat certain mental health conditions, pointing out limitations for animal-based research and rules for trials involving children.
Meanwhile, VA is revising a policy on medical cannabis use by veterans.
Psychedelics Like Psilocybin Are Now Legal In Colorado With Governor's Proclamation On Voter-Approved Ballot Measure
Photo courtesy of Dick Culbert.