New York Governor Says Budget Uses Marijuana Revenue For Social Equity, With Details Forthcoming
New York Gov. Andrew Cuomo (D) on Tuesday previewed expected revenue from a legal marijuana program he's proposing through his annual budget, with more detailed legislative language set to be released later in the day.
The governor has repeatedly argued that taxing and regulating cannabis will help fill a historic, $15 billion budget deficit. And while the projected $350 million in annual revenue from marijuana taxes won't resolve the problem on its own, it represents one opportunity to boost an economy that has suffered amid the coronavirus pandemic.
"We also propose legalizing adult-use cannabis, which would raise about $350 million," Cuomo said in his budget speech, adding that "$100 million would go to a social equity fund. That would still give us $250 million towards the budget and our needs."
A briefing book for the governor's budget states that legalization should be enacted "for the purposes of fostering and promoting temperance in their consumption, to properly protect the public health, safety, and welfare, and to promote social equality."
Watch Cuomo discuss his marijuana legalization proposal below:
While it's not immediately clear what that social equity fund would entail, it's a notable component that advocates are closely monitoring. An outline of his budget plan similarly said the proposal will "correct past harms by investing in areas that have disproportionally been impacted by the war on drugs."
In the briefing book, the governor calls for three types of taxes on recreational cannabis products: one based on THC content to be applied at the wholesale level, a 10.25 percent surcharge tax at the point of purchase by consumers and applicable state and local sales taxes.
The THC potency tax is intended to "more accurately capture both the true market value and the potential public health risks associated with the final cannabis product," the governor's office said, and it will be applied as follows:
"Cannabis flower/pre-roll/shake products are taxed at a rate of 0.7 cent per milligram of THC content. Cannabis concentrates/oil products are taxed at a rate of 1 cent per milligram of THC content, while cannabis infused/edible products are taxed at a rate of 4 cents per milligram of THC content."
"Of the THC-based tax, retail surcharge, and any license fees, the first $10 million in FY 2023, $20 million in FY 2024, $30 million in FY 2025, $40 million in FY 2026, and $50 million annually thereafter are directed for social equity purposes, with the remainder directed to the newly established New York State Cannabis Revenue Fund," it states.
A press release from the governor's office clarifies that $100 million equity figure Cuomo mentioned in his speech is the aggregate funding over the first four years. "These monies will be used to support individuals and communities that have been the most harmed by decades of cannabis prohibition," it says.
New York Budget Director Robert Mujica similarly said during a follow-up briefing on Tuesday that the social equity effort will support "communities that have been harmed by the nation's policies with relation to cannabis."
"As far as the cannabis and social equity fund, that is in the statute—we would have a permanent funding going program," he said. "So as the program ramps up, a portion of the funding will go $100 million, and then there'll be an ongoing fund once it ramps up to continue those investments."
Further, the governor's briefing book notes that the existing medical cannabis excise tax will continue, as well as "the current revenue distributions for an additional seven years and directing the currently undistributed 45 percent of tax revenue to the newly established New York State Cannabis Revenue Fund."
The administration also estimates that the equivalent of 208 full-time jobs will be added to the Division of Alcoholic Beverage Control to support the new Office of Cannabis Management, which will be charged with regulating and issuing licenses for the new recreational marijuana market as well as those for medical cannabis and hemp.
Cuomo has twice pitched legalization through the budget, but reform legislation has stalled in part because of disagreements about how to allocate tax revenue. The governor has generally favored putting the monies in the state's general fund, while leading legislators and activists have pushed for a more targeted distribution centering communities most impacted by the drug war.
If the outline and this latest speech are any indication, it seems Cuomo may be coming around to the latter proposal. But again, the full details of the plan will come when actual legislative language is released later on Tuesday.
In any case, the legislature will have more influence this year after Senate Democrats secured a supermajority in the November election. If the governor were to veto any bill over details he didn't like, they could potentially have enough votes to override him.
There's growing recognition within the legislature about the seeming inevitability of marijuana reform this year, regardless of differing opinions on the specifics.
The top Republican in the New York Assembly said last month that he expects the legislature to legalize cannabis this coming session.
Senate Majority Leader Andrea Stewart-Cousins (D) said in November that she also anticipates that the reform will advance next year, though she noted that lawmakers will still have to decide on how tax revenue from marijuana sales is distributed.
Cuomo also said that month that the "pressure will be on" to legalize cannabis in the state and lawmakers will approve it "this year" to boost the economy amid the health crisis.
The push to legalize in New York could also be bolstered by the fact that voters in neighboring New Jersey approved a legalization referendum in November.
Legislators prefiled a bill to legalize cannabis in New York earlier this month. The legislation, introduced in the Senate by Sen. Liz Krueger (D) and 18 other lawmakers, is identical to a version she filed last year that did not advance.
Separately, several other bills that focus on medical marijuana were recently prefiled in New York, and they touch on a wide range of topics—from tenants' rights for medical cannabis patients to health insurance coverage for marijuana products.
This story has been updated to include comments from the budget director and details about the legalization proposal outlined in the briefing book.
New Virginia Senate Marijuana Committee Holds First Hearing On Legalization Bill
Photo elements courtesy of Metropolitan Transportation Authority and Carlos Gracia.
Pennsylvania Senators Will Consider DUI Protections For Medical Marijuana Patients At Hearing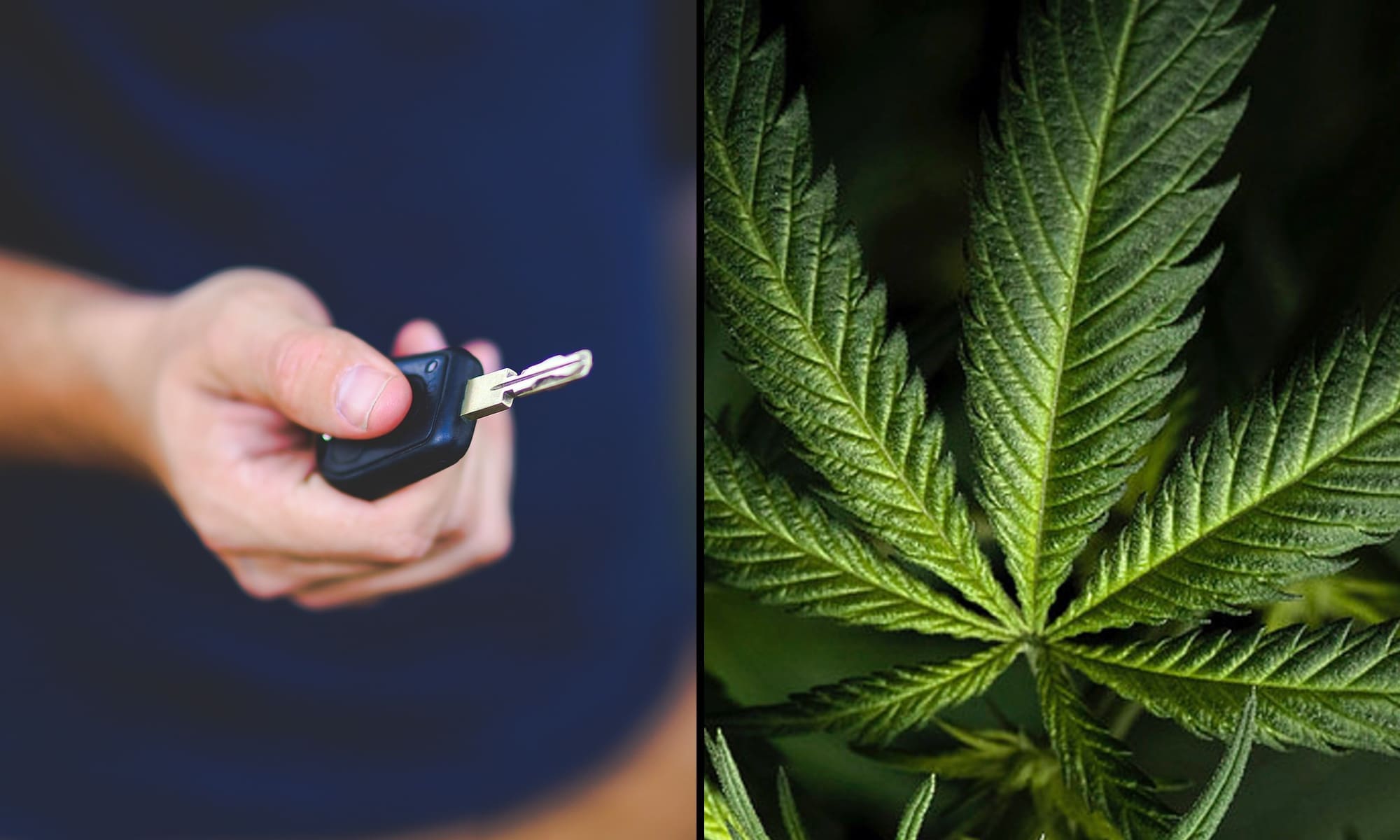 A Pennsylvania Senate committee is set to take up a bill next week that would protect medical marijuana patients from being prosecuted under the state's "zero tolerance" DUI laws.
The legislation, sponsored by Sen. Camera Bartolotta (R), would amend state statute to require proof of active impairment before a registered patient can be prosecuted for driving under the influence. The current lack of specific protections for the state's roughly 368,000 patients puts them in legal jeopardy when on the road, supporters say.
Members of the Senate Transportation Committee will explore the issue at a hearing on Tuesday.
The #PASenate Transportation Committee will hold a hearing on 9/21 with a focus on my #SB167, which would remove DUI penalties for legal medicinal cannabis use. @SenLangerholc @PASenateGOP Details ⤵️https://t.co/cSd2Cpdky9 pic.twitter.com/av3mxvAuCk

— Senator Bartolotta (@senbartolotta) September 16, 2021
Bartolotta first introduced an earlier version of the bill in June 2020. She said at the time that the state needs to "ensure that the legal use of this medicine does not give rise to a criminal conviction."
Months after the standalone reform legislation was introduced, the Pennsylvania House approved a separate amendment that would enact the policy change.
Pennsylvania legalized medical marijuana in 2016, with the first dispensaries in the state opening in 2018. But the state's zero-tolerance DUI law still doesn't reflect those changes. Because it criminalizes the presence of any THC or its metabolites in a driver's blood—which can be detected for weeks after a person's last use—the law puts virtually all medical marijuana patients at risk, even if it's been days since their last use and they show no signs of impairment.
Bartolotta's bill would require officers to prove a registered patient was actually impaired on the road.
—
Marijuana Moment is already tracking more than 1,200 cannabis, psychedelics and drug policy bills in state legislatures and Congress this year. Patreon supporters pledging at least $25/month get access to our interactive maps, charts and hearing calendar so they don't miss any developments.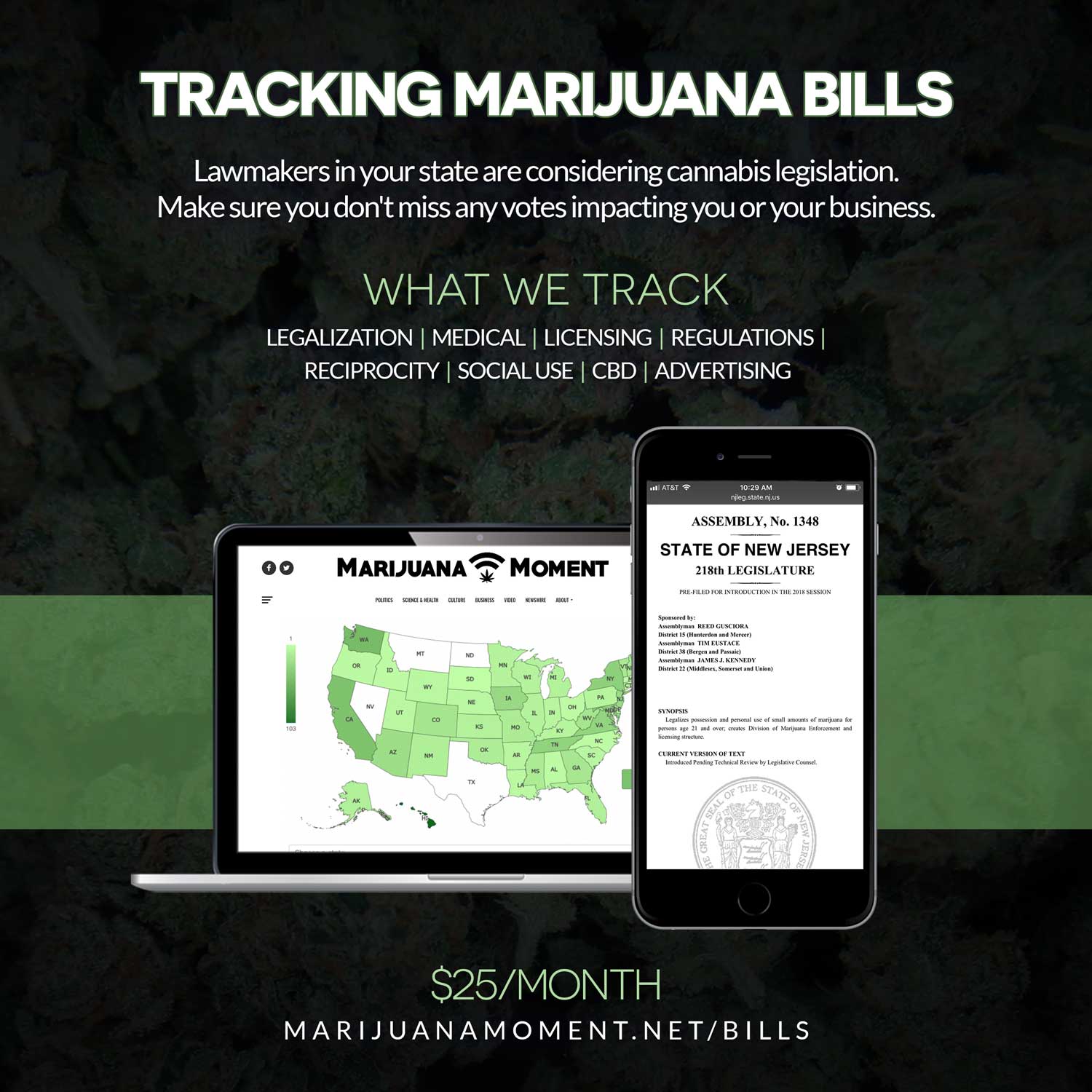 Learn more about our marijuana bill tracker and become a supporter on Patreon to get access.
—
"Unimpaired patients currently face the risk of being arrested, prosecuted and convicted for using medicinal marijuana that has no bearing on their ability to drive a vehicle," the senator wrote in a cosponsorship memo late last year. "Given the very serious consequences of a DUI conviction, my legislation will provide critical protections for medicinal cannabis patients by ensuring responsible use of their legal medicine does not give rise to a criminal conviction."
Several legal cannabis states have enacted per se THC limits in blood, similar to blood alcohol requirements. However, evidence isn't clear on the relationship between THC concentrations in blood and impairment.
A study published in 2019, for example, concluded that those who drive at the legal THC limit—which is typically between two to five nanograms of THC per milliliter of blood—were not statistically more likely to be involved in an accident compared to people who haven't used marijuana.
Separately, the Congressional Research Service in 2019 determined that while "marijuana consumption can affect a person's response times and motor performance… studies of the impact of marijuana consumption on a driver's risk of being involved in a crash have produced conflicting results, with some studies finding little or no increased risk of a crash from marijuana usage."
Outside of this bill, Pennsylvania lawmakers have continued to pursue adult-use legalization in the state. Earlier this year, two legislators circulated a memo to build support for a comprehensive reform bill they plan to introduce, for example.
A bipartisan Senate duo is also in the process of crafting legislation to legalize cannabis across the commonwealth. They announced some details of the proposal earlier this year, but the bill has yet to be formally introduced.
Outside the legislature, Gov. Tom Wolf (D) said earlier this year that marijuana legalization was a priority as he negotiated the annual budget with lawmakers. However, his formal spending request didn't contain legislative language to actually accomplish the cannabis policy change.
Wolf, who signed a medical cannabis expansion bill in June, has repeatedly called for legalization and pressured the Republican-controlled legislature to pursue the reform since coming out in favor of the policy in 2019. Shortly after he did that, a lawmaker filed a separate bill to legalize marijuana through a state-run model.
Lt. Gov. John Fetterman (D), who is running for U.S. Senate, previously led a listening tour across the state to solicit public input on legalization. He's credited that effort with helping to move the governor toward embracing comprehensive reform. The lieutenant governor even festooned his Capitol office with marijuana-themed decor in contravention of a state law passed by the GOP-led legislature.
Fetterman has also been actively involved in encouraging the governor to exercise his clemency power for cannabis cases while the legislature moves to advance reform.
In May, Wolf pardoned a doctor who was arrested, prosecuted and jailed for growing marijuana that he used to provide relief for his dying wife. That marks his 96th pardon for people with cannabis convictions through the Expedited Review Program for Non-Violent Marijuana-Related Offenses that's being run by the Board of Pardons.
Overall, legalization is popular among Pennsylvania voters, with 58 percent of residents saying they favor ending cannabis prohibition in a survey released in April.
Another poll released in May found that a majority of voters in the state also support decriminalizing all currently illicit drugs.
80 Top Law Enforcement Officials, Including A Biden Nominee, Urge SCOTUS To Hear Safe Injection Drug Case
Photo courtesy of Mike Latimer.
80 Top Law Enforcement Officials, Including A Biden Nominee, Urge SCOTUS To Hear Safe Injection Drug Case
A coalition of 80 current and former prosecutors and law enforcement officials—including one who is President Joe Biden's pick for U.S. attorney of Massachusetts—have filed a brief urging the Supreme Court to take up a case on the legality of establishing a safe injection facility where people can use illicit drugs in a medically supervised environment.
The nonprofit organization Safehouse was set to launch a safe consumption site in Philadelphia before being blocked by a legal challenge from the Trump administration, and it filed a petition with the nation's highest court last month to hear the case. Now the group of law enforcement officials associated with Fair and Just Prosecution are calling on the Supreme Court to act in an amicus brief.
"Amici have an interest in this litigation because overdose prevention sites (OPSs) are among the harm reduction and public health interventions that have proven effective in preventing fatal overdoses and diverting people from unnecessary and counterproductive interactions with the justice system," they wrote. "Amici, many of whom are currently or were previously responsible for enforcing the nation's drug laws, also believe that the Controlled Substances Act cannot be construed to prohibit operation of a facility designed to address the most acute aspects of this public health emergency."
"As law enforcement and criminal justice leaders, amici's objective is to maintain public safety; saving lives and promoting health is as central to that mission as preventing and prosecuting crime."

Read the full brief: https://t.co/e4Sv6oba4b

— Fair and Just Prosecution (@fjp_org) September 17, 2021
If the court agrees to hear the dispute, advocates will be looking toward the Biden Justice Department and whether it will continue the federal government's opposition to allowing supervised injection facilities. It would be a precedent-setting case that could steer policy for years to come, meaning Safehouse is taking a significant risk by pursuing the appeal of its loss in a lower court before the majority of conservative justices.
"Failing to address the loss of life resulting from drug overdoses—and criminalizing a community-based public health organization working to save lives—will further erode trust in the justice system," the new brief states. "If there were ever a time to demonstrate that our government values the dignity of human life, that time is now."
While President Joe Biden hasn't weighed in directly on safe consumption sites, there's been a theme within his administration of embracing the general concept of harm reduction for drugs. The White House Office of National Drug Control Policy (ONDCP), for example, said that "promoting harm-reduction efforts" is a first-year priority. In an overview of its objectives, the office said it intends to expand "access to evidence-based treatment," enhance "evidence-based harm reduction efforts" and promote "access to recovery support services."
These goals theoretically align with those of Safehouse, which wants to give people with substance use disorders a facility where medical professionals can intervene in the event of an overdose and provide people with the resources to seek recovery.
Among the signatories on the amicus brief are a former deputy assistant attorney general under Obama, district attorneys of Baltimore, Cook County, Dallas County, Los Angeles County, Manhattan, Philadelphia, San Francisco County and Seattle and the former attorneys general of Ohio, Vermont and Virginia.
But one signatory who especially stands out is Rachael Rollins, the district attorney of Suffolk County, Massachusetts who is Biden's nominee for U.S. attorney of Massachusetts.
"As an elected prosecutor, I have a responsibility to protect every member of my community, which requires moving away from criminal justice responses to substance use disorder," Rollins said in a press release. "Instead, we must embrace proven public health strategies as potential solutions. Lives depend on it."
Philadelphia District Attorney Larry Krasner said the drug war "has taken too many lives already, and criminalization has only exacerbated this devastating toll." He added: "We need a new way forward that allows communities to address the overdose crisis with harm reduction approaches proven to save lives and improve community safety."
"Our nation's failed war on drugs has taken too many lives…and criminalization has only exacerbated this devastating toll. We need a new way forward that allows communities to address the overdose crisis with harm reduction approaches proven to save lives." –@DA_LarryKrasner

— Fair and Just Prosecution (@fjp_org) September 17, 2021
Fair and Justice Prosecution, the group that coordinated the amicus brief, also organized a tour of Portugal for 20 top prosecutors in 2019 so they could learn about the successful implementation of the country's drug decriminalization law.
Safehouse won a battle in a federal district court in 2019 to proceed with the facilities. But in January, the U.S. Court of Appeals for the Third Circuit overturned the decision, ruling that permitting such facilities would violate a 1980s-era federal statute that bars organizations from running operations "for the purpose of unlawfully… using controlled substances." That law was passed while Biden served in the Senate and helped push punitive drug policies that have had lasting consequences.
"As current and former criminal justice leaders, amici have seen first-hand how the classic 'war on drugs' approach to drug control—with its almost exclusive focus on aggressive criminal law enforcement—has exacerbated the overdose epidemic," the pro-reform prosecutors and cops wrote in the new brief. "This experience confirms that no jurisdiction can arrest its way out of this public health problem. Fatal overdoses are a symptom of substance use disorder, a medical condition requiring a medical response."
"Distorting federal drug laws to prohibit an [overdose prevention site] or to prosecute its sponsors would further undermine trust in the justice system and faith in the fair and sensible application of our drug laws. Interpreting federal criminal law to bar empirically validated harm reduction measures would make no one safer; it would only impede cooperation between law enforcement and the communities they serve."
In its original petition to the Supreme Court in the current safe injection site case, Safehouse argued that the justices should "grant review to determine whether" federal statute really does prohibit "non-commercial, non-profit social service agencies…from establishing an overdose-prevention site that includes medically supervised consumption."
"This question is a matter of life or death for thousands of Philadelphians and many thousands more throughout the country," it said. "Tragically, while respondents have been pursuing this declaratory judgment against Safehouse, more than 3,200 people died in Philadelphia of drug overdoses—many of which could have been prevented if medical care had been immediately available through supervised consumption services."
Safehouse also pointed out that Xavier Bacerra, the Biden administration's secretary of health and human services, was among eight top state law enforcement officials who filed an earlier amicus brief in support of the organization's safe injection site plan when he served as California's attorney general.
The organization put the gravity of the case in no uncertain terms, painting a picture of how its proposed facility can save lives.
"When breathing stops, even a brief delay while waiting for medical help to arrive may result in an otherwise preventable overdose death or irreversible injury," the petition says. "As a result, every second counts when responding to an opioid overdose; as more time elapses, the greater the risk of serious injury and death. Ensuring proximity to medical care and opioid reversal agents like the drug Naloxone at the time of consumption is therefore a critical component of efforts to prevent fatal opioid overdose."
"Intervention by this Court is warranted to make clear that the federal law does not criminalize this essential public health and medical intervention designed to save lives from preventable overdose death," it continues.
Safehouse argued that the appeals court's interpretation of the law "eviscerates the intended boundaries of the statute and would criminalize the operation of legitimate businesses, charities, families, and good Samaritans that serve and reside with those suffering from addiction."
If the Supreme Court were to take up the case and rule in favor of Safehouse, it could embolden advocates and lawmakers across the country to pursue the harm reduction policy.
The governor of Rhode Island signed a bill in July to establish a safe consumption site pilot program where people could test and use currently illicit drugs in a medically supervised environment. It became the first state in the country to legalize the harm reduction centers. It's not clear whether the Department of Justice will seek to intervene to prevent the opening of such facilities in that state.
Massachusetts lawmakers advanced similar legislation last year, but it was not ultimately enacted.
A similar harm reduction bill in California, sponsored by Sen. Scott Wiener (D), was approved in the state Senate in April, but further action has been delayed until 2022.
At the same time that Safehouse is turning to the Supreme Court, it also announced recently that it will be returning the the federal district court that gave it an initial 2019 victory in support of establishing a safe injection facility before it was overturned in the appeals court.
The organization is making the unique argument that the federal government's decision to block it from providing the service violates religious freedom by subjecting participants "to criminal penalties for exercising their sincerely held religious beliefs that they have an obligation to do everything possible to preserve life and to provide shelter and care to the vulnerable, including those suffering from addiction."
In 2018, a congressional subcommittee approved legislation to specifically prohibit Washington D.C. from using local tax dollars to help open safe consumption facilities. But that provision was not enacted and has not been reintroduced since.
A 2020 study found that people "who reported using supervised injection facilities on an at least weekly basis had a reduced risk of dying compared to those who reported less than weekly or no use of this health service."
Read the amicus brief from the prosecutors on the Safehouse safe injection site case below: 
Safehouse Amicus Sept 2021 by Marijuana Moment
Former GOP Congressman Who Actually Supported Marijuana Reform Enters The Cannabis Industry
Photo courtesy of Jernej Furman.
Former GOP Congressman Who Actually Supported Marijuana Reform Enters The Cannabis Industry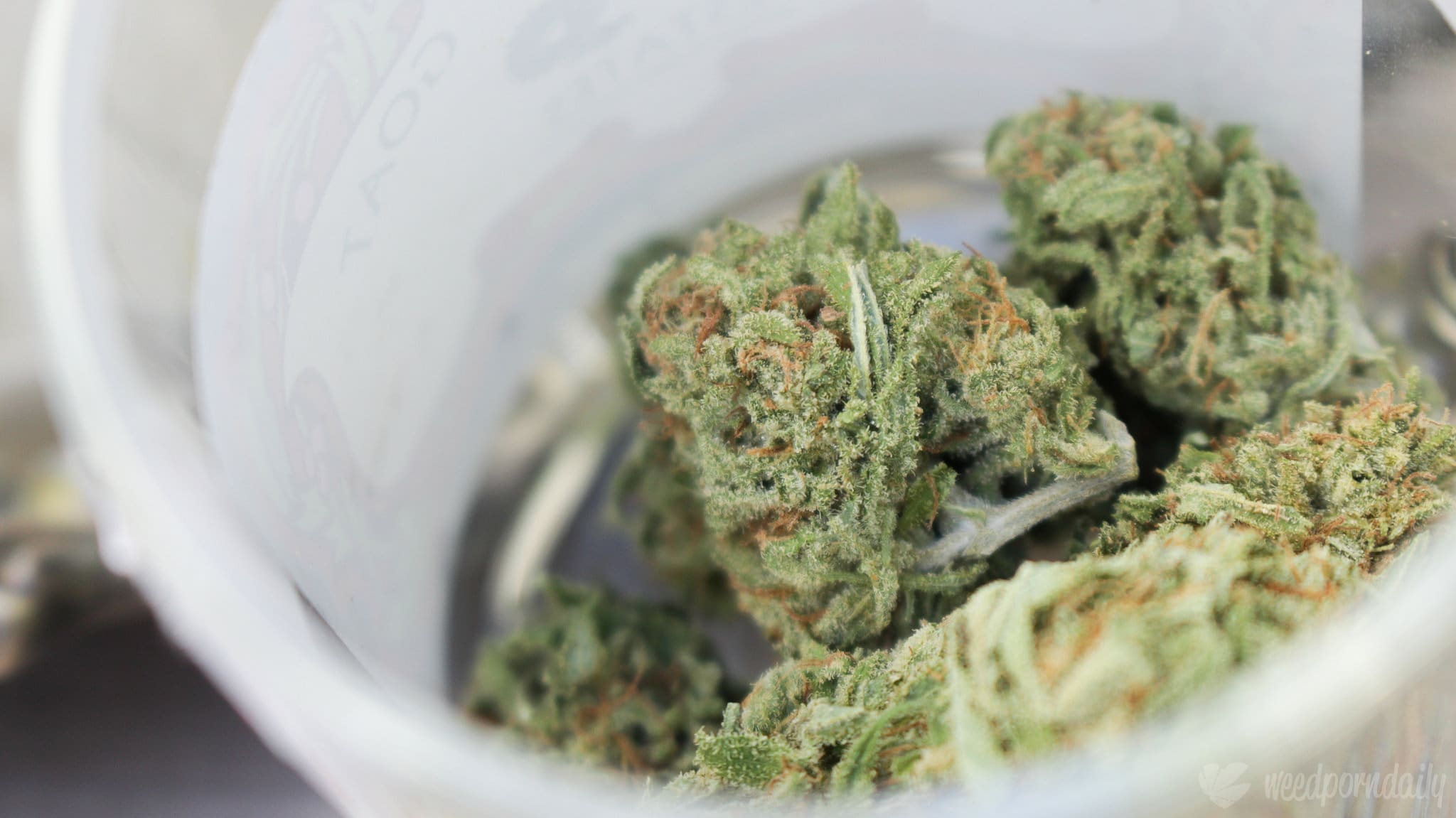 Lately it's come to seem as if most of the former politicians who've entered the marijuana industry were unhelpful or downright hostile to legalization when they were in office. But on Friday, a cannabis company announced an addition to its board who disrupts that narrative: a former Republican congressman who has a consistent legislative record of cosponsoring and voting for marijuana reform measures.
The multi-state cannabis businesses Red White & Bloom Brands Inc. (RWB) is bringing on former Rep. Ryan Costello (R-PA) to help it navigate the complicated regulatory space, drawing on his experience in Congress as the company works to expand.
Costello certainly isn't the only Republican lawmaker who's made the transition from Capitol Hill to the cannabis market. But he is a rare example of a politician who actually embraced enacting marijuana policy changes while he was in power before standing to profit from the industry. The congressman cosponsored a variety of bills—including ones to shield states that legalize cannabis from federal interference—and supported several reform amendments.
"I'm looking forward to utilizing my 15+ years of service in government, the legal profession, and my familiarity with cannabis policy to be a strategic resource for RWB as it positions itself as a true market leading house of brands in the permitted U.S. marketplace," Costello said in a press release.
This breaks with a trend that has increasingly frustrated advocates, where it seems the people most inclined to benefit from legalization are those who stood in the way in Congress. The best-known example of that is former GOP House Speaker John Boehner (R-OH), who's faced criticism from activists over his anti-legalization record while in office before joining the board of marijuana company Acreage Holdings.
While Costello left Congress in 2019 prior to the historic House vote on a standalone bill to federally deschedule cannabis, there are plenty of examples of him supporting more modest reform proposals during his congressional tenure.
He was a cosponsor of legislation to protect state marijuana markets from federal intervention, promote cannabis research, support military veterans' access to medical marijuana, protect banks that service state-legal cannabis businesses and legalize industrial hemp.
The congressman also voted in favor of floor amendments to shield all state marijuana programs from Justice Department intervention, allow Department of Veterans Affairs doctors to recommend medical cannabis and end hemp prohibition.
In that respect, he was a rare GOP lawmaker. While the issue is increasingly bipartisan among the public, that hasn't been reflected in Congress. And now Costello is in a position to leverage his legislative experience to advance a marijuana business's interests.
It's an exception to the trend.
For example, Tom Price, the former U.S. Department of Health and Human Services (HHS) head under President Donald Trump, is serving as a member of the board of directors for a medical marijuana business in Georgia after he refused to take action to reclassify cannabis under federal law when he had the power to do so. Price consistently voted against marijuana reform measures while serving in Congress.
Former Rep. Steve Buyer (R-IN), who also has a long track record of opposing marijuana legalization efforts, joined a Canadian cannabis company's board in 2019.
Earlier this month, a New York-based lobbying firm that's headed by a former Republican U.S. senator announced that it is launching a practice focused on serving cannabis businesses. That former senator, Alfonse D'Amato, racked up a record of supporting the war on drugs while in office.
There is at least one other former GOP congressman who entered the cannabis space with a legislative record supporting marijuana reform. Former Rep. Dana Rohrabacher (R-CA), who championed cannabis reform while in Congress, became an advisory board member for a marijuana company after being voted out of office in 2018.
Separately, President Joe Biden's pick to head up federal drug policy worked for a major marijuana business last year, according to his financial disclosure reports.
California Activists Cleared To Collect Signatures For Psilocybin Legalization Ballot Initiative
Photo courtesy of WeedPornDaily.