New Jersey Attorney General's Memo On Marijuana Use By Police Sparks Pushback As Legal Sales Launch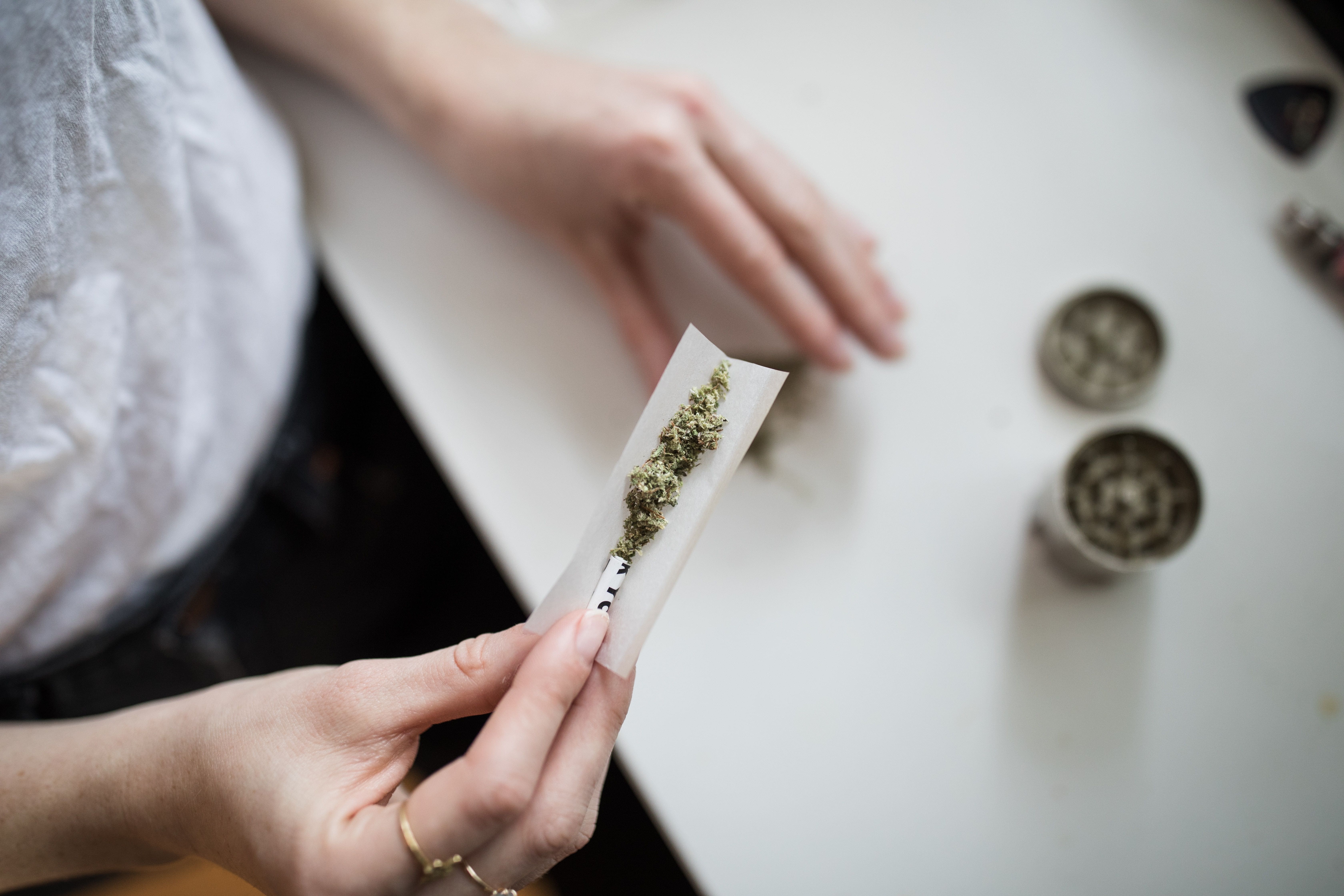 Marijuana sales for adults launched in New Jersey on Thursday to great fanfare—but a recent memo from the state attorney general clarifying that police can't be punished for off-duty cannabis use is prompting some pushback. Regardless of the fallout, the state's top prosecutor is standing by his office's position, even in light of moves to defy the state policy by local officials.
Ahead of the start of retail sales, Acting Attorney General Matthew Platkin (D) put out a memo last week clarifying that state law prohibits law enforcement agencies from taking adverse actions against police who use marijuana in compliance with state law off the clock.
Reports on that policy clarification ruffled some feathers, with Assembly Speaker Craig Coughlin (D) saying he expects to see legislation filed in his chamber to address the issue.
And the chair of the Senate Budget Committee said he wants to "modify the law to match all the other states that have zero tolerance for use of off duty cannabis by police."
Let me be clear the directive is a product of the law that was enacted. I am hopeful we can modify the law to match all the other states that have zero tolerance for use of off duty cannabis by police.

— Paul Sarlo (@PaulASarlo) April 15, 2022
Even Gov. Phil Murphy (D), a pro-legalization official who celebrated the launch of adult-use sales on Thursday, signaled that he's "open-minded" about a potential policy change targeting off-duty cannabis use by law enforcement.
But while off-duty marijuana use by police might be seen as problem by some officials, Senate President Nick Scutari (D) said recently that he's opposed to explicitly banning law enforcement from using cannabis when they're not working.
Several GOP senators who sent a letter to the state's top prosecutor expressing concerns about the law enforcement marijuana exemption cited federal policy as a reason the state should continue to prohibit cops from consuming cannabis.
The attorney general's memo "fails to mention that marijuana users are federally prohibited from purchasing or possessing firearms, an omission that may put officers unknowingly at risk of criminal prosecution," they wrote.
But what seems to be getting lost in the discussion is that the federal law that generally bans consumers of cannabis and other illegal drugs from accessing firearms also contains an exemption that would seem to apply to police.
Civilians are required to fill out a federal background check before they purchase a gun, and the federal Bureau of Alcohol, Tobacco, Firearms and Explosives (ATF) has made clear that checking "yes" on a question about marijuana use renders a person ineligible for the sale. The penalty for lying is up to five years of incarceration.
But a different standard applies when firearms are distributed by government agencies.
Here's the existing federal policy for people seeking to purchase or possess firearms with respect to marijuana: 
"It shall be unlawful for any person to sell or otherwise dispose of any firearm or ammunition to any person knowing or having reasonable cause to believe that such person…is an unlawful user of or addicted to any controlled substance…"
"It shall be unlawful for any person…who is an unlawful user of or addicted to any controlled substance…to ship or transport in interstate or foreign commerce, or possess in or affecting commerce, any firearm or ammunition; or to receive any firearm or ammunition which has been shipped or transported in interstate or foreign commerce."
And here's the relevant exception that could apply to law enforcement: 
"The provisions of this chapter, except for sections 922(d)(9) and 922(g)(9) and provisions relating to firearms subject to the prohibitions of section 922(p), shall not apply with respect to the transportation, shipment, receipt, possession, or importation of any firearm or ammunition imported for, sold or shipped to, or issued for the use of, the United States or any department or agency thereof or any State or any department, agency, or political subdivision thereof."
In a related development, Florida's agriculture commissioner on Wednesday filed a lawsuit against the Biden administration over the application of the gun ban on medical cannabis patients, arguing that the federal government is unconstitutionally depriving them of their Second Amendment right to purchase and possess firearms.
In New Jersey, media reporting on the police exception for firearms and marijuana use has stirred the pot, with local officials across the state pushing back against the notion that their cops should be able to get high on their own time.
Jersey City's mayor, for example, touted a local directive from a city agency banning such use.
Directive issued today below. There will be no ambiguity on how JCPD will approach this + we will pursue legally if tested via the federal court system. Bottom line is trust is fragile between communities/police + we should make sure that there isn't compromised judgement + NJ is https://t.co/GG28wgW3wE pic.twitter.com/wBo7r0Mqsm

— Steven Fulop (@StevenFulop) April 20, 2022
The mayor of Bayonne followed suit with its own statement opposing off-duty marijuana use by police.
Glad others are following what we did yesterday in #JerseyCity . Newark taking action today as well. Trenton should revisit the legislation and make the necessary carve outs for law enforcement similar to other states have done. https://t.co/aD9AX450TS https://t.co/4IVEAGf9kB

— Steven Fulop (@StevenFulop) April 21, 2022
And the mayors of Kearny and Weehawken also announced they will be moving to institute bans.
The Newark City Council passed a resolution on Wednesday urging the mayor to issue an order prohibiting police from using marijuana while off duty, contrary to state law.
Platkin, the acting attorney general, said in a statement to Marijuana Moment that "public safety is my top priority, and I share concerns about how legal cannabis impacts the role of police in our State" but suggested that cities moving to ban officers from exercising their legal right to consume marijuana could face legal action.
"As I explained in my memo to law enforcement chief executives last week, New Jersey's law legalizing and regulating cannabis is clear and we are obligated to comply. I welcome conversations on how best to protect public safety," he said. "Any efforts by local governments to subject officers to additional requirements in the interim, however, may present employment law issues that we anticipate will be handled between those governments and officers in the appropriate course."
In the meantime, the New Jersey State Association of Chiefs of Police is asking lawmakers to pass a ban on police and other people in safety-sensitive jobs from using marijuana, even while off duty. And the New Jersey State Policemen's Benevolent Association is also urging members to refrain from using cannabis.
Concerns about off-duty marijuana use by police notwithstanding, Scutari and Coughlin attended an event with the governor on Thursday celebrating the launch of the state's adult-use market.
Scutari said he was "thrilled" to participate in "today's momentous and historic" launch. He previously said that delays in the rollout of legalization were unacceptable, and he announced he'd be forming a special legislative committee to explore the issue through oversight hearings.
The Senate president also told reporters that he will "probably" buy recreational marijuana "at some point."
"Not today," he said. "I'm not gonna wait in line."
CRC was initially expected to approve a first round of adult-use retail licenses for certain existing dispensaries last month, but they temporarily decided against it. The commission separately gave conditional approval to 68 marijuana cultivators and manufacturers last month.
"We expect 13 locations for the entire state will make for extremely busy stores," CRC Executive Director Jeff Brown said in a press release. "The dispensaries have assured us that they are ready to meet the demand without disrupting patient access, and with minimal impact on the surrounding communities, but patience will be key to a good opening day."
"We encourage everyone to be safe—buy only from licensed dispensaries and start low and go slow. Remember that the laws against impaired driving apply to being high," he said. "Our guests from neighboring states should remember it is illegal to transport cannabis across state lines."
There's been a mix of feelings about the timeline for legalization implementation among stakeholders. As regulators have worked to approve the first round of licenses, some advocates have pushed for expediency while others said that they felt it was important not to rush the process to ensure that the industry that emerges is equitable and not dominated by large corporations.
The governor previously stressed that "equity is a huge part of our proposition here, and I know that may take longer than folks otherwise would like." He's also talked about being open-minded to permitting adults to grow their own marijuana for personal use down the line, but that it would take action by the legislature. Murphy similarly talked about being open to home grow late last year.
CRC Chair Dianna Houenou said earlier this month that regulators remain "committed to social equity."
"We promised to build this market on the pillars of social equity and safety," she said. "Ultimately, we hope to see businesses and a workforce that reflect the diversity of the state, and local communities that are positively impacted by this new and growing industry."
Separately, U.S. Rep. Donald Payne (D-NJ) recently criticized New Jersey regulators about diversity issues in the marijuana market, saying he's "outraged" over the lack of minority representation in the industry.
With respect to equity for the market, Murphy also recently touted the fact that the courts have expunged more than 362,000 marijuana cases since July 1, when a decriminalization law took effect that mandated the relief for people who have been caught up in prohibition enforcement.
Last month, CRC also held a series of public meetings where it received feedback on how best to allocate marijuana tax revenue after the recreational market opens.
Maine Senate Approves Medical Psilocybin Bill, But House Refusal Kills Measure For The Year