Missouri Campaign Finance Records Show Medical Marijuana Ballot Battle Heating Up
New quarterly campaign finance documents from Missouri medical marijuana ballot committees, covering activity from July 1 to September 30, show some coalescing of support for one of three measures on the ballot, while a recently created committee that opposes all of the medical cannabis options has yet to report any financial support.
Here's what the fundraising and expenditures for the key committees behind each of the three proposed measures look like:
(Note: only those committees with major activity in Q3 are displayed)
Missouri has one of the most confusing sets of marijuana ballot options to ever go before voters in any state, with two proposed constitutional amendments and one proposed statutory measure to choose from. Each option was sponsored by a separate committee that actively attacked the others in the months leading up to qualifying this summer to get on the ballot, with hostile campaign tactics continuing since then—including lawsuits and opposition research into the personal finances of advocates.
In the last few months, two additional organizations entered the fray. One is the only ballot committee that opposes both of the amendments and the proposition. Citizens for SAFE Medicine registered on September 20, and did not report any financial contributions or expenditures on its October 15 report. Judy Brooks, listed as Treasurer of the organization, is also a founder of Jefferson City's Council For Drug Free Youth.
The other is "Patients Against Bradshaw Amendment Formally Known As Find The Cures Political Action Committee." The committee, which registered August 27, opposes Amendment 3 and supports Amendment 2. It raised $1,441 cash from five donors, and has spent $447 of that on campaigning.
Its verbose name is a reference to Dr. Brad Bradshaw, the main financial contributor to Find the Cures, a committee that registered in September 2015 to support the measure now designated as Amendment 3. Between October 2017 and June 2018, he provided loans to Find the Cures to the tune of $1.2 million. The committee spent over $800,000 of that to hire a signature collection firm to get on the ballot.
Bradshaw's measure would, among other things, create a research center that many suspect he intends to run himself. It had already come under fire from Missouri NORML, which backs New Approach Missouri and its preferred proposal, Amendment 2. Find the Cures had already raised $1,556,705 in the first half of 2018 (much of that in the loans from Bradshaw), but started the most recent quarter with just $79 in the bank. From July through September, the committee took in another $209,111, with $186,121 of that in the form of additional loans from Bradshaw. It spent $164,739 on advertising and campaign staff, leaving $44,451 cash on hand for the remaining weeks before the election.
Under Amendment 2, doctors would be allowed to recommend medical cannabis for any condition they feel it is needed. Registered patients and caregivers would be permitted to grow up to six marijuana plants and purchase up to four ounces from dispensaries per month. Medical cannabis sales at dispensaries would be taxed at four percent. As previously reported by Marijuana Moment, the St. Louis chapter of the NAACP, Freedom Incorporated and the St. Louis American newspaper support Amendment 2. It also recently garnered an endorsement from the St. Louis Post-Dispatch.
New Approach Missouri was the most active committee in terms of continuing to raise and spend funds in quarter three of 2018. The group, which had already raised $1,057,263 for the election, took in another $256,924 cash and $15,368 worth of in-kind contributions. They spent $229,122 in the quarter, for events, legal fees, database management, media creation and public affairs in support of Amendment 2. One employee has been paid a total of $116,180 over the course of the campaign. They had $39,878 in the bank at the end of September.
Long-time political action committee Show-Me Cannabis Regulation, which has been around for seven years, had little activity last quarter, bringing in $350 and spending $72, leaving $2,250 on hand. It has however seemingly thrown its support behind New Approach Missouri, providing $5,000 in in-kind support to the committee.
Here's a chart using a logarithmic scale that includes more of the committees, even those with relatively paltry finances:
(Note: scale is logarithmic in order to depict smaller committees)
Missourians for Patient Care, which supports Proposition C, had little money activity in the most recent reporting period, suggesting that it is perhaps stepping back from active campaigning at this point. The group had raised a whopping $1,393,360 in 2018, but had only $31,077 left on hand at the beginning of July. In the last three months, it brought in $115 and reported no expenses.
One additional committee that formed, "Missouri Medical Marijuana," that supported "medical marijuana measure," has terminated its operations.
On Election Day, we will see whether the millions of dollars spent result in Missouri voters enacting one of more of the cannabis ballot proposals.
North Dakota's Marijuana Legalization Supporters Outraised By Opponents, Filings Show
Alexandria Ocasio-Cortez Presses Housing Secretary About Marijuana Eviction Policies
Rep. Alexandria Ocasio-Cortez (D-NY) pressed the head of the Department of Housing and Urban Development (HUD) about policies that cause public housing residents and their families to be evicted for committing low-level offenses such as marijuana possession on Tuesday.
During a hearing before the House Financial Services Committee, the congresswoman first quoted HUD Secretary Ben Carson from a 2017 speech where he acknowledged that the war on drugs has disproportionately impacted minority communities.
"Do you acknowledge that the war on drugs disproportionately impacted black communities and communities of color despite marijuana and other drug use levels being comparable to white communities?" she asked the secretary for the record.
"Traditionally that has been the case," Carson replied.
.@RepAOC @AOC asks about One Strike Rule and No-Fault Policy and if Secretary Carson would support moving the policies over to a more holistic/case-by-case review.

@SecretaryCasron: "I'm always in favor of more flexibility." pic.twitter.com/7ze07GqZc9

— CSPAN (@cspan) May 21, 2019
Ocasio-Cortez went on to say that she was concerned that "the negative impact of the war on drugs has not been limited to incarceration" and that "we had legislative rippling effect that also seems to have been codified in our housing system"
She pointed to two specific HUD policies: the "one strike" rule, which allows property managers to evict people living in federally assisted housing if they engage in illicit drug use or other crimes, and the "no fault" rule, which stipulates that public housing residents can be evicted due to illicit drug use by other members of their household or guests—even if the resident was unaware of the activity.
Carson said that property owners in individual jurisdictions have discretion when it comes to enforcing the policy, but he conceded that these rules are in effect under federal law.
"So a person could be stop and frisked and be found in possession of a small amount of marijuana and then be evicted or have their entire family evicted from public housing?" Ocasio-Cortez asked.
"That is a possibility," Carson said.
Who says progressives can't get stuff done?

Thank you @SecretaryCarson for your testimony in front of the Financial Services Committee today.

We have many crises in housing, & I look forward to reversing the unjust legacy laws from the War on Drugs in our public housing system. https://t.co/ZK8aFsyIxo

— Alexandria Ocasio-Cortez (@AOC) May 21, 2019
The congresswoman then asked if Carson was aware of the "no fault" rule, to which he replied that the "use of such activity is extremely limited, if ever used." Ocasio-Cortez responded by stating that the policies "are still codified in federal law" and asked whether the official supports "reversing some of these provisions" such as the "no fault" rule.
Carson said he was willing to talk about individual cases, and the congresswoman followed up by noting that there's a lack of holistic review for these cases. Given Carson's interest in hearing details about individual cases, she wondered if he'd "support being able to move some of these policies to a more holistic review."
"Should that case-by-case consideration be codified in federal law instead of having blanket, one-strike or no fault policies?" she asked.
"I'm always in favor of more flexibility," he said, signaling that he'd be open to reforming some of the anti-drug policies in effect federally at HUD.
Should Carson decline to take action, legislation introduced by Rep. Eleanor Holmes Norton (D-DC) in April would protect public housing residents who use marijuana in compliance with state law from being evicted.
Ocasio-Cortez herself has filed a bill that would prevent public housing applicants from being denied due to a low-level drug conviction that resulted in a sentence of under ten years and prohibit drug testing of applicants "as a condition of such housing assistance," among other reforms.
People Could Use Marijuana In Public Housing Under New Congressional Bill
Photo courtesy of C-SPAN.
Presidential Candidates Are Cosponsoring A New Marijuana Descheduling Bill
Four 2020 Democratic presidential candidates have signed onto new legislation to federally deschedule marijuana—while a handful of other White House hopefuls are notably missing as original cosponsors.
The companion bills introduced on Monday by Senate Minority Leader Chuck Schumer (D-NY) and Rep. Hakeem Jeffries (D-NY) would remove cannabis from the Controlled Substances Act and use some tax revenue from marijuana sales to provide grants to socioeconomically disadvantaged individuals to participate in the legal industry.
It would also set aside money to support efforts to expunge past marijuana convictions.
Sens. Bernie Sanders (I-VT), Elizabeth Warren (D-MA) and Kirsten Gillibrand (D-NY) and Rep. Tulsi Gabbard (D-HI)—who are each seeking the Democratic presidential nomination—are cosponsoring the bills.
But Sens. Cory Booker (D-NJ), Amy Klobuchar (D-MN), Kamala Harris (D-CA) and Michael Bennet (D-CO) and Reps. Eric Swalwell (D-CA), Seth Moulton (D-MA) and Tim Ryan (D-OH) have so far declined to give the legislation their signature, despite their overall support for marijuana reform.
Bennet was an original cosponsor of a similar bill that Schumer filed during the 115th Congress.
The reasons he and other candidates decided against joining as original cosponsors of the new legislation are unclear, though some of them may end up adding their names at a later date.
For Booker, it's possible that the senator doesn't feel that the bill goes far enough in terms of promoting social equity—which is why he hasn't supported separate cannabis reform legislation introduced this Congress.
Outside of the presidential candidates, Sens. Martin Heinrich (D-NM) and Tom Carper (D-DE) also cosponsored last year's version but are not yet on the new proposal.
Meanwhile, lawmakers are moving ahead with plans to pass more modest cannabis reform legislation, including a bipartisan bill to give marijuana businesses access to banks that cleared the House Financial Services Committee in March.
Democratic Congressional Bill Protects Medical Cannabis But Not Broader State Marijuana Laws
Photo courtesy of Evan Johnson.
Two Federal Agencies Schedule Meetings To Discuss Marijuana-Related Issues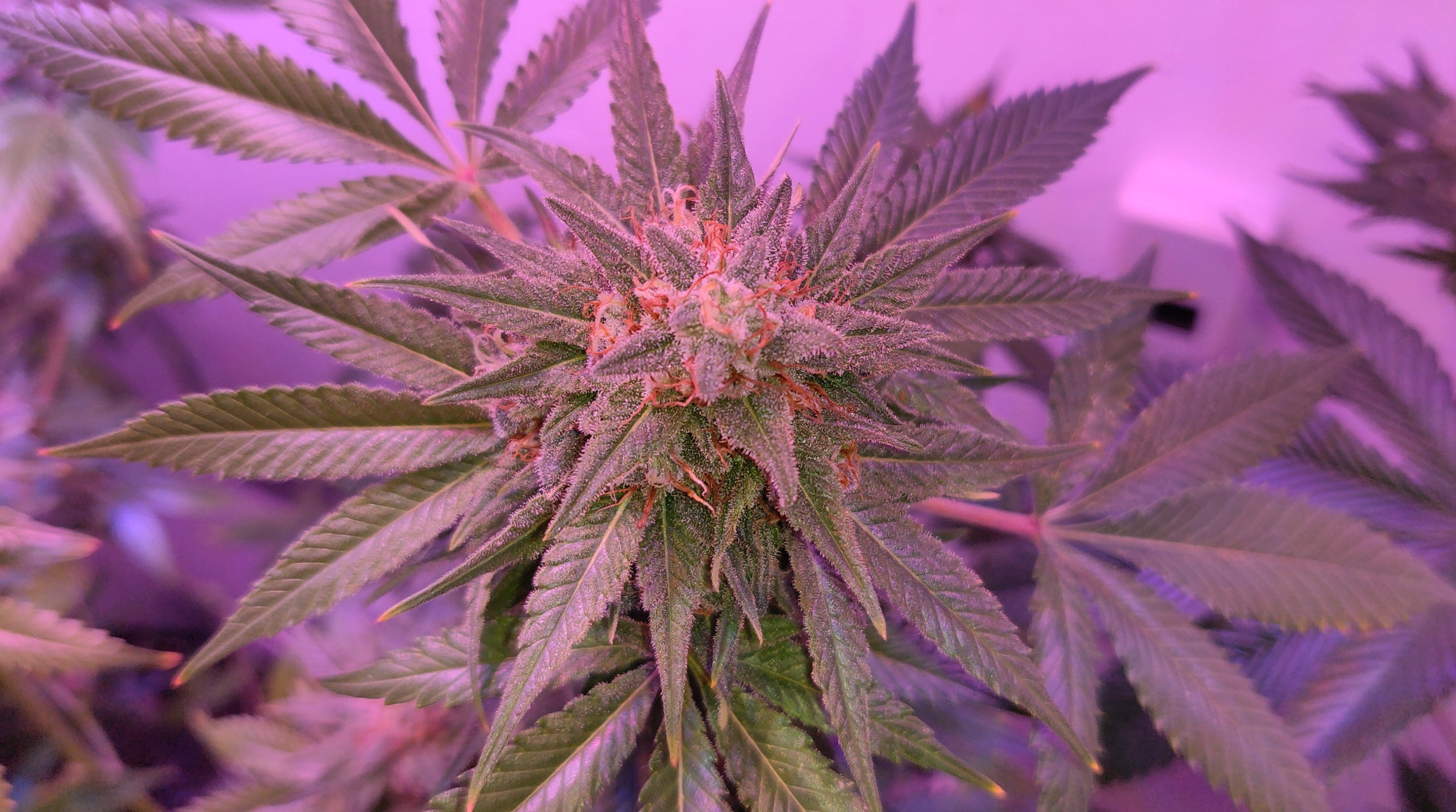 Two federal agencies recently announced that they will be holding meetings this summer to discuss public health and safety issues related to marijuana.
The Centers for Disease Control and Prevention (CDC) said in a notice published in the Federal Register last week that its Board of Scientific Counselors will convene on July 16 and 17 to tackle a wide variety of topics, including how to prevent the spread of infectious diseases and how to balance intramural and extramural research initiatives.
On the second day of the meeting, which will be open to the public, the panel of experts will also discuss the role of the CDC's National Center for Injury Prevention and Control in "addressing public health concerns related to marijuana."
The notice is light on specifics, but the CDC has historically weighed in on the impacts of cannabis use on pregnancy, driving and young people.
Separately, on June 11 and 12, members of the Substance Abuse and Mental Health Services Administration's Drug Testing Advisory Board will meet for a conversation about federal workplace drug testing policies. Part of that meeting will involve a discussion of "emerging issues surrounding marijuana legalization."
While the Federal Register filing does not spell out which "emerging issues" will be specifically addressed during the first day's public session, it also notes that the board will discuss the "impact of cannabis laws on drug testing and future direction" in a closed session on the second day of the meeting.
The federal discussion comes as marijuana reform advocates have stepped up efforts to end the employer practice of penalizing workers who test positive for THC metabolites.
In New York City, for example, a City Council measure prohibiting pre-employment drug testing for cannabis in specific industries and another barring such tests for people on probation were both enacted this month without the mayor's signature.
While federal marijuana laws continue to strictly prohibit cannabis, the growing legalization movement has forced various agencies to address the issue. Officials from some federal divisions have observed in recent months that the scheduling status of marijuana under federal law has inhibited research into its public health benefits and risks.
In December, representatives from the Food and Drug Administration, Drug Enforcement Administration and National Institute on Drug Abuse were part of a workshop focusing on cannabis research.
U.S. government agencies have also used Federal Register notices to solicit the public's help in identifying studies about the effects of cannabis on disorders such as Alzheimer's disease.
NAACP And ACLU Ask Congress To Suspend DEA's Drug Enforcement Activities
Photo courtesy of Mike Latimer.