Mexican Senate Committees Agree To Comprehensive Marijuana Legalization Bill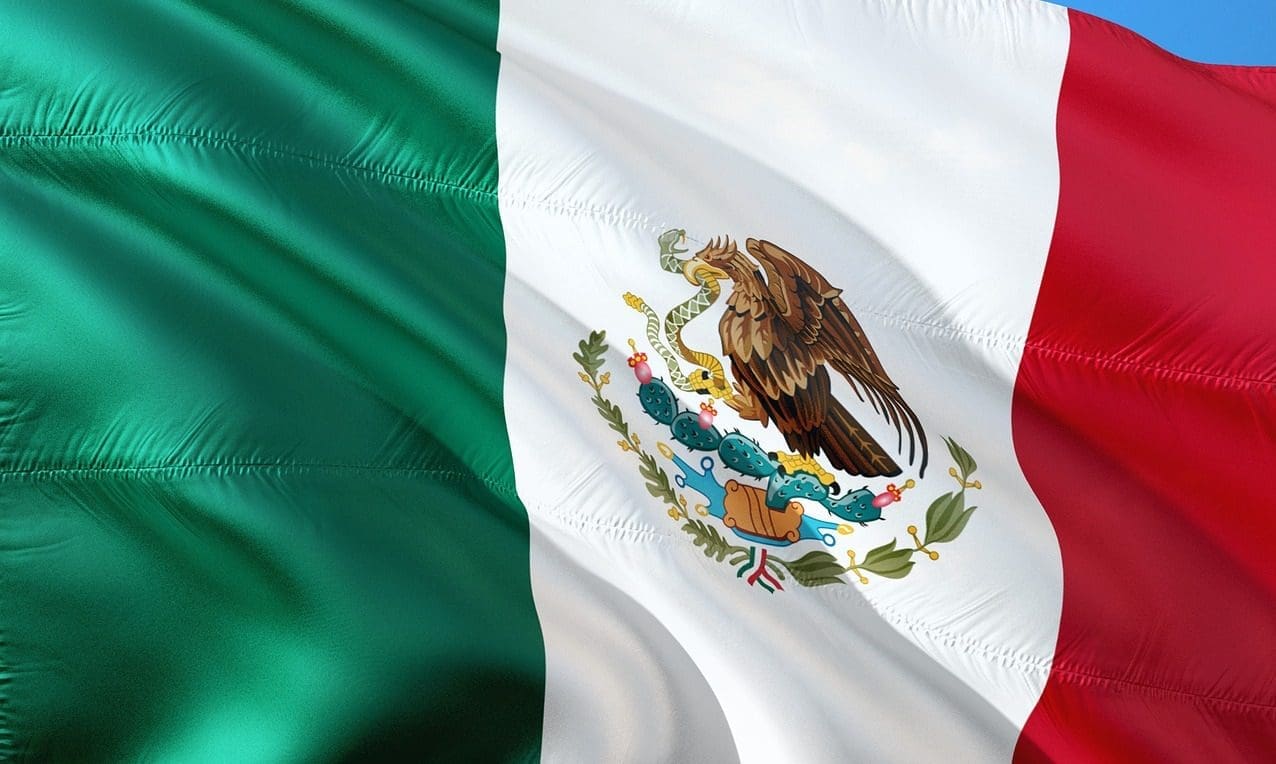 Several Mexican Senate committees have agreed to a marijuana legalization bill that they are submitting to the full body. But while lawmakers initially said a floor vote would come this week, the proposal is now being referred to a multi-party panel for consideration as leaders work to build a consensus around its provisions.
Text of the legislation, which was released on Friday, outlines the proposed regulatory model, under which adults 18 and older would be allowed to use, possess and purchase cannabis from licensed retailers. Individuals could also grow up to four plants for personal use.
The Justice, Health, Legislative Studies and Public Security Committees gave the legislation their approval—a development that comes after the panels first unveiled a draft proposal earlier this month that they crafted during a week-long permanent session.
Sen. Ricardo Monreal, the ruling MORENA party's leader in the Senate, said on Saturday that the legislation "will be analyzed and deliberated" after the chamber passes a budget package this week.
Una vez aprobado el Paquete Económico 2020, esta semana se analizará y deliberará la Ley General para la Regulación y Control de Cannabis; esperamos que, mediante consenso, sea aprobada en los próximos días. Lo haremos sin estridencia, aplicando el buen juicio y la razón.

— Ricardo Monreal A. (@RicardoMonrealA) October 26, 2019
"We hope that, by consensus, it will be approved in the coming days," Monreal said. "We will do it without stridency, applying good judgment and reason."
But on Monday, several Mexican news outlets reported that the bill will first go to the Senate Political Coordination Board, a body that's designed to coordinate inter-party consensus on legislative proposals. Monreal, who serves as president of the board, said there will be a delay, but the intent is to create a "finalized" product that puts "economic and social interests" first. It's not clear how long the panel will take to advance the bill to a floor vote.
"I will slow it down a little," the senator said, according to a translation.
"Many economic and social interests have been unleashed and I would like to do things well," he said, referring to public reaction that has come in response to the committees' work.
The board's involvement will "shield against any interest outside or outside the legislative power, and we will recompose" the measure, he said.
Here's what the draft marijuana bill would do:
The bill as proposed by the joint committees includes restrictions on advertising and penalties for marketing marijuana to youth. Businesses could not sell cannabis products that contain tobacco or alcohol under the proposal, and packaging would have to be standardized and generic.
Committee members agreed that an independent body, called the "Cannabis Institute," would be responsible for regulating the industry. Among other things, the institute would be required to "establish the mechanisms and guidelines" to facilitate research into cannabis and its compounds to promote public health.
The institute would also be charged with issuing licenses for marijuana businesses, which would fall into one of four categories: cultivators, manufacturers, retailers and exporters/importers. Businesses could not hold more than one type of license.
In order to repair the harms of prohibition, the committees agreed that 20 percent of licenses would have to go to low-income individuals.
Companies interested in producing hemp, which is defined as cannabis containing one percent of less THC, would not have to obtain a license, but the institute would have to grant a more easily obtainable permit to those who cultivate the crop.
"The Institute will not be subordinated to any authority and will adopt its decisions with full independence, except those regarding health in the terms provided by the Political Constitution of the United Mexican States, the General Health Law and other applicable regulations," the document states.
According to a timeline of the legislation, the institute would have to be established no later than January 1, 2021.
Additionally, the institute could set potency limits on THC and CBD concentration in cannabis products and it would be responsible for assisting in the testing of products and preventing their misuse. The institute would advise local and federal authorities on regulatory programs that it feels would be beneficial and also promote research into the plant.
The legislation details various penalties for the unauthorized possession of marijuana plants and seeds, as well as any refusal of inspections.
Edibles and beverages infused with marijuana could not be sold for recreational use, although medical cannabis patients could obtain them. No pesticides or other contaminants could be used in the cultivation process. The bill also emphasizes that people would not be allowed to drive while under the influence of marijuana.
People would also not be permitted to use cannabis at "any commercial establishment with public access and in any place where people are prohibited to use tobacco."
The draft measure also clarifies the legality of the use of peyote and psilocybin mushrooms in tribal ceremonies.
The legislation was submitted nearly one week from the anniversary of a Supreme Court ruling that deemed the country's prohibition on personal possession and cultivation of marijuana unconstitutional. Lawmakers have worked throughout the year to develop a policy that provides for cannabis regulation in a way that promotes public safety and mitigates the influence of cartels.
The document released by the committees also summarizes ten separate legalization bills that had been previously filed, which panel members said were each taken into account during their review. They also laid out various principles that a marijuana legalization model should adhere to.
Those principles include respect for the constitutional right to consume and cultivate cannabis, the government's obligation to "promote, respect, protect and guarantee human rights" and ensuring equality and non-discrimination.
The Senate has also taken into consideration public input, gathered through a series of events it organized, including one that featured remarks from a former White House drug czar.
It's not clear exactly when the legislature will act on the committees' agreed-upon legislation, but the release of the document signals that lawmakers are making steady progress to end prohibition in accordance with the Supreme Court ruling.
Sen. Margarita Valdez of the MORENA party said on Saturday that the Senate will discuss the legalization proposal this week but did not indicate a specific day.
La próxima semana debatiremos y dictaminaremos sobre la regulación del Cannabis, sobre ese tema platicamos en el pleno el jueves pasado con el presidente de la Comisión de Justicia del Senado, Julio Menchaca.#SenadoraMargaritaValdez pic.twitter.com/BeiAqa6x79

— Senadora Margarita Valdez (@SenadoraV) October 26, 2019
The Supreme Court imposed a one-year deadline after deeming prohibition unconstitutional, which would put lawmakers days away from a requirement to change the law. Given that the Senate Political Coordination Board is set to take up the legislation prior to a floor vote, leaders have requested a deadline extension from the court.
Should the Senate approve the legislation, it will also have to pass in the Chamber of Deputies.
Meanwhile, a top lawmaker in that chamber is calling for the legalization and regulation of all drugs in order to prevent prohibition-related violence.
Finland's Government Will Consider Decriminalizing Marijuana In Response To Citizen Petition
Bill To Allow Medical Marijuana Use At Hotels And Airbnbs Filed In Missouri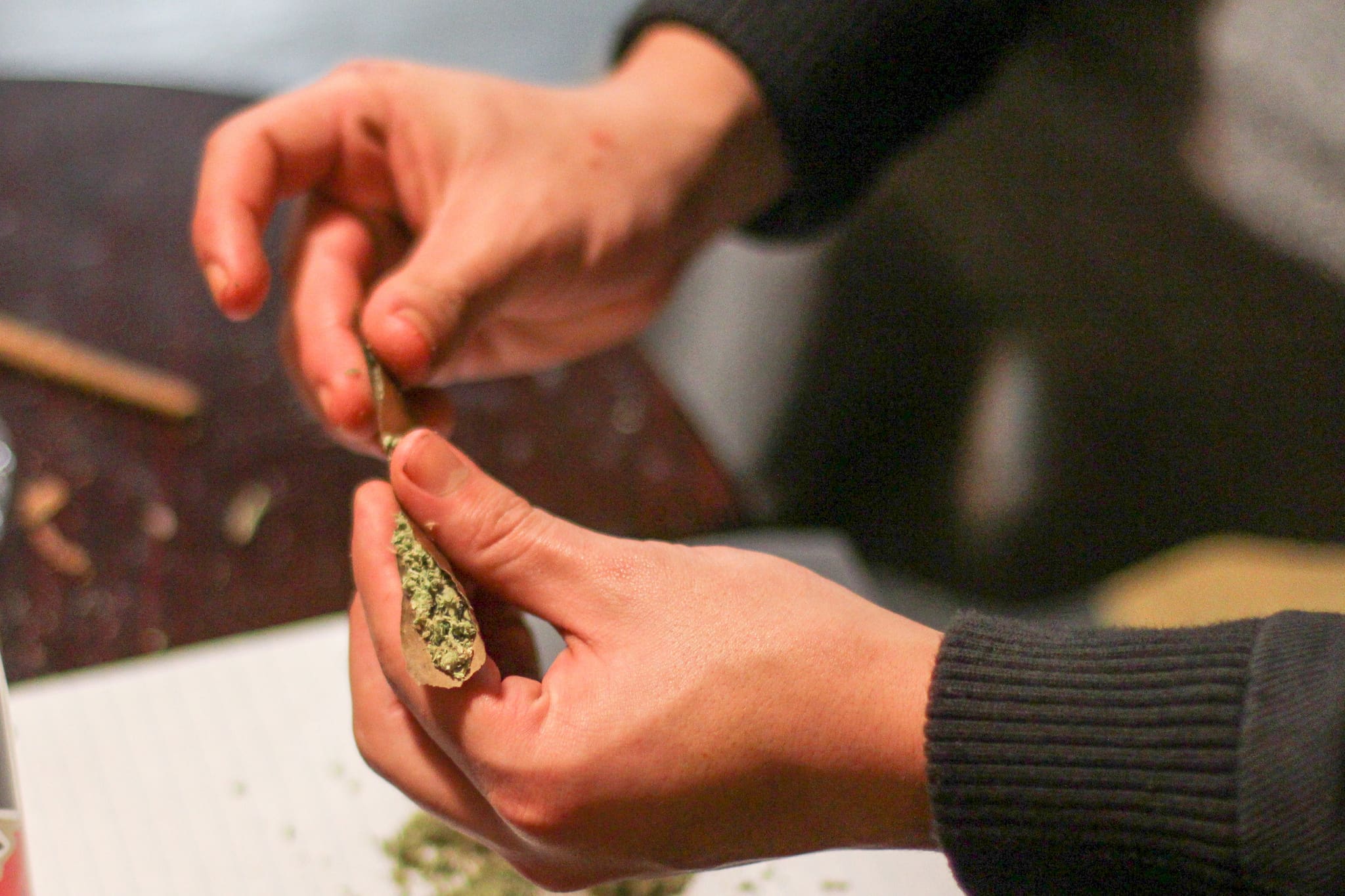 Hotels, Airbnbs and other lodging facilities in Missouri would be allowed to let medical marijuana patients consume cannabis on their properties under a recently filed bill.
The legislation, titled the "Reduction of Illegal Public Consumption by Allowing for Compassionate Access to Medical Marijuana Act," would require the state Department of Health and Senior Services to create a new "medical marijuana lodging establishment" license for the facilities. They would have to submit an application and a $50 fee to the agency in order to obtain the new approval.
Once licensed, lodging facilities would have to follow certain rules such as confirming that guests are registered medical cannabis patients, posting signage that says marijuana can be consumed on the property and ensuring that consumption areas are at least 25 feet away from sections where its prohibited.
Places that knowingly permit cannabis to be used without a license would be subject to a $1,000 fine for a first offense, $2,000 for a second, $5,000 for a third and the suspension of their business license for a fourth.
—
Marijuana Moment is already tracking more than 400 cannabis, psychedelics and drug policy bills in state legislatures and Congress this year. Patreon supporters pledging at least $25/month get access to our interactive maps, charts and hearing calendar so they don't miss any developments.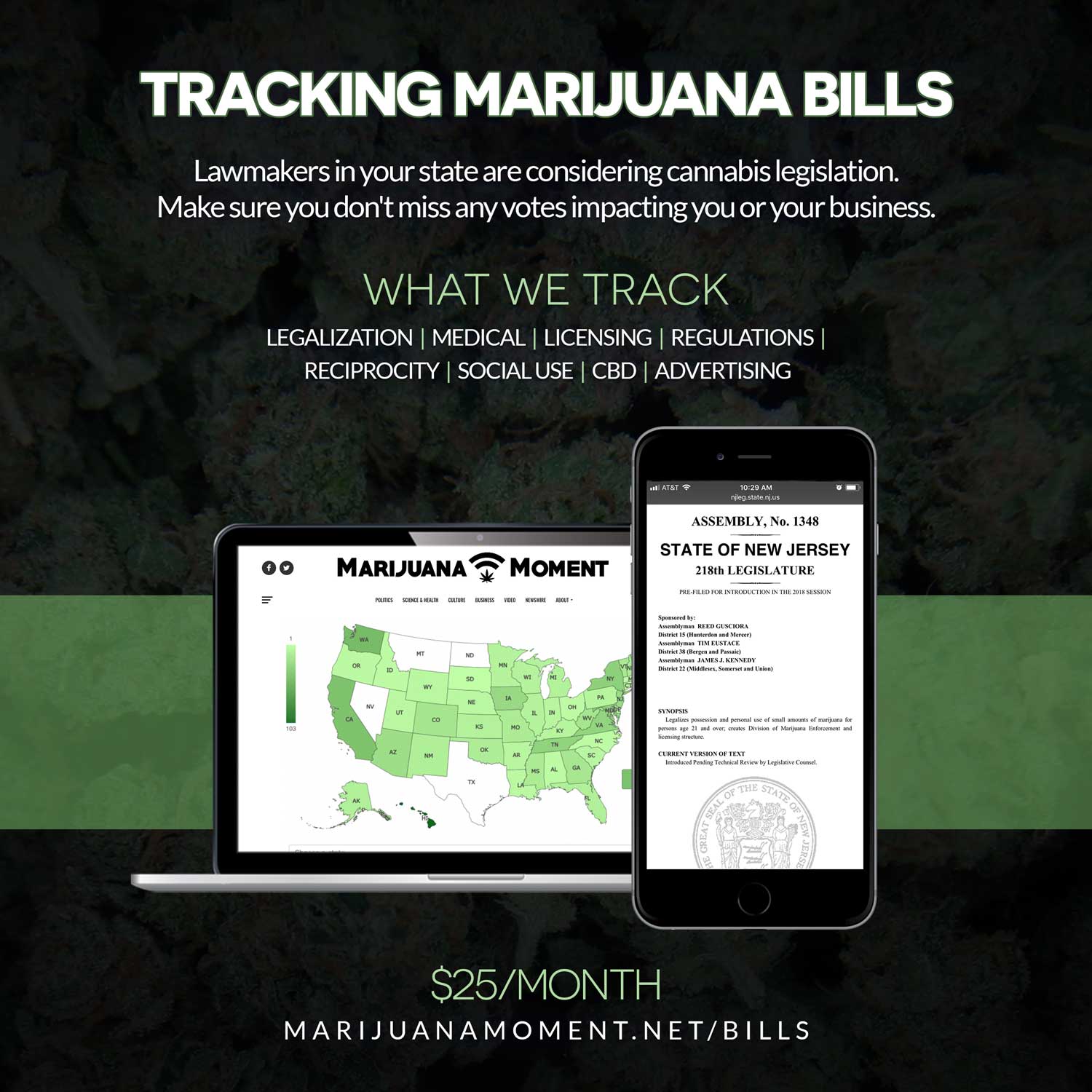 Learn more about our marijuana bill tracker and become a supporter on Patreon to get access.
—
Theoretically, if this bill is approved, it could promote tourism in the state, as it specifically allows hotels and other facilities to accept out-of-state medical cannabis certifications for guests.
There's a similar policy on the books in Colorado, where a bill providing for social consumption site licenses was signed last year.
In a new related study, researchers took a look at the prevalence of Airbnbs allowing marijuana consumptions in Denver and found that it's surprisingly common—much more so than for tobacco use.
"A substantial number of Airbnb listings in Denver, Colorado permit cannabis use and venues permitting cannabis use may be more likely to also permit tobacco smoking," the abstract says.
About one-in-four facilities included details about their marijuana policy in the listing, and 76 percent of those permitted cannabis use while 31 percent let guests use tobacco.
The focus of the study, published this month in the Journal of Psychoactive Drugs, was to analyze indoor clear air issues related to marijuana at Airbnbs. It concluded that the facilities should "consider including cannabis use in house rules in jurisdictions that have legalized cannabis to help guests identify spaces with clean air."
Missouri's marijuana laws might not be as progressive as Colorado's, but a Republican lawmaker did file a joint resolution last month that calls for adult-use legalization to be placed before voters on the 2022 ballot.
Washington Lawmakers Approve Marijuana Homegrow Bill In Committee
Photo courtesy of Martin Alonso.
Washington Lawmakers Approve Marijuana Homegrow Bill In Committee
A bill to allow marijuana homegrow in Washington State cleared its first legislative hurdle Friday morning, passing out of the House Commerce and Gaming Committee on a 7–2 vote with a "do pass" recommendation.
Washington voters approved a cannabis legalization initiative in 2012, and retail sales have been ongoing since mid-2014. Cultivating the plant for personal use, however, remains a felony.
"Washington was one of the first states to legalize, with understandable trepidation," Rep. Shelley Kloba (D), the lead sponsor of HB 1019 and the chair of the House committee, said at Friday's meeting. Homegrow, she said, "is one area where we've taken a more cautious approach and let other states test the waters."
Of all other states that have begun legal cannabis sales in the years since Washington legalized, only one—Illinois—has outlawed homegrow. But in Illinois, advocates in Washington have pointed out, the offense is a civil infraction rather than felony crime.
Washington's homegrow bill would allow adults to cultivate up to six cannabis plants at home and keep the marijuana those plants produce. Plants and containers of more than one ounce of cannabis would need to be labeled with the adult's name, birthdate and address. Households with multiple adults could grow no more than 15 total plants.
While adults could give small amounts of homegrown cannabis to one another, unlicensed sales would remain illegal.
Plants would also need to be out of public view and unable to be "readily smelled" outside of the property. Growers who violate those limits would be subject to a civil infraction that carries a maximum $50 fine. Landlords, meanwhile, could decide whether or not to allow rental tenants to grow cannabis on the property.
—
Marijuana Moment is already tracking more than 400 cannabis, psychedelics and drug policy bills in state legislatures and Congress this year. Patreon supporters pledging at least $25/month get access to our interactive maps, charts and hearing calendar so they don't miss any developments.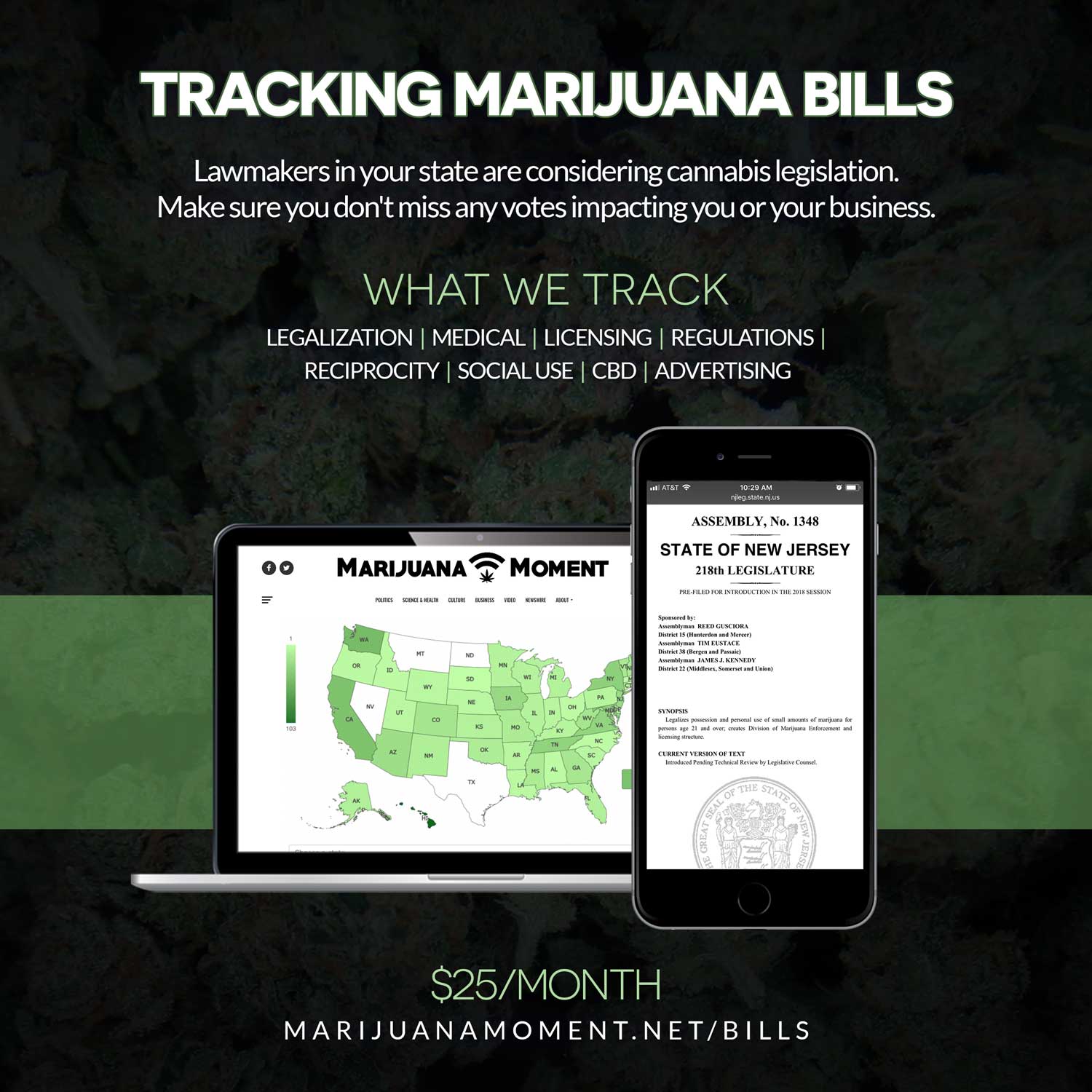 Learn more about our marijuana bill tracker and become a supporter on Patreon to get access.
—
The limits on plants being seen or readily smelled by the public, Kloba said, "protects both the grower and the neighbors" by avoiding both possible theft of plants—a concern some have raised about homegrow—as well as nuisance odor from nearby properties.
Opponents of the bill, including the Washington Association of Police Chiefs and Sheriffs, have complained the homegrow limits would be difficult to enforce. A representative of the group noted at a hearing last week that the bill would prevent police from entering a property unless they first obtained a warrant.
Rep. Eric Robertson (R), one of two lawmakers who voted against the bill Friday, said he was concerned that HB 1019 leaves enforcement to police agencies rather than the state Liquor and Cannabis Board (LCB), which regulates licensed cannabis businesses in the state. He described that provision as a "fatal flaw in the bill because there won't be any reasonable or informed way to investigate this stuff without a huge impact to our cities."
Kloba replied that LCB has authority over the state's commercial cannabis system, "and this is clearly outside of it."
The bill has support from numerous advocacy groups, including state and local drug reform advocates and the Washington Build Back Black Alliance (WBBBA), a group of nonprofit and business leaders lobbying on behalf of the state's Black communities.
In a letter to lawmakers sent this week, Paula Sardinas of WBBBA noted that 97 percent of the state's legal cannabis industry remains white-owned. "Assuming an expansion into homegrown would produce more [illicit] activity represents both systematic prejudice and implicit bias," Sardinas wrote. "This very good bill meets the basic tests of both equity and equality."
Lawmakers made a single amendment to HB 1019 on Friday before advancing the bill, adding changes meant to harmonize the state's existing civil forfeiture law with the bill's proposed homegrow limits. Existing law, for example, allows forfeitures when someone engaged in illegal commercial cannabis activity possesses five or more marijuana plants. The amendment raises that cap to 16 plants and slightly increases the amount of harvested cannabis a person can possess.
Kloba said the amendment, which the committee adopted Friday without objection, is meant "so that we don't inadvertently allow people to do homegrow and then they get in trouble for doing so."
Homegrow also won a small victory in Virginia on Friday as a state Senate committee voted to advance a bill to legalize marijuana in that state. Before approving the bill, lawmakers defeated a proposed amendment that would have outlawed home cultivation.
Jenn Michelle Pedini, executive director of Virginia NORML, told Marijuana Moment the group "is pleased that cooler heads prevailed, defeating an absurd motion to remove personal cultivation from the bill."
Meanwhile, in Washington, the House Commerce and Gaming committee also heard testimony Friday on a separate bill, HB 1210, that would update state law to replace references to "marijuana" with the word "cannabis."
"The word 'marijuana' is a reminder of the history of racism and persecution," argued the bill's lead sponsor, Rep. Melanie Morgan (D), while "cannabis" comes from the plant's scientific name. "I ask for this committee's support in removing the racist stigma from communities of color."
Chris Thompson, director of legislative relations for LCB, said the regulatory agency supports the legislation but would like to see a "friendly amendment" that would direct regulators to make the change on their side, too. Such direction would allow LCB to expedite agency rulemaking.
"If you were to make a very long bill just maybe one paragraph longer and direct our agency to do that with our rules," Thompson told lawmakers, "then that would help us make this change across the board in one fell swoop."
Illinois Awards $31.5 Million In Marijuana-Funded Grants To Repair Communities Harmed By Drug War
Arizona Begins Recreational Marijuana Sales, Just Weeks After Voters Approve Legalization
Arizona marijuana sales for the adult-use market officially began on Friday after state officials began notifying retail business license applicants that they'd been approved.
The launch comes just weeks after voters in the state overwhelmingly passed a cannabis legalization initiative during November's election. This marks the fastest transition from voter-approval to sales implementation of any state that has legalized marijuana to date.
Under the measure, regulators were required to quickly develop rules for the market. Industry stakeholders say they've had productive conversations with the Department of Health Services to create those guidelines over the past few weeks.
The department released two draft versions of its proposed regulations and then, earlier this month, began accepting applications for recreational business licenses. This first round of approvals is for existing medical cannabis dispensaries that have already gone through the state's prior licensing process.
"ADHS has received 79 applications since the application period began early Wednesday," the department said in a press release on Friday. "Six of those applications remain under review," meaning that 73 facilities can now begin adult-use cannabis sales. The full list of those stores is at the bottom of this story.
NOW: Line goes around the building at @HarvestHOC in Scottsdale, one of 73 facilities in AZ w/ recreational marijuana sales license. #fox10phoenix pic.twitter.com/ym9waon5Oc

— Justin Lum (@jlumfox10) January 22, 2021
Those who aren't currently operating a medical marijuana shops can still apply for an adult-use license during this first round if they plan to operate in a county with two or fewer existing dispensaries. Applications for those who aren't eligible in this phase will be open soon and are expected to be approved starting in the spring.
Samuel Richard, executive director of the Arizona Dispensaries Association, told Marijuana Moment that the "dedicated focus and professionalism of our regulators have really played out here in an incredible way."
"We had overwhelming support in November—a three to two margin, 60-40 percent. We got over the finish line," he said. "It's great to see that our regulators responded to that overwhelming support by working as fast as they can to get the infrastructure in place to allow the two million Arizonans that voted 'yes' for Prop 207 to start to enjoy the benefits of legal, adult-use cannabis."
Recreational marijuana sales are now legal in Arizona. Here is the scene at Harvest in Scottsdale that started selling recreational at around noon today. pic.twitter.com/20RW76nzij

— David Wallace (@DavidWallce) January 22, 2021
Legalization advocates are cheering the state for its expediency in getting the recreational marijuana market off the ground.
Matthew Schweich, deputy director at the Marijuana Policy Project, told Marijuana Moment that it is "encouraging to see Arizona move forward with implementation of the legalization policy approved by voters in November."
"By avoiding unnecessary delays, Arizona will accelerate the timeline for job creation, business investment, and new tax revenue," he said.
"I commend state officials for prioritizing the implementation of Prop. 207 and ensuring that Arizona adults have safe and convenient access to affordable marijuana in a timely manner," NORML State Policies Coordinator Carly Wolf, told Marijuana Moment. "Voters were crystal clear on their mandate at the ballot box: end the failed policy of criminalization and replace it with a legal pragmatic regulatory framework as soon as possible."
"It's time to stop ceding control and revenue of the marijuana market to unregulated and untaxed enterprises in order to eliminate the risks associated with an illicit market," she said.
The rules for the adult-use market took effect on January 15. They cover licensing fees, the timeline for approvals, the structure of the regulatory body, product labeling, public safety protocols and more. Many of the changes from prior draft regulations were technical, but there was one notable change concerning credentialing for cannabis workers.
Rather than being credentialed for one specific facility, the worker registration was expanded so that they could be certified to be employed at any cannabis operation in the industry.
While these rules are in place for the newly approved retailers, Richard said regulators have made clear their intent to continue to work with stakeholders and continue to build upon their rules to ensure the market's success.
RECREATIONAL MARIJUANA-
A line for has already formed here at @HarvestHOC on Grant. They were approved for a recreational license today by AZDHS and have already started selling. @KOLDNews pic.twitter.com/jZMuGiP1Jg

— Karly Tinsley (@ktinsleynews) January 22, 2021
Under the state's new legalization law, adults will be able to possess up to an ounce of marijuana at a time and cultivate up to six plants for personal use.
The measure also contains several provisions aimed at addressing the harms of prohibition such as allowing individuals with prior marijuana convictions to petition the courts for expungements and establishing a social equity ownership program.
Cannabis sales will be taxed at 16 percent. Tax revenue will cover implementation costs and then be divided among funds for community colleges, infrastructure, a justice reinvestment and public services such as police and firefighters.
That revenue could also help the Arizona's economic recovery amid the coronavirus pandemic, Richard said.
"At the time where folks are still struggling to recover across the country in terms of state budgets, we look forward to being a critical piece" of that recovery, he said.
Arizona's quick response to voter approval of the reform initiative stands in stark contrast to New Jersey, where voters also approved a legalization referendum in November.
While regulations have been developed and retail sales are launching in Arizona, enabling legislation has faced numerous delays in New Jersey as lawmakers and the governor continue to hash out differences in their preferred regulatory approach.
That said, New Jersey Gov. Phil Murphy (D) said during his State of the State address last week that "we are on the verge of passing an innovative and groundbreaking set of laws to reform our historically unjust approach to marijuana and cannabis." But the exact timeline to pass an implementation bill is yet to be determined.
See the full list of medical cannabis dispensaries authorized to sell recreational marijuana below:
| | | |
| --- | --- | --- |
| Facility Legal Name | County | City |
| Natural Relief Clinic Inc | Cochise | Bisbee |
| Desertview Wellness & Healing Solutions, LLC | Coconino | Flagstaff |
| Arizona Natures Wellness | Coconino | Sedona |
| Desert Medical Campus | Gila | Payson |
| High Desert Healing Llc | Maricopa | Avondale |
| Non Profit Patient Center Inc | Maricopa | Cave Creek |
| Azgm 3, Inc | Maricopa | Chandler |
| Border Health, Inc | Maricopa | Chandler |
| Total Health & Wellness Inc | Maricopa | Chandler |
| Total Health & Wellness Inc | Maricopa | Chandler |
| Arizona Cannabis Society Inc. | Maricopa | El Mirage |
| Fort Mountain Consulting, Llc | Maricopa | El Mirage |
| Absolute Health Care Inc | Maricopa | Gilbert |
| Ocotillo Vista, Inc. | Maricopa | Glendale |
| Pahana, Inc. | Maricopa | Glendale |
| Pp Wellness Center | Maricopa | Glendale |
| Whoa Qc Inc | Maricopa | Glendale |
| G.T.L. Llc | Maricopa | Guadalupe |
| Nature Med Inc | Maricopa | Guadalupe |
| 4245 Investments Llc | Maricopa | Mesa |
| Arizona Wellness Collective 3, Inc | Maricopa | Mesa |
| Buds & Roses, Inc | Maricopa | Mesa |
| Jamestown Center | Maricopa | Mesa |
| Sea Of Green Llc | Maricopa | Mesa |
| The Giving Tree Wellness Center Of Mesa Inc | Maricopa | Mesa |
| The Healing Center Farmacy Llc | Maricopa | Mesa |
| Valley Healing Group Inc | Maricopa | Mesa |
| Vending Logistics Llc | Maricopa | Mesa |
| Pinal County Wellness Center | Maricopa | Peoria |
| Ad, Llc | Maricopa | Phoenix |
| Az Compassionate Care Inc | Maricopa | Phoenix |
| Catalina Hills Botanical Care Inc | Maricopa | Phoenix |
| Devine Desert Healing Inc | Maricopa | Phoenix |
| Fort Consulting, Llc | Maricopa | Phoenix |
| Greens Goddess Products, Inc | Maricopa | Phoenix |
| Healing Healthcare 3 Inc | Maricopa | Phoenix |
| Herbal Wellness Center Inc | Maricopa | Phoenix |
| Kwerles Inc | Maricopa | Phoenix |
| Mohave Valley Consulting, Llc | Maricopa | Phoenix |
| Natural Herbal Remedies Inc | Maricopa | Phoenix |
| Natural Relief Clinic Inc | Maricopa | Phoenix |
| Nature's Healing Center Inc | Maricopa | Phoenix |
| Nature's Healing Center Inc | Maricopa | Phoenix |
| Organica Patient Group Inc | Maricopa | Phoenix |
| Phytotherapeutics Of Tucson | Maricopa | Phoenix |
| Rjk Ventures, Inc. | Maricopa | Phoenix |
| The Giving Tree Wellness Center Of North Phoenix Inc | Maricopa | Phoenix |
| Zonacare | Maricopa | Phoenix |
| The Kind Relief Inc | Maricopa | Queen Creek |
| Byers Dispensary | Maricopa | Scottsdale |
| Csi Solutions Llc | Maricopa | Scottsdale |
| Eba Holdings Inc. | Maricopa | Scottsdale |
| All Greens Inc | Maricopa | Sun City |
| East Valley Patient Wellness Group Inc | Maricopa | Sun City |
| Holistic Patient Wellness Group | Maricopa | Tempe |
| Salubrious Wellness Clinic Inc | Maricopa | Tempe |
| Svaccha, Llc | Maricopa | Tempe |
| Kannaboost Technology Inc | Maricopa | Tempe |
| K Group Partners Llc | Maricopa | Youngtown |
| Sweet 5, Llc | Maricopa | Youngtown |
| Verde Dispensary Inc | Mohave | Kingman |
| Abedon Saiz Llc | Mohave | Lake Havasu City |
| Fwa Inc | Mohave | Lake Havasu City |
| Arizona Golden Leaf Wellness, Llc | Pima | Marana |
| Medmar Tanque Verde Llc | Pima | Tucson |
| Patient Care Center 301, Inc. | Pima | Tucson |
| Rainbow Collective Inc | Pima | Tucson |
| Nature's Wonder Inc | Pinal | Apache Junction |
| Svaccha, Llc | Pinal | Apache Junction |
| Medical Pain Relief Inc | Pinal | Casa Grande |
| Sherri Dunn, Llc | Yavapai | Cottonwood |
| 203 Organix, Llc | Yavapai | Prescott |
| Jamestown Center | Yuma | Yuma |
Congressman Files First Federal Marijuana Reform Bill Of 2021