Legalizing Psilocybin Could Be The Next Frontier In Drug Policy Reform After Marijuana
Drug policy reform isn't likely to end with marijuana legalization—and if you're wondering what the next step in the broader movement could be, it's worth looking into psilocybin, the active ingredient in "magic mushrooms."
Earlier this month, state- and city-level campaigns to change psilocybin laws made small advancements. Organizers in Denver submitted two initiatives to decriminalize the psychedelic compound, which would appear on a citywide ballot in May 2019 if both or either receive enough signatures.
And in Oregon, a measure that would legalize psilocybin-assisted treatment entered the signature gathering stage. That measure would appear on a state ballot in 2020 if the effort succeeds.
"We're excited to gather signatures in support of establishing a community-based service framework, in which licensed providers, along with licensed producers of psilocybin mushrooms, can blaze new trails in Oregon in accordance with evolving practice standards," psychotherapist Tom Eckert, who is a chief petitioner for the measure, said in a press release.
Though there's still a lot of work to do on the marijuana reform front—and advocates haven't exactly joined arms with the psilocybin movement yet—the efforts share several parallels. For example, both cannabis and psilocybin are federally banned as Schedule I drugs, meaning the government considers them to have a high potential for abuse and to be medically useless.
Research disputes that position for both substances. While an admittedly larger body of research has demonstrated various therapeutic benefits of marijuana, several studies have found compelling evidence that psilocybin can provide relief for individuals suffering from conditions such as depression and addiction—and research is ongoing.
"To be clear, there's no scientific basis for psilocybin's continued inclusion on Schedule I," Angela Bacca, a strategist for the Psilocybin Service Initiative of Oregon, said. "It is imperative we change the law to match the reality and science because people are suffering who could otherwise benefit from this safe and uniquely effective service."
Neither the Denver nor Oregon measures would create a legal retail system for psilocybin, as has been seen throughout the U.S. for marijuana. And in Denver, organizers submitted two separate decriminalization initiatives in order to test the waters, seeing if there'd be enough support to include cultivation in the language of their primary decriminalization measure.
If that initiative fails, the group Denver for Psilocybin will put their energy toward a similar initiative that simply decriminalizes low-level possession and personal use.
"It's a natural right. It's a human right," Kevin Matthews, campaign director for Denver for Psilocybin, told Westword. "This one is our Hail Mary victory shot."
Organizers in California recently attempted to get a psilocybin decriminalization initiative on the 2018 ballot, but that effort failed.
Congresswoman Tulsi Gabbard Talks Marijuana And Psychedelics With Joe Rogan
Photo courtesy of Wikimedia/Mädi.
Chris Christie Finally Recognizes Marijuana Legalization As States' Rights Issue
Famously anti-marijuana former New Jersey Gov. Chris Christie (R) isn't jumping on the pro-legalization train any time soon—but new comments suggest he might be softening his opposition a smidge, recognizing marijuana reform as a states' rights issue.
Speaking at Politicon on Saturday, Christie took a question about his cannabis stance from YouTuber Kyle Kulinski, who asked him to weigh in on studies showing that states with legal marijuana programs experience lower rates of opioid addiction and overdoses compared to non-legal states. He was quick to dismiss the research, contending that other studies show the "exact opposite."
"I just don't believe when we're in the midst of a drug addiction crisis that we need to legalize another drug," Christie said, echoing comments he's made as chair of President Donald Trump's opioids committee.
Then he pivoted, acknowledging that some will push back on his anti-legalization position by pointing out that alcohol is legal. "I get that," he said, "but I wasn't here when we legalized alcohol."
Kulinski seized on that point and asked the former governor if he'd vote to ban alcohol.
"No, I wouldn't ban it. You can't put the toothpaste back in the tube, and that's a big, important argument about marijuana because once you legalize this, that toothpaste never goes back in the tube."
Christie stood out among other Republican and Democratic contenders during his 2016 presidential run by maintaining that in addition to personally opposing legalization, he'd crack down on legal cannabis states and enforce federal laws nationwide if elected.
"If you're getting high in Colorado today, enjoy it," Christie said in 2015. "As of January 2017, I will enforce the federal laws."
So it came as something of a surprise when the former governor went on to say in the Politicon appearance that "states have the right to do what they want to do on this," signaling a modest shift in his anti-marijuana rhetoric. States should have that right even though, as Christie put it, "broad legalization of marijuana won't, in my view, alleviate or even minimize the opioid crisis."
It's unclear what's behind the apparent shift from hardline prohibitionist to wary federalist, but who knows… maybe Christie experienced an epiphany at a Melissa Etheridge concert he attended earlier this month.
Etheridge, who recently spoke with Marijuana Moment about her cannabis advocacy and use of the drug for medicinal purposes, reacted to a tweet showing Christie at one of her recent performances, where he reportedly knew every word of her songs and sang along.
— Melissa Etheridge (@metheridge) October 6, 2018
Christie, for his part, replied that he "enjoyed every minute of a great performance and a truly wonderful group of fans."
And enjoyed every minute of a great performance and a truly wonderful group of fans https://t.co/TQdJ8fzkTM

— Governor Christie (@GovChristie) October 6, 2018
Hm…
Melissa Etheridge Talks Art, Culture and Marijuana Advocacy In The Legalization Era
Photo courtesy of Gage Skidmore.
Marijuana Support Grows: Two Out Of Three Americans Back Legalization, Gallup Says
Two-thirds of Americans now support legalizing marijuana, the highest percentage ever in Gallup's ongoing decades-long series of national polls on the topic.
The new survey released on Monday shows that U.S. adults back ending cannabis prohibition by a supermajority margin of 66 percent to 32 percent. That's more than a two-to-one ratio.
Please visit Forbes to read the rest of this piece.
(Marijuana Moment's editor provides some content to Forbes via a temporary exclusive publishing license arrangement.)
Photo courtesy of Jurassic Blueberries.
North Dakota Marijuana Legalization Measure Winning In Latest Poll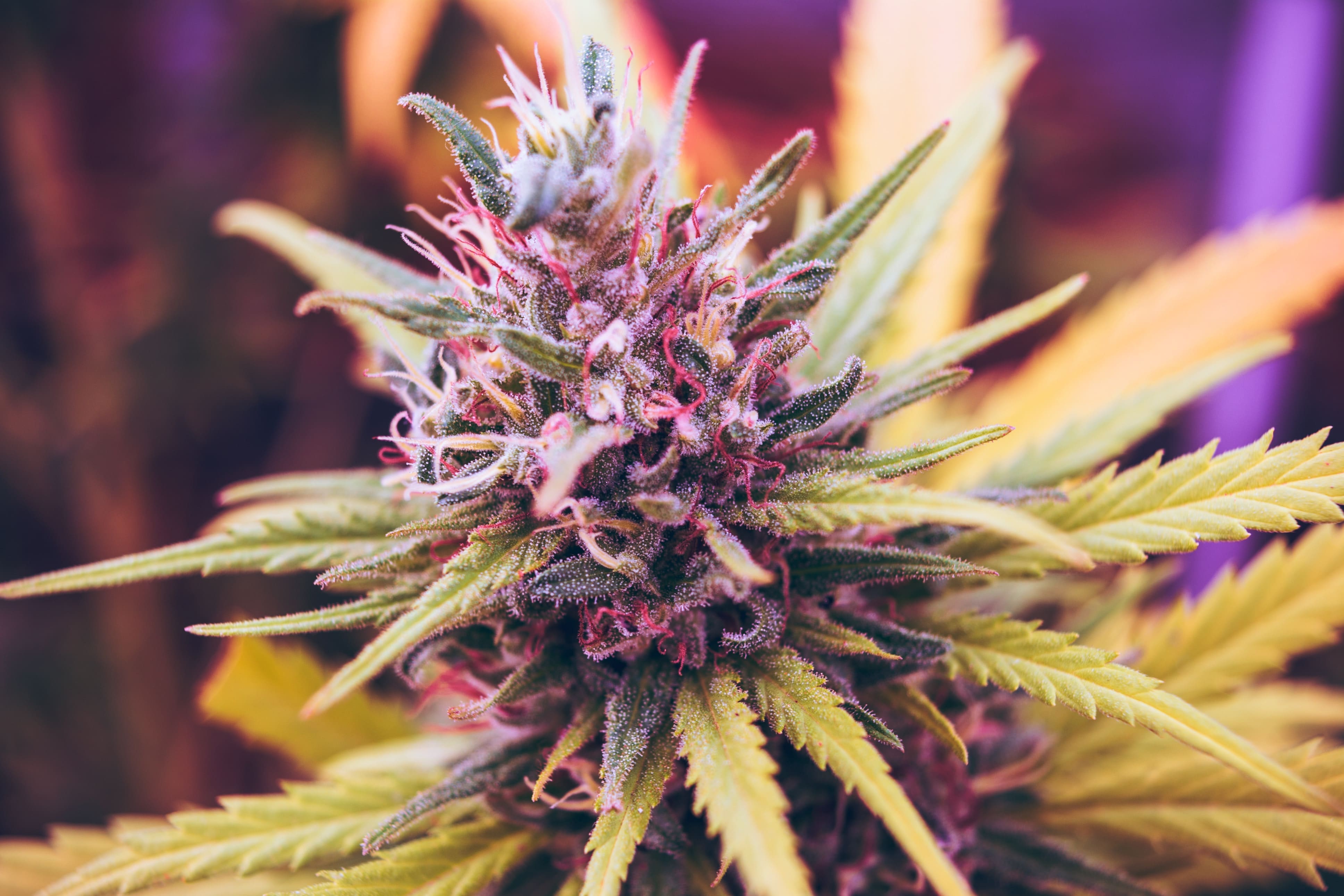 North Dakota voters appear poised to legalize marijuana via a ballot measure next month, according to a new poll.
Measure 3, which would legalize cannabis for adults 21 and over in one of the country's most conservative states—and with no possession limits—is ahead among likely voters by a margin of 51 percent to 36 percent in the survey released on Sunday.
North Dakota has brought marijuana policy reform supporters pleasant surprises before. Medical cannabis was approved there by an overwhelming majority of voters in 2016, for example, and will be available to patients sometime in 2019.
And despite little pro-legalization funding and relatively large spending in opposition to the ballot measure—a flip of the usual paradigm seen in most other states with cannabis initiatives—libertarian-leaning and younger voters on the prairie appear to be pushing Measure 3 towards a slim victory.
The results sharply contrast to those of another poll released earlier this month, which found the marijuana measure losing, 59 percent to 30 percent.
And although legalization support was significantly larger than opposition in the new survey, 13 percent of the 412 respondents say they are still undecided, leaving the issue very much in balance in the lead up to Election Day.
Nonetheless, legalization advocates are pleased with the new polling result.
"Despite a big-money funded misinformation campaign from the opposition, this poll reveals that most North Dakotans are ready to end the failed prohibition of marijuana in the state," NORML Executive Director Erik Altieri said in a press release. "By voting 'Yes' on Measure 3, North Dakotans could save the state millions of taxpayer dollars currently being spent on arresting otherwise law-abiding adults for possession of a plant that is objectively less harmful than legal alcohol and tobacco, allow law enforcement to allocate their limited resources to focus on violent crime, and defend individual freedom."
But activists know that the opposition has more money, and aren't taking anything for granted over the next few weeks.
"The message of ending marijuana arrests is resounding in North Dakota, and these results demonstrate that voters are hearing our call for action. This is a dogfight, and LegalizeND will continue to set the record straight when it comes to adult-use marijuana," Cole Haymond, a campaign advisory for Legalize ND, said.
Consistent with other states where medical marijuana has become legal, the measure performed best with voters under 50 in the new poll. Fifty-seven percent of respondents were 50 or older, suggesting that if younger voters turn out on Election Day, the measure may stand an even better chance of success.
"Passage of Measure 3 is greatly dependent upon the voters under the age of 50 voting in at least their historical percentages," reads a polling memo by The Kitchens Group, which conducted the survey. "If the electorate is skewed toward the older, more conservative voters, passage could be problematic."
But Measure 3 is being sold to voters on a personal responsibility platform, with emphasis on harsher penalties for sales to minors—and on marijuana's proven ability to alleviate opiate-related overdoses and deaths.
When these aspects of the ballot measure were mentioned to poll respondents, support increased by the end of the eight-question survey.
Both before and after the push-polling, the percentage of voters who said they would "definitely" vote no stayed at a consistent 29 percent, suggesting that North Dakota has only a hardcore minority of prohibition-minded voters, with many more undecideds and pro-legalization voters.
The ballot measure is very far-reaching compared to those proposed in other states. It would allow possession, cultivation and sales of marijuana, with no set limits, though lawmakers would almost certainly enact regulations in the event of the measure's passage. It would also expunge prior cannabis convictions.
The poll was conducted between October 11 and 14, and has a margin of error or +/- 4.9 percentage points.
Voters in seven states will consider marijuana ballot measures on Election Day this year.
An earlier version of this article incorrectly stated that Measure 3 legalized only small amounts of marijuana. The text of Measure 3 legalizes marijuana for adults 21 and over with no possession limits. This article has been updated.
North Dakota's Marijuana Legalization Supporters Outraised By Opponents, Filings Show