California Gov. Jerry Brown Keeps Saying Mean Things About Marijuana Consumers
During his two stints as California governor—between 1975 and 1983, and 2011 and next January, when he is termed out and may finally retire from almost 50 years of public life—Jerry Brown has become known for several character traits.
He is frugal, to the point of parsimony. He is attentive to issues that are way out there. He is concerned about climate change. And he cannot stop making negative, non-germane non sequiturs about marijuana, his state's biggest cash crop.
In 2014, he suggested that neither California nor the United States could be a great economic power if marijuana was legalized, thanks to the shiftiness of "the potheads."
"The world's pretty dangerous, very competitive," he said during an appearance on NBC's Meet The Press. "I think we need to stay alert, if not 24 hours a day, more than some of the potheads might be able to put together."
Giving his reasoning why he opposed marijuana legalization, he mused, "how many people can get stoned and still have a great state or a great nation?"
Now, in a New York Times profile published on Tuesday, while speaking on the subject of climate change, Brown reached deep into his pocket for a very off-topic cannabis-themed barb.
"We either do nothing and smoke marijuana because it's legalized, or we put our shoulder to the plow and do everything we can," he told the paper on a recent afternoon (one of 23 interviews he gave that same day, according to the Times). "I don't know if I'm an optimist. I'm a realist."
Links between recreational marijuana use and some vague "dumbing-down" of the populace are unfounded, and are reminiscent of the spurious, race-baiting tactics employed by former drug czar Harry Anslinger.
The source of Brown's opprobrium towards marijuana is not immediately clear.
Before his election in 2010, Brown offered laconic yet incoherent reasoning for his adamant anti-legalization stance.
"You know, the number one drug on the street is marijuana. The cartels are increasingly taking over. This is a serious problem," he told an interviewer with GQ.
(At the time, California had a thriving medical cannabis industry. Legalized marijuana was later found to compel drug-traffickers to exit trade in the drug and seek other forms of income.)
"I think it's more prudent for California not to embrace a legalization strategy," he added. "I don't think fostering chemicals is a smart move."
He declined to engage with the interviewer when asked if he'd support a policy of prohibiting alcohol.
Brown's stance puts the 80-year-old at odds with most of his fellow California Democrats—chief among whom must be Lt. Gov. Gavin Newsom.
After opposing marijuana legalization in 2010, Newsom quickly hopped on board the cannabis bandwagon following Colorado and Washington's votes to end cannabis prohibition in 2012, and was the most prominent political backer of 2016's Prop. 64, which legalized recreational marijuana in California.
Newsom briefly mounted a bid for California governor a decade ago before he was boxed out by the better-funded and better-prepared elder statesman.
In recent years, Brown did eventually sign into law a package of bills that set up a regulated and taxed commercial cannabis industry in the state. But his outdated Reefer Madness views about people who consume marijuana seem to persist, if this week's Times interview is any indication.
Teen Marijuana Use Is Down In California Following Legalization, State-Funded Study Shows
Photo courtesy of Bob Tilden.
Anti-Marijuana Group Wants 'Mandatory Assessment' For Consumers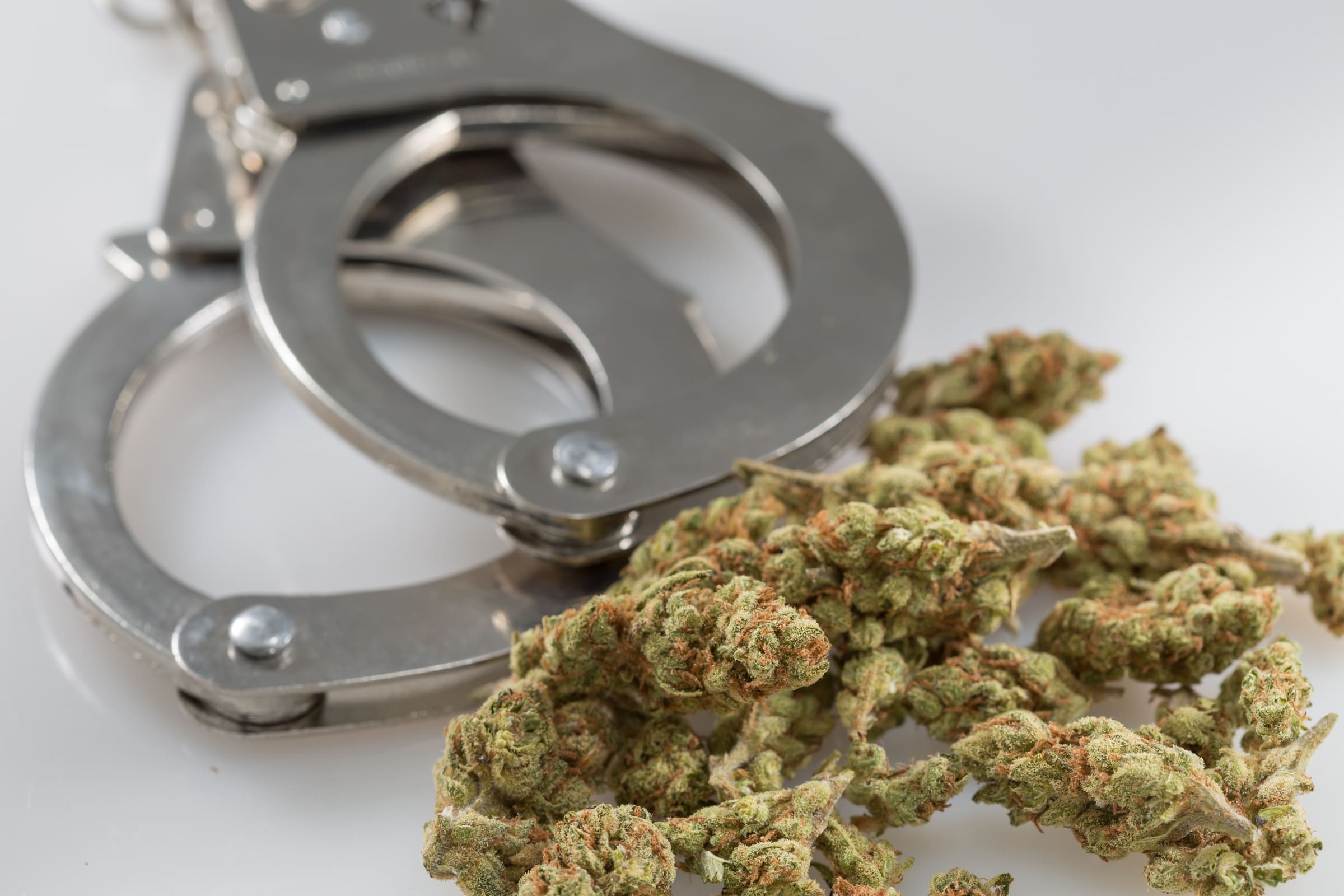 Since being founded in 2013, anti-legalization organization Smart Approaches to Marijuana (SAM) has consistently presented itself as supporting a balanced middle-ground approach between incarceration for consumers and the commercialization of cannabis. But it has never clearly described what it thinks police and government agencies should do to people caught possessing marijuana instead of putting them behind bars or just ignoring them.
Until now.
In a new document uploaded to SAM's website last week, the group lays out "several key points to be addressed in model legislation" for cannabis at the state level.
Chief among them:
"Require mandatory assessment of problem drug use by a treatment professional after the first citation; those who are diagnosed with a substance use disorder can be diverted into a treatment track where they receive the appropriate level of care, those who are not problem users can be directed to social services for follow-up and addressing other life factors contributing to drug use."
Let's break that down.
If the police catch someone possessing a small amount of marijuana once, the person is directed to a "mandatory assessment of problem drug use." If they are diagnosed as having a substance use disorder they are then forced to undergo treatment. If they refuse, presumably they'd be incarcerated or otherwise punished in some way.
But even if it is determined that the person is "not a problem" user, they still get directed to "social services" to dig into "other life factors" associated with their decision to consume cannabis.
"Project SAM, like U.S. Attorney General Jeff Sessions, firmly believe that 'good people don't use marijuana,'" Paul Armentano, NORML's deputy director, told Marijuana Moment after reading the prohibitionist organization's proposal. "In SAM's case, their overarching philosophy appears to be, 'Only people with problems use marijuana.'"
"Clearly, SAM believes that marijuana use per se should be defined under the law as aberrant behavior requiring varying degrees of state intervention," he said. "Such an approach perpetuates the needless stigmatization of marijuana and those who consume it, and is clearly at odds with the attitudes of the majority of the public who desire to see and end to these discriminatory and punitive public policies."
SAM representatives did not respond to Marijuana Moment's request for clarification about whether and how people would be punished for refusing mandatory assessments, treatment or participation in social services programs.
While the organization this year endorsed New Jersey decriminalization legislation that would require people caught with marijuana to undergo assessments, the new blog post appears to be the first time the group has made a considerable effort to articulate its favored alternative to cannabis legalization despite repeated promises over the course of years that it would "soon" release information about its policy aims beyond just impeding efforts to end prohibition.
@SanhoTree There are plenty of non-legalization alternatives that are also non incarceration. We will unveil some soon.

— SAM (@learnaboutsam) March 25, 2015
Feb 2013: SAM says they'd spend a year figuring out what policies they support. #StillNothinghttp://t.co/VYheS3OsnJ pic.twitter.com/GlUy7oUdFa

— Tom Angell 🌳📰 (@tomangell) August 9, 2014
Under the new plan, it appears that most people caught with marijuana would have to pay for treatment themselves.
But in a concession to legalization advocates who have pointed out that marijuana laws are often enforced more harshly against those from communities with lesser economic means, SAM does suggest waiving fines and treatment costs for people who don't have the money to pay. They also say community service could be an alternative to shouldering the monetary costs for those with "severe financial hardship."
Kevin Sabet, SAM's president, has consistently said in interviews that he doesn't seek to punish people for consuming or cultivating marijuana at home and is merely concerned with stopping "Big Marijuana" companies from commercializing addiction. But his organization has repeatedly opposed legislative proposals to allow possession and limited cultivation with no sales.
"You could grow a plant at home, actually. You could homegrow," he said in a 2016 interview, for example. "You could do gifting. You could do a kind of decriminalization where basically we turn the other way."
Nonetheless, the group opposed a 2014 ballot measure in Washington, D.C. to legalize low-level possession and homegrow, as well as legislation in Vermont this year to allow the same thing. Neither proposed to create a legal, commercialized cannabis sales market and instead allows adults to "gift" marijuana to one another in line with Sabet's statement.
Both measures were enacted into law over SAM's objections.
Perhaps tiring of standing on the sidelines yelling "no" to legalization to no avail, the group is finally preparing to try its hand in shaping policy. It remains to be seen if the new "model legislation" document leads to a more hands-on role in the cannabis legislative process for the prohibitionist organization.
New York Bill Would Require Medical Marijuana Be Covered By Public Health Insurance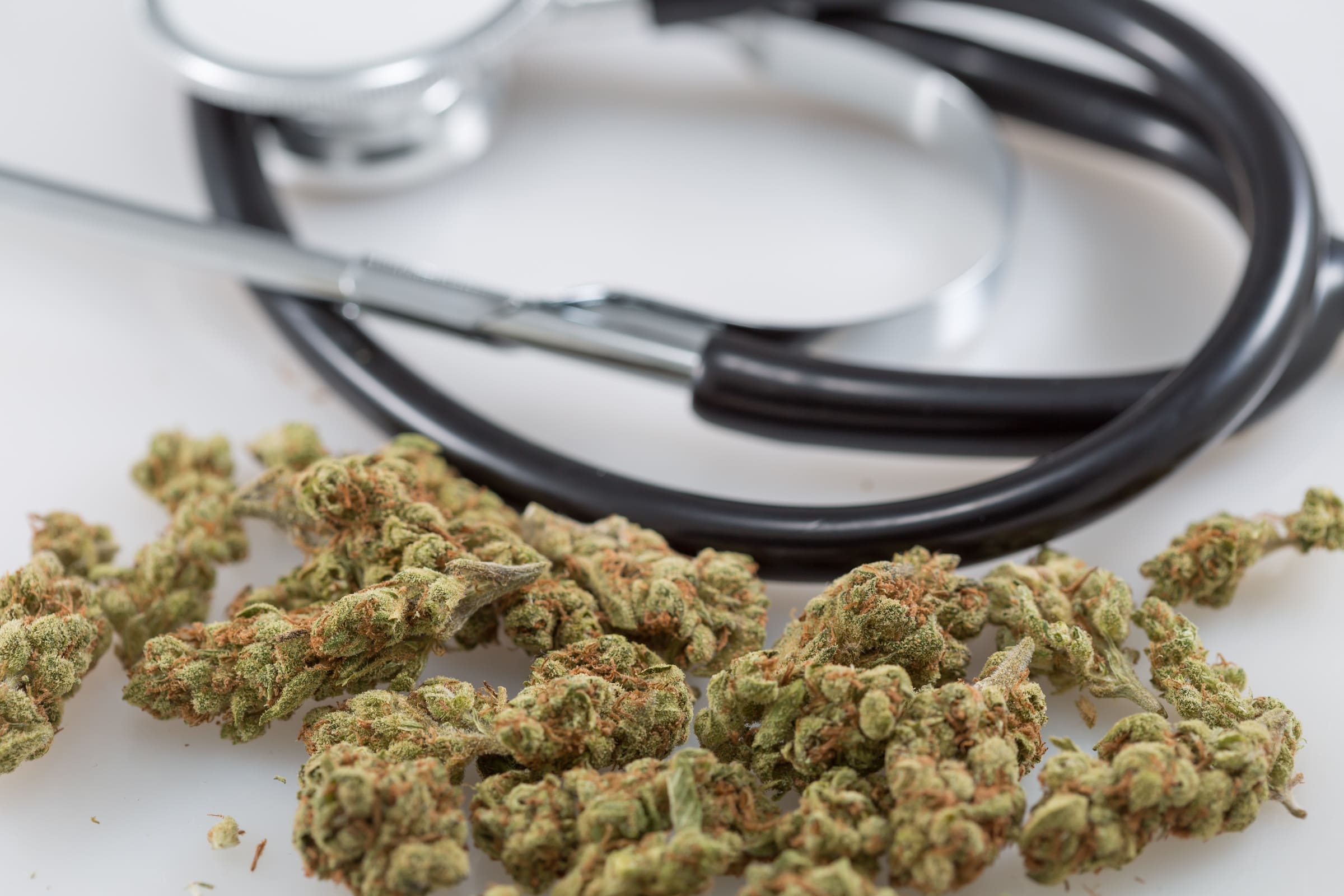 Public heath insurance programs would be required to cover medical marijuana in New York if a new Assembly bill is enacted.
"Cost is the primary barrier to patient access in New York's medical marijuana program," reads a memo attached to the legislation. "Medicaid, other public health plans, and commercial health insurance plans do not cover medical marijuana, forcing patients to pay out of pocket. Some patients begin treatment only to stop due to inability to pay, while others turn to the black market."
"For thousands of patients, medical marijuana is a safer and more effective medication than other drugs, especially opioids."
The bill, filed on Monday by Assemblyman Richard Gottfried and 17 cosponsors, would add medical cannabis coverage to four publicly funded health programs—Medicaid, Child Health Plus, workers compensation and EPIC, as well as the largely publicly funded Essential Plan.
"For Medicaid and Child Health Plus, there would presumably not be federal matching funds until the federal government changes its policies, but New York's Medicaid and Child Health Plus programs have always covered people and services for which we do not receive federal match," the Assembly memo says.
The bill also clarifies that while commercial health insurance programs are not required to cover medical marijuana, they are free to do so. And it would allow state regulators to certify medical marijuana dispensaries as Medicaid providers solely for the purpose of dispensing cannabis.
—
Marijuana Moment is currently tracking more than 800 cannabis bills in state legislatures and Congress. Patreon supporters pledging at least $25/month get access to our interactive maps, charts and hearing calendar so they don't miss any developments.
Learn more about our marijuana bill tracker and become a supporter on Patreon to get access.
—
If enacted, it would be the latest in a series of steady expansions to the the state's medical cannabis program. Earlier this year, for example, regulators moved to allow medical marijuana to be recommended for any condition for which opioids would normally be prescribed.
Meanwhile, the administration of Gov. Andrew Cuomo (D) is considering more broadly legalizing marijuana. Officials are conducting a series of listening sessions around the state on the topic, and the governor created a task force to draft legalization legislation that lawmakers can consider in 2019.
New York Enacts Emergency Rules Allowing Medical Marijuana As Opioid Replacement
Harm Reduction Measures At Music Events Don't Violate Drug Law, DOJ Clarifies
The Trump administration quietly made a major concession to drug policy reform groups earlier this year, newly revealed letters between the Department of Justice and U.S. senators show.
In the correspondence, officials clarified that a federal law—which is aimed at punishing people who operate events that knowingly allow or facilitate illicit drug use—doesn't actually prevent venue owners from providing certain harm reduction services for drug consumers at their events. Contrary to fears long expressed by activists, making free water and drug safety education materials available won't be used as evidence of violating the law, the Justice Department said.
The clarification came in response to a request from Deirdre Goldsmith, whose daughter Shelley died from a heatstroke after taking MDMA at a dance concert in 2013.
Goldsmith has since become an advocate for harm reduction reform measures that could prevent similar incidents, and in November 2017, she wrote to Attorney General Jeff Sessions through her state's two U.S. senators, Tim Kaine and Mark Warner, both Democrats, requesting clarification about provisions of the Illicit Drug Anti-Proliferation (IDAP) Act of 2003.
The law's predecessor was called the Reducing Americans' Vulnerability to Ecstasy (RAVE) Act, which, as the name suggests, targeted rave culture and ecstasy use. That version didn't pass though, so a slightly more nuanced version, the IDAP Act, was introduced and passed in 2003. It was written by then-Sen. Joe Biden (D-DE).
Goldsmith wanted to know if common sense harm reduction policies violated the law. She said she's heard from venue operators who were reluctant to provide services such as distributing public health information on-site at their events out of fear of federal prosecution.
"My journey since Shelly's passing has led me to work to protect our young people from the many risks associated with incidental, illicit recreational drug use," Goldsmith wrote.
"With your help, by clarifying exactly what is permitted by the Department of Justice under this law, we can give venue owners the assurance they need to implement measures to reduce the risk of harm to attendees' due to unsafe settings."
In January, a Drug Enforcement Administration (DEA) official replied, writing that the agency's review of the law "did not identify any provision of the Act that would discourage law abiding venue owners from instituting safety measures for its patrons, including the provision of water."
Good, but questions remained. Goldsmith said in a follow up letter that she appreciated the agency's clarification and listed three other harm reduction measures that could mitigate "dire situations" at events like the one her daughter had attended. Would providing "cool down spaces," distributing public health information on-site or expanding the number of trained medical personnel at these events put venue operators at risk of prosecution?
"Because some venues feel that they are not allowed to provide these common-sense safeguards because they fear prosecution, they continue to be, in my opinion, high-risk and dangerous settings in terms of public safety," she wrote.
Again, the DEA responded. The agency didn't weigh in on each specific measure she described, but it did note that it "shares Ms. Goldsmith's concern that venue owners not be discouraged from providing appropriate safety measures at entertainment venues."
The law is designed to penalize venue operators who "knowingly opened or maintained a place for the purpose of manufacturing, distributing, or using a controlled substance," the DEA explained. "A variety of indicators may help to demonstrate that an offender had the requisite knowledge."
"Moreover, dissemination of accurate public health information that outlines both the illegality and dangers of drug use may discourage prohibited conduct."
That said, "[e]very investigation has its own unique set of facts and circumstances," the DEA wrote. The agency recommended that venue owners contact the U.S. attorney's office in their respective jurisdiction for further clarification.
"I'm very encouraged about [the DOJ's letters], especially because it's Trump's Department of Justice," Emanuel Sferios, founder of the harm reduction group DanceSafe, told Marijuana Moment. "I think they wrote it very clearly to let us, and promoters know that they would not be prosecuting club owners and festival promoters who provided these two services specifically: free water and drug information."
Goldsmith publicly announced the DOJ clarification in a post on the Amend the RAVE Act website earlier this month.
"These are giant steps forward!" she wrote. "It means that the Department of Justice for the first time explicitly recognizes that providing free water and drug educational materials does not violate the RAVE Act. This is huge!"
Still, there's work to be done, Sferios said. Advocates would like to the Justice Department to specifically exempt all "harm reduction services" at these events from the law, but the term itself has been stigmatized on Capitol Hill.
That's "crazy," he said, "because harm reduction is the preferred approach to dealing with drug use around the developed world."
Read the letters between Goldsmith and the Justice Department below:
DOJ Goldsmith Letters by Marijuana Moment on Scribd
Photo courtesy of Patrick Savalle.