House Approves Marijuana Banking, Again, As Part Of Coronavirus Bill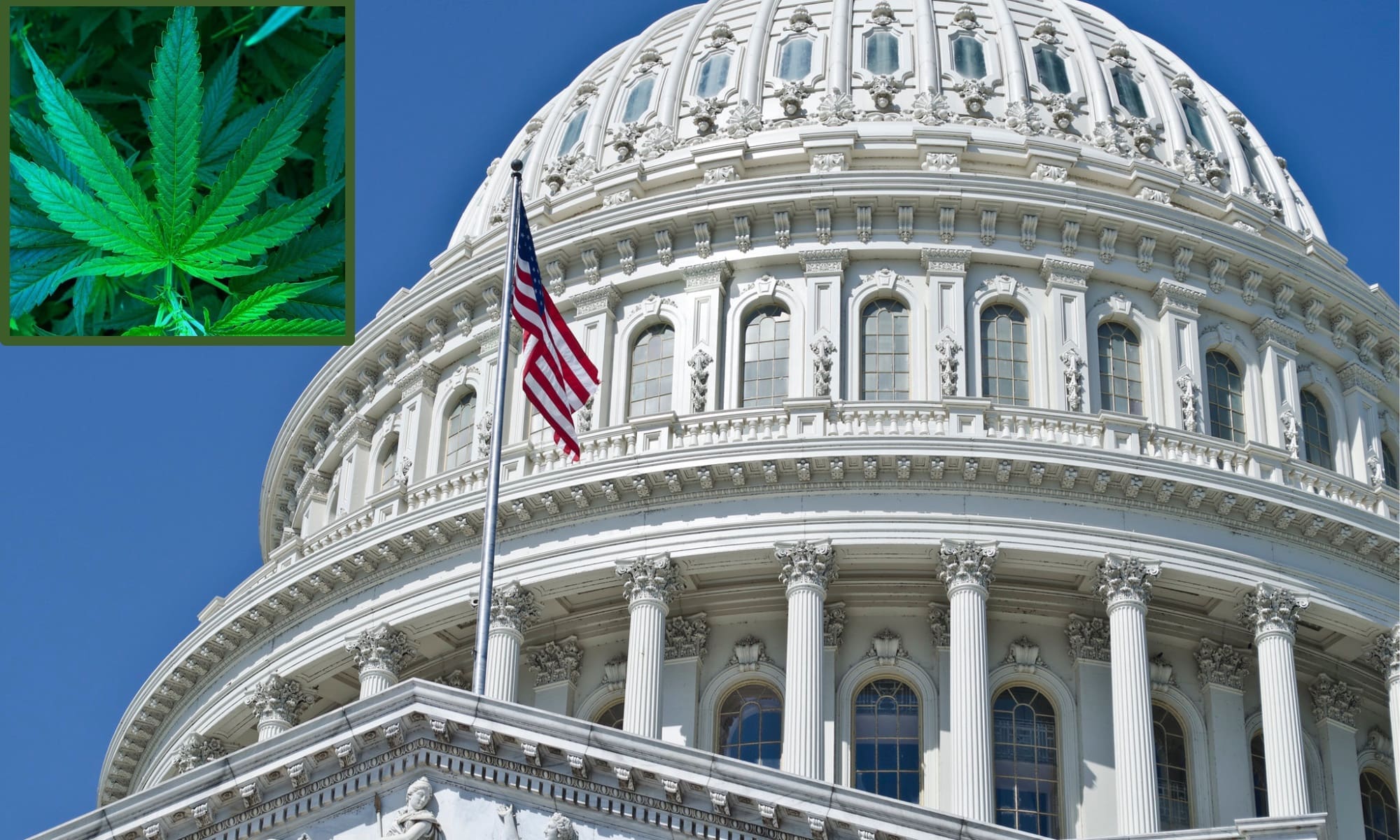 The House approved a coronavirus relief package on Friday that includes provisions that would protect banks that service state-legal marijuana businesses from being penalized by federal regulators. The vote was 208 to 199.
Advocates, stakeholders and lawmakers have been pushing for some form of cannabis reform to be inserted into COVID-19 legislation. The inclusion of the Secure and Fair Enforcement (SAFE) Banking Act, which was previously passed by the House as a standalone bill last year, represents a significant victory to that end. That said, it is unclear how the issue will fare in the Senate, whether as part of the COVID-19 response or otherwise.
Rep. Ed Perlmutter (D-CO), chief sponsor of the legislation that is being included in the new broad package, made the case in committee and on the floor this week that while some Republican lawmakers might argue that the cannabis language doesn't belong in a coronavirus bill, the measure would actually protect public health by reducing the threat of spreading the virus through cash transactions.
"I'm encouraged that the House recognizes the urgency of this issue and has taken this strong and necessary position," Steve Hawkins, executive director of the Marijuana Policy Project (MPP) said in a press release.
"Continuing to exclude the cannabis industry from accessing basic and essential financial services during this time will result in more harm than good," he said. "Not only will it make the country's economic recovery that much harder, but the provisions intended to help minority-owned businesses would continue to be absent within the industry."
Several GOP members protested the banking legislation all the way up until Friday's vote, arguing that it is not germane and is an example of irrelevant items included in a Democratic "wish list." Senate Majority Mitch McConnell (R-KY) specifically took issue with a requirement in the SAFE Banking Act to study diversity in the marijuana industry—though he's declined to criticize the main point of the bill, which is banking access for the cannabis sector.
The Democrats' supposed coronavirus bill includes taxpayer-funded studies to measure "diversity and inclusion" in the cannabis industry. It's a parade of absurdities that can hardly be taken seriously. pic.twitter.com/2aCyOEnnAZ

— Leader McConnell (@senatemajldr) May 15, 2020
This week Speaker Pelosi published an 1,800-page catalog of left-wing oddities & called it a coronavirus relief bill. It proposes tax hikes on small business, giveaways to blue-state millionaires, checks for illegal immigrants, and diversity detectives for the cannabis industry. pic.twitter.com/deEIYPEMSg

— Leader McConnell (@senatemajldr) May 15, 2020
Here's how other GOP committees and legislators are reacting: 
This bill is a joke.

Instead of writing a bill that provides real relief Pelosi gave us a liberal wishlist that:

➡️ Uses the word cannabis more than jobs or hire

➡️ Gives tax breaks for wealthy blue-state donors

➡️ Changes election law

— Ways and Means GOP (@WaysandMeansGOP) May 15, 2020
Today Pelosi brings to the floor her wishlist that is wildly out of touch with the needs of the American people.

For example, the word cannabis is mentioned 68 times. That's more than the word job or hire in a package that's being sold as an economy recovery plan. pic.twitter.com/cX2oTHvGKR

— Ways and Means GOP (@WaysandMeansGOP) May 15, 2020
They are focused on ensuring illegal immigrants get a $1,200 check from the federal government and ensuring cannabis industry bankers meet certain diversity goals.

— Lindsey Graham (@LindseyGrahamSC) May 16, 2020
One more time for @HouseDemocrats in the back: This bill will not pass the Senate.

It shouldn't pass. Look what's in it:
– Taxpayer $$ for illegal immigrants
– Tells states how to handle their elections
– 68 mentions of "cannabis"

What does any of that have to do with #COVID19?

— Senator John Thune (@SenJohnThune) May 15, 2020
"Somehow cannabis is mentioned 68 times. What in the world cannabis has to do with this crisis, I don't know."

— @RepMeuser pic.twitter.com/qDECyGdJ1F

— Howard Mortman (@HowardMortman) May 15, 2020
LaMalfa:Bill includes "Safe Banking Act which if enacted would financially green light marijuana industry..Marijuana is still illegal drug under fed schedule 1,yet this bill attempt to legitimize this criminal enterprise.What's next?Safe banking for whale oil or shark fin sales?"

— Craig Caplan (@CraigCaplan) May 15, 2020
Democrats are continuing to take advantage of this crisis to move unrelated policies. Did you know: In Speaker Pelosi's bill, the word cannabis appears more times than the word job.

An emergency is no time to play political games.

— Financial Services GOP (@FinancialCmte) May 15, 2020
Given the seemingly coordinated messaging from GOP members of both chambers in opposition to the banking language, it seems likely that the provisions will face challenges when the Republican-controlled Senate receives the bill.
House Minority Leader Kevin McCarthy (R-CA) said in a floor speech that the limited number of individuals involved in crafting the COVID-19 legislation is "why it ended up talking about cannabis more than it ever mentioned a job."
"Yes, this bill is up in smoke and it should end that way," he said. "But we should get back to what the American people expect of us."
"The House Democrats, who are not here but who, remarkably, from afar have evidently put together this fantasy wish list of things they would like to see accomplished—if you can  imagine an 1,815-page bill, they mention 'cannabis' way more times than they mention 'jobs,'" Sen. John Thune (R-SD) said on the Senate floor.
In Pelosi's "Heroes Act" the word cannabis is mentioned more than jobs. This isn't a bill written to help the American people. It's a bill written for special interest groups and dedicated to the Speaker's personal far-left priorities. @realDonaldTrump is right to veto this bill.

— Rep. Doug Lamborn (@RepDLamborn) May 15, 2020
Today we will vote on a bill that @SpeakerPelosi claims helps American workers. Instead, the bill uses the word "cannabis" more times than the word "jobs". Just another example of how Democrats prioritize their liberal policies over helping American workers.

— U.S. Representative Bill Flores (@RepBillFlores) May 15, 2020
GOP @RepBuddyCarter: "This package mentions 'cannabis' more than it mentions 'jobs!'"

— Ben Siegel (@benyc) May 15, 2020
Fact: Cannabis is mentioned on the bill more times than jobs!

— RepRossSpano (@RepRossSpano) May 15, 2020
Nancy Pelosi's liberal wishlist uses the word "cannabis" more than "jobs" and "hire." Legitimate question: Was the staff responsible for this legislation high when they wrote it? 🤔 pic.twitter.com/8e9k1mN6FV

— Rep. Mike Johnson (@RepMikeJohnson) May 15, 2020
I voted against this bill because it's an irresponsible non-starter, filled with anti-work provisions, incentives for illegal immigrants, wholesale election law changes, expansion of marijuana businesses' banking abilities, and comes with a 3 trillion dollar price tag.

— U.S. Rep. Bob Latta (@boblatta) May 16, 2020
Rep. Harley Rouda (D-CA), on the other hand, described the marijuana banking provision as "smart-capitalism."
If my colleagues find the inclusion of smart-capitalism provisions like giving cannabis companies access to banking reprehensible — they can bring their concerns to the bargaining table instead of walking away. (4/x)

— Rep. Harley Rouda (@RepHarley) May 15, 2020
A summary of the legislation says the banking section would "allow cannabis-related legitimate businesses, that in many states have remained open during the COVID-19 pandemic as essential services, along with their service providers, to access banking services and products, as well as insurance."
"This section also requires reports to Congress on access to financial services and barriers to marketplace entry for potential and existing minority-owned cannabis-related legitimate businesses," it continues.
The House passed the SAFE Banking Act last year and it's since sat in limbo in the Senate Banking Committee. Negotiations over the bill have been ongoing, with the Chairman Mike Crapo (R-ID) recommending a series of changes, but Sen. Cory Gardner (R-CO) saying a deal was "close."
Don Murphy, director of federal policies at MPP, said that given "the public health and public safety benefits of this specific change in policy, the Senate has good reason to pass this language into law."
"This is a change in policy that the banks are asking for even more than the cannabis companies," he said. "We urge the Senate Banking Committee to adopt the SAFE Banking provisions to ensure financial institutions can provide basic banking services to businesses that are compliant with state law."
Advocates have also been asking lawmakers to add language extending access to federal Small Business Administration (SBA) relief programs to cannabis businesses in coronavirus legislation. That didn't pan out in this package, however.
Currently, SBA specifically prevents marijuana businesses from receiving COVID-related relief due to federal prohibition. That also includes companies that work indirectly with the industry, such as accounting and legal firms.
Rep. Earl Blumenauer (D-OR) introduced a bill last month that would fix that, calling for SBA access for cannabis businesses and ancillary companies. That came after he led a letter with 34 bipartisan members of the House urging leadership to include the policy change in future coronavirus-related bills.
Sens. Jacky Rosen (D-NV) and Ron Wyden (D-OR) made a similar request to Senate leaders in a separate letter.
The new coronavirus bill does include a section that could help people with prior convictions to become eligible for SBA's Paycheck Protection Program (PPP).
It stipulates that the agency's lending service "shall include a statement that an applicant is not ineligible for assistance under this paragraph solely because of the applicant's involvement in the criminal justice system.''
That provision seems responsive to a request that Reps. Joe Kennedy III (D-MA) and Joyce Beatty (D-OH) made in a letter to leadership last month. The pair stressed that the current policy renders even those with cannabis possession convictions ineligible for PPP.
Nebraska And Montana Marijuana Activists Resume Ballot Signature Gathering Amid Coronavirus
Image element courtesy of Tim Evanson.