History Of Alcohol Prohibition Suggests Advantage For States That Legalize Marijuana Early
If the end of alcohol prohibition is any indication, the states that are first to legalize marijuana will have a long-term advantage over late adopters. That's the key conclusion of a new study published this week.
A team of researchers wanted to know whether the quickness with which states took advantage of the opportunity to allow beer sales beginning in 1933 impacted the long-term health of the industry in each state.
Their study, published in the Journal of the Economic & Business History Society, showed that early adopters had significant short- and long-term advantages over states that ended up legalizing later. And that will likely prove to be the case with the marijuana legalization movement, too.
"In the long run, states that legalize in the earliest stages of this staggered removal of the drug's prohibition may enjoy an early-adopter advantage with respect to the production and sale of marijuana as they gain a foothold in what may soon become a national (or international) market for the product," the researchers wrote.
Twenty-one states legalized beer in April 1933, 22 states legalized throughout the rest of the year and the last five states legalized over the course of the following three and a half years. There was an industry-wide consolidation of breweries from 1934 to 1977, but data from the American Breweriana Association showed that breweries were more likely to survive the test of time and also expand in states that were quickest to legalize.
"The 722 breweries that were chartered in 1933 survived an average of 9.93 years, while the median brewery survived 4 years," they wrote. "In 1950, when the number of breweries in the United States had fallen to around half of its 1935 number, 24.8 percent of the breweries chartered in 1933 were still in existence."
Breweries in states that legalized just one year later weren't so fortunate. Those 463 breweries survived an average of 4.9 years—and half had closed by the end of the year.
"Whether this can lend insight into the potential long- and short-term outcomes from the staggered state-level legalization of marijuana is worthy of discussion," the researchers concluded.
Colorado Gov. Jared Polis (D) weighed in on that discussion recently. Recognizing the short-term economic benefits of the state's legal marijuana system, which was one of the first to be implemented nationally, the governor joked that he'd "love other states to go slowly so that we can continue to see all these benefits for Colorado."
Marijuana tourism has given the state "a lot of extra business," he said. But as the study indicates, those short-term gains could be sustained for decades, giving Colorado a leg up as the legalization movement continues.
The rapid adoption of legal cannabis programs has also put pressure on states where legalization has yet to be realized. That's especially true in the densely packed northeast, where governors of several states have cited reform efforts in neighboring states as a motivating factor to push forward with legalization legislation.
"Things have changed, mainly because all of our neighbors are moving forward," Rhode Island Gov. Gina Raimondo (D) said earlier this month." We're not an island, in fact. Like it or not, we're going to be incurring public safety and public health expenses because it's legal in Massachusetts… And I think it is time for us to put together our own regulatory and taxing framework."
Pennsylvania Gov. Tom Wolf (D), who previously said the timing wasn't right to legalize in the state, said efforts to legalize in New York and New Jersey have changed his mind.
The decision to legalize in New York didn't emerge in a vacuum, either. Gov. Andrew Cuomo (D) said the "facts have changed" when it comes to legalization because there are surrounding states where it's "no longer a question of legal or illegal."
"It's legal in Massachusetts. It may be legal in New Jersey," Cuomo said. "Which means for all intents and purposes it's going to be here anyway."
As the new study shows, those states that get ahead of their neighbors in legalizing cannabis first stand to potentially benefit over a long period of time.
These 10 States Are Most Likely To Pass Marijuana Legalization Bills In 2019
Three New Studies Explore Link Between Medical Marijuana Dispensaries And Youth Use
Is there something going on in the City of Angels we don't know about? Three separate new studies out this month investigate the association between the prevalence of medical marijuana dispensaries in Los Angeles County and marijuana use among teens and young adults. Their findings, however, are mixed.
As more states legalize marijuana use, local lawmakers have to decide whether they will allow dispensaries to open in their jurisdictions. A common argument from opponents is that the proximity to cannabis will negatively impact the communities in which these establishments reside. For example, many believe rates of crime and violence will rise, while supporters point out that cannabis businesses can fill otherwise-empty storefronts and usually have security guards and surveillance cameras on site that can deter crime at neighboring properties.
Another big concern for policymakers is whether high schoolers will be more likely to consume marijuana or use it more frequently because a dispensary is nearby or whether moving cannabis commerce into regulated establishments that ask for ID can actually dissuade youth consumption.
That's what the new studies attempt to shed light on.
The first study, the dissertation of a doctoral student in the University of California Los Angeles School of Public Health, aimed to understand whether city ordinances that place restrictions on dispensaries or ban them altogether play a role in preventing high school students from consuming marijuana. Using a cross-sectional analysis with data from 57 L.A. County cities during the 2015-2016 and 2016-2017 school years, study author Catherine Branson found that cities that banned marijuana dispensaries did not have lower rates of marijuana use among students.
"Neither dispensary bans nor the number of dispensaries in a city (normalized by population to a rate of dispensaries per 10,000 city residents) were associated with student marijuana use in cross sectional analyses comparing the prevalence of student marijuana use across 57 cities in LA County," she found.
Rather, Branson writes, having strict rules in place for licensure for these businesses, as well as where they're located, offers the "most potent effects on student marijuana use."
"In this study, students' marijuana use was more strongly associated with the proximity of the nearest unlicensed dispensary to their school and the density of dispensaries within a several blocks from their school. These localized effects highlight the importance of enforcing city regulations that restrict dispensaries from operating near schools, whether those regulations are minimum distance requirements or policies that ban dispensaries altogether."
She continued, "Furthermore, that localized effects were noted only for unlicensed outlets and not for licensed dispensaries indicates that enforcing existing ordinances by closing unlicensed outlets near schools could be an excellent first step for cities looking to prevent marijuana use among their students."
Another study, this one published in the journal Addiction, focused on how the growing number of medical cannabis dispensaries in L.A. County is related to frequency of use for young adults living nearby. Researchers surveyed 1,887 people between the ages of 18-22 and asked them questions about marijuana consumption in the past month, including how many times they used per day. They also calculated the density of medical marijuana dispensaries around respondents' homes.
According to the study's findings, 84 percent of participants reported living within four miles of at least 10 medical cannabis storefronts. As such, researchers found those who lived in a neighborhood with a higher concentration of dispensaries had consumed more marijuana in the past 30 days than those who did not. Interestingly, the study also pointed to storefront marijuana signage as a potential factor.
"For [medical marijuana dispensaries, or MMDs] with marijuana signage," the authors write, "after adding [medical marijuana] card status, associations between density of MMDs with signage and positive expectancies and times used in a day remained statistically significant, and the magnitude of associations was four times as large for number of times used in a day, and five times as large for positive expectancies compared to total MMD count."
Alternatively, a third recent study, published in Substance Use & Misuse, found that the density of medical dispensaries in L.A. did not actually affect current use among young people. The parameters they utilized, however, were different from the aforementioned work.
The authors interviewed 329 young adults ages 18-26 in 2014-2015. To determine frequency, researchers asked participants how many days they'd used marijuana in the past 90 days, as well as how many hits they typically did per day. They also identified more than 400 operational medical marijuana dispensaries within the city and calculated the density per population for each ZIP code area.
Their analysis found that the "density of medical marijuana dispensaries per square mile in Los Angeles ZIP code areas was not associated with" how often people—whether they were medical marijuana patients or not—toked in the past three months. These results support other studies that have found no relationship between proximity to medical marijuana establishments and use.
"Based upon these results," the new study's authors speculate, "one could infer that the arrival of new marijuana dispensaries into neighborhoods and subsequent concentration of dispensaries in particular locations will not impact use of marijuana use among current marijuana users who live in areas with the greatest density of dispensaries—including those who cannot legally purchase marijuana from nearby dispensaries."
Living Near Dispensaries Doesn't Affect Teen Marijuana Use Or Attitudes, Study Finds
Photo by Sharon McCutcheon on Unsplash
Living Near Dispensaries Doesn't Affect Teen Marijuana Use Or Attitudes, Study Finds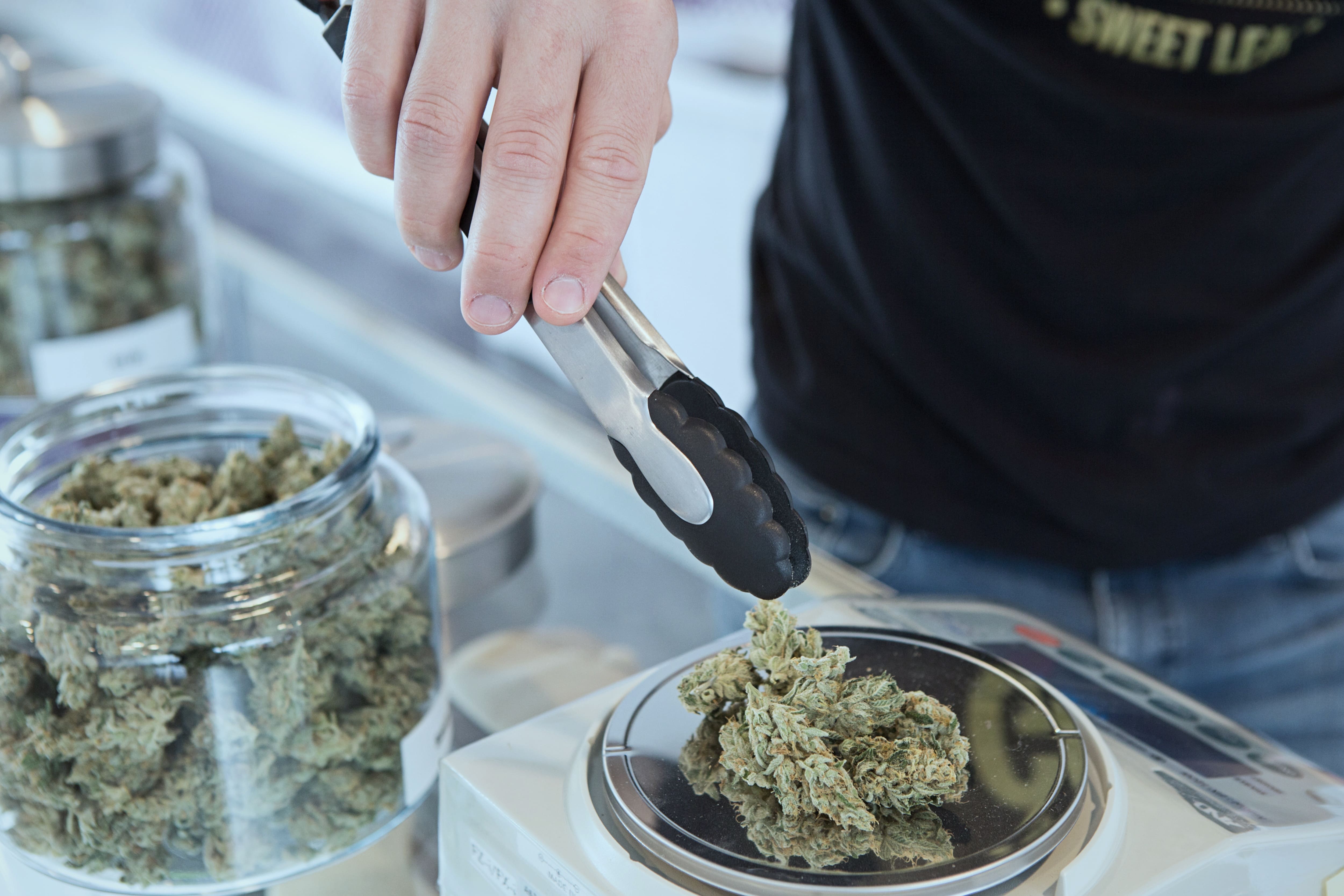 The kids are alright: According to a new study, living in a community with a recreational marijuana dispensary does not appear to influence area high schoolers' use of cannabis or their attitudes toward it.
When Colorado legalized cannabis for adult use, local governments were given the authority to decide whether or not they wanted to permit marijuana dispensaries in their jurisdictions. One of the arguments against them, according to opponents, is that the greater accessibility would encourage use among teens.
Previous research has found evidence to suggest the rate of young people using cannabis has not increased after legalization. That may be due in part to targeted local youth prevention programs funded by marijuana tax revenue, such as Denver's High Costs campaign.
Researchers at Colorado State University – Pueblo took their work a step further to investigate not only whether reported student cannabis use has increased, but also whether or not having a dispensary in a community affected their opinions of marijuana. The findings were published in the Journal of Cannabis Research this month.
For their research, the authors compared cross-sectional data taken from south-central Colorado high schoolers in 2013, before commercial legalization went into effect, and subsequent data from 2015.
"Based on the 2013 and 2015 Healthy Kids Colorado Survey data," the study states, "permitting or not permitting recreational cannabis dispensaries in a community does not appear to change student cannabis use or perceptions towards cannabis."
Three of the seven communities researchers focused on opened recreational marijuana dispensaries in 2014, and they collected survey responses from a sample of students attending 12 area high schools in total.
Specifically, the study analyzed students' responses to four questions:
"During the past 30 days, how many times did you use marijuana?"
"If you wanted to get some marijuana, how easy would it be for you to get some?"
"How much do you think people risk harming themselves (physically or in other ways), if they use marijuana regularly?"
"How wrong do you think it is for someone your age to use marijuana?"
Ultimately, researchers found that students' use of cannabis and their perceptions of how harmful it may or may not be were consistent regardless of whether or not a recreational dispensary opened nearby.
Comparing data from before legal dispensaries were allowed and after legalization's full implementation, the researchers concluded that "in both 2013 and 2015, students in communities that permitted recreational dispensaries used more cannabis, thought cannabis was less harmful, less wrong, and was more difficult to access than high school students in communities that did not permit recreational cannabis dispensaries."
That could indicate that areas where people previously had more positive attitudes toward cannabis tended to be the ones that moved to allow dispensaries when it became legal to do so.
The authors speculate that high school students may have "mirrored the behavior and perceptions of the adult population of their communities," who either decided to approve or ban recreational marijuana dispensaries from opening in their communities.
They also found that students in communities without recreational dispensaries thought marijuana was more wrong in 2015 than in 2013. The researchers are unsure of why, though, and are calling for more studies to understand the reasons.
"The difference between 2013 and 2015, in terms of use, harm, accessibility, and the difference in wrongfulness in communities permitting recreational dispensaries did not achieve a statistically significant difference," the study states. "[H]owever, across all types of communities the trend from 2013 to 2015 was that high school cannabis use declined, was thought of as more wrong, more harmful, and was more accessible."
Meanwhile, another recent study published in the Journal of Adolescent Health found that young people who don't consume marijuana are becoming more tolerant of those who do.
High Schoolers Are Growing More Tolerant Of Peers Who Use Marijuana, Study Shows
Photo courtesy of Philip Steffan.
Drivers With Common THC Limit Are Not More Likely To Cause Accidents, Study Finds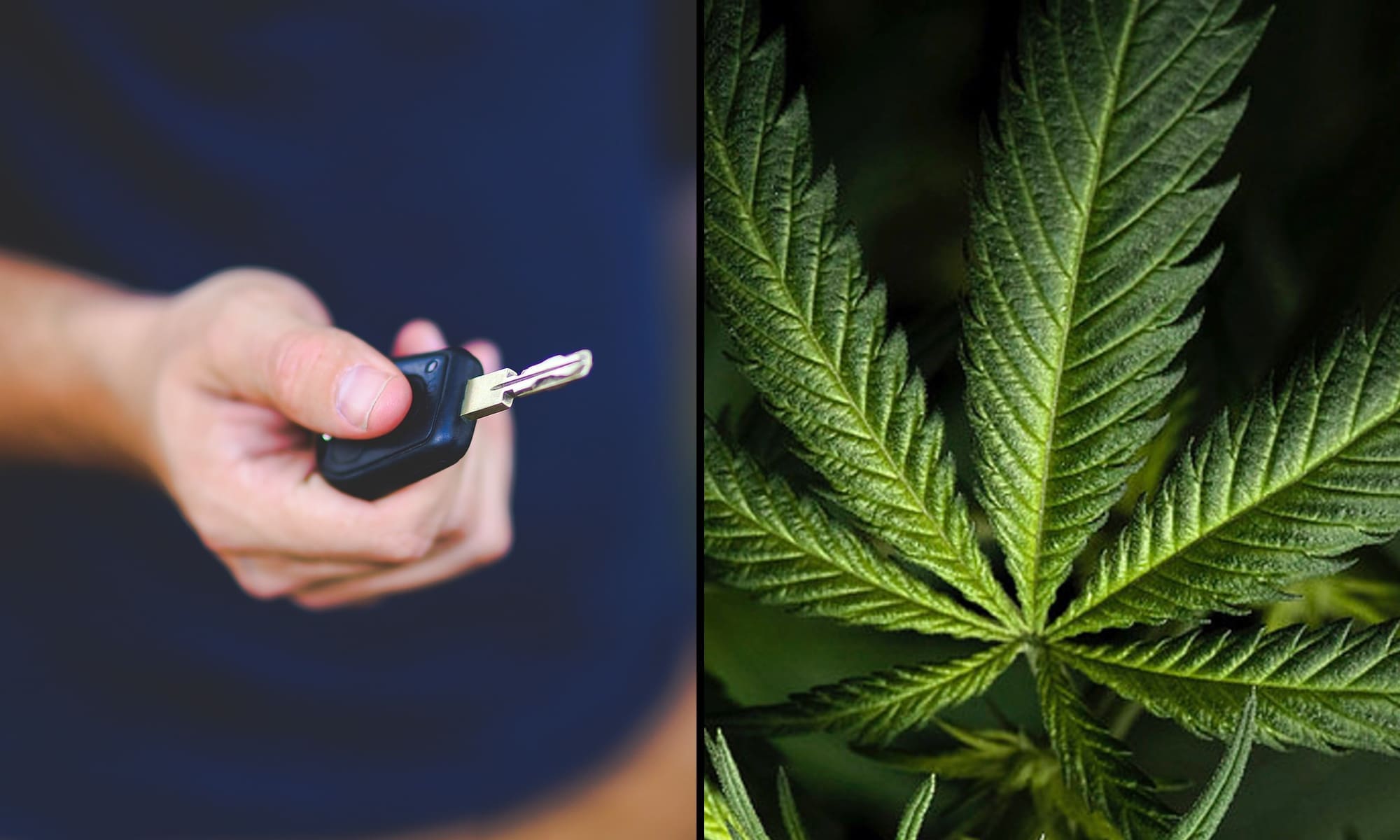 To deter impaired driving in areas where marijuana use is legal, several jurisdictions have set per se limits ranging from 2 to 5 nanograms of THC per milliliter in motorists' blood. New research, however, finds no evidence that drivers whose blood samples tested in that range are more likely to cause a traffic accident.
The study, published last month in the journal Addiction by a team of Canadian researchers, supports a key message relayed in a recent U.S. Congressional Research Service report on marijuana's impact on driving: That is, experts aren't convinced yet that cannabis use is associated with a higher risk of crashes.
"In this multi-site observational study of non-fatally injured drivers," the study's authors write, "we found no increase in crash risk, after adjustment for age, sex, and use of other impairing substances, in drivers with THC<5ng/mL."
There may be an increased risk of crash responsibility for drivers with greater than that amount, the paper concluded, but it was "statistically non-significant and further study is required."
"[T]here was no evidence of increased crash risk in drivers with THC<5ng/mL and a statistically non‐significant increased risk of crash responsibility in drivers with THC≥5ng/mL."
While the authors acknowledge a number of other studies that have linked marijuana consumption with increased road safety risks, they also argue that those analyses have "significant limitations," including the ways those experiments were conducted.
For the new study, researchers utilized a responsibility analysis design, which they said helped them avoid bias. The blood they analyzed for THC and other impairing substances, for example, came from excess samples gathered by treating physicians at hospitals following drivers' accidents. To determine whether or not a driver was responsible for a crash, they looked at police reports and scored them using a computerized algorithm.
The authors sampled car crash patients from seven British Columbia trauma centers from January 2010 to July 2016 and ultimately tested the blood of 2,318 drivers who had police reports associated with their car accidents.
According to their results, 886 drivers were found to have at least one substance in their blood sample that may have impacted their ability to drive safely. "Alcohol was detected in 334 drivers (14.4%), THC in 192 (8.3%), other recreational drugs in 207 (8.9%), and sedating medications in 460 (19.8%)," the study states. "Polysubstance use was common and many drivers (11.4%) tested positive for more than one impairing substance." Overall, more than half of drivers (1,178) were deemed responsible for the crash.
Among those drivers whose blood samples included THC—less than 2 ng/mL and up to 5 ng/mL—the study's authors found there were "non-statistically significant increases in unadjusted risk of responsibility."
"Our findings, of a low prevalence of drivers with THC>5 ng/mL, combined with a modest and statistically nonsignificant risk of crash responsibility, suggest that the impact of cannabis on road safety is relatively small at present time," they write.
When the authors modeled THC as a continuous variable—meaning, the possible factors impacting their analysis were infinite— they found "there was a statistically significant but small increase in unadjusted risk for each 1ng/mL increase in THC. However, after adjustment for other predictors, there was no statistically significant association between THC level and risk of responsibility."
There was, however, "significantly increased risk in drivers who had used alcohol, sedating medications, or recreational drugs other than cannabis." As a result, "the road safety risk associated with alcohol or with other impairing substances is higher than for cannabis."
But, as the authors point out, it's possible crash risk may increase following legalization: As more people gain access to marijuana, it's likely more people will drive after using the substance, including "occasional users with less tolerance to the impairing effects of cannabis." In particular, they note, the risks for traffic accidents may be higher for younger drivers or inexperienced cannabis consumers.
They also caution that their findings don't "necessarily apply to fatal crashes where the association with cannabis may be stronger." Past research, however, has found that marijuana legalization is not associated with an increase in traffic fatalities.
Study co-author Dr. Jeff Brubacher, an associate professor of emergency medicine at the University of British Columbia, said in an interview released prior to the completion of the new research that marijuana consumption does impact a person's ability to drive. And he strongly cautioned against getting behind the wheel after using any form of cannabis.
"Marijuana affects motor ability—reaction times are slower so people can't respond quickly enough to a dangerous situation," Brubacher said. "Drivers who have used cannabis may have trouble staying in their lane and tend to weave. The ability to maintain a consistent speed is also impaired and they tend to slow down and speed up erratically. Marijuana also makes for a more easily distracted driver."
Congressional Report Raises Questions About Whether Marijuana Impairs Driving