Google Announces Ban On Marijuana Apps In Android Play Store
Apps that help connect people with marijuana products are not welcome anymore in the Google Play store, the company announced in a policy update on Wednesday. That includes apps that facilitate cannabis transactions in states where it's legal.
The updated policy section states that Google Play doesn't "allow apps that facilitate the sale of marijuana or marijuana products, regardless of legality." Previously the page didn't include any specific mention of cannabis.
The revised guidelines go on to list descriptions of "common violations." Apps can't allow users "to order marijuana through an in-app shopping cart feature," help users "in arranging delivery or pick up of marijuana" or facilitate the "sale of products containing THC."
A google spokesperson explained the change in an email to Marijuana Moment, adding that affected companies can take advantage of a simple workaround.
"These apps simply need to move the shopping cart flow outside of the app itself to be compliant with this new policy," the spokesperson said. "We've been in contact with many of the developers and are working with them to answer any technical questions and help them implement the changes without customer disruption."
The spokesperson also said that the company recognizes the popularity of cannabis-related apps and hopes they will remain in the Play Store under the amended rules. Google is working directly with developers of affected apps, the spokesperson said.
Another new section of the policies stipulates that apps "that facilitate the sale of tobacco (including e-cigarettes)" are prohibited. Apps that help consumers purchase alcohol are apparently allowed, but not those that "encourage the irresponsible use of alcohol or tobacco."
The update was first reported by Android Police, which also noted that Apple has previously banned marijuana-related apps such as the social networking platform MassRoots. But Apple lifted that ban in 2015 and has since taken a relatively hands-off approach to the issue.
Some of the best-known cannabis apps—Weedmaps and Eaze—are still available for download on Google Play as of the time of publication. But insiders believe that their essential functions (i.e. the ordering services) will have to be deactivated. Weedmaps alone has been installed more than one million times to date, and more than 50,000 users have downloaded Eaze.
Android Police reported that Google will be working with affected app developers to resolve any compliance issues over the next month.
In a blog post on Wednesday, Google said that it was generally making a series of policy changes to ensure that its app store serves as "a positive, safe environment for children and families." As TechCrunch pointed out, this comes about five months after Google Play was the subject of an FTC complaint, which alleged that the company wasn't doing enough to vet apps that appear in the kids section.
The tech industry has had a strained relationship with marijuana businesses, even as a growing number of states have decided to legalize and regulate the sale of cannabis.
Facebook, which recently showed off its artificial intelligence technology that's capable of identifying images of marijuana, continues to prohibit the commercial advertising of cannabis products, regardless of the legality of the business under state law.
Noncommercial cannabis news sites such as Marijuana Moment and state regulatory bodies like the Massachusetts Cannabis Control Commission have also been caught up in the anti-marijuana policy despite the fact that they do not promote or sell cannabis products. In some cases, it appears these organizations have been hidden from appearing in search results—a practice known as "shadowbanning."
The online shopping site eBay also gave cannabis consumers some bad news this week, clarifying that CBD products will continue to be banned globally regardless of individual country laws on the compound.
"Eaze connects adults only to licensed, regulated cannabis retailers," Elizabeth Ashford, senior director of corporate communications for Eaze, said in an email. "Google's decision is a disappointing development that only helps the illegal market thrive, but we are confident that Google, Apple and Facebook will eventually do the right thing and allow legal cannabis companies to do business on their platforms. We regret any inconvenience this may cause for customers and patients."
"Prohibition is over," she added. "Voters across the country have legalized cannabis."
Marijuana Moment also reached out to Weedmaps for comment but the company has not yet provided a statement reacting to the Google policy change.
On the flip side, at least one major tech company is testing the regulatory waters after hemp and its derivatives were legalized under the 2018 Farm Bill. The payment processing service Square announced last week that has launched a pilot program designed to give businesses that sell hemp-derived CBD products access to credit card processing services as an alternative to traditional financial institutions that remain wary of working with the industry.
Marijuana might be banned from Google's app market, but just last year it seemed the company's executives were pretty bullish about loosening cannabis laws. Google co-founder Sergey Brin joked about supplying employees with joints at a post-election meeting in September.
"I was asking if we could serve joints outside on the patio, but apparently these things take a little while to take effect," Brin said, referring to the implementation of California's cannabis legalization measure. "It was a huge, huge disappointment. I've been bemoaning that all week, I'll be honest with you."
Disclosure: Weedmaps and Eaze are Marijuana Moment advertisers/sponsors.
This story was updated to include comment from Google and Eaze.
Google Execs Told Marijuana Jokes To Lighten The Mood After Trump's Election, Leaked Video Shows
Photo courtesy of Rick Proctor.
Colorado Sold Twice As Much Recreational Marijuana As Medical Cannabis Last Year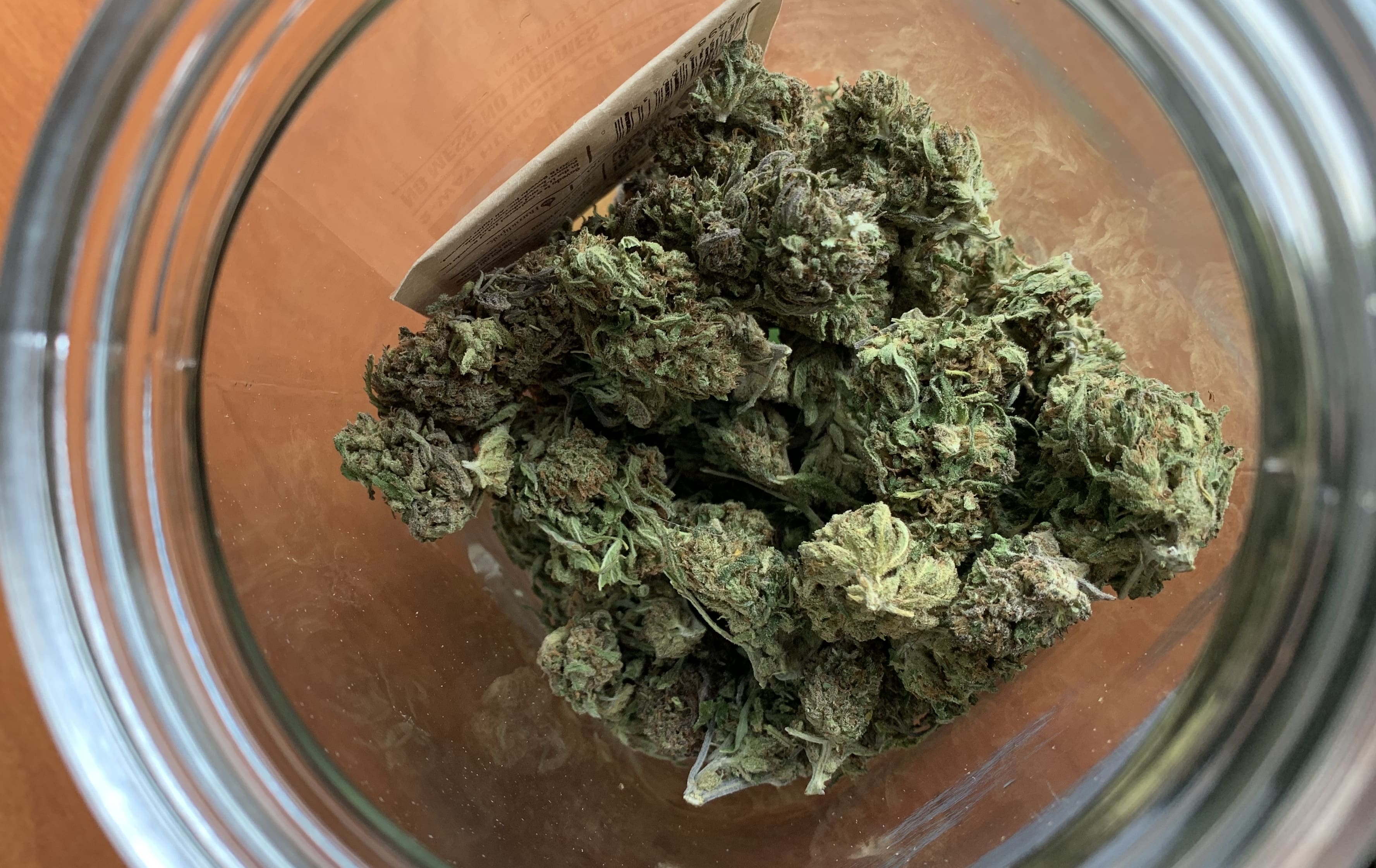 The share of legal marijuana sales in Colorado that came from the recreational market in 2018 significantly outpaced those from the medical market, according to an annual government report released on Monday.
In fact, there were about two times as many adult-use sales of flower compared to medical cannabis purchases—a new milestone for the state.
Colorado's Marijuana Enforcement Division (MED) said that 288,292 pounds of bud were sold last year for recreational purposes, while 147,863 pounds were sold to medical marijuana patients. For comparison, in 2017, recreational consumers purchased 238,149 pounds and 172,994 pounds were sold to patients.
That means the recreational-medical gap increased 73 percent in one year.
Overall, 436,155 pounds of cannabis were sold in 2018, compared to 411,143 pounds in 2017.
In part, the trend can be attributed to the ongoing expansion of Colorado's adult-use cannabis market since the state's first recreational shops opened in 2014. Medical cannabis sales were notably higher than recreational sales in that first year of implementation, with just 38,660 pounds coming from the adult-use market and 109,578 pounds being sold to medical patients.
Medical and adult-use sales were roughly even in 2016. But by 2017, recreational sales accounted for 58 percent of the market. And last year, they represented 66 percent of the market.
MED also found that licenses for recreational marijuana facilities increased by three percent (47 licenses) while medical business licenses declined by eight percent (77 licenses).
"Data collection continues to be a priority at the MED," Jim Burack, director of the program, said in a press release. "This ongoing analysis and compilation of industry information helps inform the public and contributes to our outreach efforts to stakeholders."
The report also showed that the adult-use market is the primary destination for individuals purchasing edibles. Eighty-six percent of edible sales came from recreational consumers. And from July-December 2018, 75 percent of cannabis plants were cultivated for adult use.
The market shift isn't unique to Colorado. An Associated Press analysis from June detailed how states across the country that have established recreational marijuana programs are seeing the number of medical patients decline as more consumers transition to the adult-use market.
That may be partially explained by individuals who sought out medical cannabis recommendations choosing not to renew their registration after recreational marijuana shops became available. To that point, a recent study found that many customers at recreational dispensaries are consuming cannabis for the same reasons that registered patients do, such as to alleviate pain and sleep issues.
The concern for some advocates, however, is that adult-use legalization could drive up prices for patients, or leave them with fewer product options tailored to therapeutic use as demand for high-THC products increases.
"When states pass adult-use legalization we are seeing many patients leave the strict controls of the medical programs," David Mangone, director of government affairs at Americans for Safe Access, told Marijuana Moment. "Patients must already pay out of pocket for cannabis, and any added cost like a registration fee for a medical card or renewal can make the process of obtaining medicine extremely burdensome and costly."
"States like Colorado must continue to provide adequate benefits to patients to ensure the medical program remains robust," he said.
Mangone added that "as states pass adult-use programs it is important that they continue to understand and appreciate the needs of patients."
"A common frustration for many is not what happens in terms of access to cannabis, but rather what happens in terms of access to specific products. Products and flower with a high-THC content have a wider market appeal, but may not necessarily benefit the existing medical market."
That said, one interesting finding from this latest MED report is that medical and recreational consumers alike seem increasingly interested in concentrates, with the units of such products sold to both nearly doubling from 2017 to 2018. Concentrates are sold at a much higher rate in the adult-use market, but the potent products evidently have growing appeal across the board.
Gov. Jared Polis (D) recently celebrated tax earnings from marijuana sales, touting the fact that the state has amassed more than $1 billion in cannabis revenue that has been allocated to various social programs.
And the marijuana market is continuing to evolve in state. Polis signed legislation in May allowing for home deliveries of cannabis products as well as social consumption sites.
The governor said last month at a conference with governors from around the country that the new delivery law could help mitigate impaired driving.
After Legalizing Marijuana, Colorado Saw 'Significant Decrease' In Opioid Prescriptions, Study Finds
Photo courtesy of Kimberly Lawson.
Credit Unions Won't Be Punished For Working With Marijuana Businesses, Federal Regulator Says
Regulators won't punish credit unions simply for working with marijuana businesses that are operating in compliance with state laws, the head of the federal agency that oversees the financial services providers said in a new interview.
National Credit Union Administration (NCUA) Chairman Rodney Hood also suggested that Congress could entirely resolve banking issues in the cannabis industry by federally descheduling marijuana.
"It's a business decision for the credit unions if they want to take the deposits," Hood told Credit Union Times, adding that the financial institutions must follow existing federal guidance and ensure that the businesses they choose to service are not violating anti-money laundering laws or other rules.
"We don't get involved with micro-managing credit unions," he said.
While the comments don't signify a new shift in policy, and don't take into account the fact that the Justice Department still maintains authority to potentially prosecute credit unions that allegedly violate the law by banking marijuana proceeds, they are the latest indication of a growing consensus that federal action is needed to clarify the situation.
Uncertainty around banking in the state-legal marijuana market has been a hot topic in the 116th Congress.
Legislation that would shield banks and credit unions that take on cannabis clients from being penalized by federal regulators was approved by the House Financial Services Committee in March, and the Senate Banking Committee held a hearing on the bill last month. That panel's chair, Sen. Mike Crapo (R-ID), said last week that he agrees a solution for the industry is necessary.
Though the NCUA head didn't endorse specific legislation to give credit unions peace of mind when dealing with cannabis businesses, he did float the idea of descheduling marijuana as one way to provide unambiguous clarity for financial institutions.
"Hood said that Congress could remove all ambiguity if it enacted legislation to declassify marijuana," the trade publication reported after its interview with the official.
Separately, the independent federal agency recently took one proactive step toward reforming policy partly in response to state-level legalization efforts. In a notice published in the Federal Register last week, NCUA proposed changing its rules so that individuals with prior low-level drug convictions would be allowed to work at credit unions.
Though bank and credit union representatives are calling for enhanced clarity when it comes to cannabis banking, more financial institutions do seem willing to take the risk anyway, with federal data showing a notable uptick in the number of marijuana-servicing banks in the last quarter.
Federal Agency Proposes Letting People With Drug Convictions Work At Credit Unions
More Than 100 Marijuana Businesses Urge Congress To Include Social Equity In Legalization
A coalition of more than 100 marijuana businesses and industry associations sent a letter to congressional leadership on Thursday, pressing them to ensure that any cannabis reform legislation include provisions promoting social equity in the industry.
The letter describes the evolution in public opinion around marijuana policy, the mass incarceration implications of prohibition and the economic potential of legalizing and regulating cannabis. It makes the case that as Congress considers various proposals to change federal marijuana laws, the work won't be complete with the mere end of prohibition.
Specifically, the signees say they are concerned that individuals from communities disproportionately impacted by the war on drugs are being "left behind because a previous [cannabis] conviction often is a disqualifying factor to become an owner or employee in the new legal 'green-rush'" and also because "they are unable to come up with the capital necessary to break into the industry."
"In 2018, combined sales of regulated medical and adult-use cannabis topped $10.4 billion, and the 7 states with active adult-use markets generated nearly $1.2 billion in tax revenue. The industry is now employing well over 200,000 people," the letter reads. "And yet, with this rapidly growing new industry and broad popular support for legalization, many of the communities who were devastated by the decades-long War on Drugs are now being left behind."
The coalition made a series of policy recommendations that aim to level the playing field and repair the social and racial harms of the drug war.
For example, the businesses said that, beyond federally descheduling marijuana, lawmakers should allow banks to service state-legal cannabis businesses, fund social equity programs to encourage those targeted in the drug war to participate in the legal market, clear the records of individuals with prior marijuana convictions and invest in efforts that lift up impacted communities.
Signees include the Minority Cannabis Business Association, National Cannabis Industry Association (NCIA), Marijuana Policy Project, Americans for Safe Access, Michigan Cannabis Industry Association, Harborside, Berkeley Patients Group, Arcview Group, MJ Freeway, Greenbridge Corporate Counsel, SPARC and 4Front Ventures, which led the letter.
"I feel the cannabis industry has a moral obligation to ensure that communities and individuals who were harmed the most by prohibition do not lose out yet again as we forge these new economic opportunities," said Mike Liszewski, 4Front's senior regulatory affairs counsel and the chief organizer behind the letter, said in a press release.
"There are many who would argue that Congress should not get into the business of picking winners and losers," the businesses wrote.
"We would argue that if Congress chooses to end federal cannabis prohibition but chooses not to address these glaring racial and economic disparities in the process, it will in fact pick those who are already the most well-financed, the least likely to have suffered an arrest and conviction, and almost certainly do not come from the communities that were severely harmed by decades of prohibition to be the winners of the new economy."
The letter comes one week after the House Judiciary Crime, Terrorism and Homeland Security Subcommittee convened for a historic meeting on ending federal marijuana prohibition, where witnesses and members discussed how to chart the best path forward toward legalization.
"As representatives of the legal cannabis industry, we have a responsibility to help undo the harms caused by prohibition and ensure that people most impacted by failed federal policies have access to the opportunities being created every day in this market," Aaron Smith, executive director of NCIA, said in a statement. "We are pleased to join this distinguished group of business leaders and advocates in calling on Congress to incorporate these ideas into legislation."
"Past Congresses have played a major role in marginalizing people of color through the war on cannabis, and it is the duty of current and future lawmakers to make up for this," Smith said.
On a related note, a separate coalition of civil rights and drug reform groups, including the ACLU, was formed last week and released a letter making similar social justice recommendations for federal cannabis legislation.
"Some in Congress may feel it is too soon to end federal cannabis prohibition or that Congress does not have a responsibility to address the harms created by how this policy has targeted certain communities," the new letter from the businesses and industry groups states. "But if Congress declines to harmonize state and federal cannabis laws or fails to take responsibility for the consequences of disproportionate enforcement, the problems caused by prohibition will continue to persist."
"The time to wait and see is over," they wrote. "Now is the time for Congress to take the bold but ultimately pragmatic step to deschedule cannabis along with approving the necessary funding and programming to support the communities that incurred the most harm because of federal prohibition."
Read the full letter from cannabis industry groups below:
Cannabis Business and Organization Sign on Letter to House Judiciary by MikeLiszewski on Scribd
This piece was updated to include comment from Liszewski.
Lawmakers And Witnesses Clash On Strategy During Congressional Hearing On Ending Federal Marijuana Prohibition
Photo courtesy of Mike Latimer.