Is Facebook Shadow Banning Marijuana Pages, Including Government Ones?
Something's up with Facebook and marijuana—again.
Recently, pages with "marijuana" and "cannabis" in their names stopped appearing in search results.
The pages are still active and can be found via direct links, but users without the URLs or bookmarks are out of luck, leading to questions about whether the social network is "shadow banning" the pages.
Facebook has yet to offer an explanation for this snafu, which is, for example, affecting the page for the California Bureau of Cannabis Control, the official government agency that regulates the state's multi billion-dollar industry, as well as cannabis-focused media outlets like Marijuana Moment and Marijuana Business Daily and nonprofit advocacy groups like the Marijuana Policy Project.
Wow. Facebook is shadow-banning @BCCinfo_dca, the California state agency regulating cannabis, putting it on the same level as InfoWars. pic.twitter.com/rFipqeWSSa

— Sylvia Chi, Esq. (@sylviachiesq) July 31, 2018
A "shadow ban" is the term used for when a user's web resource–a social-media page or a web-forum post–isn't deleted or blocked, but is only visible to the individual user.
Since 2014, when legal marijuana marketplaces opened up in Washington and Colorado, all major social networks declared cannabis-related ads verboten. To this day, significant limitations remain.
Advertisements for marijuana businesses or advocating cannabis use are regularly blocked on Facebook and other social-media websites—including Instagram, which is also a Facebook property—for violating community standards, which ban the sale of "illegal drugs."
Algorithms often block promotions for news articles or other noncommercial posts that merely mention "marijuana" or "cannabis," a situation that often requires lengthy appeals processes to clear automatically flagged content that doesn't actually violate terms of service.
Last year, Twitter, which has more than 330 million active monthly users, briefly blocked all searches on its site for "marijuana."
But this may be the first time access to a government agency's marijuana-related page has been interrupted in this way.
In this case, the disruption is significant: Marijuana industry attorneys, entrepreneurs and businesspeople rely on BCC's Facebook page for notices of upcoming meetings and for easy access to the latest iteration of the state's lengthy and complication rules for the marijuana industry.
BCC staff are aware of the issue and have contacted Facebook for an explanation, but have yet to receive one.
"We have reached out to Facebook with no response so far," BCC spokesman Alex Traverso said in an email to Marijuana Moment. "This is the first time something like this has happened. In fact, we've even done promoted posts on Facebook before without any issue."
Reached via email, a spokesperson for Facebook asked for more information about the situation. After it was provided, the spokesperson did not respond to further requests for comment.
"It's clear that something's happened," said Sylvia Chi, an Oakland, California-based attorney with clients in the marijuana space. "But it's not clear what."
It's not just BCC; this "shadowban" seems to work by not surfacing any page that has "cannabis" or "marijuana" in the title through Facebook's search, EXCEPT on the Facebook app for iOS. Other affected pages include @NCIAorg @MarijuanaPolicy, @MarijuanaMoment, and @MJBizDaily.

— Sylvia Chi, Esq. (@sylviachiesq) August 1, 2018
Users accessing Facebook via the iOS app have been able to find cannabis-related pages they already follow on the main search results tab, but tapping the "Pages" tab yields an empty result.
Chi theorized that the snafu is a "bug" or glitch rather than a conscious choice to de-list or shadow ban marijuana pages.
Facebook has in the past been criticized for inconsistent, incoherent and unrealistic community guidelines. Until 2016, users were able to conduct firearms transactions. And critics have faulted the social network for its inability to police hate speech, including posts and pages from white-supremacist organizations.
"I think their community standards around marijuana are problematic," said Chi, who noted Facebook had earlier this year updated its guidelines to prohibit minors from seeing advertisements of gun accessories. "It seems like they could do the same thing for marijuana, but just don't want to."
Company Gets Trademark For The Word 'Psilocybin,' Frustrating Decriminalization Advocates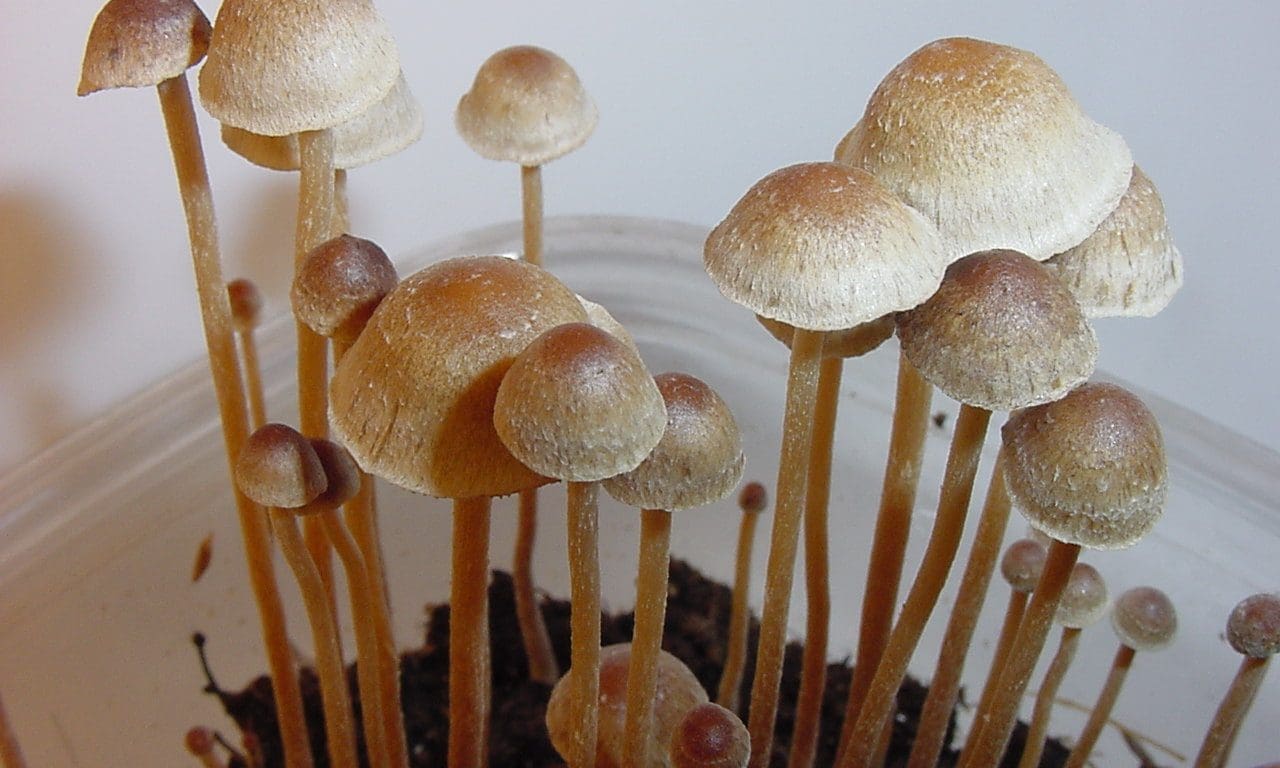 As psychedelics reform efforts pick up across the U.S., there's an increasing weariness among advocates about the potential corporatization that may follow.
That's why many found it alarming when a California-based company announced on Thursday that it had successfully trademarked the word "psilocybin," the main psychoactive constituent of so-called magic mushrooms.
Psilocybin™ is a brand of chocolates that do not contain the psychedelic itself but are meant to "begin educating, enlightening and supporting the community in upgrading their inner vibrations in order to get everything they want of their time here on earth," according to a mission statement.
Soon after founder Scarlet Ravin shared news of the trademark on LinkedIn, advocates raised questions and concerns: What does that mean on a practical level for other psilocybin organizations? Why should one brand get exclusive rights (to a certain legal extent) to the scientific name of a natural substance?
The reality of this particular trademark is more nuanced than it might appear at first glance. While it's true that the company was granted the distinction by the U.S. Patent and Trademark Office, it's specifically for educational materials and it's listed on the supplemental register, rather than the principal register, which means it would be incumbent upon the brand to prove that it has earned distinctiveness of the mark if the issue went to court.
"It's certainly good for her business to have that mark, but I think at the end of the day, it's going to be somewhat weak," Larry Sandell, an intellectual property attorney at Mei & Mark LLP, told Marijuana Moment. He added that this example is "indicative that people are trying to stake early claims to IP."
"Even if they might be somewhat overreaching, people see a potential new market here and they want to stake out their ground," he said. "It's a big next space that people are anticipating a legal market. Maybe it's where cannabis was five to 10 years ago."
Despite those legal limitations, reform advocates view the trademark as emblematic of a bigger issue—that someone would presume to take ownership of a substance that's at the center of a national debate on whether or not to criminalize individuals for using it.
Kevin Matthews, who led the successful campaign to decriminalize psilocybin mushrooms in Denver last year and is the founder of the national psychedelics advocacy group SPORE, told Marijuana Moment that he didn't doubt Ravin had the right intentions—to promote education into the substance—but he said the decision to trademark is nonetheless questionable.
"This being an open-source movement, trademarking the word psilocybin, in some ways it feels like—although I don't think this is her intention—it's lacking perspective," he said. "Does that mean we can't use psilocybin as SPORE because we're an educational non-profit and she's a for-profit branded company? It doesn't make a lot of sense to me. She needs to let go of the trademark."
Ravin said that her goal in trademarking psilocybin was to prevent the substance from being becoming the next cannabis, which she said has been corrupted from its "true spiritual, medicinal benefit" and turned into a corporate commodity.
"Knowing that psilocybin is going to be next [to be legalized] I feel strongly guided by the deepest part of my heart to really offer a sense of education of what could be when you take such a strong, beautiful medicine and to give people an education platform here and now to let them know what's coming, how to receive it, how to get the most benefit from," she told Marijuana Moment in a phone interview.
"We paved the way for this being a medicinal offering and not a consumer, recreational shitshow. That was our intention," Ravin said. "The only way that we are going to have access to mainstream consumers is by having some sort of trademark on the word so that we can use it for something that's not what it actually is."
"With this being something that we can now put into market with a box of chocolates that has no psilocybin in it, but as you can already see, it creates a platform for discussion of what the beauty of this plant can do," she said. "Me and my movement and my team, we don't own the word. We're not going to ever sue anyone who also uses the word—we're opening a doorway for ourselves and anyone that wants to see this educated upon so that we can hit people who are unfamiliar with it now with downloads to actually have this be a safe, successful psychedelic transition."
Asked to react to criticism about the trademark from advocates, Ravin said "we're all here to follow spirit guidance to show love and light, and the visions I had of doing what we're doing now was based upon breaking boundaries and breaking perceptions and allowing people to have an opportunity to sink into being one unit."
"Yeah, it might be coming out, we might be using the platform of psilocybin. We can use any platform to do this," she said. "We can use any platform to come together as a whole, and the longer that people sit in duality and say, 'oh now she's going to have a stronger voice than me is just looking at something not through their heart,' it's looking at it through ego and judgement."
"The more that we describe what we're doing, the more people I think will start to feel our unity and we'll be able to move together as a stronger force than pointing fingers and trying to separate one another," she said. "Those days are done."
Ravin said that once the Psilocybin™ chocolates are ready for market, she plans to contribute 10 percent of profits to the Multidisciplinary Association for Psychedelic Studies (MAPS), which is involved in researching therapeutic benefits of psychedelic substances.
Congressman Backs Ballot Measure To Legalize Psychedelic Mushrooms For Therapeutic Use
Photo courtesy of Wikimedia/Workman.
China Must Import More Hemp From U.S. Under New Trade Deal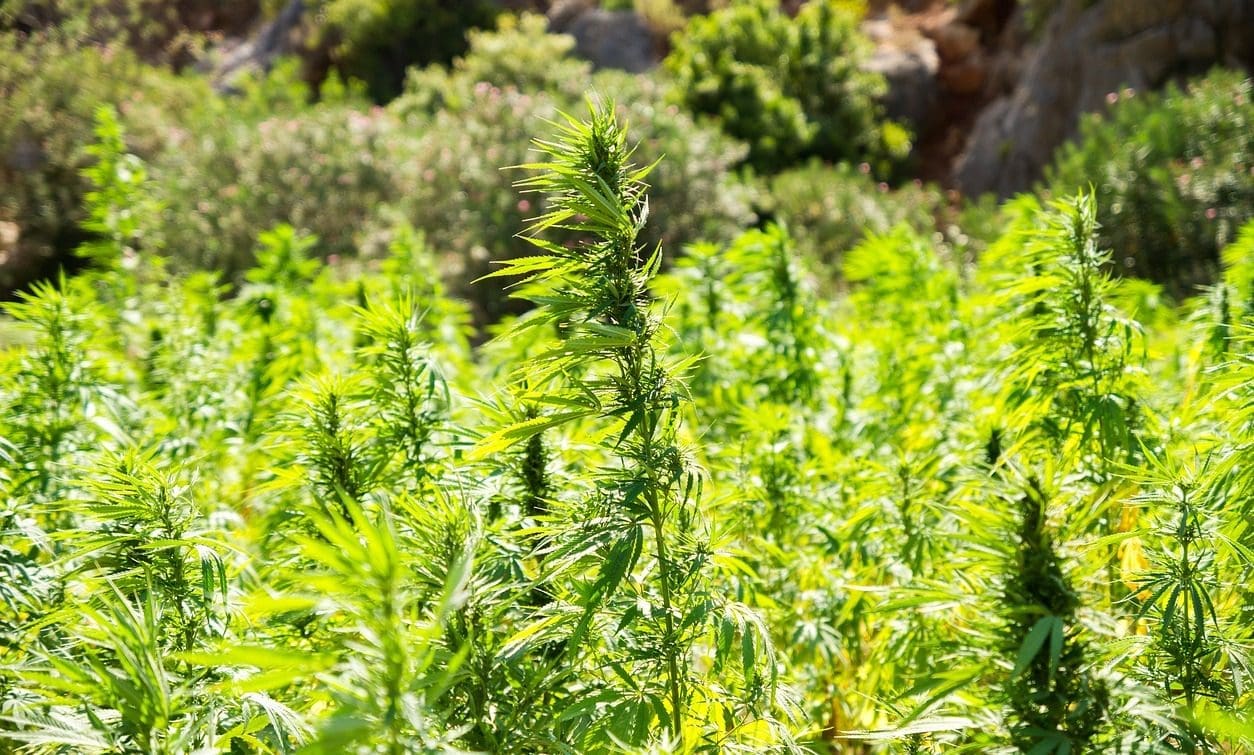 After years of being one of the United States's main sources of hemp imports, China will now be required to buy a lot more of the non-intoxicating cannabis crop from the U.S. under a new trade deal.
Hemp, which was federally legalized under the 2018 Farm Bill, is one of a long list of agricultural products that China agreed to import on a larger scale over the next two years as part of an international trade agreement that was signed on Wednesday.
"The Parties acknowledge that trade and economic structural changes resulting from this Agreement and from other actions being taken by China to open up its economy and improve its trade regime should lead to improved trade flows, including significant increases in exports of goods and services to China by the United States and other countries," the accord says.
"The Parties believe that expanding trade is conducive to the improvement of their bilateral trade relationship, the optimal allocation of resources, economic restructuring, and sustainable economic development, given the high degree of complementarity in trade between them. The Parties recognize that the United States produces and can supply high-quality, competitively priced goods and services, while China needs to increase the importation of quality and affordable goods and services to satisfy the increasing demand from Chinese consumers."
While the deal didn't specify just how much more hemp China will be importing, the document states that the country must spend at least $12.5 billion more than it did in 2017 on more than 200 agricultural commodities, including the cannabis plant, for calendar year 2020. The following year, it must spend at least $19.5 billion more.
Included in the deal is a particular form of cannabis, which is referred to as "true hemp" in the document.
"True hemp (cannabis sativa l.), raw or processed but not spun; tow and waste of true hemp (including yarn waste and garnetted stock)," the description of the item states.
Jonathan Miller, general counsel for the U.S. Hemp Roundtable, told Marijuana Moment that hemp's inclusion in the trade deal is a "really good development."
"The fact that China would be importing our hemp and would be giving a new market for American farmers is pretty exciting," he said, referring to the fact that the U.S. has historically imported the crop from China and that it has sometimes been criticized as being of inferior quality.
While cannabis has been cultivated in China for thousands of years, the country has only recently begun expanding the industry domestically. Part of the delay has to do with strict anti-drug laws, but as the legalization has spread internationally, more businesses are getting into the hemp, and particularly CBD, market.
Meanwhile, in the U.S., the hemp industry has exploded, with bipartisan lawmakers working with regulators to ensure that hemp farmers have access to the resources they need to expand and meet booming consumer demand for CBD products. The U.S. Department of Agriculture (USDA) is currently finalizing its regulations for the crop after releasing an interim final rule last year.
USDA clarified in guidance last year that hemp plants and seeds are able to be imported from other countries. In 2018, the U.S. imported about $3.3 million in hemp from China, according to Hemp Industry Daily.
Congressional Hearing Exposes Marijuana Research Limitations Imposed By Federal Law
Photo courtesy of Pixabay.
Coca-Cola Denies CBD Beverage Rumor Spurred By Video
Coca-Cola denied that it has plans to enter the CBD market in a statement to Marijuana Moment on Thursday.
The comment comes after a man who said he obtained a prototype of a childproof can of Coke claimed to have insider knowledge of the soda company's intent to launch a line of CBD-infused drinks in partnership with the Canadian cannabis company Aurora.
In a video shared on YouTube on Wednesday, the individual, who goes by Gabor the Blind Guy, said his father is an engineer for a company that "produces bottling and capping machines" for pharmaceutical and food businesses.
"Recently he was approached by Coca-Cola in Canada to design a machine that puts a childproof cap on cans of Coca-Cola," he said. "In Canada, Coca-Cola is coming out with a new line of Coca-Cola that contains CBD extracts—pretty much cannabis-based drugs."
"Obviously, they don't want little kids popping open those cans and drinking them…so my dad was tasked with designing a cap that will prevent little kids from opening these cans of CBD Coca-Cola," he said.
The description of the video on YouTube mentioned the alleged partnership with Aurora.
Watch a mirrored version of the now-deleted YouTube video below:
But on Thursday, a media relations officer for Coca-Cola told Marijuana Moment that the "rumors are untrue."
"As we have stated many times, we have no plans to enter the CBD market."
Gabor claimed that his father gave him a prototype of a non-CBD can with the cap he designed because he wanted to see if a blind person could open it. The video led some to speculate that he inadvertently disclosed confidential information that could be in violation of a non-disclosure agreement.
Not only did Gabor later delete the video from his YouTube account, but he also deleted the channel itself, as well as his Twitter and Facebook accounts.
On Reddit, users questioned whether the video was authentic. Some wondered if the claim was an attempt to boost Aurora's stock. However, marijuana wasn't a main focus of Gabor's YouTube prior videos posted over a period of years.
Marijuana Moment also reached out to Aurora for comment, but a representative was not immediately available.
This isn't the first time that people have speculated about Coca-Cola's potential interest in entering the cannabis space. Bloomberg reported last year that the company was monitoring the industry but hadn't made any decisions yet.
Coca-Cola CEO James Quincey has said on several occasions that the company isn't planning to get involved in the cannabis market.
"There's been no change in my position, which is: there's nothing happening," he said in July.
"We want to sell drinks that people can drink each day. So it's not like you have something once," he told CNBC last year. "You have one a day. And if you can't cross [off] those three things of legal, safe and consumable, it's not an ingredient that's going to work for us."
Coca Cola CEO James Quincey shuts down any rumors of incorporating cannabis in its drinks. https://t.co/fiodEUogJB pic.twitter.com/ynvneXzrf9

— CNBC (@CNBC) October 30, 2018
Also in a statement last year, Coca-Cola said the company has "no interest in marijuana or cannabis."
"Along with many others in the beverage industry, we are closely watching the growth of non-psychoactive CBD as an ingredient in functional wellness beverages around the world," the statement read. "The space is evolving quickly. No decisions have been made at this time."
With respect to prior rumors about talks specifically between Coca-Cola and Aurora, the soda company declined to comment when previously pressed. Aurora said in a statement that it had "no agreement, understanding or arrangement with respect to any partnership with a beverage company."
Elizabeth Warren's Campaign Denies Claim It Rejected Job Applicant Over Marijuana Offense
Image via Gabor the Blind Guy.